Reports
Bitcoin Fundamentals Report #262
Bitcoin price pump, ETF update, Bitcoin in politics this week, China crisis, price analysis, mining sector news and lightning network update.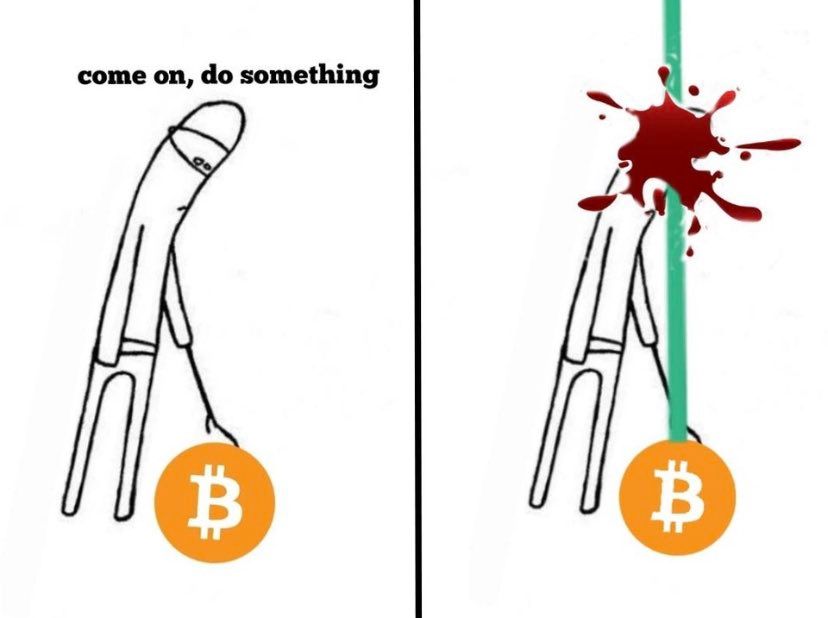 October 23, 2023 | Block 813,529
Snapshot of Bitcoin
General Bitcoin Headlines
Weekly trend
Rally to top of resistance
Media sentiment
Positive
Network traffic
Medium
Mining industry
Surging
Days until Halving
172
Price Section
Weekly price*
$31,041  

(+$2,467, +8.6%)

Market cap
$0.606 trillion
Satoshis/$1 USD
3,220
1 finney (1/10,000 btc)
$3.11
Mining Sector
Previous difficulty adjustment

+6.4708%

Next estimated adjustment
+3% in ~6 days
Mempool
104 MB
Fees for next block (sats/byte)
$0.52 (12 s/vb)
Low Priority fee
$0.22
Lightning Network**
Capacity
5279.08 btc

(-1.6%, -87)

Channels
62,642

(-1.7%, -1076)
---
In Case You Missed It...
Member
Community streams and Podcast
Blog
Bitcoin Magazine Pro
---
Headlines
Milei received 30% of the votes in the primary and was the front runner going into Sunday's elections. He is a hardcore libertarian and Bitcoin advocate. Javier has blasted Marxism and corruption in Argentina.
However, in the general election Milei only managed to get 36% of the votes coming in second place behind establishment candidate and Economics Minister, Massa. It now comes down to a run-off.
I'm hopeful but not holding my breath. In an era with a large dependent class, responsibility and capitalism are harder sells.
FinCEN dropped a new proposal this week that threatens privacy, mixers, and non-custodial wallets. There is a comment period, in which I'm sure they will get an earful from the public.
My initial thought was, why would they be doing this if they had such great surveillance already through chain-analysis? I don't think they would. Of course, the government and banks want privacy, too. So this won't be pushed too hard IMO. There are also valid concerns over the Constitutionality of this rule restricting private use of cryptography, which has already been upheld by the Supreme Court. I expect to see open comments addressing these concerns.
Most of the ETF applicants have updated their filings according to the unprecedented SEC feedback. A little change not caught by many is that Blackrock is starting to seed their ETF by accumulating some bitcoin. This could be why we are seeing the current pump and might even be a source of last week's leak of approval. This is acting as if it is already approved.
Eric Balchunas gives us some background on seeding:
Background: Seeding an ETF is when initial funding is provided (typically) by a bank or broker dealer used to purchase a few creation units (in this case bitcoin) in exchange for ETF shares which can be traded in open market on Day One.

Note: Seeding is typically not a lot of money just enough to get ETF going. So I wouldn't read this as 'omg Blackrock is buying a ton of bitcoin' at all but more the fact they doing it and disclosing it shows another step in the process of launching.

Macro
A week into the Israel-Hamas conflict and we still have no answers for the very suspicious failure on the border
I've seen repeated reports from former Israeli soldiers (all men have mandatory service), calling into question the utter failure. Reports this morning that freed hostages claims good treatment from Hamas and facing bullets from the IDF.
My main push back on Bob Elliot and Michael Green on saying bitcoin failed as a geopolitical hedge, was that we don't know the why, what, who and how of this situation. Of course, we are told what to believe, but a rational opinion is based on evidence and is not a knee-jerk emotional reaction.
I talked about this last week in some content, there were rumors of a round-number 1 trillion yuan bailout package to spur infrastructure spending. Looks like it is coming tomorrow.
This should stop the fall in the CNY for the time being, and reduce the selling pressure from China for dollar funding, temporarily.
I want to point out that this is specifically targeted at infrastructure, the old China model. They are supposed to be prioritizing "quality over quantity" growth, jumping the middle income trap chasm. That is Xi's brilliant new policy. Then why is this old school infrastructure spending in a country that is massively overinvested in infrastructure? Because, China's economy is completely built on the old model. This is all they know. One could interpret this as Xi yielding to pressure.
Why do I write so much about China? Because the end of the Chinese Miracle is going to one of the defining events of the next 50 years, on par with US energy independence.
Powell spoke this week and answered some softball questions in an on stage interview. There were no big takeaways other than there not being any takeaways.
Other Fed members came out in the last week claiming that there likely has been enough tightening. The Fed Funds Futures are now pricing in 98% chance of no hike at the Nov 1st meeting, and nearly an 80% chance of no hike in December. The Fed is done.
The questions now are about the almost certain recession. When will the cut? How bad will the coming credit crisis be? Where will it start?
💡
Help us grow! Please share!!
Price Analysis
Join the Professional tier to receive my MARKET PROTONS, short price analysis and actionable forecast updates on Bitcoin and macroeconomic factors! Sign up today!
---
Bitcoin Charts
Last week, I concentrated on the idea that the Monday rumor wick cleared orderbooks and price was likely to revisit those highs. We did that an more. It could be that it happened at a pivotal point on the chart, slicing through so many moving averages, that the resulting inertia is higher.
However, one could interpret this price move as predicting imminent ETF approval. Months ago, when Blackrock first filed, I said that the price would tell us the likelihood of this getting approved. Until last week, it didn't look too promising. All that's changed now. IF price continues higher from here, breaking out to new yearly highs, that is a huge sign that an ETF is very near.
As I write this, price just broke $31k, up to $31,288.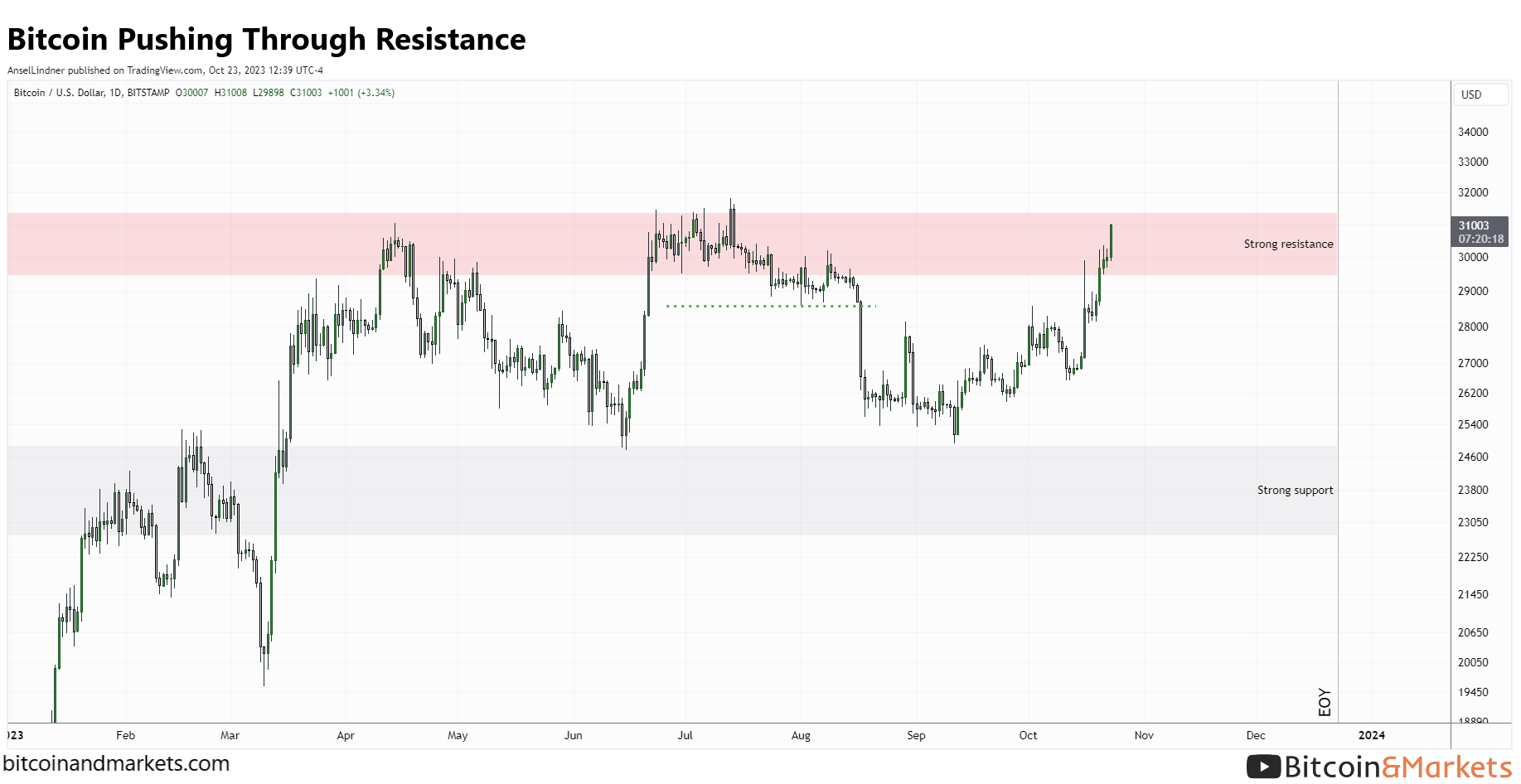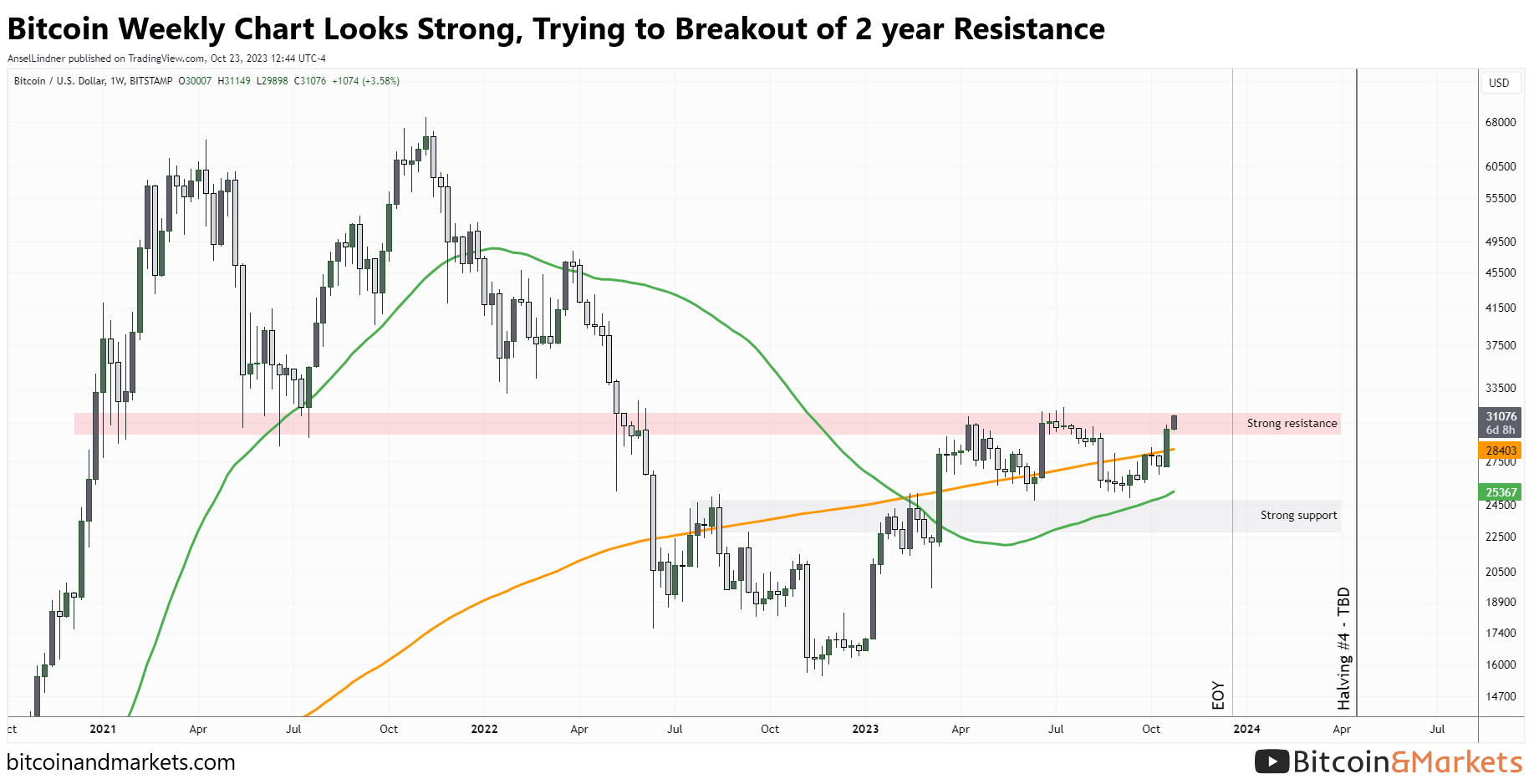 Much more detailed price analysis, including short, medium and long term forecasts on Market Protons!
---
---
Bitcoin Mining
Headlines
"Historically, Marathon has custodied all its bitcoin with a single provider," Marathon said in a statement Wednesday. "As part of its broader treasury management strategy," the company added, it has "added a new, enterprise-grade custodian as its second custodian.

Marathon said it may expand even further and add more custodians. The company had 13,726 bitcoin as of Sept. 30 and it's producing over 1,000 more per month, so "we believe it is an opportune time to diversify our bitcoin custody across multiple custodians," Marathon CFO Salman Khan said in the statement.
Yet another very positive bitcoin mining article. IDK how globalists like Elizabeth Warren are going to fight against this. These are openly reported benefits of bitcoin mining.
Energy cost is likely the single most important consideration for a miner. According to a recent report by KPMG, bitcoin mining stabilizes power grids and leverages underused renewable energy sources. The report further states that bitcoin can reduce methane emissions by converting waste gases into electricity.

"The Lawrence Livermore National Laboratory estimates as of 2021 as much as two-thirds of energy consumption in the United States is rejected or used inefficiently," note Ney and Giannantonio. They explained, 'Globally in places that have less efficient transmission infrastructure or even greater intermittency for wind and solar, you can see how it would be worse."
Forbes gives a direct call to action:
A shift in perspective is needed; bitcoin should be viewed not merely as an energy consumer but as a facilitator for more efficient and sustainable energy use.
Difficulty
Bitcoin hash rate has slowed its rise this week. Its pace decreased from +6% to +2% estimated for the next adjustment. With the price pump of the last 24 hours, however, I expect that to also increase in the next few days.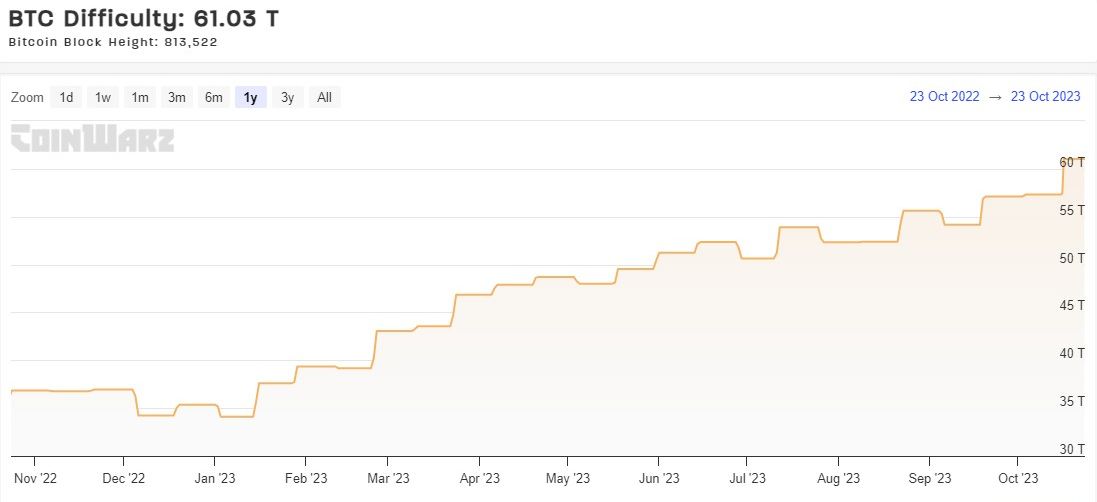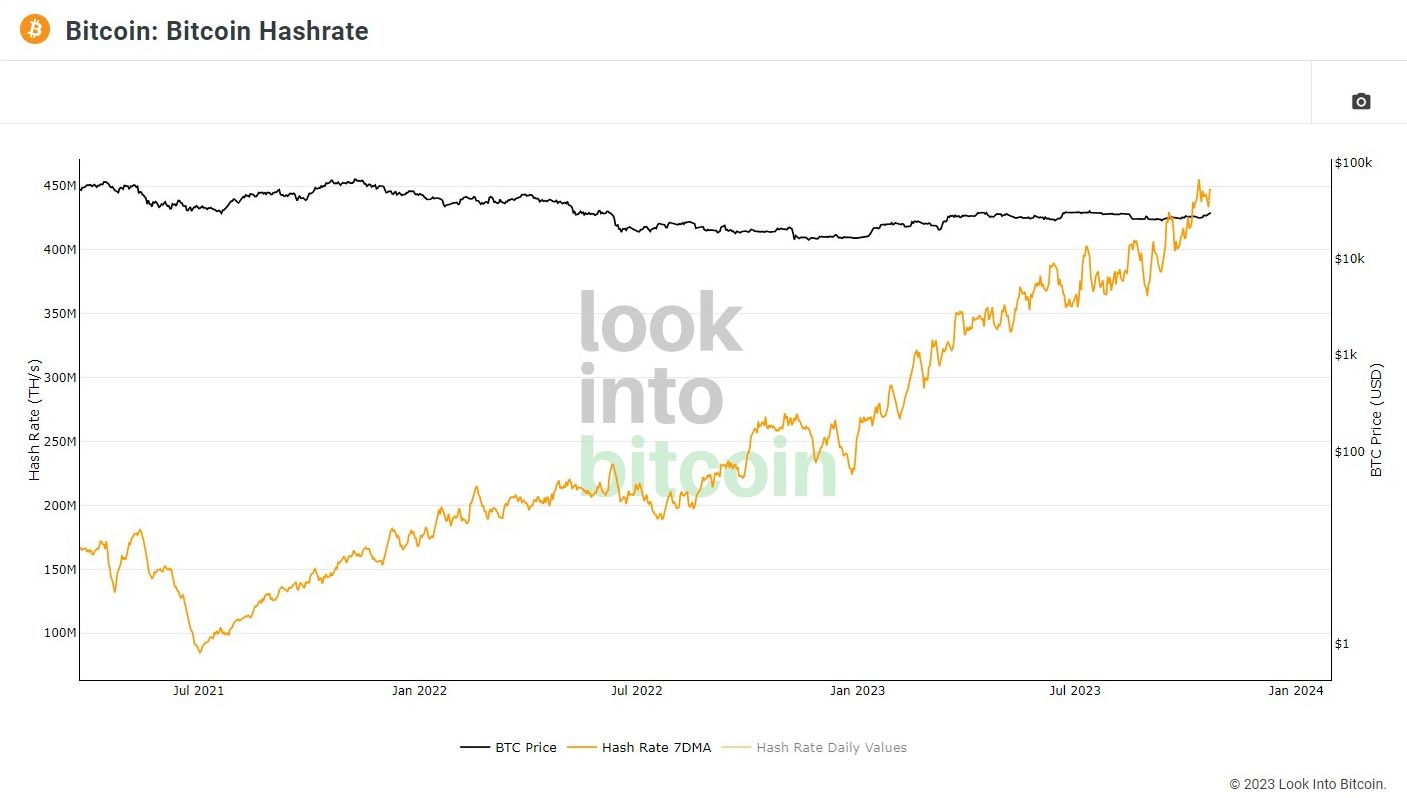 Mempool
The bitcoin mempool is rising but the fees are not rising dramatically. This means it is likely that most transactions right now are self-to-self transactions where time doesn't matter all that much. Perhaps, it is coin management, diversification of wallets, etc. It is notable that since Ordinal use crashed, so did the fee and mempool.

Fee estimation can also be wacky. If the Ordinal bois were using their own fee estimator, that could lead to higher fees and perhaps a patter like we saw through this year.
Layer Two
Lightning Network developer Antoine Riard leaves LN development for Core
Antoine claims to have discovered several LN source code instances of backdoors.
"I think this new class of replacement cycling attacks puts lightning in a very perilous position, where only a sustainable fix can happen at the base-layer, e.g. adding a memory-intensive history of all-seen transactions.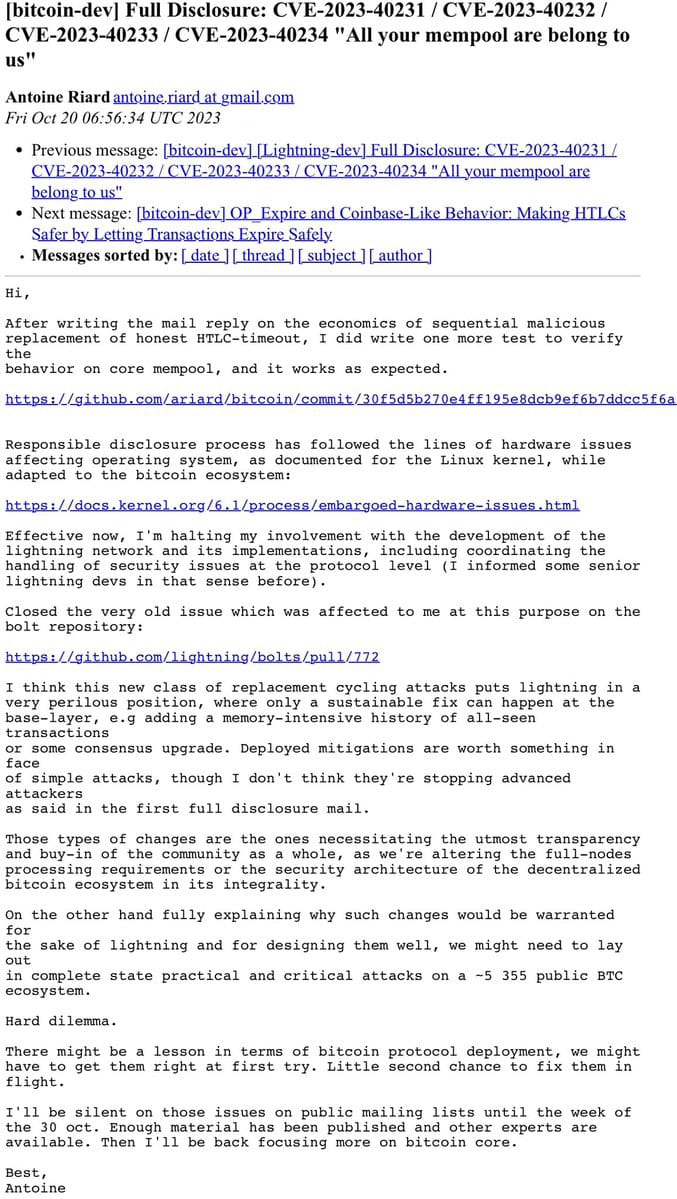 💡
Get our book the
The Bitcoin Dictionary
available
on Amazon!
That's it for this week. See you again next Monday!!!
A
---
DONATE directly on Strike or Cash App to support my work! You make my content possible! Thank you. Disclaimer: The content of Bitcoin & Markets shall not be construed as tax, legal or financial advice. Do you own research.
* Price change since last report
** According to mempool.space