Reports
Bitcoin Fundamentals Report #266
Javier Milei's wins Argentina's Presidential election, Bitcoin ETF news, Coindesk acquired, Tether freezes coins, plus price analysis, mining and layer two news.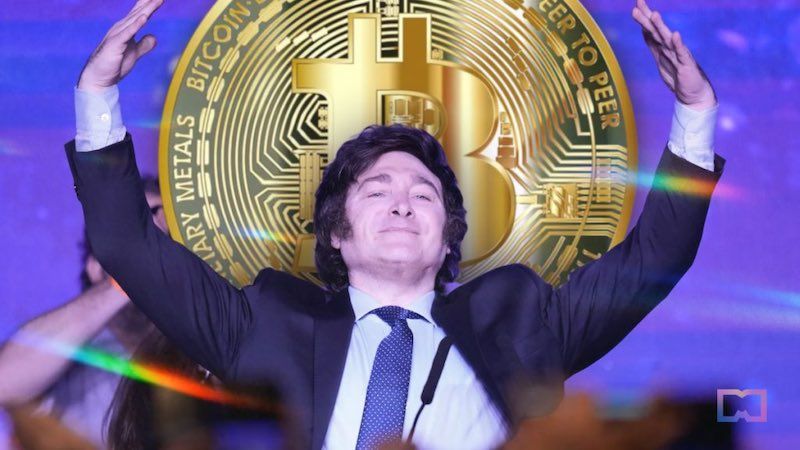 November 20, 2023 | Block 817,691
Snapshot of Bitcoin
General Bitcoin Headlines
Weekly trend
Consolidating at highs
Media sentiment
Positive
Network traffic
Very High
Mining industry
Profitable
Days until Halving
149
Price Section
Weekly price*
$37,583  

(+$834, +2.2%)

Market cap
$0.734 trillion
Satoshis/$1 USD
2,662
1 finney (1/10,000 btc)
$3.76
Mining Sector
Previous difficulty adjustment

+3.5463%

Next estimated adjustment
3.5% in ~5 days
Mempool
303 MB
Fees for next block (sats/byte)
$3.99 (76 s/vb)
Low Priority fee
$3.63
Lightning Network**
Capacity
5395.69 btc

(+0.9%, +49)

Channels
61,603

(-0.9%, -550)
---
In Case You Missed It...
Member
Community streams and Podcast
Blog
Bitcoin Magazine Pro
---
Headlines
While Milei has not yet advocated for Bitcoin to be used as legal tender or to hold BTC as a reserve asset, he does has plans to scrape the Argentine peso and replace it with the US dollar. Last Monday, the Argentine peso saw its hyperinflation rise to 143% and growing, leaving the nation financially ruined and in desperate need of change.
Milei is a libertarian, fighting against central banking and socialism. He has also supported Bitcoin calling it private market money. The best case scenario for Argentina IMO is for them to adopt the US dollar instead of the peso, and make bitcoin fully legal in the country, perhaps as a secondary legal tender.
Argentina is the United States of South America. It has good geography, fertile land, natural resources and a navigable river basin. I'm bullish on its future relative to other countries. It once was the 3rd largest economy in the world, and can break into the top 10 again. As populism sweeps the world, and a new regime comes to the US next year driven by America First, Argentina under Milei would be a great economic ally.
Bitcoin ETF news update new filings
The temporary window for ETF approval ended Friday. The timeline is now pushed out to January. It doesn't look as if it will happen this year.
Last week, there was, however, a new development. The SEC made another request to applicants, to update their filings to specifically require "cash creates". That means buyers do not have to buy the ETF with bitcoin, but use dollars. Then the provider must go out into the market to buy the bitcoin.
This move is common sense and I'm a little surprised that all the applicants didn't have this spelled out already. It shows that the SEC is working to approve these things. It's one step closer to harmonizing the compliance of all the applications, so they can be approved together.
Crypto media platform CoinDesk has been acquired by crypto exchange Bullish for an undisclosed sum, according to a report published in The Wall Street Journal (WSJ) on Nov. 20.

The crypto exchange is headed by former New York Stock Exchange president Tom Farley. The media platform said that former Wall Street Journal editor-in-chief Matt Murray will chair an independent editorial committee, and the current CoinDesk editorial team will remain intact.

According to the report, Bullish acquired the crypto media platform in an all-cash deal, though the terms of the deal were not disclosed. The media platform, purchased by Barry Silbert's Digital Currency Group for $500,000 in 2016, had been in acquisition talks amid DCG's financial crunch following a severe crypto winter that saw many high-profile crypto firms face bankruptcy.
Crypto companies Tether and OKX have collaborated with the United States Department of Justice (DOJ) to freeze $225 million in stolen USDT tokens. Moreover, the assets were linked to a "human trafficking syndicate in Southeast Asia," according to an official press release.

The crypto companies and the Justice Department worked alongside Chainalysis in what is the largest freeze of USDT in history. Moreover, the voluntary development was set to counter the trafficking group behind a global "'pig butchering' romance scam."
Macro
US October CPI rattles markets
US October CPI came in at 0% MoM. I wrote an extensive post for Bitcoin Magazine Pro this week on the market reaction. This low print was not a surprise, I've said the "inflation" has always been transitory, and it feels good to be vindicated! It'll be hilarious to hear how the inflationistas explain away 0% YoY or even negative in 2024.
The "reaction" is simply the market resuming its trajectory toward a deflationary recession. We are stuck in the deflationary bust of a multi-decade global bubble. Sustained inflation in a debt-based system needs vibrant economic growth or massive defaults. IOW, this CPI print did not MAKE new fundamentals, it confirmed my macro thesis.
Below is a chart from that article. I wrote:
As yields fall on the way into recession, the Fed's choice is now: Do they leave policy where it is and look powerless, or do they follow and try to build a dovish narrative? It must be embarrassing for them with yields falling away from the policy range.
Slow week for macro other than the CPI chaos. Stay tuned for more on the next Fundamentals Report or my other writings!
💡
Help us grow! Please share!!
Price Analysis
Join the Professional tier to receive my MARKET PROTONS, short price analysis and actionable forecast updates on Bitcoin and macroeconomic factors! Sign up today!
---
Bitcoin Charts
All eyes are still on this channel. Bitcoin faked out above, then below. Important levels to watch are support at $35,440. To break that support, price will need to fall out of the channel first. There is also the 50-day MA coming up fast, crossing the horizontal support at $32k. Daily RSI has completed its cool off, allowing momentum to rebuild as we go higher.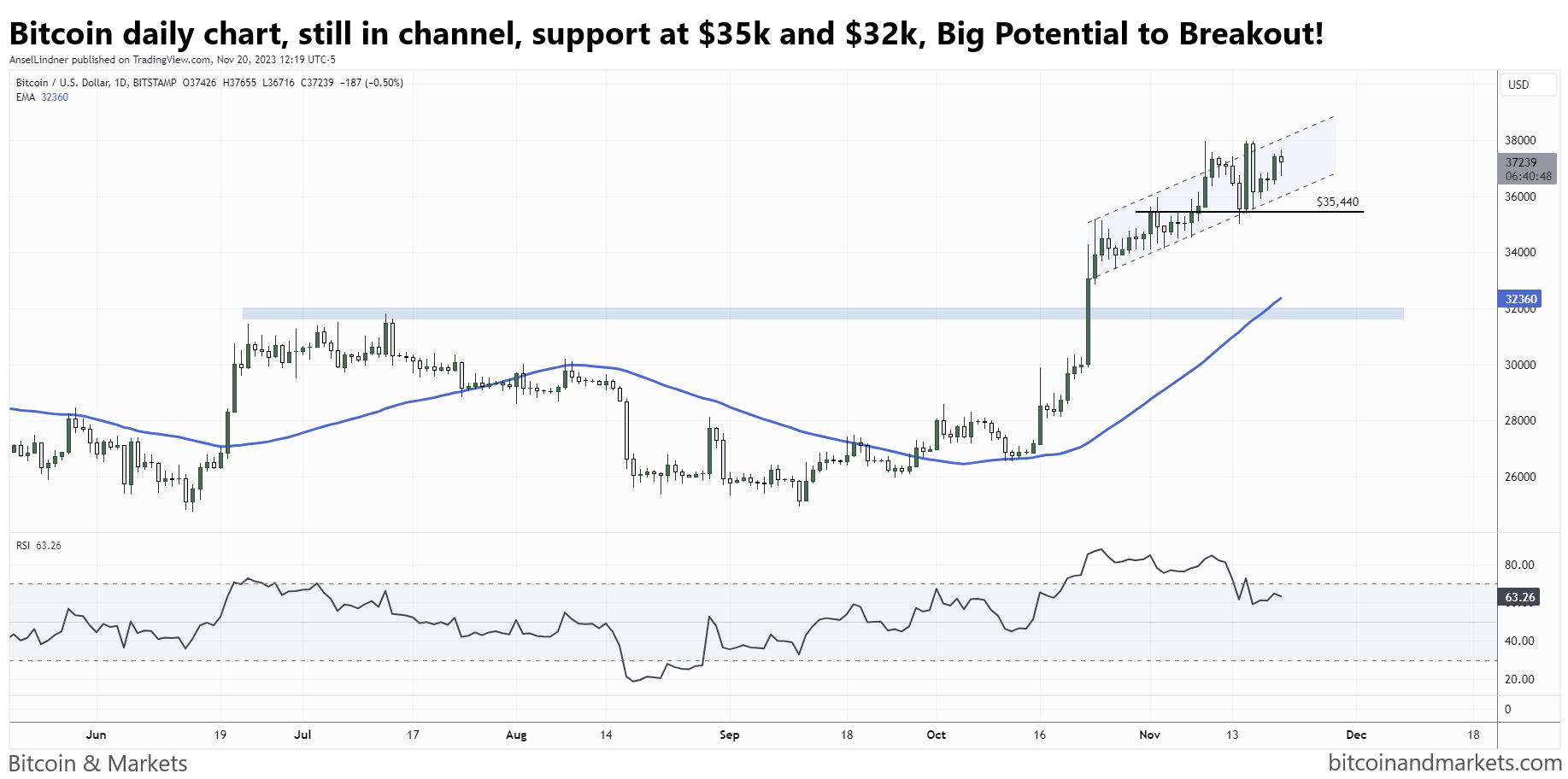 On the weekly timeframe, I'm starting to watch the coming Golden Cross. This will be the first-ever gold cross on the weekly chart for bitcoin, because we never had a death cross before the one this year. These cross tend to be points of attention on the chart, and as such attract price. It doesn't have to in every case, the daily golden cross on Oct 29th did not have a dramatic effect, however, it is important to be aware of the risk.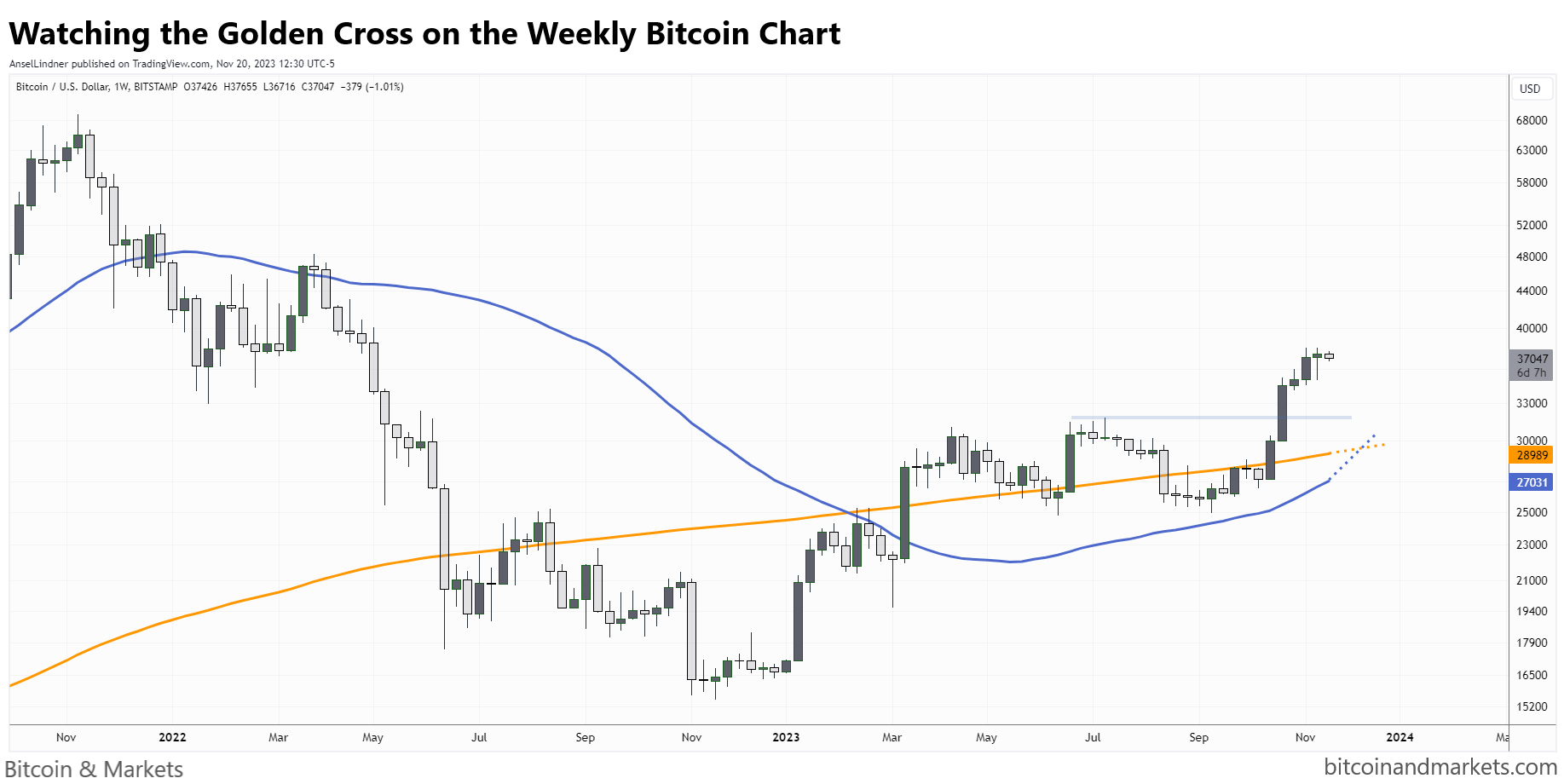 The bullish narrative was supercharged with the election of Javier Milei in Argentina. He is a big bitcoin advocate, and there is a good chance he will make it legal tender of some sort in the future. The bull narrative now includes the halving in 155 days, the launch of spot bitcoin ETFs, and now a massive country like Argentina perhaps adopting bitcoin.
MUCH MORE detailed price analysis, including short, medium and long-term forecasts on Market Protons!
---
---
Bitcoin Mining
Headlines
Tether announced today an ambitious $500 million investment plan aimed at increasing its footprint in the competitive Bitcoin mining landscape. The investment strategy includes the construction of new mining facilities and the acquisition of stakes in existing miners.
This strategic push is not just limited to infrastructure but also encompasses geographical expansion. Tether is targeting regions across South and Central America, including Uruguay, Paraguay, and El Salvador. The company's goal is to contribute one percent to Bitcoin's total computing power.
This is an article from The Hill, a notoriously leftist globalist outlet. It symbolizes the complete 180 on bitcoin mining coverage. The wind is at the back of this industry.
The relationship between Bitcoin mining and the environment has long been misunderstood. However, the fog of misunderstanding around Bitcoin mining's energy usage is finally clearing. Bitcoin mining is, in fact, emerging as a trailblazer in the pursuit of sustainable energy solutions. It is revolutionizing the way we generate and consume power and creating a highly productive synergy that promises to transform the energy landscape. 
"With the variety of import/export regulatory demands across different regions, Luxor positioned itself as a knowledgeable and valuable partner, helping miners to navigate the complex landscape of customs and documentation," Lauren Lin, Luxor's director of business development.
This is an interesting service. As bitcoin mining become more commodified, we will see a growing number of niche bitcoin mining service businesses popping up.
Difficulty
Bitcoin's difficulty is estimated to increase by 3.5% in 5 days. Blocks have consistently been fast over the last few months. For beginners, if the blocks average faster than 10 mins, the difficulty adjustment that takes place every 2016 blocks will adjust the difficulty to retarget for 10 mins. Faster blocks can be incentivized by higher bitcoin price or higher fees. Right now, we have both.
Also, the halving will come faster. Miners are incentivized to throw on as much hash rate as possible while the before the subsidy get cut in half, even in the price is likely to rise.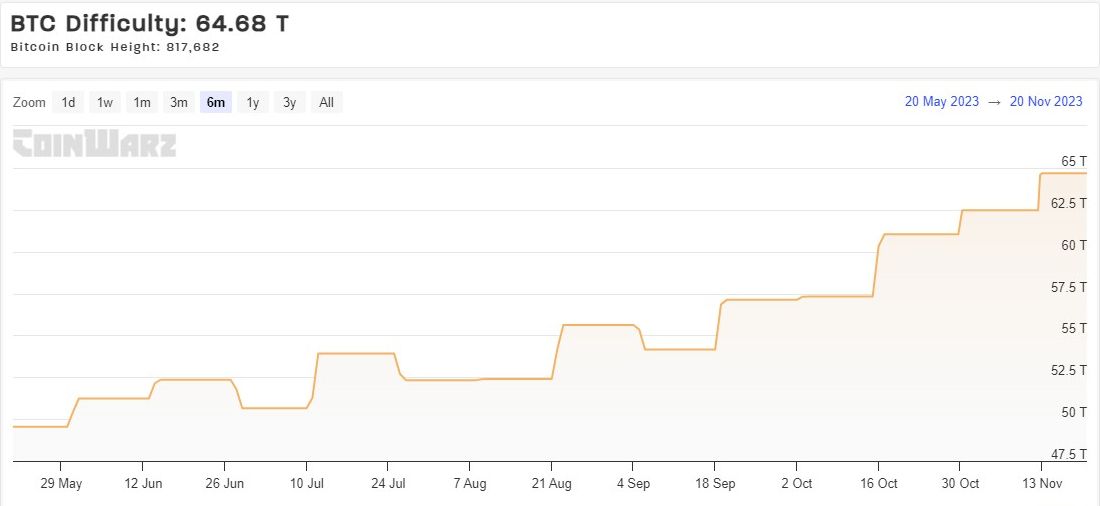 Hash Rate
Hash rate is exploding higher. Recently, we saw a one day increase of 15%. This is a huge vote of confidence for the price here. Tons of money coming into mining, backed by a new clean energy sustainability narrative, and promise of massive price appreciation. Miners are connected to the deep fundamentals for bitcoin, including government policy both of money and energy, investment, OTC demand, etc.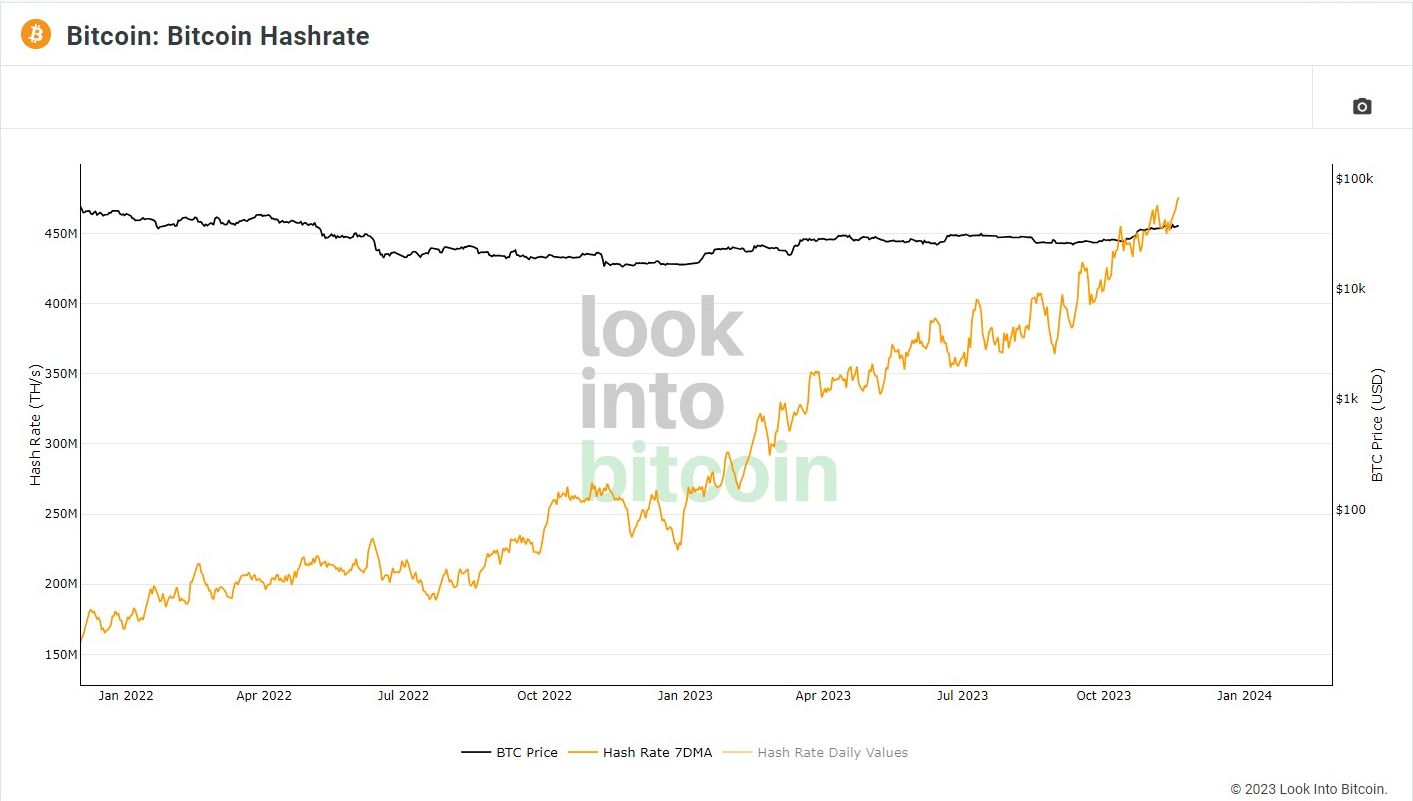 Mempool
The mempool blows through the yearly high set earlier by the Ordinal mania. I think we are near the top. The miners should start to chew through these transactions pretty soon. If the price jumps by 25%, that increases these fees waiting in the mempool by 25%. Also, liquid bitcoin stuck in the mempool cannot be sold until it is confirmed.

Layer Two
As bitcoin fees rise, it should push lower value transactions to the Lightning Network. But higher fees also provide a disincentive for opening new channels, because they have to pay the elevated fees. Therefore, it is logical to preposition bitcoin in lightning network during low fee periods.
The linked article comes from the angle that Ordinals, NFTs, and DeFi will inevitably be used on bitcoin. That's a pretty big assumption, because they haven't provided enough value to sustain themselves on other networks. DeFi and NFTs are virtually dead, putting them on bitcoin is just a last ditch effort at an affinity scam, using bitcoin's fame and legitimacy to bolster their false claims.
But anyway, the article includes this image of Bitcoin's layer 2's. Let's quickly run through them.
1) Lightning Network - this is a fantastic decentralized layer 2 that has yet to find its market niche to get it growing rapidly, but it has the best developer community.
2) Liquid - IMO this will be the model for government sidechains of the future. CBDC's will eventually be their own sidechains with a bitcoin peg. This is where most of the innovation will happen over the next two decades, it has built in backing by bitcoin, confidential transactions, smart contracts, and atomic swaps.
3) Rootstock - they are a ported ethereum clone that's been around for a long time. It will never really catch on IMO because it's centralized and code is not law.
4) Stacks - smart contract layer. It will never really catch on IMO because it's centralized and code is not law.
5) Mimblewimble - a different consensus mechanism to PoW. Was DOA when it launched.
6) Drivechains - don't exist yet, and are likely won't.
7) Omni layer - old Mastercoin, first ICO, initial home of Tether. Won't catch on.
8) MAP protocol - don't know about this one, could be an outright scam.
So, as you can see there are a growing number of Layer 2's but only Lightning and Liquid have path to high adoption. All the other projects will be home to many scams. Scams like DeFi, NFTs, and altcoins necessarily have to doctor incentives to the point that they don't work in a decentralized manner anymore. Why use a Layer 2 if you can just run it on a centralized database? That's what all these scammers refuse to learn.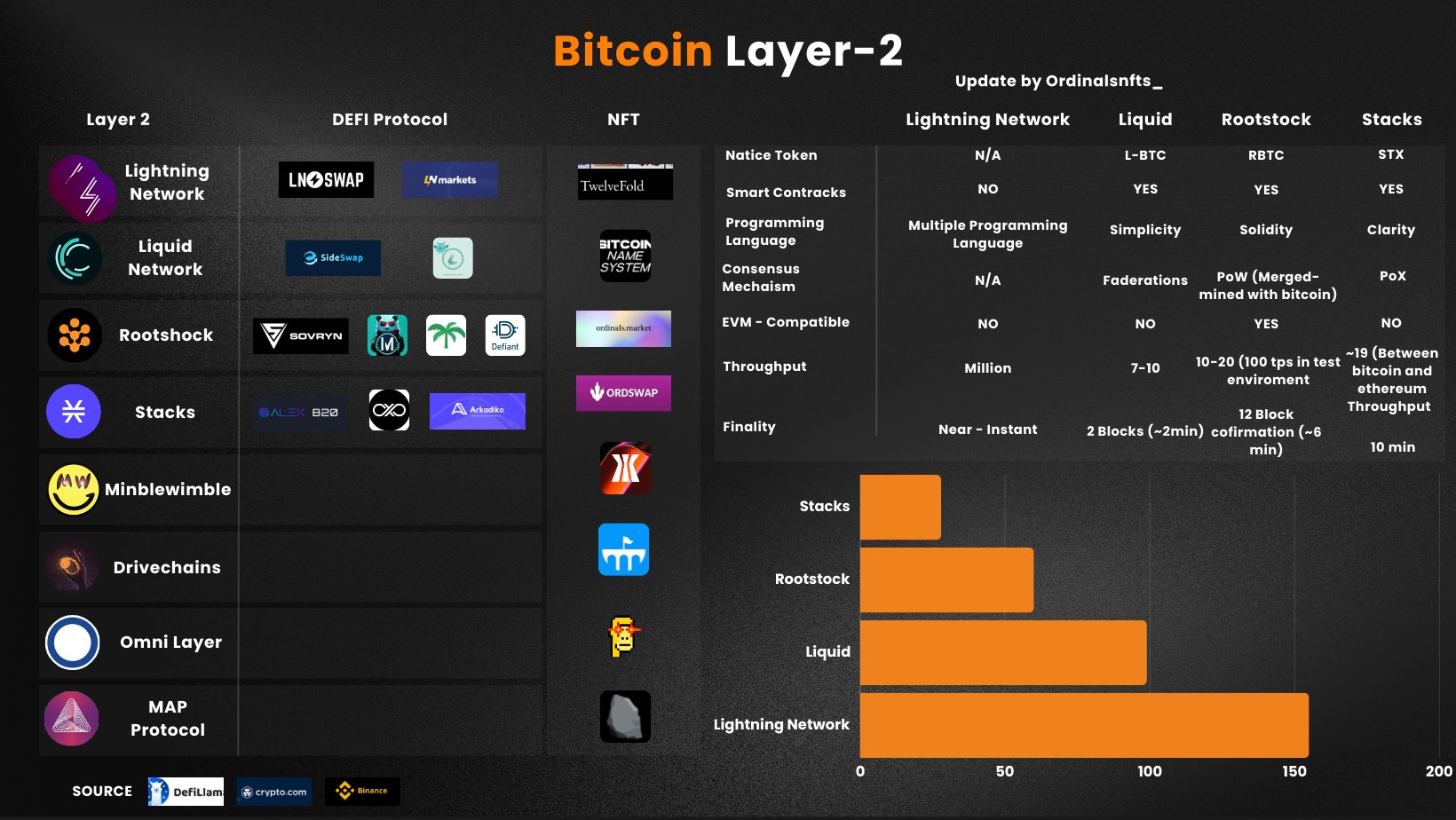 💡
Get our book the
The Bitcoin Dictionary
available
on Amazon!
That's it for this week. See you again next Monday!!!
A
---
DONATE directly on Strike or Cash App to support my work! You make my content possible! Thank you. Disclaimer: The content of Bitcoin & Markets shall not be construed as tax, legal or financial advice. Do you own research.
* Price change since last report
** According to mempool.space