Reports
Bitcoin Fundamentals Report #179
This week... Takeaways from Canada bitcoin situation, pending US regulation, Ukraine update, bitcoin price analysis, and mining sector update.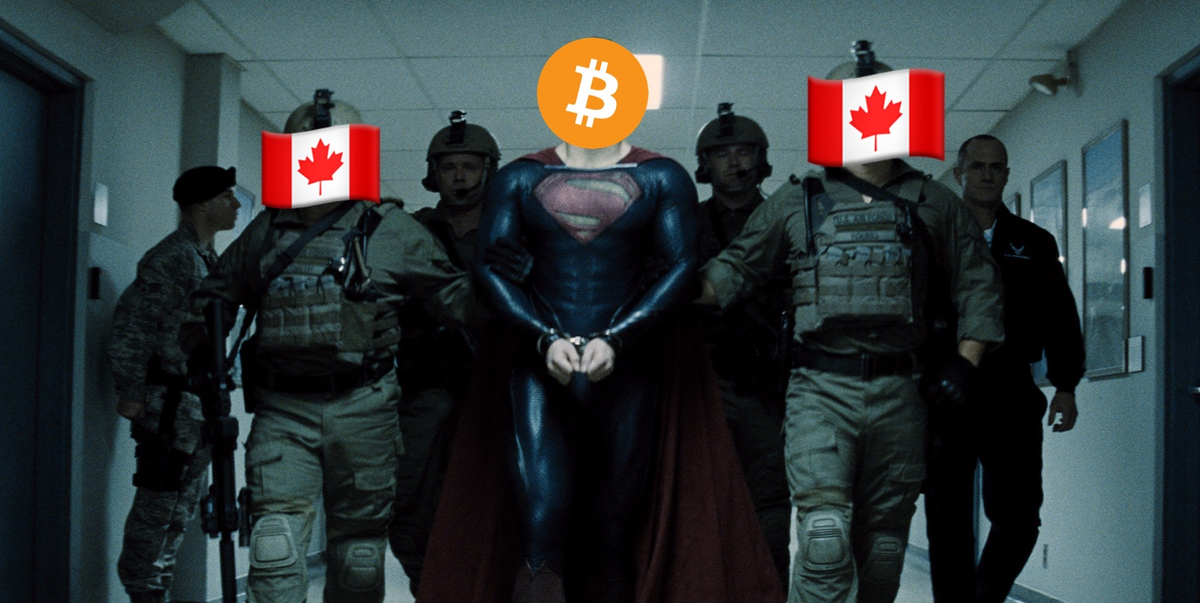 A weekly newsletter summarizing important sectors in bitcoin
by Ansel Lindner
This week...  Takeaways from Canada bitcoin situation, pending US regulation, Ukraine update, bitcoin price analysis, and mining sector update.
In Case You Missed It...
Sharing is caring!
Partnering with BitcoinDay.io
Bitcoin Day is a chance for the local community, business professionals, newbies, and cryptocurrency leaders to gather under one roof to inspire, socialize, and learn from each other. Check the schedule for a city near you!

---
Market Commentary
| | |
| --- | --- |
| Weekly trend | Trying to maintain support |
| Media sentiment | Negative |
| Network traffic | Low |
| Mining industry | Expanding |
| Market cycle timing | Beginning new 2-year cycle |
Hello Bitcoiners!
After a month of a blistering pace for bitcoin news, this week is slightly less crazy. Of course, there are still very important stories to cover, like the Canadian drama as it applies to bitcoin, and the rising chatter of regulation in the US.
Let's hit this week's top stories...
Canada Attempting to Freeze Bitcoin Donations
The situation in Canada is coming to a climax. Arrests of the alleged "leaders" of this decentralized protest were made yesterday. But of most interest to this bitcoin newsletter is that the Canadian government is attempting to freeze the bitcoins donated to the legal and peaceful protestors.
On Monday this week, PM Justin Trudeau invoked the Emergency Measures Act. This act has only been used 3 other times in Canadian history and is designed as a last ditch effort during an existential crisis. Peaceful truckers parking on the side of the roads on a couple streets in Ottawa is not an existential crisis for Canada, maybe for Trudeau's political career.
Among other things, the Emergency Measures Act temporarily allows Canadian banks to freeze accounts of any individual or business simply affiliated with legal protests. No court order or any due process needed, and the complicit banks get legal immunity from the government, too.
Along with this illegal overreach by the government in response to legal demonstrations, government authorities are trying to go after Canadian bitcoiners, amongst them Jeff Booth and probably Greg Foss. It is completely outrageous. Imagine if the government froze BLM accounts, or accounts of people "affilitated" with the BLM protests? Instead, Trudeau went and knelt with in front of the protestors, which I'd say rises to these level of being affiliated with them.
You might be asking, I thought bitcoin was immune from this kind of censorship? It's true that bitcoin transactions cannot be stopped. If you have your private keys, your funds cannot be seized. However, if you have bitcoin on a third-party exchange, they are liable to be frozen.
It is also the off ramps. For years people have been talking about on ramps onto bitcoin that faced regulatory attack. It is not the, buying of, holding or transacting bitcoin that is under pressure, the pressure is being applied to the protestors and those only loosely affiliated with the protestors, as they leave bitcoin and re-enter the government fiat financial rails. Also, these people's other assets, like traditional bank accounts, homes, investments, etc. are liable to attack.
Takeaways:
This crackdown on bitcoin is not a surprise. We have always known that the fiat side of the equation was the weakness.
This attack is only possible at the early stage in bitcoin's development. Once it is widely used as a medium of exchange, this attack will no longer be possible.
It is impressive that even in bitcoin's nascent state, it still threatens the powers that be, necessitating a crackdown. It turns the multiple layers of financial repression into a single one, the off ramp.
Bitcoin is also forcing these tyrants to massively overstep their legal authority just to crackdown. An equal and opposite reaction is bound to happen, both legislatively and technologically.
We get a glimpse at their tactics in future crackdowns and can build mitigation strategies.
The takeaway we should dwell on is that bitcoin is a real player, so much so that the Canadian tyrants had to specifically target bitcoin. Bitcoin is taking a major role in these world altering circumstances, even though it has barely started its global adoption.
US Crowns New Bitcoin Czar
Once again, the US government is lending legitimacy to bitcoin by appointing this Czar. If bitcoin were a fringe toy, why does it necessitate a Czar?
The language in this article, leads me to believe that much of the focus of the new team will be on scams; not the worst news. These people will take a close look at the industry and see bitcoin is fine, decentralized and sound. Altcoins, however, will be found to be horrible unregistered security scams.
We'll have to watch for the inevitable rhetoric that "crypto" is full of scams, when they aren't talking about bitcoin. The messaging around bitcoin being unique and special, and not part of "crypto" is the fight of the current day, similar to explaining the nuances of the block size conflict in 2016-2017.
Bitcoin Bill In US Senate
This is a non-story really for bitcoin, but I wanted to include it because people overreact about bitcoin legislation. This bill would simply require different government agencies to produce specific reports about the El Salvador bitcoin adoption.
We can't discount the possibility that the reports might come back positive. But if they don't, we can gain valuable insight us into likely regulatory attack vectors in the future for bitcoin.
Ukraine Legalizes Bitcoin
Via Bitcoin Magazine:
Bitcoin is now legal in Ukraine as its parliament approved in final reading a bill that caters to the president's recommendations. However, the country has not made bitcoin a legal tender.
As with Russia, many of these countries under outside stress will very much approve of bitcoin. We have known for a long time that many Ukrainian government bureaucrats own large amounts of bitcoin, also.
SHARE with those who need reliable bitcoin news !!
Quick Price Analysis
Weekly price*
$40,148

(-$2,292, -5.4%)

Market cap
$0.762 trillion
Satoshis/$1 USD
2,487
1 finney (1/10,000 btc)
$4.02
I have to be honest, this price movement is depressing. Bitcoin is making so many new inroads and getting adopted so widely around the world, the price can only go up mid to long term. Getting there is the test that long term holders get paid to handle. Not everyone can do it.
Bitcoin Daily Chart
Price broke out of the downward trend and looked as if it were going to continue after a single test of support. It's not a horrendous move yet, there's plenty of support at this area, down to $38,500. I don't think it will get that low. The general market condition skews toward being more tight, not distribution.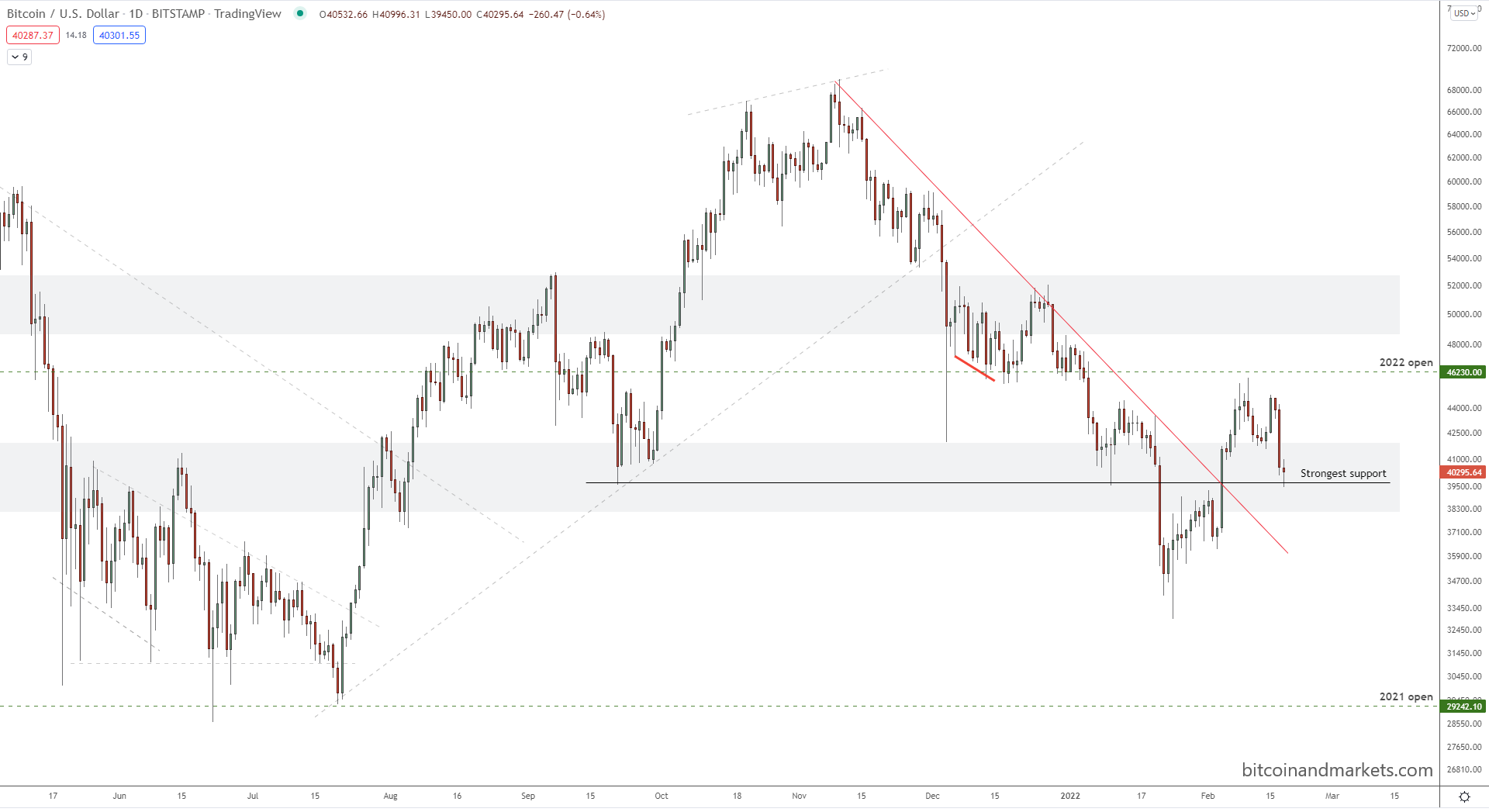 Weekly Chart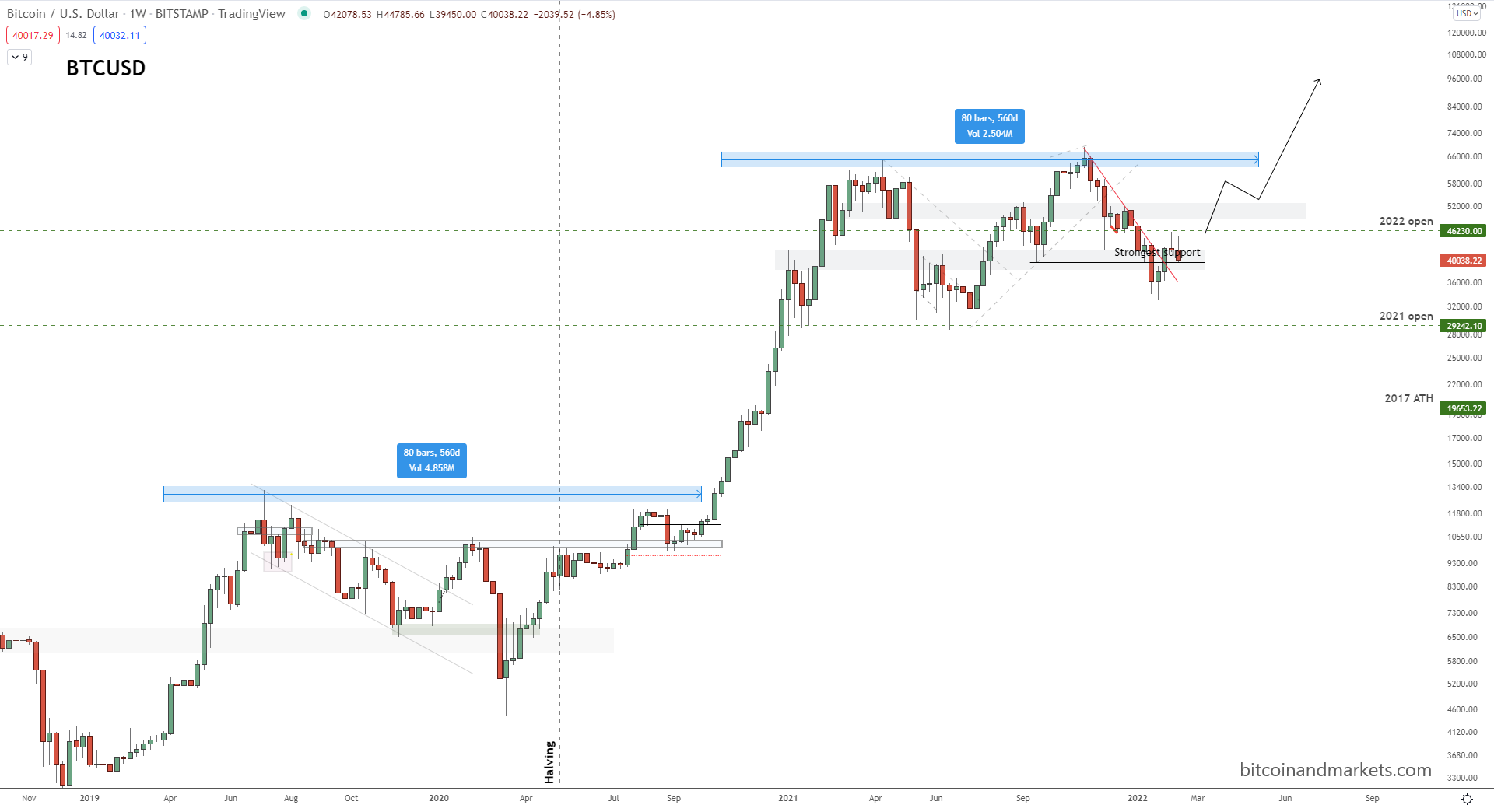 On the weekly chart of bitcoin, I highlighted the different cycles that I have been talking about recently. From the beginning of the rally starting in April 2019, it took approximately 80 weeks to begin the next rally in October 2020.
Currently, we are 68 weeks into that cycle, meaning we can assume the real rally to begin sometime at the beginning of May, if this new cycle is correct.
👉 Become a member! 👈
Get more price analysis
Mining and Development
| | |
| --- | --- |
| Previous difficulty adjustment | +4.7831% |
| Next estimated adjustment | -1% in ~13 days |
| Mempool | 2 MB |
| Fees for next block (sats/byte) | $0.06 (1 s/b) |
| Median fee (finneys) | $0.06 (0.015) |
Mining News
Major oil producer ConocoPhillips, reported this week that they are working with an unnamed bitcoin miner to tap their oil field flares.
Many people do not realize that if natural gas is struck alongside oil wells, the companies often simply lights the gas on fire as it is leaving the ground. This is called "flaring". The process is believed to be horrible for the environment, and is a very big waste of energy.
For several years now, bitcoin miners have been bringing their miners to the flare. They set up a trailer next to the waste energy and convert it into productive energy to mine bitcoin.
The Bitcoin Mining Council has estimated of total bitcoin mining energy consumption, 58% comes from sustainable sources. A recent study also found that using flares to power bitcoin mining reduced emissions from the flaring by 63%.
Bitcoin is leading the charge to reinvent the energy industry. It will push efficient uses of efficient energy sources by aligning incentives through capitalism. It's a beautiful thing!!
Hash Rate and Difficulty
After last week's report, hash rate rocketed to new ATHs. This caused difficulty to adjust upward more than 4% yesterday.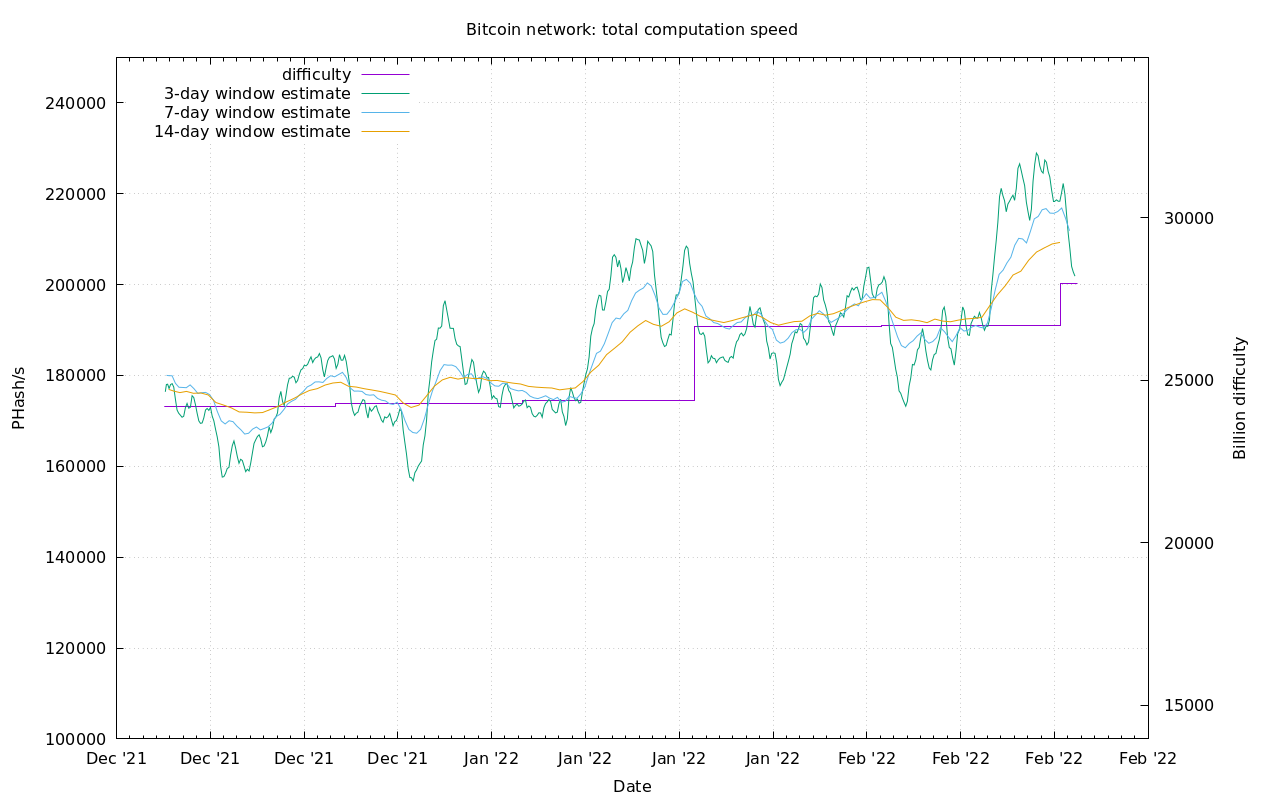 Macro/Geopolitics
I wanted to include a link to a great video about the Ukraine situation. This channel is a highly trained intelligence professional, using all unclassified data. There is so much back and forth on this issue, and outright misdirection, it is very hard to know the truth on the ground.
The US is desperate to avoid having to intervene with troops, because, well...  they won't. Russia can call NATO's bluff.
The US is well into it's re-alignment toward non-interventionism, like was our policy until WWII. In other words, the post-WWII era is over. This does not mean the US is weak and vulnerable, only that we don't want to police the world anymore. In reality the superiority of US military and economy will increase because of this move.
Several issues ago on this newsletter, I wrote that the risk of an invasion is peaking in February, due to weather and troop deployments. I will reiterate that Russia, should not be seen as an unusual aggressor, it is pursuing its geopolitical aims of strategic depth and to hold the chokepoints into the central Asian steppe. Every country pursues it's geopolitical objectives. Controlling Ukraine is a very big deal to Russia, so I agree with this analyst that a conflict is likely.
---
Get our book the Bitcoin Dictionary now on Amazon!
Were you forwarded this newsletter? You can subscribe here.
Podcast links and socials on our Info Page.
If you liked this newsletter please SHARE with others who might like it!
February 18, 2022  |  Issue #179  |  Block 723,936  |  Disclaimer
Meme by: @corndalorian
* Price change since last week's issue