Reports
Bitcoin Fundamentals Report #261
Debriefing this morning's Cointelegraph and spot ETF approval drama. Plus, price analysis, mining industry news.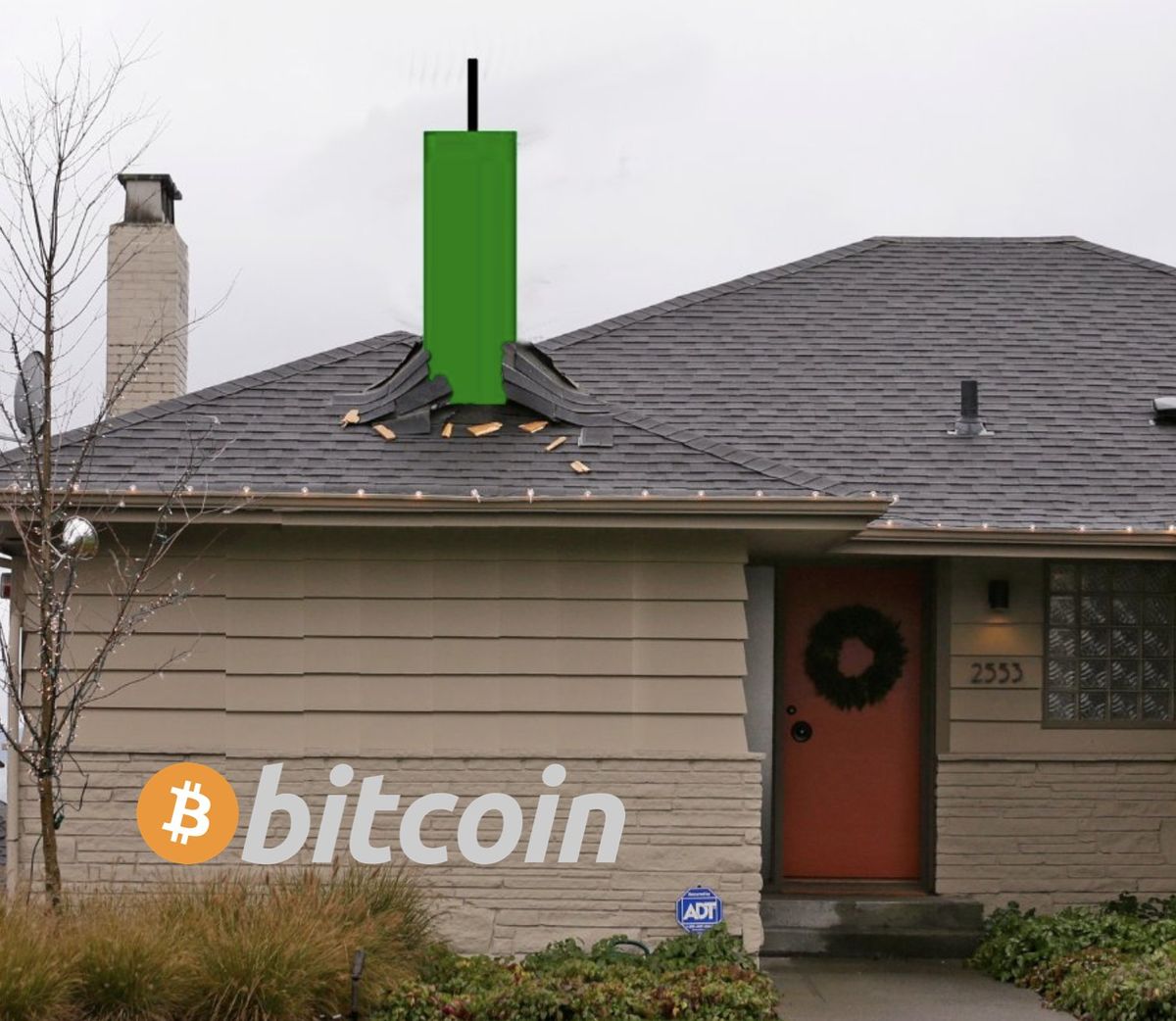 October 16, 2023 | Block 812,493
Snapshot of Bitcoin
General Bitcoin Headlines
Weekly trend
Breakout
Media sentiment
Positive
Network traffic
Low
Mining industry
Surging
Days until Halving
183
Price Section
Weekly price*
$28,574  

(+$1,187, +4.3%)

Market cap
$0.558 trillion
Satoshis/$1 USD
3,503
1 finney (1/10,000 btc)
$2.85
Mining Sector
Previous difficulty adjustment

+6.4708%

Next estimated adjustment
+0% in ~14 days
Mempool
97 MB
Fees for next block (sats/byte)
$0.92 (23 s/vb)
Low Priority fee
$0.92
Lightning Network**
Capacity
5366.75 btc

(+1.2%, +65)

Channels
63,718

(-0.3%, -188)
---
In Case You Missed It...
Member
Community streams and Podcast
Blog
Bitcoin Magazine Pro
---
Headlines
What a wild morning. FYI, this is going to be a non-standard Fundamentals Report. I want to go through the narrative and offer a opinion to what we are seeing here.
At roughly 930 am ET, Cointelegraph tweeted that the SEC approved Blackrock's spot ETF. I had just sat down to begin this letter, and caught it like 2 mins after they posted it.
Bitcoin twitter exploded. All the major influencer accounts jumped on the news. I shared it with my Telegram group. Eric Balchunas, head of the ETF team at Bloomberg, was frantically trying to confirm. Fox Business host Eleanor Terrett quickly debunked the news saying she checked with Blackrock and they denied it, saying, "the application is still under review."
In the meantime, bitcoin rocketed 10% higher on the news, breaking $30k on some exchanges, then rapidly falling again.
Cointelegraph updated their tweet within a few minutes to add the word "reportedly". Only to delete it completely minutes later. Very odd behavior IMO. Cointelegraph is a "shitcoin rag" as Blazed Kermit put it on Telegram, but I consider them one of the serious news outlets in the Bitcoin industry. It is unlike them, as far as I know, to run with an unsubstantiated rumor. It is likely they thought the information was accurate.
There was some weird action in the charts as well. At 1:15 am ET there was a very sizeable jump in price of 1.5% on nice volume. That volume was across all exchanges, most notable on Bitmex and Bitfinex from what I have seen.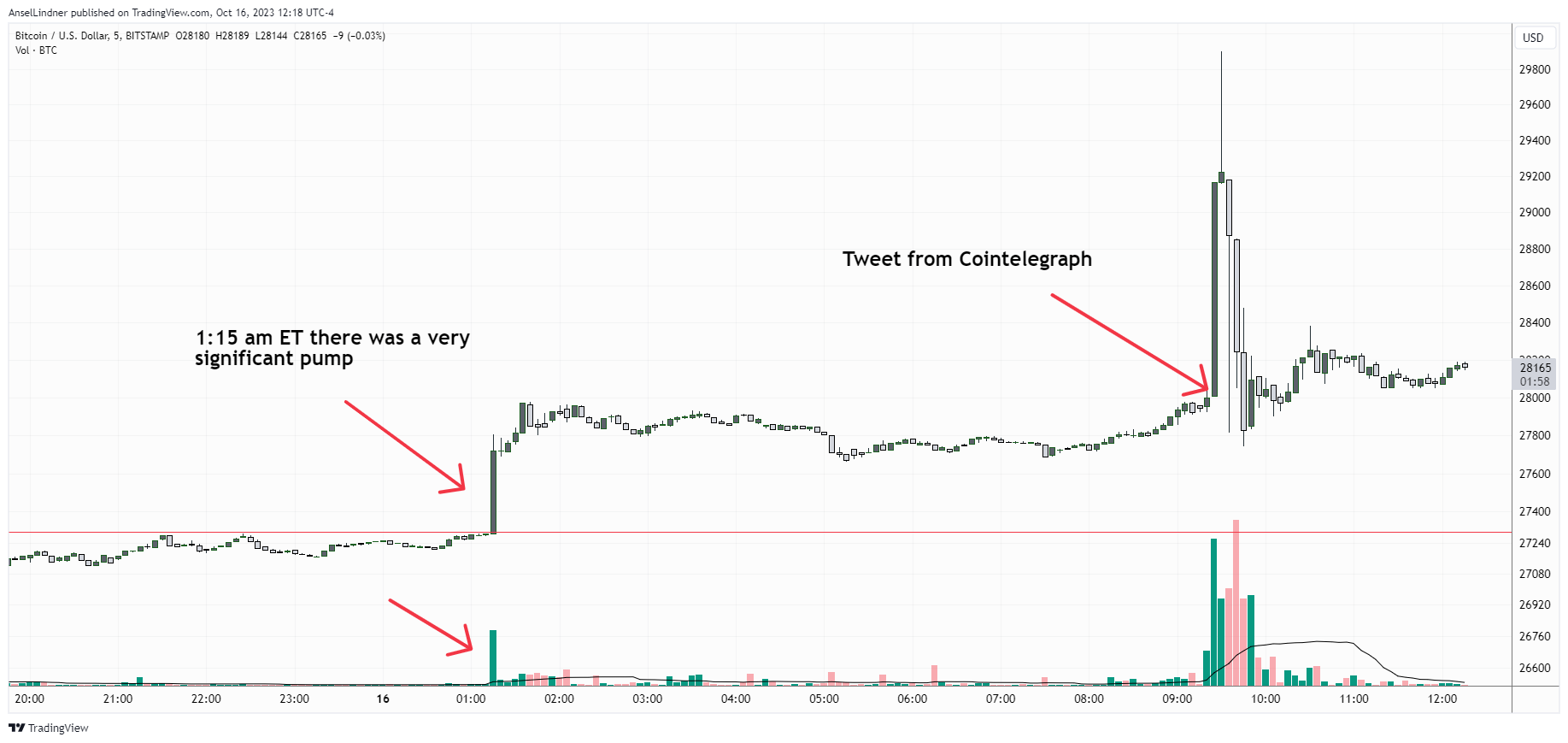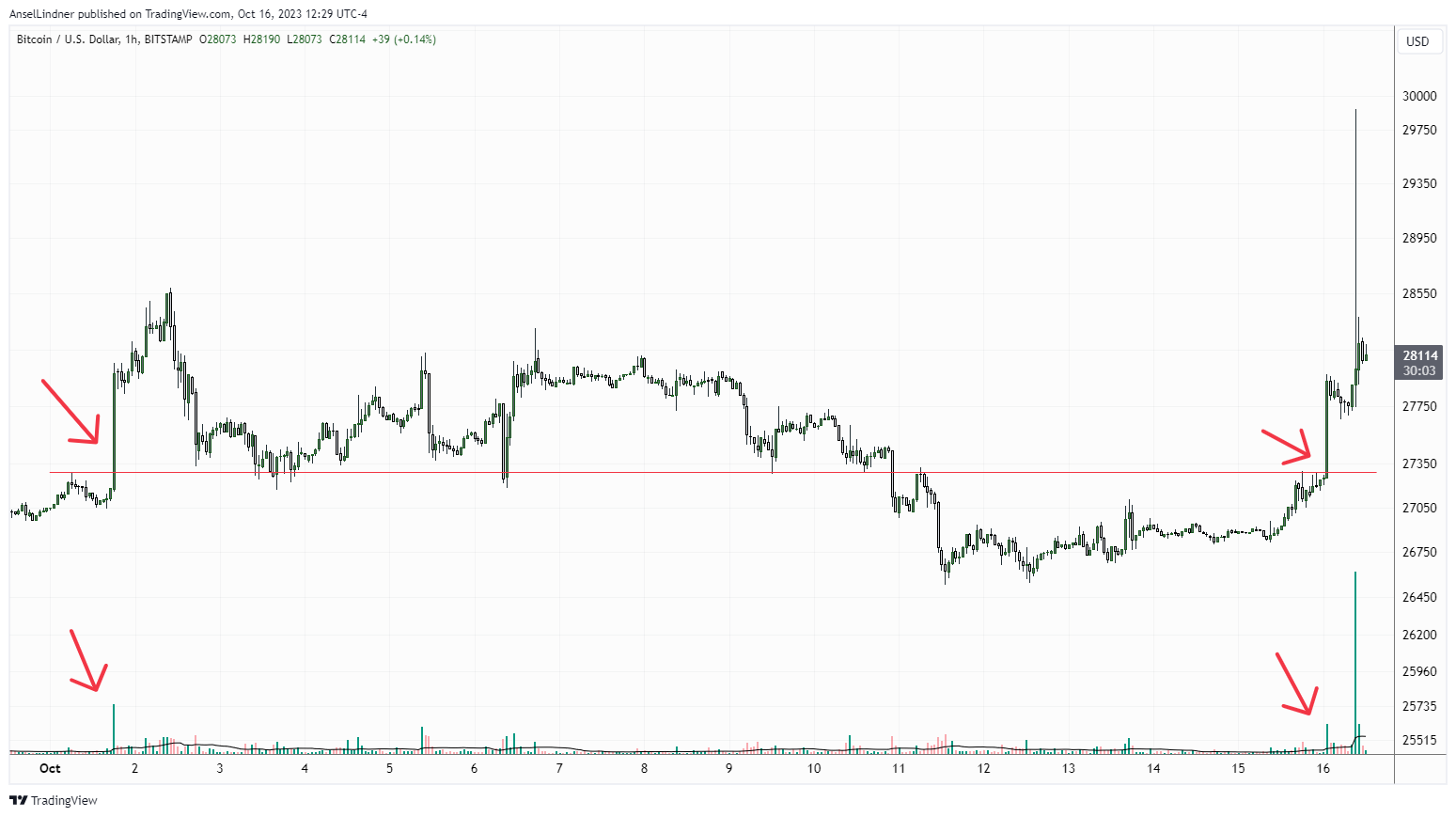 If we zoom out to the 1 hour chart, this level becomes very important apparently. Back on Oct 1st, we had a similar pump on high volume at the exact same level.
Possibilities
First the basic ones.
1) Total fake news, possibly for fraudulent reasons.
This is what most of Bitcoin twitter has landed on. A rogue intern tweeted this, maybe to pump his bags. People were even blaming Cointelegraph themselves, accusing them of running a trade to profit.
In my opinion, this is a lazy explanation. There is likely very tight protocols around who can tweet from their handle. Running a scam like this would have drastic legal ramifications. There is also the fact that they updated the tweet first, to include "reportedly". That isn't something you'd do if you were purposefully committing fraud.
2) This was a well executed plot by an outsider.
Someone bought a bunch of coins last night and sowed the rumor with lots of media outlets, planning to dump on the epic pump at market open.
In this case, Cointelegraph jumped on it thinking they had a scoop. This explanation matches the general timeline, but I'm not so sure that overnight pump was not simply a technical level getting broken, like Oct 1st.
I put this explanation at relatively unlikely, because there is no indisputable evidence the 1 AM pump was part of the scam. Without that motive, it becomes pure speculation.
3) Eric Balchunas thinks it was a gross extrapolation from the Friday news about GBTC's win in court.

There is a lot of confusion about what happened Friday and what it means for an ETF approval. However, the initial tweet from Cointelegraph explicitly identified Blackrock, not GBTC. That would be quite the mix up. Perhaps, this is part of the story though. More on that below.

4) This rumor was planted by Fox Business, because it is a coincidence that Terrett, the reporter that quickly debunked the claim, happens to be interviewing Larry Fink, CEO of Blackrock, this afternoon.
I wanted to throw this in here because it is very suspicious that Larry Fink has an interview today with the very reporter/producer that debunked the tweet in record time. Seems quite convenient.
5) Cointelegraph has a real source, whether within the SEC, Fox Business, or Blackrock, and the rumor is true.
People were so quick to believe Cointelegraph because they have some credibility in the space, but those same people were equally as quick to turn their backs on the media outlet 10 minutes later. It's very possible there is something to this rumor, but Blackrock and the SEC are playing their cards close to their chest.
I pointed out that the denial was not exactly that no decision had been made, or that the rumor was completely false. That context was added by the Fox producer Terrett. Blackrock simply said their application was still "under review." But being under review is a weasel word that doesn't necessarily mean a decision hasn't been made.
Many people familiar with this process and the SEC, like Cathie Wood of ARK and the a former Blackrock CEO, think the SEC will approve a slate of ETFs not just one. That way the SEC doesn't pick winners and losers, and would fit their recent modus operandi as seen with the ETH futures ETFs a couple weeks ago.
Let's put it all together. There is a 7-day clock running that ends this Friday. The court in the GBTC case is very likely to find in favor of Grayscale and open a door the SEC can't shut. Therefore, it is possible the decision has been made to approve everything on Friday this week. Cointelegraph has a source somewhere, either in the SEC or Blackrock, somewhere, and they were informed or overheard the ETF has been approved. Larry Fink is on a hype tour to promote his latest product.
Macro
China's exports and imports continue to fall. They are trying to steady the sinking ship, but there's a problem, the yuan remains precariously weak. Any stimulus would translate directly into currency pressure.
Two of the people said that financial sector regulators including the stock market watchdog — the China Securities Regulatory Commission — and the Ministry of Finance have submitted the proposal to the State Council, China's cabinet, which would ultimately decide how the proposed fund would operate.

Two people familiar with the proposal said the programme would need to raise at least Rmb1tn ($137bn) to be effective. "The fund needs to be big enough to influence the market. A few hundred billion yuan isn't enough to boost confidence. We need at least Rmb1tn," said a government adviser involved in designing the fund.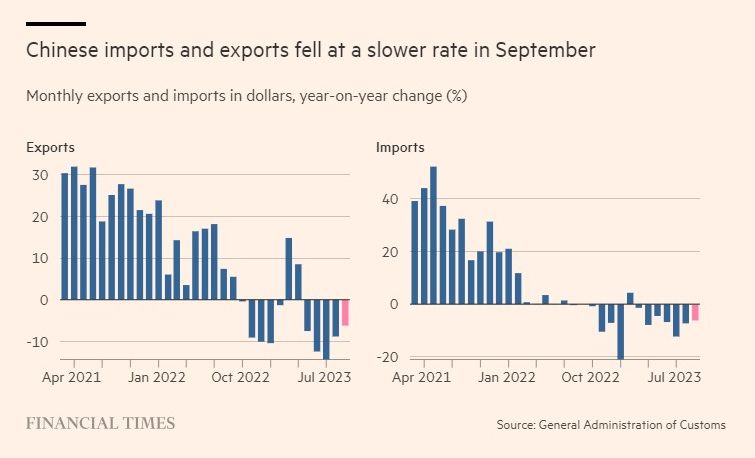 💡
Help us grow! Please share!!
Price Analysis
Join the Professional tier to receive my MARKET PROTONS, short price analysis and actionable forecast updates on Bitcoin and macroeconomic factors! Sign up today!
---
Bitcoin Charts
How do the chart look after this morning's drama? Well, price exploded through the 200-day and 200-week MAs that had been acting as resistance. This is an important development, because lots of orders congregate around that level.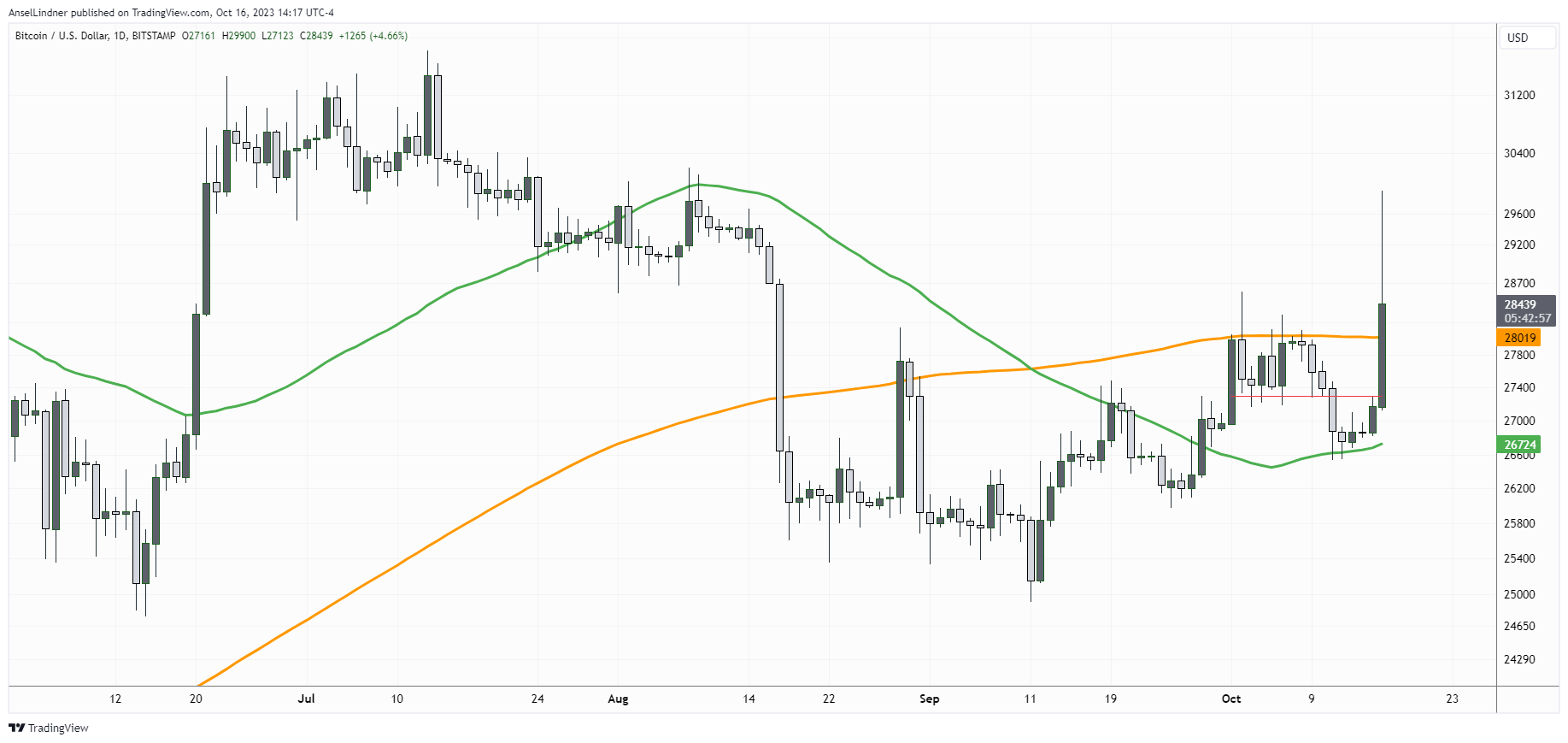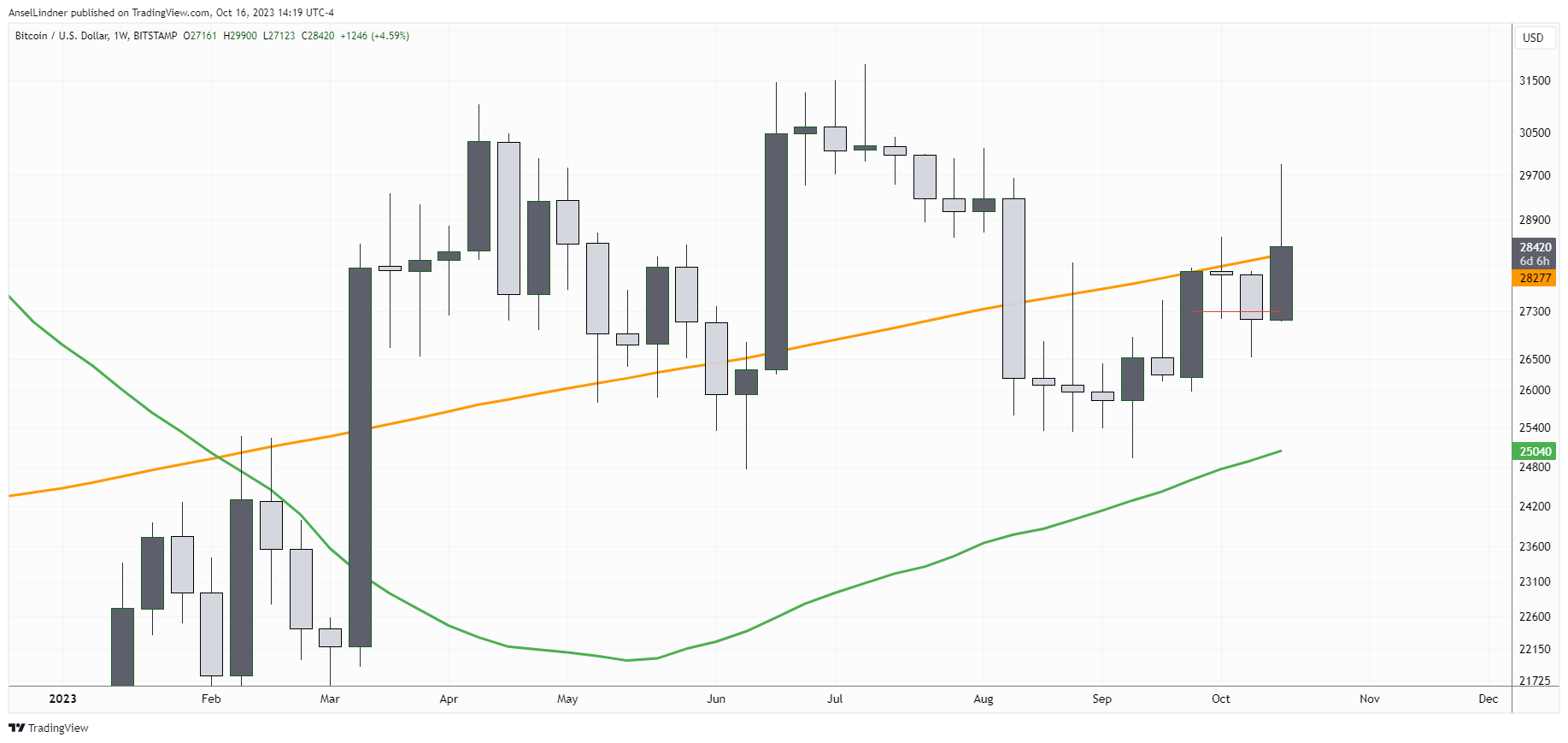 There is a high likelihood that price returns to near the top of the wick, because that part of the orderbook has been cleared. Orders will be stacked just shy of the top, leading price to come down from there an look for support.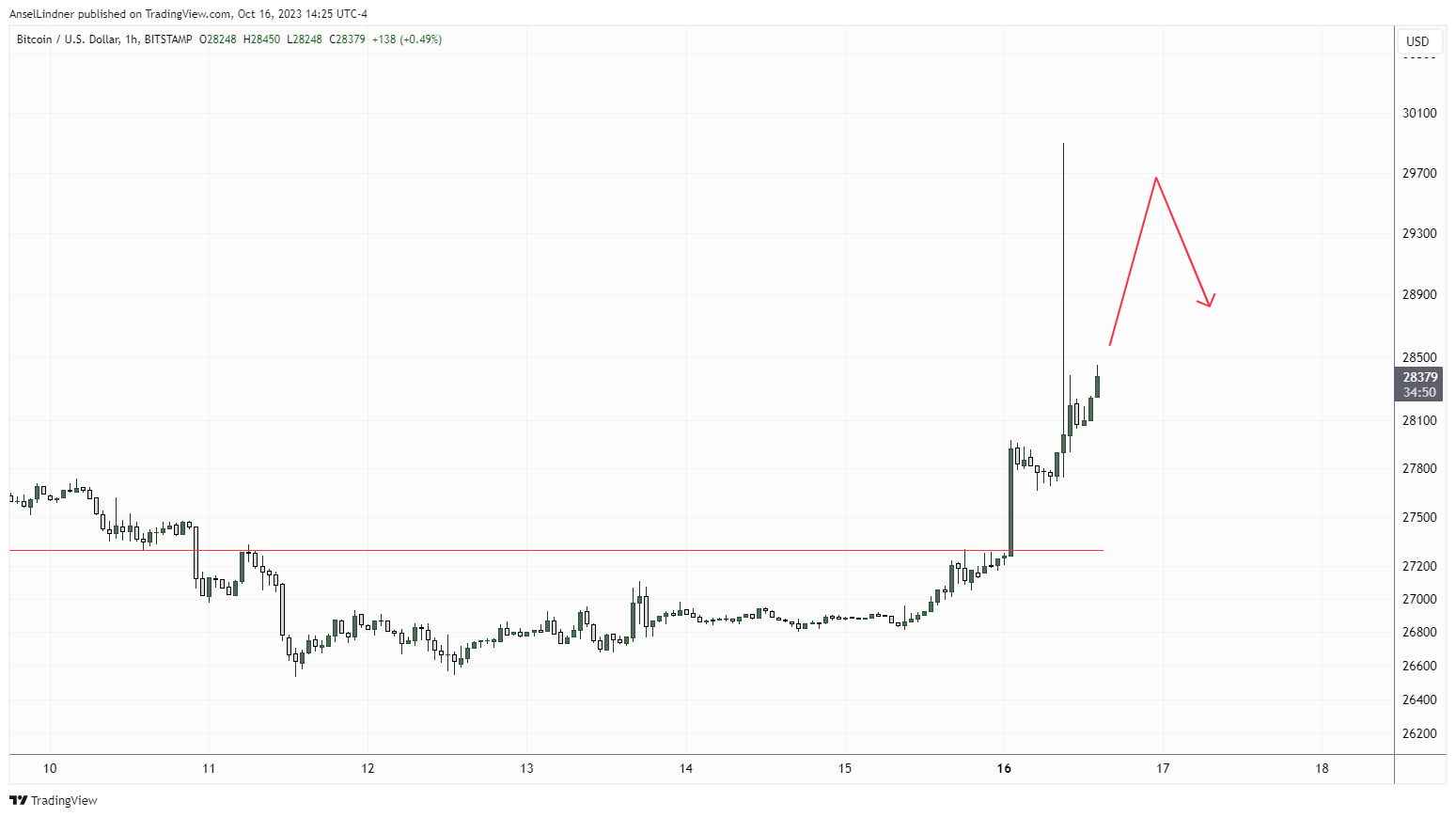 If the rumor is not completely retracted by Cointelegraph over the next few days, rumors will continue to grow. Support should be found on the 200 period MAs between $28,000 and $28,270.
Short, medium and long term forecasts on Market Protons!
---
---
Bitcoin Mining
Headlines
In at least 12 states, including Arkansas, Ohio, Oklahoma, Tennessee, Texas and Wyoming, The Times identified Chinese-owned or -operated Bitcoin mines that together use as much energy as 1.5 million homes.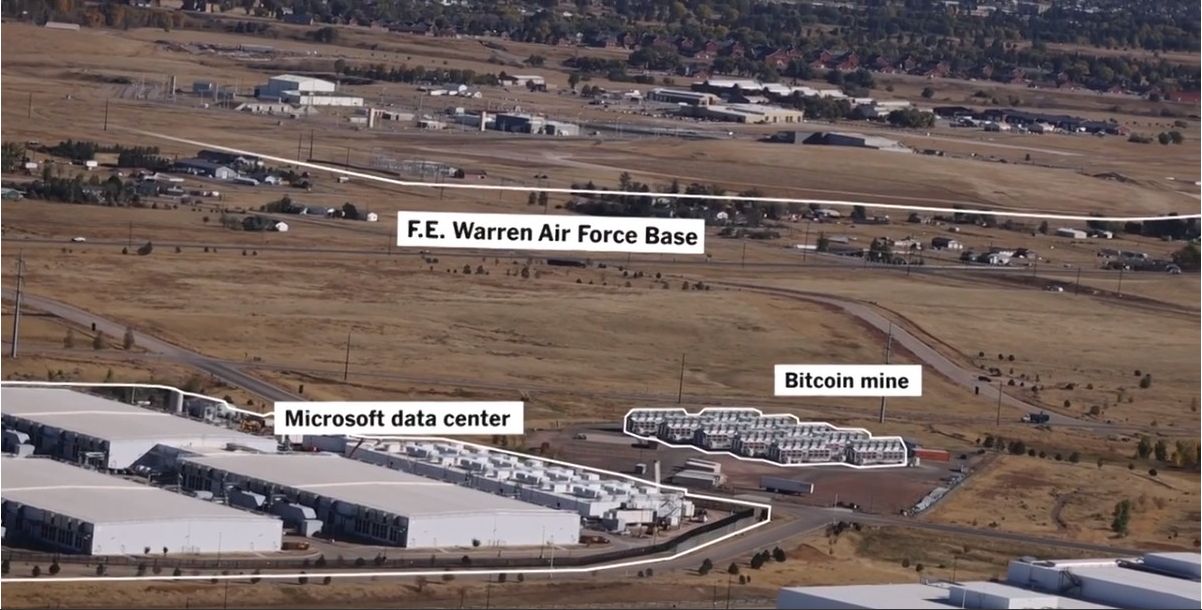 Court documents show the mine in Cheyenne is linked to five companies, all using the same office on Park Avenue in Manhattan. One of them is registered in the Cayman Islands and until last year was a Chinese pork-processing company.
This is a long article and worth the read. They take you on a trip down conspiracy lane. The most likely scenario is that the Microsoft data center sits a beneficial crossroads of data lines, maybe initially due to the presence of the AF base decades ago. Money wants desperately to flee China right now, so these types of investments are logical. There is a small chance they will be used for some nefarious reason, but I'm sure the military is well aware of their activities.
A new report from JPMorgan detailed the firm's latest outlook for the bitcoin mining sector as the industry faces record competition for bitcoin rewards, an upcoming halving event and growing institutional interest.
JPM estimates the next reward epoch after the halving to be worth roughly $20 billion at today's price. They then use that number divided by the public miners' share of total hashrate to come up with an bullish investment thesis for bitcoin miners.
Difficulty
Bitcoin hash rate has been on a tear over the last 2 weeks. After a tiny increase in difficulty on the last adjustment of just 0.3%, difficulty jumped by 6.4% this morning. It's too early to get a good estimate for the next adjustment, but if price continues higher there is little reason for any hash rate to taken off. The path is likely up from here.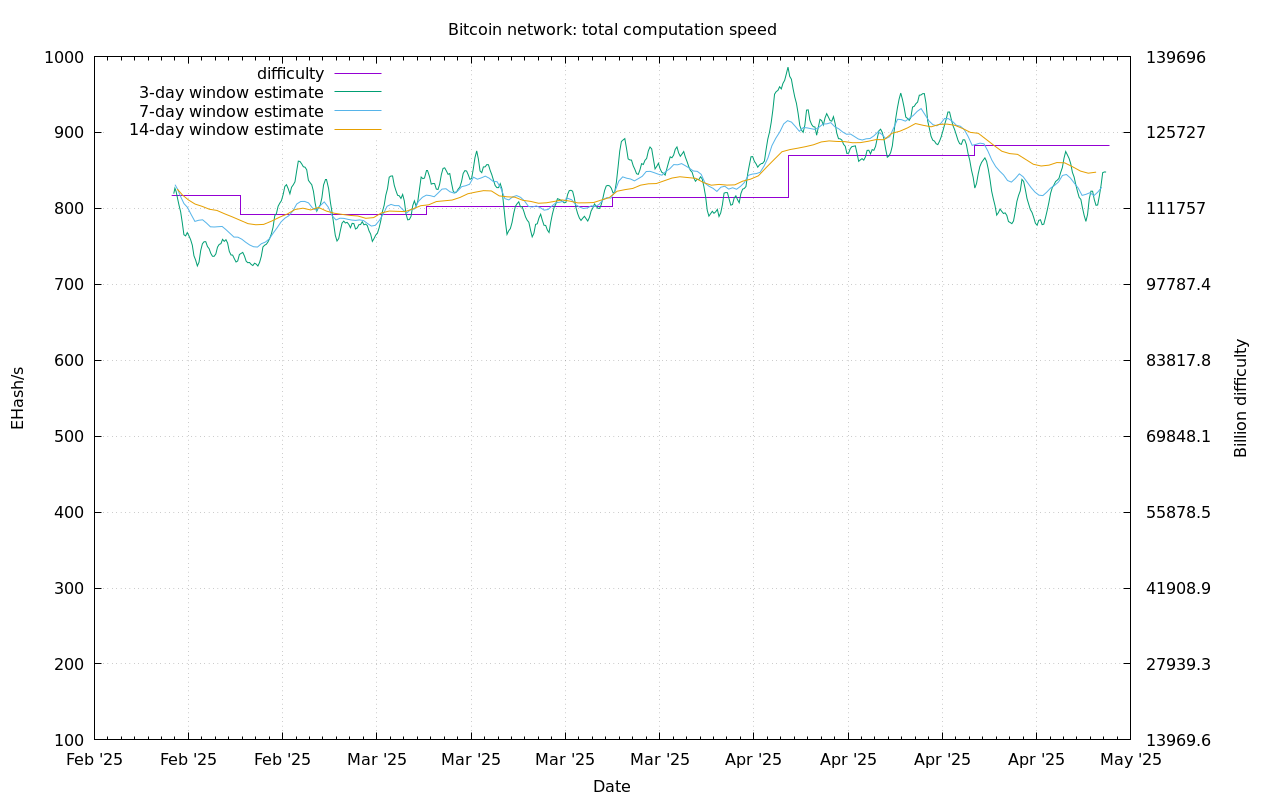 Mempool
Not much to say about the mempool this week. It is full of cheap transactions waiting for low priority approval. One thing we might be able say about the mempool this week is typically before drops in price, there is a surge of transactions. We are not seeing that right now, so we can infer that people's propensity to safe/hold right now is elevated.

Layer Two
The Lightning Network Grew by 1212% in 2 Years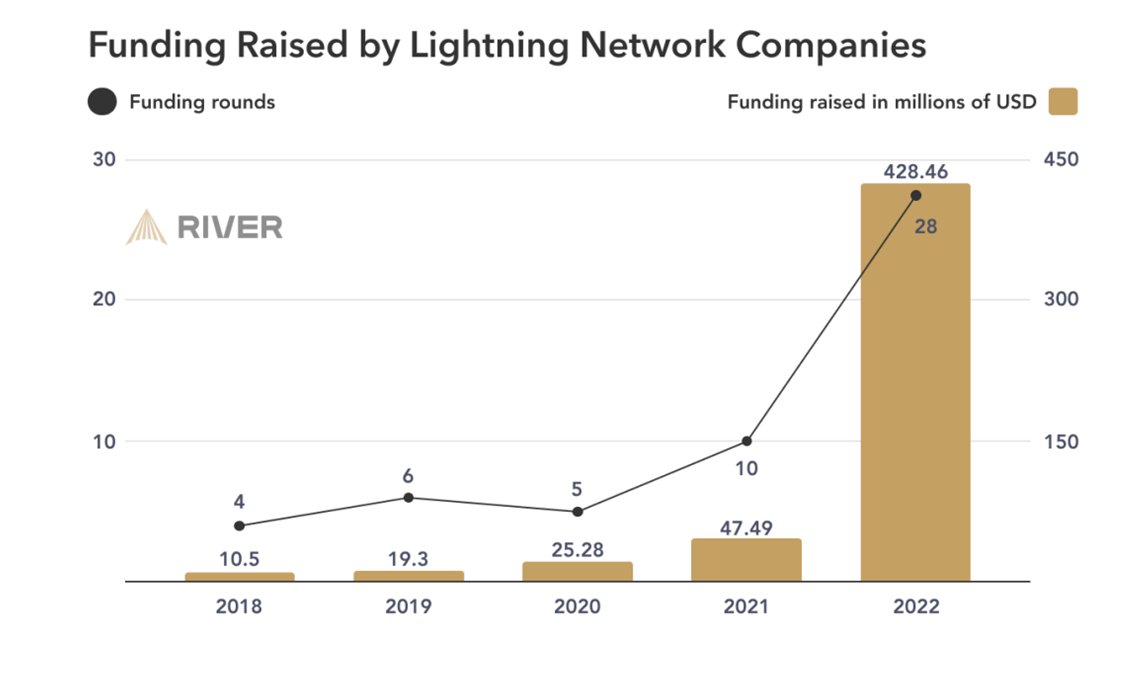 💡
Get our book the
The Bitcoin Dictionary
available
on Amazon!
That's it for this week. See you again next Monday!!!
A
---
DONATE directly on Strike or Cash App to support my work! You make my content possible! Thank you. Disclaimer: The content of Bitcoin & Markets shall not be construed as tax, legal or financial advice. Do you own research.
* Price change since last report
** According to mempool.space