Reports
Bitcoin Fundamentals Report #260
Slow week in bitcoin, big week in macro. I cover bitcoin and macro headlines, bitcoin price, mining, and Layer 2.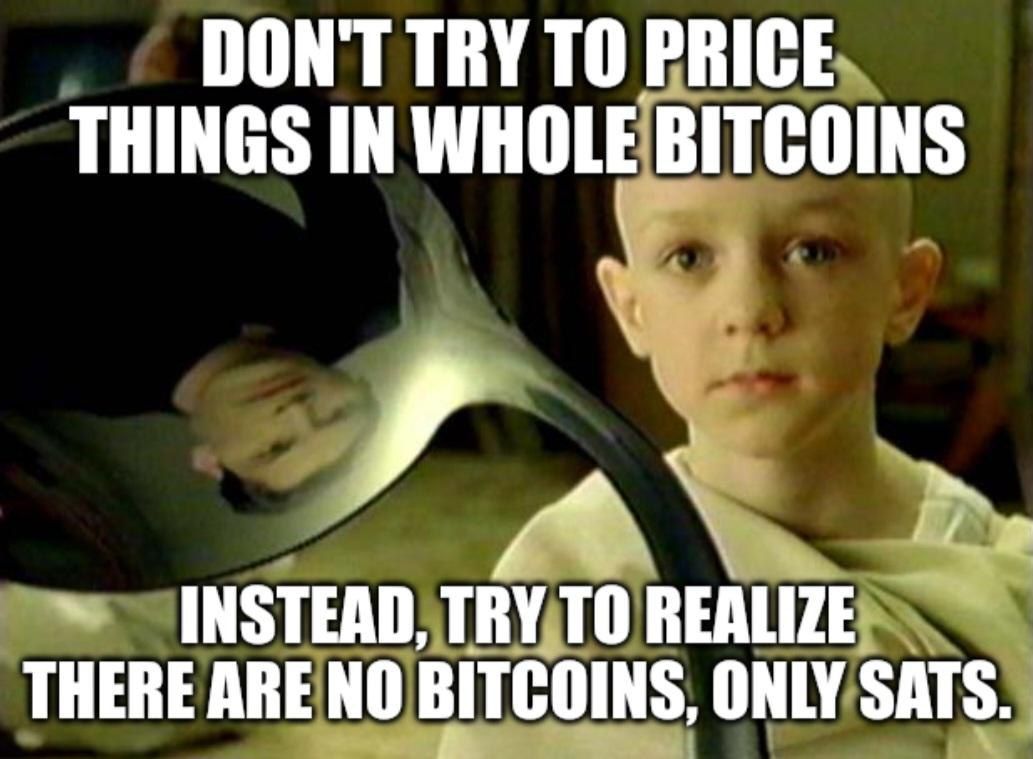 October 9, 2023  |  Block 811,400
Snapshot of Bitcoin
General Bitcoin Headlines
Weekly trend
Wanting to breakout
Media sentiment
Positive
Network traffic
Moderate
Mining industry
Confident
Days until Halving
190
Price Section
Weekly price*
$27,387

(-$669, -2.4%)

Market cap
$0.533 trillion
Satoshis/$1 USD
3,652
1 finney (1/10,000 btc)
$2.74
Mining Sector
Previous difficulty adjustment

+0.3530%

Next estimated adjustment
+4% in ~7 days
Mempool
65 MB
Fees for next block (sats/byte)
$1014 (29 s/vb)
Low Priority fee
$1.06
Lightning Network**
Capacity
5301.41 btc

(+17.5%, +788)

Channels
63,906

(+1.3%, +814)
---
In Case You Missed It...
Member
Community streams and Podcast
Blog
Bitcoin Magazine Pro
---
Headlines
Another slow week for bitcoin, but I picked out a few stories to keep you updated with what's happening in the space. The real action is happening on the geopolitical front. More on that in the Macro headlines below
Former BlackRock managing director Steven Schoenfield, who's now the CEO of MarketVector Indexes, gives the U.S. Securities and Exchange Commission "three to six months" before it approves a Bitcoin spot ETF.

Schoenfield was responding to comments made earlier by Bednall that "the SEC will probably approve [all ETF applications] at the same time; I don't think they want to give anybody first mover advantage."
Ethereum futures ETFs were rushed through before the Oct 1st government shutdown, which was then subsequently avoided anyway. Many Ethereum believers thought this was going to be a huge day for the King Scamcoin, but they were sadly mistaken.
For all the excitement that followed news of the approval of the investment vehicles does not seem to have translated into actual investment.

By mid-day, the ETFs had seen less than $2 million in trading volume. According to the analyst, this was "about normal" for a new ETF but low when compared to BITO, the first Bitcoin futures ETF, which did $200 million in the first 15 minutes of trading.
All Ethereum ETFs launched on the same day, after years of waiting, and the bitcoin futures ETF massive success almost 6 years ago. Despite that, Ethereum futures ETFs racked up only 1% of the volume in the first day of trading that bitcoin futures ETF got in the first 15 minutes.
These are different assets with different investment profiles. Ethereum is a dying scam and bitcoin is a new decentralized money.
I hate to include so many headlines about scammy crypto, but there really wasn't a ton of new for bitcoin this week.
Ripple has avoided an SEC appeal of the the ruling from a couple months ago about Ripple not being a security in certain circumstances. Once again, the pumpers were out in full force trying to claim this was a complete victory by Ripple.
In this motion, the SEC was asking the judge who made the insane summary judgement from a couple months ago, to allow an immediate appeal. Of course, Judge Torres denied it.
This is in no way a "win" for the Ripple fraudsters. Torres also set the court date for April 23, 2024. They will have to go to trial, but the summary judgement usually is a good sign of which way the case will go. The SEC can then appeal. In my non-attorney educated guess, we are looking at no solution in this case until 2025 or later. In the end, I expect the SEC to win, because Torres added a line to the Howey Test to save some of the people involved in shitcoinery, from no where, namely that a secondary market makes something not a security, which would make most things traded today not securities.
Macro
Oil demand is plunging in the US, and most likely around the world. As we all slide into recession over the next 12-24 months, demand will only go down. With China facing an existential threat to their economic model for growth and exports, the demand for oil will likely continue to fall on the other side of US recession as well.
Last week, the Energy Information Administration (EIA) came out with their report on the energy markets. The demand picture they painted for the US was terrible. 2023 weekly demand numbers are the lowest in 25 year, even lower than the September 2020 (not showing on this chart for some reason).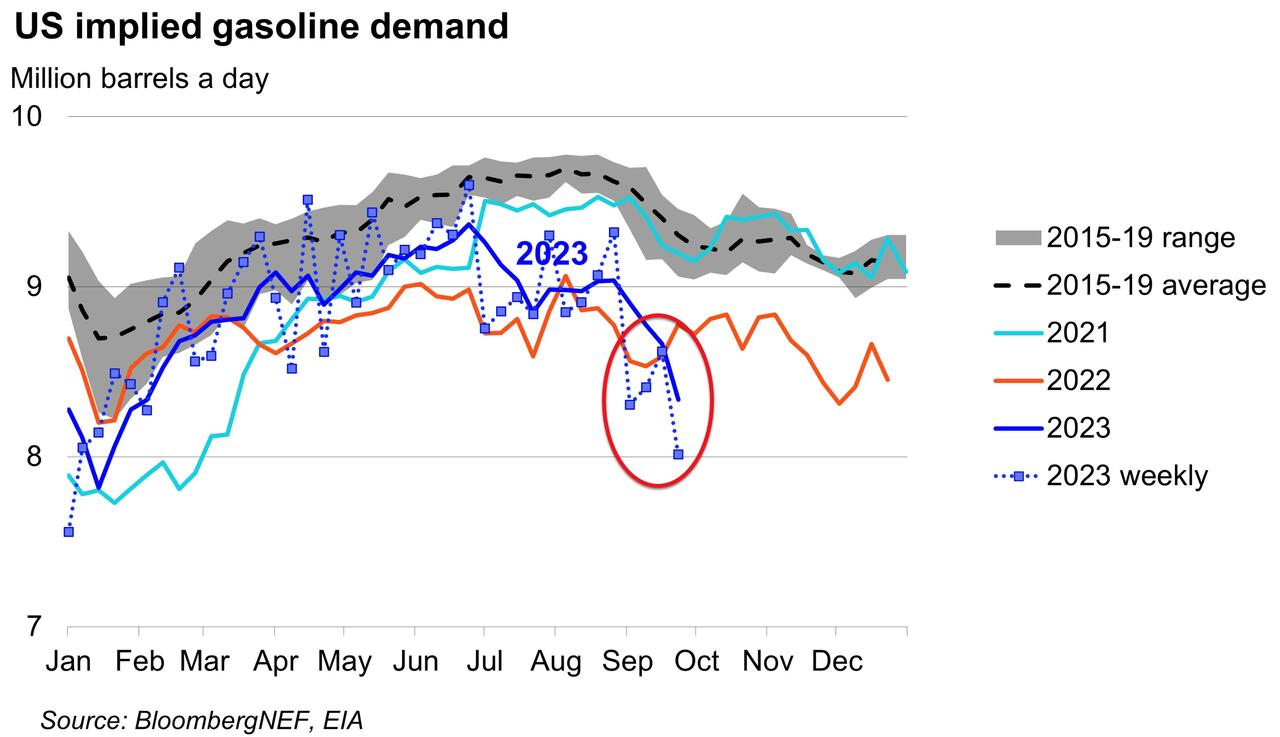 Saudi Arabia has updated their economic forecasts (prior to the Hamas-Irsael war), predicting deficits for the next 4 years. This is likely due to a drop in oil demand due to a lingering global recession. But will Saudi abide deficits? Probably not.
Dedollarization? More like de-euroization.
Since mid-July, the common currency has lost nearly 8% against the dollar. According to data from SWIFT – the global messaging service for cash transactions – the use of the euro has collapsed in the past nine months. It's share in transactions dropped from 38% in January to 23.2% at the end of August, which is the lowest level recorded in, at least, twelve years.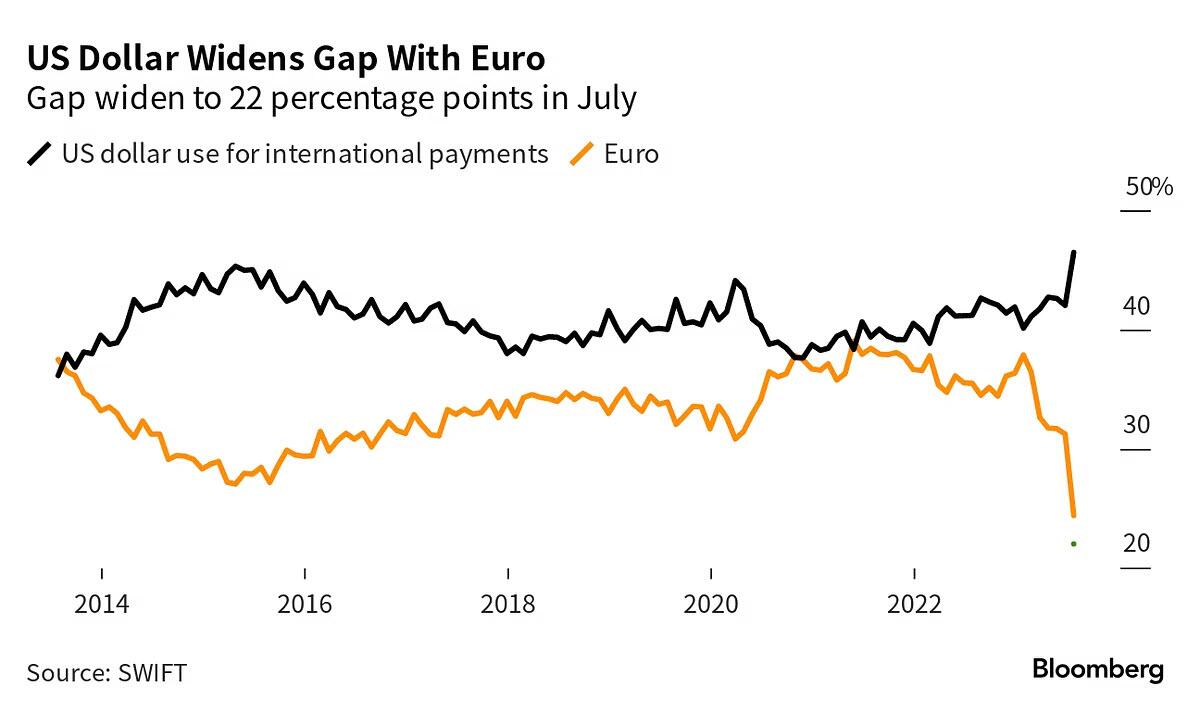 When it comes to Chinese military power, I respect their numbers and mass of missiles, but I don't think that makes for a formidable enemy. They have NEVER won a blue water naval battle in their long history, more men and equipment means more expense, and lastly, their doctrine is extremely lacking.
Here is the latest example of the naval prowess.
💡
Help us grow! Please share!!
Price Analysis
Join the Professional tier to receive my MARKET PROTONS, short price analysis and actionable forecast updates on Bitcoin and macroeconomic factors! Sign up today!
---
Bitcoin Charts
Not much action on the charts. Thursday through Sunday was fighting with the 200-day and 200-week moving averages. So far, bitcoin is taking a breathe before trying again. It is holding in there above the recent $27k support.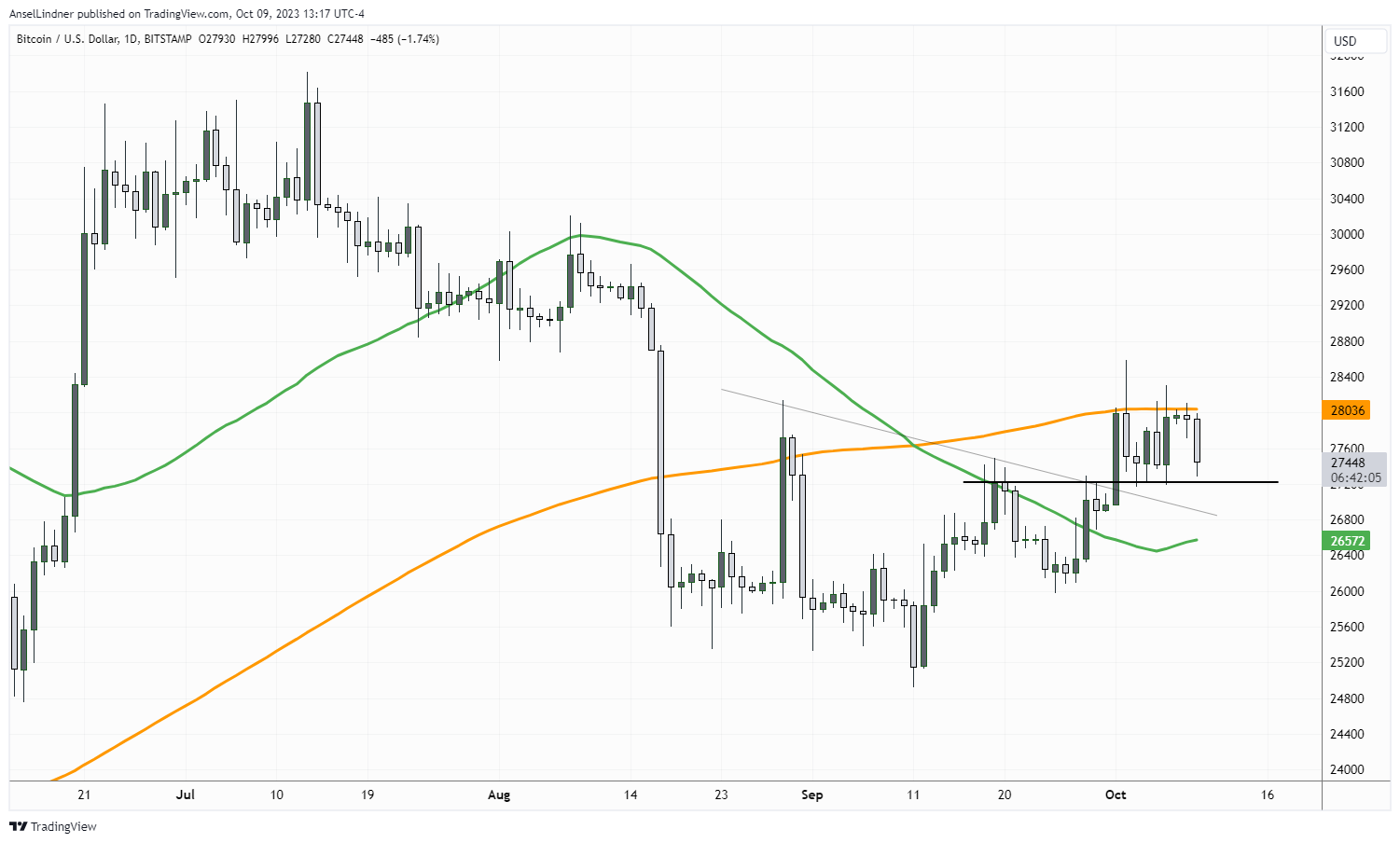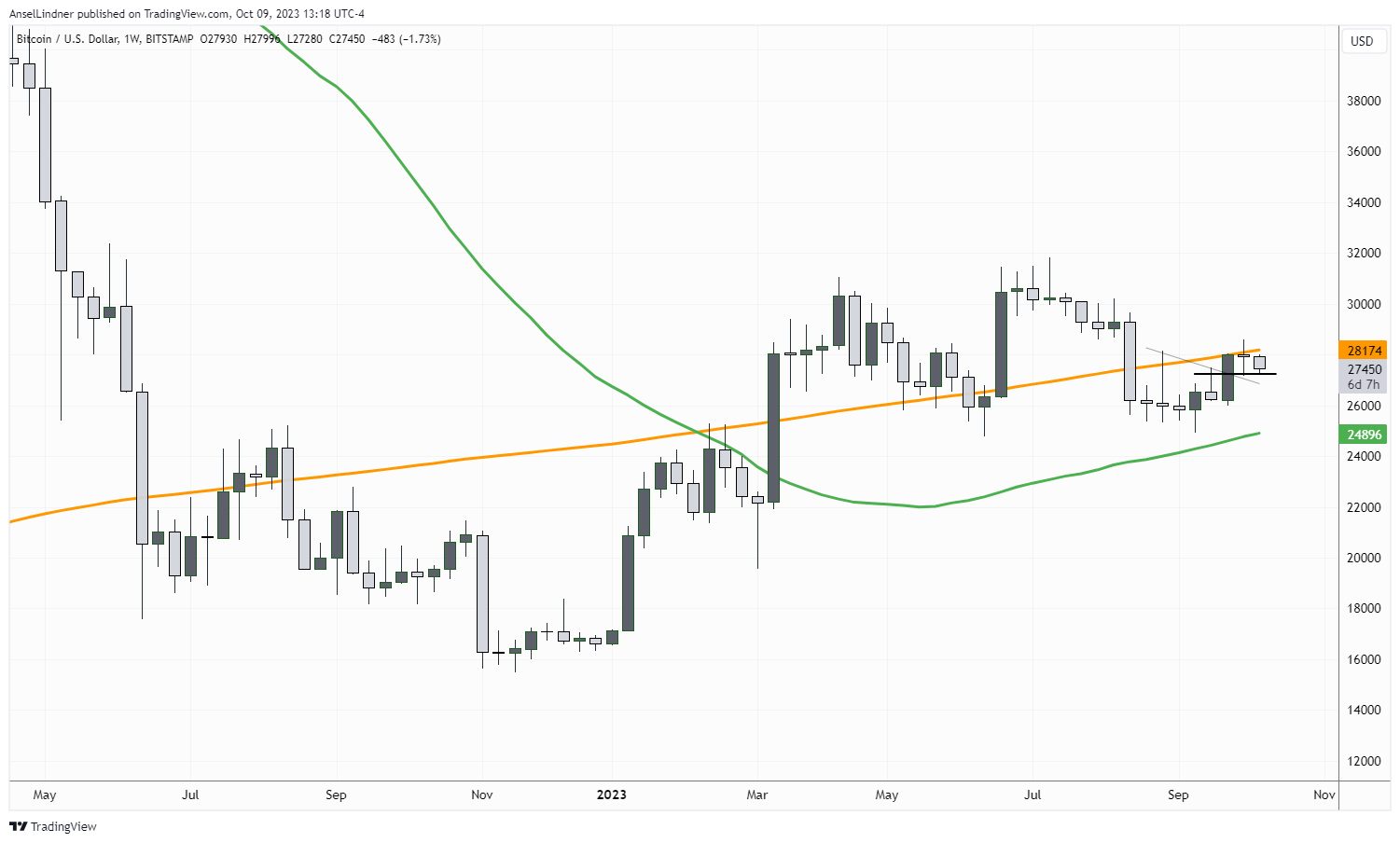 Ethereum's performance might be dragging bitcoin down a bit through arbitrage bots that are programmed to keep these two different things pegged together. That won't last long. It was also reported this morning that the Ethereum Foundation sold 1,700 ETH. Soon enough the swapping of ETH for bitcoin will break the bots and send bitcoin much higher very quickly.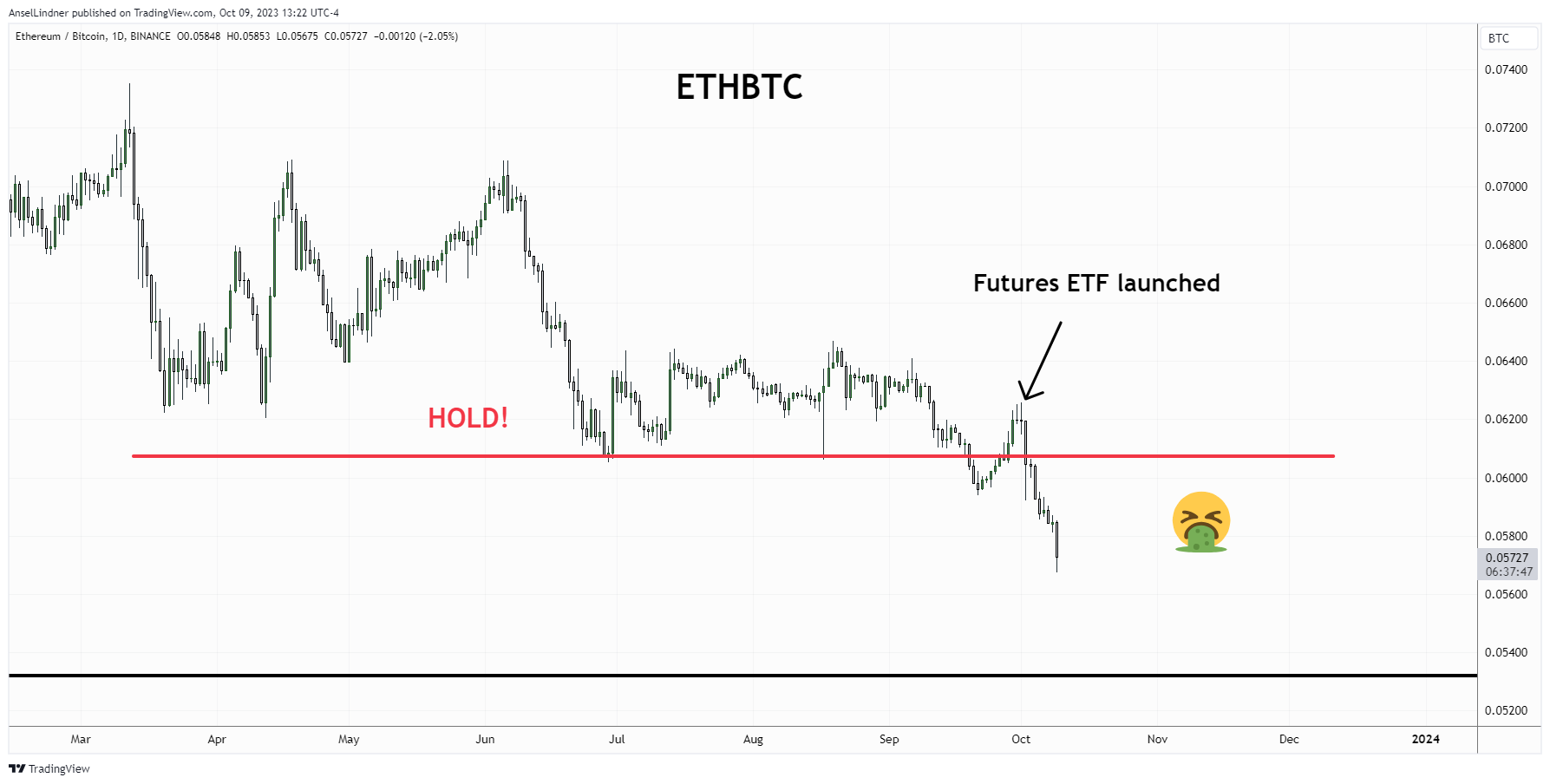 The market shift toward recession I've been talking about for weeks now, is starting to take shape. Stocks are up off the recent lows, the US 10Y is dropping with a bearish divergence, the dollar is off the highs and barely hanging onto the bullish trend.
The only outlier is oil. It is was down 14% last week in line with predictions, but bounced from $81 to $86 on the Hamas-Israel news.
Get all macro charts on my premium Market Protons!
Overall, things are slowly aligning for a 12-18 month move into recession. Of course, things could deteriorate more rapidly due to the war, or something else, but I'll keep you ahead of that, too.
Bitcoin should break the resistance soon, as stocks and bonds all rally.
Short, medium and long term forecasts on Market Protons!
---
---
Bitcoin Mining
Headlines
After launching their bitcoin mining project in El Salvador in June of this year, Volcano Energy announced a new agreement with Luxor Technologies to establish the first bitcoin mining pool based in the Central American country. Its name is Lava Pool.

Volcano Energy is building bitcoin mining facilities in the western department of Santa Ana, using eolic and solar energy sources. This project will generate renewable energy with a capacity of 241 MW that will be partially used to mine bitcoin and to provide cheap power to the local communities.
The upcoming Bitcoin halving expected next year is already creating quite a bit of buzz as the market anticipates a reduction in Bitcoin block rewards. With a little over six months left till the halving, analysts are now offering predictions about Bitcoin's chances.
Not much in this article, but the halving buzz is heating up for sure. Wait until the ETFs get approved and the halving is around the corner.
Difficulty
On last week's Report, difficulty was estimated to adust down by -0.3%, just 12 hours before the adjustment. Hash rate jumped so much right after, that the adjustment ended up being +0.3%. That is a monsterous swing in just 12 hours. Now, the hash rate is on pace to cause a +4% adjustment next week.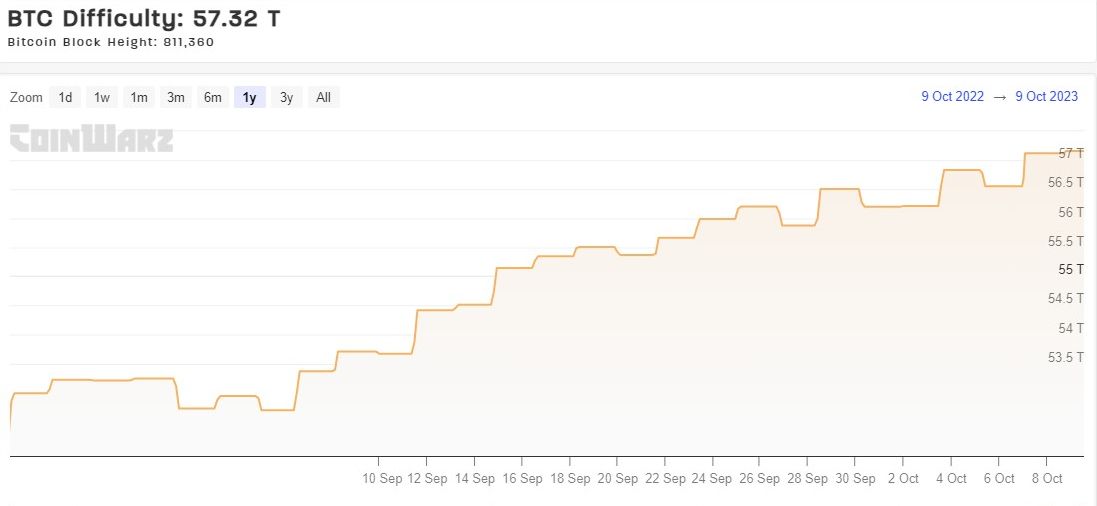 Hash rate
Hash rate keeps going up, despite the stagnant price. I say it all the time, but I'll say it again, miners have a deep knowledge of bitcoin's fundamentals. They talk with regulators, local officials, suppliers of rigs and energy, over-the-counter buyers of the coins, investors both public and private, etc etc. They are bullish. You should be, too.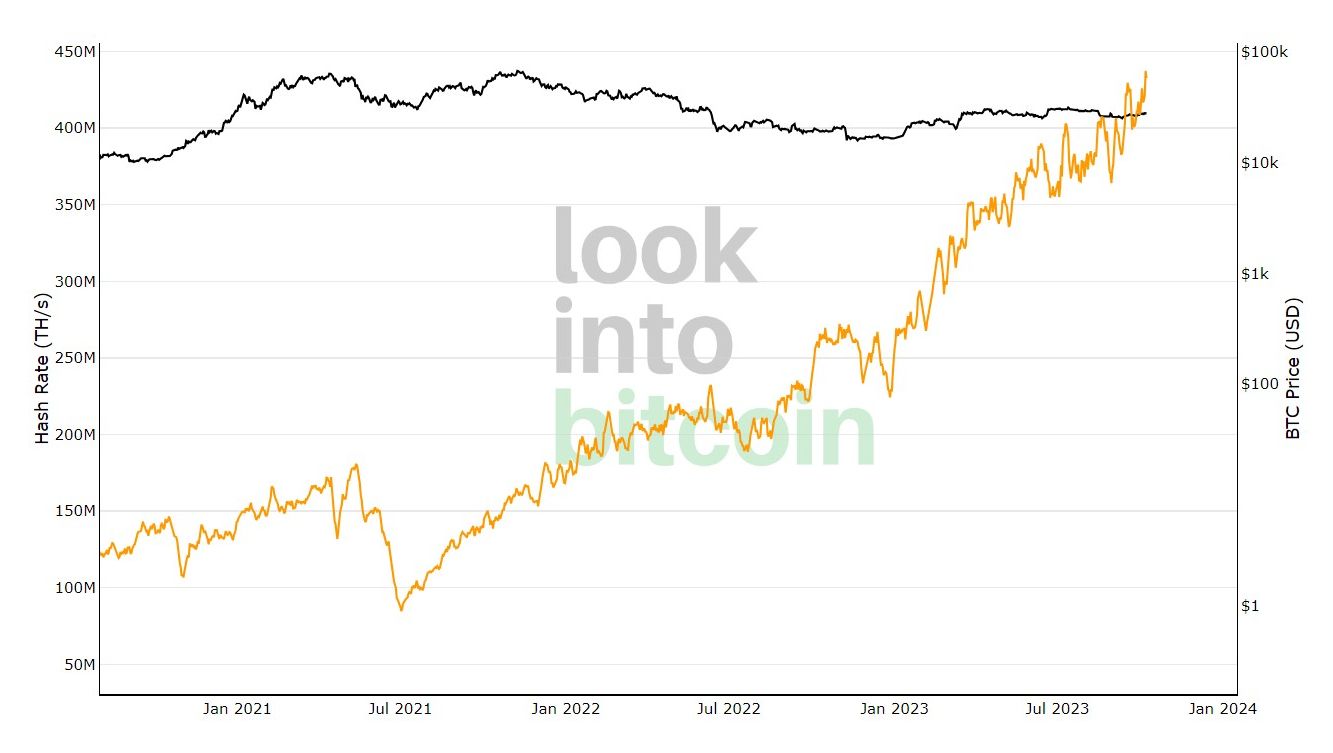 Mempool
Last week the mempool collapsed to only 25MB and has since come back up to 65MB, but fees remain very low. Bitcoin has survived yet another era of attack by spammers, just like it was designed to do. No emotional overreaction or centralized control needed. Simple and unchangeable economics handled it.

Ordinals/Inscriptions
Quick update on ordinals, they continue to crash in usage. They are down again this week from an average of roughly 50,000k per day to only 20,000. I also saw that chief troll Udi took the Ordinal Wizard off his Twitter avatar. This might be the end of this attack. I don't think Ordinals will ever go away totally, but they will not be a significant topic of discussion to worry about.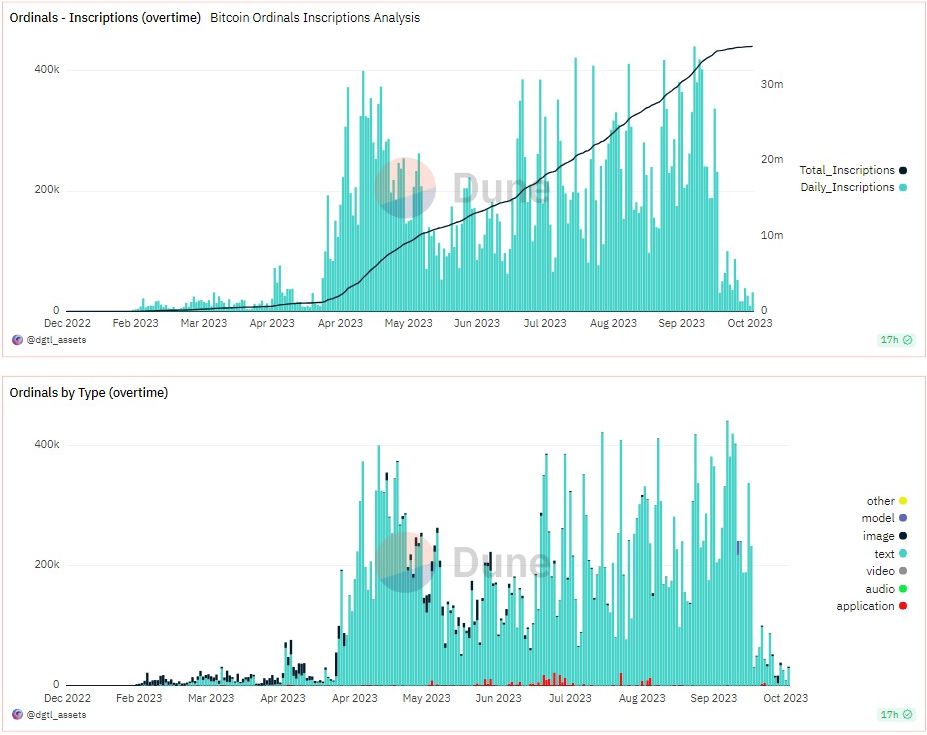 Layer Two
I didn't get a chance to dig into this one because it is breaking today. More people, doing more things. The network effect of innovation on top of bitcoin!
In my initial reading and understanding (no technical expert here, but I understand the main concepts). It claims to enable more complex smart contracts on bitcoin through off-chain computation and anchoring a true/false statement into the blockchain.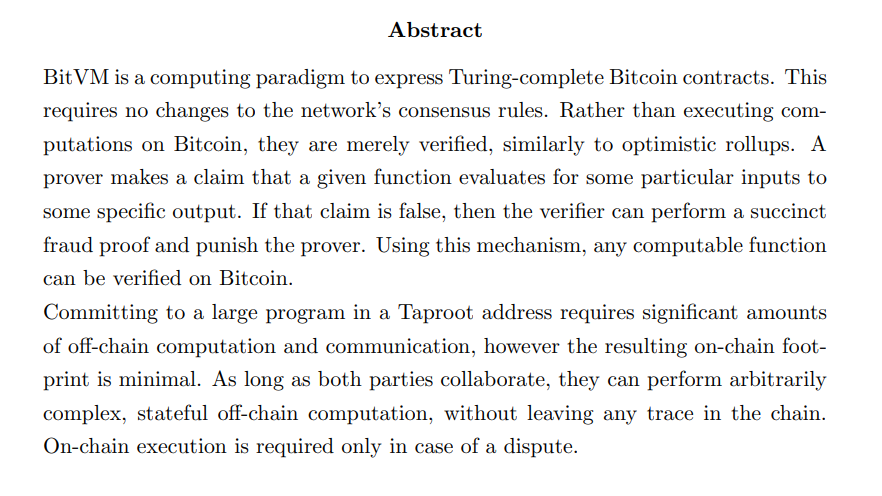 I will be following this and update you on it next week. It doesn't seem to be different than what people have been talking about for years. Perhaps, this is just another protocol to accomplish what is already possible. Protocols like this will likely proliferate in the next cycle. "On-top of Bitcoin" is the new frontier. As long as it doesn't touch consensus, have at it boys!
💡
Get our book the
The Bitcoin Dictionary
available
on Amazon!
That's it for this week. See you again next Monday!!!
A
---
DONATE directly on Strike or Cash App to support my work! You make my content possible! Thank you. Disclaimer: The content of Bitcoin & Markets shall not be construed as tax, legal or financial advice. Do you own research.
* Price change since last report
** According to mempool.space