Reports
Bitcoin Fundamentals Report #246
Coinbase and Binance fear has given way to Blackrock ETF bullishness. Plus Macro updates, mining sector, lightning network news.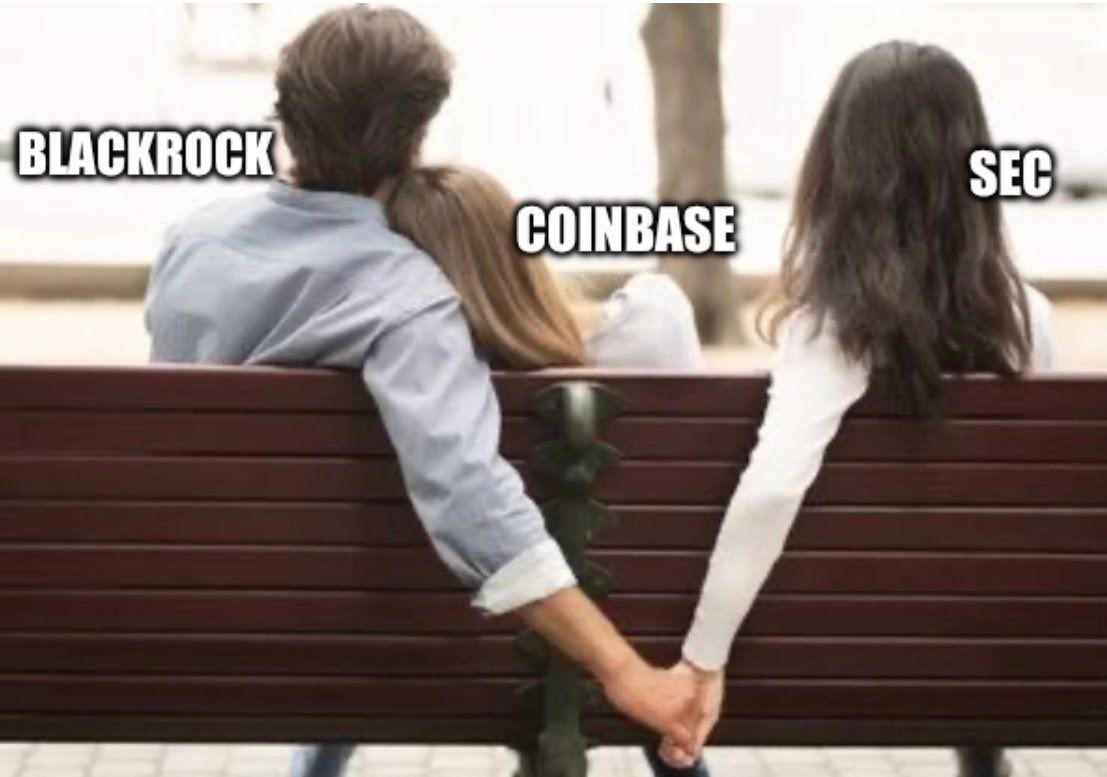 Jump to section: Bitcoin headlines / Macro / Price / Mining / Lightning
💡
Share the Bitcoin Fundamentals Report!
Snapshot of Bitcoin
General Bitcoin Headlines
Weekly trend
Bounce off lows
Media sentiment
Neutral
Network traffic
High
Mining industry
Strong
Price Section
Weekly price*
$26,773

(+$956, +3.7%)

Market cap
$0.517 trillion
Satoshis/$1 USD
3,743
1 finney (1/10,000 btc)
$2.67
Mining Sector
Previous difficulty adjustment

+2.1784%

Next estimated adjustment
+1% in ~8 days
Mempool
187 MB
Fees for next block (sats/byte)
$1.12 (30 s/vb)
Median fee
$0.97
Lightning Network**
Capacity
5,470.88 btc

(+0.8%, +44)

Channels
69,225

(-1.0%, -672)
---
In Case You Missed It...
Member
Community streams
Fed Watch
---
DONATE directly on Strike or Cash App to support my work! You make my content possible! Thank you. ---
Headlines
Binance and Coinbase Updates
Coinbase and Binance news has slowed this week. I'm amazed at how quickly it has been discarded as the dominant narrative. I don't think the "crypto" crowd is all that big. They also know they're scammers, so there's not a lot of heart to fight. They are putting everything on Coinbase to win in court.
It will take a while for these cases to get worked out, but in the meantime, we should expect a slow burn of altcoin casinos offering fewer scam tokens, new bitcoin products and services to take center stage, and the halving to get more media attention.
Looks like the SEC hate was abated a little by the agreement reached to not freeze Binance funds.
Blackrock Files for Spot Bitcoin ETF
575-1; that is Blackrock's record on ETF filings. They don't file for an ETF if they think it will get denied.
The new big headline of the week is Blackrock filing for a spot Bitcoin ETF. This news came out of left field and immediately turned the community positive. This news was broken by Coindesk and quickly confirmed. It got more legitimacy from Eric Balchunas, Senior ETF Analyst for Bloomberg.
Great video with Eric here discussing the Blackrock filing.
Debate erupted over the term "Trust", because this filing is for a "trust" not an ETF. However, most ETFs are trusts from the what I've learned since, including the GLD ETF. It is a public trust instead of private trust like GBTC.
This is huge for many reasons, but the main reason has to be that Blackrock doesn't just file for an ETF without being sure they will be approved (I have a slightly different possibility below in the price section). They are the largest asset manager in the world, so very connected. If they think they will get approved, Ark Invest, who has a filing ahead of them in line, might also get approved (IDK if they are identically structured or not). There are rumors this morning that Fidelity is going to try again for a spot Bitcoin ETF and Bitwise has filed a Blackrock copycat ETF today. This could open the flood gates.
This also speaks to the coming regulatory regime that Blackrock, and likely the SEC, sees; a Bitcoin friendly one.
I consider myself a bitcoin purist, however, I get there through being a realist not an idealist. Many bitcoin purists don't like this news because they see Blackrock as a central conspirator in the global cabal of bankers. They might be, but it doesn't matter. What are you going to do about it? What are they going to do to Bitcoin?
Bitcoin's incentives work on everyone. You cannot end run around bitcoin's incentives. They are a part of the natural world now. Just like you can't escape the laws of thermodynamics.
Hong Kong Desperate to get Bitcoin into their market
From the Financial Times:
"HKMA encouraged the banks to not be afraid," a person with knowledge of the discussion said. "There is resistance from a conventional banking mindset . . . we are seeing some resistance from senior executives at traditional banks."
This is a stark difference to the US, obviously. However, I could not find the original published statement. FT just quotes an anonymous source. This could be propaganda, but the new HK licensing regime has been kind of a flop so far.
It might not be that banks are afraid, but that they see "crypto" as a scam, which it is. Bitcoin-only companies have good banking relationships, they don't need to move banks, it is the scams tokens and the scam casinos that need the new bank accounts, and they not the best clients in the banks opinion probably.
Macro
The Fed has never started raising again after they've paused. The next move is always a cut. I recommend listening to my latest podcast listed above where I live react to the FOMC day.
The Eurozone has officially entered recession, and the worst is yet to come. Add to this the ECB raising rates last week, and likely to do it again next month.
China numbers are getting more bogus by the quarter, but even the bogus numbers have to admit their economic model is collapsing.
And it seems the economic situation is dire enough to force a pivot from Xi.
💡
Help us grow! Please share!!
Price Analysis
Join the Professional tier for in-depth price reports and actionable forecasts!
---
What a difference a week makes. We whipsawed between doom and gloom with Coinbase and Binance to major hopium in Blackrock. If you are a regular reader of this letter or of the Market Pro series where I dive much deeper into price, you would have been expecting a bounce!
Last Week
There is an increased risk of more downward price action, but not sustained price drops. Fake outs could occur around $25k. For instance, the price could drop to ~$24,750 for a couple hours and rally right back to $28k.
I missed the bottom by $6. It hit $24,756 on Bitstamp. It has not rallied all the way to $28k yet, but that is coming.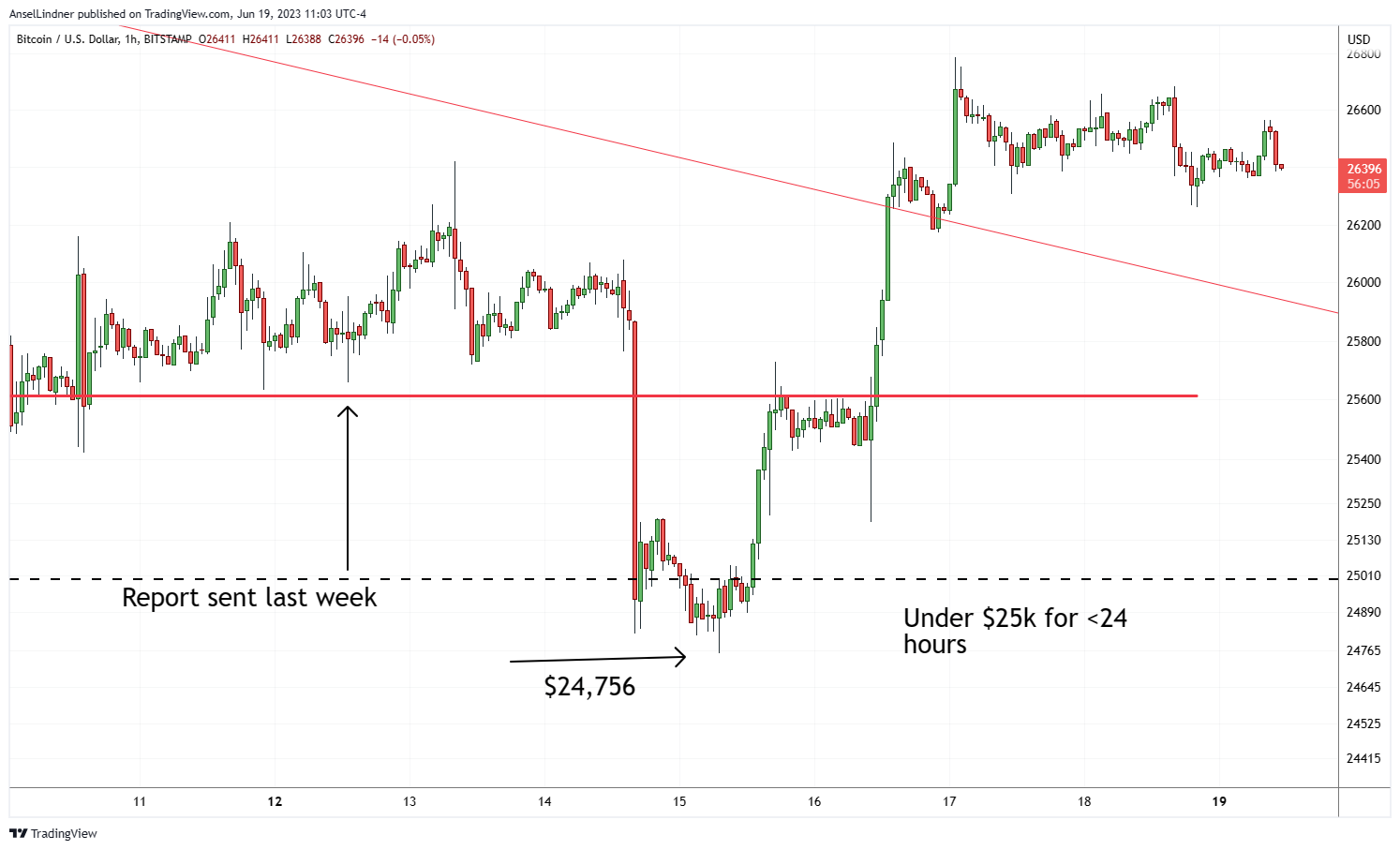 Daily Chart
Price has not made it through much resistance at this point, only the most recent diagonal trend (faded red line). It is still stuck below the 128-day, 50-day, and the larger, multi-month diag.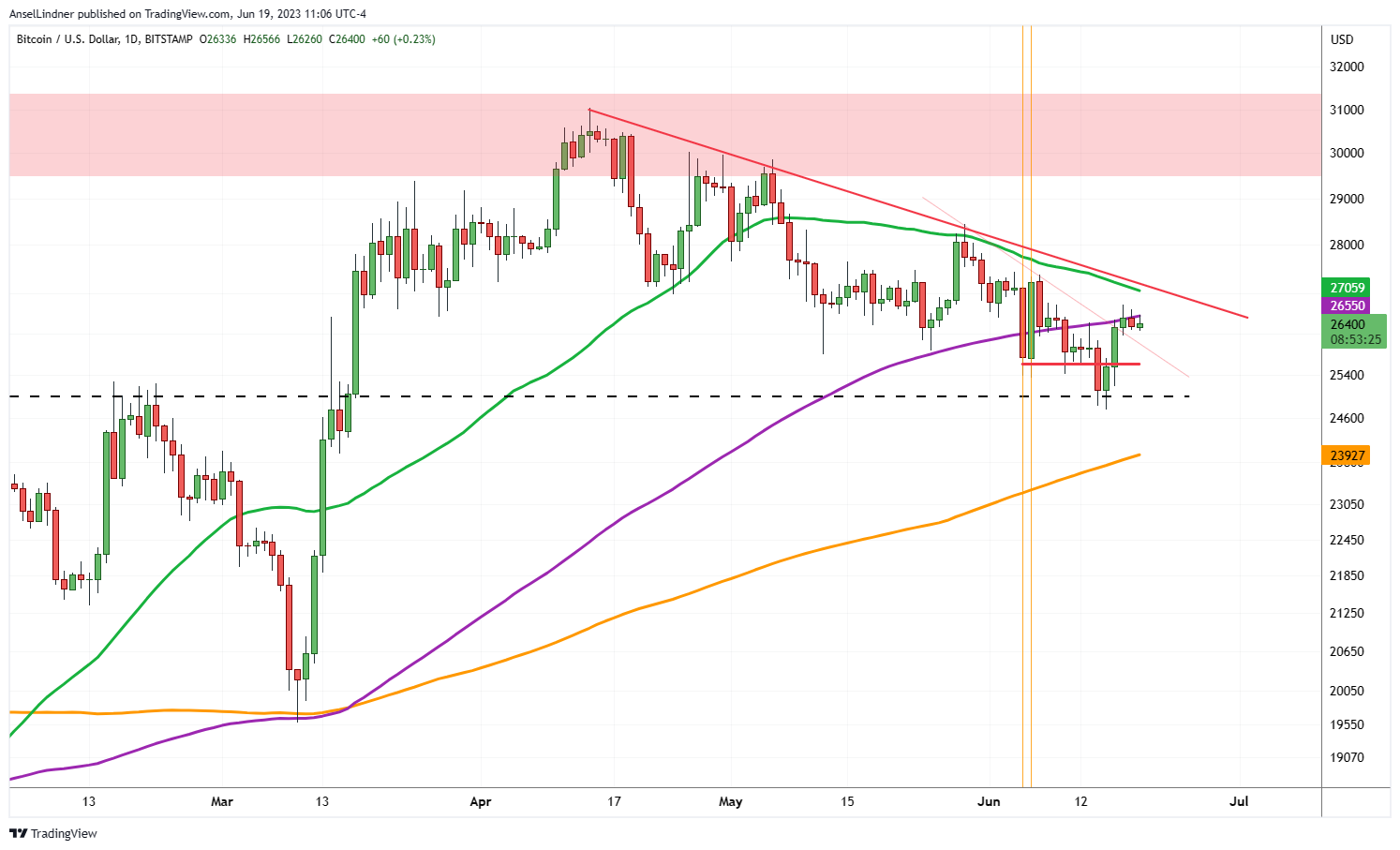 Blackrock effect
Blackrock's ETF can be treated as likely in our price analysis. It's not a done deal though, there is some uncertainty here. Many people think Blackrock will use the ETF to manipulate the price, but what if they are using an ETF rejection to manipulate the price? That scenario, while very unlikely, is more likely than negative effects from an actual launch.
The halving is coming, bitcoin on exchanges is very low, sell-side risk ratio is low, miners are selling (more below in mining section), Bitcoin has a regulatory moat, 4 major US presidential candidates are supportive of it, and now Blackrock.
I put the probability the Blackrock ETF gets approved at 90%. The timeframe is another question. It could be dragged out, but again, Blackrock probably wouldn't have filed this if they thought there would be major hurdles. So, I put an average timeframe of about 3-6 months.
More on the Market Pro this week!
Volatility about to come back?
Great chart below from Glassnode. I've spoken about the lack of bitcoin on exchanges for several months now. There is less than 3 million liquid bitcoins out there today. That will make any moves highly volatile, likely to the upside.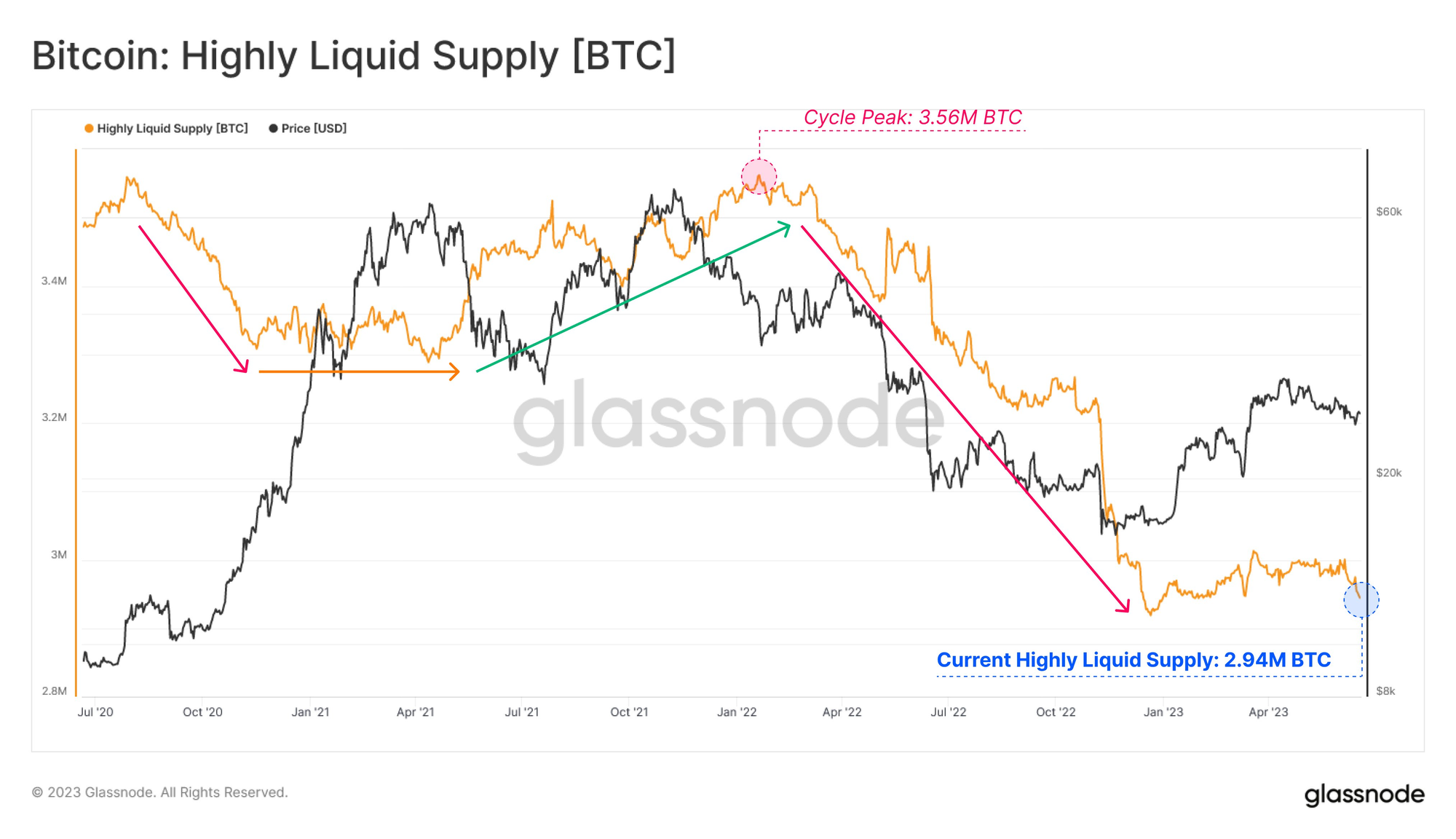 Get my short, medium and long term forecasts on Market Pro!
---
---
Mining
Headlines
Readers will be aware that Russia's strategy on bitcoin mining has been developing for some time. Now, we have a date, they will be introduced in July.
Crypto mining could be legal in Russia as soon as 2024, according to the Chairman of the State Duma Committee on Financial Market Anatoly Aksakov.

Aksakov remarked at the 2023 St Petersburg International Economic Forum on the role mining can play in the Russian economy.

According to the event's English interpreter, the legislator stated that the first reading of the four bills that will legalize crypto mining in the country is scheduled for July, and the State Duma will adopt the bills. It will kick start the process for them to become law.
Aksakov noted that the mined cryptocurrencies would be used for cross-border settlements with foreign partners. This aligns with earlier reports that the country's Central Bank wants to allow Russian entities to establish specialized authorized organizations for cryptocurrency mining.
I wanted to update the miner outflow I touched on last week. It seems it has blown out again. Very interesting that selling is occurring with ATH hash rate.
Note the recent spikes, this year, have all occurred at bottoms. Back in 2019, the highest spikes were also at the bottom.
This flow cannot continue indefinitely. It must come to an end and turn into net accumulation soon. That will be bullish the price.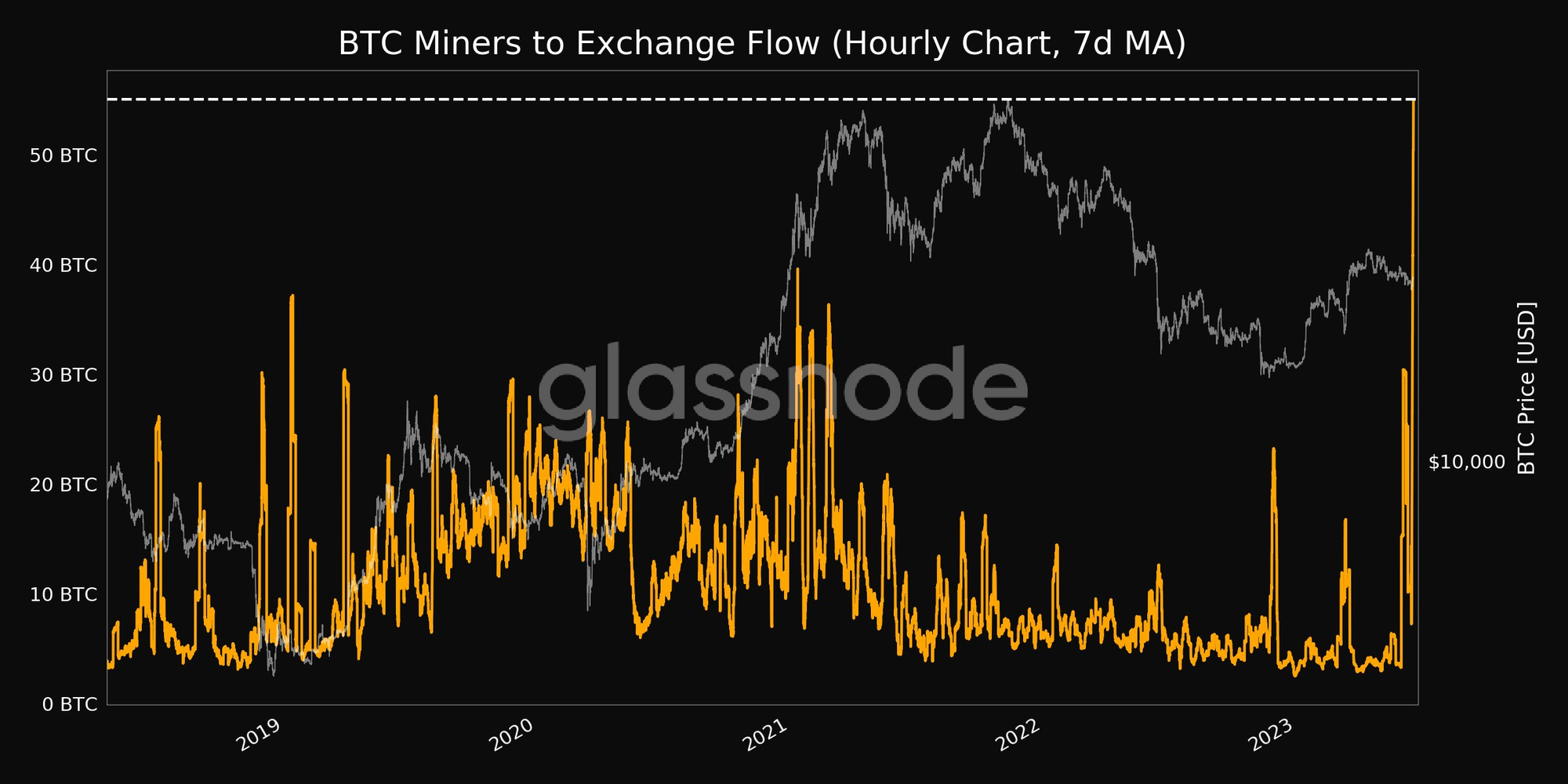 Summarizing...
Much of the hash rate growth of the last 9 months was from capital investments by large miners in late '21 and H1 of '22.

No material capital came into the mining ecosystem in H2 '22 and early '23.

Much of the growth for the industry  in the next 10 months will come from replacement of older machines.

If the Bitcoin price is $45k or less at the halving then expect very rapid turn off of 15-25% of hash rate in the 4 to 6 weeks after the halving.  If over $60-65k expect only 7-10% drop.
Difficulty and Hash Rate
Hash rate has calmed down this week, after the difficulty adjustment, but remains strong.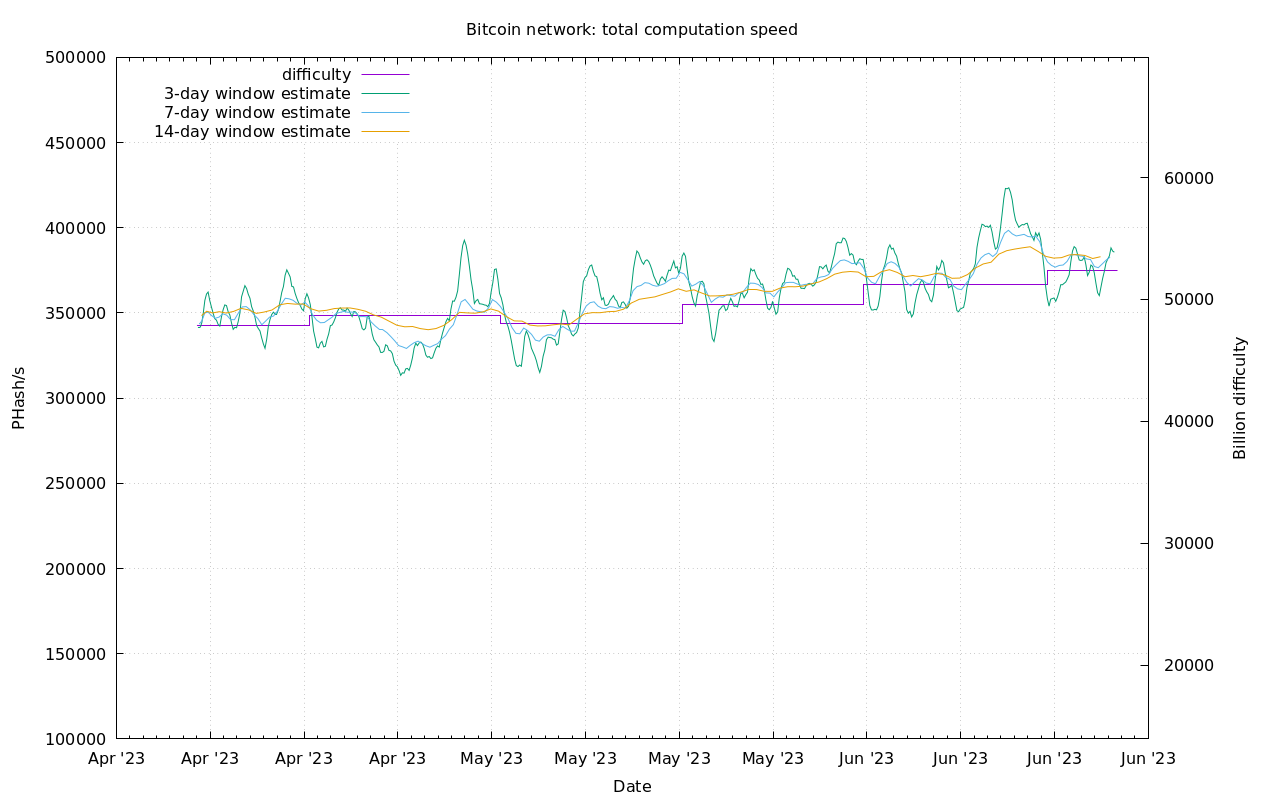 Mempool
The mempool is back up to 187 MB, but fees have not had a cooresponding rise. Notice the dark green is nearly handled, moving onto lower fee transactions now.
Lightning Network
As of June 14, 2023, the company has introduced its 'Send Globally' service to the third-largest country in Latin America. The service allows users to send funds internationally, providing a convenient solution for cross-border transactions.

With this move, U.S. dollars (USD) sent to Mexico via Send Globally "will be received as Mexican Pesos in the recipient's bank account." – helping to reinforce Strike's presence in Latin America.
Binance has followed through on their recent promise to integrate Lightning Network, however, it seems the implementation is not 100% operational yet. Bitcoiners are twitter were reporting their lightning node was not working properly.
This type of integration will lead to further adoption of LN and more innovation around pain points.
💡
Get our book the
The Bitcoin Dictionary
available
on Amazon!
That's it for this week. See you again next Monday!!!
DONATE directly on Strike or Cash App to support my work! You make this content possible! Thank you.
A
---
June 19, 2023  |  Issue #246  |  Block 795,083  |  Disclaimer
* Price change since last week's report
** According to mempool.space