Reports
Bitcoin Fundamentals Report #257
Topics: NSA invented Bitcoin?, Coinbase adds lightning, Templeton joins ETFs, CPI debrief, Turkey and China news, Price analysis and mining news.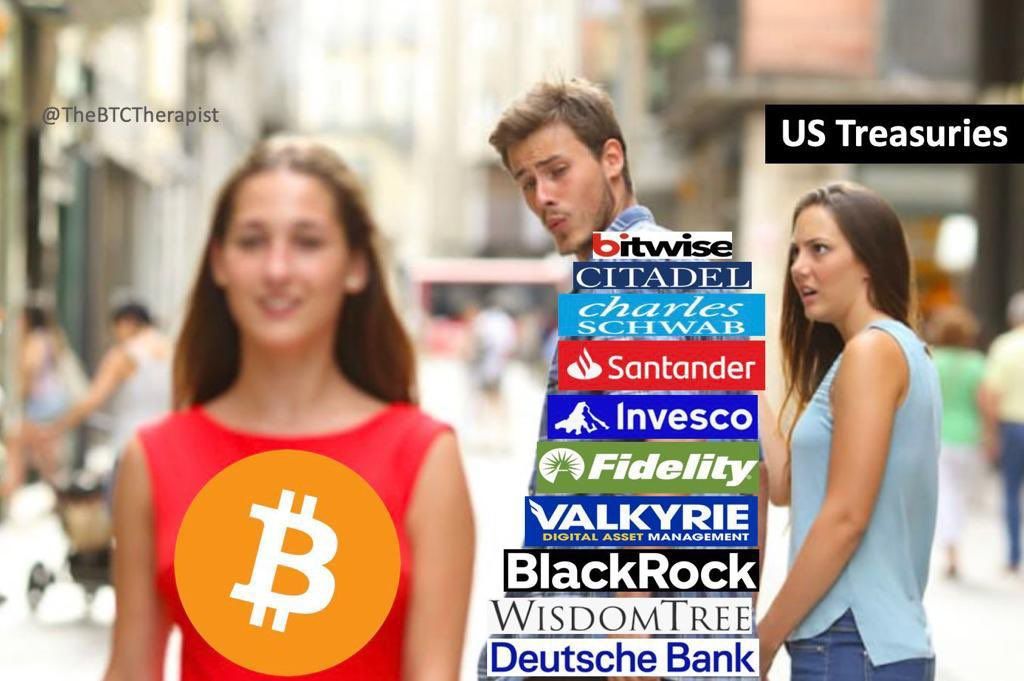 September 18, 2023  |  Block 808,308
Snapshot of Bitcoin
General Bitcoin Headlines
Weekly trend
Big bounce
Media sentiment
Positive
Network traffic
Elevated
Mining industry
Surging
Days until Halving
211
Price Section
Weekly price*
$27,302

(+$2,151, +8.6%)

Market cap
$0.532 trillion
Satoshis/$1 USD
3,663
1 finney (1/10,000 btc)
$2.73
Mining Sector
Previous difficulty adjustment

-2.6452%

Next estimated adjustment
+5.5% in ~12 hours
Mempool
225 MB
Fees for next block (sats/byte)
$1.15 (30 s/vb)
Median fee
$1.15
Lightning Network**
Capacity
4874.41 btc

(+1.8%, +84)

Channels
67,740

(+0.7%, +445)
---
In Case You Missed It...
Member
Community streams and Podcast
Blog
---
Headlines
This week will be my first post for Bitcoin Magazine Pro. Should come out Wednesday, so make sure you are at least subscribed to the free version!
To be fair to current Professional tier subscribers, I will likely cover much of what I say there in the new Market Protons (reformatted Market Pro). I'm planning two posts a week there in a smaller format than previous.
This tweet made its rounds this week. This comes up every few years with newbies discover the NSA wrote a paper in 1996 called, "How to Make a Mint." I included it on my Bitcoin Pre-history infographic (paid members can download a clickable version to all main events). This was the same year as E-gold launched and the NSA's system looks a lot like a chaumian ecash like Digicash that launched in 1989.
IOW, no, the NSA did not invent Bitcoin.
̶C̶r̶y̶p̶t̶o̶ Bitcoin exchange Coinbase has confirmed its decision to integrate layer-2 payment protocol Lightning Network as users seek faster and cheaper Bitcoin BTC transactions.

Up until recently, major crypto exchanges, including Coinbase and Binance, had no intent to adopt the layer-2 solution as many community members argued that LN integration offered fewer incentives for exchanges' income. - edit added
Armstrong added, "Bitcoin is the most important asset in crypto..." This thinking is a cancer. He's right to say it is more important, but Bitcoin is not in crypto. Maybe, we can see where this is going.

I agree with Lopp's pessimistic take. Scammers and their salesmen like Armstrong, are realizing the old standalone altcoin scams and Ethereum's ecosystem is not coming back anytime soon, but RGB and ordinals are available on Bitcoin. <evil laugh>
The San Mateo, California-based firm, which oversees more than $1.4 trillion in assets, filed an application with the US Securities and Exchange Commission on Tuesday. If approved, Franklin plans to use Coinbase Global Inc. as custodian for the fund's Bitcoin holdings and Bank of New York Mellon for cash.
Here is a quick list of all the ETFs and their AUM:
- BlackRock ($10T AUM)
- Fidelity ($4.5T)
- Invesco Galaxy ($1.5T)
- Franklin Templeton ($1.5T)
- WisdomTree ($87B)
- VanEck ($61B)
- GlobalX ($40B)
- ARK Invest ($14B)
- Valkyrie ($1B)
- Bitwise ($1B)
Macro
August CPI for the US came in at 0.6% MoM
This was a big surprise for me, but nothing happens in a straight line. I'm still extremely confident in my deflationary call. In fact, this CPI reading only guarantees a sooner crash/recession IMO. If prices were going up because of economic growth and credit creation, that would preclude a recession. But we don't have economic growth and credit creation, so this small jump in prices only exacerbates the problems.
When prices go up not due to growth, people first take on credit card debt, which has to be paid back with interest but without economic growth. So, they lock in harder times in the future. I think this is the stage we are in.
Only after the debt brick wall hits them and they can't extend and pretend anymore, do they start cutting back on discretionary spending. That is coming this fall and spring.
We see this dawning on people with the most recent UMich Inflation Survey. Consumers' inflation expectations resumed their crash.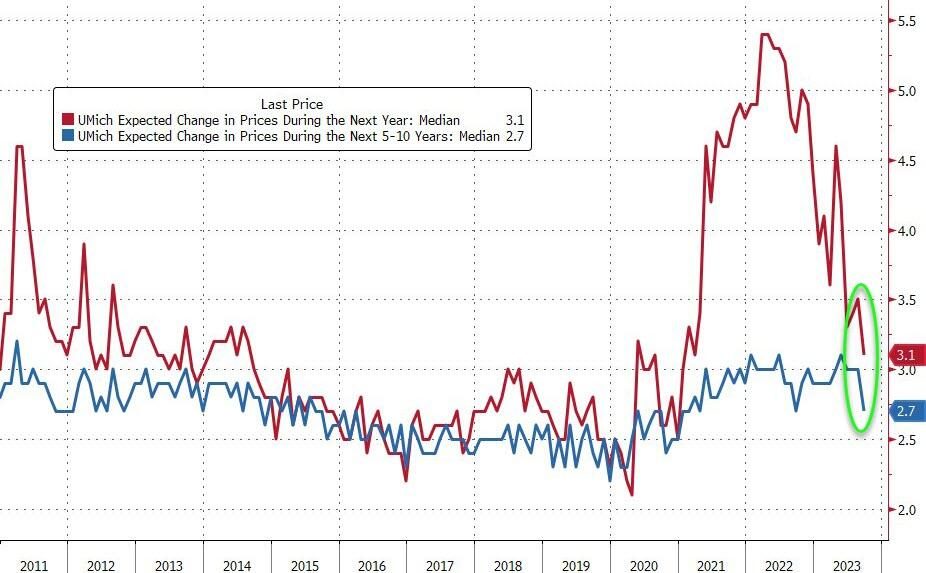 Turkey has been trying to find a new home for a while. They are a NATO member but often do combined operations with Russia in Syria and bought S-400 SAMs from Russia. Ten years ago they requested to join the Shanghai Cooperation Council, and 5 years ago, in 2018, requested to join the BRICS (source). At this year's BRICS meeting, however, Turkey didn't seem so keen on this ides, only sending a single representative. Erdogan is signaling here, in regards to the EU, that they do have other options. I still think Turkey's future alliance is the BRICS.
China sees record FDI outflow, while US Treasuries see record inflow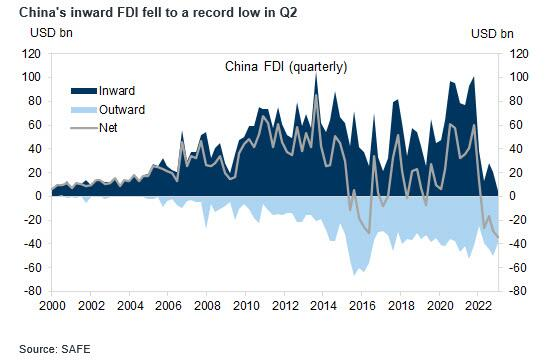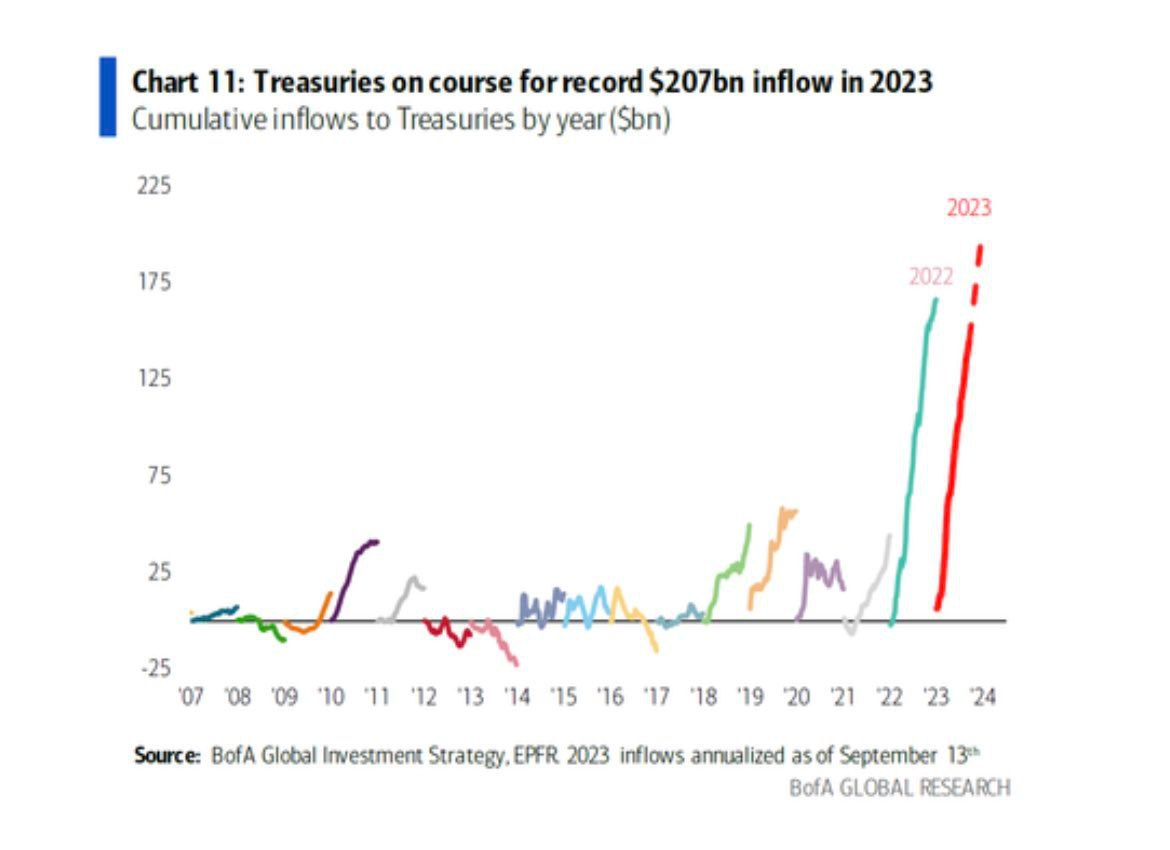 This chart is amazing in the context of the narrative that no one is buying our bonds. LOL I'd like to see this chart for other major countries. You can see that China is see record outflows of capital. We should be saying about China, not the US, that no one is buying their bonds.
💡
Help us grow! Please share!!
Price Analysis
Join the Professional tier to receive my MARKET PROTONS, short price analysis and actionable forecast updates on Bitcoin and macroeconomic factors! Sign up today!
---
Bitcoin Charts
Big bounce underway at the time of writing. Currently, $27,254, sitting smack dab on the 50-day MA which is at $27,246.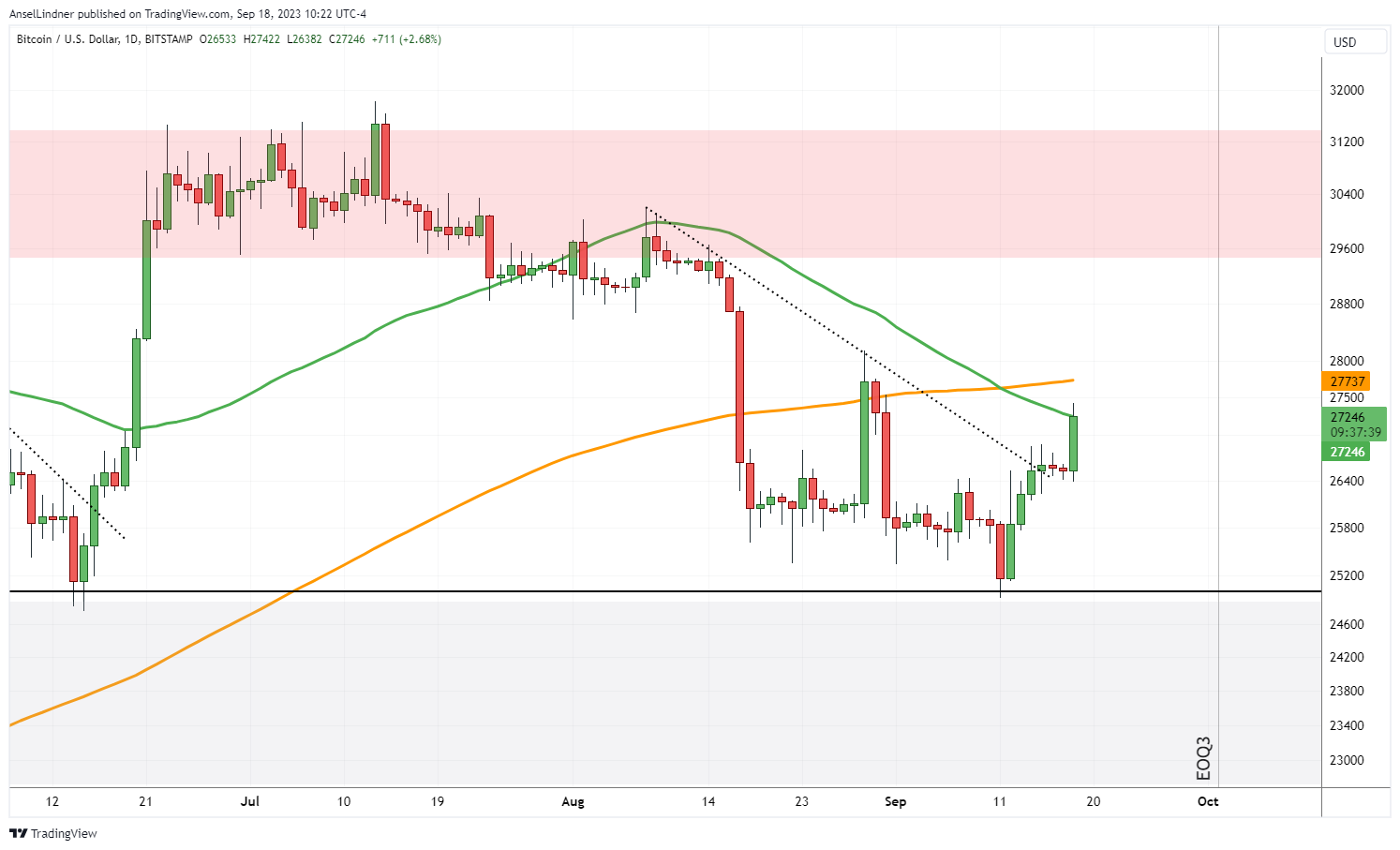 Zooming out a little, we are already forming the second green weekly candle and are approaching the 200-week MA.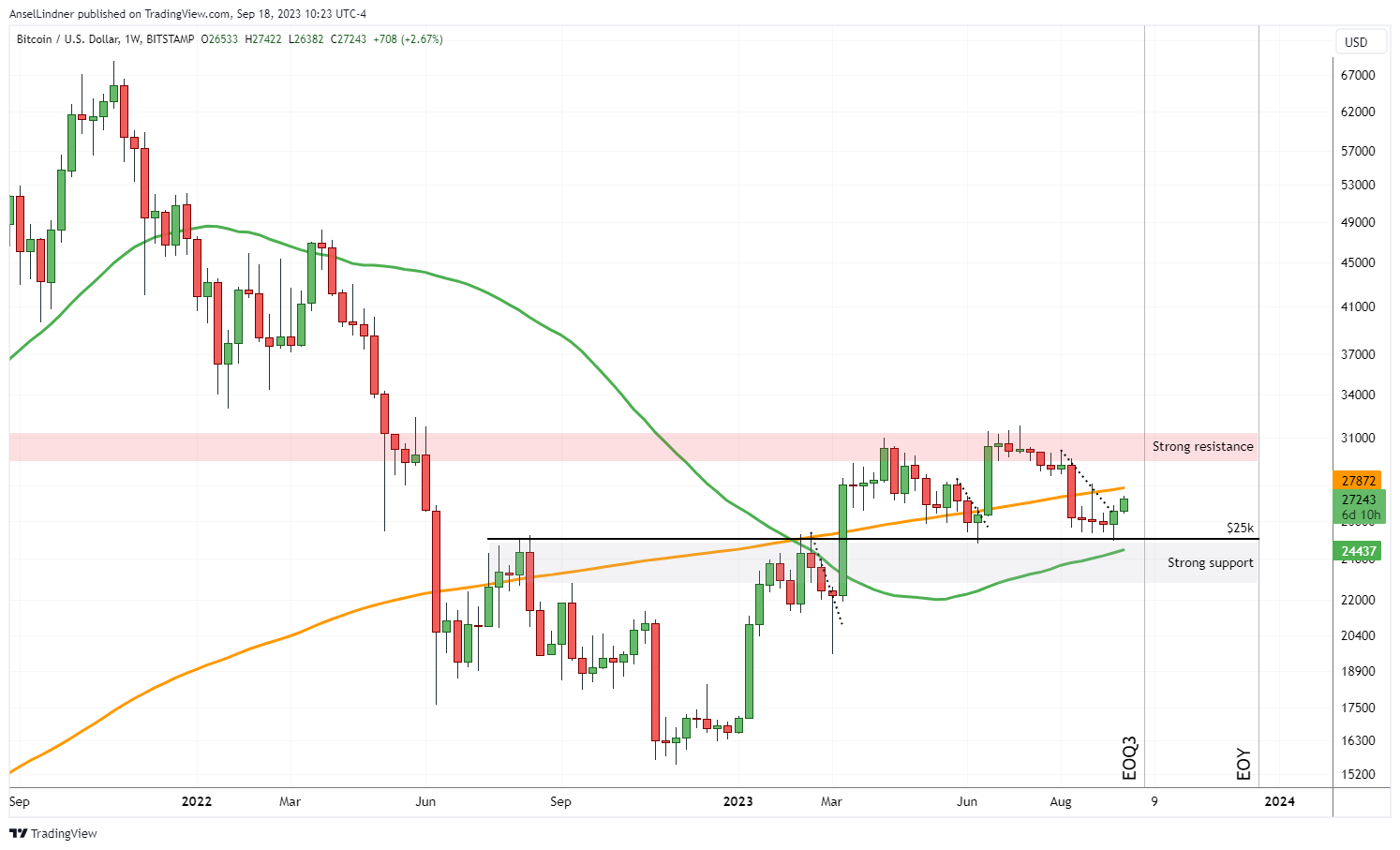 Zooming out further, on the monthly I added the volume-by-price showing the resistance at at $30-31k. My theory on the blob of volume above that in the 30's is that it is "old" volume that won't mean as much without a big horizontal price level that it is guarding. Remember, these are Schelling points, and a broad range will spread out asks and bids throughout, not consolidating on one price level to defend.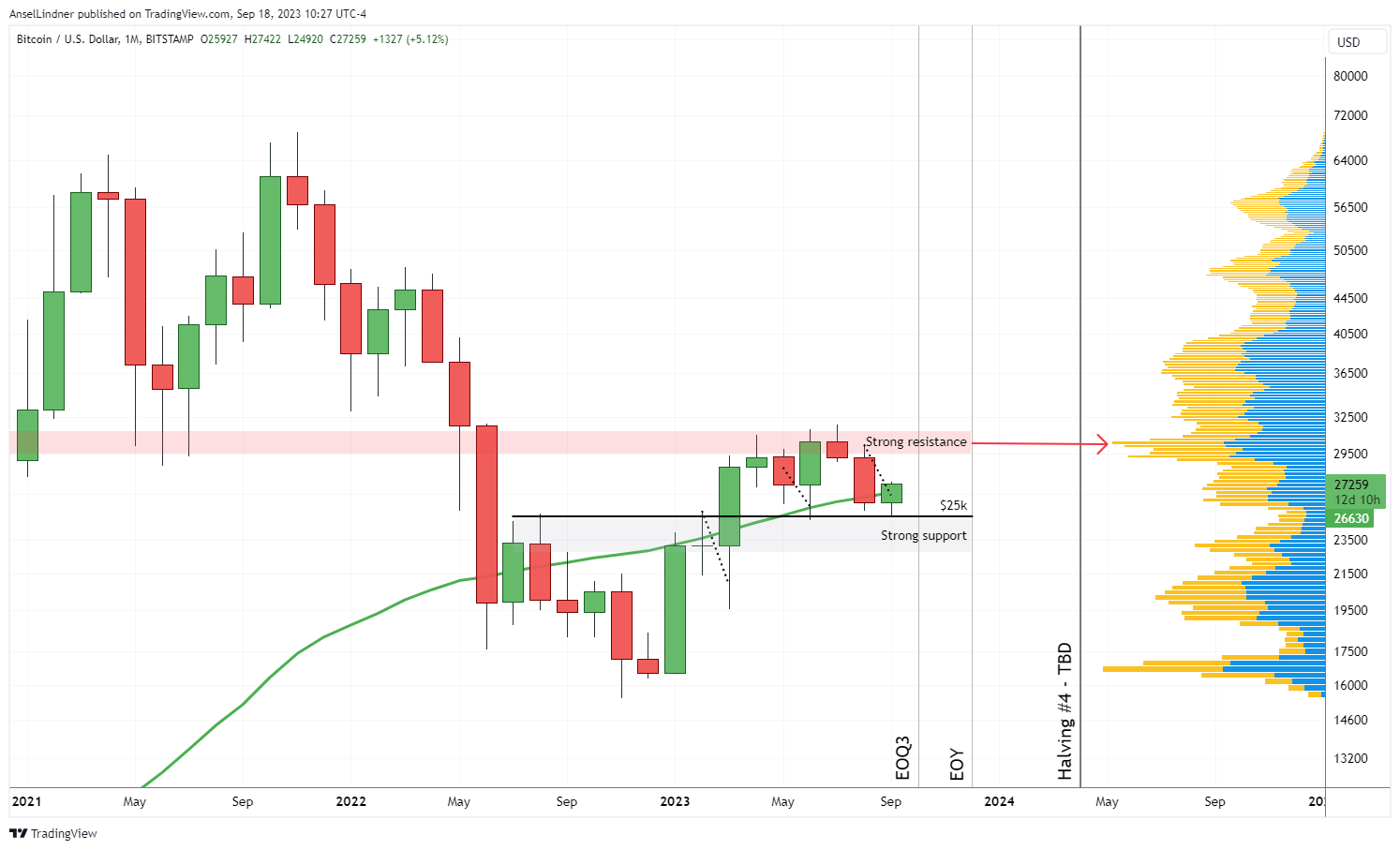 That being said, expect the upcoming week to remain green. The likelihood of a significant green weekly candle is higher than normal, but I do not expect us to break right through $31k. That will be a little bit of a battle.
Get my short, medium and long term forecasts on Market Pro!
---
---
Mining
Headlines
A recent erroneous Bitcoin transaction that led to an inflated transaction fee of $510,000, nearly 480,000 times the average network fee of $2.176, traced back to Paxos, has been returned.

The company acknowledged its mistake, attributing the inflated fee to a bug in a single transfer that has now been rectified by F2Pool, the miner who received the overpayment.
There was some discussion of whether or not miners who mine with F2Pool had a say in this unilaterally by the pool. However, this is a business with a terms of service. The miners basically agree that F2Pool can do things like this. The CEO Chun Wang has been a good actor in bitcoin's history and stated their policy was the sender had 3 days to come forward and they would return the mistaken fee.
This is a rare occurrence but has happened quite a few times in bitcoin's history.
In a recent development, Bitcoin mining firm Core Scientific Inc. has agreed to sell its Texas-based data center to Celsius Network LLC's mining unit, a company that filed for bankruptcy last year. The sale, which is valued at $14 million and is pending court approval, marks the end of ongoing litigation between the two companies.

The dispute between Core Scientific and Celsius Mining stemmed from disagreements over their hosting contracts, particularly regarding who should bear the electricity costs. Celsius had engaged Core Scientific to manage and house its numerous Bitcoin mining machines, but disagreements led to legal battles.

Both companies had filed for bankruptcy last year in the wake of a series of cryptocurrency market crashes. Core Scientific cited Celsius' failure to meet financial obligations as a contributing factor to its own liquidity issues.

The Texas data center that Celsius will acquire is partially developed and non-operational at present. - emphasis added
Difficulty and Hash Rate
No change to Bitcoin's difficulty this week. It is estimated to adjust up by over 5.5% in 17 hours from the time of writing. This is another HUGE turnaround from last week when hash rate was lower and on track for a -5% adjustment.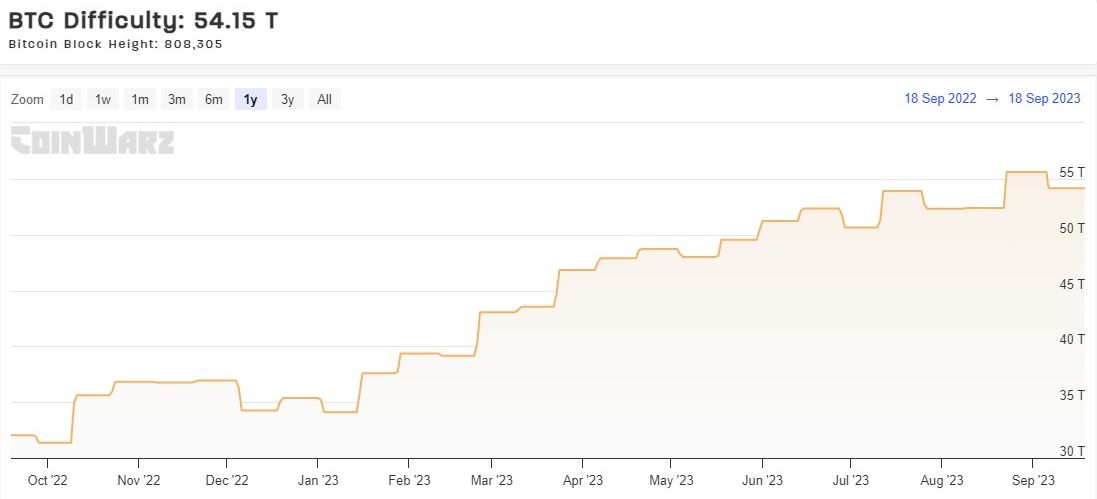 Mempool
Growth in the mempool has paused this week. However, as you can see in the image below, higher fees (colors near the top of the shaded area) have started to expand. This means that fees have gone up despite the total mempool size not rising. Still, at $1.18 for an average transaction, fees are logical and manageable.

Lightning and Layer 2
The Coinbase news I mentioned in the Headlines is pretty big, but I saw another bit of news about lightning this week.
Marcus has an interesting path to Bitcoin. He founded a payments company that was aquired by eBay/PayPal and become President of PayPal. He left there to work for Facebook and was the primary character behind their attempted Libra currency that was shot down by governments all over the world. He left there and founded LightSpark to work with Lightning Network in 2022.
This week, he said this in an appearance on CNBC's Squawk Box:
Marcus proposed that Bitcoin has the potential to become a truly global payment network, similar to PayPal but operating on the decentralized Bitcoin network.
💡
Get our book the
The Bitcoin Dictionary
available
on Amazon!
That's it for this week. See you again next Monday!!!
A
---
DONATE directly on Strike or Cash App to support my work! You make my content possible! Thank you. Disclaimer: The content of Bitcoin & Markets shall not be construed as tax, legal or financial advice. Do you own research.
* Price change since last report
** According to mempool.space