Reports
Bitcoin Fundamentals Report #253
Bitcoin price dip, what this means for the cycle, China crisis, bitcoin price analysis, mining sector news and RGB+Lightning news.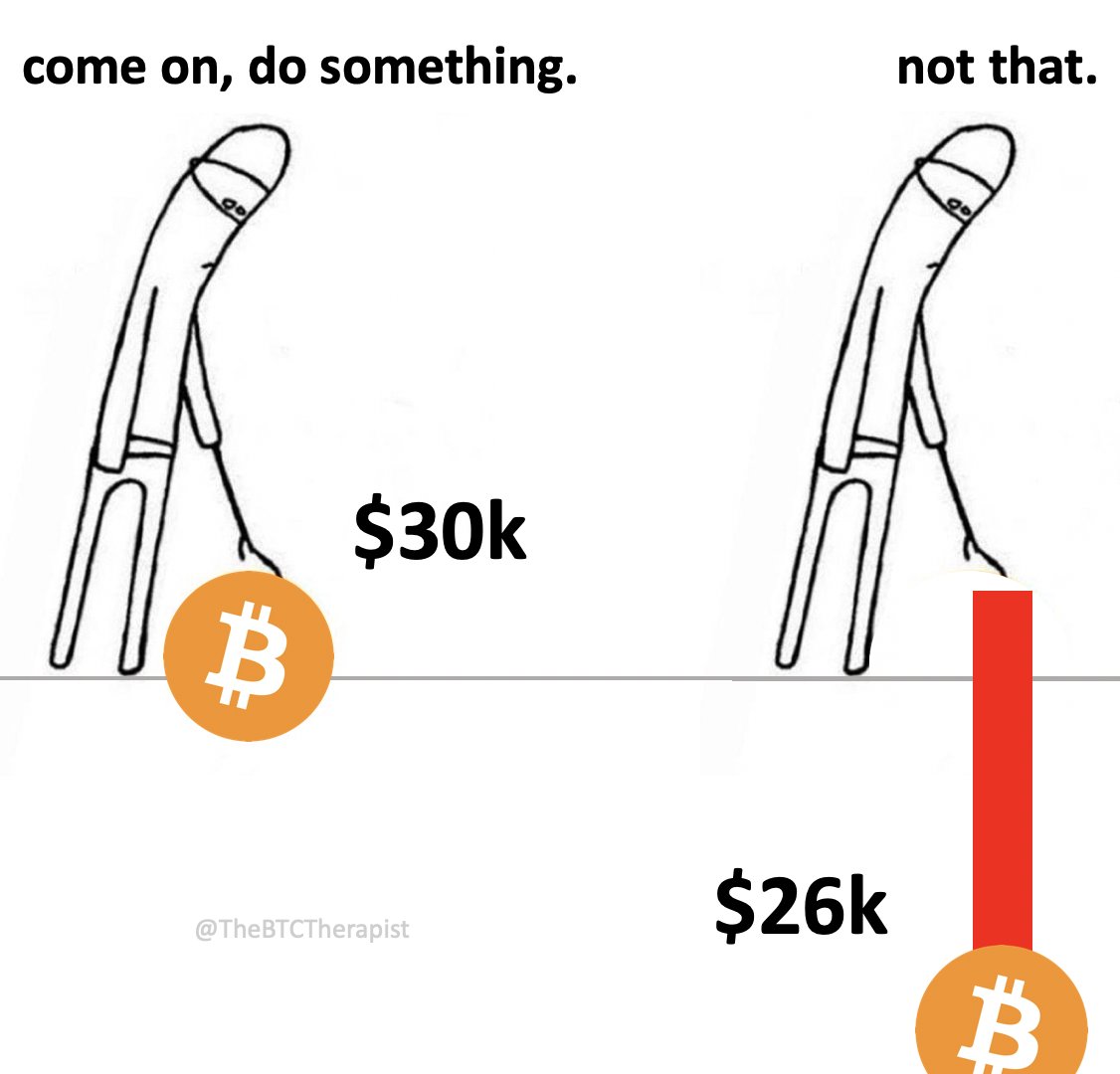 Jump to section: Bitcoin headlines / Macro / Price / Mining / Lightning
💡
Share the Bitcoin Fundamentals Report!
Snapshot of Bitcoin
General Bitcoin Headlines
Weekly trend
Volatility is back
Media sentiment
Positive
Network traffic
Medium
Mining industry
Surging
Days until Halving
239
Price Section
Weekly price*
$26,051

(-$3458, -11.7%)

Market cap
$0.507 trillion
Satoshis/$1 USD
3,839
1 finney (1/10,000 btc)
$2.60
Mining Sector
Previous difficulty adjustment

+0.1201%

Next estimated adjustment
+7.1% in 1 day
Mempool
125 MB
Fees for next block (sats/byte)
$0.29 (8 s/vb)
Median fee
$0.29
Lightning Network**
Capacity
4716.75 btc

(-0.8%, -38)

Channels
67,631

(-0.6%, -441)
---
In Case You Missed It...
Member
Community streams
Fed Watch
Blog
---
DONATE directly on Strike or Cash App to support my work! You make my content possible! Thank you. ---
Headlines
The main news headline this week was the price dip. I'll get into that more in the price section and did so on this week's Market Pro, as well, but let's talk a little about where we are in the cycle.
Regardless of what some naysayers will say, bitcoin's cycles are not dead. I'll go as far as to say that the cycles won't even follow the minor trend of getting smaller over time. We are well into the stage this cycle where we should see some break out, yet we see a breakdown. This portends much higher volatility in the future as price recovers.
As you can see below, the white line is starting to fall behind all other cycles. This is offset by major events coming up that could cause the price to rapidly appreciate like the spot ETF. Volatility begets volatility.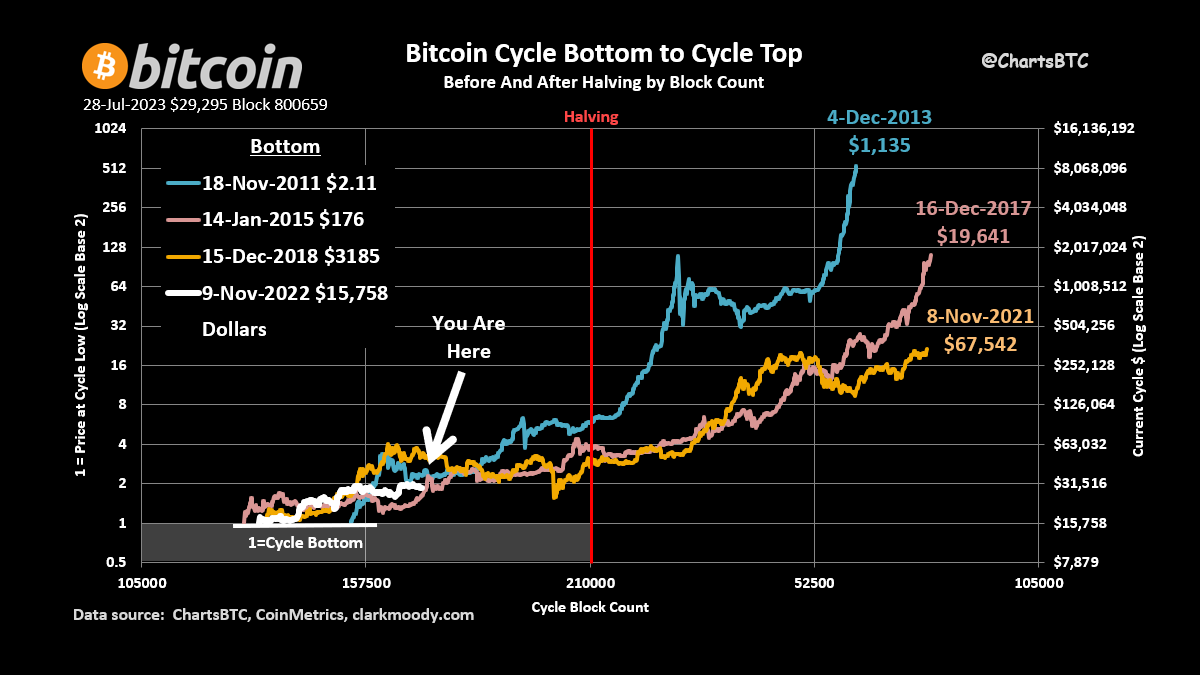 Fake News! This story popped up last week. Most people just read this dishonest headline and ran with it. If they would have read the story, it talks about the potential move it as much as 240 days into 2024, not they are.
The entire bitcoin market is on pins and needles about the approval of a spot ETF. Headlines like this can really spook the market. Also, I wouldn't put it passed altcoiners to purposefully attempt to bring Bitcoin down as it looks more and more like the scam side of this industry is not coming back.
We've gone from, "bitcoin is shit, my scamcoin is so much better," to "come on bitcoiners, why are you so divisive, we're all in this together." It won't be long until we see them turning on bitcoin once again when it sinks in that their scam tokens are dead. I wouldn't be surprised if they plant some ugly fake news headlines in an attempt to wreck bit
Grayscale expands ETF Team
This news came out before the recent dump in price, and before the DC Court of Appeals possibly could have ruled on the Grayscale vs SEC case last week. The market interpreted this as Grayscale being very confident they'll be able to turn GBTC into an ETF sooner rather than later.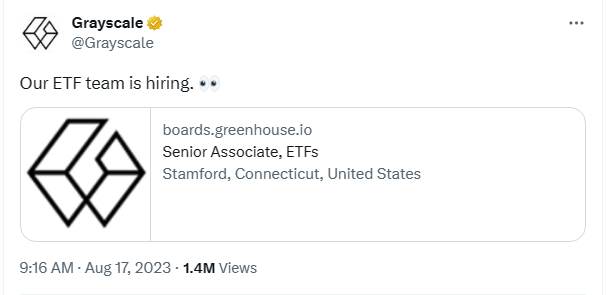 Binance's BNB token is looking really bad
People are starting to notice some similarities with Binance and FTX. FTX accepted mass deposits in bitcoin and then traded against their customers with shell companies. FTX issued their token to stand as collateral for massive loans to get back customer funds lost trading against those customers.
Binance seems to be doing the same thing. From the SEC filing against them, we know they have shell companies set up to provide market liquidity and trade against customers. They also launched their own token, BNB and levered up on it.
It is theorized that they are now selling bitcoin to buy BNB to avoid a big liquidation. This is unconfirmed, and the bitcoin price on Binance is actually slightly higher than other exchanges at this time.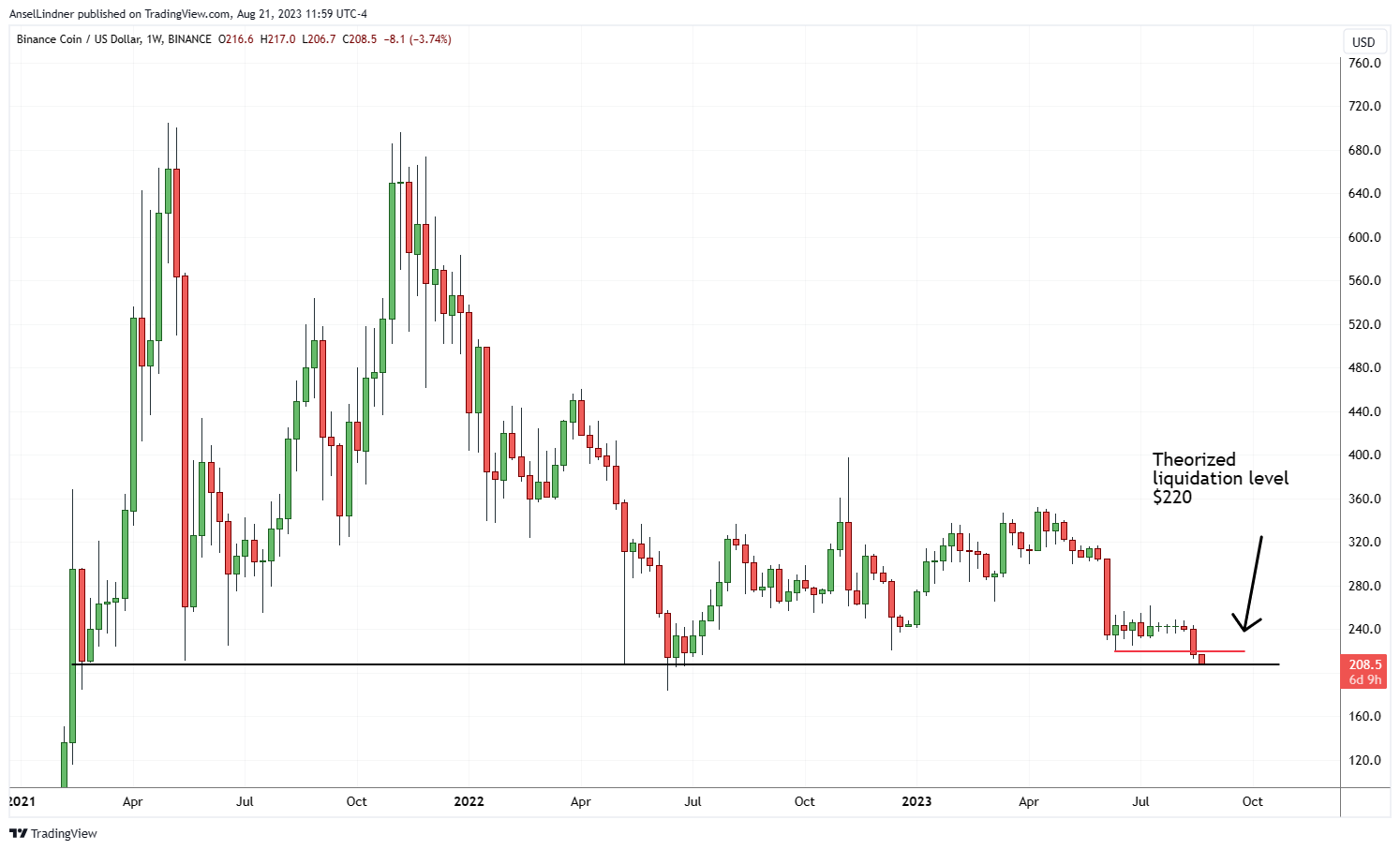 If BNB blows up, we could have a repeat of FTX. If bitcoin can remain at $25k despite that, we could be looking at higher prices soon.
I'll add a little more color here, as well. It's interesting to look at this from an SEC/Blackrock lens. The SEC is accusing Binance of corruption and market manipulation, exactly what they want to get rid of before approving a Bitcoin spot ETF. Perhaps, Blackrock or other powers that be are trying to blow up Binance. If Binance goes under, they might think they have a greater chance for the ETF to get approval.
Macro
US 10Y Yield Screaming higher
This is one the biggest stories right now, but I see everyone getting it wrong. People think that rising yields are because "higher for longer" is sinking in the market. No, this is straight up dollar shortage.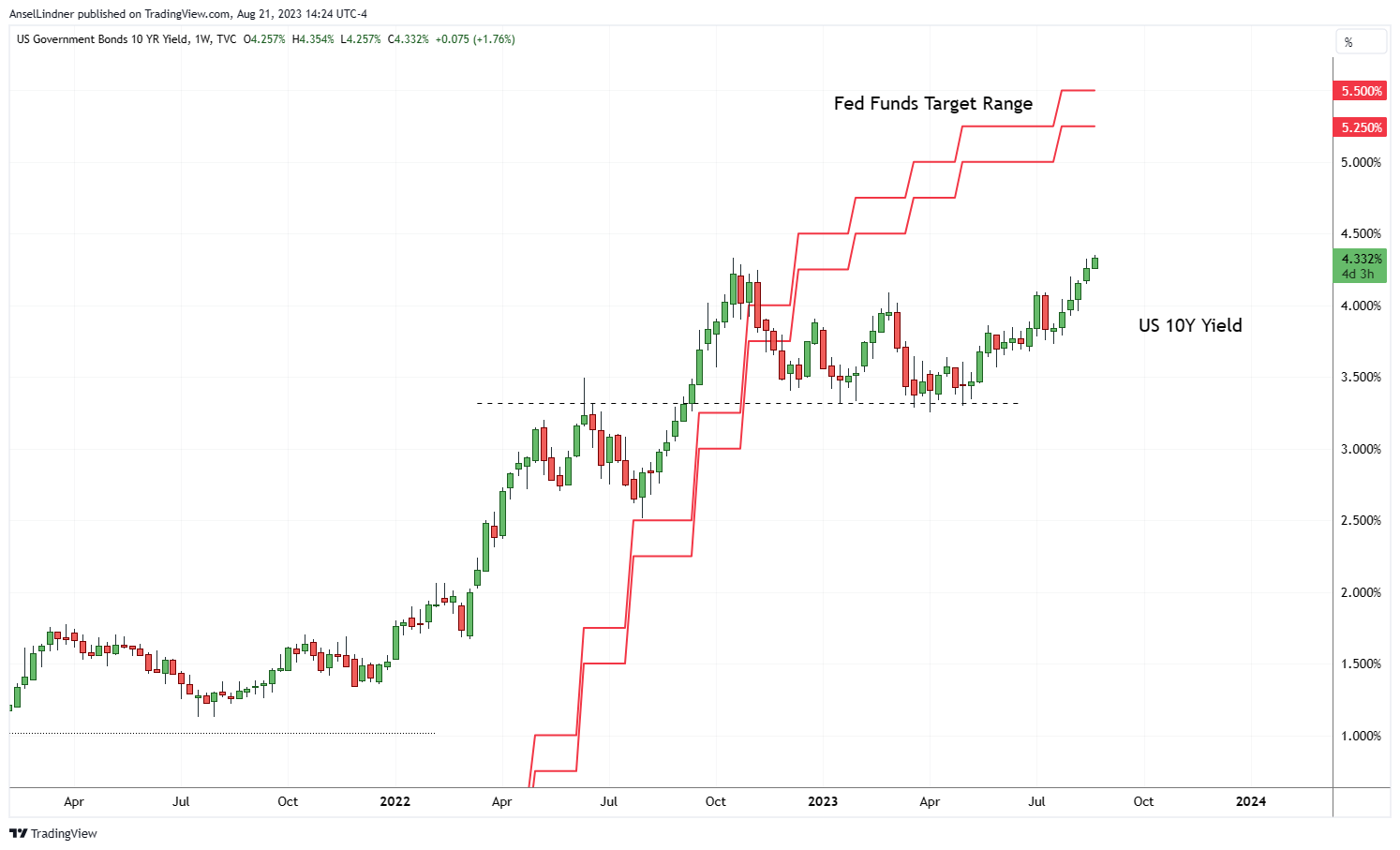 China and Japan are both selling Treasuries to pay debt and prop up their currencies. Trade is crashing, dollars are not coming in, and especially China, is in a credit crisis. They need dollars badly, so they are selling their USTs.
I often talk about the Interest Rate Fallacy, that says rates go up when money is loose. But in this case, rates are going up in a managed linear way. We can also see it in gold, the dollar and the Chinese Yuan. Just breaking to new highs will likely cause some panic leading to some crisis event soon.
A feedback loop is also possible. China sells because of solvency issues, causing rates up and prices down, making their assets (USTs) they still hold worth less and forces them to sell more. The end is a large Chinese default of something that won't shake their economy to its core. IDK what that is yet, but I think they are actively looking for something to lump all the bad debt into and let it fail.
Another week, another leg lower in the China crisis. I talked about this on Fed Watch this week near the end of the episode. Chinese investment funds, which are <wink> not banks, are missing payments left and right.
Zhongrong International Trust Co. missed payments on dozens of products and has no immediate plan to make clients whole, indicating troubles at the embattled Chinese shadow bank are deeper than previously known.

The company doesn't have an immediate plan to cover the payments since its short-term liquidity has suddenly dried up, Wang said.

Zhongrong is among the biggest firms in the country's $2.9 trillion trust industry, which pools savings from wealthy households and corporate clients to make loans and invest in real estate, stocks, bonds and commodities.

Liquidity has dried up "unexpectedly," making it hard to meet short-term debt obligations as most of the underlying assets are long-term and illiquid, he said. The products bear some resemblance to a "funding pool," he said, referring to a previously widespread practice where proceeds from new products are used to pay other investors. This method was banned by regulators a few years ago.
In other words, they are Ponzi schemes!
"The big danger is that a negative feedback loop kicks in, with property stress causing strains in the financial system, undermining credit expansion and depressing growth, which, in turn, exacerbates the slump in the property sector," Bloomberg Economics said in a note.
Everyone is jumping on the China bear bandwagon now. I've been here for the long haul. Here is the Wall Street Journal actually bring up that the CCP is communist. Shock!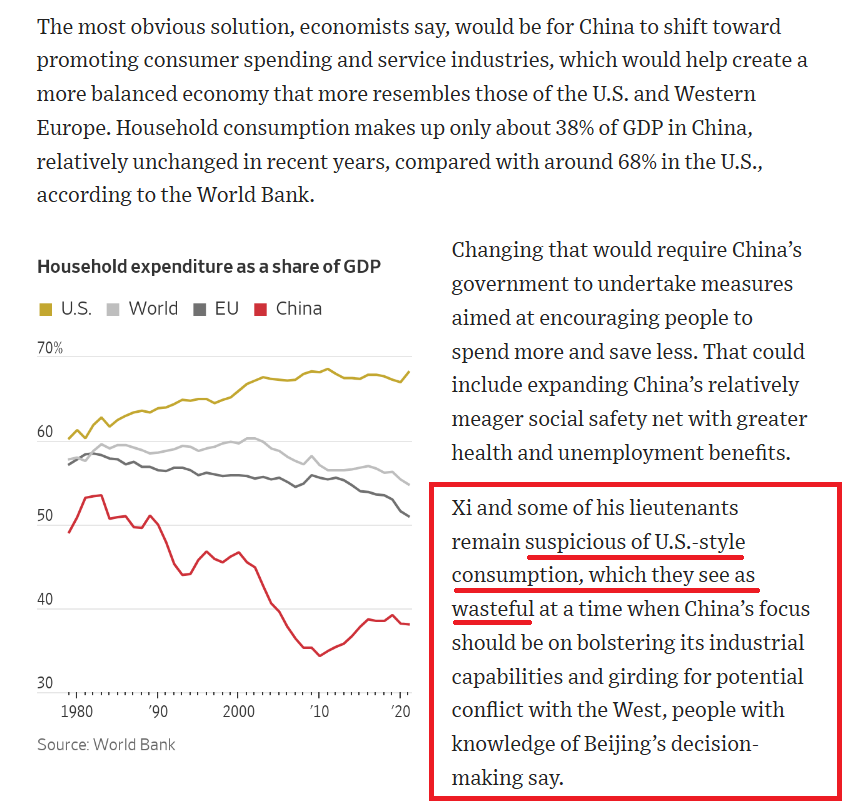 I'm quite surprised by this article. I sounds like something I would have written a few years ago, and now it is sinking in to the entire world. China is not their successful Marxist example they so desperately wanted.
💡
Help us grow! Please share!!
Price Analysis
Join the Professional tier for in-depth price reports and actionable forecasts! Sign up today!
---
Bitcoin Charts
Volatility is back baby. Or is it? We dropped 11% and just hit the ground with zero bounce.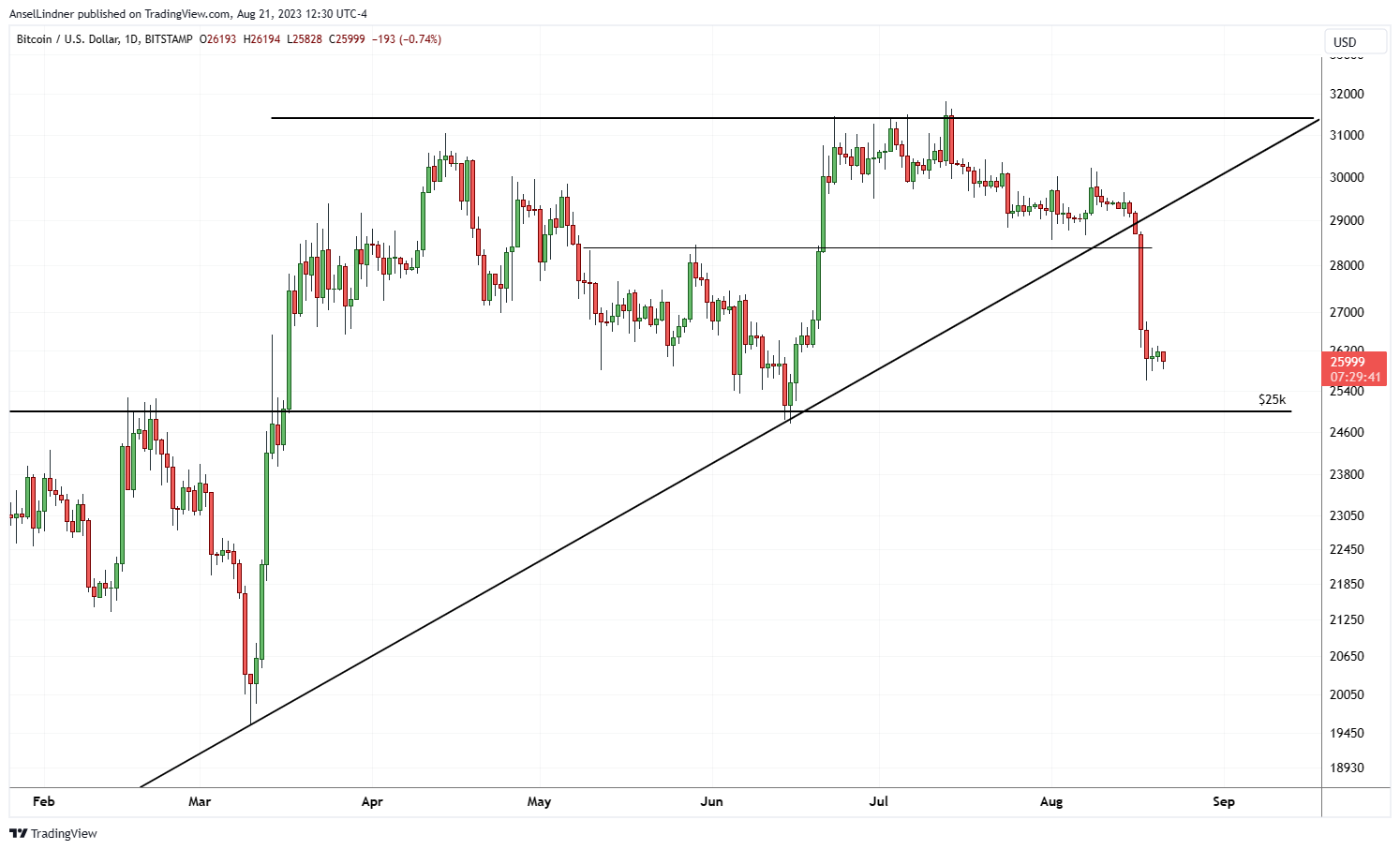 After this week's wild liquidation sell0ff, price has once again stabilized right around $26k.
Last week I said:
If we fall out of this pattern, ETF approval becomes very questionable IMO.
I stick with that call. I think the Bitcoin ETFs will get delayed on the Sept 1st deadline, pushing them out another 45 days. With the delay, they become less likely overall to get approved. Blackrock is fighting for them though, anything could happen.
This sell off had no accompanying major news event, but looks very similar to the major crashes in 2022. A very big flush on no news? Seems weird.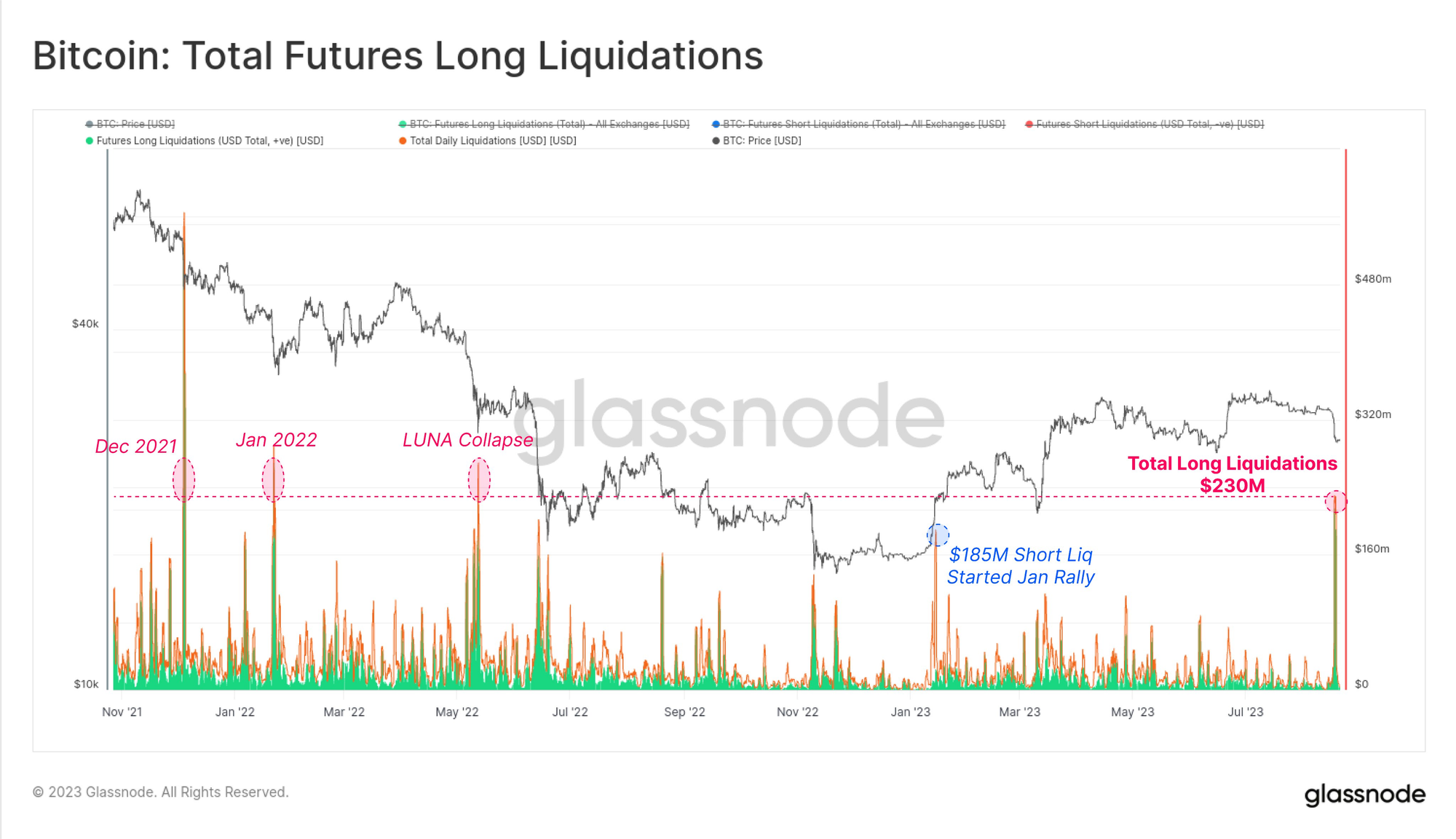 This does not fit with the extremely bullish media sentiment around bitcoin either (Blackrock and even Bitcoin mining is getting tons of love). Some might say the Blackrock news pumped bitcoin's price too far. Not the case. Bitcoin barely hit overbought after Blackrock. It was much higher back in January.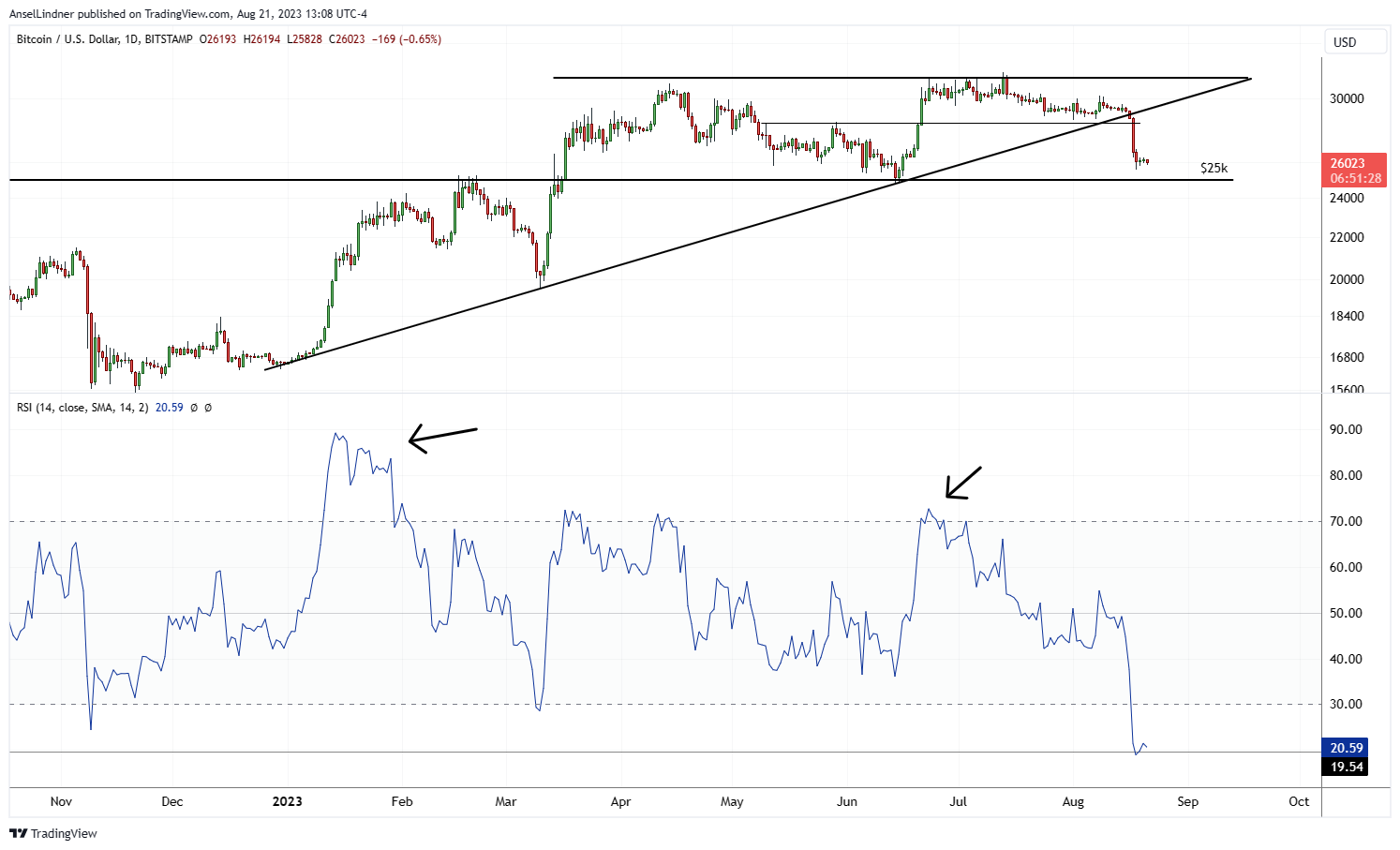 As you can see above, the RSI is printing some historic-level lows, meaning bitcoin is EXTREMELY oversold. We are in need of an immediate rally, a relief/temporary rally at least.
However, when we look at some of the important moving averages, we can see that price sliced right through the 200-day and 200-week MAs. A very bearish sign.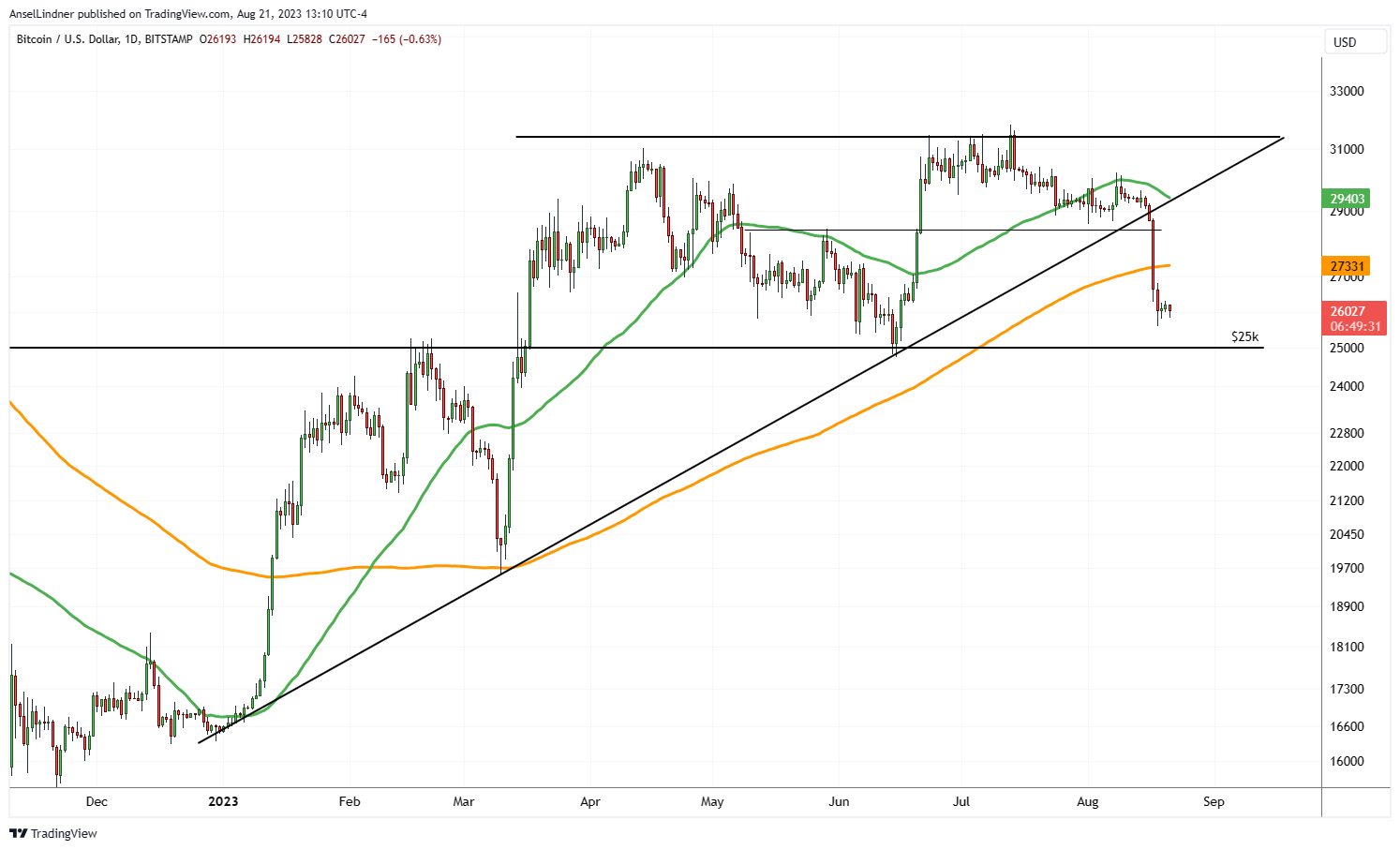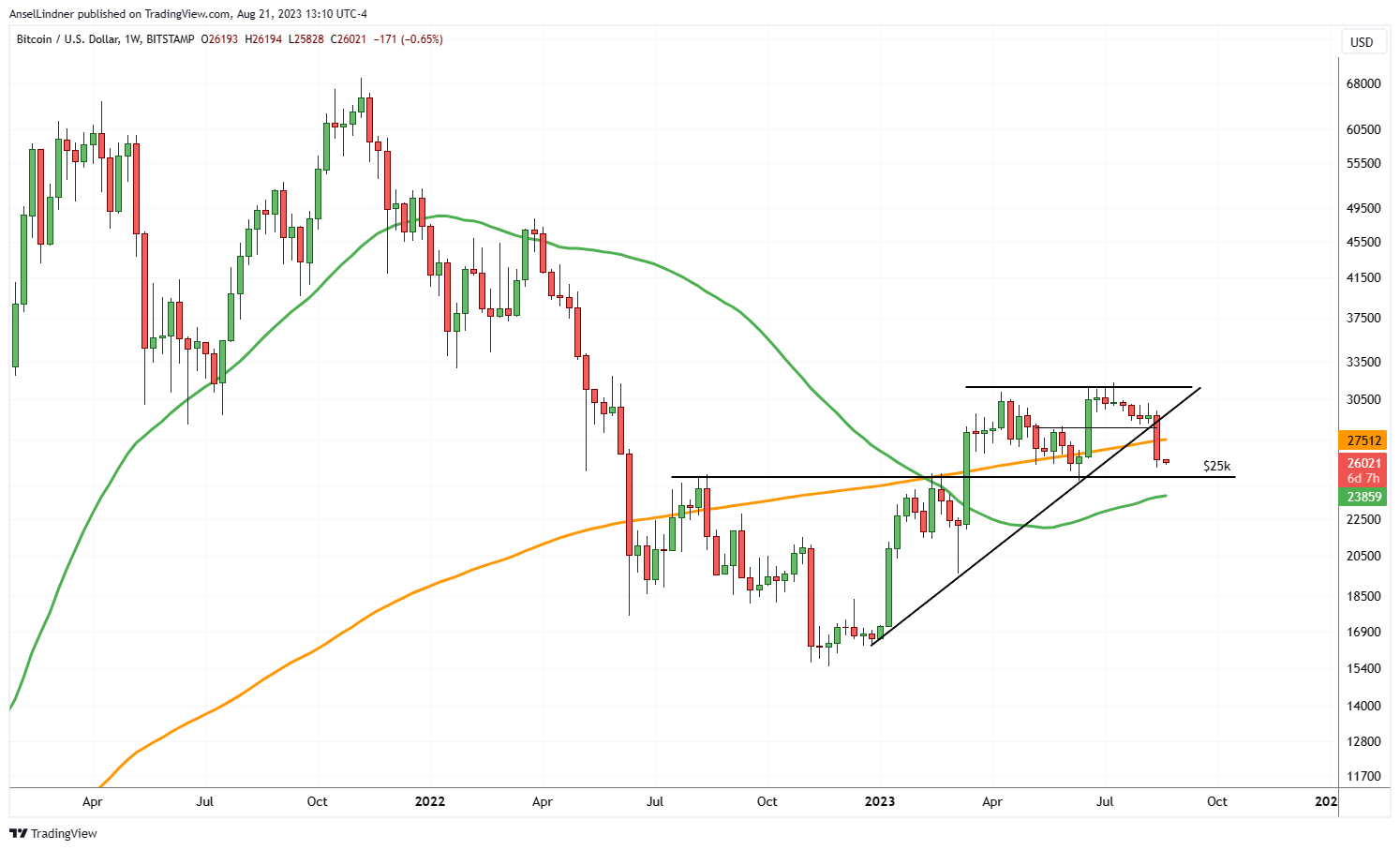 Overall, I won't make specific calls on this newsletter, I do that on Market Pro. I will say that this is a very strange dip. It is on the magnitude of Celsius or FTX with zero bad news. Indicators are in desperate need for some relief. There must be something big happening in the background. Perhaps, it is Binance failing as we speak. Perhaps, it is large asset allocators like Blackrock playing whale games.
One thing is sure, this is a great time to stack some sats. Consider upping your DCA total at this juncture.
Get my short, medium and long term forecasts on Market Pro!
---
---
Mining
Headlines
Oman's Ministry of Transport, Communications, and Information Technology (MTCIT) has reportedly opened a new data hosting and ̶c̶r̶y̶p̶t̶o̶c̶u̶r̶r̶e̶n̶c̶y̶ Bitcoin mining center in the Salalah Free Zone. The facility's estimated value is over RO 135 million (more than $350 million).

This is the second major crypto mining facility that popped up in Oman after the one in November 2022.
The data center's capacity is currently 8 megawatts (MW), with plans for further expansion "in the near future," and has been operational since June 2023.

The new facility is strategically located near the 417 MW Porjus Hydroelectric Power Station, known for its carbon-free electricity production. GDA aims to take advantage of this renewable energy source for its Bitcoin mining operations.
A miner, identified with the tag bc1q2za4ejga366sn288273pty8trasn5zs4y9hqg6, achieved the impressive feat using the Solo CKpool mining service. Con Kolivas, the administrator of Solo CKpool, speculated that this miner was using an S17 Bitcoin Miner and only had a hash power of roughly 1 PetaHash, which is miles lower than most BTC mining entities.

Meanwhile, this is the third time this year that a solo miner using the Solo CKpool has processed a block. Two independent miners were able to solve BTC blocks in March and June.
Difficulty and Hash Rate
Bitcoin's difficulty adjusts in about 20 hours from the time of writing. It is estimated to be a huge positive adjustment, as high as +7%. That is yet another data point that doesn't match with the recent selloff.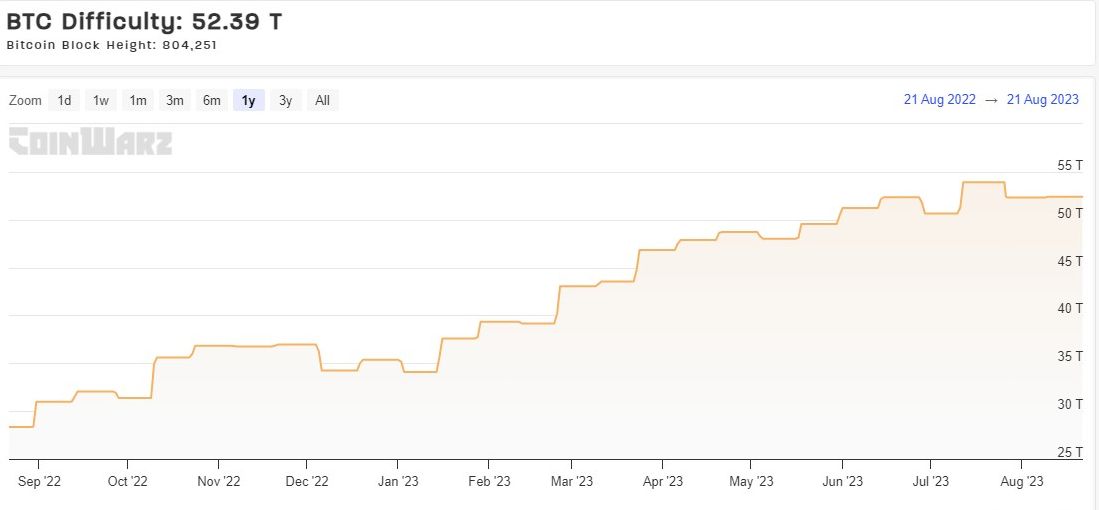 Mempool
Mempool is extremely stable despite the price selloff this last week. This is not showing any sort of market panic to dump coins ahead of a trend reversal.

Lightning and Layer 2
Onmi (formerly Mastercoin) is a layer 2 of Bitcoin. It was the original home of Tether, which has since expanded to consume resources on other networks.
Tether is opting for another Bitcoin layer stack, using RGB (colored coins) on top of Lightning on top of Bitcoin.
Tether will instead offer its Bitcoin implementation of USDT on RGB, a layer-2 and layer-3 network for Bitcoin, and the Lightning Network. Tether said that this would offer "unparalleled scalability" and noted that it is contributing to the RGB's development.
Tether, once again, proves it is major ally to Bitcoin with this move. Using Layer 2 and 3 tech but also contributing toward development.
💡
Get our book the
The Bitcoin Dictionary
available
on Amazon!
That's it for this week. See you again next Monday!!!
DONATE directly on Strike or Cash App to support my work! You make this content possible! Thank you.
A
---
August 21, 2023  |  Issue #253  |  Block 804,257  |  Disclaimer
* Price change since last report
** According to mempool.space