Reports
Bitcoin Fundamentals Report #251
Volatility will come back, ETF timeline, Ripple update, Bitcoin gets love from everywhere but the chart, time to pay attention.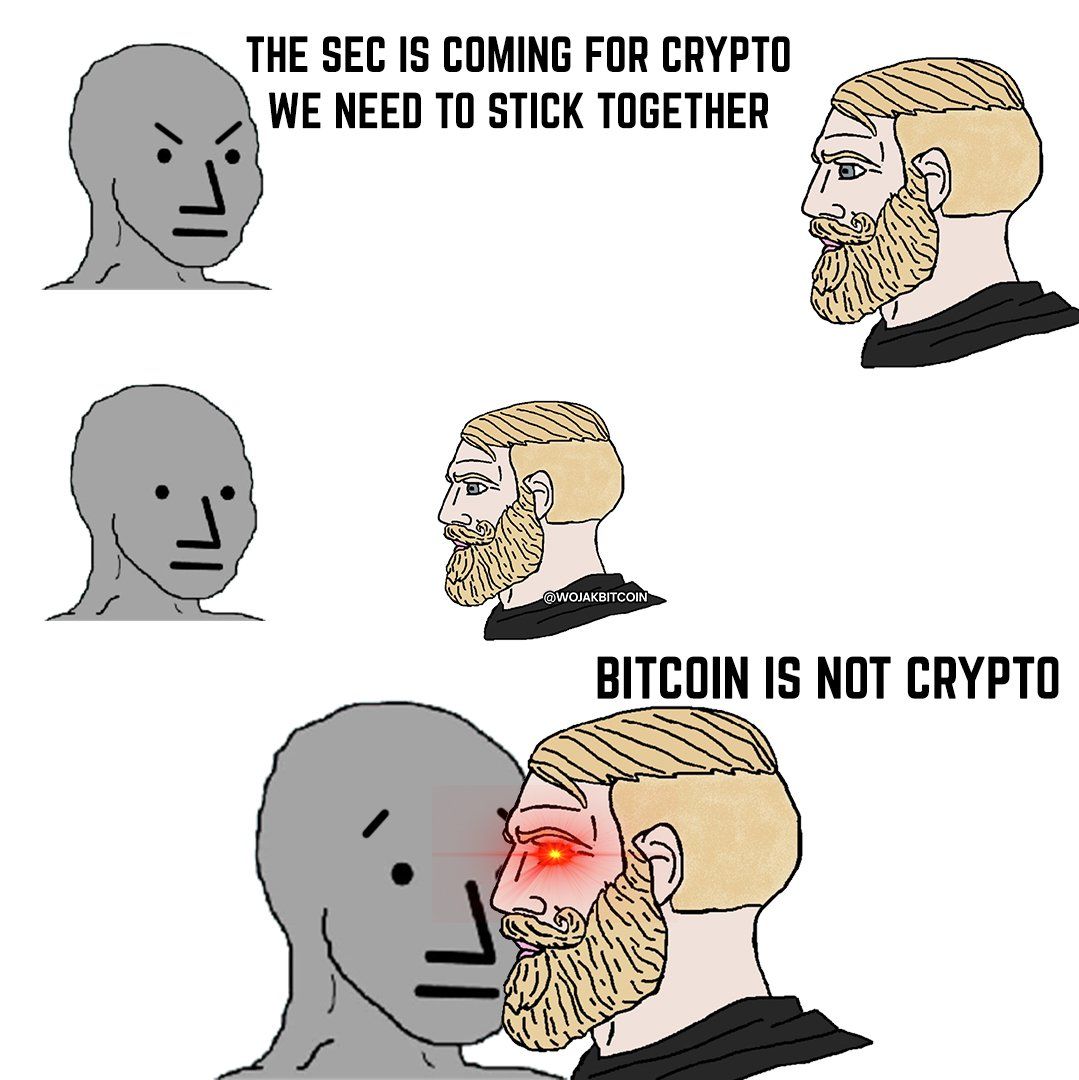 Jump to section: Bitcoin headlines / Macro / Price / Mining / Lightning
💡
Share the Bitcoin Fundamentals Report!
Snapshot of Bitcoin
General Bitcoin Headlines
Weekly trend
Major squeeze in volatility
Media sentiment
Very positive
Network traffic
Medium
Mining industry
Stable
Days until Halving
253
Price Section
Weekly price*
$28,839

(-$328, -1.1%)

Market cap
$0.562 trillion
Satoshis/$1 USD
3,461
1 finney (1/10,000 btc)
$2.88
Mining Sector
Previous difficulty adjustment

-2.9361%

Next estimated adjustment
+0.8% in ~1 day
Mempool
130 MB
Fees for next block (sats/byte)
$0.89 (22 s/vb)
Median fee
$0.89
Lightning Network**
Capacity
4780.73 btc

(+0.1%, +7)

Channels
68,250

(+0.2%, +170)
---
In Case You Missed It...
Member
Community streams
Fed Watch
Blog
---
DONATE directly on Strike or Cash App to support my work! You make my content possible! Thank you. ---
Headlines

The ARK deadline on the 13th falls on Sunday, so I would expect something perhaps Friday. The consensus view is that it will be delayed in favor of an approval of heavyweight Blackrock. But as you can see, Bitwise technically is in line in front of Blackrock as well.
Price should tell us the story. So far, price is not showing signs of an approval for ARK.
KPMG, top-4 auditing firm with 260,000 employees worldwide, comes out with report touting the benefits of Bitcoin from an ESG perspective
In this report, KPMG reports that Bitcoin offers massive environmental, social and governance benefits. They call Bitcoin zero-emission "like EVs" and Bitcoin can route around authoritative regimes. It's a great summary of Bitcoin academic studies up to this point on these subjects. WOW.
Ripple lawsuit development
More developments this week on the Ripple case. First, a higher court rejected the recent rationale in the summary judgement that crypto bros were raving about. This new ruling points out that the previous Torres decision does not follow from Howey.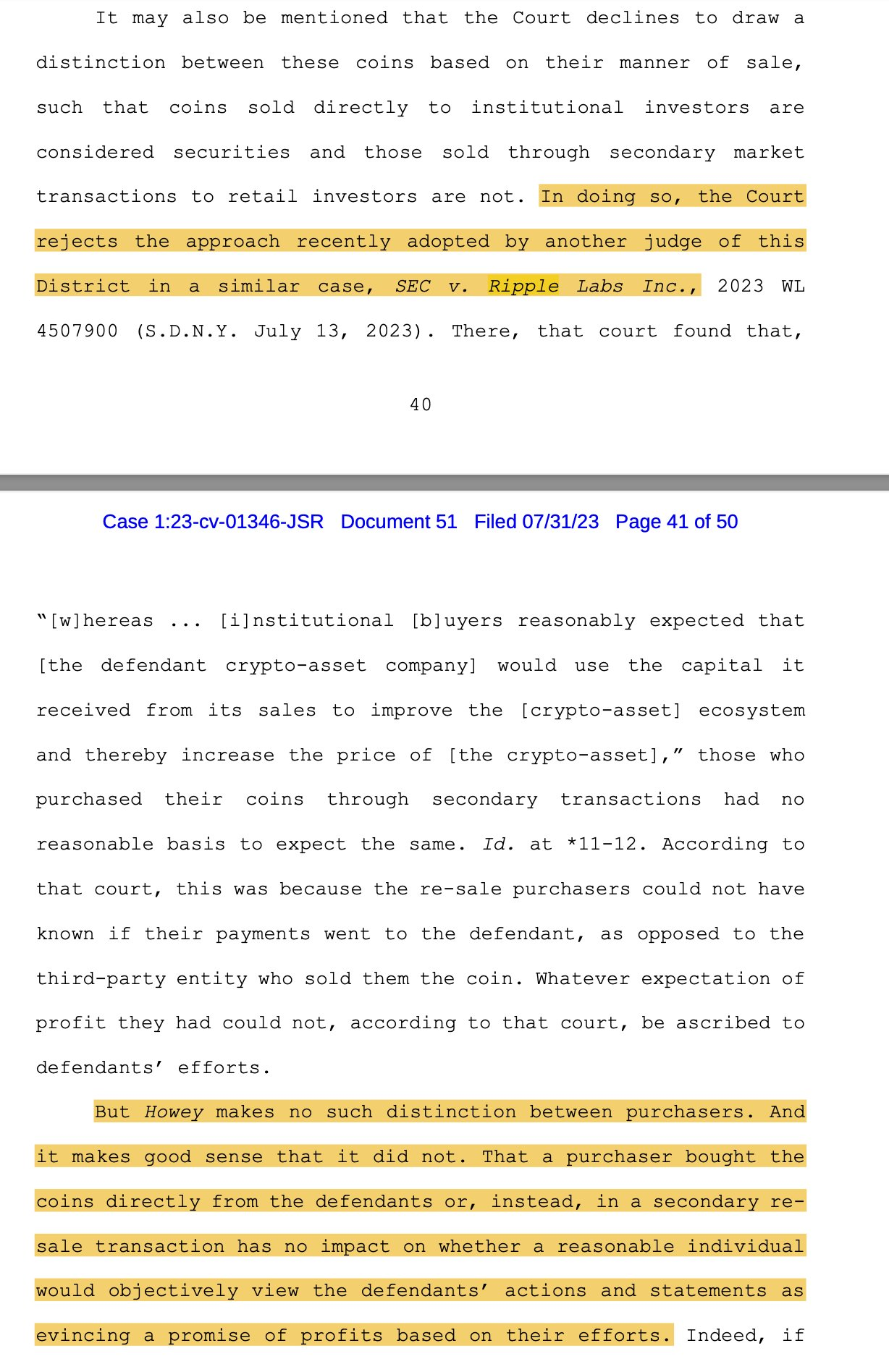 People have argued that this is from the Terra Luna/Do Kwon case and does not affect the Ripple case, but it does. The Torres judgement is being appealed and will like like get overturned.
Crypto bros are panicked...
To summarize, the entire den of scammers and thieves are having Coinbase fight their fight, and Coinbase is relying completely on the faulty Torres decision.
Tether updates holdings, has bought $1.6 billion in Bitcoin this year

Uniswap is supposed to be THE example a decentralized altcoin project, yet this week they unilaterally delisted HEX. Believers will instantly reply, "that's just the front end dude, the protocol is decentralized."
Sure. Here's a little background on Uniswap and UNI their voting token. Uniswap has a front end UI and a backend protocol. While it is true that delisting HEX from their front end does not delist it from the protocol itself, it drastically cuts down on its liquidity and availability.
That argument also relies on the protocol being decentralized, which it is not. There are 1 billion voting token (UNI), all premined. The team gave themselves 40% of the issuance. To pass a governance proposal, they need a quorum of 4% of the tokens voting. There has been only 1 proposal passed that I could find on my own. In the meantime, if there is a bug, it is fixed by the central team. They're also on version 3 with version 4 coming soon. Not voted on.
Uniswap is centralized, but hides under a false separation between front end and backend. They are centralized in different ways, but are still both centralized.
Macro
CPI will come out this Thursday. It should be a mixed bag. As I wrote on the Market Pro last Friday, gasoline have a positive effect on M/M but shelter will be negative. Therefore, the M/M Headline number will be generally consistent. However, gasoline is not in Core, so the shelter component will cause Core to continue falling. Fade the "reacceleration" narrative.
My estimates
Headline: M/M = 0.2%;  Y/Y = 3.2%
Core: M/M = 0.0%;  Y/Y = 4.55%
JOIN ME ON THE LIVE STREAM THURSDAY FOR RELEASE AND REACTION!
US Government Interest Expense
This chart has been everywhere recently. Leave it to the fearmongers to jump between scary looking charts. This shows the interest expense on the US government debt by quarter.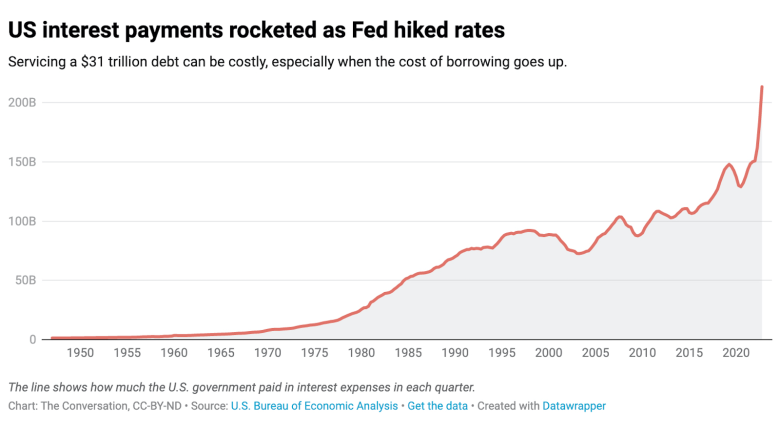 I do not make a judgement on the existence of government debt, all I want to do is forecast what will happen, not based on scary "OMG" type reactions, but sane understanding.
What we see here is the effect of interest rates rising along with government spending. Pretty basic; when the government pulls demand forward, the economy gets a temporary boost making money relatively less tight and interest rates will rise.
What does this portend? Not much. People are just trying to get an emotional response out of you. Interest rates will fall again soon enough, and all that expensive issuance can be rolled over/refinanced at lower rates. Plus, if this chart is not normalized for constant dollars, it's worthless. Below is a much better way to look at it.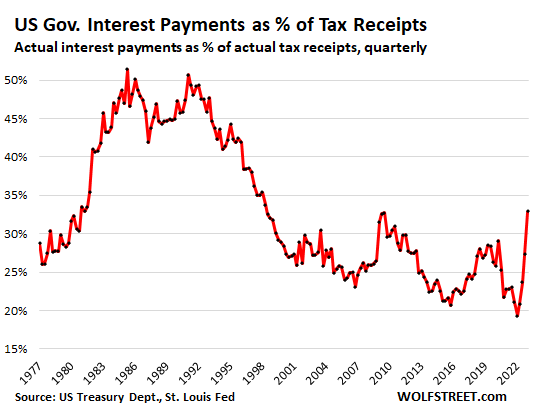 I wrote extensively about COMMODITIES on the recent Market Pro! Check it out.
💡
Help us grow! Please share!!
Price Analysis
Join the Professional tier for in-depth price reports and actionable forecasts! Sign up today!
---
Bitcoin Charts
This week is GO time. Either we break down or up. Time to pay attention.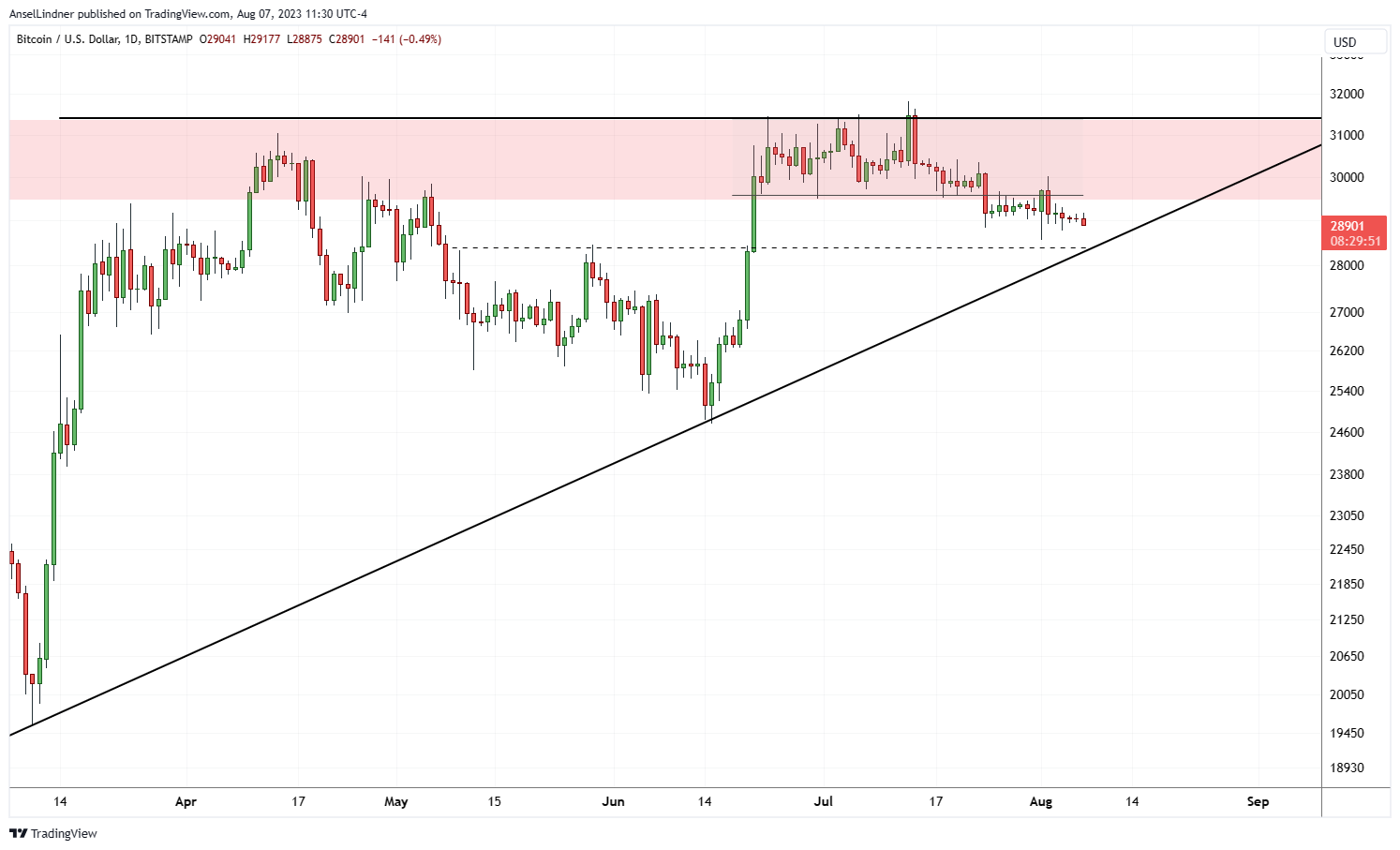 Volatility is at All-Time lows!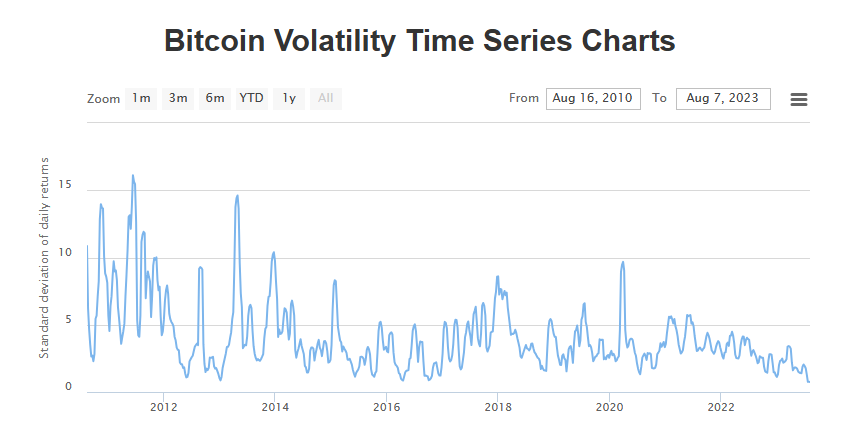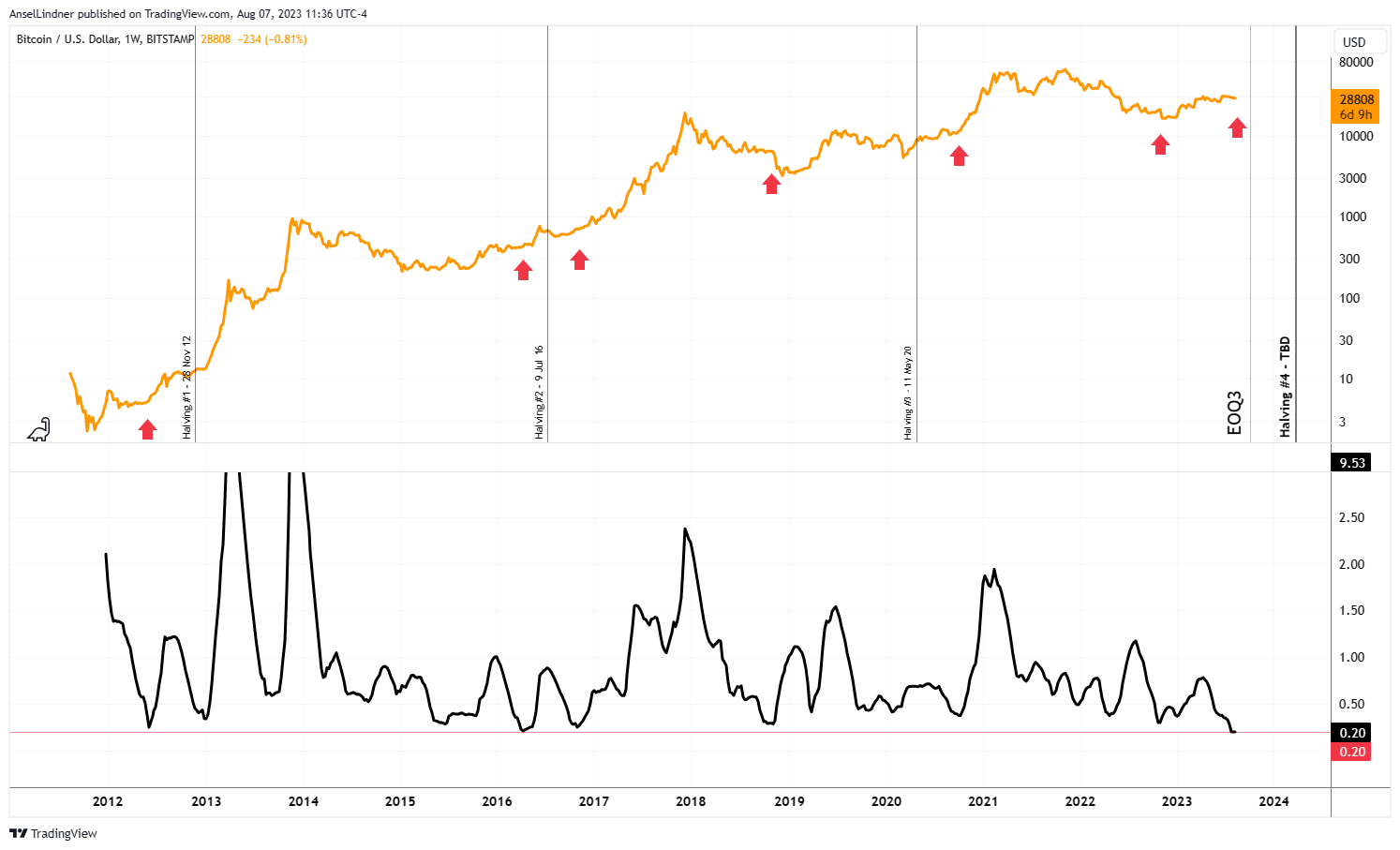 On the weekly, we can see the coiling getting tight, right as all the Bitcoin spot ETFs are coming up for approval.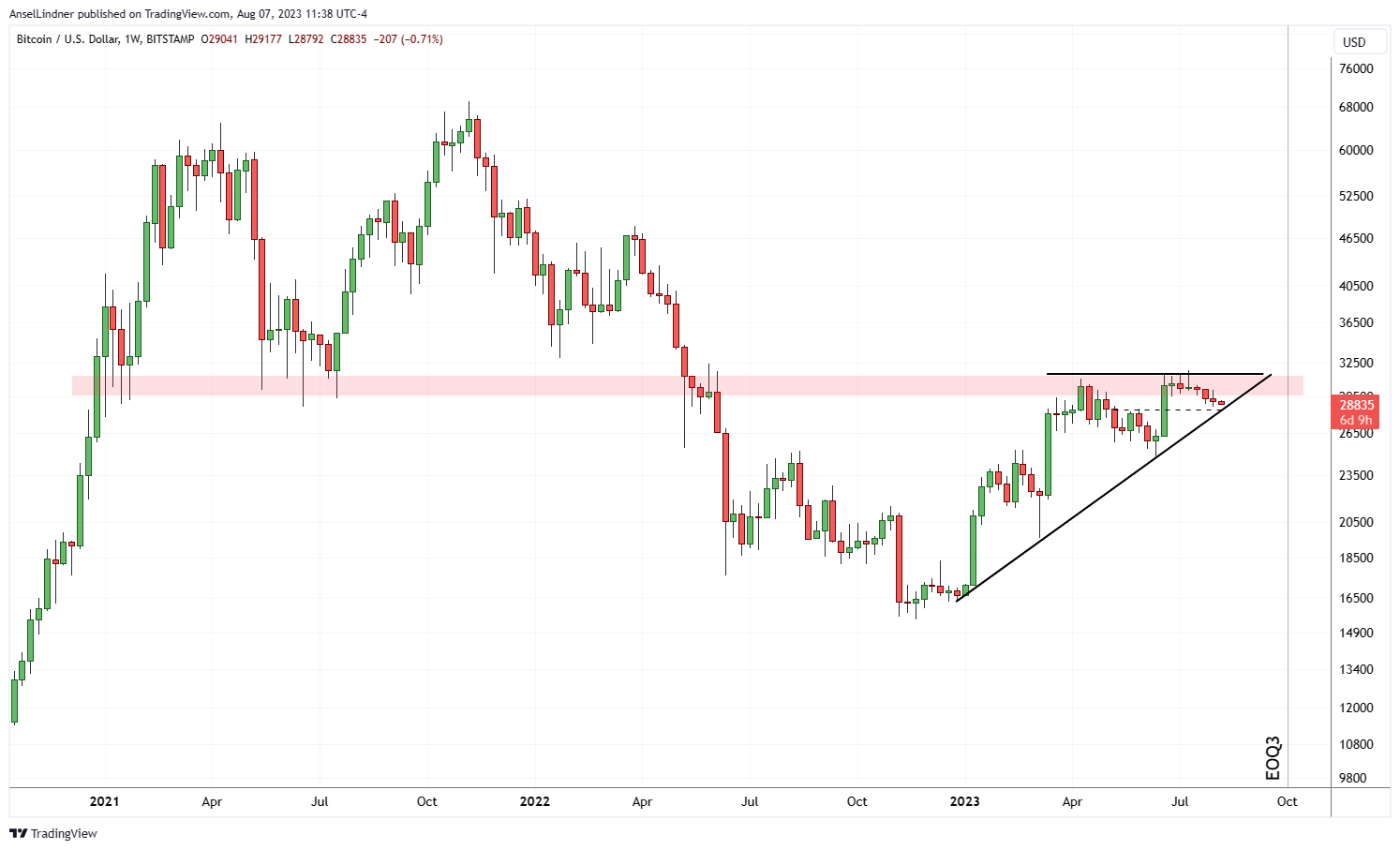 Bitcoin has been so incredibly stable the last last few months, people have been lulled to sleep. It is all coming to a head. For Bitcoin to stay "on schedule" with its historical cycles, it needs to get moving.
Something BIG is going to happen soon. That is not only a gut feeling, it is backed by fundamentals AND technical analysis.
An ETF decision for ARK coming this week, likely delay, but it is amazing how it lines up with the chart. Whatever is coming, volatility is coming. I'm leaning heavily in the positive direction. Cycles, large asset allocators and ESG ranking agencies, halving, supply shortages, pattern squeeze on charts, regulators separating Bitcoin from "crypto", ETF timelines, everything is aligning for a positive move.
Get my short, medium and long term forecasts on Market Pro!
---
---
Mining
Headlines
Tether is investing excess reserves into bitcoin, what better way to support the value of their investment than by getting involved in infrastructure like this. Excellent development.
The Tether CTO had earlier released a tweet about the functionality of Moria. The mining instrument facilitates easy communication between items in the BTC mining ecosystem. Moria helps them interact in a way that is more streamlined, secure, attack-resistant and cost-efficient.

"Each device / miner will be identified by a pub/priv key and can stream data (hypercores) / receive commands (via hyperswarms) in an encrypted and secure way. Lower firewall configuration complexity, more resilient to failures, easy replication across sites. Feels more maintainable and modular than whatever we tried today," Ardoino
Marathon Digital's operational hash rate ticked up 6.2% from June's 17.7 exahashes per second (EH/s) to July's 18.8 EH/s.

CleanSpark saw the largest gain in operational hash rate among its peers so far, upping its efficiency by over 13% in a one-month period, according to a press release.

Riot Platforms and Bitfarms' hashing power remained flat month over month, 10.7 EH/s and 5.3 EH/s, respectively.
Difficulty and Hash Rate
My standard source for these charts is offline temporarily. Bitcoin's difficulty has not adjusted since last week's issue. Right now, on schedule for a slight increase of 0.8% tomorrow.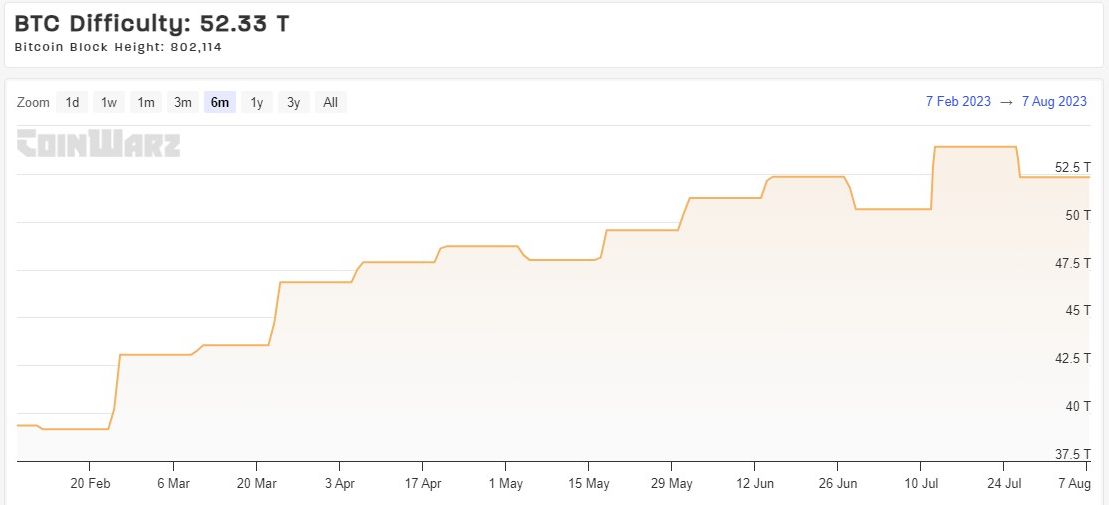 Mempool
The mempool has stayed relatively flat this week for the first time in 6 months. Fees have also stayed relatively flat. It's interesting that price has remained so stable along with mempool, despite balance on exchanges being so low. Trading activity in general is in a slump, yet transactions are still coming through at a steady pace.

Lightning Network and Layer 2
Call me crazy, but I don't see this as that big of a deal. Lightning is a Layer 2, it is not nearly as important for decentralization on that layer as below. Of course, lightning is the decentralized Layer 2 option, as compared with a spectrum of other Layer 2's like Liquid (federated consensus), and completely centralized L2's like Coinbase.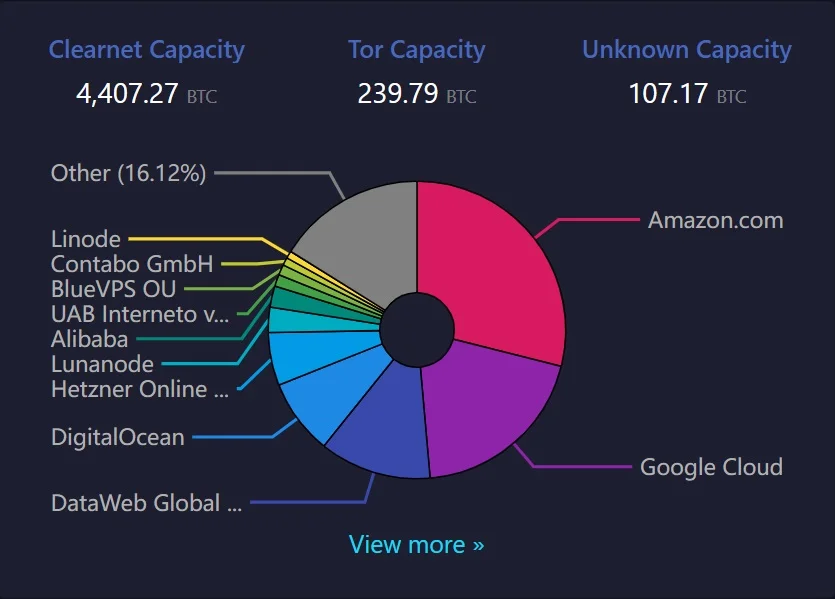 On a second look, this is quite distributed. It is important to note that these hosts do not have the private keys to the bitcoin and are relatively interchangeable. While it is not ideal to have this large of concentrations, it's again Layer 2 not the consensus money layer. Bitcoin the asset is unaffected by this.
The centralization argument against Ethereum, for example, is about Layer 1 nodes being on centralized hosts. 58% of Ethereum consensus nodes are on hosting providers, while bitcoin has 62% nodes on Tor and only roughly 10% on hosting services. This means that Ethereum's main network is dependent on hosting providers, but bitcoin it is only Layer 2.
💡
Get our book the
The Bitcoin Dictionary
available
on Amazon!
That's it for this week. See you again next Monday!!!
DONATE directly on Strike or Cash App to support my work! You make this content possible! Thank you.
A
---
August 7th, 2023  |  Issue #251  |  Block 802,120  |  Disclaimer
* Price change since last report
** According to mempool.space