Reports
Bitcoin Fundamentals Report #248
Rumors from AI, Bitcoin ETFs, France and Europe are collapsing, Bitcoin price ready to pump, mining is stable, lightning vs Apple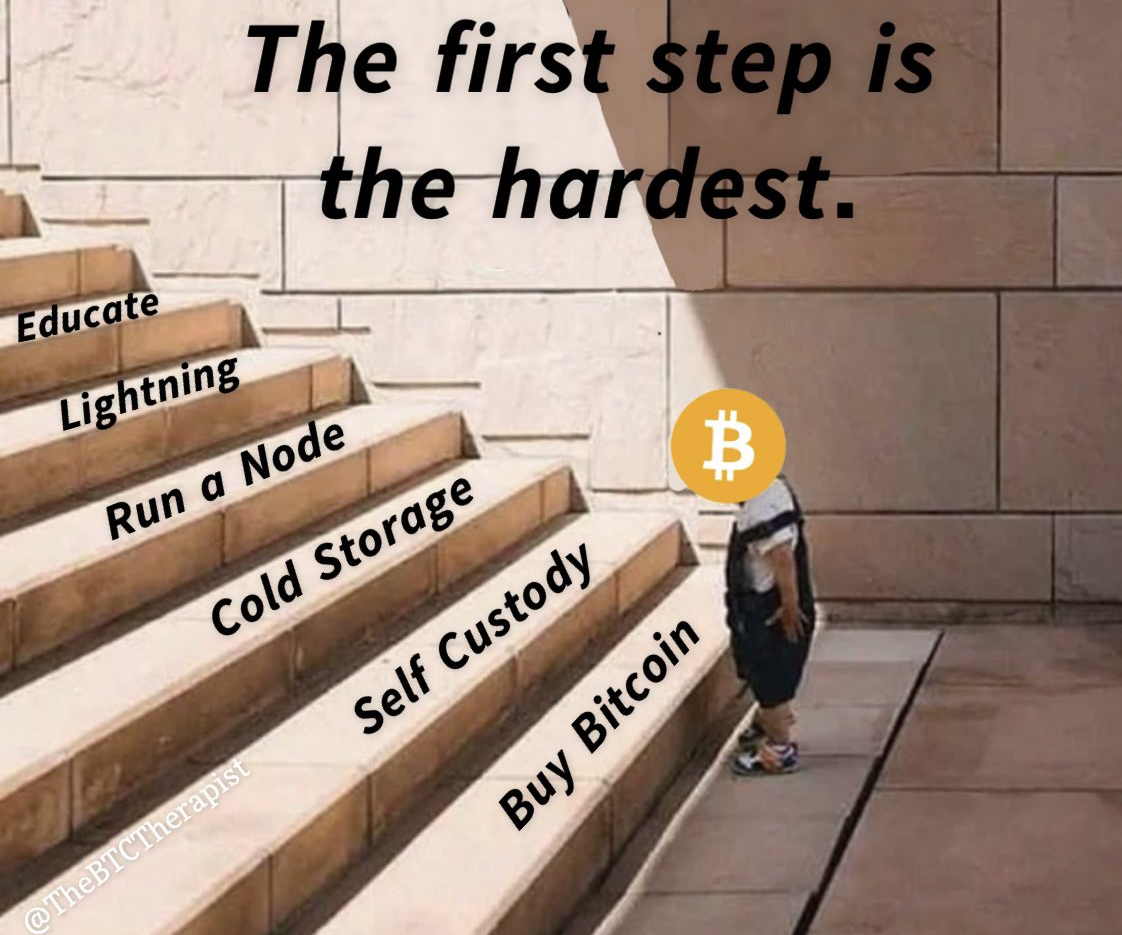 Jump to section: Bitcoin headlines / Macro / Price / Mining / Lightning
💡
Share the Bitcoin Fundamentals Report!
Snapshot of Bitcoin
General Bitcoin Headlines
Weekly trend
Consolidate to breakout
Media sentiment
Slightly positive
Network traffic
Medium
Mining industry
Stable
Price Section
Weekly price*
$31,027

(+$988, +3.3%)

Market cap
$0.602 trillion
Satoshis/$1 USD
3,222
1 finney (1/10,000 btc)
$3.10
Mining Sector
Previous difficulty adjustment

-3.2554%

Next estimated adjustment
+2.5% in ~8 days
Mempool
113 MB
Fees for next block (sats/byte)
$1.09 (25 s/vb)
Median fee
$1.04
Lightning Network**
Capacity
5,479.11 btc

(-0.1%, -6)

Channels
69,036

(-0.5%, -333)
---
In Case You Missed It...
Member
Community streams
Fed Watch
---
DONATE directly on Strike or Cash App to support my work! You make my content possible! Thank you. ---
Headlines
Bernstein is a high-net worth broker, managing nearly $1 trillion in assets. This story was breaking as I was writing the report, so I thought I'd include it.
Last night, I heard a rumor that Gary Gensler had tendered his resignation because of some improprieties. I immediate thought it was some dreamed up Crypto Bro hopium, and I turned out to be right.
If you are new and still don't get it, Gensler is simply saying exactly what bitcoiners have warned about for year, and exactly why decentralization is important. He's not "killing crypto", he's stopping rampant fraud. Whether the government is effective or not, it is a good faith effort against actual fraud. This has nothing to do with Bitcoin, it is against "crypto" affinity fraud. He's not going anywhere.
This headline causes massive market gyrations on Friday. The SEC rejected all recent Bitcoin spot ETF filings, prior to acceptance, claiming more clarity was needed on which Bitcoin exchange they were going to use in their surveillance sharing agreements.
It was a horribly sneaky headline, and could have easily been written like this, "SEC Seeks More Clarity on ETF Filings Before Likely Approval."
There have been approximately 30 Bitcoin spot ETFs either rejected by the SEC or withdrawn by the filing company. None have every been rejected before acceptance and given a timeline by the SEC. This is a first. It seems as if the SEC is wanting to work with the companies. this time.
Five companies have already refiled their ETFs, all using Coinbase.
Blackrock is keeping their cards close to their chest, we haven't heard from them yet. I suspect that Blackrock has a type of exclusivity agreement with Coinbase, but we'll have to watch and see how these refilings turn out.
The companies — which also include Invesco, VanEck, 21Shares and WisdomTree — are among eight that are seeking to launch what would be an initial crop of US spot Bitcoin ETFs. BlackRock Inc. set off the wave with its surprise filing for such a fund in mid-June.

All of the five that refiled Friday indicated that Coinbase Global Inc. will provide market surveillance in support of their funds, a fact that wasn't included in previous iterations.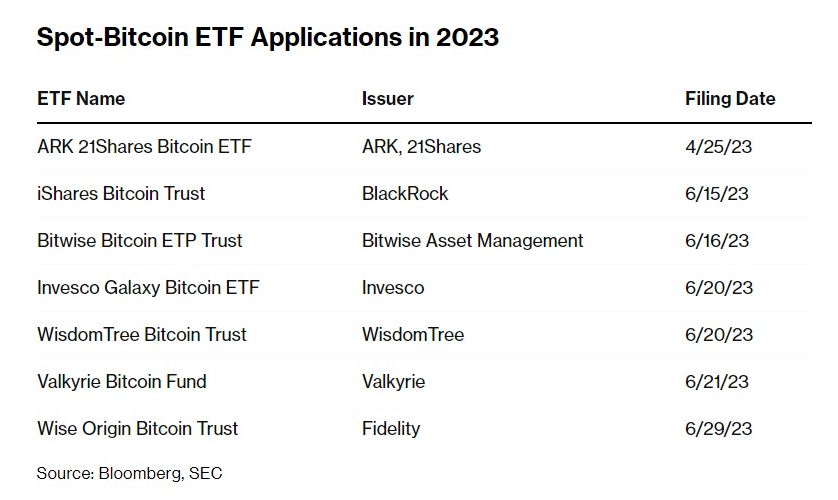 USDC Continues to Bleed Out
We typically measure the success of a USD stablecoin by its market cap. Tether continues to grow as USDC continues to slide.
It is satisfying because I suspect USDC and its backers are responsible for most of the Tether FUD over the years.
Another aspect of this is that USDC has moved all their reserves to Blackrock. Therefore, it isn't a problem with their reserves that is weighing on its market cap, it must be something else.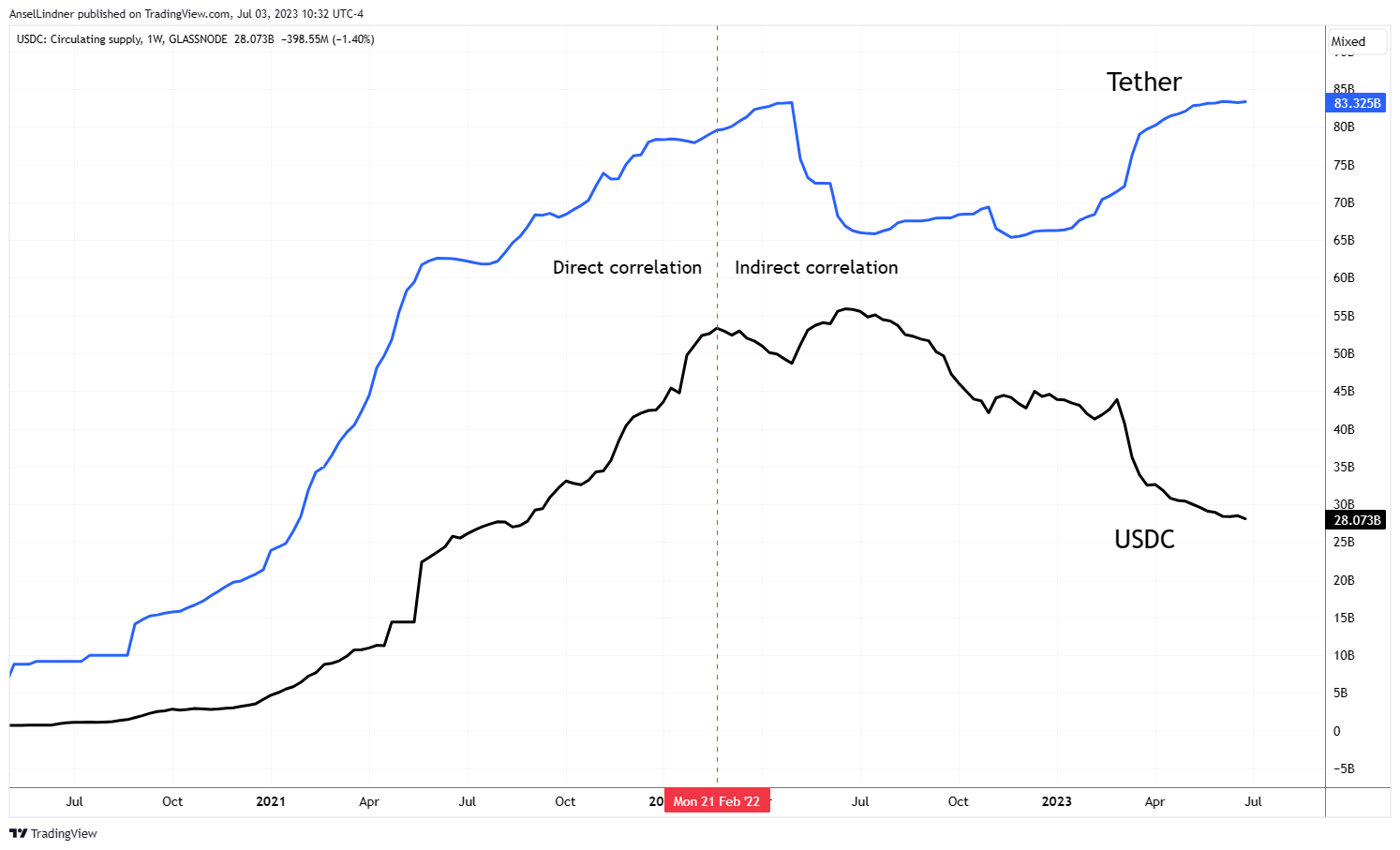 February 2022 marked a divergence between Tether and USDC. This was long before the Terra Luna, Celsius or FTX. It interestingly corresponded to the beginning of the Ukraine war, the resulting spike in oil prices, and a general bearish turn in the global economy.
One thing is for certain, that this is not a good thing for altcoins and crypto. USDC was the preferred stablecoin by Silicon Valley pump and dumper VCs.
USDC won't die. It'll probably be saved by its close relationship now to Blackrock and Coinbase, but its use will wane versus Tether.
Macro
The riots are much worse than the MSM is showing. I've seen streets that look like a literal warzone, burning and looting making BLM look tame, and even a video of an IED on the streets of a major French city in a scene straight out of Iraq.
I am certain these riots will force a political change in France, and rapidly. Don't forget, France is a huge part of the EU, Eurozone, and NATO, not to mention they have the best military in Europe by a large margin.
"They want to get €50 billion from the member states to give to Ukraine, while they cannot even account for the money we have given them so far. They want more money from the member states so that they can pay the interest on the European Union loans that they have previously taken out. These are loans that Poland and Hungary have not seen a single cent from so far," Orbán said.
The EU is only two years into a seven year budget and they are already going back to the well for more money. This is a not a good sign.
Last week Sweden allowed a Quran-burning protest to proceed, which took place in Stockholm, drawing about 200 people to the scene which had police protection. [...]

All of this is happening against the backdrop of Sweden desperately seeking entry into the NATO military alliance, but which Turkey has blocked since last summer. Ankara now has even more reason to resist Sweden's accession efforts, after complaining that it allowed "PKK terrorists" to operate freely.
They can't get Sweden in, do you think there is any way of expanding NATO membership to Ukraine!? Not a chance. NATO's summit coming up on July 11th is going to be a very important event. If Ukraine doesn't get a new huge arms package as a result of the summit, it will likely be the beginning of the end for Ukraine.
The writing is on the wall for NATO, as members are all having internal issues, inter-alliance issues, EU has monetary issues, and the US has proven to not be able to lead.
The question we should be asking ourselves as investors is what happens when NATO starts to break up?
💡
Help us grow! Please share!!
Price Analysis
Join the Professional tier for in-depth price reports and actionable forecasts!
---
Another week, another low in exchange inflows and balances. Liquidity is at an impressive low, with demand increasing, the halving coming, ETFs lining up, etc etc. We probably are not bullish enough.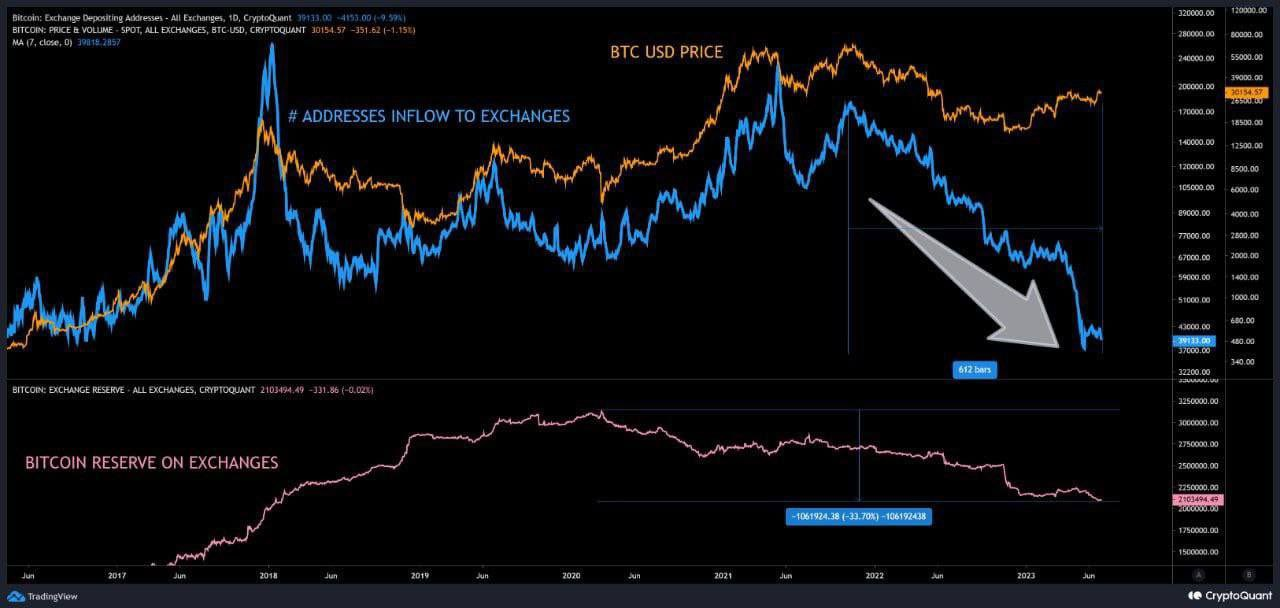 GBTC discount is closing. This is one of the most significant signs out there right now. Demand to get exposure to bitcoin is rising fast. When this gets back positive, the risk-free trade resumes. GBTC will suck up bitcoin and price will moon.
I have a feeling the court case will be settled before that, and GBTC will be turned into an ETF, which will have the effect of ending the risk-free trade.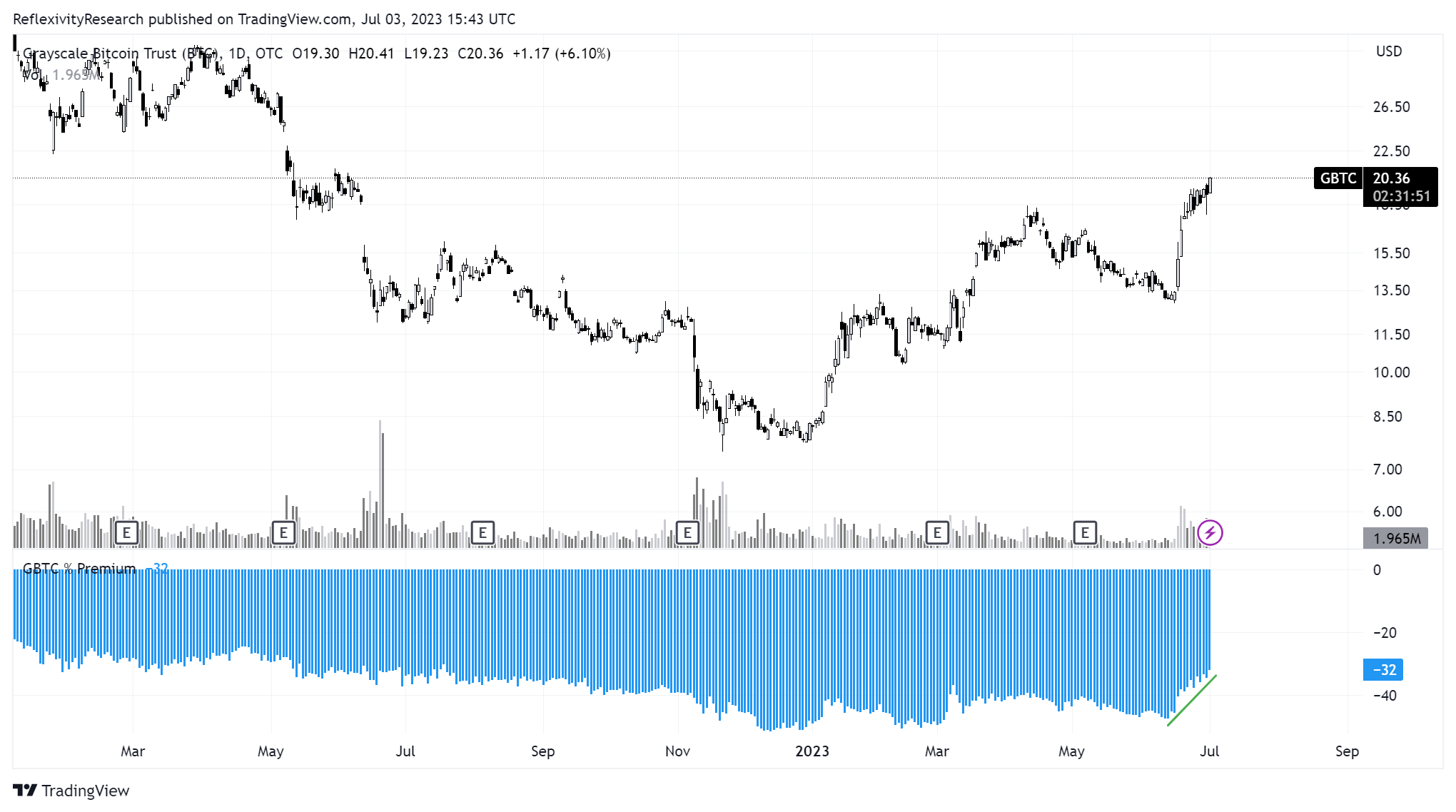 Daily Chart
The daily chart looks ready to break free of the $30-31k range. Market forces are aligning for a forceful move.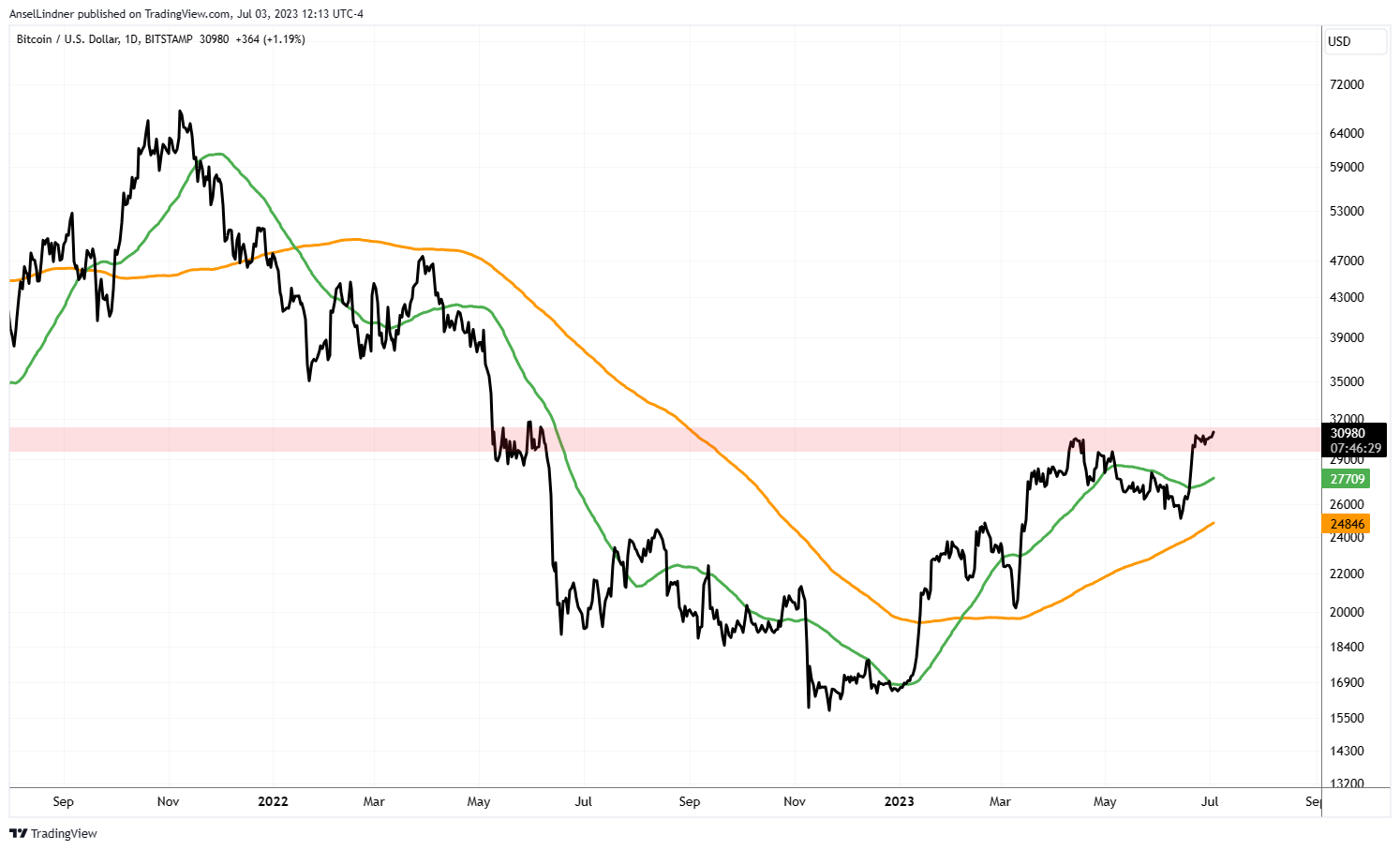 We are in a sort of calm before the storm. It's not a matter of "if" but "when" bitcoin breaks out. The real short squeeze won't be triggered until around $35k, and price could really move higher quickly.
Monthly and Quarterly
Start of a new quarter and month. Quarterly and monthly resistance are up at $35k.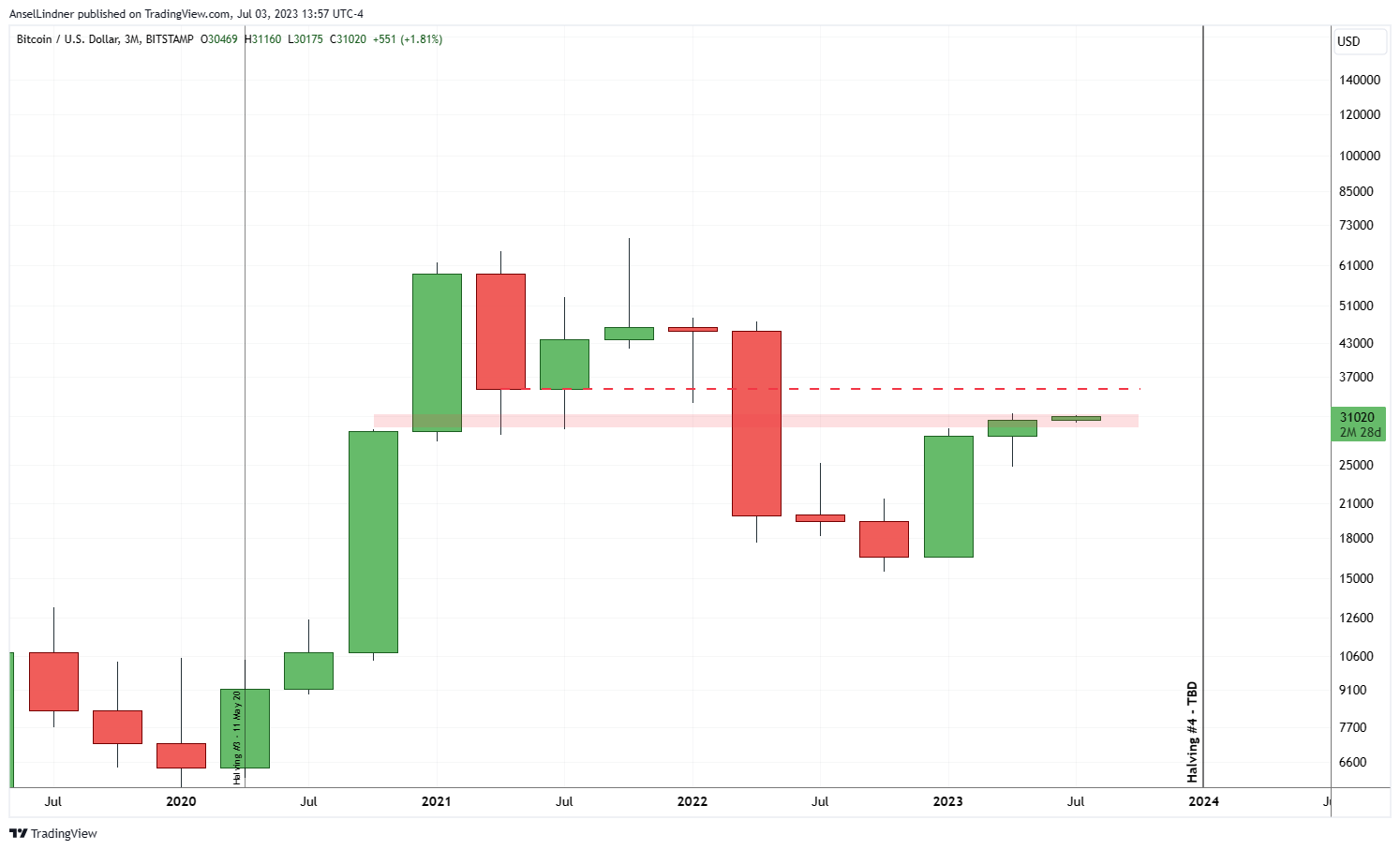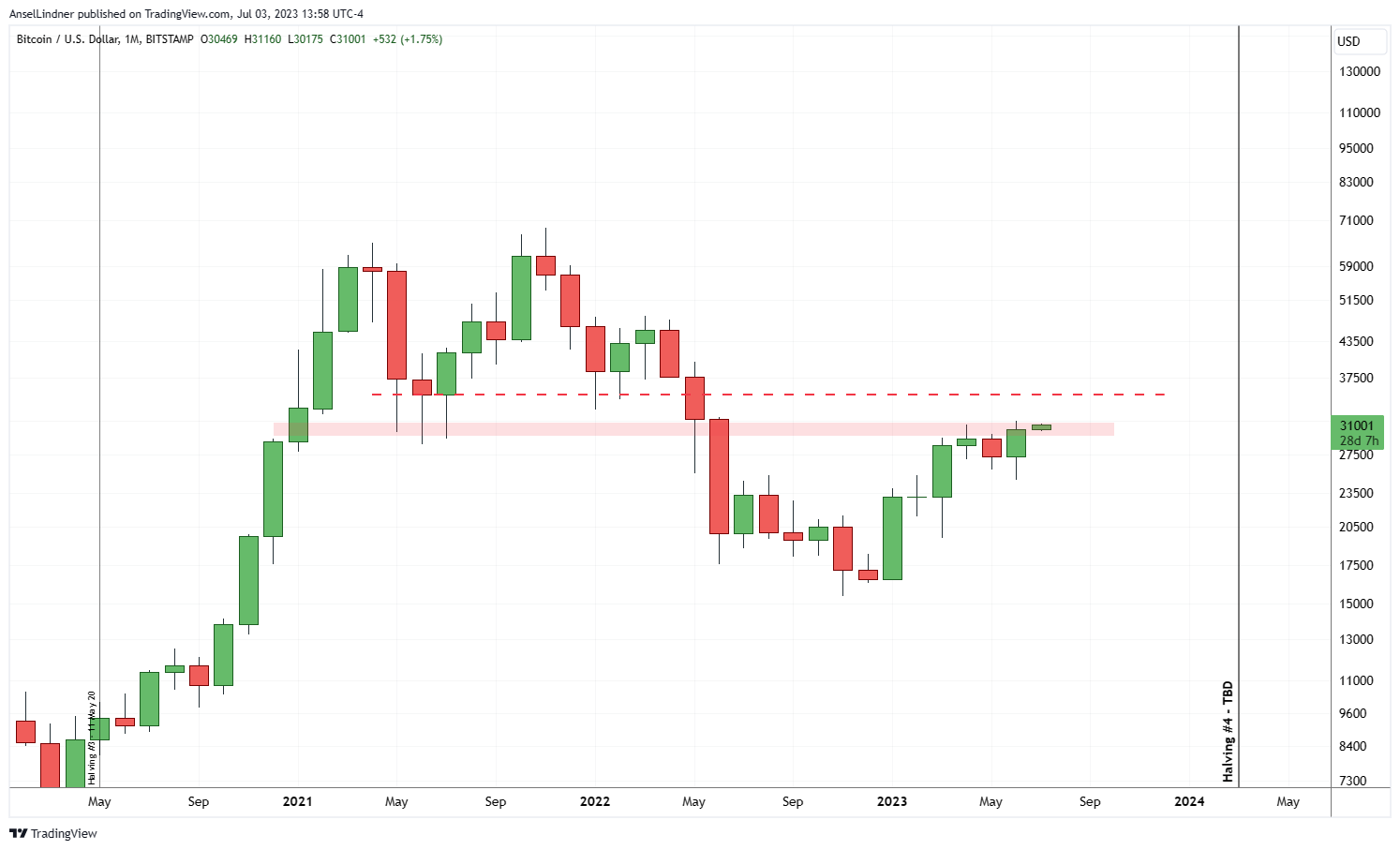 Price should rally into that level very quickly when it starts to move. Breaking that level will set off short squeeze.
Get my short, medium and long term forecasts on Market Pro!
---
---
Mining
Headlines
I've reported on this in recent weeks, the amount of bitcoin leaving miners for exchanges is an extreme high. The typical interpretation is this means miners are under extraordinary stress. They are sending coins to exchanges in desperate need for dollars/fiat. However, we see price rising and miners maintaining or adding hash rate. They are not behaving particularly stressed other than this.
I mentioned a tweet by Bob Burnett a couple weeks ago where he pointed out that investment into mining companies has dried up. Back in 2021 and 2022, expansion was financed through debt or equity deals. Those funds were used to launch new facilities and get new miners. With that cycle now over, perhaps the miners have to start paying down their debt by selling more bitcoin, or without new financing available as Bob points out, they could be using their coins finance any new expansion.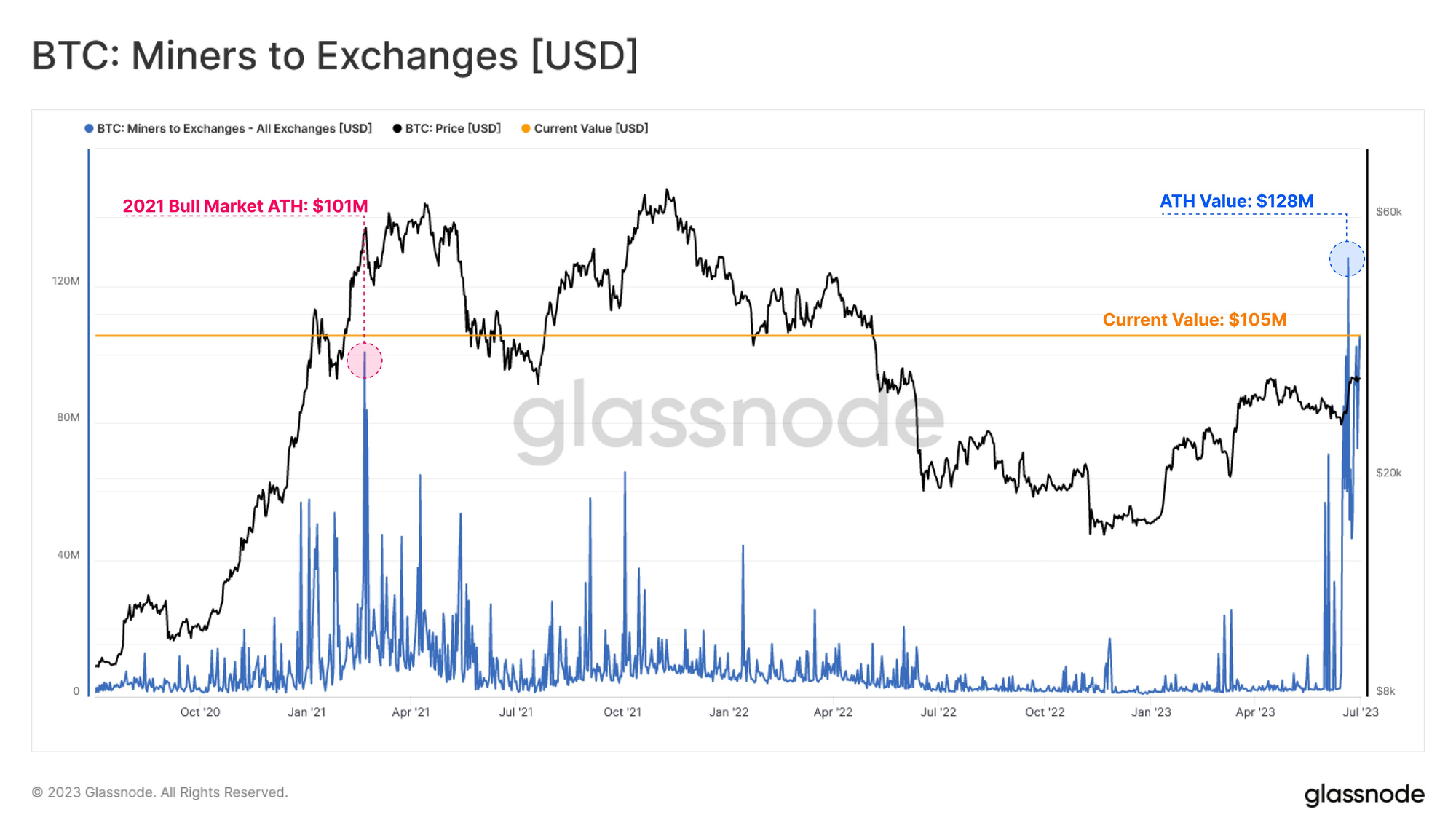 Riot getting mainstream love.
Thanks to a groundbreaking agreement and ambitious expansion plans, Riot is positioned for long-term success and poised to capitalize on the growing profitability of Bitcoin mining.
Bitcoin Mining ETF (WGMI) up +210% Year-to-Date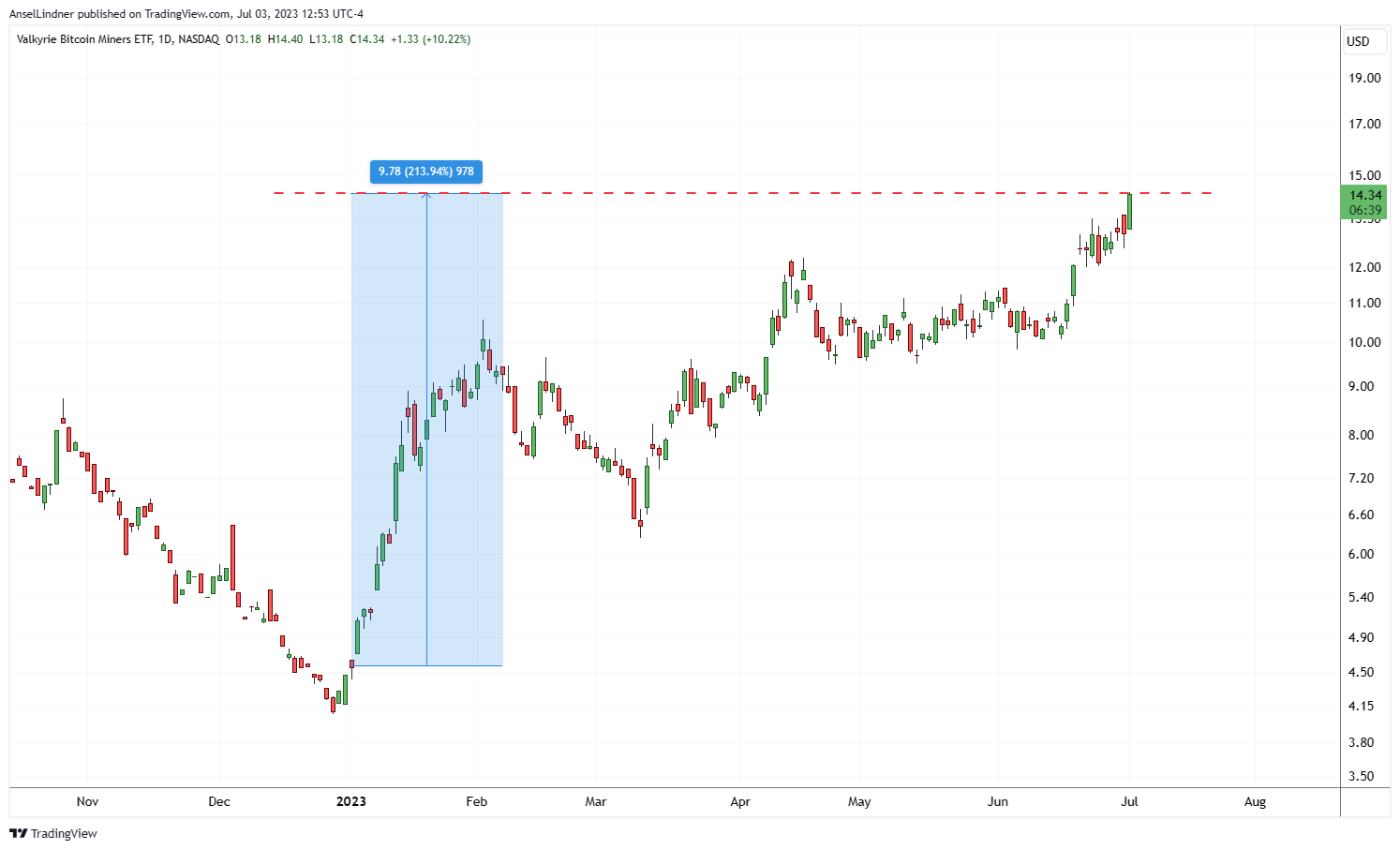 Difficulty and Hash Rate
Hash rate has recovered nicely since this week's difficulty drop.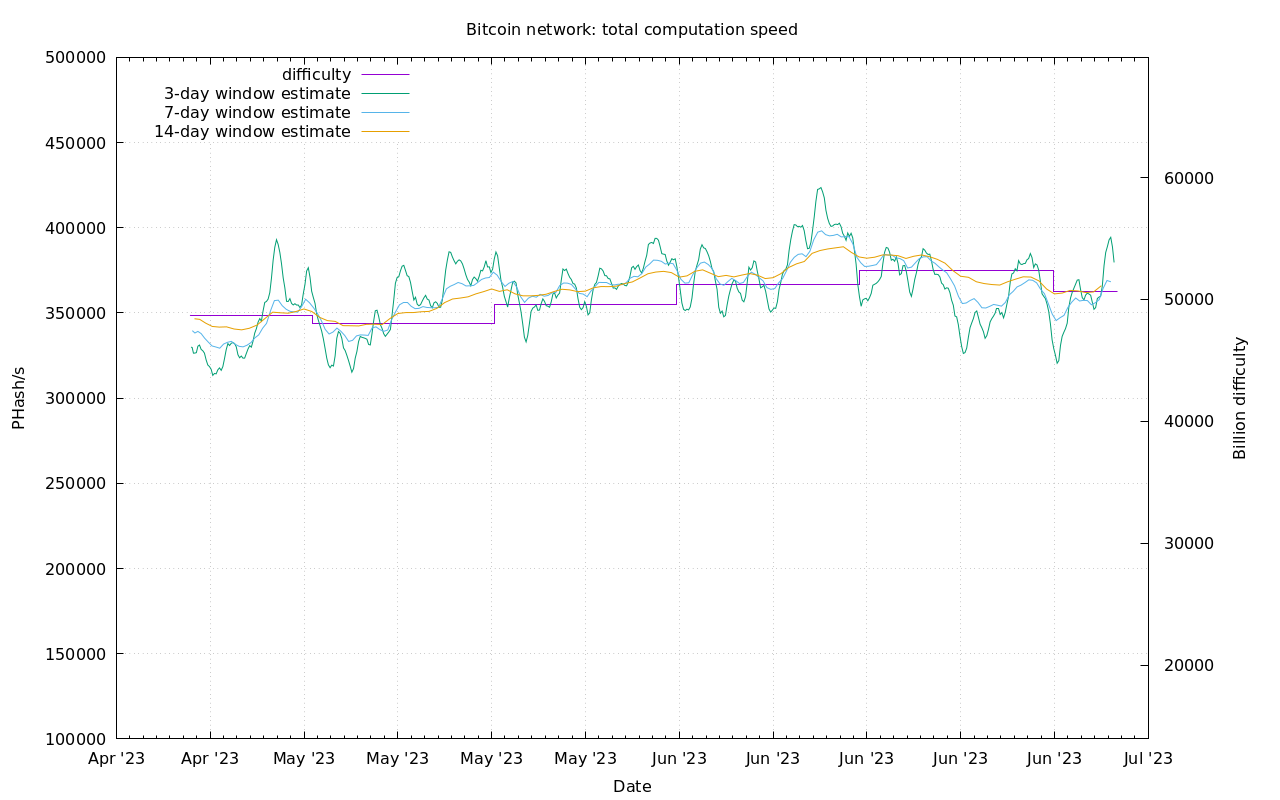 Mempool
The mempool is the size in megabytes of transactions waiting to get ordered into a block. As you can see, it has dropped dramatically over the past week, which means the network is catching up.

Ordinal Update
It has been several weeks since I've updated the Ordinals/Inscriptions totals. Totals have trailed off, as the initial hype has run its course. This strikes me as very similar in progression to the NFT niche in total, only on a compressed timeline.
Of note is the "other" category of inscriptions that have come to dominate the new use. If you take the yellow off the totals you'd see an even great decline. IDK what the "other" category is, but it is likely a new hype that will die quickly.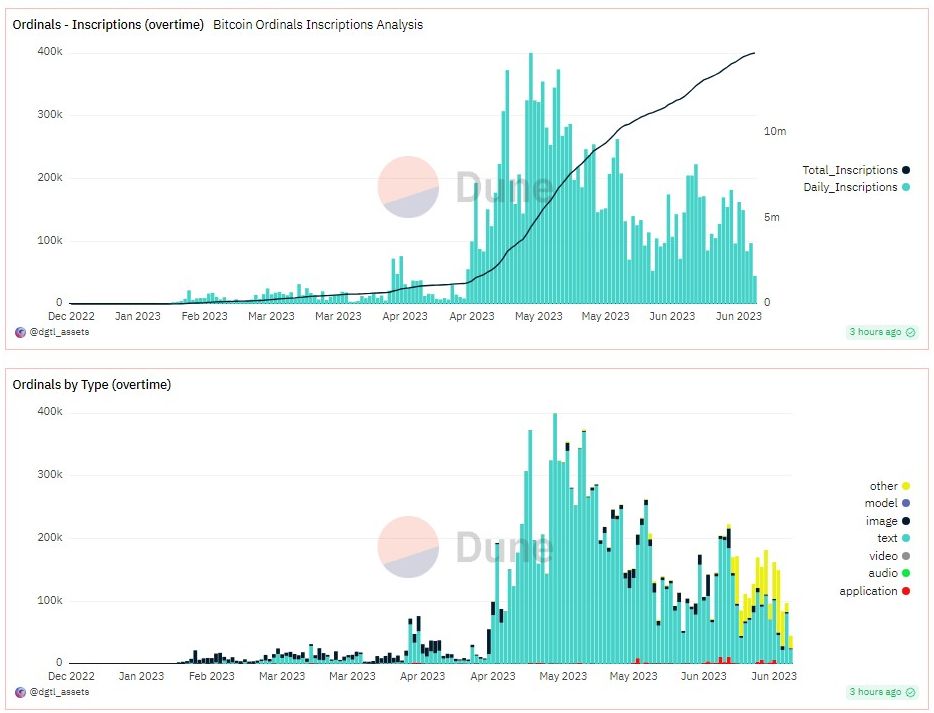 Lightning Network
On Tuesday, after Apple signaled to the Bitcoin-friendly social media app Damus that it would likely be kicked out of the App Store for violating the platform's terms of service, Dorsey tweeted at Apple CEO Tim Cook: "Why doesn't Apple Pay support bitcoin @tim_cook?"
Damus is a decentralized social media platform that runs on the Nostr protocol, which is popular with bitcoiners partly because most implementations of it support payments over the blockchain's Lightning Network. (Nostr is an acronym for "notes and other stuff transmitted by relays.")
💡
Get our book the
The Bitcoin Dictionary
available
on Amazon!
That's it for this week. See you again next Monday!!!
DONATE directly on Strike or Cash App to support my work! You make this content possible! Thank you.
A
---
July 3, 2023  |  Issue #248  |  Block 797,040  |  Disclaimer
* Price change since last week's report
** According to mempool.space