Reports
Bitcoin Fundamentals Report #245
SEC sues Coinbase and Binance. HUGE week, this week for the markets! Bitcoin price is holding up, will that continue? Mining and lightning news!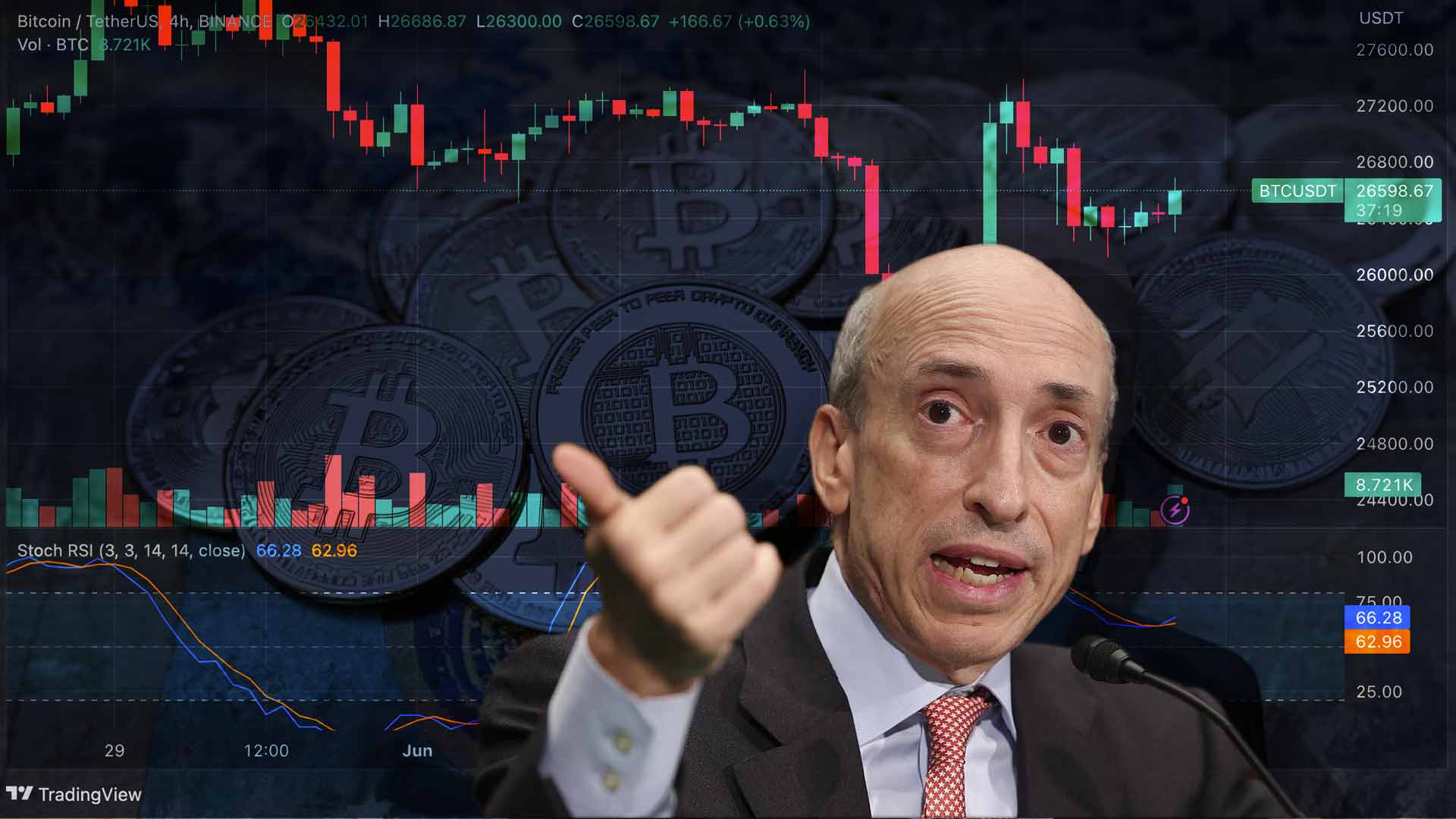 Jump to section: Bitcoin headlines / Macro / Price / Mining / Lightning
💡
Share the Bitcoin Fundamentals Report!
Snapshot of Bitcoin
General Bitcoin Headlines
Weekly trend
Slow sell off
Media sentiment
Neutral
Network traffic
High
Mining industry
Strong
Price Section
Weekly price*
$25,817

(-$943, -3.5%)

Market cap
$0.501 trillion
Satoshis/$1 USD
3,874
1 finney (1/10,000 btc)
$2.58
Mining Sector
Previous difficulty adjustment

+3.3999%

Next estimated adjustment
+3% in ~1 day
Mempool
168 MB
Fees for next block (sats/byte)
$0.61 (17 s/vb)
Median fee
$0.58
Lightning Network**
Capacity
5,426.59 btc

(+0.5%, +24)

Channels
69,897

(-0.1%, -670)
---
In Case You Missed It...
Member
Community streams
Join me Monday, Wednesday, and Friday for the live streams!
Fed Watch
---
DONATE directly on Strike or Cash App to support my work! You make my content possible! Thank you. ---
Headlines
Bitcoin
HUGE week ahead for Bitcoin and macro. Today is the deadline for Binance to respond to the restraining order. Tuesday, a US court will make a preliminary ruling on freezing Binance.US funds, and the same day US CPI comes out. Wednesday, the FOMC announces their policy decision; then on Thursday it is the ECB's turn.
Joe is a often contrarian analyst in Bitcoin and one of the best people to ask about the Binance and Coinbase developments. In this interview, he said that Tuesday is a very important day because of the emergency injunction sought by the SEC to freeze Binance funds. This forces the judge to make a preliminary finding on the merits of the evidence provided. Meaning, how the judge finds in this injunction is how they think the case will turn out.
Also, Joe made some comments on the "come in a register" debate going on. Exchanges are claiming they tried to come in a register as the SEC said to. However, when they did, the exchanges received no guidance on how to do that. Joe agrees with my speculation here. That the SEC did give them a route to register, basically drop everything but bitcoin, and the exchanges refused, because as Gensler has put it, "the industry is built on non-compliance."
Robinhood's Gallagher said as much in front of Congress this week:
"Gallagher said one of the regulator's final sticking points for Robinhood was the lack of registration and disclosures from issuers of tokens that trade on the platform, and Gallagher argued there's no way for his company to insist that outside issuers meet SEC demands."
Bitcoin is the only asset that will have significant value in this space in 10 years. It is 100% dominant in its field, however, the "dominance index" was a measure of the market cap percentage of bitcoin vs the altcoin scams. Originally dreamed up to further altcoins' affinity fraud with bitcoin.
Anyway, the dominance index has touched 50% again.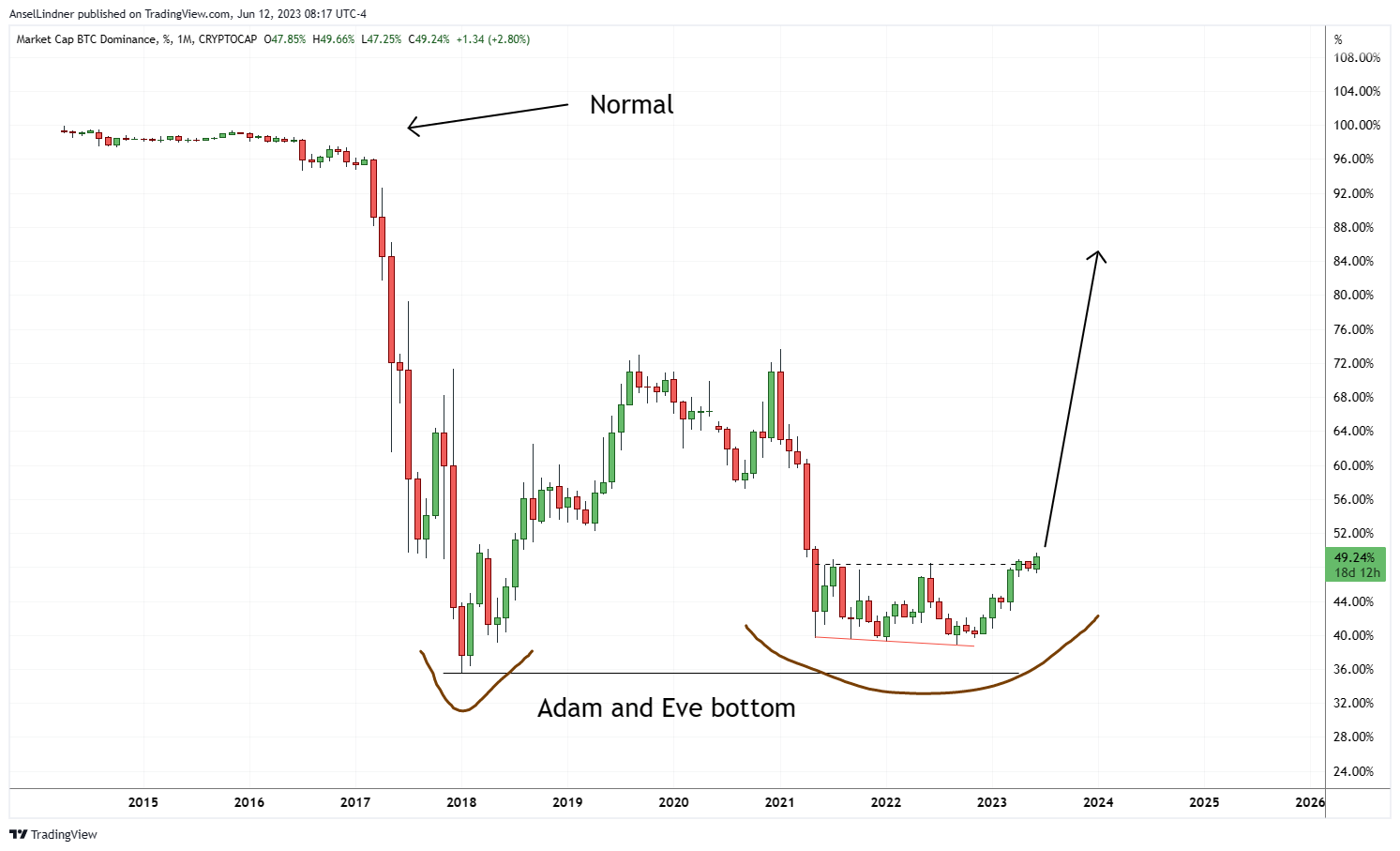 Binance.US, the purportedly independent partner of Binance, said in a tweet on Thursday that its banking partners were preparing to stop dollar withdrawal channels as early as June 13, after the U.S. Securities and Exchange Commission asked a court to freeze its assets. Customers have until Tuesday to withdraw their funds.

On Friday, Robinhood said it was removing three cryptocurrency tokens from its platform that the SEC identified as securities in its lawsuit against Binance and a separate action it filed against Coinbase (COIN.O) the following day, in a sign the SEC litigation is already rippling through the crypto market.
The "crypto bros" are claiming this is a possible rescue for the scam space. I don't think so, but we'll have to wait and see. At the Miami 2023 conference, Lummis was very much talking about bitcoin as separate from crypto, and even in this tweet, she pointed out a win for Bitcoin and then used "digital assets" not "crypto". What are the other digital assets Cynthia?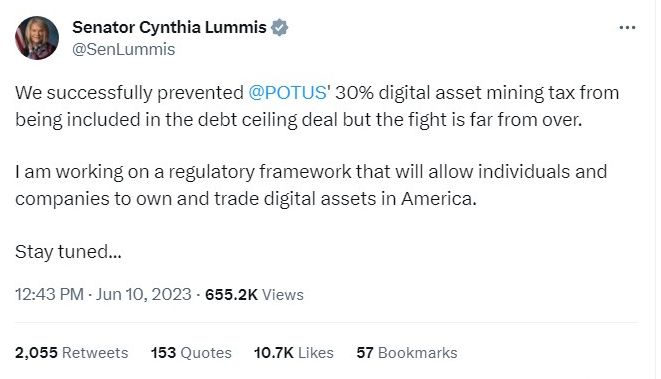 Macro
FOMC policy decision on Wednesday, a Pause is Consensus View

If this holds up until Wednesday, the Fed will likely not want to go against the market. Pricing will be affected by tomorrow's CPI. Lower CPI means a greater chance for a pause.
The Cleveland Fed's Nowcast has May CPI at 0.19% m/m, bring y/y to 4.1% down from 4.9%. Consensus forecast os 0.2% m/m and 4.1% y/y with the shelter component coming down rapidly.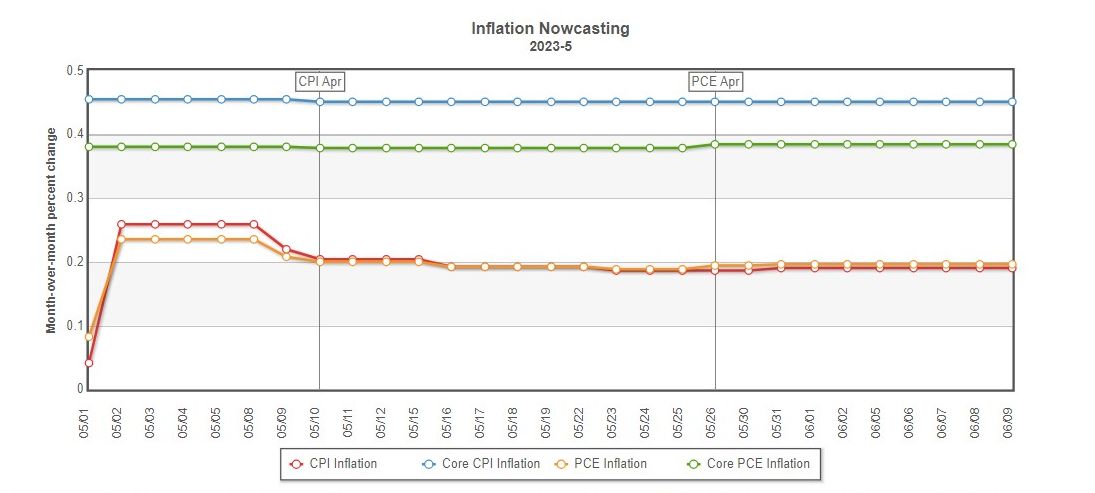 Below, we see what this month's 0.2% will replace the May '22 reading of 0.92%. That's a huge difference. If June is CPI, which comes out the first part of July, is similar to May's, it will be replacing the highest m/m in June '22 of 1.18%. That means we could be see a sub 3% y/y as early as NEXT MONTH.

I'm still expecting a surprise on, at least, one of these upcoming months of negative m/m CPI. There is a chance we get to zero y/y by the end of the year.
Don't forget PPI (producer price index), seen as a leading indicator for CPI by several months has been negative already.
💡
Help us grow! Please share!!
Price Analysis
Join the Professional tier for in-depth price reports and actionable forecasts!
---
It's been a horrible week for bitcoin sector news. Remember, this is Bitcoin not Crypto, the news was not bad for bitcoin other than by faulty association. All this can focus energy on bitcoin, with the halving coming and the SEC finally exposing fake substitutes for bitcoin.
That being said, as the largest exchange in the world and the largest US exchange are both sued by the SEC and are in a fight for their lives, Bitcoin doesn't seem to care. It is still holding up nicely, though odds are sliding more bearish.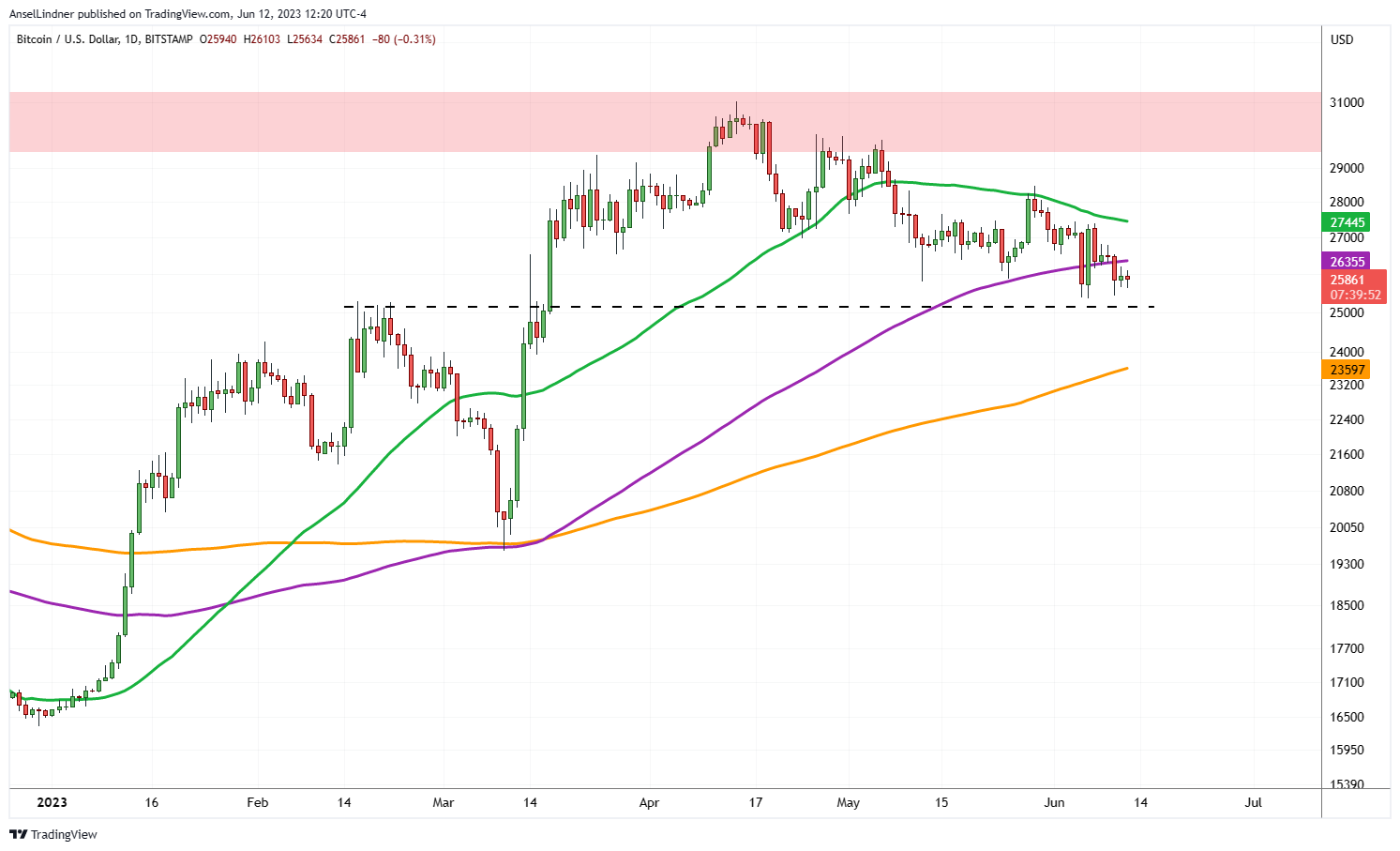 Price has broken the 128-day after being rejected from the 50-day, staying slightly above the $25k market, touching $25,350.
The 200-day still is providing some hope as well as the horizontal support at $25k.
Despite the incredible selling in altcoins and the exchanges having issues, it seems bitcoin holders are not worried. IDK why anyone would sell the coins here, only to buy them back in a few weeks when things blow over. Therefore, I repeat the mantra I've been using the last couple of weeks, I don't see where the selling is going to come from, especially if this last week hasn't caused much of any.
Probabilities have changed, true. There is an increased risk of more downward price action, but not sustained price drops. Fake outs could occur around $25k. For instance, the price could drop to ~$24,750 for a couple hours and rally right back to $28k.
Stocks
If stocks are any correlation to bitcoin, we have seen stocks continue their big rally.
The FOMC this week is leaning toward a pause, which should psychologically bolster this stock market rally.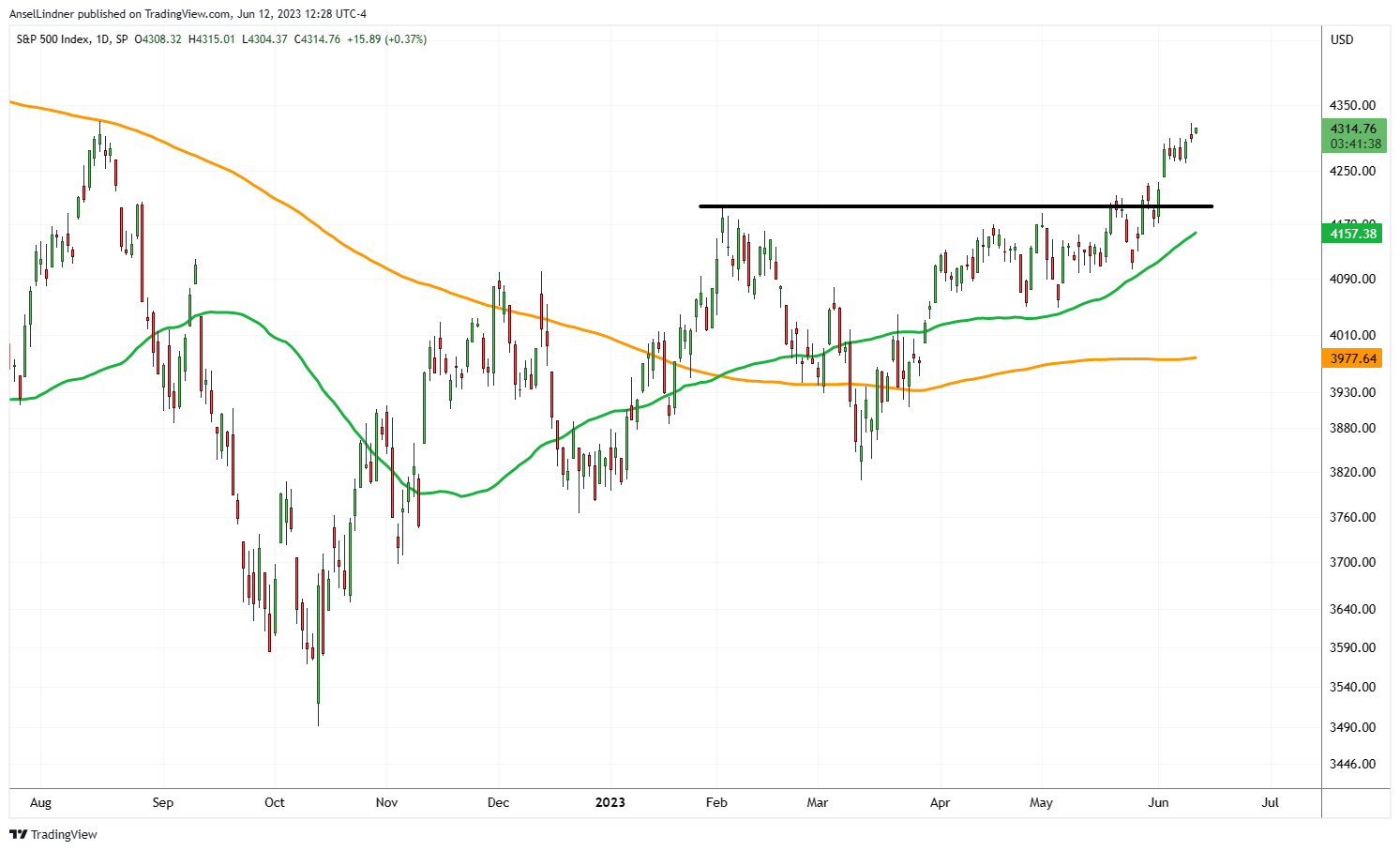 This is not a question of inflation at this point, it is a question of where will money flow in deflationary pressure we are feeling today? Bitcoin wins on the normie understanding of inflation and the actual influence of deflation. Plus the halving is coming and all these SEC actions should solidify in people's minds that bitcoin is the only safe/reasonable bet in this space.
Get my short, medium and long term forecasts on Market Pro!
---
---
Mining
Headlines
The country has teamed up with Nasdaq-listed Bitdeer Technologies Group, based in Singapore, to develop a 600 megawatt mining farm for Bitcoin, the leading cryptocurrency. Bitdeer was due to establish a closed-end fund at the end of May, aimed at raising $500 million from international investors for the project. A high-level source close to the project confirmed that the fundraising drive indeed began as planned.
"We are excited to be working alongside DHI in accessing Bhutan's zero-emissions power to sustainably enable the blockchain technologies that will eventually form an immutable bedrock for a global store of value," said Jihan Wu, chairman of Bitdeer Technologies Group, in a media release earlier in May.
Mining operations accounting for the first 100 MW are expected to begin this September, before reaching 600 MW in the next three years. Power will be sold to the operator at a negotiated rate.
Emphasis added to highlight who it is. Good ol' Jihan. Anyway, interesting development, they are finally getting started.
Note the recent spikes in miner selling have all occurred at bottoms, perhaps as a causative factor. If so, the selling has likely made another local peak.
This might answer my question, where is the selling coming from? Against despite the recent bad news around the SEC, and now this miner selling, the price remains extremely resilient.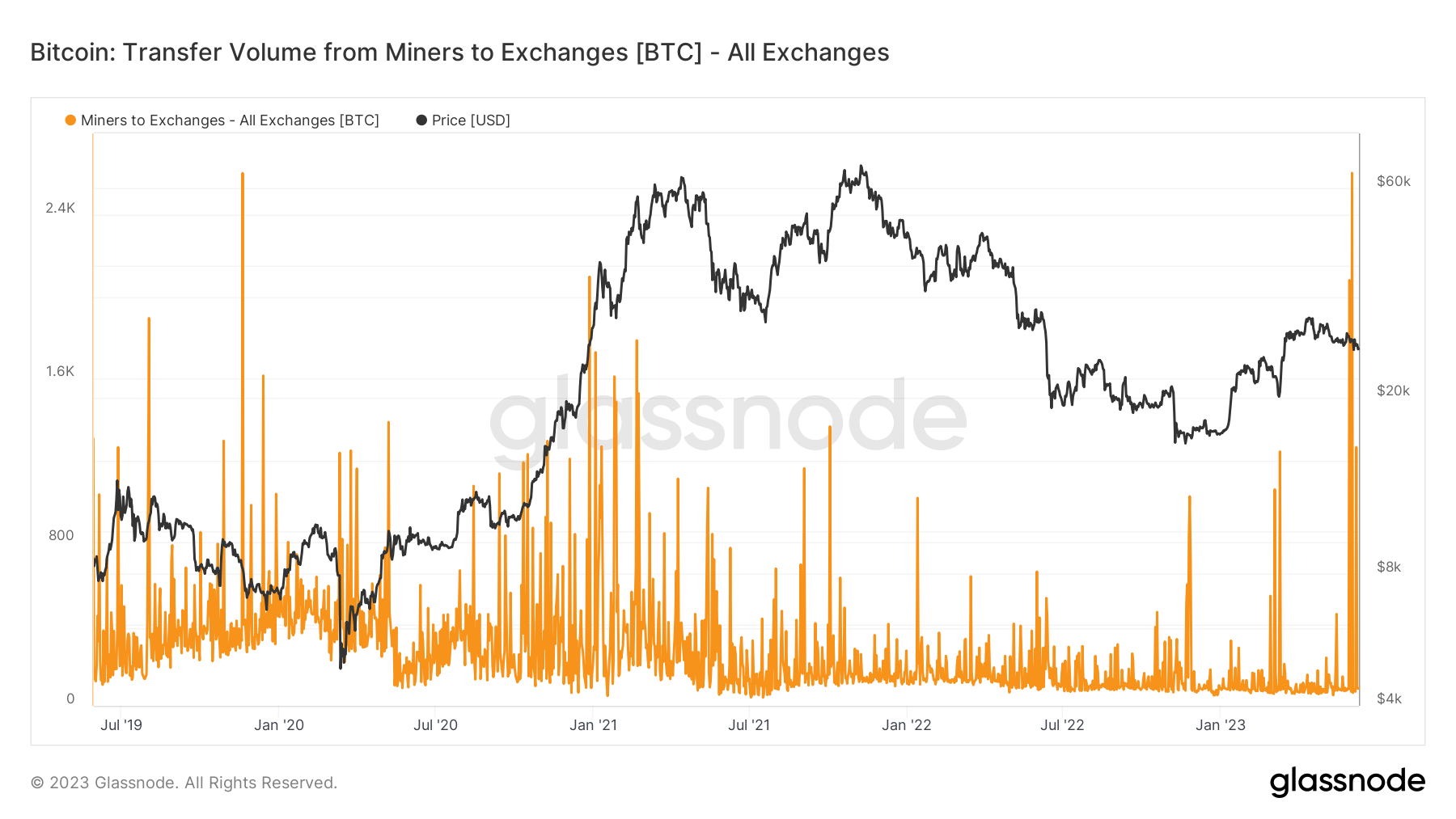 Difficulty and Hash Rate
The slipping price has not dissuaded miners, who know the deep fundamentals of the space. Over the last week, hash rate has started to rise more than the previous several weeks. Difficulty is estimated to increase by 3.1% in 1 day.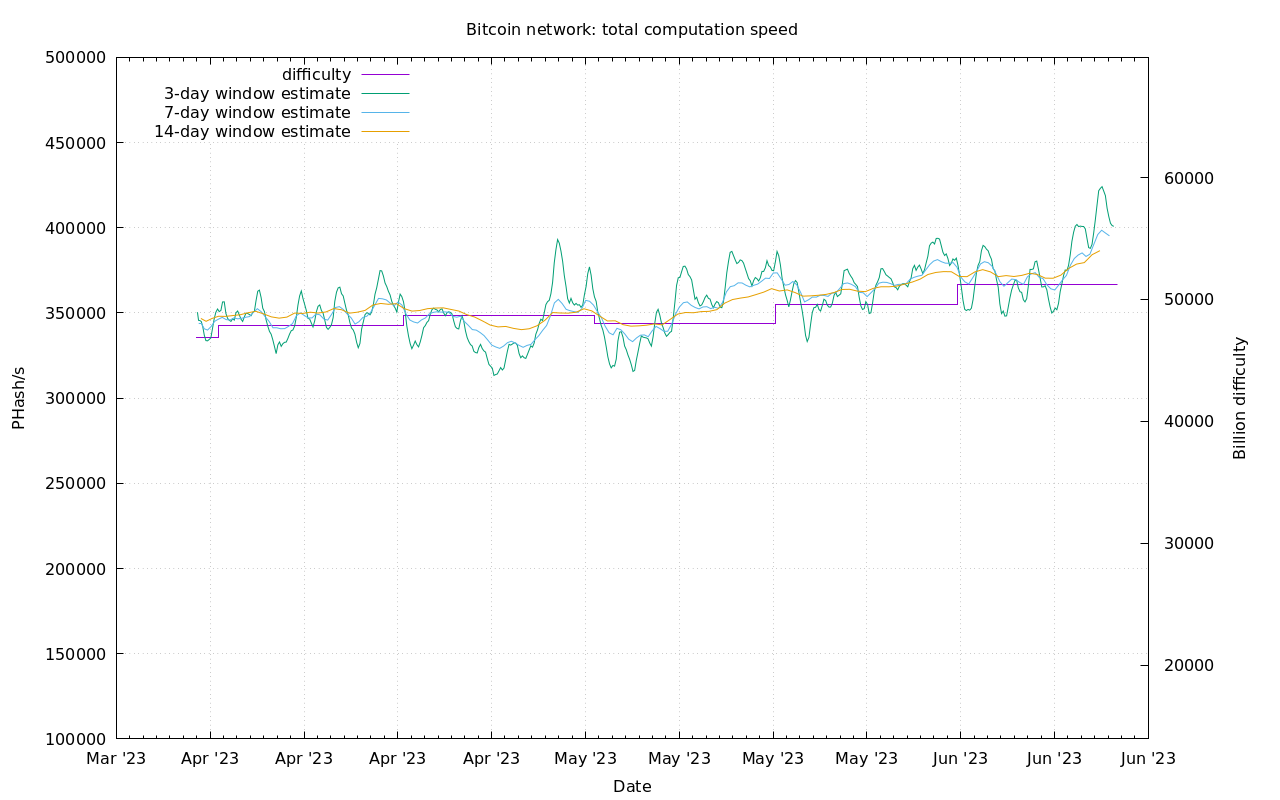 Mempool
The mempool is down again this week, from 180 MB to 168 MB. The network has chewed through the green bands and attacking lower fee transactions now. You can see the pink (the very cheapest fees) transactions are the main source of mempool increases this week.

Lightning Network
"We've built the unshakeable conviction at this point that the only blockchain and the only underlying assets that can support a truly open protocol for payments on the internet is Bitcoin and nothing else," he said.
"Lightning still has issues, but I feel very confident that we're in a position to address these issues," he said. "You'll see that for companies to integrate on Lightning using Lightspark services, you don't even need to worry about channels. You don't need to worry about liquidity. You don't need to worry about channel rebalancing and distributing liquidity. You don't need to worry about what routes you're going to use and which minimum fee or maximum fee you're going to set. All of that complexity is being completely taken away from the equation of a company deciding whether they're going to implement Lightning for their consumers or not."
The more I learn about ARK the more I like it. IDK if it will be the master solution to scale bitcoin to billions of daily users, but it is an example of bitcoin being programmable money. If there is demand, smart people like these will be able to find a solution.
💡
Get our book the
The Bitcoin Dictionary
available
on Amazon!
That's it for this week. See you again next Monday!!!
DONATE directly on Strike or Cash App to support my work! You make this content possible! Thank you.
A
---
June 12, 2023  |  Issue #245  |  Block 79xxxx  |  Disclaimer
* Price change since last week's report
** According to mempool.space