Reports
Bitcoin Fundamentals Report #243
Bitcoin news about Hong Kong and China's return, macro updates on China and OPEC, price analysis, DAME tax is dead, and Ark L2.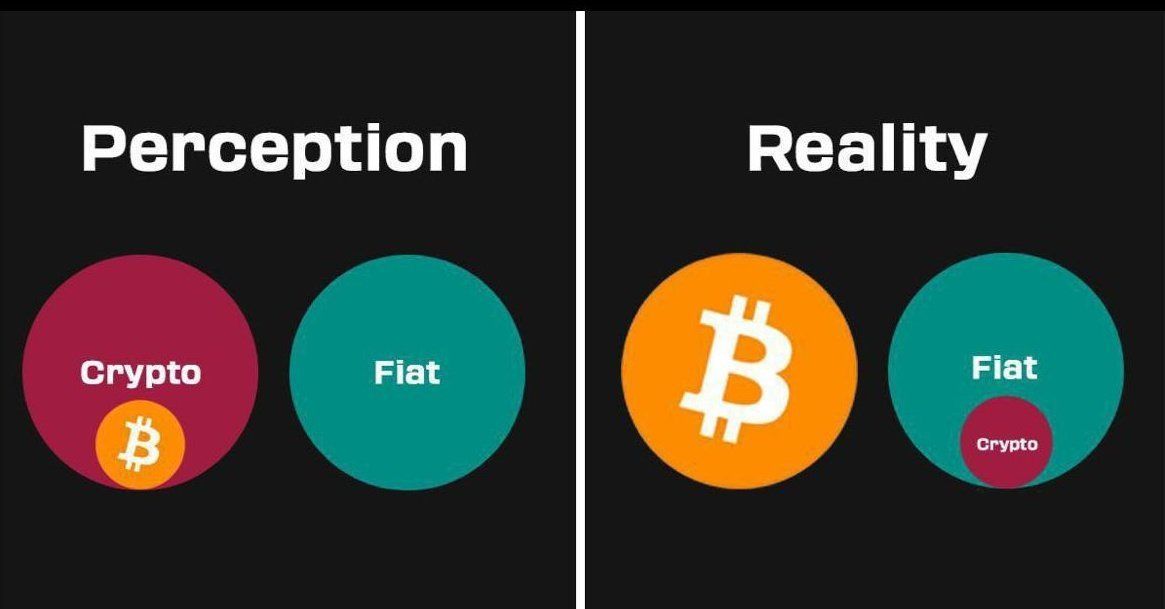 Jump to section: Bitcoin headlines / Macro / Price / Mining / Lightning
💡
Share the Bitcoin Fundamentals Report!
Snapshot of Bitcoin
General Bitcoin Headlines
Weekly trend
Bounced on Support
Media sentiment
Slightly positive
Network traffic
High
Mining industry
Stable
Price Section
Weekly price*
$27,620

(+$766, +2.9%)

Market cap
$0.535 trillion
Satoshis/$1 USD
3,626
1 finney (1/10,000 btc)
$2.76
Mining Sector
Previous difficulty adjustment

+3.2166%

Next estimated adjustment
+2.6% in ~2 days
Mempool
220 MB
Fees for next block (sats/byte)
$1.93 (50 s/vb)
Median fee
$1.85
Lightning Network**
Capacity
5,394.47 btc

(+0.5%, +25)

Channels
71,108

(+0.2%, +116)
---
In Case You Missed It...
Blog
Community streams
Fed Watch
---
DONATE directly on Strike or Cash App to support my work! You make my content possible! Thank you. ---
Headlines
Bitcoin
On Tuesday, Hong Kong's Securities and Futures Commission released the outcomes of its consultation on retail participation, confirming its decision to allow individual investors to trade Bitcoin and other cryptocurrencies starting from June 1st.
It's hard to overstate the significance of this move. June 1st could see massive volatility as Chinese gain access to bitcoin again through this Hong Kong law.
In previous eras in Bitcoin's history, China was the main source of liquidity and demand. It could easily be a source of massive buying demand, because there are trillions of yuan searching for a way to get out of the country.
If you add this new demand to the constant buy pressure recently announced by Tether, and the ongoing buying of Microstrategy, the circulating supply of bitcoin is being drained rapidly.
CZ is a salesman. I won't call him a scammer per se, his exchange has withstood the collapse of the worst elements in the space, but that shouldn't be construed as an endorsement.
In the video, Chinese state-media is openly discussing bitcoin and the new Hong Kong law. The video has since been taken down in China, attempting to minimize the hype and potential capital flight IMO, but not before it went viral.
CZ's assertion that China's state-affiliated media company talking about crypto is a big deal arises from the fact that China imposed a blanket ban on all cryptocurrency activities in 2021. However, recent positive developments in Hong Kong — a special administrative region of China — have sparked new speculation about its crypto stance.

The positive crypto developments in Hong Kong have already started to influence the Chinese market, with China's state-owned Greenland looking to apply for a Hong Kong virtual asset trading license.
Macro
US PCE data, the Fed's prefered inflation index, showed slightly hotter prices in April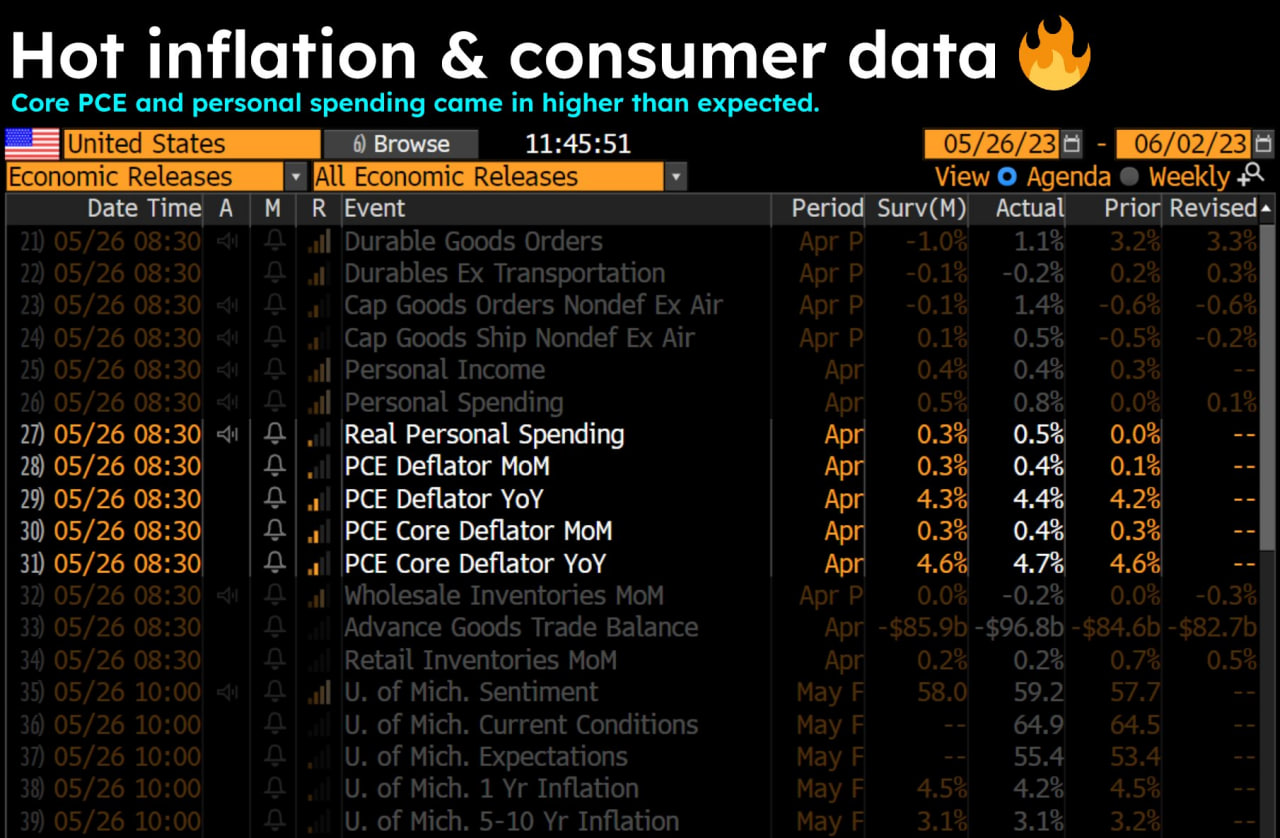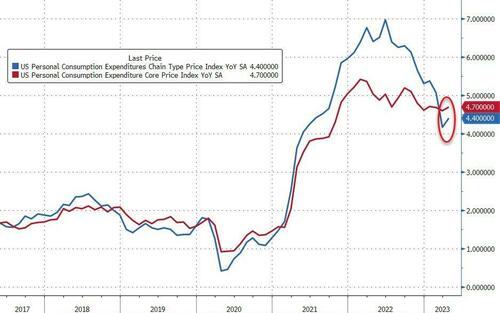 It was a tiny upward blip that is subject to revision. Overall, this does not change the trend of plunging price indices.
"I keep advising them (speculators) that they will be ouching, they did ouch in April, I don't have to show my cards, I am not a poker player … but I would just tell them watch out," Energy Minister Prince Abdulaziz bin Salman said at a conference on May 23.
Tough talk from OPEC but the last year has shown that demand is falling faster than supply. OPEC purposefully trying to keep prices high will only hurt their customers more, causing lower demand, and incentivizing more production from competitors.
Public statistics show that sales of previously owned homes in China's largest cities all showed double-digit declines in April. Among them, Beijing fell 37.3 percent; Hangzhou fell 32.7 percent; Shanghai fell 26.71 percent; and Nanjing fell 13 percent. The worst decline was in Hefei, which plunged by 40 percent.
This is a slow motion real estate crisis. We won't know the full extend of the crisis for a long time, because the CCP is intervening.
[...] two real estate developers in Kunshan, China were penalized by Chinese regulators for cutting prices by a large margin, so much so, according to regulators, that they "disrupted the normal order of the real estate market and caused social instability."

Japan-based current affairs commentator Qu Kai told The Epoch Times on May 13: "The reason why the [Chinese] regime won't let real estate developers lower prices is very simple. The chain reaction caused by price cuts will instantly burst the bubble of China's property market, causing a series of economic crises that would be difficult for the CCP to manage."
💡
Help us grow! Please share!!
Price Analysis
Premium members: I'm tweaking my premium offerings. To make the Market Pro Newsletter more accessible to a broader part of my audience, I will be moving the newsletter to the Professional tier. The Premium tier will now include a 30-min private call each month upon request to discuss any questions you have about the market.
Please update your subscription if needed. If you have concerns about proration of membership costs, please contact me via Twitter DMs or on Telegram. Thank you for your support!
Everyone: To get extended, insightful and actionable price analysis of Bitcoin, currencies, commodities, and geopolitical issues, sign up to my Professional membership to receive the Market Pro newsletter!
NEW ISSUE COMING THIS WEEK! Sign up today!
Bitcoin
Over the weekend, we saw a small bump in price, up to a convergence of important levels I pointed out in my Sunday live stream. The theory is that orders congregate around these important levels, attracting the price toward them.
The work is far from over to breakthrough and continue the price rally that started at the beginning of the year. On the daily chart below you can see the black arrow I drew last week that would confirm that breakthrough. So far, we are fairly close, but the resistance has stalled the advance for the time being.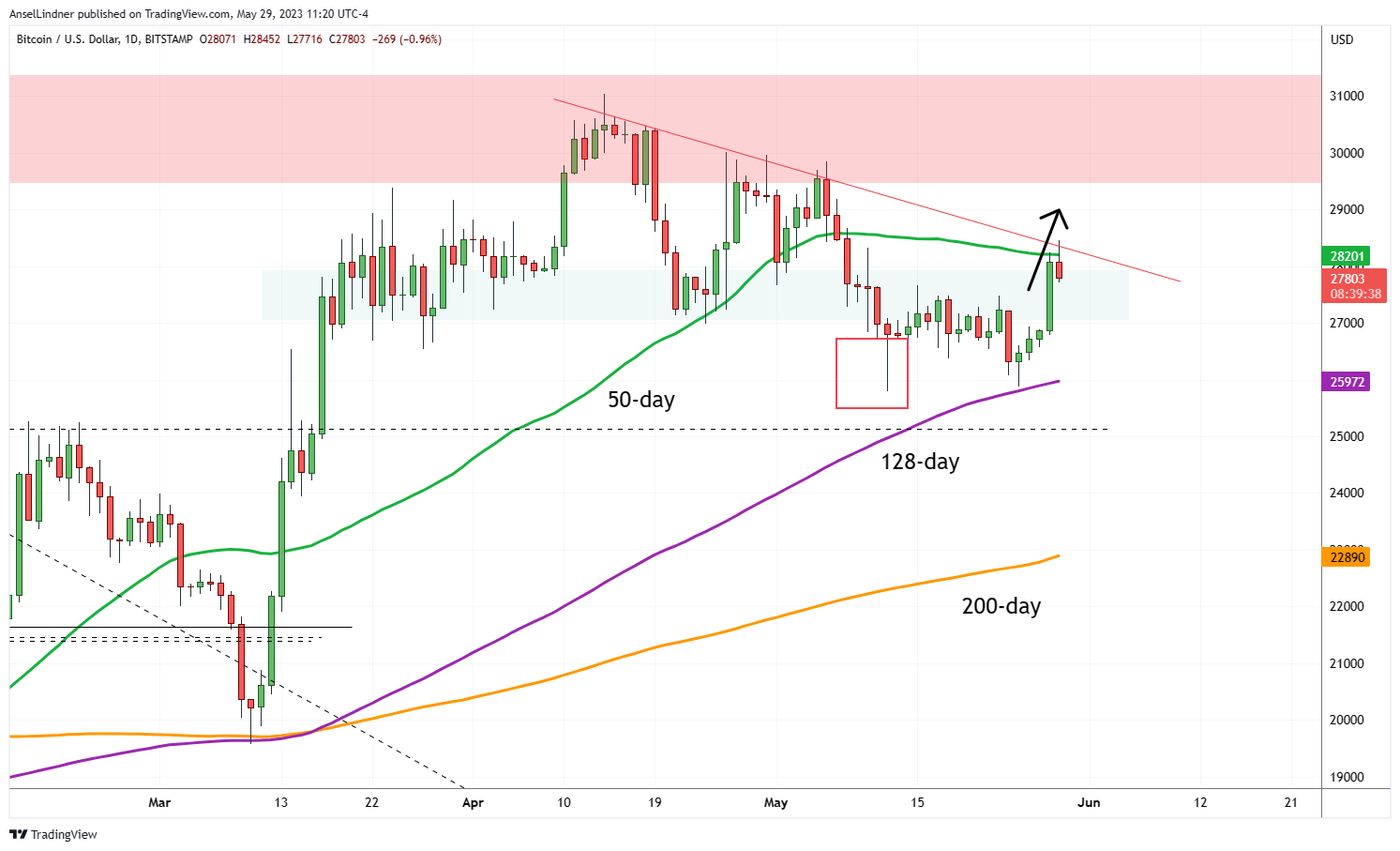 You might ask yourself, why the 128-day moving average? It's not my first choice, it is one of Tone Vays', long time honest analyst in Bitcoin, favorite moving averages. I don't typically use it because it is not a widely used period, Bids and Asks tend to congregate around widely used MAs. Bitcoin is a unique animal though, with it's own internal clock, so perhaps, the 128-day has some special significance. It has been extremely accurate in bitcoin's history.
Moving onto the weekly chart, we see the very important 200-week MA held nicely. If price cannot continue higher, as is my base case, repeated testing of the 200-week is not a good sign. Repeated testing of a level makes it more likely to break with each succeeding test.
The pressure building between the 200-week and the resistance at $31k is obvious on the chart below. Something is going to happen in the next couple of weeks, a big move is coming.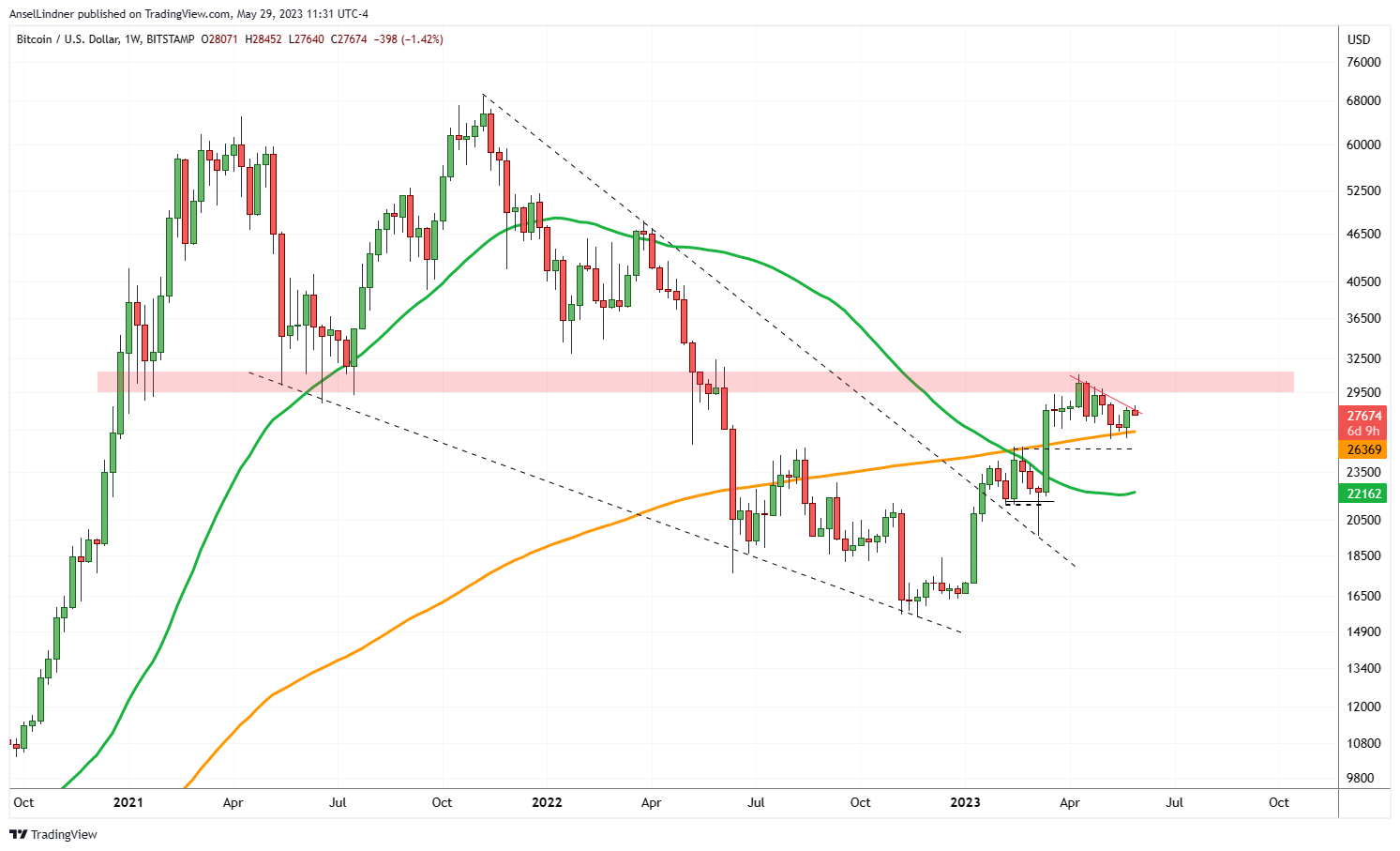 Correlated markets are rallying. There is an ongoing discussion in bitcoin about its, still relatively new correlation to stocks. It has only been the last couple of years, that this correlation has become extremely tight.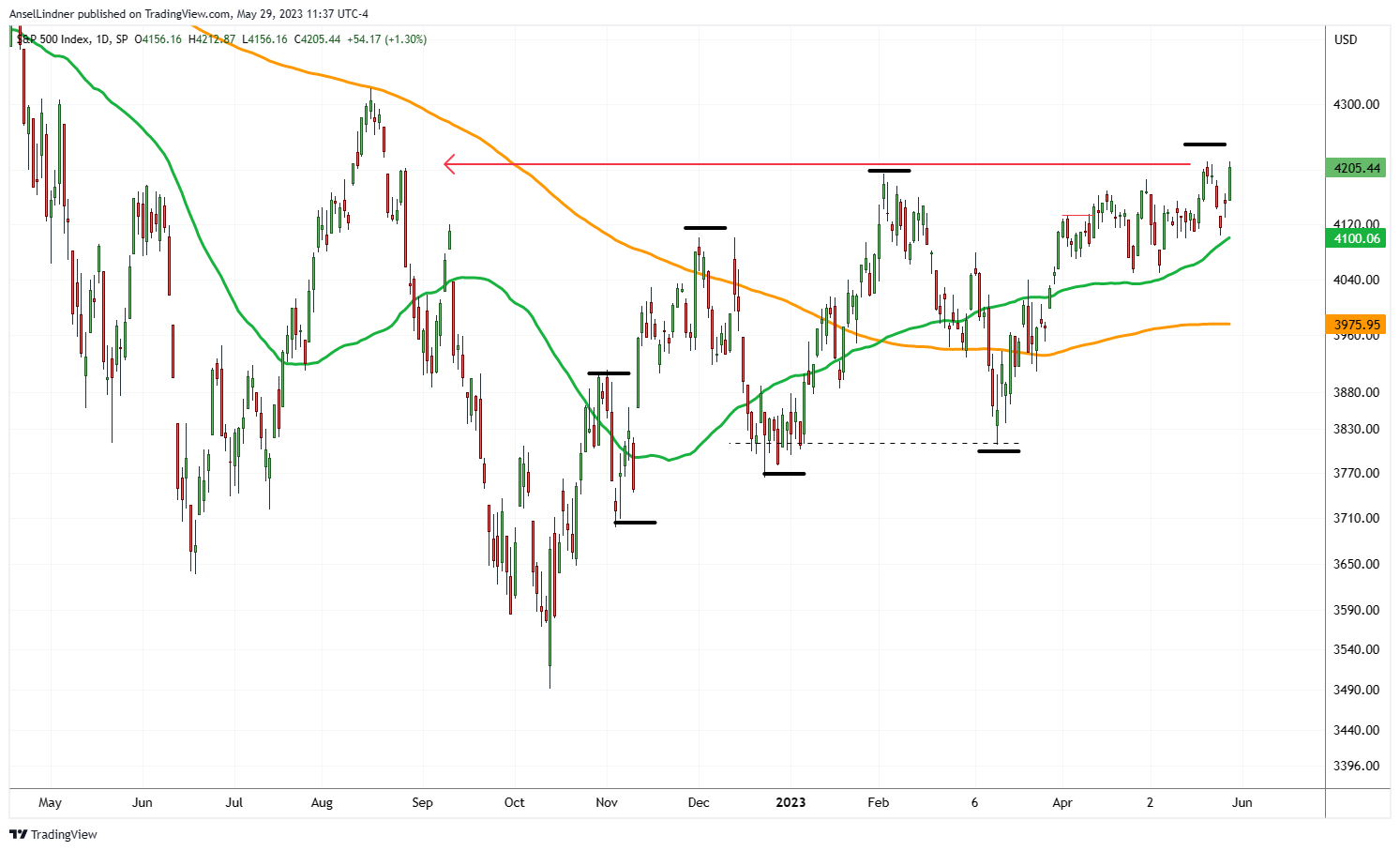 Markets are closed today, but we can see above that stocks rallied at the end of last week to new yearly highs! I'll restate it here one more time, going back 60 years, there's only been one time a golden cross happened right before a recession, and that was in 1990, but only after hitting a new ATH.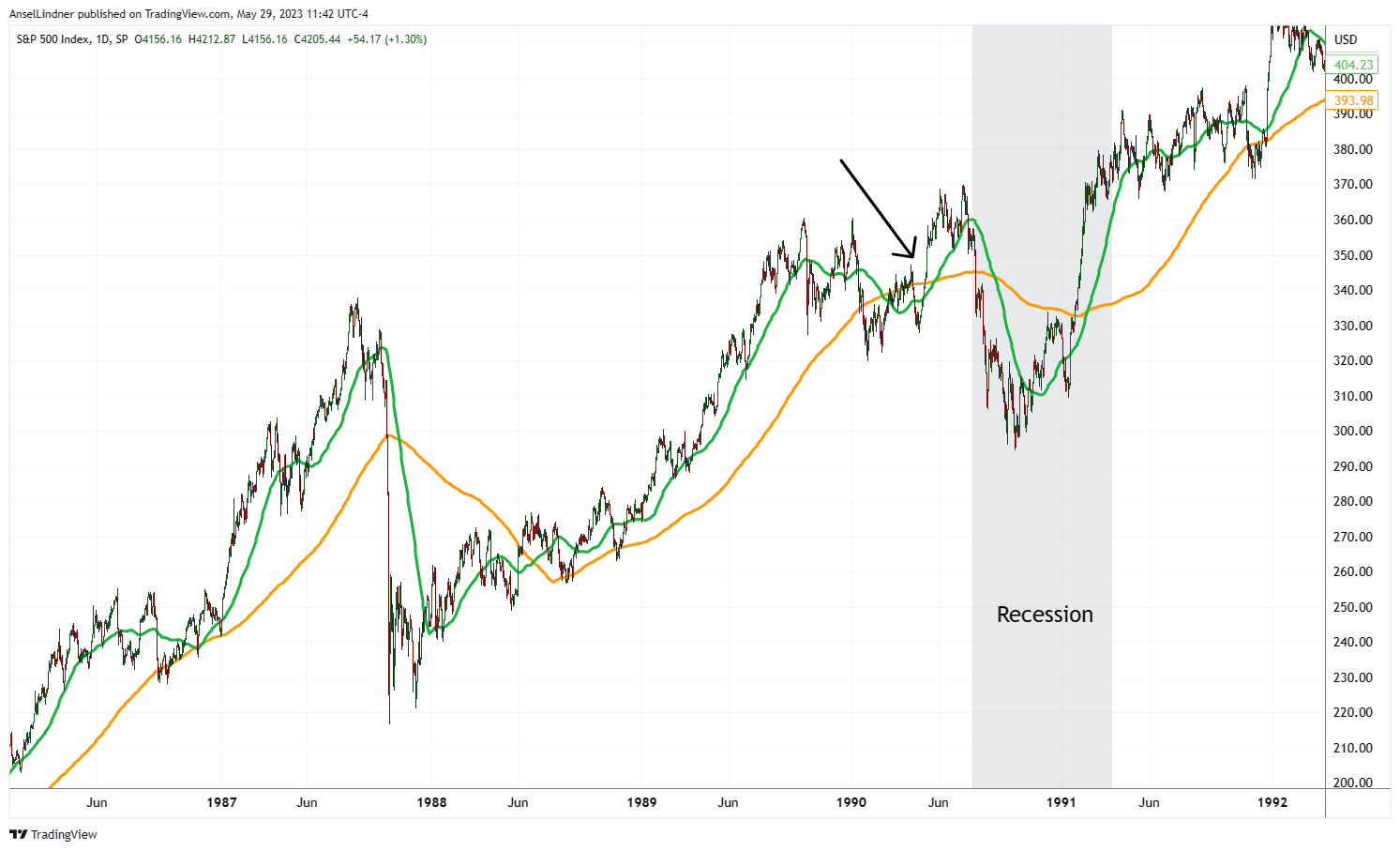 Historically, we are safe to say that the golden cross in stocks recently, will not lead directly into recession. Hence, the path for stocks is likely higher in the near to medium term, and same with bitcoin.
As Hong Kong opens up to Bitcoin and Tether begins to buy for their reserves, as price bounces on support, this could set up for a big move higher. Use caution and stop-losses on the 200-week MA if you trade. Good luck.
Much more on the upcoming issue of Market Pro!
---
---
Mining
Headlines
As expected and predicted here, the DAME tax (30% tax on electricity used for mining) is Dead-on-arrival!!!
As the details of the agreement reached between President Joe Biden and House Speaker Kevin McCarthy on the U.S. debt ceiling were made public Sunday, one notable part of the deal appears to have blocked some taxes proposed by the Biden administration, including the Digital Asset Mining Energy (DAME) excise tax.
For the first time ever, the Bitcoin network has dropped below 300 g/KWh emissions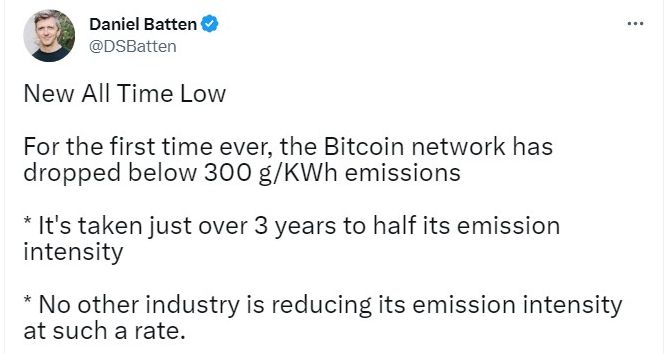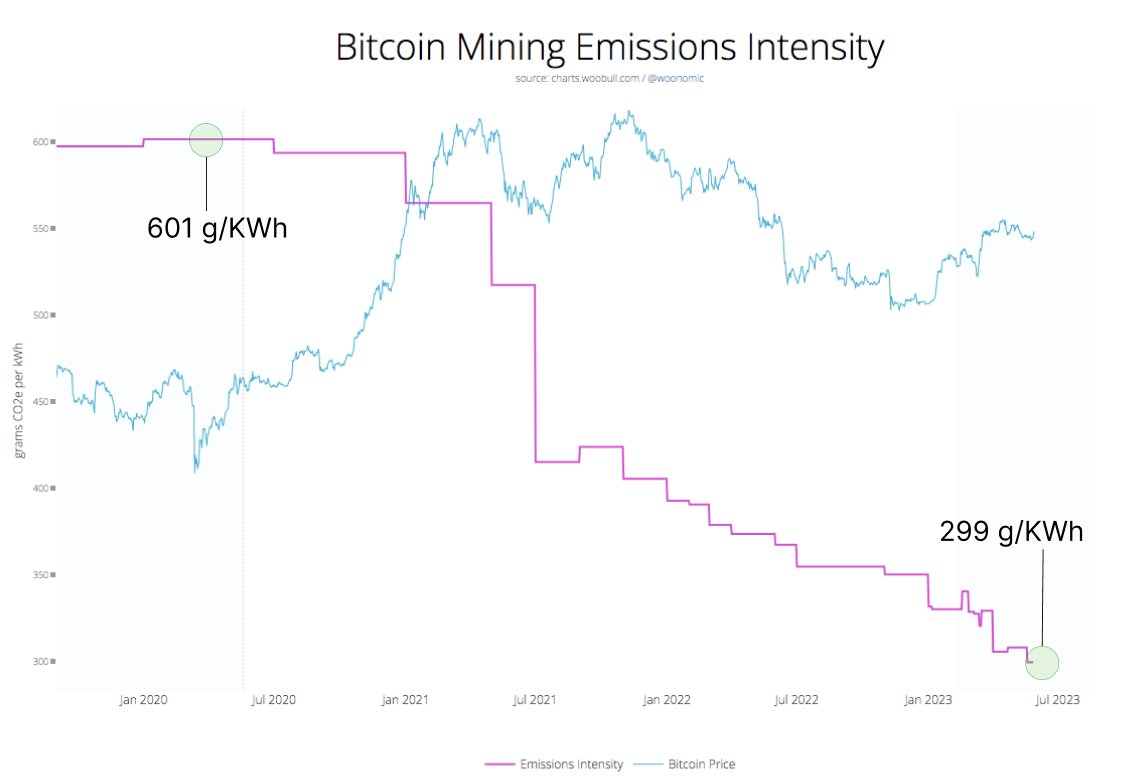 Difficulty and Hash Rate
Bitcoin hash rate is extremely stable and starting to tip upward. This means that miners, who are exposed to deep fundamentals of supply and demand in bitcoin, are confident and doing well.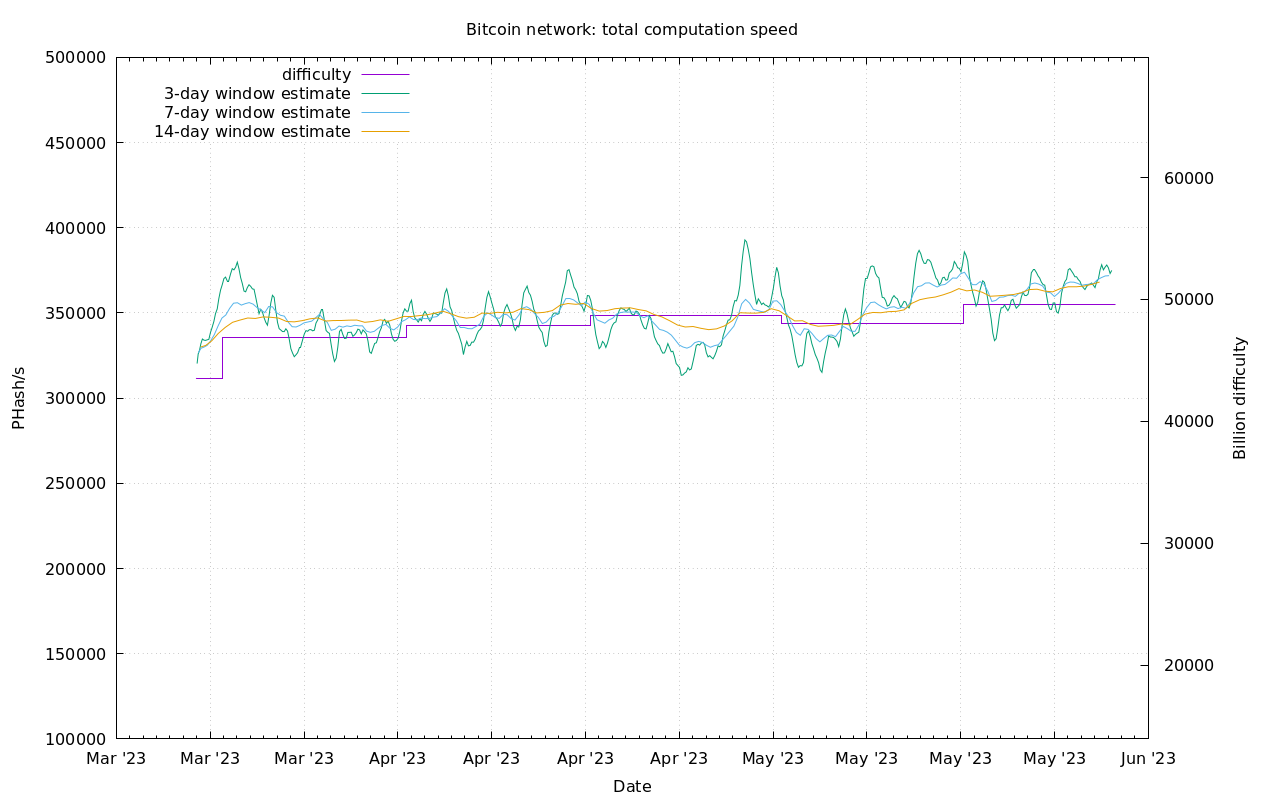 Mempool
The mempool (transactions waiting to be confirmed) continued to rise this week, albeit with lower average fees. In the last 3 days, we have seen a continuous shrinking of the total, which could signify a peak to this temporary backlog.

Lightning Network
I didn't know exactly where to include this development. It is not technically Lightning Network, but it is a layer 2. Perhaps, I need to make this section Layer 2's instead of just LN. That would enable me to include updates on Liquid (the layer 2 I'm most bullish on), as well as developments like this.
Ark allows recipients to receive payments without acquiring inbound liquidity while preserving their receiver privacy. Ark is as private as WabiSabi, as convenient as on-chain, and as cheap as Lightning.
Ark is a trustless, distinct layer two protocol with unilateral exit. Ark Service Provider (ASP)'s cannot steal users' funds or link senders & receivers. Users retain self-custody and can revert their funds to the base layer if something goes wrong on the second layer.
💡
Get our book the
The Bitcoin Dictionary
available
on Amazon!
That's it for this week. See you again next Monday!!!
DONATE directly on Strike or Cash App to support my work! You make this content possible! Thank you.
A
---
May 29, 2023  |  Issue #243  |  Block 791,971  |  Disclaimer
* Price change since last week's report
** According to mempool.space