Reports
Bitcoin Fundamentals Report #238
The Bitcoin halving is coming, elites slowly pivoting, mixed signals from different markets, price analysis, mining news, and lighting network news.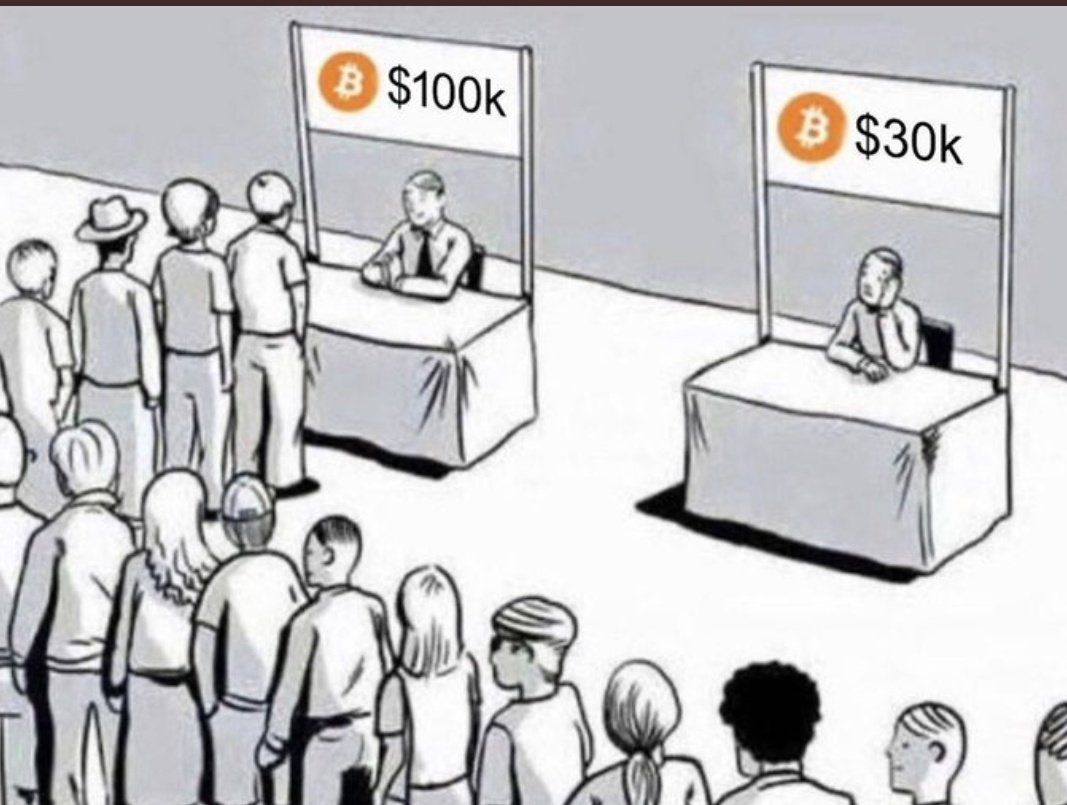 Jump to section: Bitcoin headlines / Macro / Price / Mining / Lightning
💡
Share the Bitcoin Fundamentals Report!
Snapshot of Bitcoin
General Bitcoin Headlines
Weekly trend
Testing support
Media sentiment
Negative
Network traffic
Low
Mining industry
Very stable
Price Section
Weekly price*
$27,254

(-$2217, -7.5%)

Market cap
$0.528 trillion
Satoshis/$1 USD
3,669
1 finney (1/10,000 btc)
$2.73
Mining Sector
Previous difficulty adjustment

+1.7220%

Next estimated adjustment
-2% in ~10 days
Mempool
11 MB
Fees for next block (sats/byte)
$0.35 (9 s/vb)
Median fee
$0.31
Lightning Network**
Capacity
5,4829.78 btc

(-1.0%, -57)

Channels
72,943

(-0.1%, -40)
---
In Case You Missed It...
Market Pro
Community streams
Fed Watch
---
DONATE directly on Strike or Cash App to support my work! You make this content possible! Thank you. ---
Headlines
Bitcoin
This week has seen a noticeable uptick in halving news and attention. It is now less than a year away. Here are a couple examples...
This piece from the Washington Post is basic and straightforward, explaining the halving to normies. Even going as far as to discuss the effect on price!
5. Do halvings boost Bitcoin's price?

That's a matter of heated debate. In 2012, for instance, Bitcoin gained about 8,000% in the 12 months following the cut in rewards, and again rose almost 1,000% in the wake of the 2016 cut. The last halving, in May of 2020, was followed by a bull run that ended in a record Bitcoin price of almost $69,000 in November 2021. As of mid-April this year, Bitcoin has revived about 67% from an epic rout in 2022, to around $30,000. The next halving holds the potential to trigger an advance of at least 81%, according to Bloomberg Intelligence and Matrixport.
In other news....
The parliamentary blessing paves the way for MiCA to become law in 2024, putting the EU a step ahead of the U.S. and U.K.

The rules will impose a number of requirements on crypto platforms, token issuers and traders around transparency, disclosure, authorization, and supervision of transactions, the EU Parliament said in a statement Thursday.

Platforms will be required to inform consumers about the risks associated with their operations, while sales of new tokens will also come under regulation.

Stablecoins like tether and Circle's USDC will be required to maintain ample reserves to meet redemption requests in the event of mass withdrawals.
Macro
Elites are starting to realize they can't win, so they will flip
I reported on this speech by Christine Lagarde this week, where she bluntly says,
The global economy has been undergoing a period of transformative change.

We are witnessing a fragmentation of the global economy into competing blocs, with each bloc trying to pull as much of the rest of the world closer to its respective strategic interests and shared values.
The Davos global Marxist elites will not fight to the death, they will flip when they realize they cannot remain competitive either globally to China or domestically to populist movements. Lagarde's speech was extremely interesting because it shows they understand the world is fragmenting and the old order is dead, but they still lean on international cooperation and policy cohesion.
In this sense, insofar as geopolitics leads to a fragmentation of the global economy into competing blocs, this calls for greater policy cohesion.
Does she not see the total dissonance in that statement?
...while the international institutions established in the wake of Bretton Woods remain instrumental for fostering a rules-based multilateral order, the prospect of multipolarity raises the stakes for such internal policy cohesion.
They are starting to see the risk of deglobalization to policy cohesion, but still cling to the idea that these international institutions are respected and relavent. The next step is for the Davos crowd to realize those institutions are dead.
...To put it bluntly, we need to complete the European capital markets union.
The only way forward so far is tighter union. Exactly what they were doing but more of it. Boy will they get a wake up call as people start to see it was those very policies and goals that drove them to ruin.
This is a great chart showing that compared to peak CPI in prior cycles, the stock market's low is likely in, and that this performance is smack in the middle of historical precedence.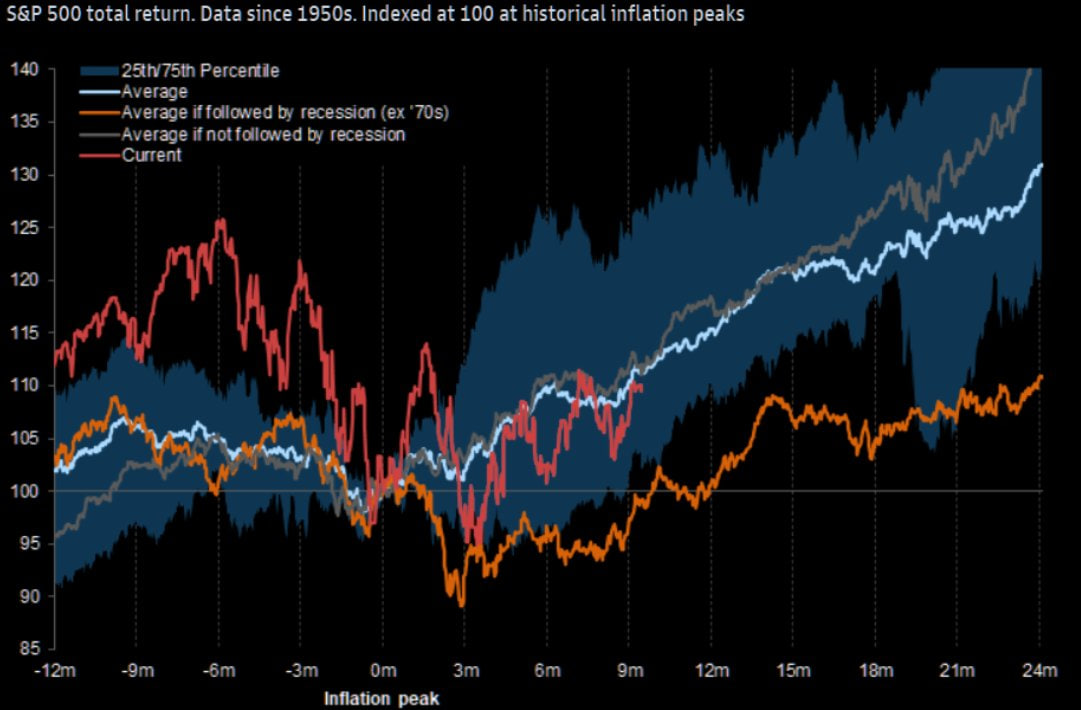 The 4-week Treasury bill's yield is crashing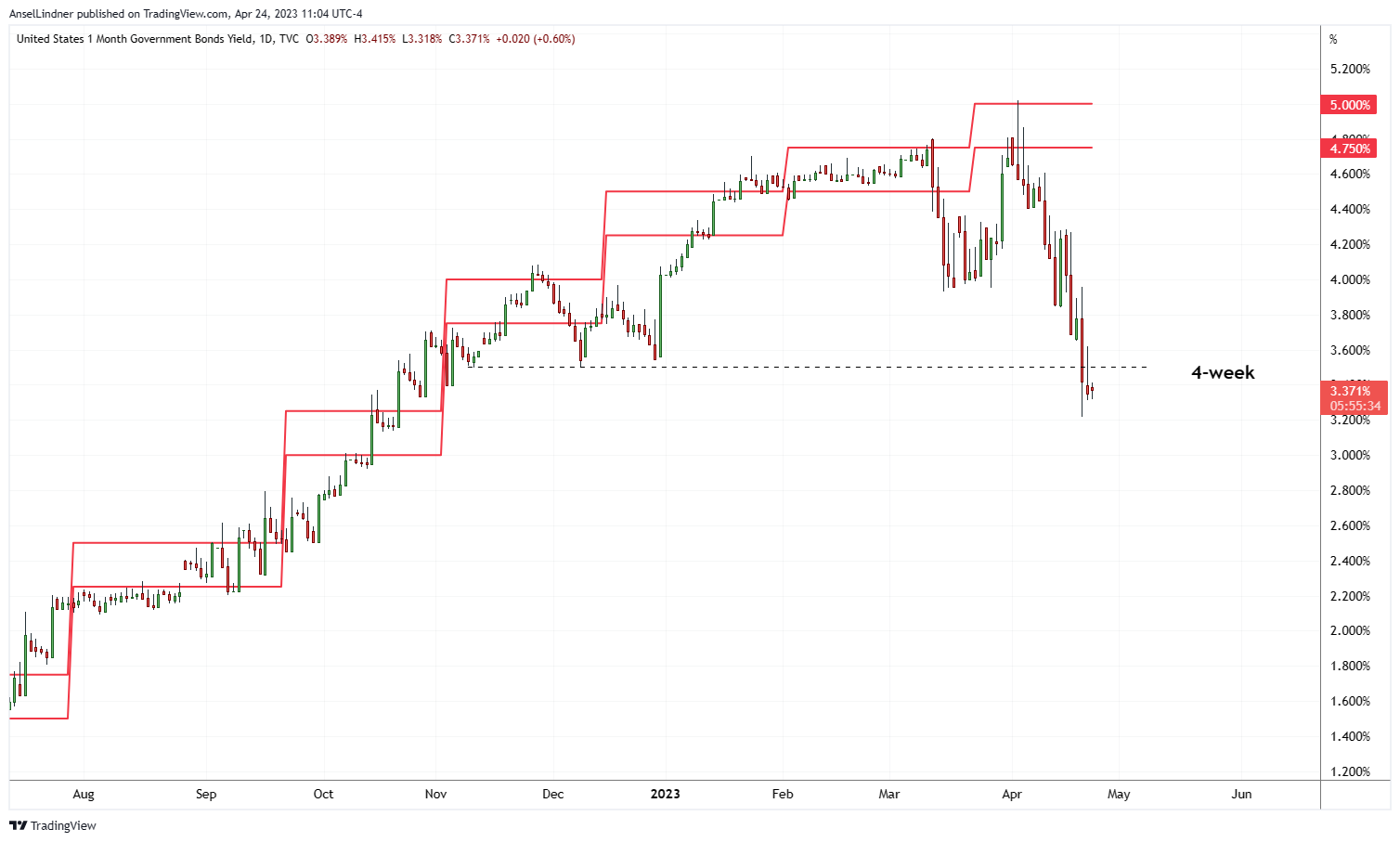 This chart clearly shows that the Fed is not in charge of interest rates, and that something is happening in the shadows of the financial system.
💡
Help us grow! Please share!!
Price Analysis
I've created a new and expanded offering for people that want to stay ahead of the price and macro developments. Check out Premium Market Pro!
Go to bitcoinandmarkets.com/pro50 to get 50% off your first month!
Last week
If we cannot hold this important level of $28,750, it likely goes to the 50-day MA.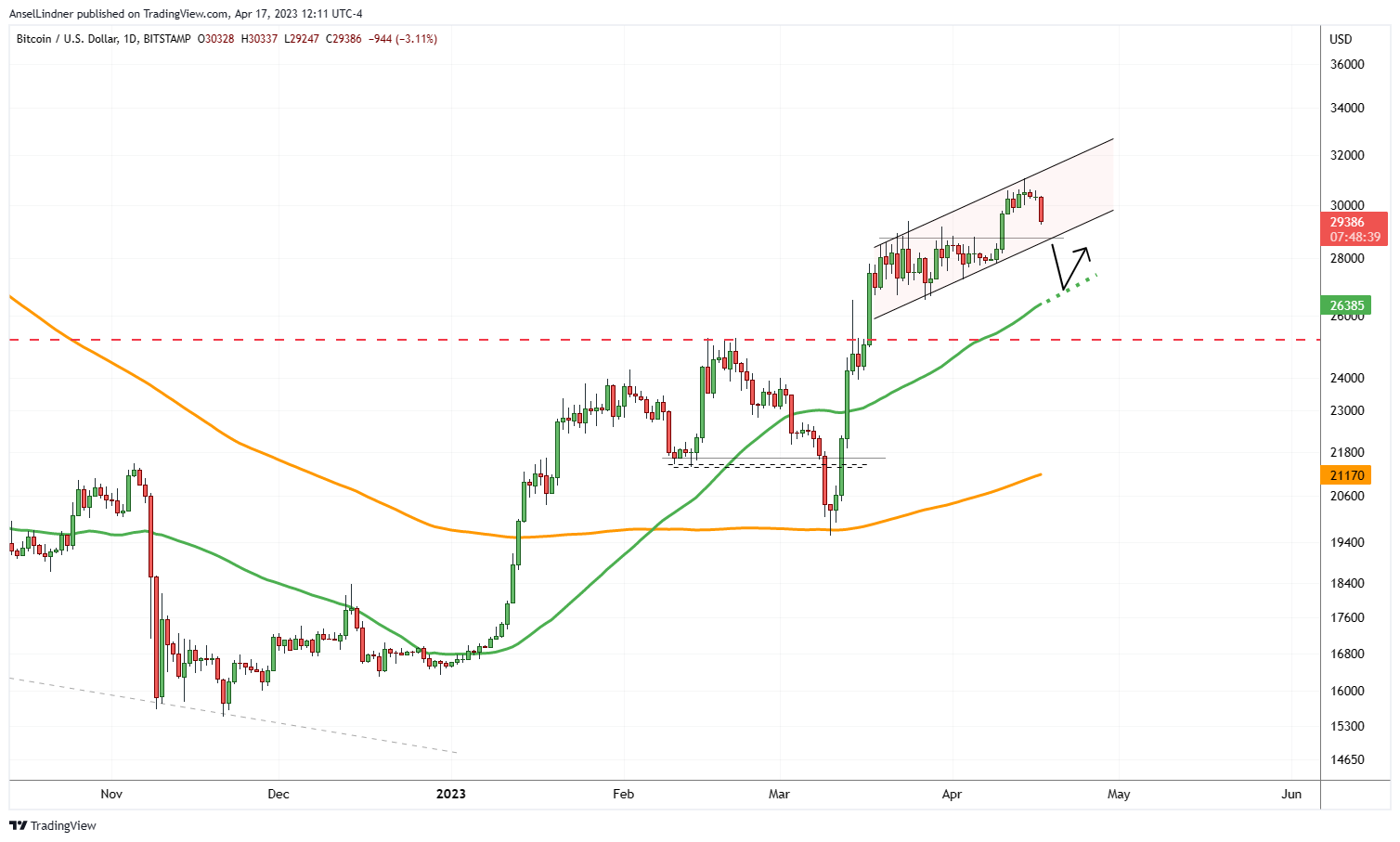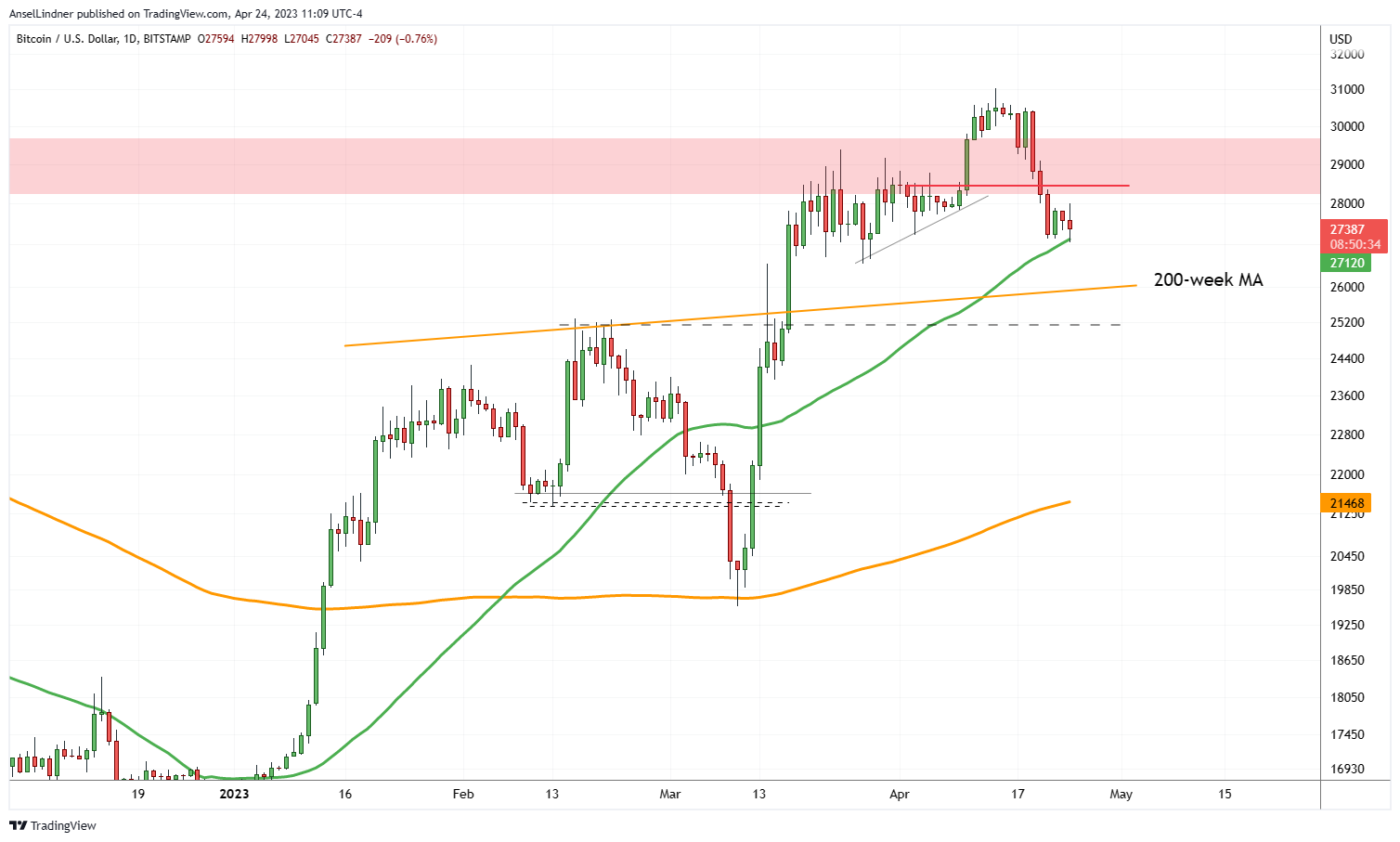 The question is do we bounce here, in an even stronger version than the early March rip? I'll write much more about this on this week's Market Pro, but I will say the following here. If we bounce on the 50-day MA right here, that is a very strong sign for bitcoin and stocks, meaning the stock market bears have been so very wrong this year. In bull markets support tends to hold. For the first test of obvious support for bitcoin to hold would signal to everyone that the bull market has legitimately started.
Last week, I also brought up the scary resemblance to November 2021 seen below.
It is extremely significant if we don't hold the 50-day this time.
This puts a whole other dimension to the importance of holding the 50-day.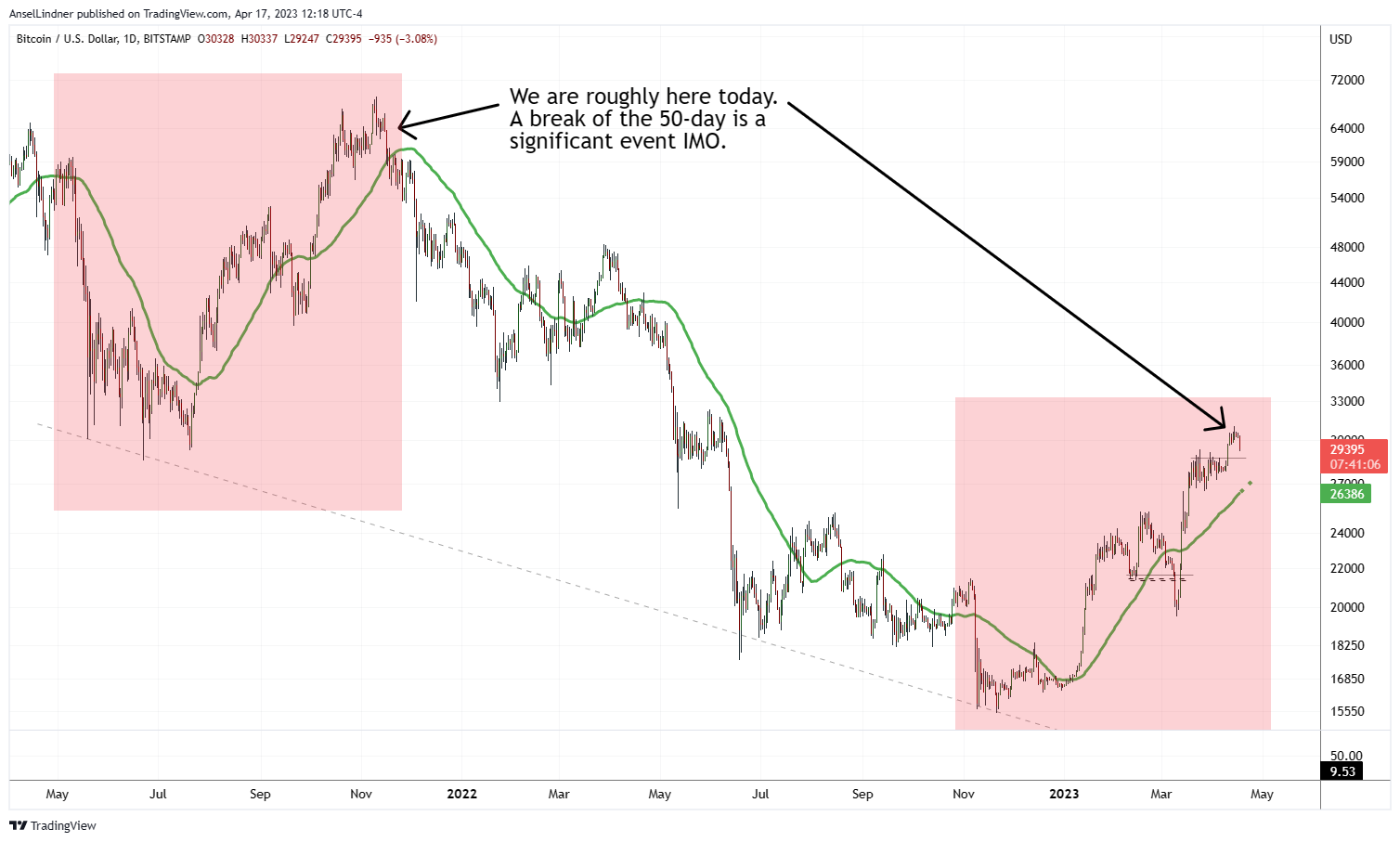 My overall forecast is for price to move up over the next couple of quarters to $48-50k. How we get there is what I try to detail out on each of these newsletters.
I'm bullish on the fundamentals and the charts, however, some macro issues like the 4-week Treasury bill crash I posted above, are starting to get concerning. If there is a market crash, bitcoin would break below the 50-day MA and perhaps delay more upside until later in the year or the early part of next year, something like below.
This is not my base case, but the risk has grown significantly over the last couple of weeks.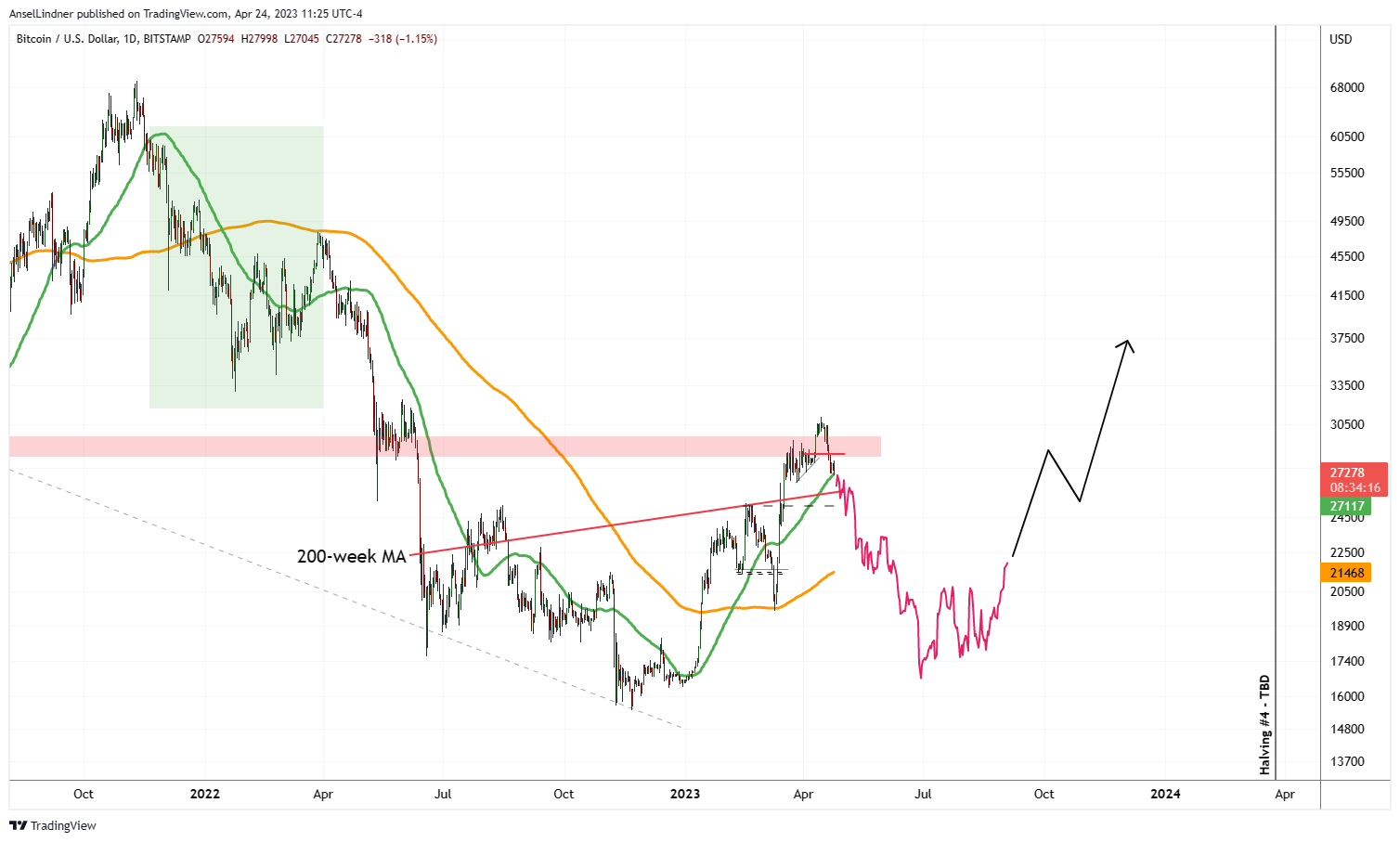 Much more on the upcoming issue of Market Pro!
---
---
Mining
Headlines
New WEF add about capturing flare gas for bitcoin mining
Can't see video, link to original
Bitcoin aligns incentives. Just like Lagarde's speech I cited above, this shows that these elites are adjusting their stances on certain things out of necessity.
You have been following this newsletter and my content for a while, you know I've written quite a bit about Russia and bitcoin. They have a colorful history with it, but we've seen this coming for a while.
The U.S. retains its top spot as the leading country in bitcoin mining industry with a mining capacity of 3-4 GW. Russia follows closely with 1 GW, while the Gulf countries rank third, with a combined mining capacity of around 700 MW. Other countries on the list include Canada, Malaysia, Argentina, Iceland, Paraguay, Kazakhstan, and Ireland.
Difficulty and Hash Rate
Bitcoin mining is VERY stable right now. Difficulty adjusted up 1.7% last Thursday. It is currently on track for a small decline of 2%, the first decline in 6 adjustments.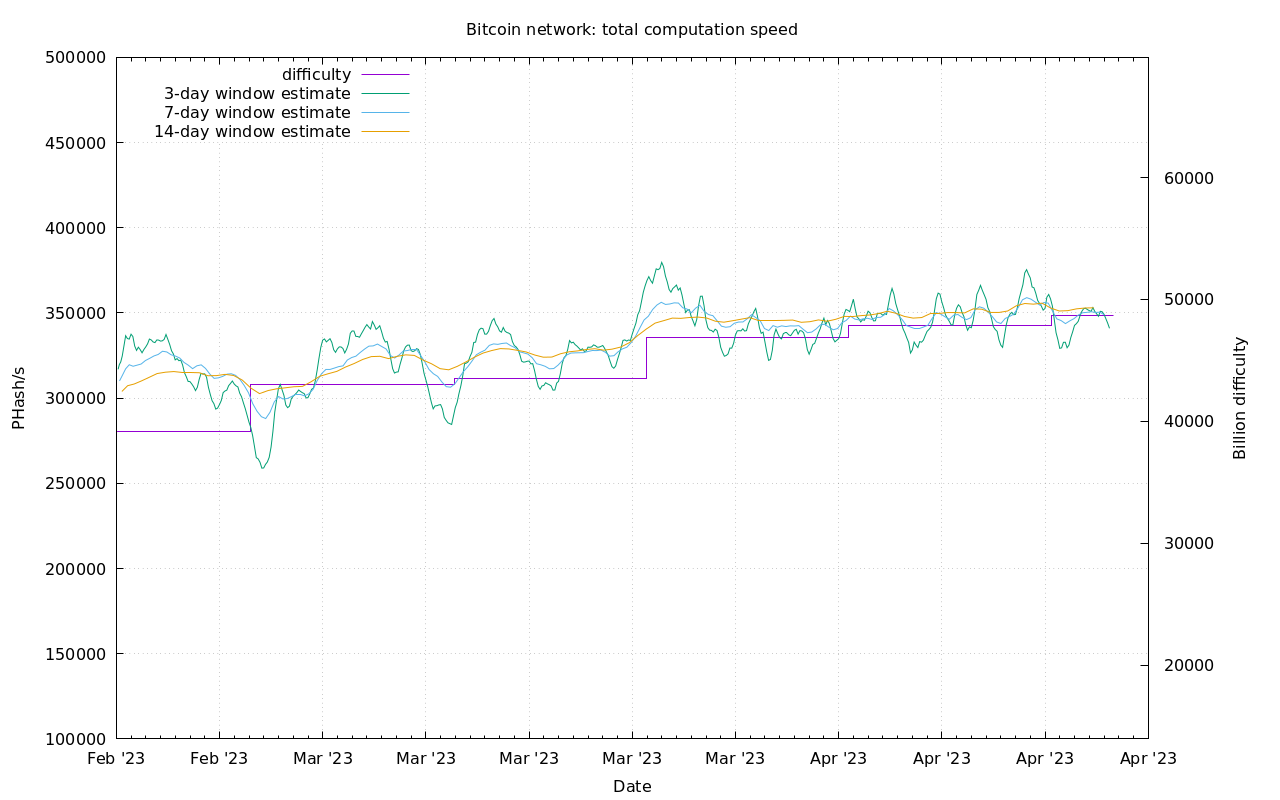 Mempool
The mempool has completely recovered from the huge spike from earlier in the year. What a vote a confidence for the system to withstand spam attacks like inscriptions and bounce right back.

Some might say this is not a positive, because it shows less bitcoin usage. I disagree. For one, we don't know for sure what this traffic was caused by. It could have been inscriptions, people withdrawing bitcoin from exchanges due to the Operation Choke point nonsense, big players moving coins around due to juristiction risk, or any number of other things.
The takeaway is that the network worked its way through it and is stable.
---
Lightning Network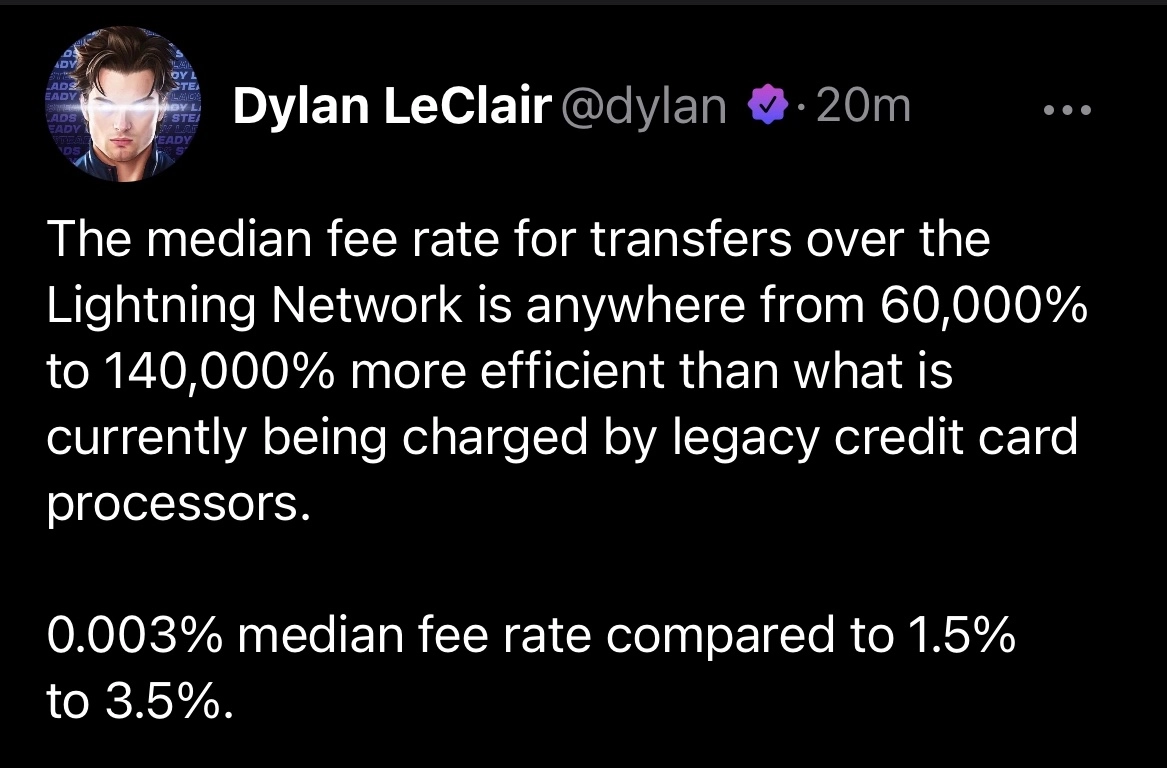 Lightning Network comparison to legacy credit card processors.
The Civ Kit combines the Nostr architecture with the Lightning Network, prioritizing "privacy and security through escrowed trades, decentralized identity, moderation, a P2P messaging protocol, and know-your-peer (KYP) oracles for adjudication," a press release shared with Bitcoin Magazine stated. The system aims to support all kinds of trading, including goods and services.

The researchers will gradually release code and modules, extensively building on top of the Lightning Dev Kit and Nostr libraries.
💡
Get our book the
The Bitcoin Dictionary
available
on Amazon!
That's it for this week. See you again next Monday!!!
DONATE directly on Strike or Cash App to support my work! You make this content possible! Thank you.
A
---
April 24, 2023  |  Issue #238  |  Block 786,838  |  Disclaimer
* Price change since last week's report
** According to mempool.space