Reports
Bitcoin Fundamentals Report #234
This week, coordinated attacks on bitcoin or "crypto"? Bitcoin-only on ramps unaffected. Slow burn bank runs. Mining sector and lightning news.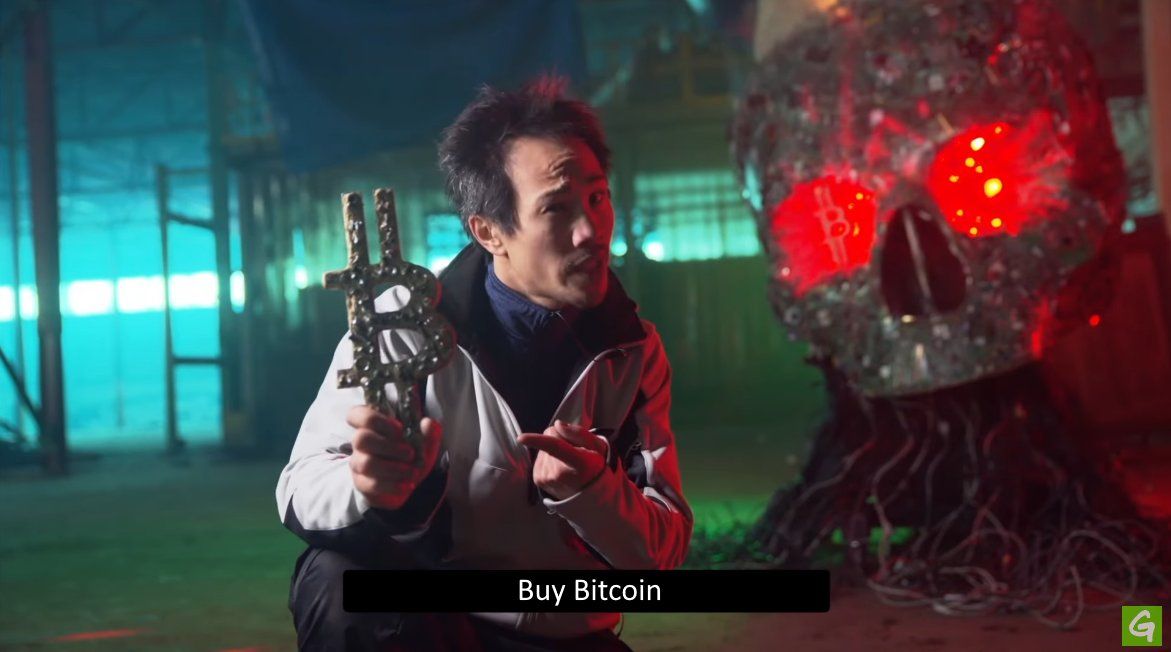 Jump to section: Bitcoin headlines / Macro / Price / Mining / Lightning
💡
Share the Bitcoin Fundamentals Report!
Snapshot of Bitcoin
General Bitcoin Headlines
Weekly trend
Consolidation near recent high
Media sentiment
Very Negative
Network traffic
High
Mining industry
Strong
Price Section
Weekly price*
$27,053

(-$758, -2.7%)

Market cap
$0.523 trillion
Satoshis/$1 USD
3,700
1 finney (1/10,000 btc)
$2.70
Mining Sector
Previous difficulty adjustment

+7.5581%

Next estimated adjustment
+4% in ~9 days
Mempool
160 MB
Fees for next block (sats/byte)
$0.76 (20 s/vb)
Median fee
$0.68
Lightning Network**
Capacity
5,443.67 btc

(-0.0%, -27)

Channels
73,565

(-1.2%, -901)
---
In Case You Missed It...
Market Pro
Community streams
Fed Watch
Headlines
Bitcoin
Bitcoin is getting caught in the crossfire between scams and regulators. Everything that being called an attack on bitcoin recently has very little to do with bitcoin and everything to do with staking and altcoin scams.
Sensational headline. It didn't tumble, it dipped a little.
The CFTC alleged that Binance failed to register with the agency, despite its "solicitation of and reliance on customers located in the United States to generate revenue and provide liquidity for its various markets," according to a filing with the federal court in Illinois Monday.

"Binance and its officers, employees, and agents have instructed U.S. customers to use virtual private networks (VPNs) to obscure their location," CFTC wrote in the filing.
Jack Dorsey's Block, parent company of Cash App, was the victim this week of a hit piece from Hindenburg Research. For all intents and purposes, this looks like a report meant as an attack on the share price, which Hindenburg shorted.
The report alleged that Block inflated its customer growth, allowed fake accounts to thrive and dodged revenue regulations — an accusation that triggered a Securities Exchange Commission (SEC) investigation.
Block responded saying the report was "factually inaccurate". However, that didn't stop the SEC from opening up an investigation.
[...] to no one's surprise, when New York Community Bancorp's Flagstar Bank division's successful bid on Signature's $88.6 billion in deposits and 40 branches was announced, it had excluded the $4 billion in crypto company deposits.
Tl:dr: Today, the SEC gave Coinbase a "Wells notice" regarding an undefined portion of our listed digital assets, our staking service Coinbase Earn, Coinbase Prime, and Coinbase Wallet after a cursory investigation.
This is about their staking service and altcoin scam listings, not bitcoin.
To summarize these attacks, we have Kraken for weeks ago, then Coinbase, Gemini, and now Binance, all facing US government/regulator action. "Crypto" not bitcoin, banks were shuttered, Silvergate, SVB and Signature.
Bitcoin-only companies, however, like Swan are unaffected. Cash App, who is bitcoin-only and a huge promoter of lightning network, is facing trumped up charges in a tradfi sense of fraud, crime and laundering. The bitcoin-only on ramps are generally intact and functioning fine. The liquidity on exchanges is affected, and will likely cause a run on available bitcoin, IMO. More on that below in the price section.
Macro
After Credit Suisse last week, Deutsche Bank this week started to have some issues. Since this original headline, it appears the acute pressure has been relieved for now.
Some worry about US banks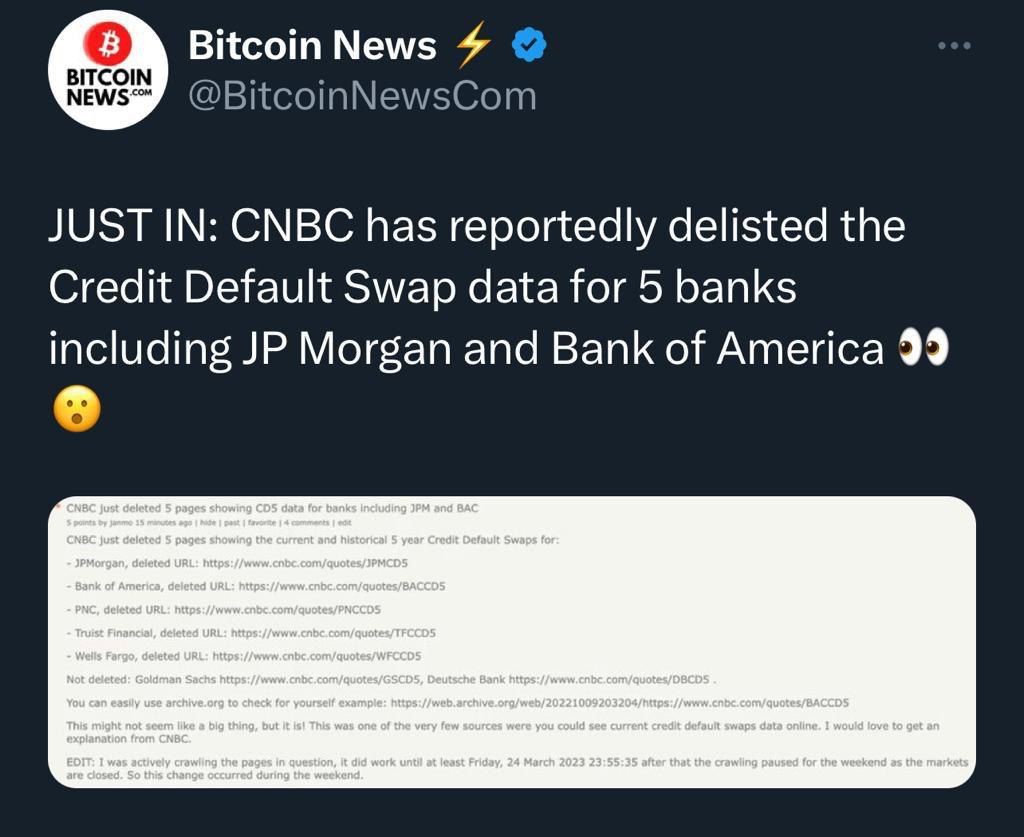 I'm generally less worried about US banks. I do not see this as a solvency crisis. It is a crisis of depositor flight. People pulling their money from the banks and putting it in either money market funds, or into a bigger safer bank.
The large banks in the US have full FDIC backing. They've been given a guarantee from the US Treasury to backstop their deposits. Europe does not have such a facility and cannot. This means the deposit flight should be much worse in the Europe, relative to the US.
💡
Help us grow! Please share!!
Price Analysis
I've created a new and expanded offering for people that want to stay ahead of the price and macro developments. Check out Premium Market Pro!
Go to bitcoinandmarkets.com/pro50 to get 50% off your first month!
Daily chart
Not much has happened with the price this week. I've been calling for a consolidation period, and that is what we are getting.
It would be nice to see some actual movement between price levels, but there is very little shorting right now. "Liquidity" or the amount of bitcoin on exchanges to provide order book depth, is very low right now. This will lead to an impulsive move one way or the other.
We are in a similar position to the beginning of March. The price was slowly dripping, but the spring of volatility was getting tighter and tighter. That time it happened to break upward during the most stressful part of the banking crisis. Can that behavior repeat again?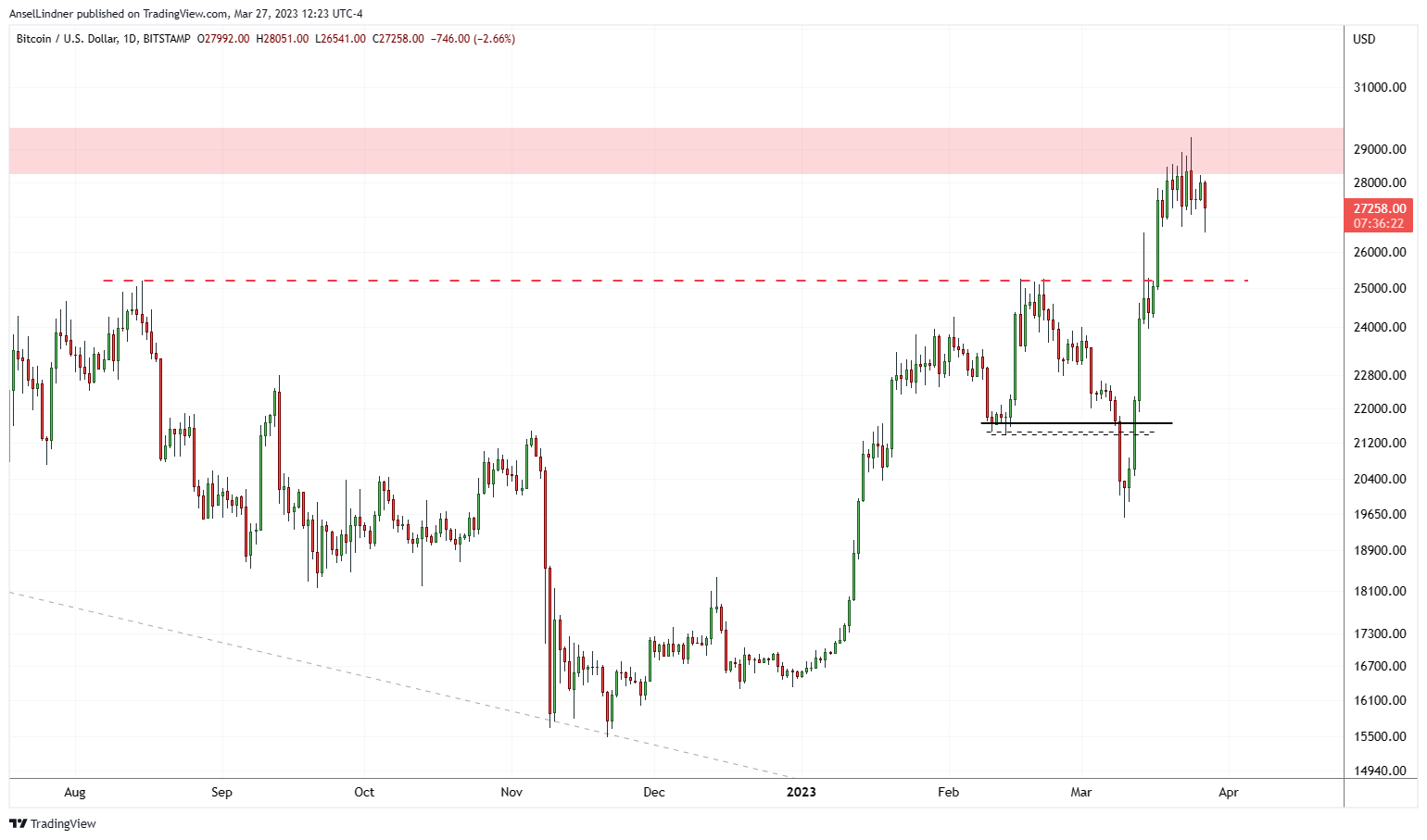 There is very little bearish about the above chart. Even after the Binance news hit bitcoin dropped only nominally within a predicted consolidation range.
Closing down casino style exchanges, likely does not affect the everyday "dollar cost average" DCA demand for bitcoin. What it does prohibit is high levels of manipulation through leverage. The same or greater demand with shrinking supply will lead to price appreciation.
We see this below. Operation Choke Point 2.0, the term coined by Nic Carter Esq. of just another scam hedge fund, begged for bitcoiners with no dog in this fight between fraudsters and government intervention, to join forces and come to the rescue of the very scams bitcoiners warned against for years.
Anyway, as you can see, Operation Choke Point 2.0 has been great so far for bitcoin, as marginal supply is cut but demand remains the same or increases.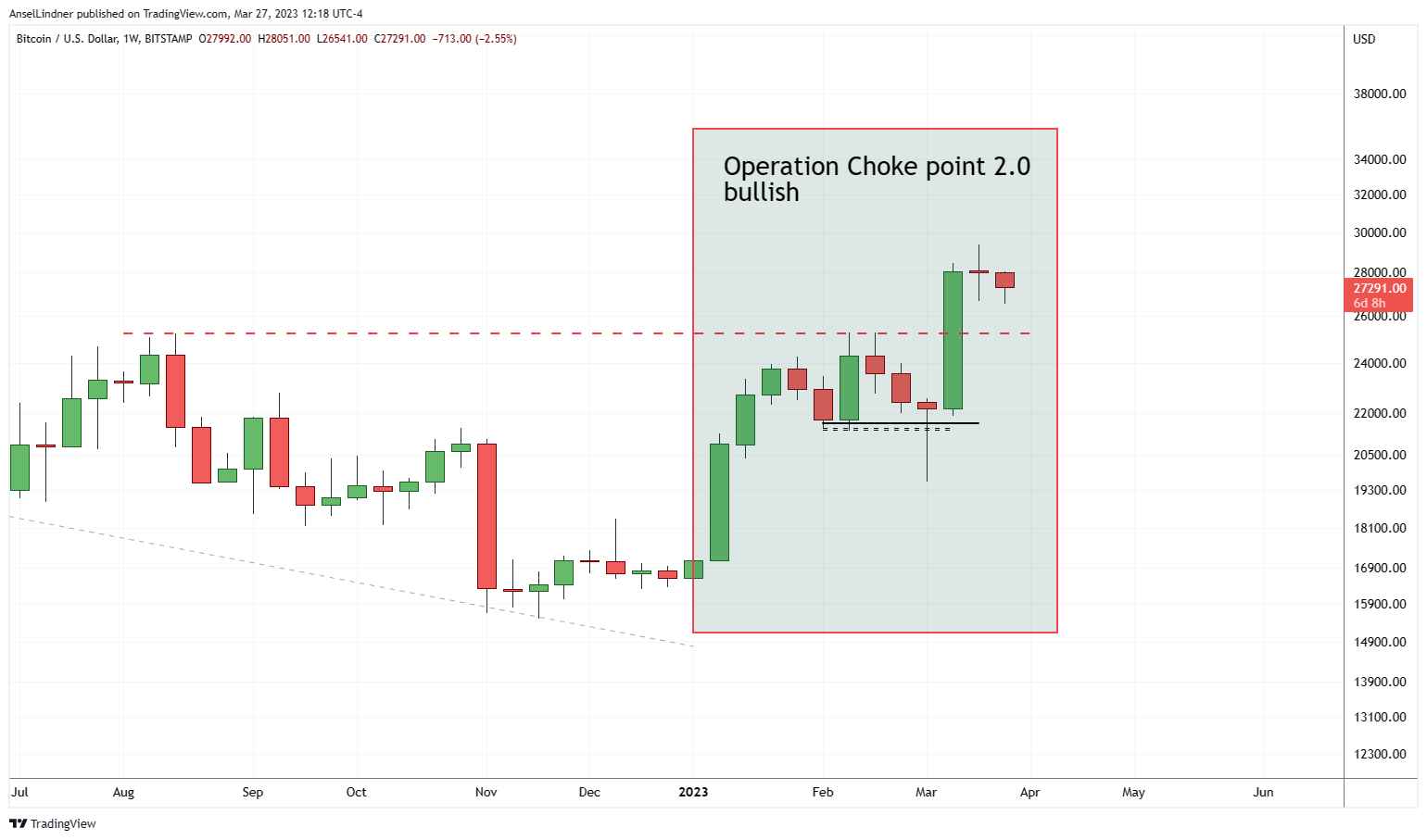 ---
---
Mining
Headlines
The Skull of Satoshi was financed as an attack on bitcoin mining. It back-fired spectacularly.
My initial reaction was that it was very intricate and was real physical art vs a stupid cartoon NFT 8-bit character, this piece says something important. The skull itself turned off a few bitcoiners as being "too demonic" for reappropriation toward promoting bitcoin mining.
I think it is interesting that the skull seems to be eating modern waste and, perhaps, the chains governments are trying to put on the freedom of the internet. Contrary to the criticism, bitcoin is taking that waste and turning it into useful energy, via mining, the money itself, or the many ways mining promotes a healthy economy.
Greenpeace fails once again.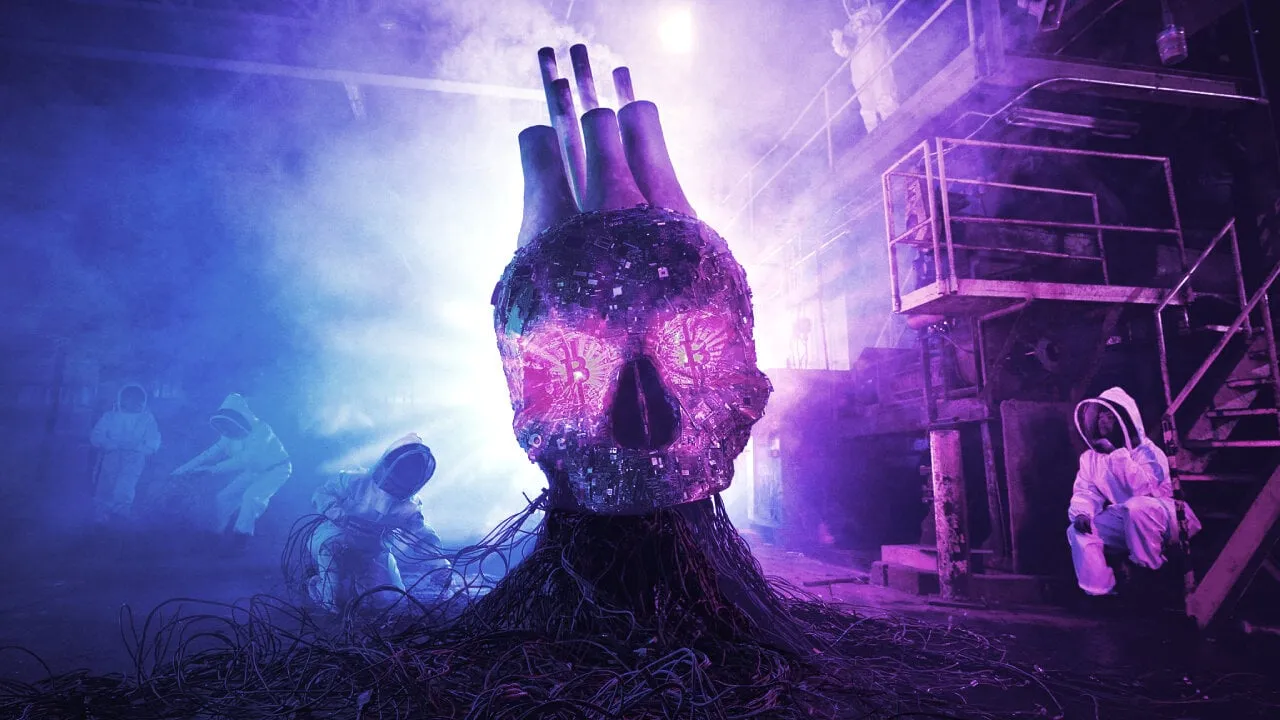 A new report from Glassnode shows that over the last 7 years, bitcoin mining has hoovered around having 50% of days being profitable.
"According to economic theory, a perfect market is one where supply and demand reach equilibrium, and the price of the asset approaches the point of cost (production price)," explains Glassnode. "Given how close these numbers are to a 50:50 condition, one could argue that the difficulty adjustment has done a remarkable job of targeting just such an equilibrium."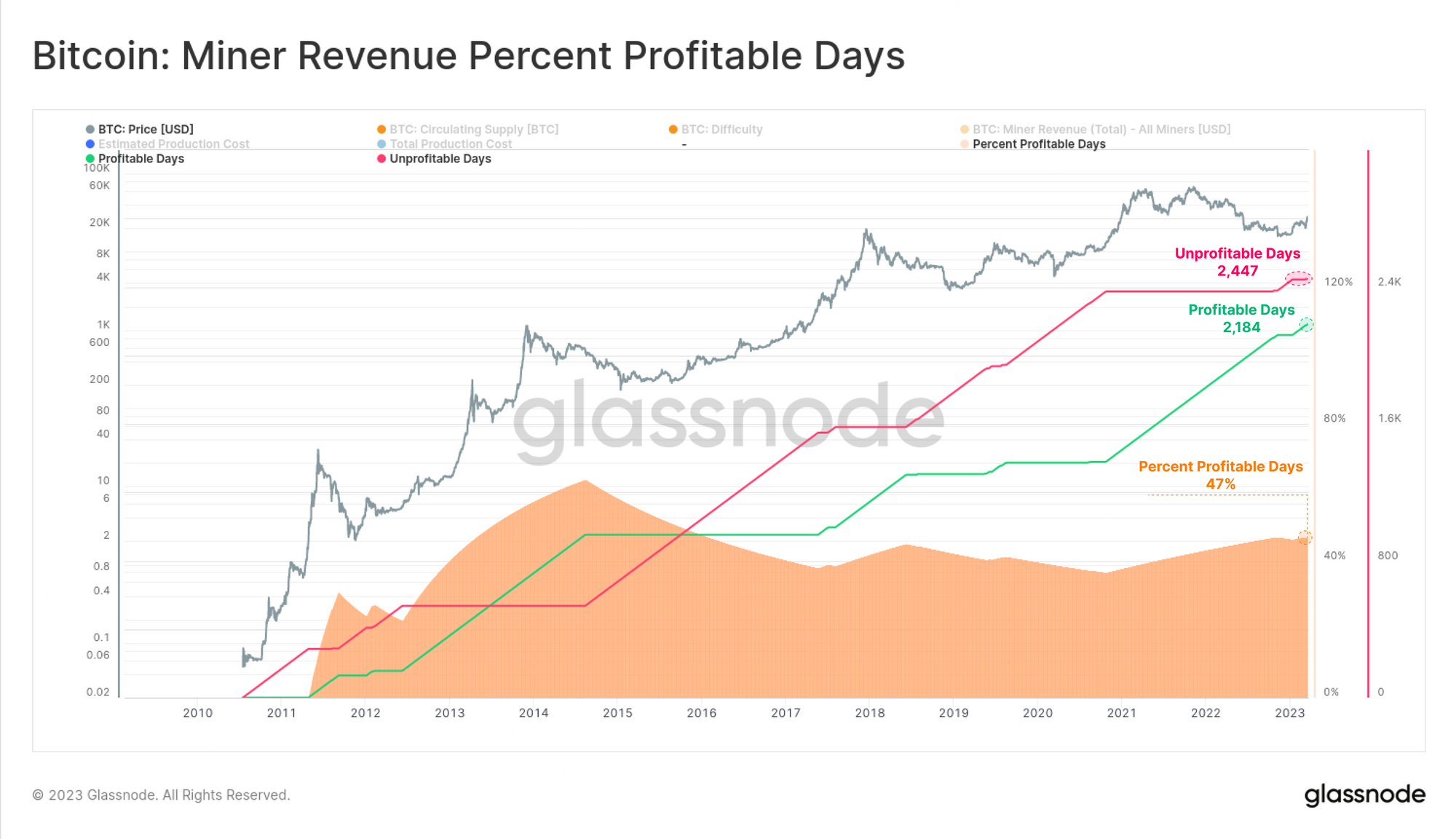 Difficulty and Hash Rate
Hash rate surged this week!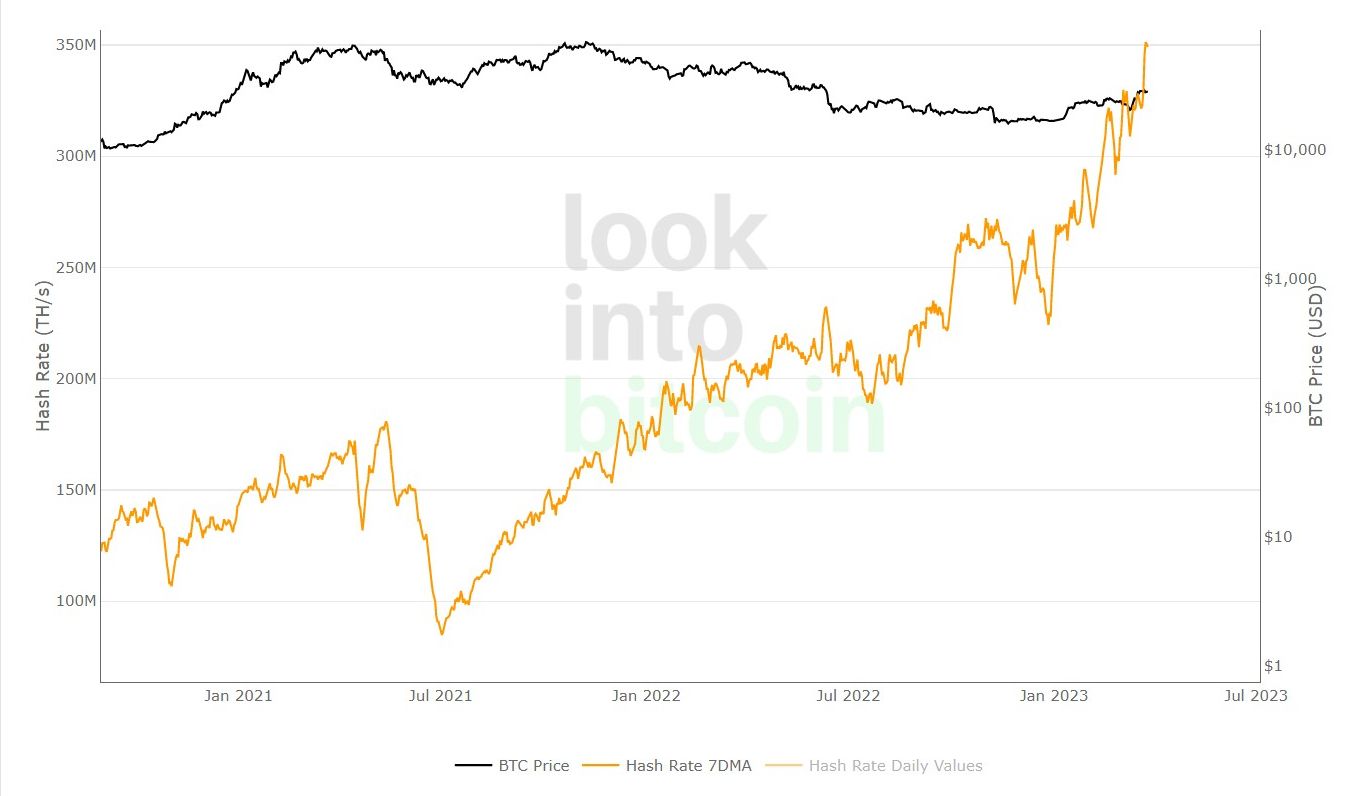 Last week I said:
Without the hash rate rising to new highs, we should remain reserved in our price predictions IMO.
I was waiting for the hash rate to confirm the price appreciation we've experienced in the last couple of weeks. Well, now we have.
Again, hash rate does not lead price, it confirms that what we have today is not overpriced. Hash rate is a proxy for deep fundamentals in the bitcoin space. Higher hash rate means demand is rising relative to supply, and vice versa.
Mempool
The mempool is coming down after a couple big weeks of transactions.

This spike in the mempool was not due to ordinal inscriptions. As you can see below, ordinal have not increased significantly in the period of concern. In fact, they have dropped dramatically over the last week.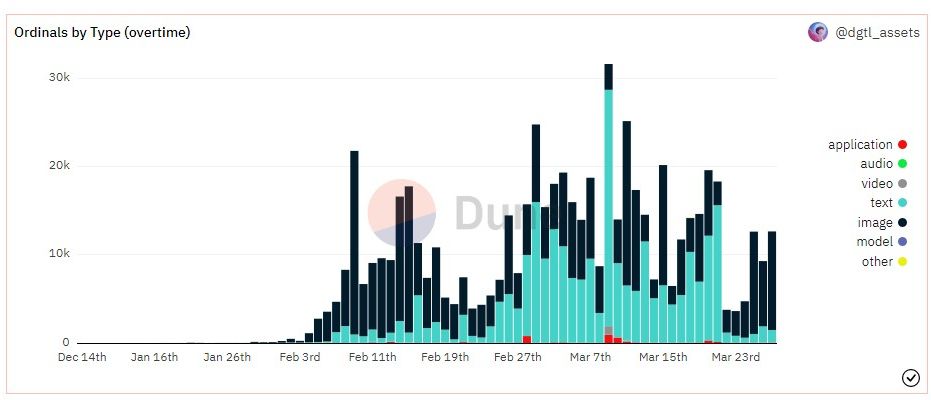 ---
Lightning Network
Slowly but surely, Strike is opening up the entire world to money transfers running on Lightning Network rails.
Strike, the world's leading digital payments platform built on Bitcoin's Lightning Network, today announced the launch of fast, secure, and low-cost money transfers from the U.S. to Vietnam, further expanding its revolutionary cross-border payment service.
"First Lightning Network node supporting RGB assets! Team's work is impressive"
"Big news! The first fully working lightning network node that supports RGB assets is out! Kudos to all the @bitfinex's RGB team for the great work behind this achievement"
---
💡
Get our book the
The Bitcoin Dictionary
available
on Amazon!
That's it for this week. See you again next Monday!!!
A
---
March 27, 2023  |  Issue #234  |  Block 782,806  |  Disclaimer
* Price change since last week's report
** According to mempool.space