Reports
Bitcoin Fundamentals Report #233
Bitcoin and macro headlines, price analysis, mining news and lightning developments.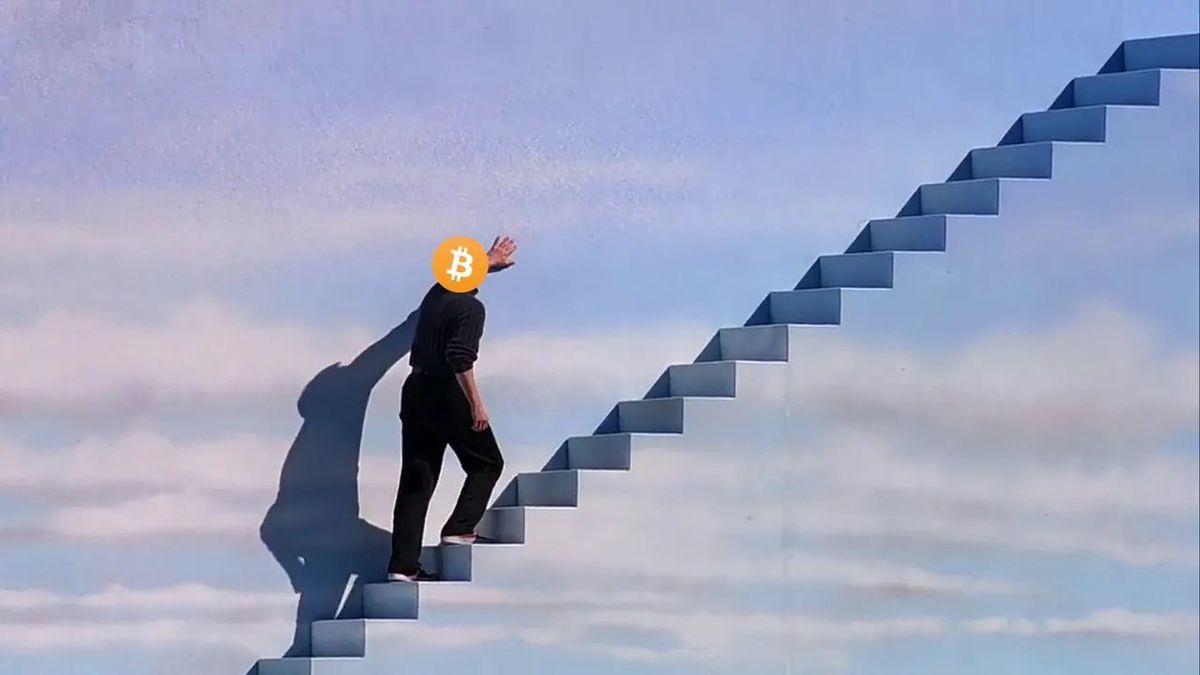 Jump to section: Bitcoin headlines / Macro / Price / Mining / Lightning
Snapshot of Bitcoin
General Bitcoin Headlines
Weekly trend
Strong rally
Media sentiment
Negative
Network traffic
High
Mining industry
Strong
Price Section
Weekly price*
$27,811

(+$4,590, +19.8%)

Market cap
$0.537 trillion
Satoshis/$1 USD
3,595
1 finney (1/10,000 btc)
$2.78
Mining Sector
Previous difficulty adjustment

+1.1564%

Next estimated adjustment
+6% in ~3 days
Mempool
170 MB
Fees for next block (sats/byte)
$0.82 (21 s/vb)
Median fee
$0.63
Lightning Network**
Capacity
5,470.93 btc

(+0.0%, +25)

Channels
74,466

(-0.0%, -124)
---
In Case You Missed It...
Market Pro
Community streams
Fed Watch
Listen to podcast here
💡
Share the Bitcoin Fundamentals Report!
Headlines
After a week hiatus from being on vacation, I'm back and ready to go! What a week to be off. It was the wildest week of the year so far. Of course, I was on Telegram as least once a day to highlight the lunacy that is going on.
I think being semi-unplugged during the craziness allowed me to look at the major items clearly. The market seemed to be on fire and screaming about all the bank failures and bailouts, yet, I wasn't seeing much movement unexpected price action on the charts!
I will be writing about this extensively over on the Premium Market Pro tier, including charts and many things I don't get into here explaining why I can sit relatively calmly in this storm. Make sure to check that out.
This newsletter is simply to keep you updated on all the important headlines, Market Pro is for analysis.
Bitcoin
Balaji bets bitcoin will be $1 million within 90 days
Balaji is supposed to be smart, but I've been thoroughly unimpressed for years. He's an Ethereum scammer, doesn't understand resource constraints in his futurology, and here, he obviously has some very weird ideas about inflation/hyperinflation and the current monetary system.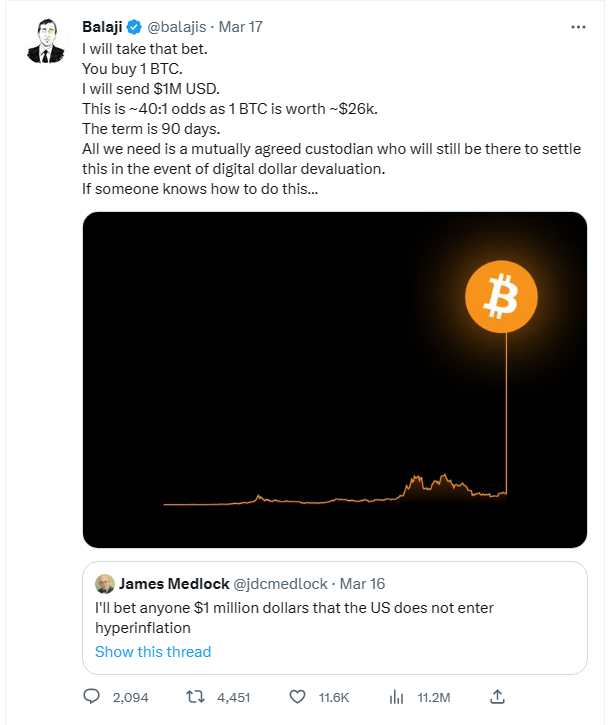 RGB and Taro are two new protocols that enable token issuance on Bitcoin, and are therefore expected to bring stablecoin transactions on Lightning. I studied these protocols and the client-side validation paradigm that they employ and published a report on my findings called "Emergence Of Token Layers On Bitcoin" through Diamond Hands, a major Japanese Lightning Network user and developer community and Bitcoin-focused solution provider.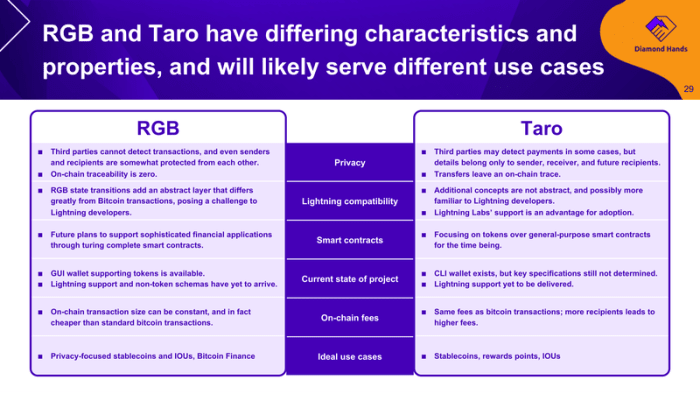 Customers of Fidelity Investments can now buy bitcoin through Fidelity Digital Assets. The Fidelity Crypto platform, first opened to a waitlist in November 2022, is now available to the public, as of yesterday.

Customers are able to buy and sell bitcoin, although they will not be able to transfer it to a self-custody wallet where the user controls their private keys. During the launch of the waitlist, there was mention of this ability to come later, but no detail or roadmap has been provided beyond that.
LMAO. Altcoin scammers like Hoskinson are all about moving their grift to Bitcoin. They see the writing on the wall, that altcoins cannot escape government attacks, and that the Bitcoin might now be able to provide a better umbrella for them.
Macro
The main story this week is, of course, the failure of Credit Suisse. It was announced on Sunday in an emergency decision that UBS would buy the embattled bank. I covered the lead up on Fed Watch last Thursday.
Two issues I'll quickly point out:
1) This purchase broke existing laws in Switzerland. They will change the rules to avoid systemic collapse on paper. So, why do so many people expect a systemic collapse?
2) There are some realized losses making people mad, but nothing is systematically fixed. All that happens in these types of bailouts is a temporary reprieve and further entrenchment of the slow motion grind lower.
The Federal Reserve announced coordinated CB action to rescue the system. This along with the Sunday night herculean effort to save Credit Suisse tells me something was brewing under the surface in Europe. It was extremely acute or else they wouldn't have rushed like this over the weekend.
I said this for 18 months, that the crisis would happen in the shadows of the plumbing like 2019. So far, that is exactly what we see.
The FOMC meets this week, very unlikely to raise. We might even see another replay of 2019 with Powell doing a "mid-cycle adjustment" and lowering by 25 bps. Whatever happens, the Fed isn't driving this train. It is on predescribed tracks. Bitcoin and stocks and bonds are about to rip.
China offers peace talks between Russia and Washington, I mean Ukraine
The Ukraine war is dragging on. The military reality is unquestionable at this time. The Russians are winning and methodically advancing. The peace deal will be rejected by Washington, and Russia will continue to advance.
The economic fallout has directly led to what we are seeing today in Europe. The US is generally economically isolated, as I've said many times. This war is grinding Europe, not Russia (though Russia is facing a ticking clock as well in demographics, it just has several more years where Europe probably doesn't).
💡
Help us grow! Please share!!
💡
Ways to Support Our Content!
Price Analysis
I've created a new and expanded offering for people that want to stay ahead of the price and macro developments. Check out Premium Market Pro!
Go to bitcoinandmarkets.com/pro50 to get 50% off your first month!
Daily chart
On the last issue of the Bitcoin Fundamentals Report, we were defending $22k and the stock market was ripping higher.
The next 4 days were red, breaking down through the must defend bottom I highlighted with dashed lines. It turned out to be a fake out, crushing the bulls, before a massive bounce, now of 44% from the low on the 10th.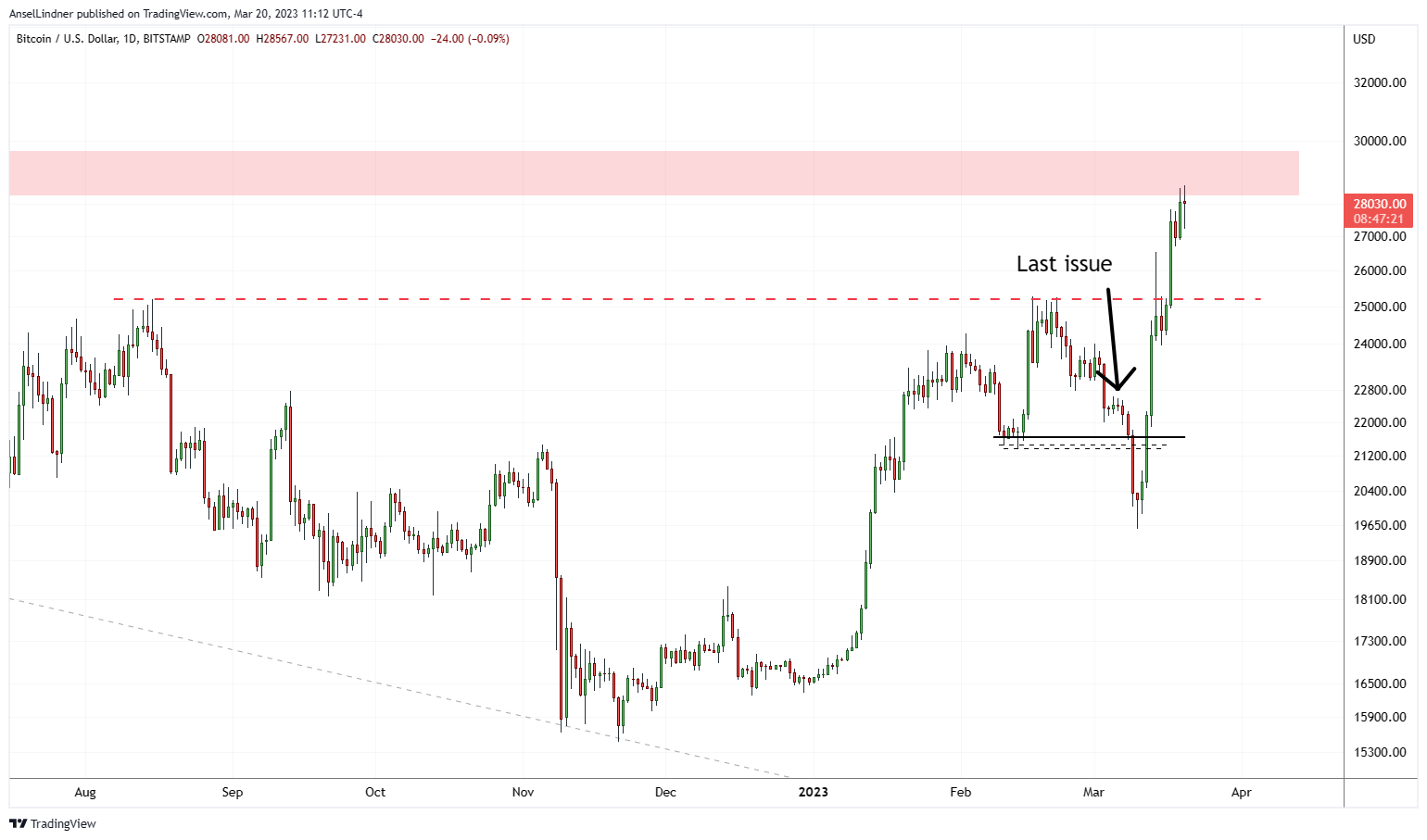 A 44% move is not a fluke or fake out. In hindsight, that dip was the fake out.
I'll address this much more on the upcoming Market Pro issue, but let's take a quick look at the weekly chart to see where I got that new red resistance zone.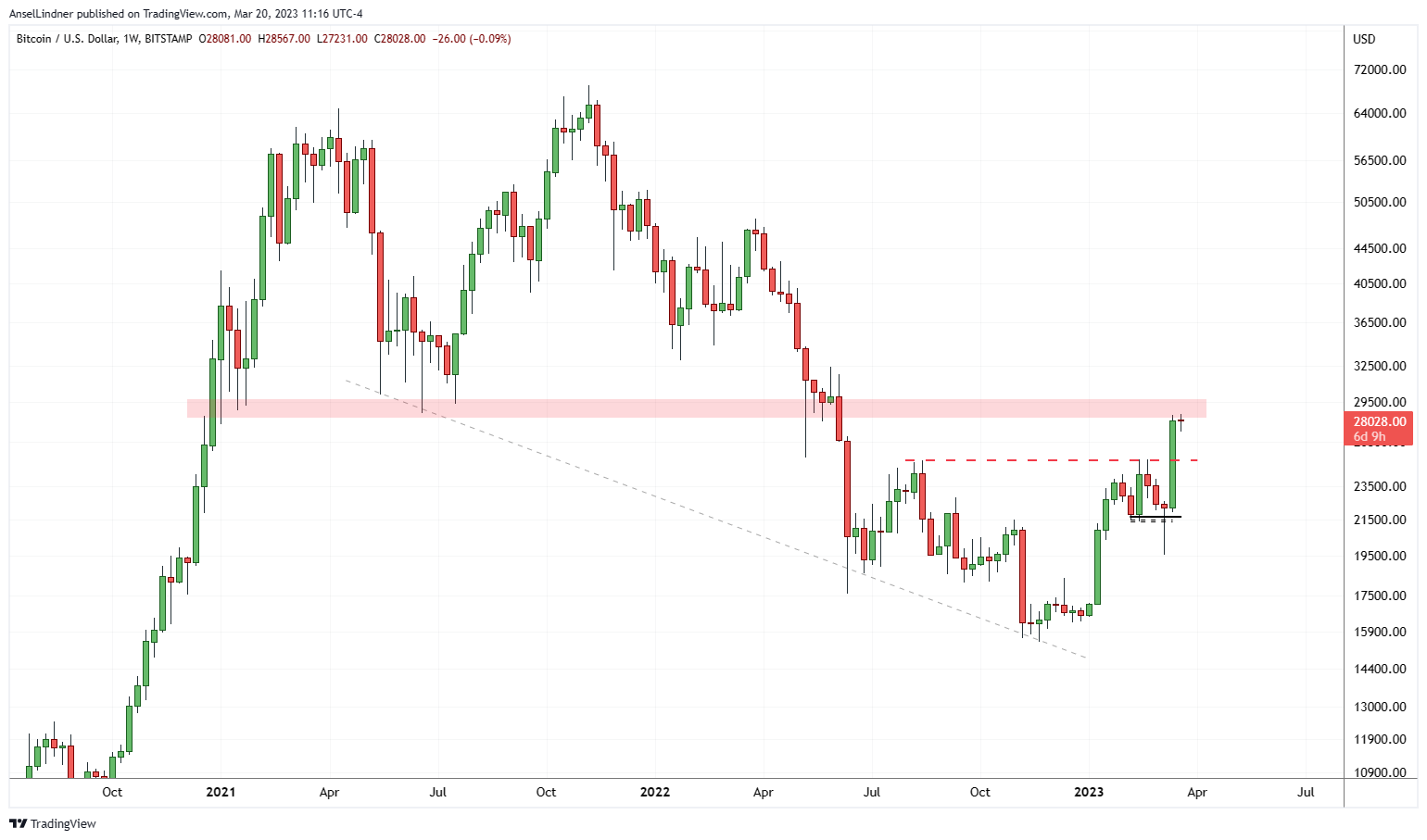 It comes from all the bottoms during 2021, and the brief pause in May 2022. Back in May, I was convinced that bitcoin could hold that level. I did not foresee the Celsius and then FTX collapse coming. Perhaps I was too bought into the narrative that altcoins would be around forever, so didn't think their exchanges and infrastructure would collapse like that. Anyway...
The price could move quite rapidly here. In a few weeks, we could be threatening $50k. As I pointed out on Market Pro #3, $50,000 is the golden pocket (between 61.8 and 66%) for a retracement on the entire drop from $69k to $16k. I think I also made that call on Fed Watch about 3 weeks ago, that within 2 months we could see $50k.
That is the target when we break this $30k resistance.
---
---
Mining
Difficulty and Hash Rate
Hash rate continues to soar. It's rising so much my preferred site that tracks it is unusable since the hash rate has literally left the chart, and my back up is not loading any more. Here is a third site, LookIntoBitcoin.com. It has quite a bit of data and is good looking site.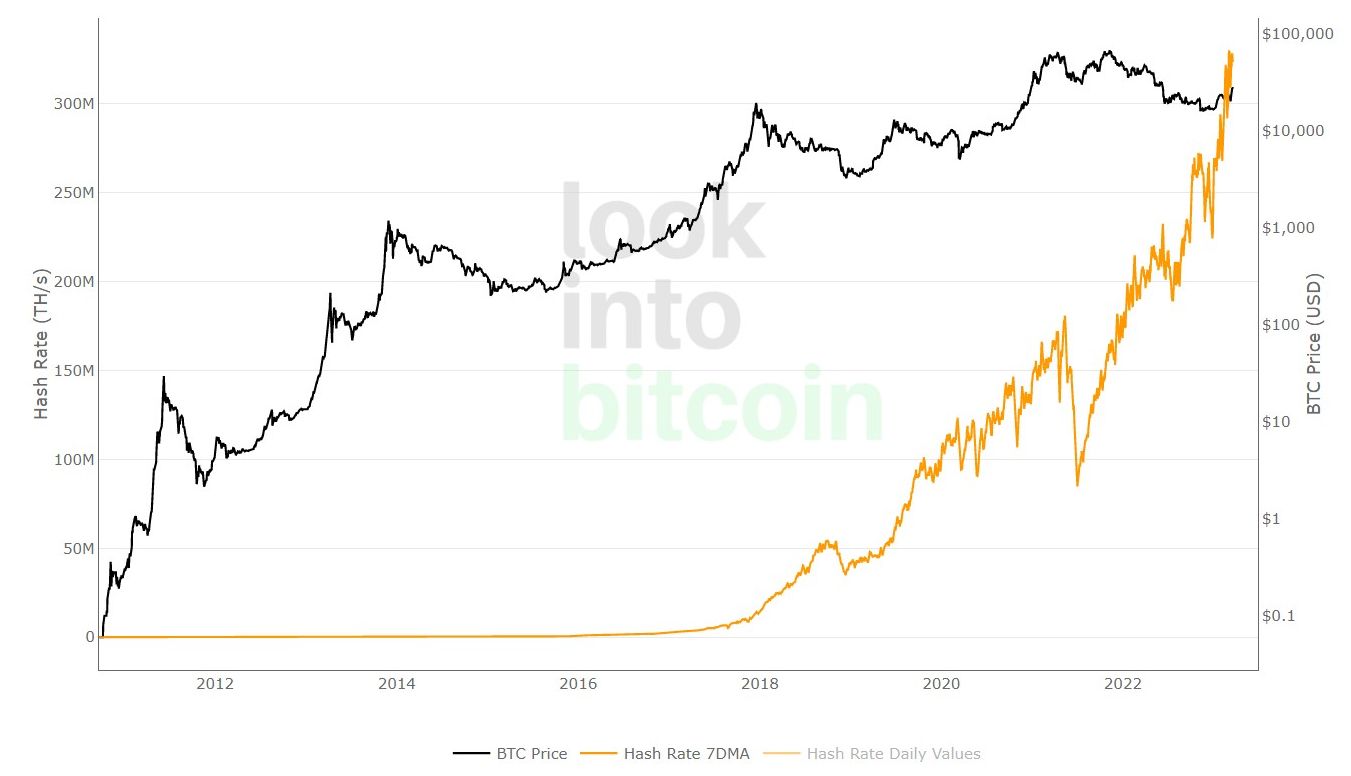 Zooming in...  We can see that the hash rate as been increasing on average the last couple of months, but the has not convincingly broken out to new highs despite the price pump.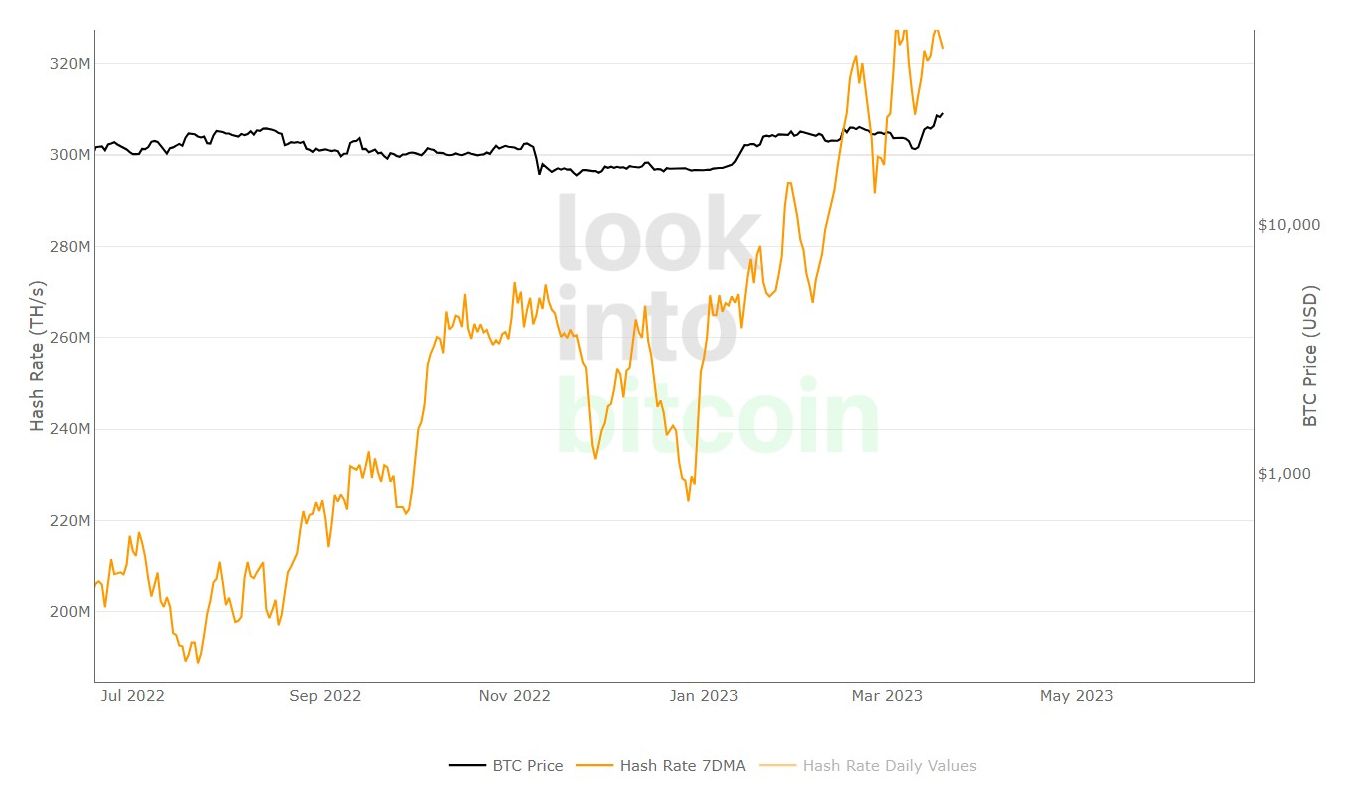 I will be watching this metric closely, as it is part of any bullish thesis in bitcoin. Without the hash rate rising to new highs, we should remain reserved in our price predictions IMO.
Mempool
The mempool has filled again during this recent pump off the bottom. Fees are only slightly elevated, still under $1.
I also checked the inscription totals and nothing has jumped to the same degree. So, it is likely these are run-of-the-mill transactions. Perhaps people buying and withdrawing bitcoin from exchanges, perhaps people regrouping their coins, etc.

---
Lightning Network
The El Salvador government has announced the launch of new university courses in Bitcoin (BTC) and Lightning Network development.

The government's Bitcoin Office unveiled its plans on Twitter. It explained that its new "CUBO+" courses will comprise an "advanced bitcoin engineering program that lasts several months."
According to the press release sent to Bitcoin Magazine, the program received more than 100 applications from teams representing 36 countries. Wolf's accelerator program is designed to "help early-stage startups achieve product-market fit, develop their brand, secure critical early-stage funding and grow businesses that fuel the global adoption of Bitcoin."

The selected companies are working on topics such as decentralized trading via discreet log contracts, a WeChat-style "super app" for Nostr and Lightning, automated Lightning node management, instant payments and remittances in MENA markets and more.
---
💡
Get our book the
The Bitcoin Dictionary
available
on Amazon!
That's it for this week. See you again next Monday!!!
A
---
March 20, 2023  |  Issue #233  |  Block 781,709  |  Disclaimer
* Price change since last week's report
** According to mempool.space