Reports
Bitcoin Fundamentals Report #230
All the important news for the week in bitcoin. Hong Kong welcomes bitcoin back, Ordinal statistics update, China, Nigeria, EU news, mining sector, and LN.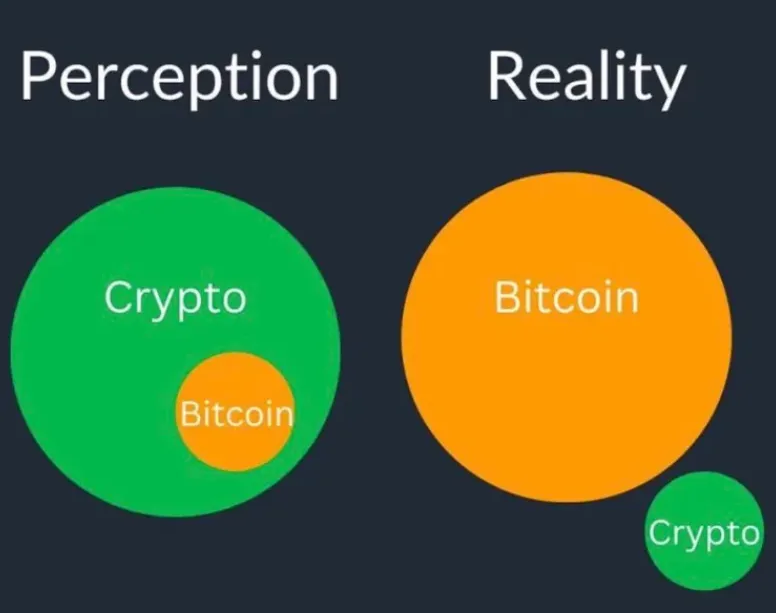 Snapshot of Bitcoin
Click headings to jump to section
General Bitcoin Headlines
Weekly trend
Breakout attempt
Media sentiment
Very Negative
Network traffic
Elevated
Mining industry
Surging
Price Section
Market Pro tier
Weekly price*
$24,915

(-$3,245, +15.0%)

Market cap
$0.479 trillion
Satoshis/$1 USD
4,020
1 finney (1/10,000 btc)
$2.49
Mining Sector
Previous difficulty adjustment
-0.4944%
Next estimated adjustment
+10% in ~4 days
Mempool
24 MB
Fees for next block (sats/byte)
$0.56 (16 s/vb)
Median fee
$0.49
Lightning Network**
Capacity
5,395.93 btc (+0.0%)
Channels
74,443 (+0.0%)
---
In Case You Missed It...
Community streams
Fed Watch
⬇️ Check out the video below ⬇️
Listen to podcast here
💡
Share the Bitcoin Fundamentals Report!
Headlines
Bitcoin
Hong Kong to Allow Bitcoin Trading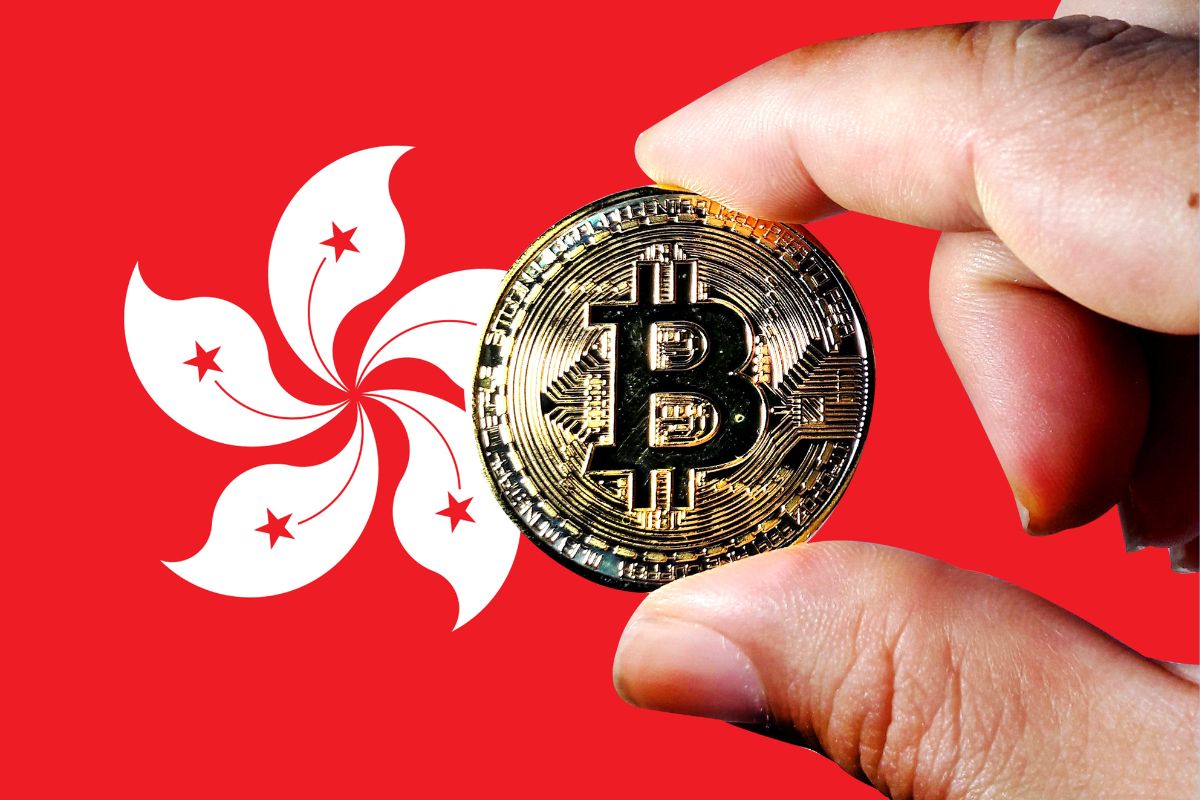 Hong Kong's Securities and Futures Commission officially released a statement on Monday chalking out its plan to allow retail investors to trade cryptocurrencies like Bitcoin and Ethereum.

According to the consultation paper released, retail investors will be allowed to trade top cryptocurrency assets on exchanges that are licensed by the agency. However, such virtual asset trading platforms will have to keep investor protection in mind. This means they have to tick boxes including exposure limits, risk profiles, etc.

The SFC highlighted that the consultation period will end on Mar. 31. It intends to green-light retail trading in the new licensing regime for crypto exchanges. As reported earlier, the same is set to come into effect in Q2, more specifically Jun. 1, this year. - emphasis added
This follows the listing of two Bitcoin ETFs in Hong Kong in December 2022. Interestingly, the ETFs track US-listed futures.
Despite what Charlie Munger says, this is China opening back up to bitcoin. In my opinion, the CCP is letting this happen because they don't want to be left completely behind.
Binance might leave the US altogether
Binance Holdings, the world's largest crypto exchange by trading volume, is considering severing its ties with U.S. business partners as various government agencies and regulators continue to investigate the company, according to a report from Bloomberg, citing a personal familiar with the issue.

Binance founder and CEO Changpeng Zhao is looking to end relationships with U.S. banks and service firms, and is also re-evaluating its U.S. venture capital investments, according to Bloomberg's source. Binance is also considering delisting tokens issued by U.S.-based projects, including Circle's USDC stablecoin, Bloomberg wrote.

The New York Department of Financial Services earlier this week took action against Binance-branded stablecoin Binance BUSD, which is issued by Paxos, and Binance has also been scrutinized for its transactions with crypto bank Silvergate. The crypto exchange has been investigated by the U.S. Securities and Exchange Commission, Commodity Futures Trading Commission, Justice Department and the Internal Revenue Service.

Binance's U.S. customers are serviced by Binance.US, which claims to operate completely independently and says it has no plans to leave the U.S., according to Bloomberg. - emphasis added
150,000 total inscriptions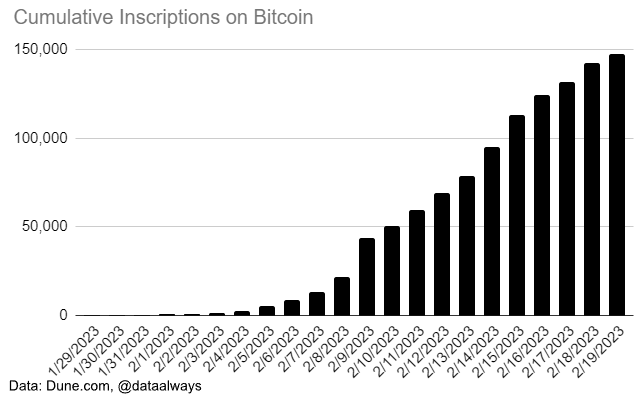 But they are slowing down rapidly. Perhaps the fad has peaked for the time being.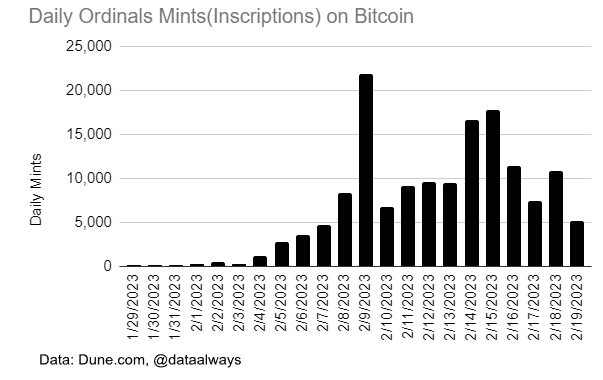 Bitcoin transaction fees never were affected all that much.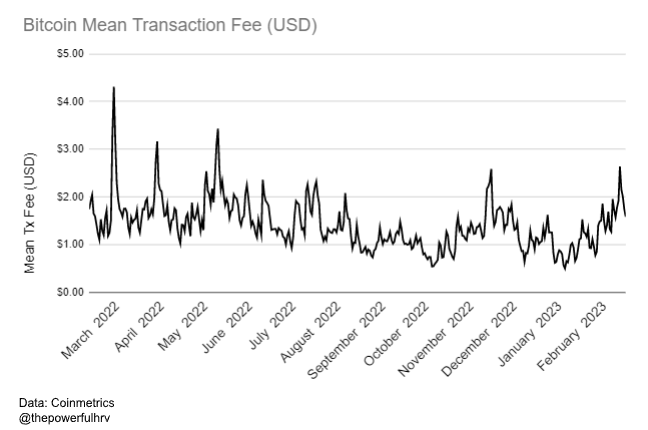 Block sizes increased to an average of 2.2MB in the last 7 days, from an average of 1.19MB prior to ordinals.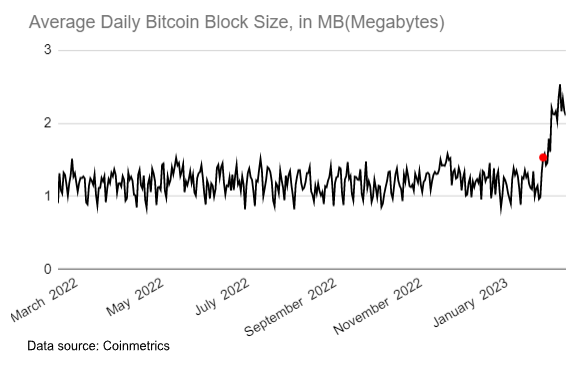 Macro
China's Reopening is a joke, masking an epic failure
1/7 For well over a decade local governments were able to finance increasing amounts of wasted infrastructure spending with rising revenues from a spectacular real estate bubble and the easy (and automatic) rolling over of debt.

2/7 The problem, of course, was that because this infrastructure spending was ultimately not productive, the inevitable result was a surge in local government debt relative to local GDP, something that could not happen if the investment were productive.

3/7 As debt ratios surged, they left balance sheets increasingly fragile. This was made much worse when the inevitable end of the real estate bubble meant that local governments could no longer subsidize non-productive investment with rising land auction revenues.

4/7 As always happens, the first step in a solvency crisis is to call it a liquidity crisis, as if burgeoning debt can be separated forever from the consequences of much slower growth in debt-servicing capacity.

5/7 Rolling over bad debt, however, is just a way of forestalling recognition of economic losses embedded in balance sheets. The losses are there, but economic agents have capitalized these losses and pretend they are assets as long as the debt can be rolled over.

6/7 But this can't last forever, and it has become very clear  that China's financial system is finding it increasingly difficult to manage the rolling over of local government debt. More and more economic policy advisors recognize that this is no longer a liquidity problem.

7/7 As it becomes increasingly worried about repayment risk, Beijing will at first force local governments to try to come up with new ways of refinancing their unrepayable debt, but ultimately the only "solution" will be to recognize and allocate the losses. - emphasis added
Nigeria is in the beginning stages of an economic collapse
Nigeria is often call the Giant of Africa, but it is a high volatile country. As a large single State, it is a remnant of British colonial rule. They've smashed together 3 hostile ethnic groups, the Hausa-Fulani, Yoruba, and Igbo. To keep a fragile peace, they have a rotating President from these three factions.
In the coming era of deglobalization, it is unlikely that Nigeria will be able to stay together. This could spell disaster, because the northern half of the country, formerly Northern Nigeria under the British, is resource poor but dominates the military, and the southern half, formerly Southern Nigeria is relatively rich. You have a classic situation where this region is only economically viable if unnaturally smashed together.
The below video is a good summary of Nigeria's challenges.
EU Warns "There is No Escape" from ESG Madness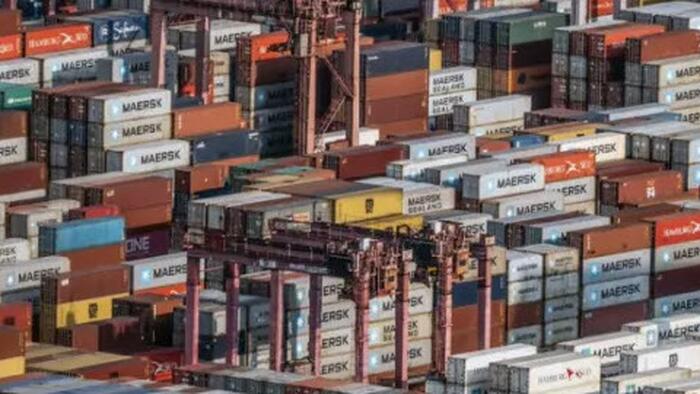 Impending regulations in the European Union, which is at the forefront on ESG legislation, will soon require tens of thousands of suppliers across the supply chain in Asia to report their ESG performance, said Amfori president Linda Kromjong.

The Corporate Sustainability Reporting Directive, due to be rolled out next year, will require companies to disclose how sustainability issues, such as climate change, impact their business and how their operations in turn affect people and the planet.

Some 50,000 companies – all large companies and listed small and medium-sized firms – will have to make such disclosures, up from 11,700 large companies and public entities with more than 500 employees mandated under existing legislation. Auditing of the disclosures will be mandatory.

These companies will in turn require their global suppliers to disclose their sustainability data, such as greenhouse-gas emissions, so that they can calculate their own environmental footprints and social risk exposure.
💡
Help us grow! Please share!!
💡
Ways to Support Our Content!
Price Analysis
I have started a new membership tier and newsletter. Instead of a long price section on this weekly post, I'm creating a new and expanded offering for people that want to stay ahead of the price. Check out Premium Market Pro!
Go to bitcoinandmarkets.com/pro50 to get 50% off your first month!
Daily chart
This week, let's take a brief look at the weekly chart. We are in uncharted territory in multiple ways. This is the first ever Death Cross (50 cross under 200 MA) on the weekly in bitcoin's history, and it follows the first ever weekly bullish divergences in bitcoin's history.
So far, the price is over the 50-week and attempting to break the 200-week. If price can rise above $25,500, it is could really move quickly to $30k. Time to pay attention.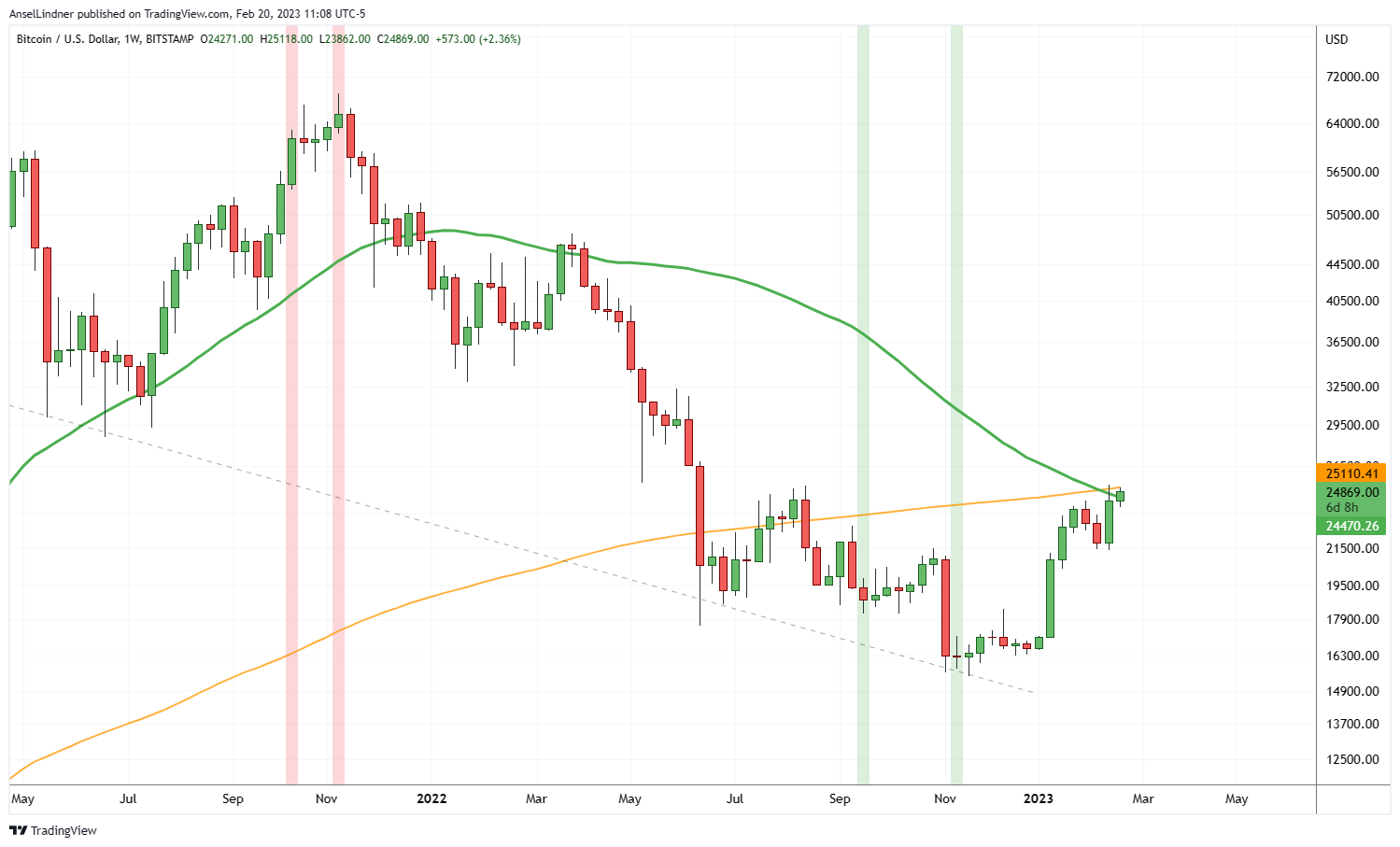 ---
---
Mining
Headlines
Throughout 2022, I was perplexed about the consistent, 20%-plus difference between the BMC and CCAF estimates of Bitcoin's sustainable energy use. I saw both the Bitcoin community and environmental groups quote the figure that fit their narratives.

What I realized was that the CCAF model was excluding several factors. No great detective work on my part: It says so on its website under the "Limitations Of The Model" section.

So, I quantified the impact of these exclusions. It turned out that the three exclusions mentioned on its website cause its model to understate Bitcoin's sustainable energy percentage by 13.6%. This explains two-thirds of the entire variance between the CCAF and the BMC model.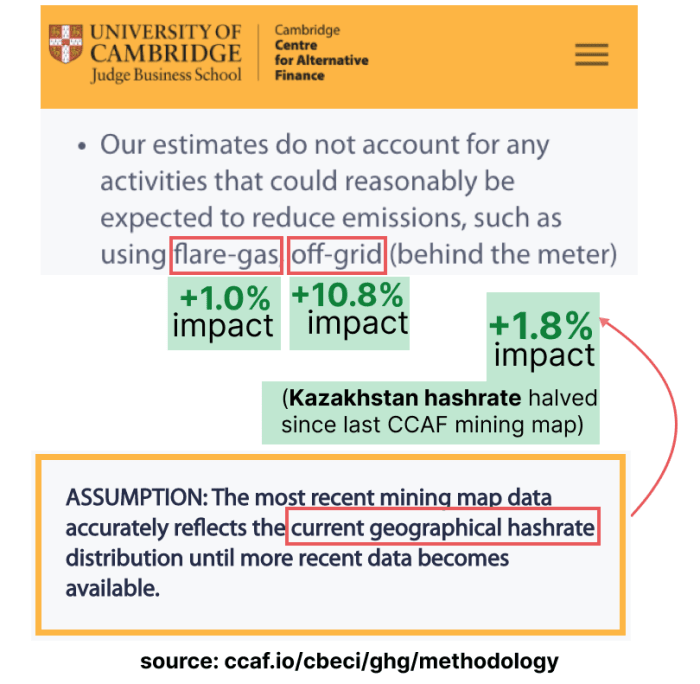 Bitcoin Miners' Revenue continues to grow, now over $25M per day
CleanSpark, a Bitcoin miner, is expanding its mining capacity in the United States by purchasing 20,000 additional Antminer S19j Pro+ machines for a total cost of $43.6 million. It is anticipated that the acquisition would increase the processing capacity of the firm by 37%. Additionally, the transaction will bring the total number of miners acquired during the bear market up to 46,500 units.
Difficulty and Hash Rate
Hash rate explodes higher!! Currently in the ballpark of 318 exahash per second.
Hash rate is a confirming indicator. What the surging hash rate tells us is that bitcoin is far from being overpriced. There is very little chance that the price will drop, even in the near term.
Difficulty is expected to jump by 10% in 4 days.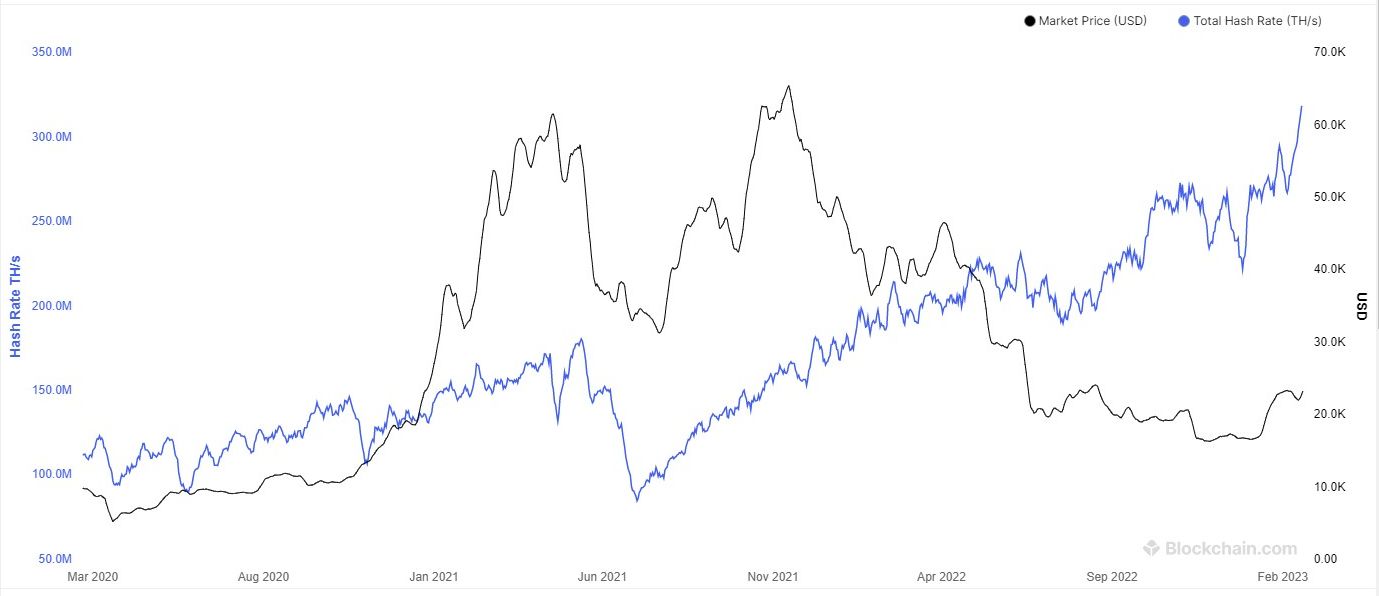 Taking a peak on the good ol' hash ribbons, we can see that since the covid crash in March 2020, bitcoin miners have struggled through 5 separate capitulations. The worst was in 2021, when the CCP kicked all the miners out.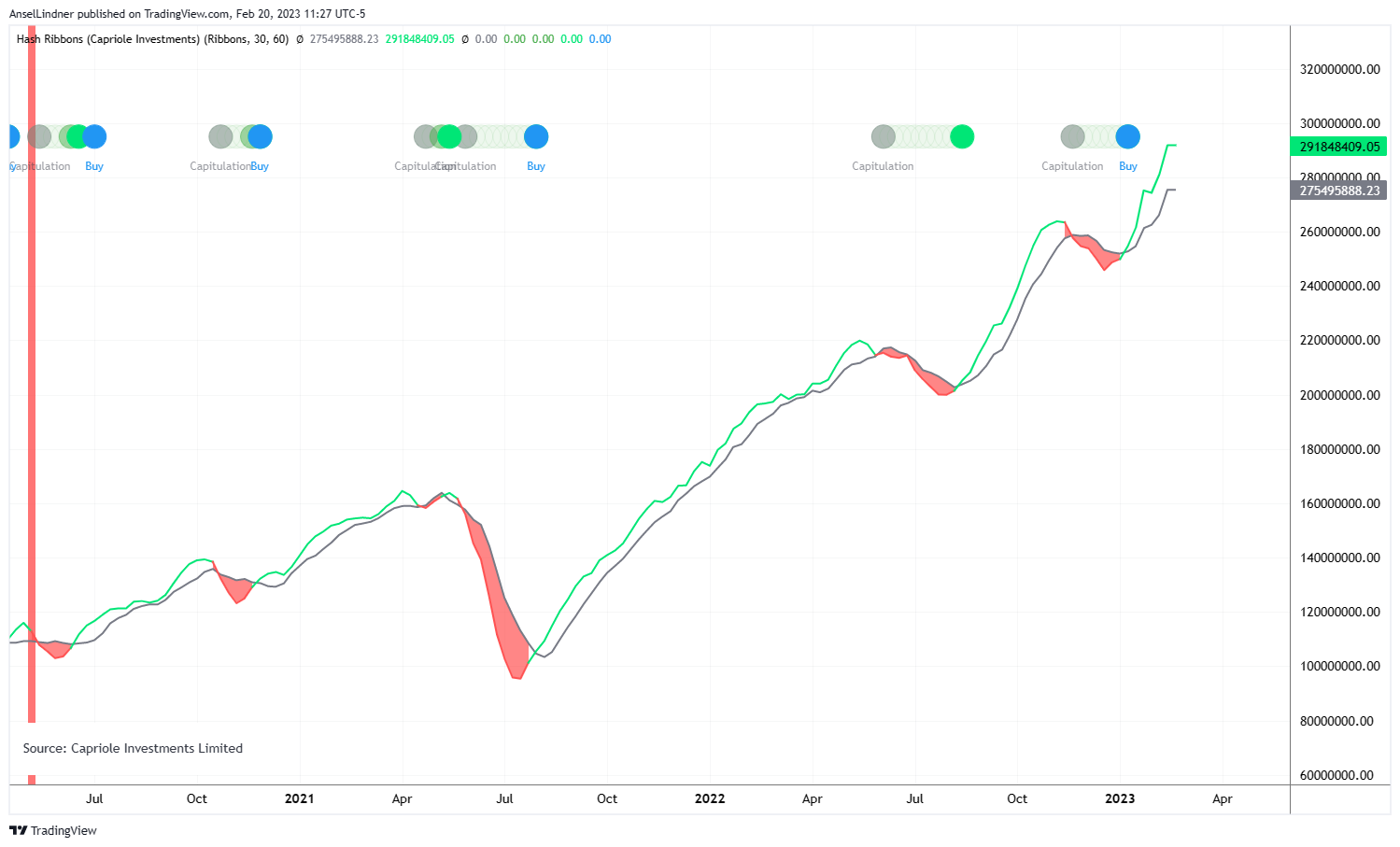 Mempool
Another data point here that the ordinal fad is possibly played out for the time being. The mempool is close to clearing and fees have come back down dramatically. That was fast.

---
Lightning Network
Lightning-linked retro video games
This is not a WOW development, but I thought it was neat. I used to like the puzzle games at pubs in my mid-20's, and think it would be interesting to have the opportunity to win sats back.
During gameplay, a "sats" counter is displayed that apparently counts the number of satoshis the player has won as a reward so far.

Moss said that in order to fund the payout wallet, the bar or club needs to sign up for a custodial wallet with Zebedee or LNbits.
---
💡
Get our book the
The Bitcoin Dictionary
available
on Amazon!
That's it for this week. See you again next Monday!!!
A
---
February 20, 2023  |  Issue #230  |  Block 777,514  |  Disclaimer
* Price change since last week's report
** According to mempool.space