Reports
Bitcoin Fundamentals Report #223
Luke Dash Jr's bitcoins, Brazil bitcoin adoption, Chinese 2022 growth failure, Price analysis and 2023 prediction, and resurgence in mining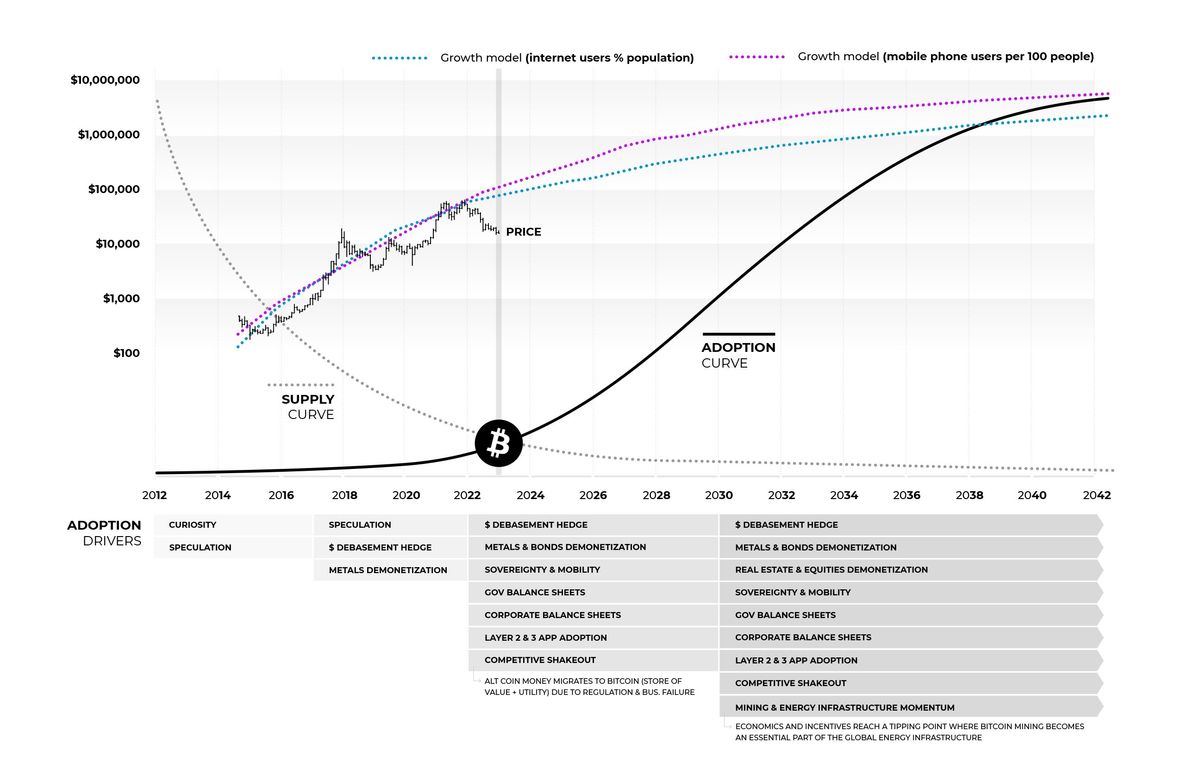 Jump to: Bitcoin headlines / Price analysis + Price Conclusion / Mining sector / Lightning Network
---
In Case You Missed It...
Daily Live streams
Article
Fed Watch
⬇️ Check out the video below ⬇️
Listen to podcast here
💡
Share the Bitcoin Fundamentals Report!
Headlines
| | |
| --- | --- |
| Weekly trend | Extremely stable |
| Media sentiment | Very Negative |
| Network traffic | Low |
| Mining industry | Surging again |
Bitcoin

This headline goes to show, people can be geniuses in a specific field, but very bad at other things. I recommend a hardware wallet bought directly from a reputable company, perhaps several. Multi-sig is a great idea, but several hardware wallets kept in several locations, not putting all your bitcoin's in one basket, is a very safe practice. Do not be like Luke and keep all your bitcoin in a hot wallet, on a computer connected to the internet.
In perhaps one of the best timed recommendations from a financial celebrity, Robert Kiyosaki, author of Rich Dad and Poor Dad, has told to his 2.3 million followers that he is picking up bitcoin at these prices. He thinks the SEC is coming for altcoins soon, chasing innovation into Bitcoin which the agency has singled out as a commodity and not under their jurisdiction.
Robert has been open and warm to bitcoin over the years, taking a very level headed approach in my opinion. He is an influencer of influencers, so this is pretty big news.
On Dec. 22, Brazil officially enacted a Bitcoin (BTC 1.00%) bill that is intended to provide a complete regulatory framework for trading and using Bitcoin within the country. While the bill does not officially make Bitcoin "legal tender" within Brazil, it makes it significantly easier and more attractive to use Bitcoin as a form of payment or as an investment asset. [...]

If businesses want to accept Bitcoin, for example, they will not have to worry about falling into a "gray area" where nobody really knows the rules of the game.

Brazil's bill sets up two distinct regulators for Bitcoin. The Central Bank of Brazil will regulate Bitcoin when it is being used as a form of payment, and Brazil's version of the SEC will regulate Bitcoin when it is being used as an investment asset.
Drama heats up in this spat. Billionaire airing it out on Twitter. Will we see a court filing coming soon?
Macro headlines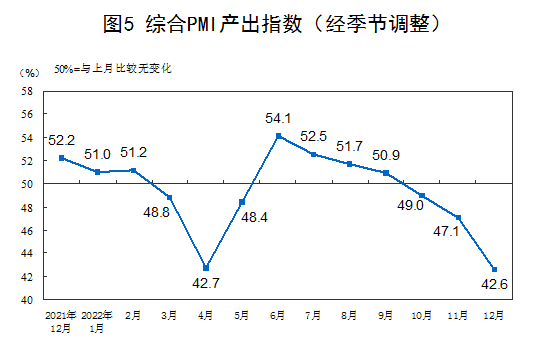 The Chinese economy massively slowed in December. Mainstream estimates are that their yearly GDP growth was only 2%, though Xi Jinping has come out and said it was 4.4%. This is obviously a lie, but still a miss of their revised down 5% target. In my opinion, the Chinese economy outright contracted this year.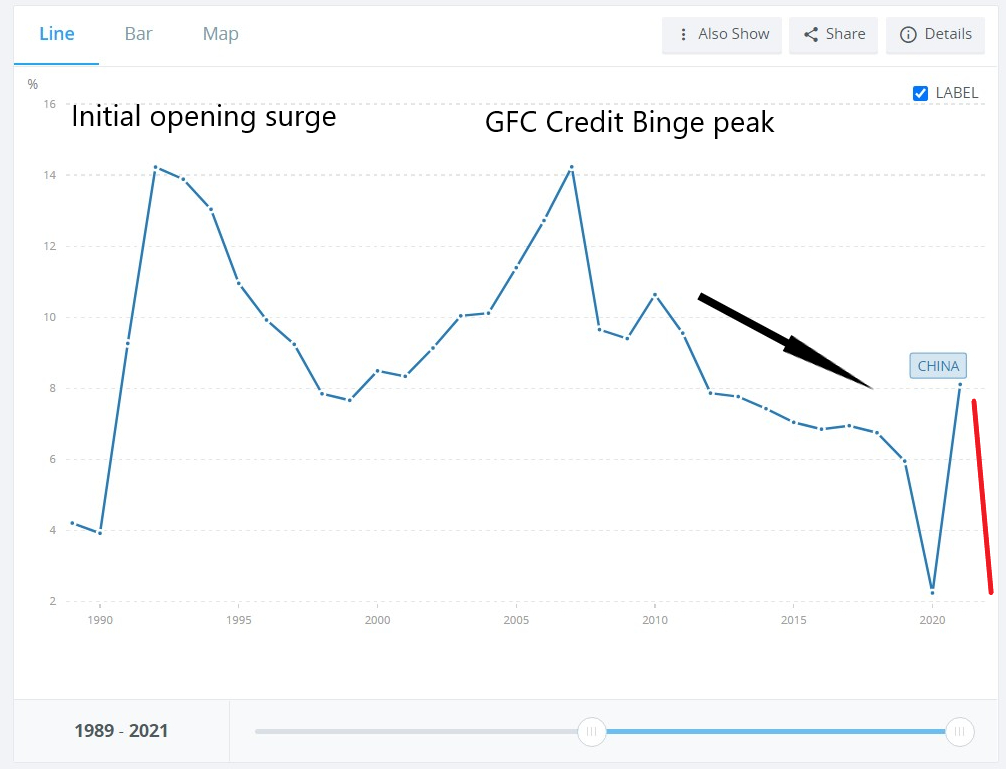 And it doesn't look better for the future. Where will the demand come from to boost reopening? Europe and the US are wrecked and the world is heading into recession.
Chinese real estate is also continuing to slide into uglier and uglier waters. Despite a U-turn on the three red lines and government directed stimulus to the sector, home sales dropped to -30.8% YoY vs -25% in November.
70% of Chinese wealth is in real estate, how will domestic consumption rebound?
Falling international demand, falling domestic demand, has exposed China as a paper tiger. Prediction: 2023 will see a continuation of China's attempt to shift its economy to domestic demand driven with terrible consequences.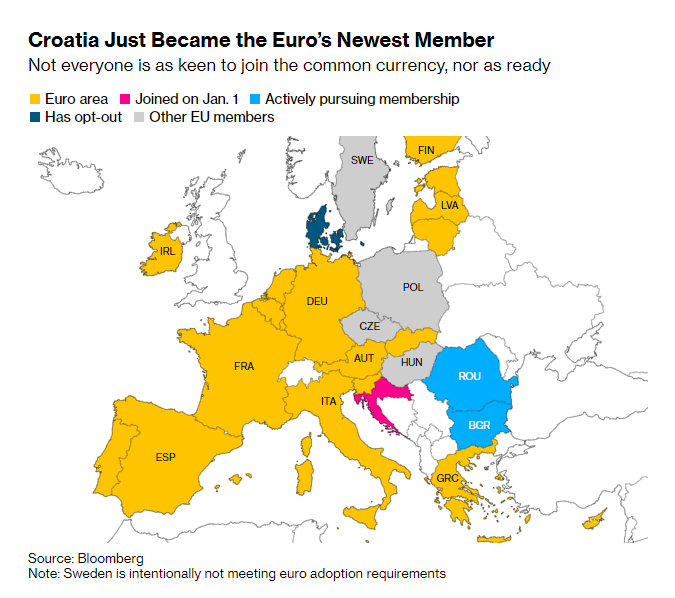 💡
Help us grow! Please share!!
Price Analysis
Weekly price*
$16,721

(+$47, +0.002%)

Market cap
$0.322 trillion
Satoshis/$1 USD
5,978
1 finney (1/10,000 btc)
$1.67
The bitcoin price is so stable, I had to dig deep for several special charts this week, then make my regular price conclusion.
Last week, pretty good.
I'm expecting the bitcoin price to move slowly and cautiously higher, with some momentum beginning in the new year.
Daily chart
I've been talking about this chart for weeks. I know it is a perfect world chart, but most of the drops were not bitcoin-centric, they were scam blowups. So, if we take out the 22 days of collapse after each of the three major events this year (Terra/Luna, Celsius and FTX), bitcoin is sideways to higher. It would be sitting at $45k right now, pressing on the flat horizontal resistance at about $48k.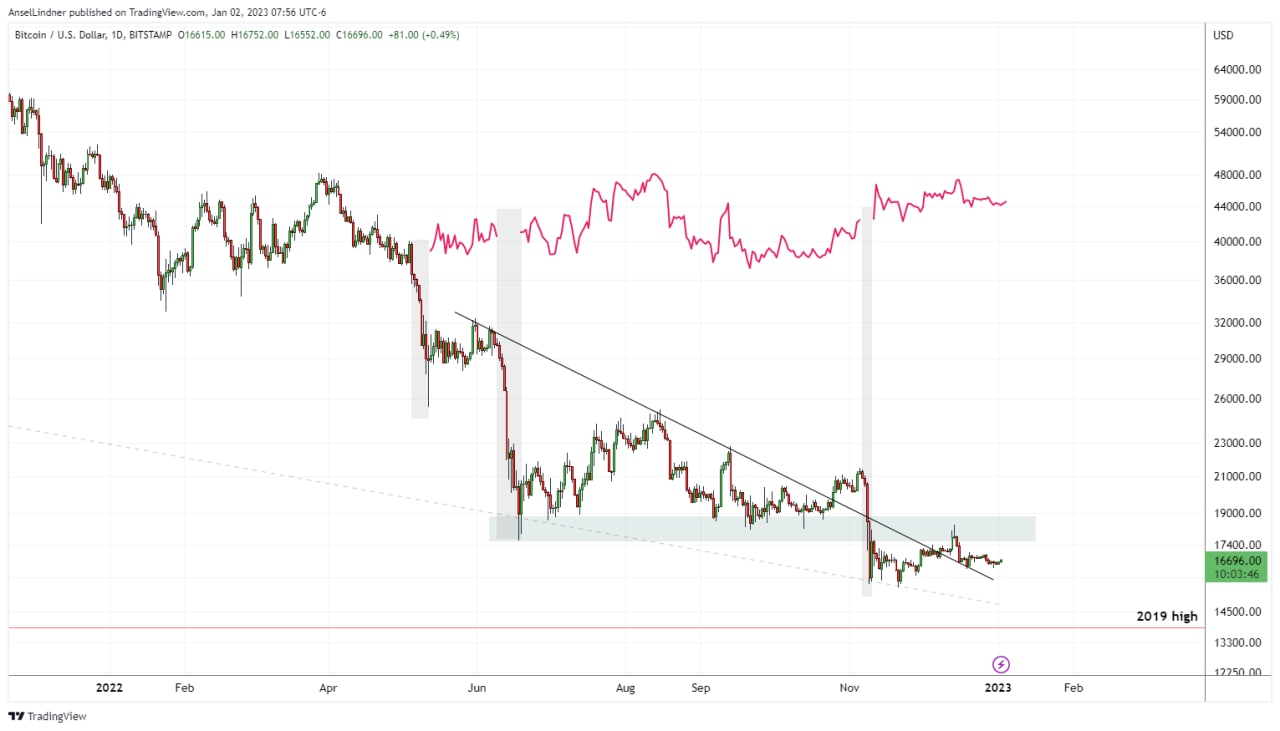 The vanilla daily chart looks the same as it has for weeks. Bitcoin is rock solid.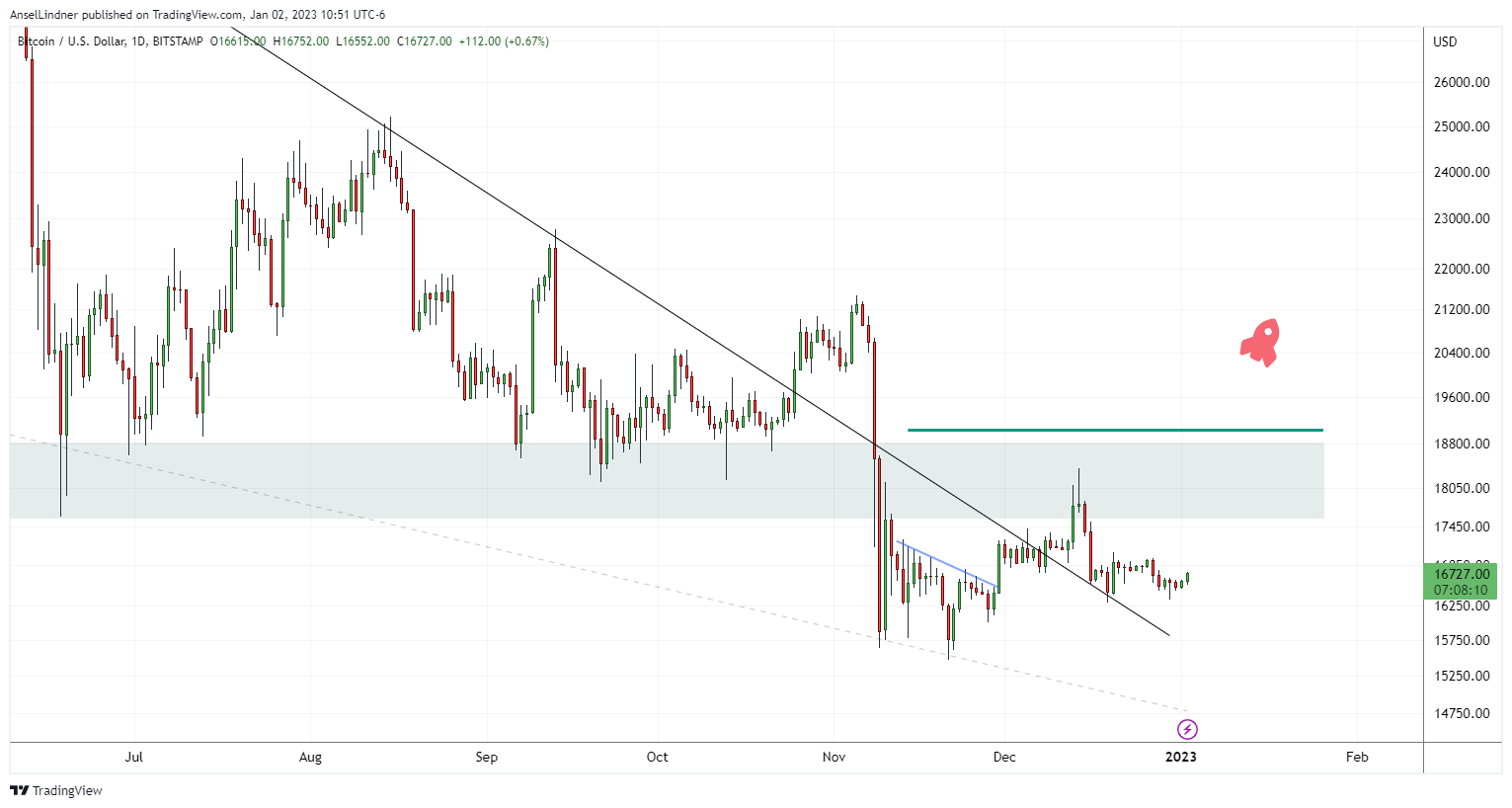 Bring back the 50 and 200-day moving averages from last week. As you can see, we tested the green 50-day again, and now are approaching it for a 3rd time. If we breakthrough, I expect a rapid move into the resistance zone.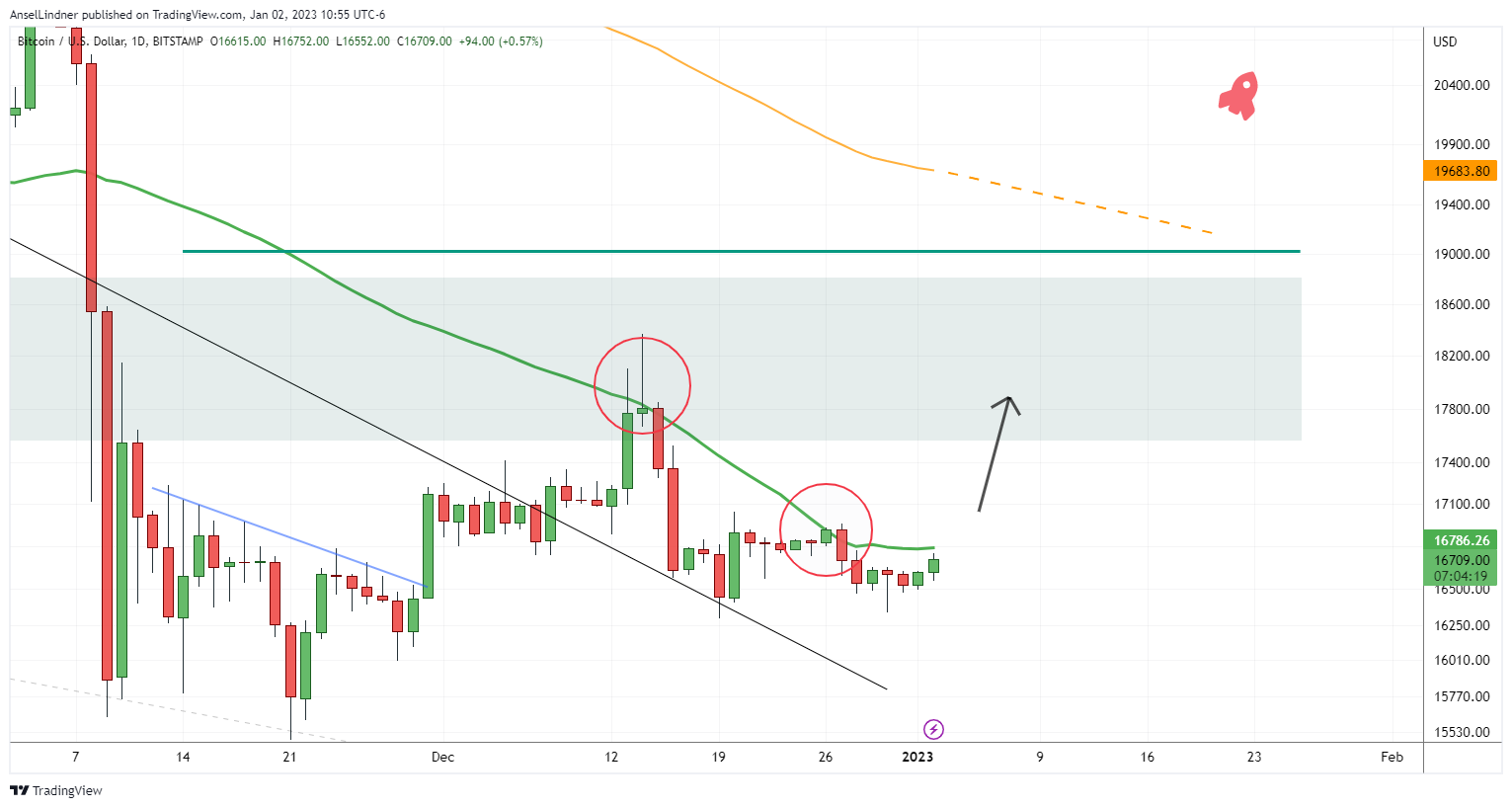 Cloud
The daily cloud on standard setting is showing a set up where we could run side-to-side and test higher in the resistance zone. Flat sides of the cloud are magnets for price, we can also see the cloud on the far right barely turning green.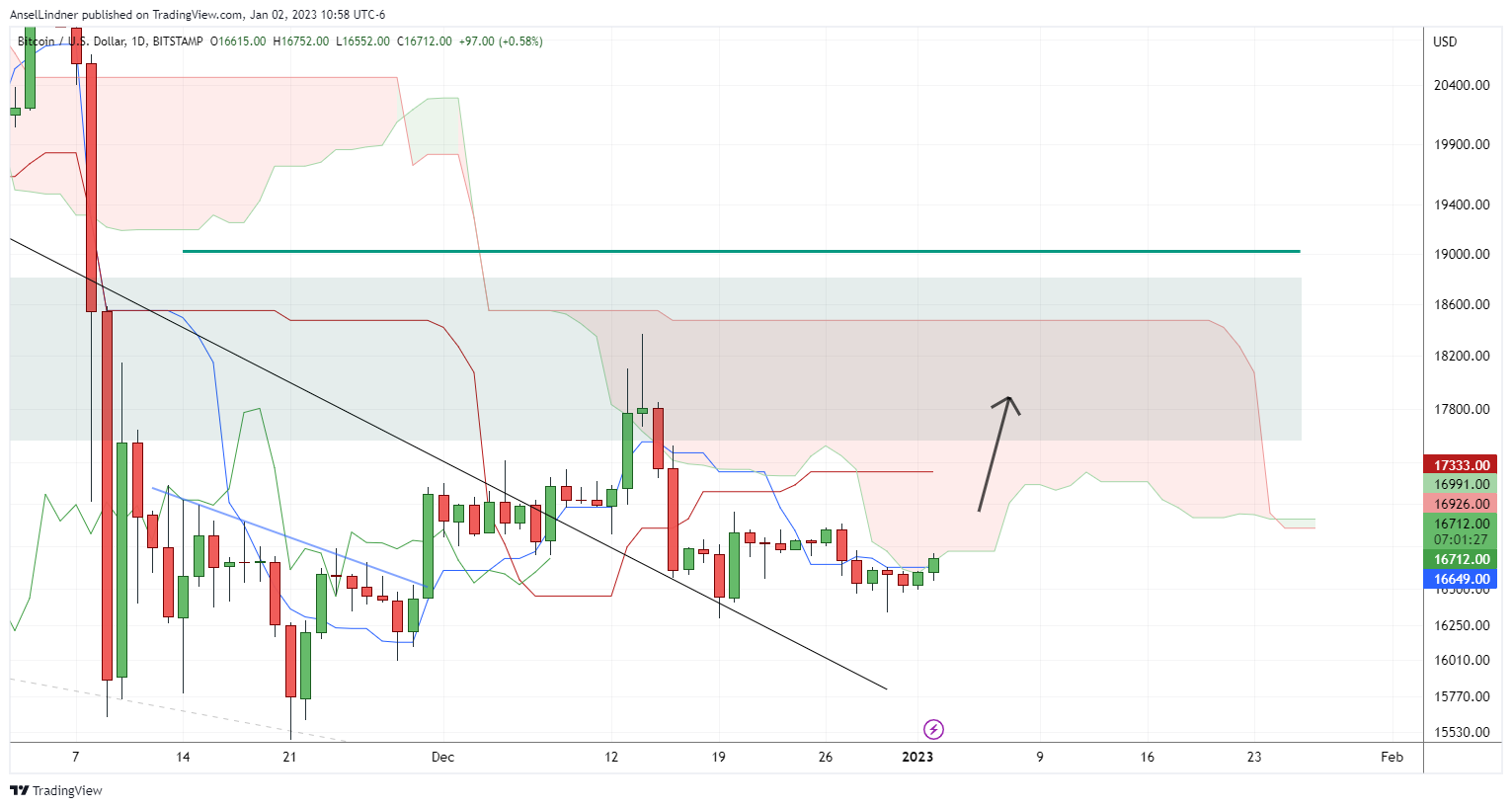 Weekly Charts
Weekly cloud
The weekly cloud is not very pretty, but I'd like to point out a pattern from 2018 that could predict what we are see now. Now this is on extended setting vs standard settings above, which I have explained in the past, are non-standard because of the 24/7 nature of bitcoin.
We are coming up on a bearish twist in the cloud. This symbolizes a period of decrease resistance (or that is how I think of it). When closer to the cloud, price tends to "breakthrough" the cloud at these twists.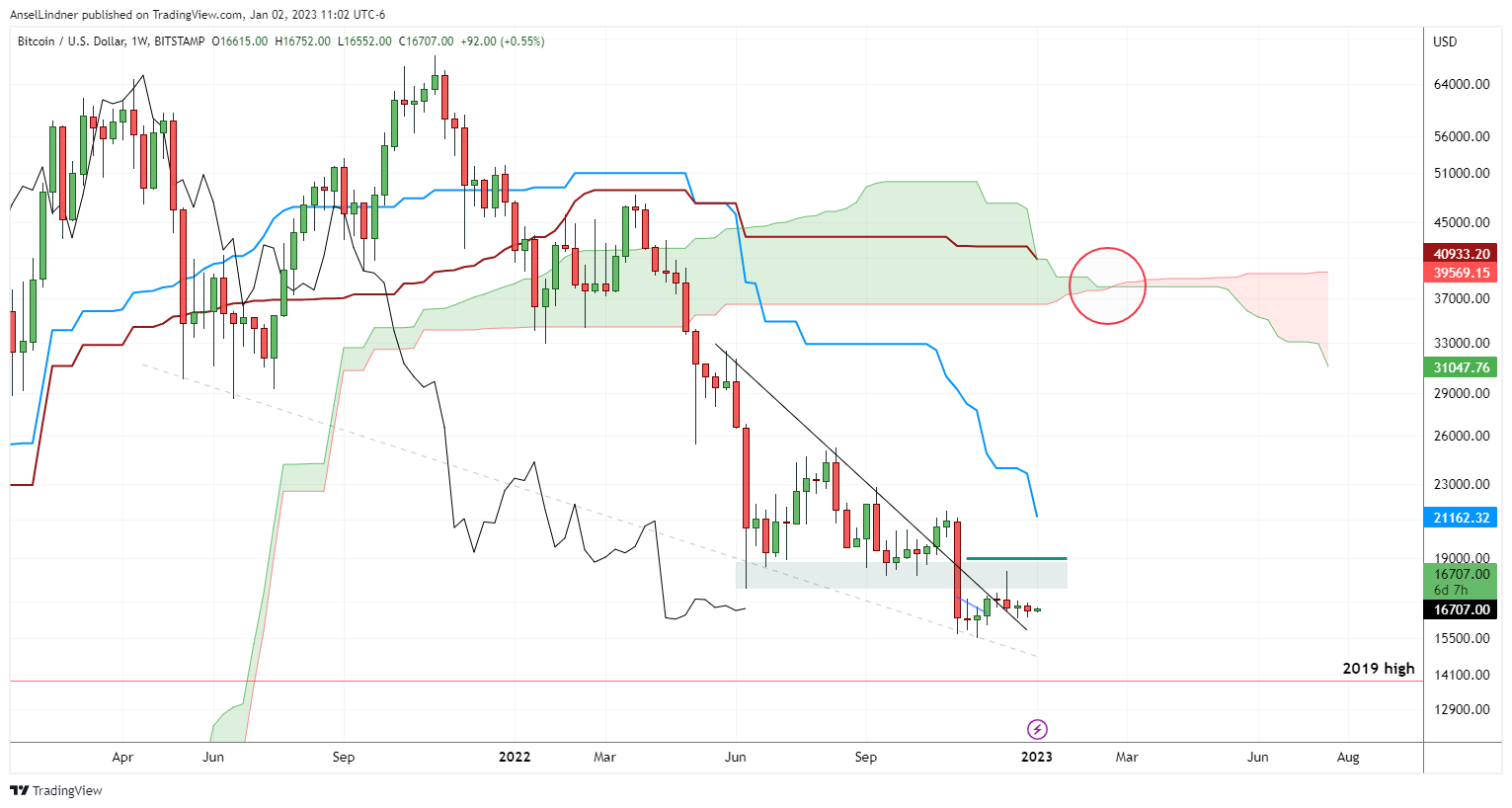 Let's rewind to 2018 and see if something similar happened back then.
Lo and behold, if we rewind the chart to the second week of January 2018, we have a very similar set up. The cloud has twisted bearish, and we are approaching that twist time-wise.
Fast forward 6 months...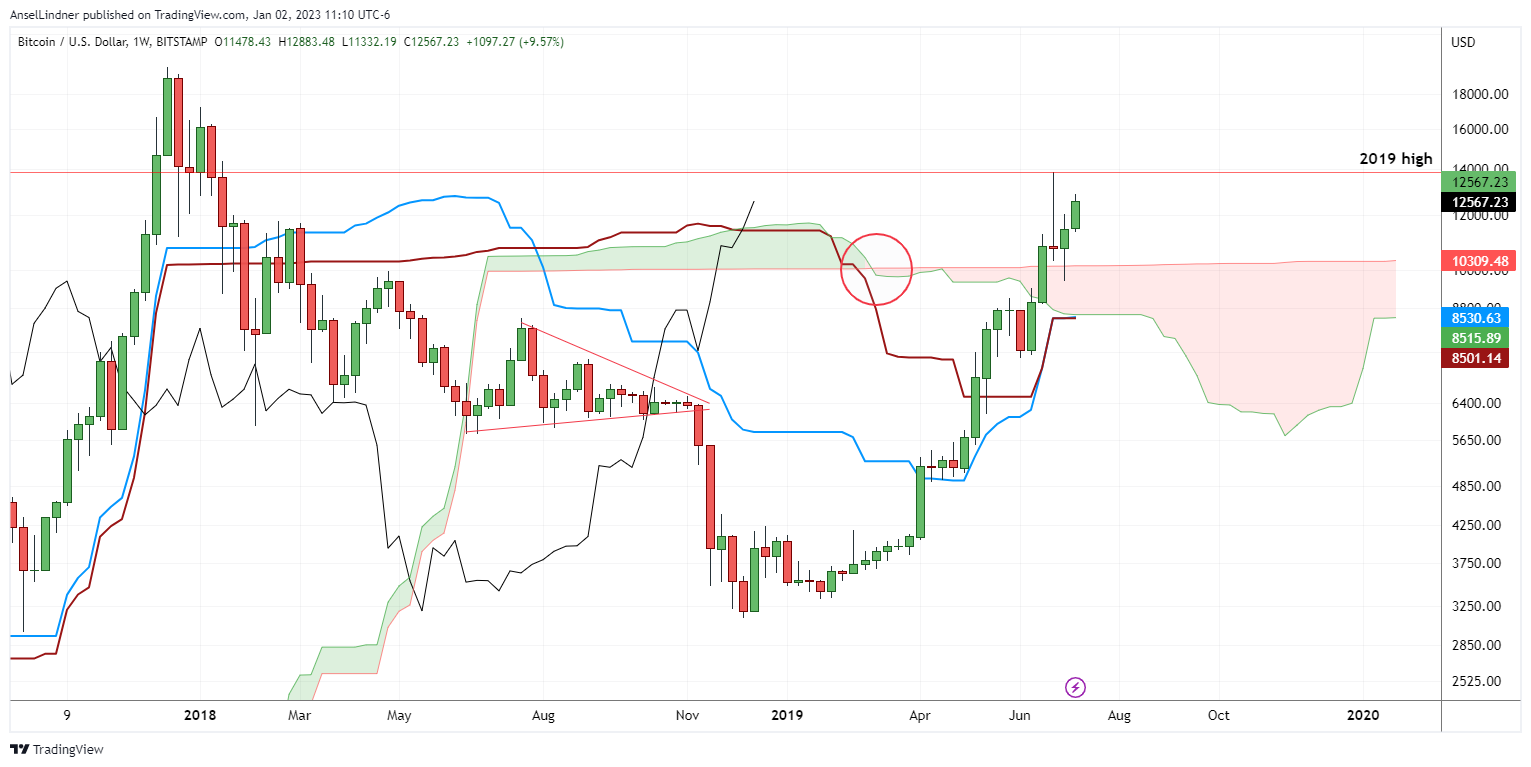 How about back in 2015? This is the bear market that feels psychologically similar to today. Granted the market was much smaller and different than today, but let's take a look and see if we see the same pattern.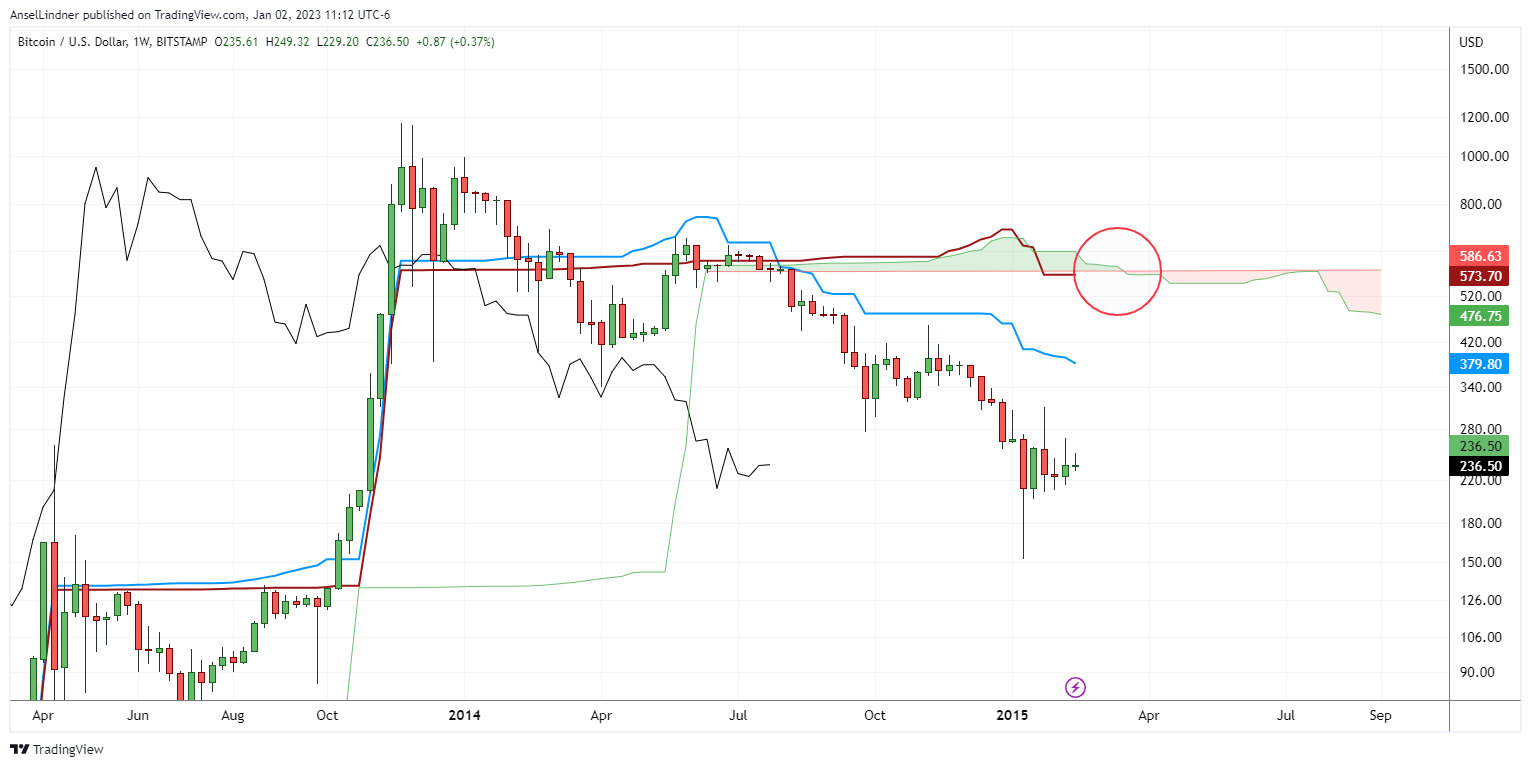 It took a lot longer back in 2015 to turn around, but we got there. I think this delay was likely due to the scaling debate that was RAGING a the time. It simply took people longer to get bullish again.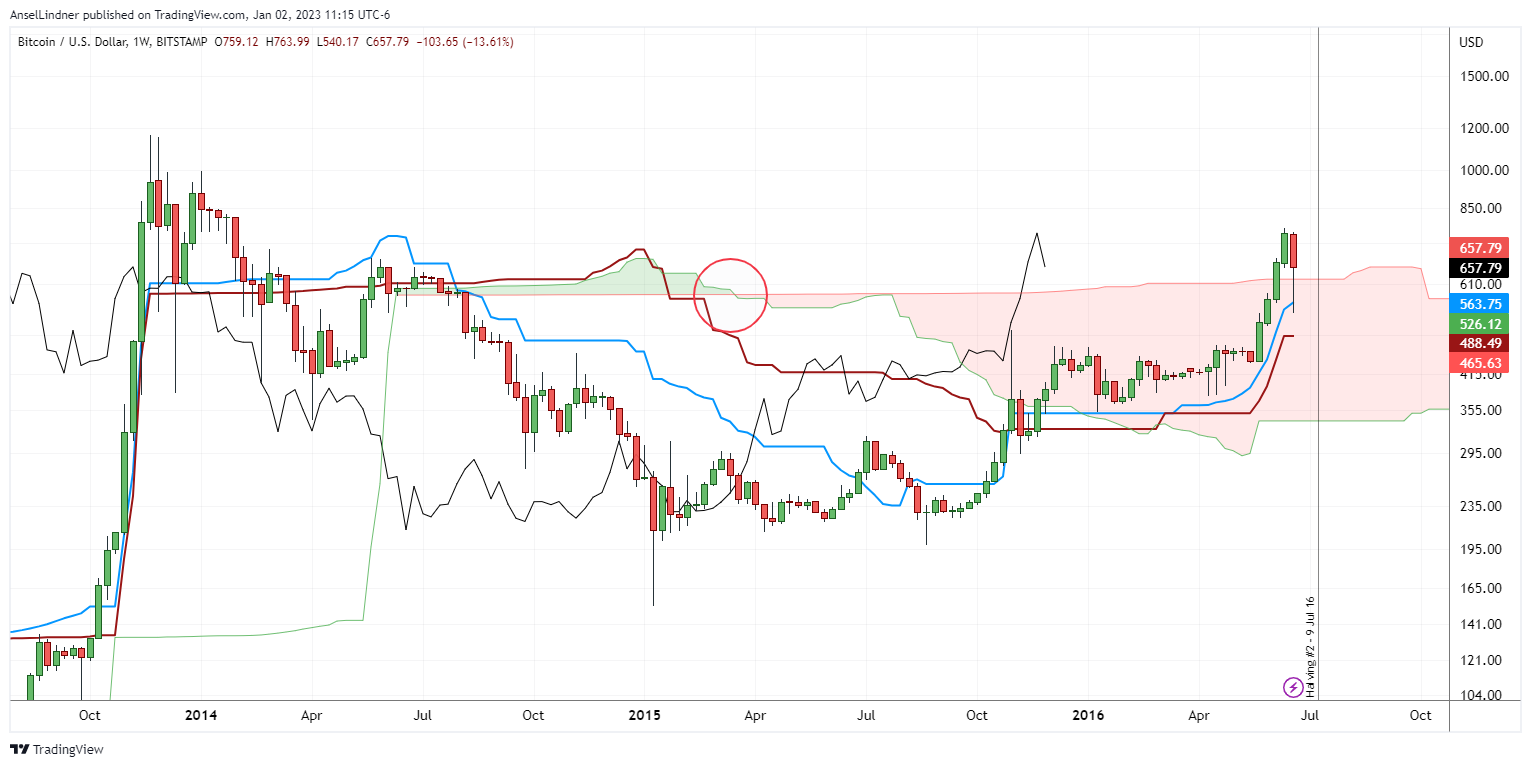 Bottom line, this formation on the weekly cloud marks the bottom of the bear market, but that doesn't become apparent for months.
It is my opinion that the government regulation that is on deck for this year, could in some ways, act like the 2015 scaling debate, by adding uncertainty to the market. However, the more mature market will tend to act like 2019. So we will likely see a hybrid of what's happened in the last couple of cycles.
Price Conclusion
Summarizing...
Short term charts continue to be very stable, with some signs of a bullish shift developing. Daily 50-day could be breached this week, and daily RSI has room to rally
Longer term charts, like the weekly, also show massive consolidation and low volatility. Several indicators are showing possible bullish windows coming up in the next few weeks.
Calls for recession are deafening. US economic numbers are not horrible, China and European numbers look much worse. The dollar (not shown today) has dropped back in to the 103 handle and showing weakness. Traditionally, this is seen as good for bitcoin, but so far, it's not making a difference. Stocks remain stronger than most analysts expected.
Looking at the yearly timing. The beginning of the year is usually free of major crunch points and significant calendar events. Therefore, we should expect a several weeks of calm markets, that can allow them to work their way higher.
Overall, risk of more bad news dramatically decreases with the new year. I'm expecting the bitcoin price to make its way back into the resistance zone, up to possibly as high as $18,500 in the next couple of weeks.
My 2023 predictions: $45k by July, and $60k by EOY
---
---
Mining
| | |
| --- | --- |
| Previous difficulty adjustment | +3.2698% |
| Next estimated adjustment | -3% in ~4 hours |
| Mempool | 1 MB |
| Fees for next block (sats/byte) | $0.07 (3 s/vb) |
| Median fee (finneys) | $0.02 (0.012) |
Mining News
BlackRock, which is Core Scientific's largest shareholder according to FactSet data, already held $37.9 million in secured convertible notes as of Wednesday. The latest $17 million is part of the new $75 million convertibles notes, which are part of Core's prearranged bankruptcy process, the filing says. [...]

According to the restructuring plan, the secured debt convertible noteholders will get equity. The current equity and unsecured holders will get warrants so that as the company grows, they will get more shares, its chief mining officer, Russell Cann, told CoinDesk.
Like them or not, Blackrock is one of the most connected firms on the planet. If they are continuing to bet on bitcoin, this is a good sign for the market as a whole.
FUD based on ignorance, attacking bitcoin mining pool shares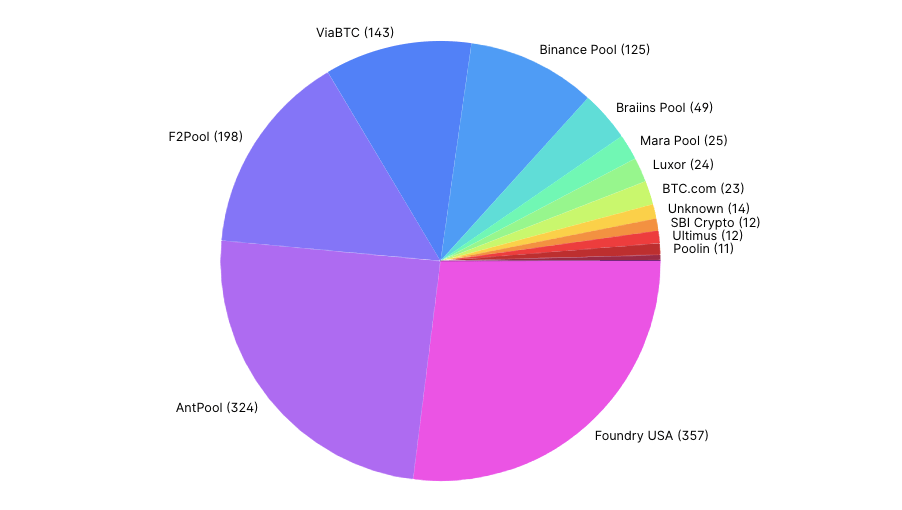 "The centralization of Ethereum has been one of the hottest topics in the crypto industry since its switch to Proof-of-Stake" - at least they got this part right. Ethereum is a centralized mess.
However, Bitcoin's centralization is a problem that concerns the entire market, especially now when only two mining pools produce a majority of blocks.
This isn't a problem, because bitcoin miners aren't locked into a single pool in any way. They can switch whenever they want to. Unlike PoS ethereum, where you cannot yet move your stake, and with no timeline for that possibility.
The article then goes on to talk about Foundry's (a Digital Currency Group company) as a risk due to the company's shaky financials. They liken a pool to a "roof for their clients' mining operations". I'm not familiar with how Foundry runs its operations, but I'd be surprised if they actually managed any facilities. Pools only provide the interface to pool hash rate that makes their income more regular.
Difficulty and Hash Rate
WOW! Bitcoin's hash rate recovered like a monster this week!
Back to near All Time High hash rate despite low price and bankruptcies. This is a majorly bullish behavior.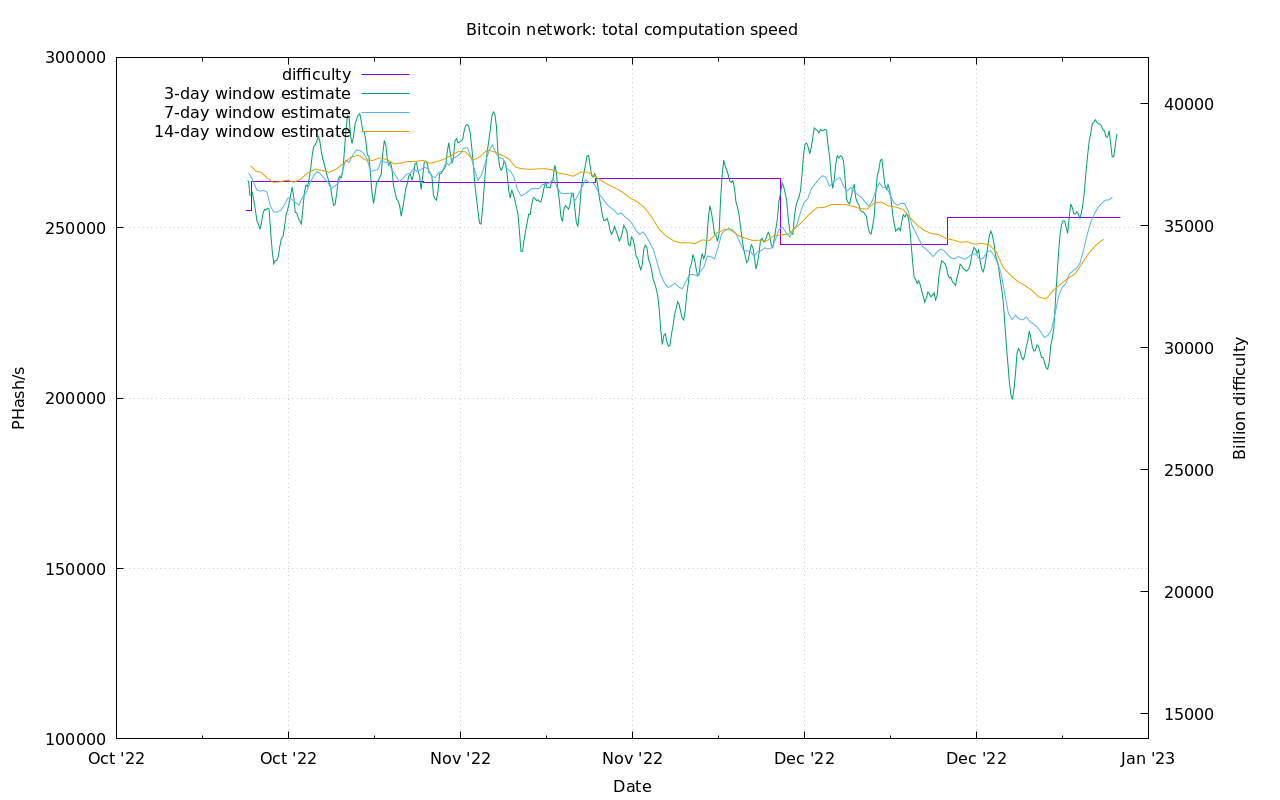 Bitcoin hash ribbons have not crossed back into a buy, but they have turned higher in a notable fashion. If price ticks higher, it is only a matter of time before this crosses.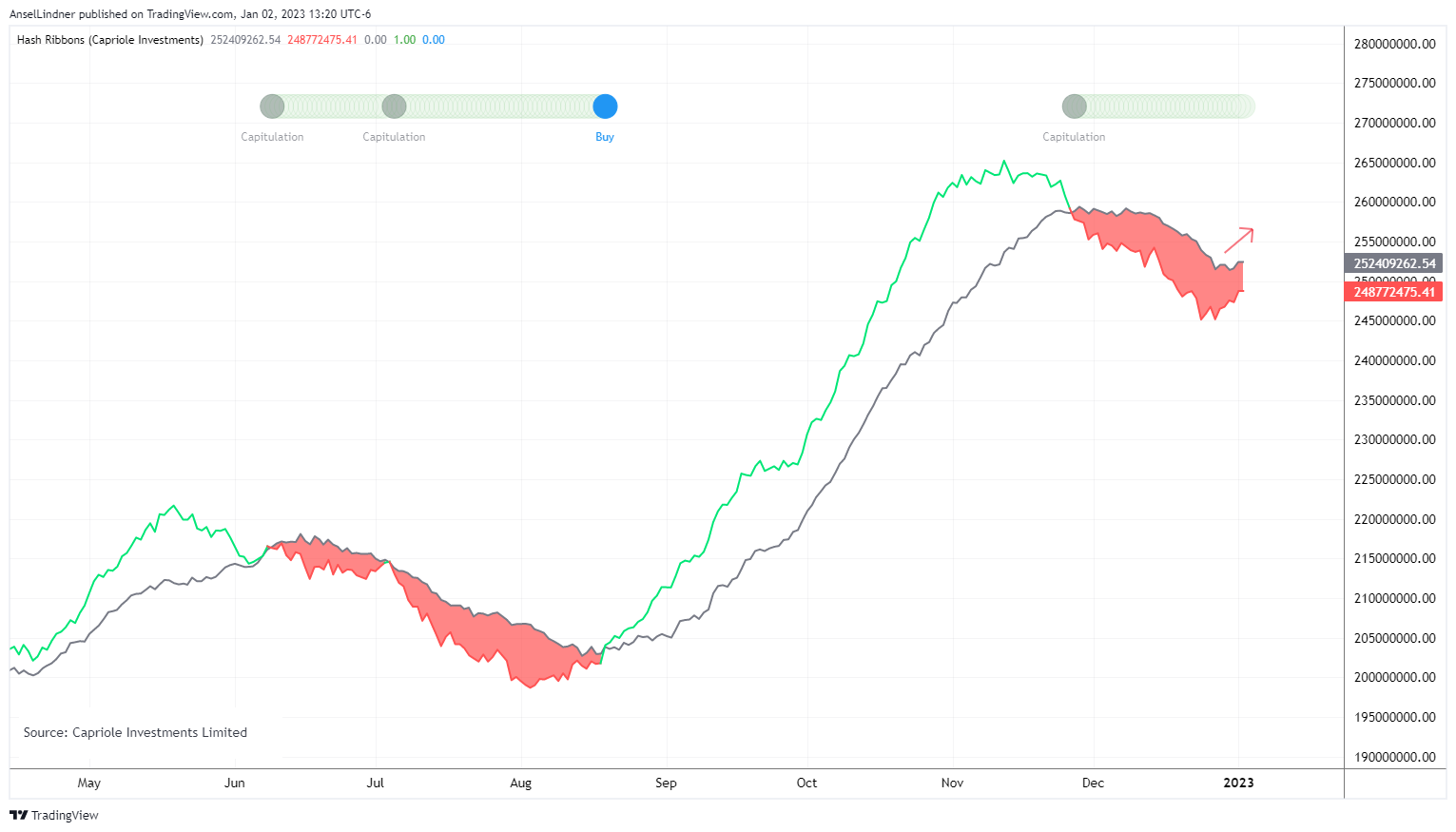 ---
Lightning Network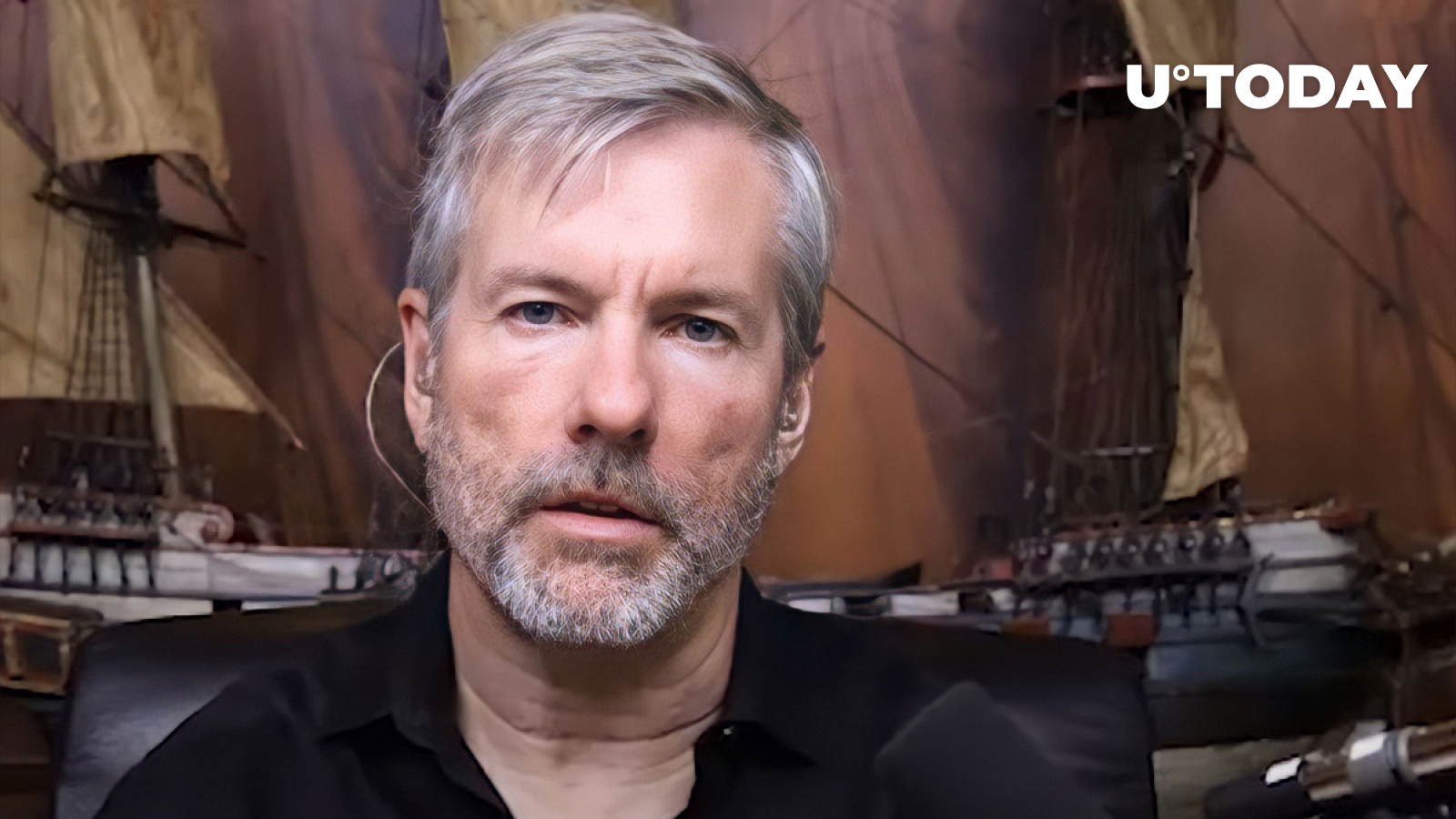 Former MicroStrategy CEO and now executive chairman Michael Saylor said next year the business intelligence giant would launch software applications and solutions based on the Lightning Network. In particular, according to Wu, among these applications would be a Lightning Network version of a browser.
---
💡
Get our book the
The Bitcoin Dictionary
available
on Amazon!
That's it for this week. See you again next Monday!!!
A
---
January 2, 2023  |  Issue #223  |  Block 770,078  |  Disclaimer
* Price change since last week's report