Reports
Bitcoin Fundamentals Report #167
Major inflation is great of bitcoin, Kyle Rittenhouse trial, Bitcoin price analysis, Bitcoin mining stocks, dollar surge and stock-to-flow update.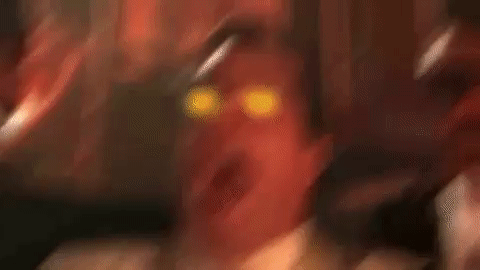 A weekly newsletter summarizing important sectors in bitcoin
by Ansel Lindner
Major inflation is great of bitcoin, Kyle Rittenhouse trial, Bitcoin price analysis, Bitcoin mining stocks, dollar surge and stock-to-flow update.
In Case You Missed It...
Visiting the content on other sites helps tremendously, like bitcoinmagazine.com and YouTube! The best way to support is by sharing to family, friends and social media groups, or becoming a paid member!! Thank you for reading.
Get the Bitcoin Dictionary now on Amazon!
Market Commentary
| | |
| --- | --- |
| Weekly trend | All-time-high |
| Media sentiment | Neutral |
| Network traffic | Rising, still low |
| Mining industry | Very strong |
| Market cycle timing | Second half of bull market |
I'm traveling again this week and put together a great issue, but it might be more brief than the usual. I'm just coming back from speaking the Kansas City Bitcoin Day event last week, and now we are headed to a race in South Carolina that my wife is running in.
There's not a ton of news from the bitcoin space specifically, I touch on some stuff from the mining sector and price below, but there is TONS of news in related topics of macro and freedom.
Let's dive in.
Blazing Hot Inflation, CPI and Bitcoin
US inflation came in blazing hot this month, 6.2% year-on-year, and 0.9% month-on-month. Huge numbers. It was the highest CPI print (Consumer Price Index) since 1990!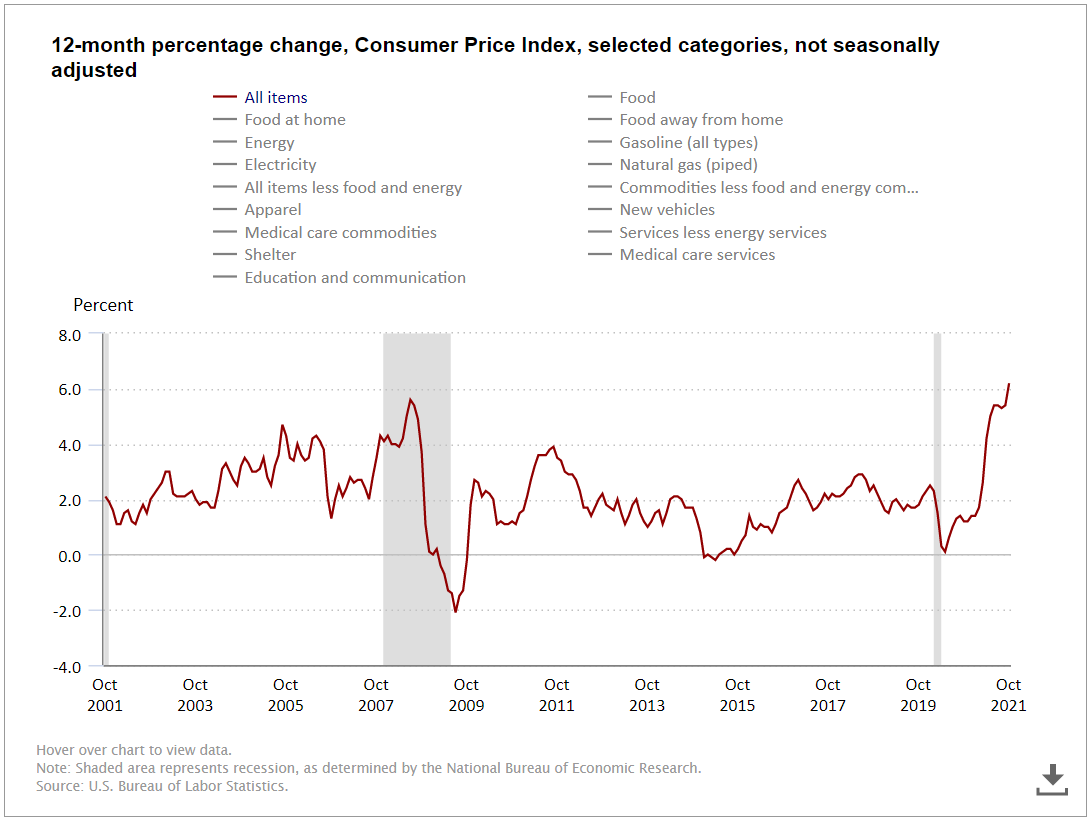 This is great for bitcoin! It doesn't matter if it's real inflation or not, bitcoin has an army of supporters screaming that bitcoin is a hedge against inflation. They aren't wrong per se, what they are wrong about (just like they have been wrong for the last 12 years) is calling our current economic situation as real inflation.
If you are a regular reader of this letter, you'll know my leanings on inflation, but let me sum it up quickly for people:
Inflation is an increase in the money supply, not prices.
Since money is credit today, you must have a sustained increase in private credit to be inflation.
Prices go up and down for many reasons. Inflation is only one possiblity, another is crashing economic activity and supplies.
Inflation is a lagging indicator. Inflation follows an expanding economy.
Growth = credit expansion = inflation = higher interest rates. The dead giveaway in the economy right now is interest rates.
The way it works is, you simply cannot have inflation without interest rates rising. If you have rising prices without interest rates rising (I don't mean from 1.2% to 1.6% on the 10-year, I mean like up to 5%), we must look elsewhere for the reason for rising prices. In this case, they can be attributed to a change in supply chain behavior (mass upfront ordering) and physical supply chain bottlenecks (ports and trucks).
Kyle Rittenhouse
​I've spent many hours this week watching the Rekieta Law live stream of the Kyle Rittenhouse trial. Rekieta Law is just one channel in a growing segment on YouTube some call LawTube. This week's streams have been a large group of about 10 lawyers watching and commenting on the case as it is happening. It's very interesting to watch. I think it's a very positive development, demonstrating people's growing interest in the legal system as a way to inform yourself when the MSM actively lies and tries to keep us uninformed and at each other's necks.
The MSM and radical leftists cannot stand Kyle, a young, white male playing a heroic role in riots, riots they instigated last summer. Exercise of our right to keep and bear arms is the only thing that can push back on tyranny. It has become crystal clear in the trial that Kyle is an upstanding young man who was there that night to bravely offer first aid and attempt to protect the community from fires started by violent rioters.
Kyle's actions are so unimpeachable that in the hundreds of videos and angles of these incidents, Kyle is never once seen as anything less than virtuous and highly skilled at defending himself. If he's found guilty it will be because it's a political lynching. Kyle could become an example of virtue and bravery, and wow, that boils radical leftists' blood. He pierced their carefully crafted hate-filled narratives, created to divide our society.
The MSM is an instigator of the radical agenda. Their coverage of this case is as nasty as last year when it was happening. Race-baiting drivel meant to polarize the uninformed segment of society. Remember this one?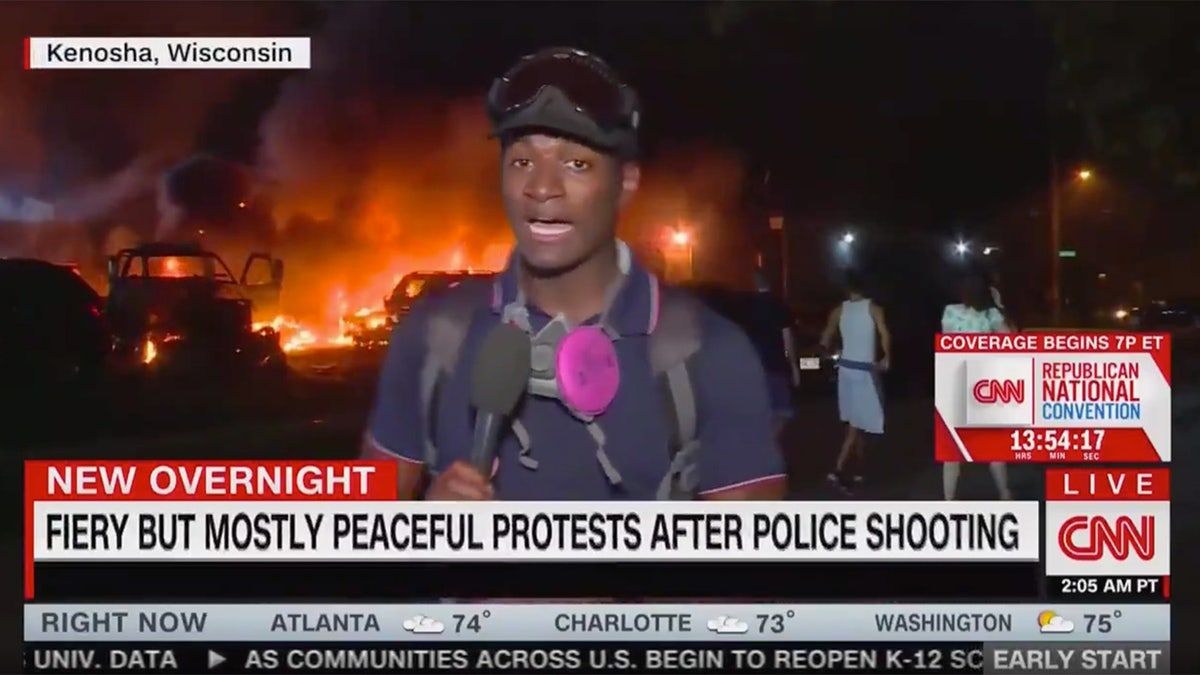 I expect Kyle to be found not guilty on all charges, expect perhaps the misdemeanor gun possession.
The MSM and the radical left are trying to instigate yet another riot after this case by directly lying to their uninformed audience, but I don't think it'll work this time. The weather is getting very cold and the country has mostly moved away from the violent left anyway.
I hope this case goes a long way to healing some of the divide that the MSM creates. This is a positive message we can come together over, protecting our community and ourselves.
SHARE our content with friends and family!
Quick Price Analysis
Weekly price*
$63,074

(+$1,787, +2.9%)

Market cap
$1.192 trillion
Satoshis/$1 USD
1,582
1 finney (1/10,000 btc)
$6.30
Become a paid member to access our much more in depth technical analysis on the member newsletter.
Bitcoin Daily Chart
Price has broke above ATHs, but is not making a solid move higher yet. I've been watching this very closely over the last week, and the small marginal higher highs have me slightly worried. There is now a divergence on the daily, meaning a higher high in price but a lower high in the RSI (red lines).
The blue lines is a guess on what we could see in the next few days, which is outlining a hidden bullish divergence, or a lower low in the RSI with a higher low in the price.
The divergence is not horrible yet, which leads me to think any pull back will be minor.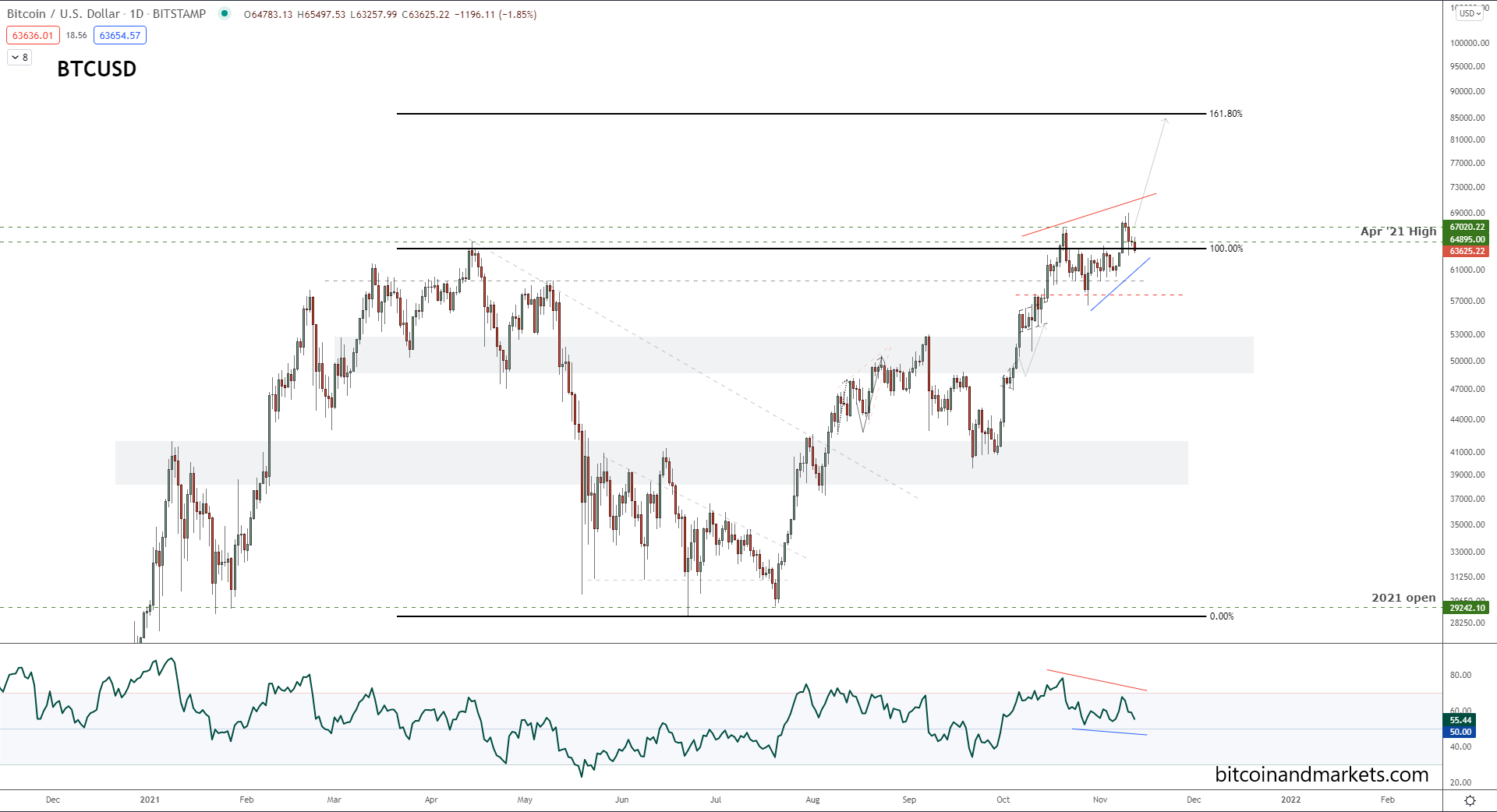 Bitcoin Weekly Chart
The weekly chart still looks like it's ready for takeoff, with a small worry about the wicks showing more resistance than previously believed.
An interest development in bitcoin futures is the recent spike in the aggregated open interest. That's the amount trades open across the industry. There was a huge spike as bitcoin was breaking ATHs and during the CPI announcement this week.
Of course, what happens when everything gets on one side of the boat? It tips over.
That's what I think happened here. People were too bullish and greedy and the market decided to teach them a quick lesson by selling off almost 10%. However, this is only a temporary deviation and price will continue up soon.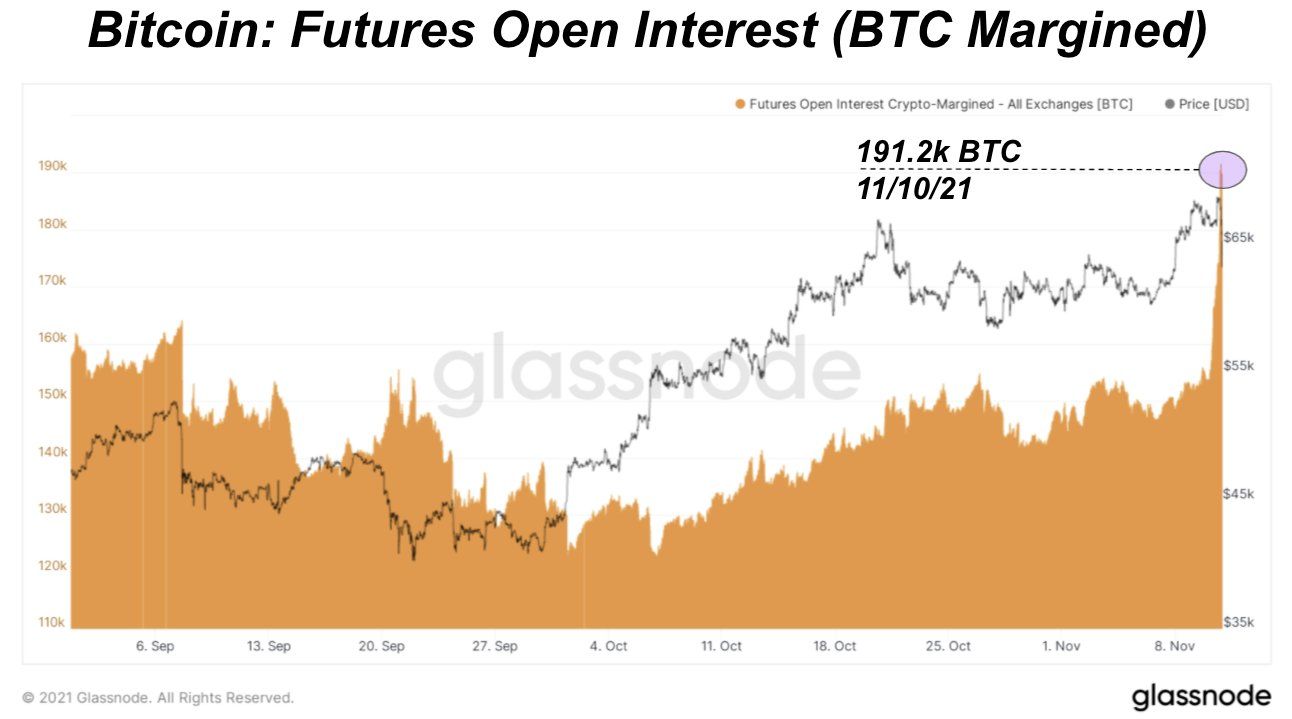 Overall, price is still bullish with a chance of a pull back to $60k. The rest of the year still looks very good for a big rally over $100k to my ultimate cycle target in Q1 2022 of $200k+.
Get more price analysis, Sign up for the Bitcoin Pulse!
---
Mining and Development
| | |
| --- | --- |
| Previous difficulty adjustment | +7.85% |
| Next estimated adjustment | +4.4% in ~1 days |
| Mempool | 3 MB |
| Fees for next block (sats/byte) | $0.98 (11 s/b) |
| Median fee (finneys) | $0.71 (0.11) |
Mining Stocks Rally
Many bitcoin mining stocks have started trading recently as I've written about on prior Reports. This week saw an across the board surge in their price as the bitcoin price spiked. Some miners rallied as much as 20%, while others rose between 5-10%. This could be a great way to play bitcoin, and take out some of the volatility.
Here is the growing list of stocks for bitcoin miners. Some are traded in the US and some in Canada.
Marathon Digital ($MARA)
Riot Blockchain ($RIOT)
Bit Digital ($BTBT)
Bitfarms ($BITF.V)
Hive Blockchain ($HIVE)
Hut 8 ($HUT)
Cleanspark ($CLSK)
Sphere 3D ($ANY)
Greenidge Generation ($GREE)
Stronghold ($SDIG)
Argo ($ARB.L)
Cipher ($CIFR)
These companies are attracting massive investment because margins are nearly 90% on newly mined bitcoin. Their costs are between $5,000 to $14,000 per coin. Also, many miners are holding all the coins they mine, paying for operations by either raising money elsewhere or lending out their bitcoins into the fast growing industry.
Hash Rate
Very solid hash rate and no sign that the energy crisis has caused any slowdown in the recovery of bitcoin mining. As I've said for years, bitcoin mining bids for energy in the free market. No one mandates that this energy has to be used for mining, but the thing is, it's very profitable to do so. Bitcoin mining exemplifies the massive growth opportunity in bitcoin relative to the traditional space caught up in the ESG

Difficulty

---
Miscellaneous
Coinbase's Profits Crash in Q3
Coinbase when public this year, and in Q2 they reported $1.6 billion in profit. The Q3 report shows a massive drop in profit down to $406 million. Some defenders of Coinbase are pointing out that that is still a big increase over Q3 2020, but you want to see continual growth.
The drop of almost 75% quarter-on-quarter happened despite the insane NFT and altcoin bubble. Not a good sign for Coinbase, which I love, because Coinbase and their CEO/founder Brian Armstrong is a ponzi manipulator, enemy of bitcoin.
Hopefully, this report means there's a waning interest in altcoin scams and NFTs.
Dollar Surge
Despite the blazing hot inflation print this week, the dollar surged through resistance and looks like it's getting stronger!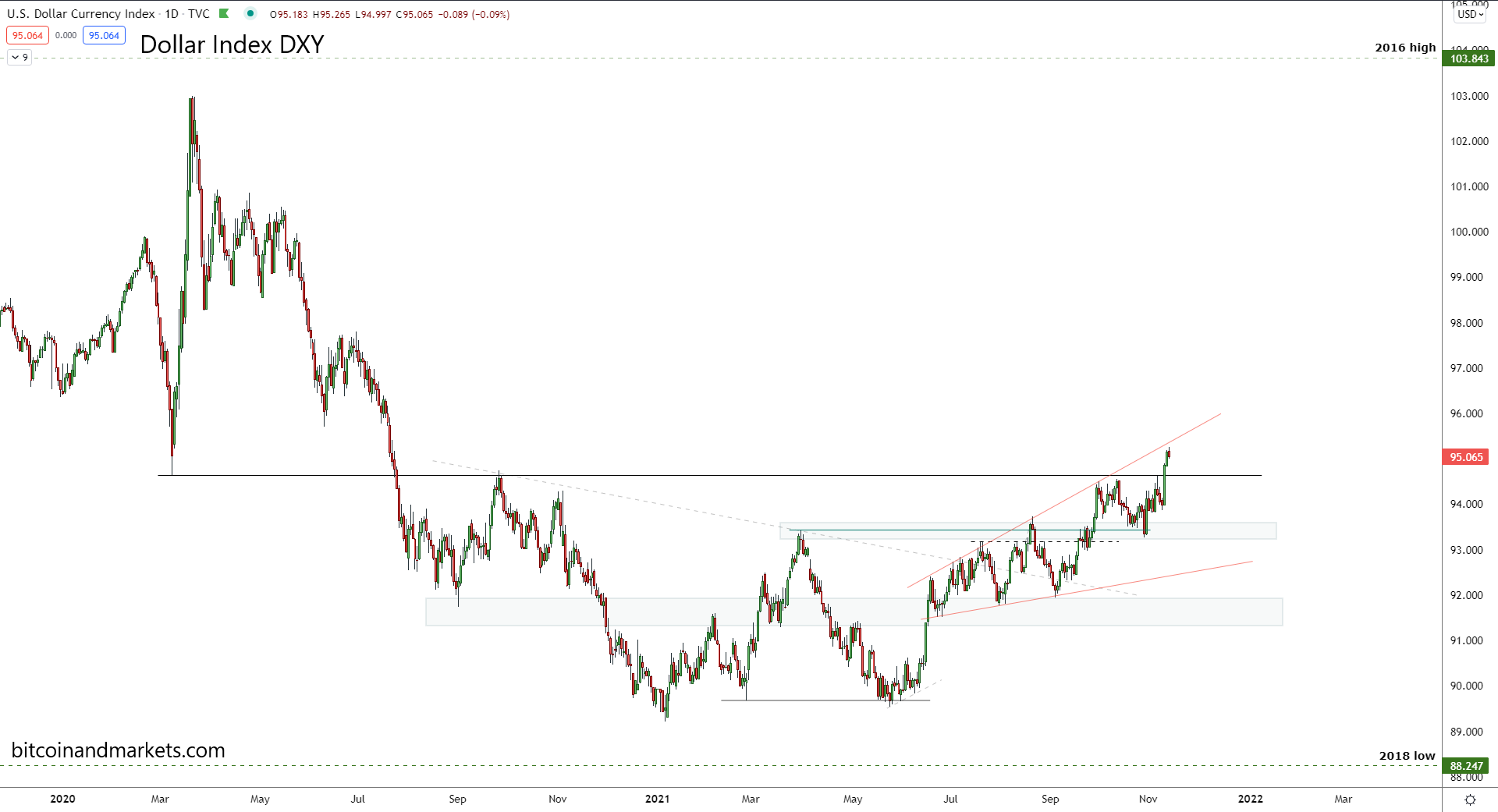 This doesn't fit with common sense and inflation numbers around the world, by the way. This has to be answered, how is the US CPI exploding higher than other currencies, yet is also exploding higher in the forex pairs.
CPI in Europe is 4.1%, Japan is 0.2%.
If those currencies are experiencing less "inflation" yet the dollar is advancing against them, how does that square? Well, because prices and CPI are not real inflation. Real inflation is about net credit expansion; not CPI, QE or Government debt.
The real state of the economy is bad. Prices are surging because of economic slowdown, supply chain bottlenecks, which don't lead to a reinforcing loop of expansion. What we are currently experiencing in the global economy is contraction. When a contracting economy meets higher prices, what happens? Still less spending and economic activity.
Stock-to-flow
I include the stock-to-flow model here quite a bit, and it really triggers a certain part of the bitcoin community. They hate the idea that we are not in control of our own actions, that human behavior is predictable (almost down the dollar). But this model continues to surprise and be dead on accurate.
With a typical overshoot of the cycle range, bitcoin could easily hit $200k in the next 6 months. The really exciting part is 2025, when bitcoin is going for $1 mil.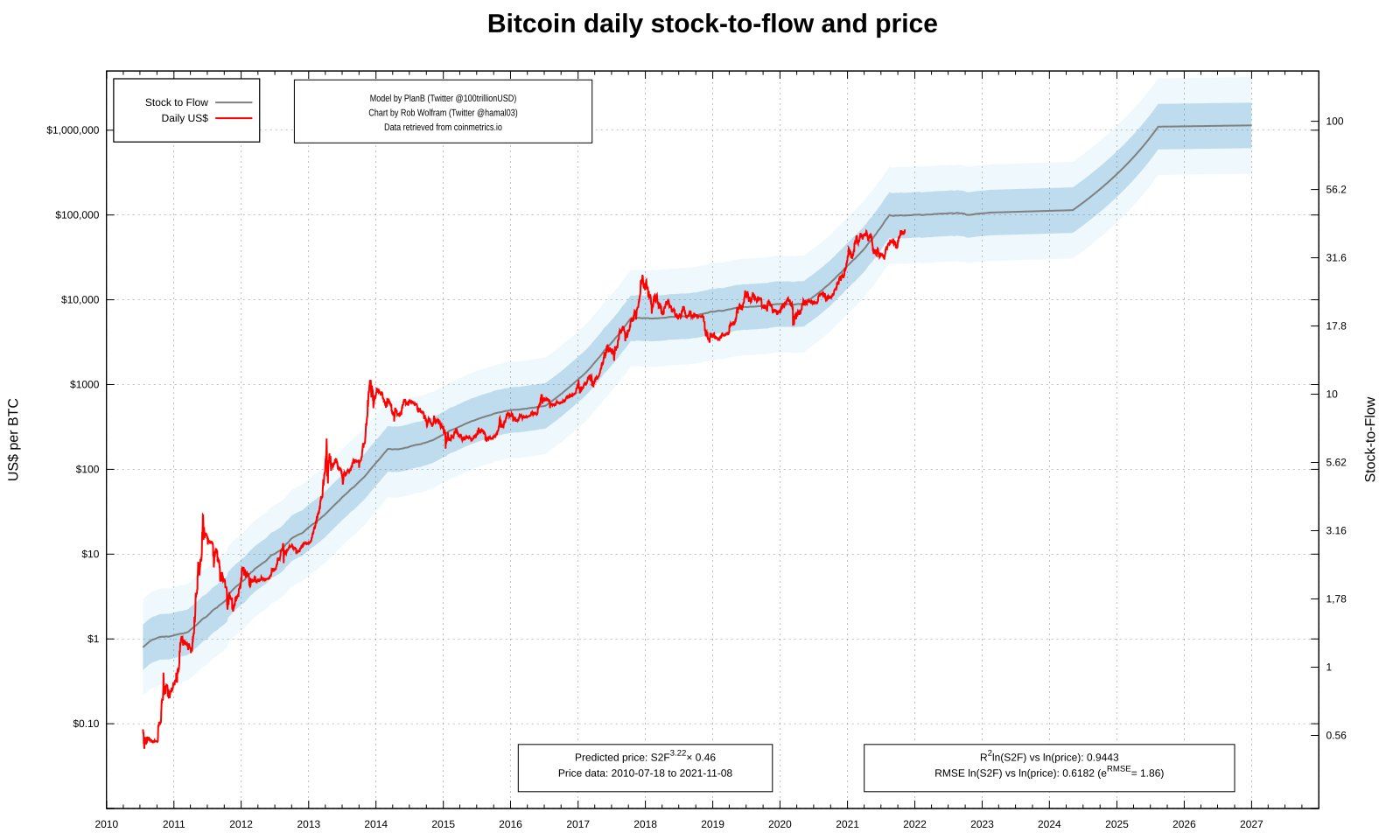 Get our book the Bitcoin Dictionary now on Amazon!
Were you forwarded this newsletter? You can subscribe here.
Podcast links and socials on our Info Page.
If you liked this newsletter please SHARE with others who might like it!
November 12, 2021  |  Issue #167  |  Block 709,401  |  Disclaimer
Meme by: @bitcoinordeath
* Price change since last week's issue