Reports
Fundamentals Report #93
June 12, 2020 | Issue #93 | Block 634,412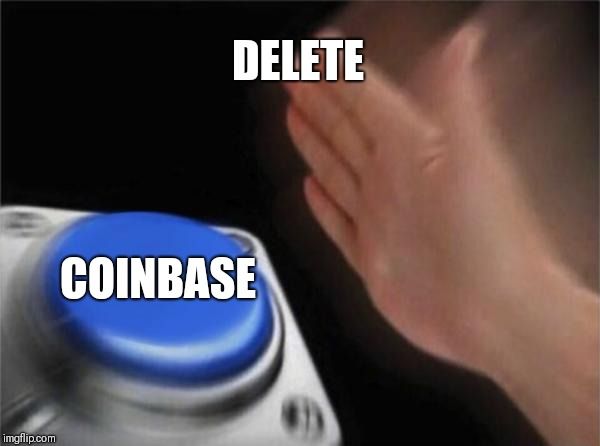 June 12, 2020  |  Issue #93  |  Block 634,412  |  Disclaimer

The Bitcoin Dictionary paperback is LIVE on Amazon!
Vital Stats
Weekly price:  $9353  (-$399, -4% on the week)
Mayer Multiple:  1.14
Est. Difficulty Adjustment:  +14% in 3 days
Prev Adj:  -9%
Sats/$1 USD:  10,679
1 finney:  $0.93
---
Market Commentary
This week will be a short Market Commentary but we have quite a few news links for you below.
Overall, the sentiment in bitcoin is bullish, but some of the social events like the riots and stocks have stolen the attention of even hardcore bitcoiners. There is a massive accumulation and shake-out happening below the surface. Many fresh faces since March will get bored as volatility in the traditional stock market makes them FOMO in to buy the dip there. Bitcoin is the rational, slow moving, fundamentally driven asset in these wild times.
---
Other Top Stories
Fidelity Says a Third of Big Institutions Own Crypto Assets
Fidelity conducted a survey of large instiutional investors, with 1/3rd of respondents said they owned "digital assets". Coinbase wants to sell blockchain analysis software to the IRS and DEA a year after its Neutrino acquisition
Last year, Coinbase acquired Neutrino, an Italian spying firm which boasted supporting human rights abuses of major governments via online tracking. The acquisition caused an uproar in the bitcoin space, and Coinbase was forced to fire of the whole Neutrino team to pacify the community. Come full circle, Coinbase is now wanting to sell out their customers to those very same people Neutrino served for so many years, using the very same technology. #DeleteCoinbase
Serious Coinbase 'Surveillance' Warning Sparks Massive $200 Million Bitcoin Backlash
Users exit Coinbase en masse after their latest infringement on their customers. On Jun 7th alone, users withdrew $214 million more bitcoin than was deposited. That number is likely several times higher over the whole week.
Microsoft launches beta version of decentralized identification system on top of the Bitcoin blockchain
Built on bitcoin. The Layer 2 Bundle of add-on protocols continues to grow and scale. This is a very interesting new privacy/identity mixed protocol from Microsoft.
Hackers blackmail exchange with $5 million of Ethereum fees
This article speculates why two ethereum transactions in the last couple days had enormous fees. It's possible hackers gained control of an exchange's wallet but could only send transactions to white-listed addresses. The hackers then came up with a ransomware type of attack, using high fees to burn the exchange's money. This shows the hackers are willing to cost the exchange if they didn't pay a ransom.
Raoul Pal and Real Vision reveal their scammer ways
Raoul Pal has a history with bitcoin. He refused to learn anything in 2015-17, instead spreading FUD during the scaling conflict. Recently, he seemed to have come to his senses and done some homework, however, in a recent email to subscribers, he and Real Vision showed their true stripes. They are setting up to pump altcoins to scam readers. #SCAM
---
Price
Weekly BMI |  0 : Neutral
Price went our way over the last week, pulling back slightly in a continuation of the post-halving consolidation. Once again, bitcoin was correlated with a large drop in the traditional markets, but the move in bitcoin was quite reserved this time. We do expect more downside over the next week or two, which will be a great opportunity to accumulate before price breaks out above $10k for good in the next few months.
Price has yet to test the support zone in the range from $8400-8800 signaled by several different indicators. That is the target if price does consolidate further.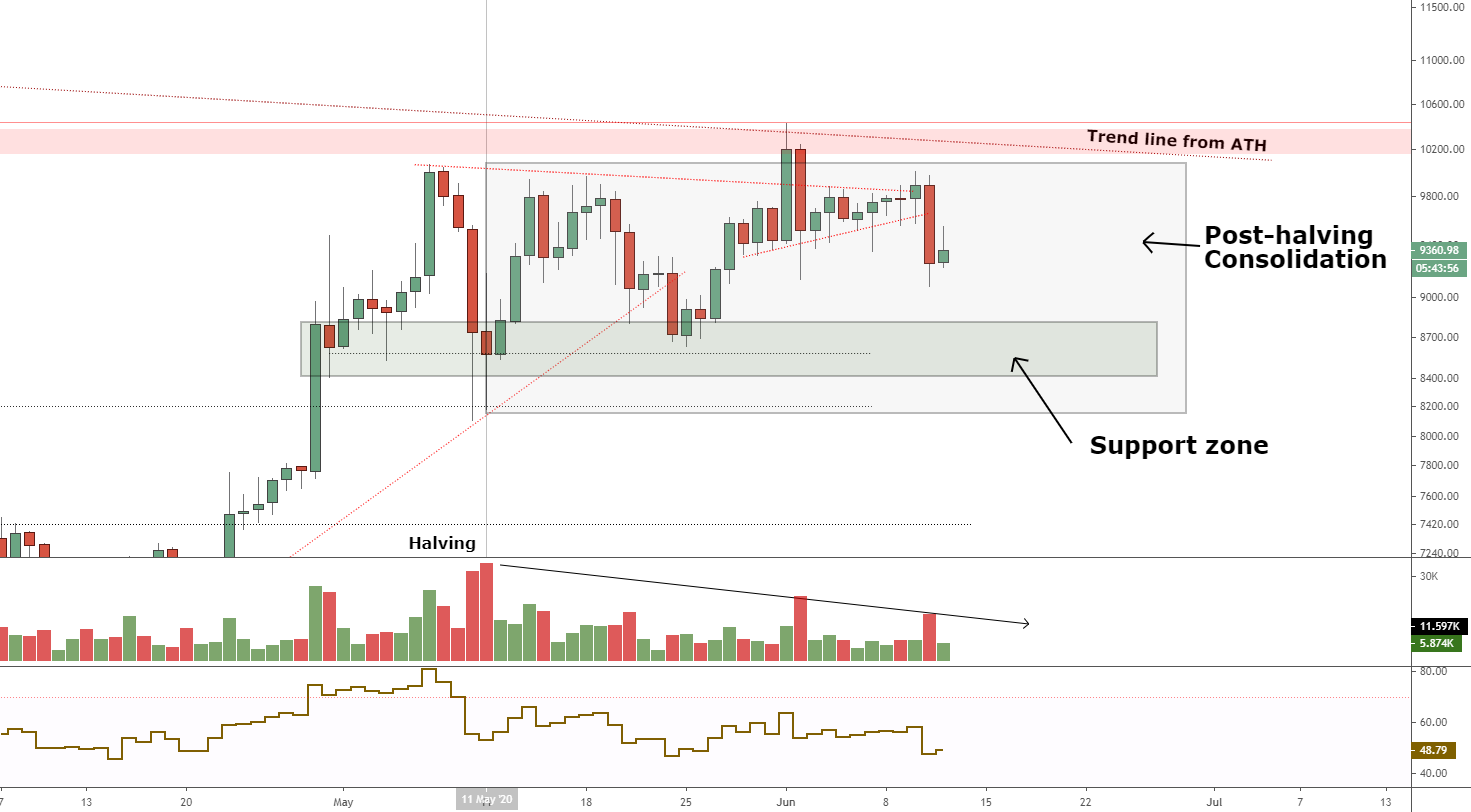 ---
Mining
Hash rate is surging. The upcoming adjustment in 3 days is estimated to be +14%, an absolutely huge number considering price is flat and we just had the halving. This surge is due to several fundamentals; 1) next generation mining equipment is coming online, 2) massive new capital expenditure in the US, 3) improving weather in China, and 4) a building competition for market share.
The last fundamental above is interesting, because one would expect hash rate to be dropping with flat price and reduced reward. However, well financed mining operations are taking this opportunity to drive marginal players out of the market and capture market share.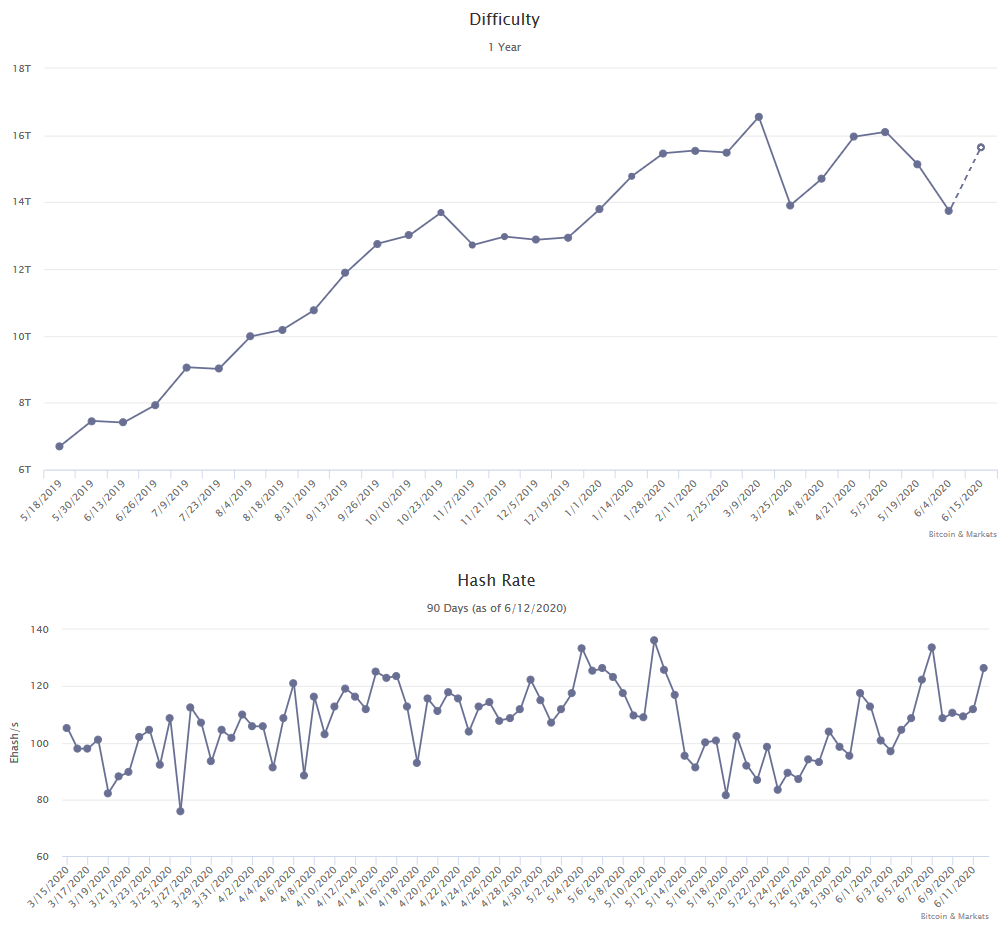 ---
Stablecoins / CBDC / Altcoins
Tether Altcoin Dominance (USDT's % of entire altcoin market cap) : 10.3% (+0.3%)
Altcoins were able to remain coupled to bitcoin during this sell off, but as price works its way lower, it will become more expensive for altcoin whales to maintain this peg. And why do that, if they can dump on retail bagholders now, and re-buy lower? Coinbase just announced the addition of 18 new scam coins, which should be a signal that some insiders of those coins are going to want to dump. This space has a long history with pump and dump factories, Coinbase is only the most professional outfit.
In this tweet, by @n3ocortex, we see an interesting chart showing ETH building up on exchanges, while bitcoin is withdrawn into hoards. This is another alarming signal for ETH in our opinion. There's plenty of ETH on exchanges to sell, along with a irrational exuberance in their small community, could combine to really hurt retail in the coming small drop. On the other hand, it's bullish for bitcoin, because in a traditional stock market sell off, bitcoin will be more stable.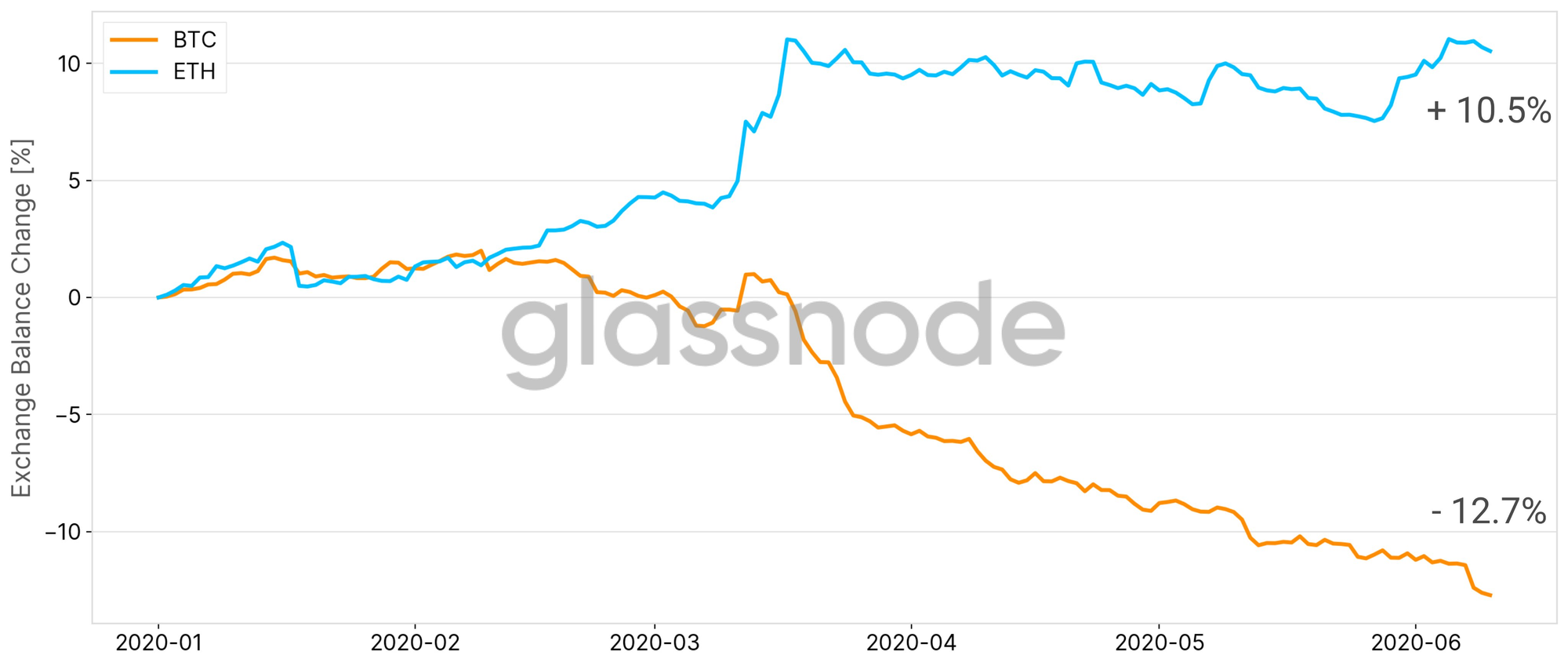 ---
Macro
The dollar is bouncing off the weekly bottom in an almost perfect timing with the end of the quarter (specifically for Eurodollar futures, expiring today). As stocks slip, bond yields dip back to recent lows, and risk returns, the dollar should rally hard.
This quarterly pattern should continue, with the biggest effect being the Sept-Oct rollover. In 2008, the end of Q3 was the trigger, and in 2019, the end of Q3 saw the foreshock in REPO markets. We are expecting the dollar to be stuck in this patter until it breaks out to the upside.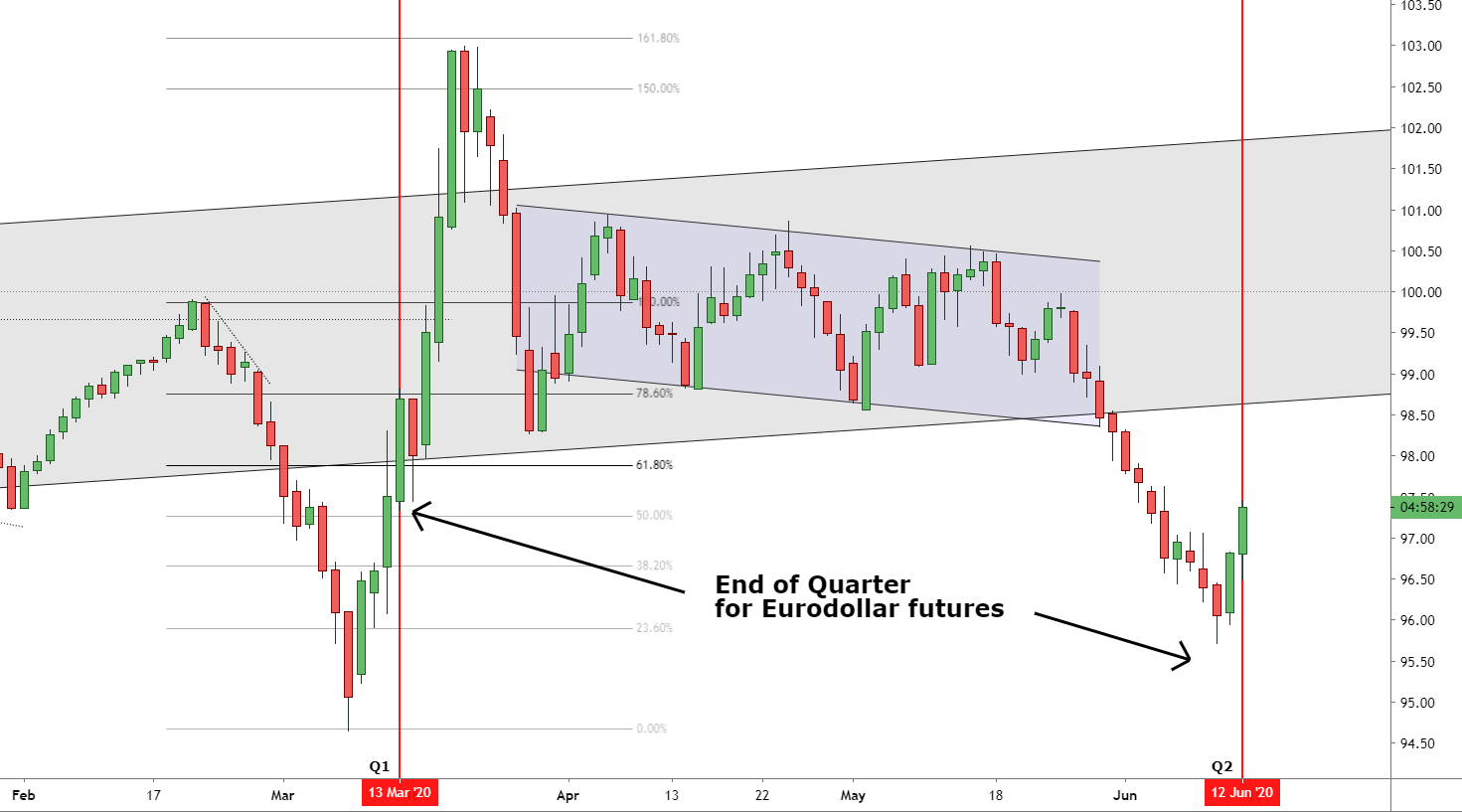 ---
Miscellaneous
From digitaliknet's tweet: "I just replaced S/F 365 days line with S/F 463 moving average. This is because 463 has proven to be more fit to historical data. Credits go to @PrestonPysh for this suggestion. LIVE: https://digitalik.net" Preston speculates why this may be in the comment section.

---
Demystify Bitcoin Jargon.
Years of knowledge about bitcoin, blockchain, and cryptocurrency in 80 easy-to-read pages. Exposure to a diverse set of disciplines needed to understand Bitcoin. Economics, cryptography, mathematics, computer science, political science, and game theory.
---
Go to our Info Page to join our community, find where to listen, and follow us.
Written by Ansel Lindner and Jeff See