Reports
Fundamentals Report #75 - 2/7/2020


02/07/20  |  Issue #75  |  Block 616,415  |  Disclaimer
Days Until Halving: ~94
Mayer Multiple: 1.101
Est. Difficulty Adjustment: +1.8% in 3 days
---
TOP STORIES
Fedcoin
One of the Federal Reserve Govenors, Lael Brainard, gave a speech about the Fed looking at a CBDC (my annotated page here). It gives us some insight on what they are thinking. It's broken into 3 parts: 1) digital payments, 2) digital currency for payments, 3) stablecoins and CBDC's.
This is a very interesting speech, with some very good points and some misses. While the general theme of the speech centered more on the idea of payments, it does have a part that concerned the real elephant in the room, money itself (of course, most mentions are in regard to "central bank money"). In the text there are 25 mentions of "money" and 51 mentions of "payments".
"In contrast, cryptocurrencies introduce separate units of account. Built using distributed ledger technologies, cryptocurrencies typically allow for peer-to-peer payments without the need for a financial intermediary."
In the above quote, he focuses on bitcoin as a "unit of account" and "peer-to-peer payments" instead of digital money and free market peer-to-peer value transfer not derived from fiat control. The Fed is not a "financial intermediary" they are a fiat issuer. They are getting better, but they are purposefully leaving out the idea of purely digital value free from human manipulation. Digital value, not digital payments is the breakthrough. Their ideas of CBDC's are focusing on the latter.
Lightning Labs Raises $10 million
The Lightning Network continues to make incremental but speedy improvements. Lightning Labs has raised $10 million from a variety of sources to continue building out new bitcoin based financial infrastructure. The company has also released a new product called Lightning Loop which seamlessly ties lightning transactions into on-chain transactions, blurring the line between the two.
The Coronavirus Accelerating
Issues 31 and 32 of the Bitcoin Pulse had extensive discussion of the Coronavirus situation its economic impacts. Some non-Chinese companies, like Hyundai, are closing factories in their home countries based on not getting parts from their Chinese suppliers. Large cargo ship deliveries of raw materials like LNG and copper are being turned away at Chinese ports and their contracts broken, because the Chinese factories are closed. Now up to 400 million people are quarantined in lock down across China. The ripple affects are just getting noticed.
(More on how the Coronavirus affects altcoin season in the Altcoin section below.)
---
PRICE
Weekly BMI |  -1 : Slightly bearish
It seems every week I'm being bearish even though I'm very bullish medium term. In this section, I look out 5 to 7 days trying to predict the price movements that will dominate the next week and where the price will be next Friday. This year so far has been characterized by slight downward consolidation at the beginning of the week followed by rips in the second half of the week.
Currently, the price is holding above the resistance zone I identified on previous reports between $9000 and $9500. Holding above that zone over the weekend is bullish. However, the price is at the top of an ascending wedge (a bearish pattern), on a daily doji, unimpressive volume, and far above significant moving averages.  Therefore, it's likely the price will consolidate down from here at least through the first part of next week to find support before another push for $10k.
Get more analysis on our member newsletter the Bitcoin Pulse.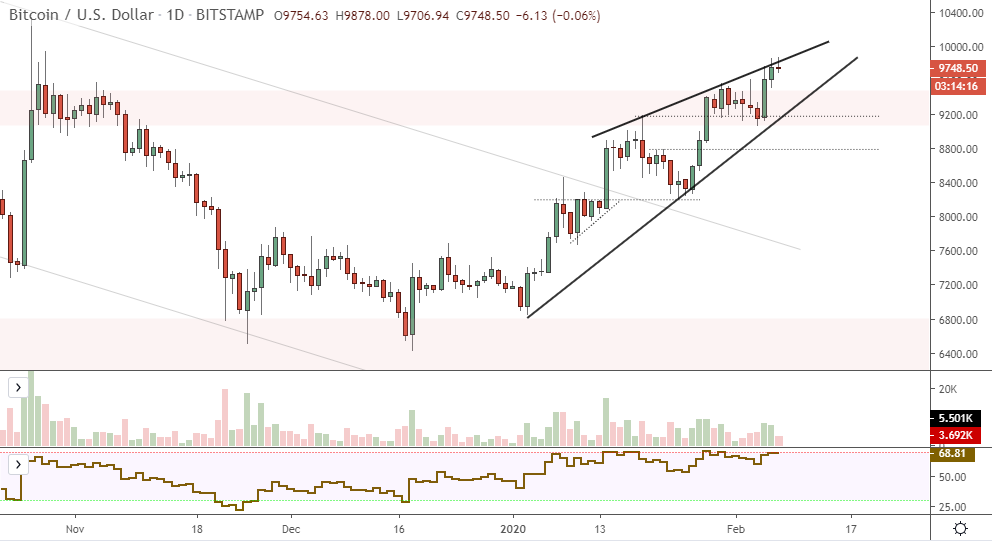 ---
ALTCOINS
Lots of people are talking about altcoin season. The "dominance index" for bitcoin has been decreasing again. But think about it, the last altcoin season was driven by an insane ICO mania driven by speculative demand from China, South Korea and Japan. That era is not coming back, especially with the Coronavirus wrecking havoc in those exact locations. Do you really think this altcoin pump is sustainable? Who is speculating on altcoins? Americans? The same old altcoiners that were rekt?
There is no altcoin season. You might be able to scalp 25-50% gains relative to bitcoin over the very short term, but bitcoin is dominant, and the new speculators are sophisticated investors coming into bitcoin. All these altcoin bagholders are going to dump and buy bitcoin with it in the next few weeks. Be careful.
Ethereum 2.0 Delayed Again
In a Reddit AMA on Wednesday, Feb 5th, the ETH2.0 team was forced into admitting that the project won't be ready for launch in Q2 of this year. It's yet another delay in a hilariously long list of delays. Great thread from Marty Bent here documenting all of them.
Does this sound like an asset that should be pumping versus bitcoin that continues to deliver all day every day?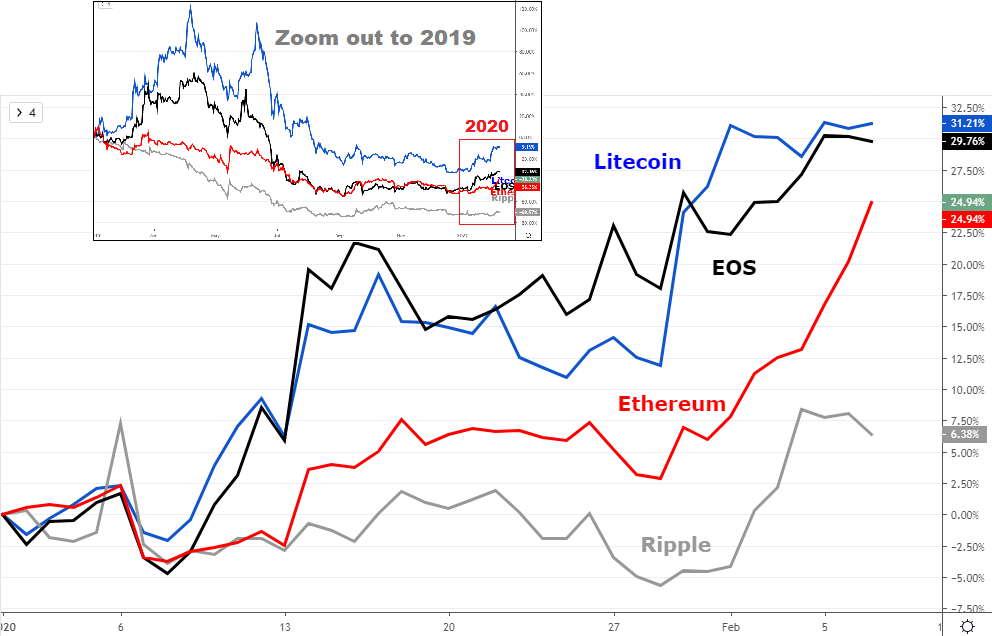 ---
Macro
The dollar is surging as economies start getting hit by the shutdown of China and the dollar shortage.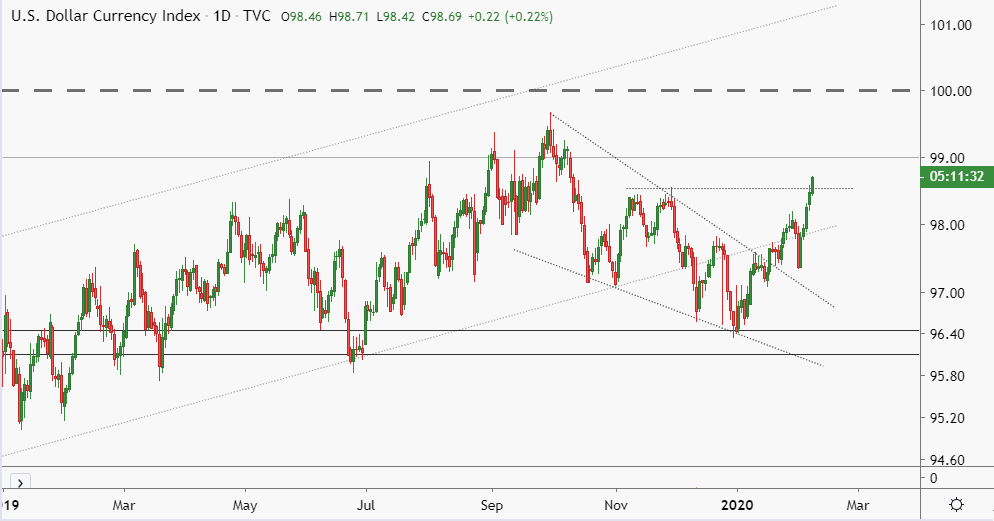 ---
MISCELLANEOUS
Is the halving priced in? Google trends shows searches for "halving" and "halvening" are increasing 3 months prior to the event, which is different than 2016 where there was only a sharp increase around the time of the event. The searches for the halving this year are already dwarfing the ones from last time.
We are also tracking this "Generation/1st Spend" chart by bytetree.com, however, not sure what data they are using. It would be nice to see coinbase UXTO's sent to known exchanges. If the halving was being priced in by the miners, we would expect the "1st spends" to trend to 6,300 btc/week as we approach the halving, estimated to take place in early May.