Reports
The Fundamentals Report #74 - 1/31/2020


01/31/20  |  Issue #74  |  Block 615,406  |  Disclaimer
~101 Days Until Halving
1.047 on the Mayer Multiple
---
TOP STORIES
Chinese Economy on the Brink
I've been talking about the deteriorating financial situation in China long before this Corona Virus disaster. At this point, everyone knows we can't trust the numbers out of China of the true impact or death toll. Their lack of transparency and iron grip over the economy is on full display. It's reminiscent of the USSR in so many ways.
It's likely this will be a major economic and political event. They could easily slide into total authoritarianism like NK to preserve the CCP's grip on power.
China is in trouble. Its debt levels would make any Western country blush. The entire China Miracle is fake; it's a Ponzi. I don't have room here to detail everything going on economically in China from ghost cities to sneaky defaults, I just have a few stats and I recommend watching this Real Vision video from Nov. Keep in mind these are official numbers, so they are much worse.
Total debt is >300% of GDP
Bond defaults quadrupled in 2018 (last year we have numbers)
PBoC's doing (mid-term) repo injections, too. ~$80 bil in Nov and Dec
PBoC's lending money straight to financial institutions
They cut their required reserve ratios and interest rates multiple times
The trade war has them on the brink
I think it's unlikely that this virus will be on the scale of the Spanish Flu of 1918 that killed up to 50 million globally, but what I am concerned about is the economic affects of quarantine on an economy already on the brink of crisis. And since China is the largest trading country in the world, you get the making of a global recession. Imagine a Lehman Brothers collapse the size of China!
How will this affect bitcoin? The Chinese have no choice but to let the Yuan weaken dramatically and start the melt up in the dollar.
Scenario 1: With a weaker Yuan the Chinese will not be able to buy as much bitcoin and especially not altcoins. The altcoin bubble will not return anytime soon, and global demand for bitcoin could soften.
Scenario 2: the global flight from the financial system in general increases demand for bitcoin.
If bitcoin can pump enough in the near term to be taken seriously before a recession, along with the halving, there's a good chance at Scenario 2.
Zap's New Strike App
Jack Mallers is a baller. He keeps coming out with great innovative products. This time is no different. With Strike, merchants or individuals can be paid via a credit/debit card, have the funds converted to bitcoin, and deposited to a wallet on the Lightning network. A really nice feature is the ability to send sats to yourself on Lightning straight from your bank account. Some details are not yet known, such as who the credit/debit card processor is and what the fees are.
Deribit to Launch Daily BTC Options as Regulated Competition Heats Up
Deribit is the Bitmex of options. They have a huge lead in the market, but they want to cement their position by adding daily options contracts. This could make Deribit one of the top bitcoin exchanges of any type and is yet another way bitcoin is becoming more liquid.
---
PRICE
Weekly BMI |  0 : Neutral
FOMO is back. Yesterday, as the price was breaking $9500 you could feel it. I've seen only one analyst calling to revisit the lows. Everyone is ready for the bull market.
Last week, in this Report, I spoke about $9000 - $9500 offering significant resistance. The price hit the top of that range far faster than I had anticipated, but has settled back in the middle at $9250 at the time of writing.
It's still unlikely that we break out decisively to the upside in the next week. I expect another attempt at a rally will fail, looking something like a right shoulder, then fall down to test the $8800 area, again.
For more price analysis subscribe to our Member newsletter the Bitcoin Pulse.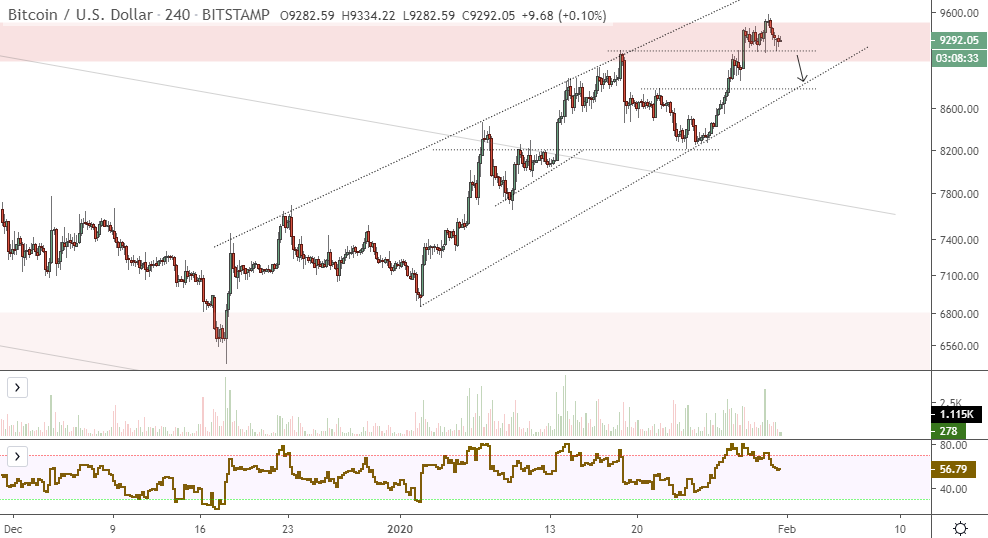 Below is the Hodl Wave showing how long coins remained unmoved. The increase in coins being held for 2 years is from people buying near the bottom in 2018. The more/longer coins are held, the less are on the market for sale which puts upward pressure on the price. This is extremely bullish considering the new supply of coins will be cut in half in approximately 100 days.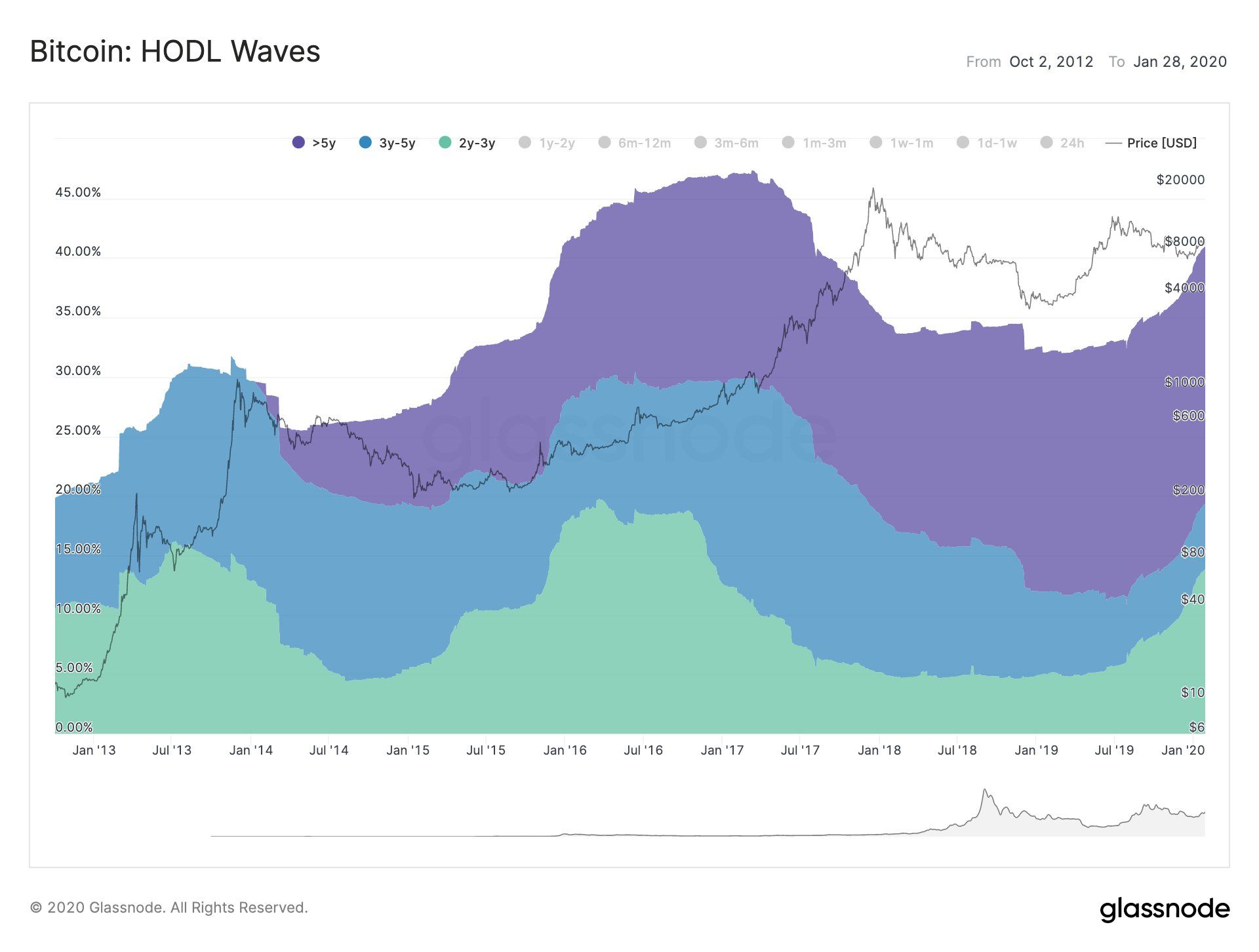 ---
MINING
Mining difficulty increased by another 4.67% this week and is on pace for another 4% in 10 days. Please see bitcoinandmarkets.com/difficulty to see all the numbers and some interesting averages.
Corona Virus Effecting Mining?
Some manufacturers of bitcoin mining equipment have delayed "production, delivery, after-sales service" in China due to the epidemic. It's amazing that hash rate continues to grow despite this. It means that after these quarantines are lifted, we could see an even greater surge in hash rate.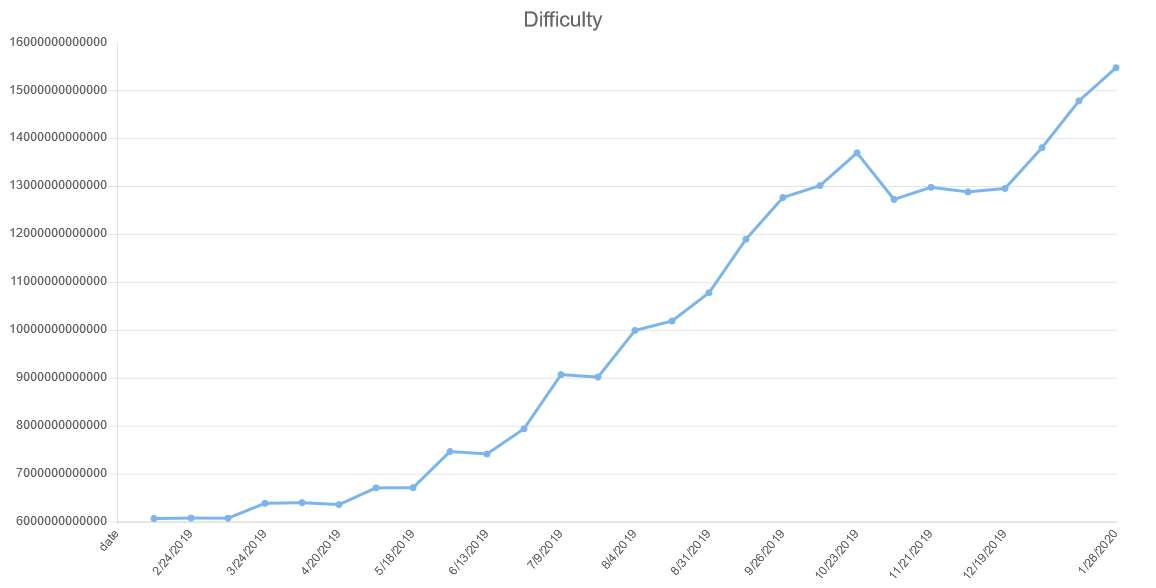 ---
ALTCOINS
There is no good news for altcoins, other than maybe stories like Cambodia launching its own blockchain-based coin. Ethereum is suffering bad news after bad news. Here's a quick list:
Tron, not ethereum, has most dapp active users
Plasma development (Eth's layer 2) is dead
ERC20 volume crushes Eth volume (chart below)
MakerDAO is dominated by only a few addresses
I could go on, but suffice it to say, if you are holding ether instead of bitcoin as an investment, you are wrong.
Below image tweeted by Ryan Watkins of Messari shows ethereum volume is decreasing, in real terms and in terms of total monetary volume. I thought Eth was money. LOL. Anyway, I want to point out the silliness of including the other stablecoins in this chart, too. They are inconsequential but Messari, and especially Watkins, are pluralists.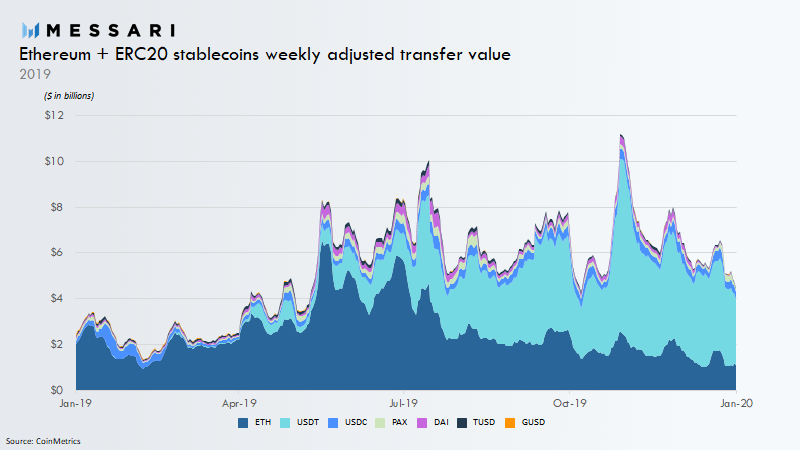 ---
MACRO
Gold Tether
I mentioned gold-backed Tether (XAUT) just last week. This week, Bitfinex has added margin trading of up to 5x on Gold Tether. I think this has the possibility to get people to look again at this space and see the innovation happening here. XAUT is just another way to get people curious about bitcoin.
Below, clockwise from top left is, Bitcoin, WTI Oil, US 10 year treasury yield, and copper. I thought it would be interesting to look at these side by side. (bitcoin shows a slightly shorter time frame because it trades weekends)
The three bell-weather assets have crashed together, while bitcoin has meandered.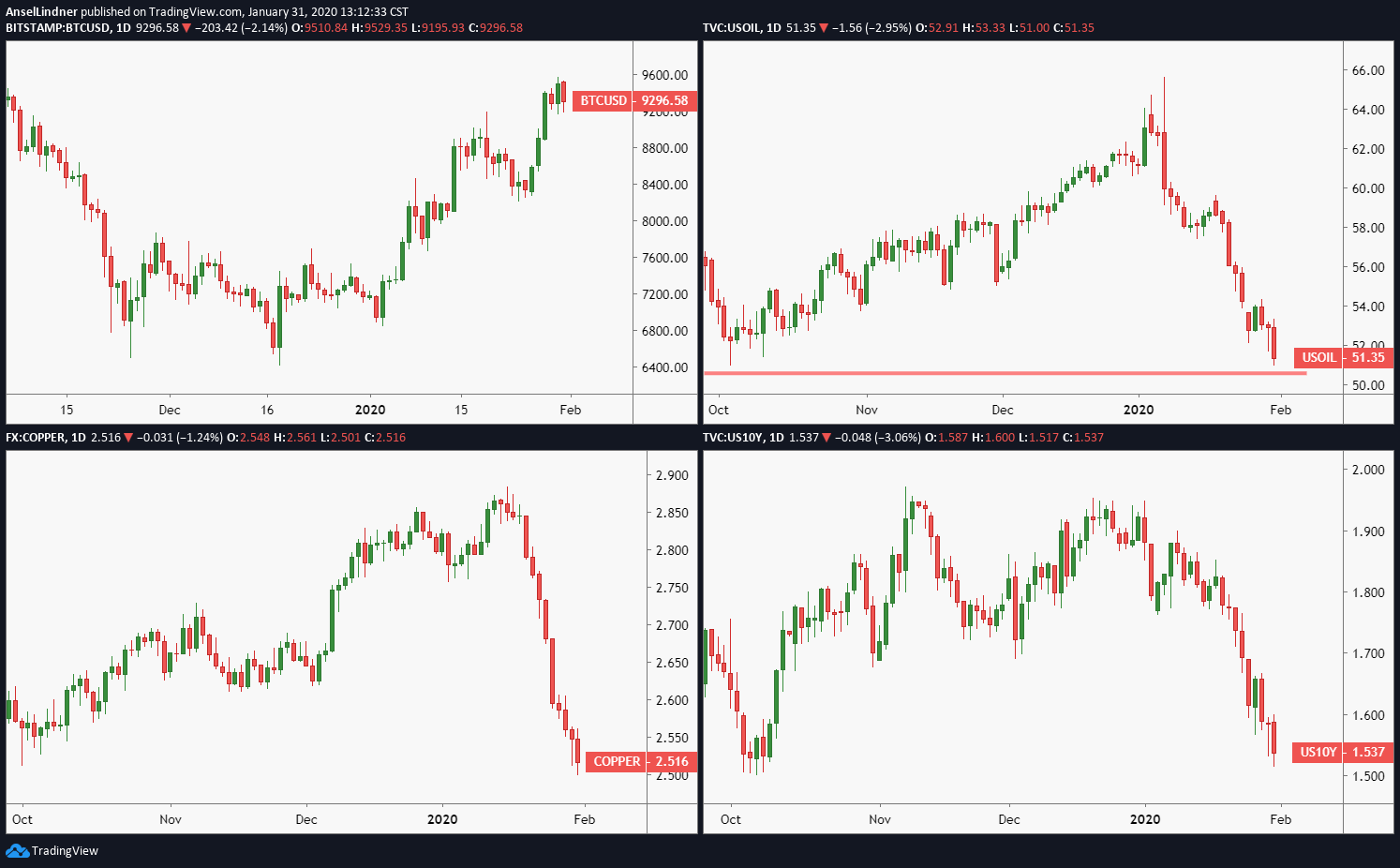 ---
MISCELLANEOUS
Coinalyze.net is a great new site that has a ton of information and keeps adding more into a pretty nice package. I just wanted to share their new page with "Open Interest, Liquidation, Funding Rate and Premium Index Charts for Cryptocurrency Futures Contracts."

---