Reports
Bitcoin Fundamentals Report #244
Complete summary of bitcoin this week. Halving is coming, CBDC being rejected already, scam financing collapses, mining, and lightning news.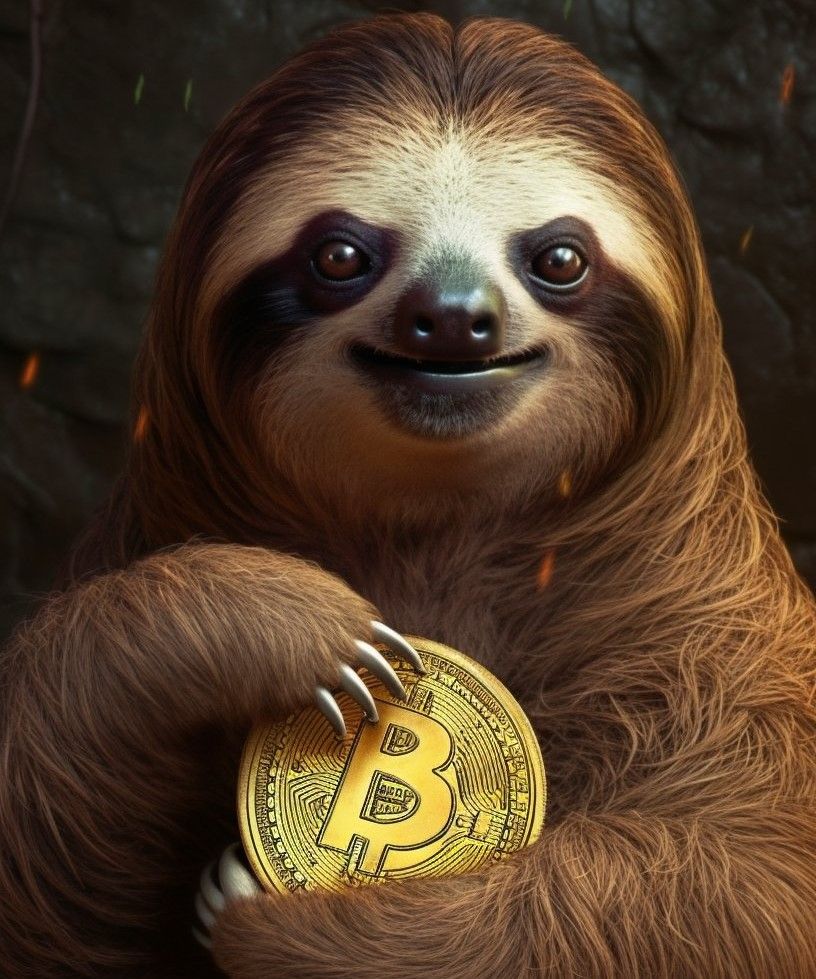 Jump to section: Bitcoin headlines / Macro / Price / Mining / Lightning
💡
Share the Bitcoin Fundamentals Report!
Snapshot of Bitcoin
General Bitcoin Headlines
Weekly trend
Hanging out
Media sentiment
Slightly positive
Network traffic
High
Mining industry
Stable
Price Section
Weekly price*
$26,760

(-$860, -3.1%)

Market cap
$0.519 trillion
Satoshis/$1 USD
3,733
1 finney (1/10,000 btc)
$2.68
Mining Sector
Previous difficulty adjustment

+3.3999%

Next estimated adjustment
-1% in ~9 days
Mempool
180 MB
Fees for next block (sats/byte)
$0.97 (26 s/vb)
Median fee
$0.90
Lightning Network**
Capacity
5,402.19 btc

(+0.1%, +8)

Channels
70,567

(-0.1%, -541)
---
In Case You Missed It...
Blog
Community streams
Fed Watch
---
DONATE directly on Strike or Cash App to support my work! You make my content possible! Thank you. ---
Headlines
Bitcoin
The bitcoin halving, estimated for March 2024, is started to make its way into the headlines. Headlines and reports from major players, too.
Recent increase in retail demand can be partly attributed to the advent of Bitcoin Ordinals and BRC-20 tokens, the report said, but more importantly "retail investor demand for bitcoin is likely to strengthen as we approach the April 2024 halving event."
The headline is slightly misleading, because 54% of respondents didn't know how they felt.
In another part of the poll, respondents were asked if they'd oppose a CBDC if it meant certain things. Opposition was the greatest if it meant the government could control your spending. That's exactly what it is.
Respondents, however, also said they would be more likely to approve of a CBDC if it cut down on money laundering. We should expect them to push that angle hard while denying they can control your spending. But, please, it won't stop the massive majority of laundering that happens for government agencies, officials and their families. It will only stop the little guy from doing it.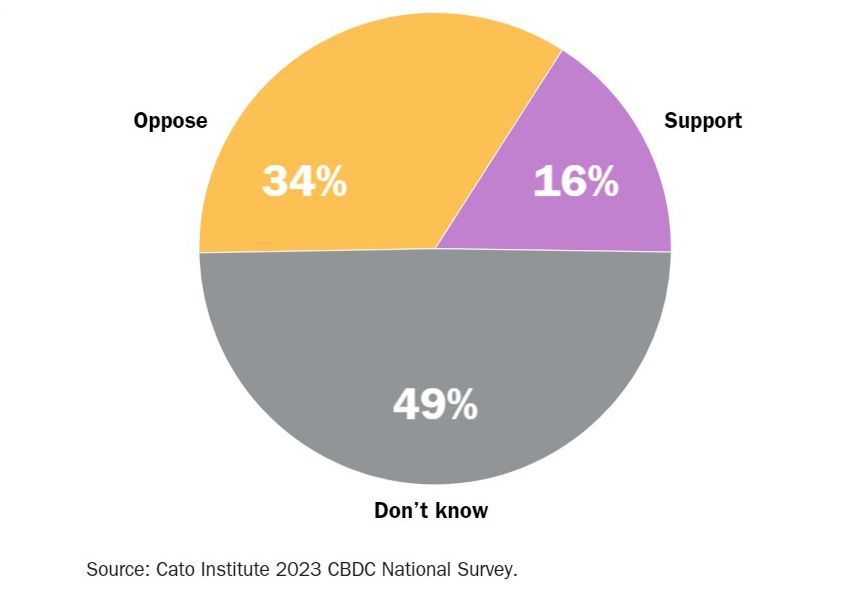 VC investing in scams has collapsed!
This is a HUGE win for honesty and a HUGE blow again scams. Altcoins literally cannot survive with this kind of collapse in financing.
I'd like to put this in the context of the halving. This will be the first time in a couple halvings that the scam budget to siphon interest away from bitcoin will be so low. This will create a high focus directly on bitcoin that will allow it to accure all the value coming into the space from investors. Very bullish.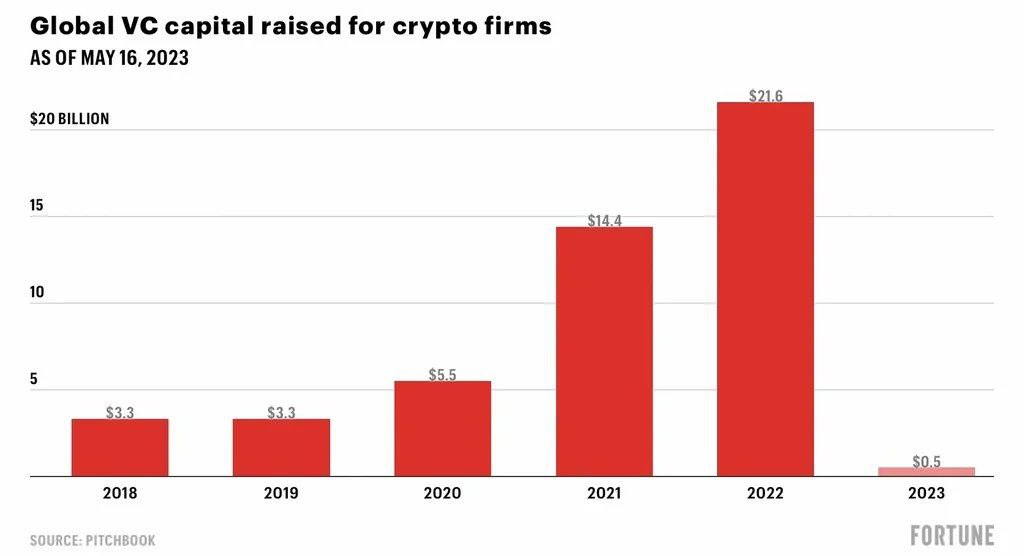 More altcoin deterioration, this time it's the King Scam Ethereum. Its community is confronting a very obvious and predicted limitation of Proof-of-Stake, it is centralizing.
In this recent development, people are getting worried about the growing market share of Lido. I've looked into the Lido thing in the past and concluded it is a peg waiting to get broken. Lido is dominating the staking game they call Liquid Staking Derivatives (LSDs).
The threat at hand is the current market dominance of Lido, which currently accounts for 74% of all LSDs according to DeFi Llama. The pool contains more than 7 million ETH, worth approximately $13 billion dollars—and it has grown by 12% over the past thirty days.
Their community is calling for mitigation of this centralization before it becomes and attack vector for regulators. My take is, if this centralization is possible to game the system, it will be used. Why would the central designers of ethereum not consider this? Because they LARP at decentralization anyway. When they go in to fix this, if they can fix this, it will once again prove they are centralized.
Tether Supply Hits New ATH at $84 billion
YTD - Tether supply +$17B, USDC supply -$16B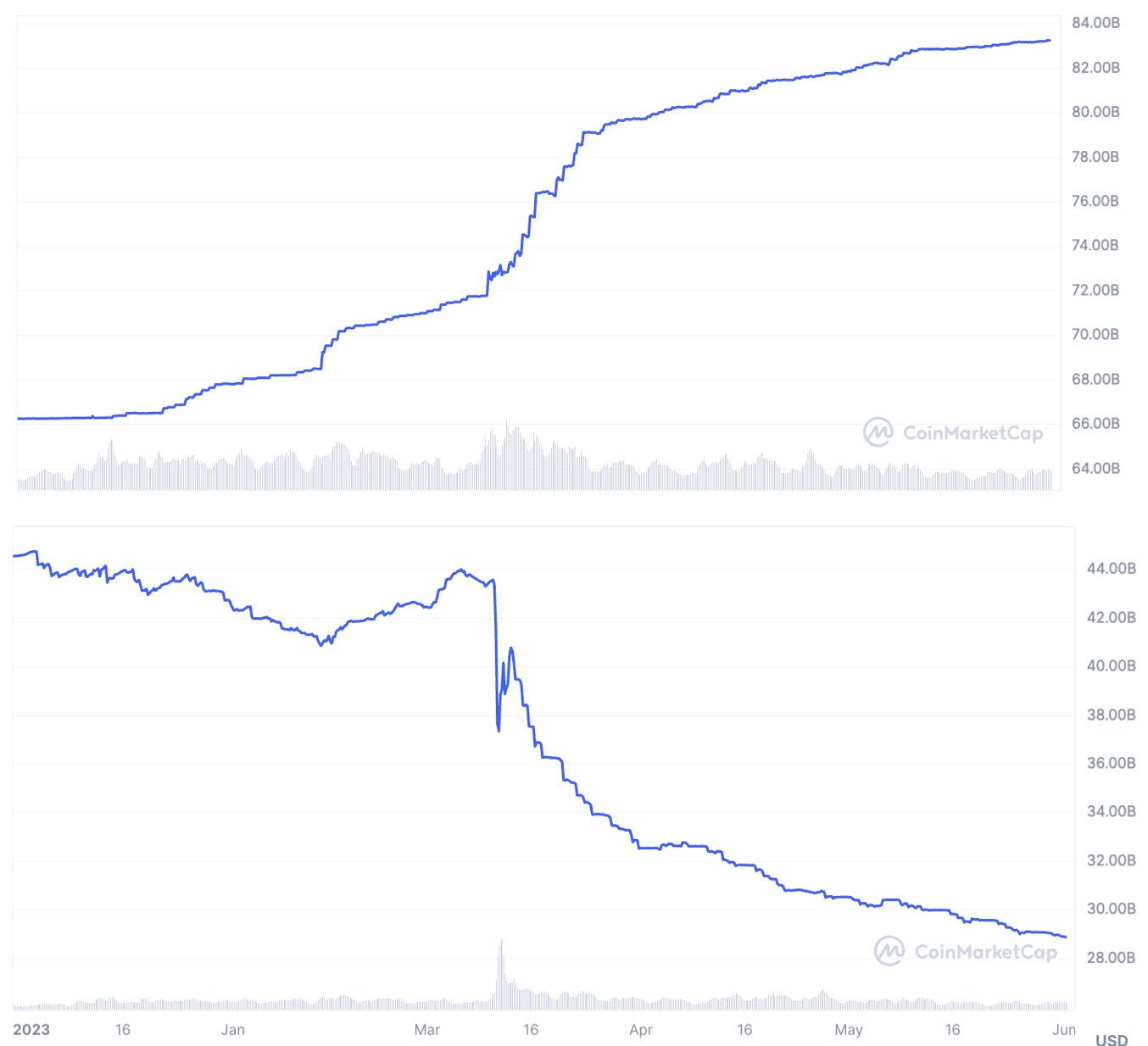 Macro
Rumors of this cut had been circulating for about a week. Last issue I wrote about the "Ouching" comment from one of their government officials. Well, the time has come, OPEC has announced they will cut production unilaterally, meaning not along with other OPEC countries, by 1 mbd.
This wrecks of desperation and panic IMO. What's to stop other oil producers from simply covering this gap, taking it as an opportunity to increase production without affecting price?
WTI crude oil did open higher, right on the 50-day MA and has since faded. There is a possibility this leads to higher oil prices in the near term, but I'm skeptical.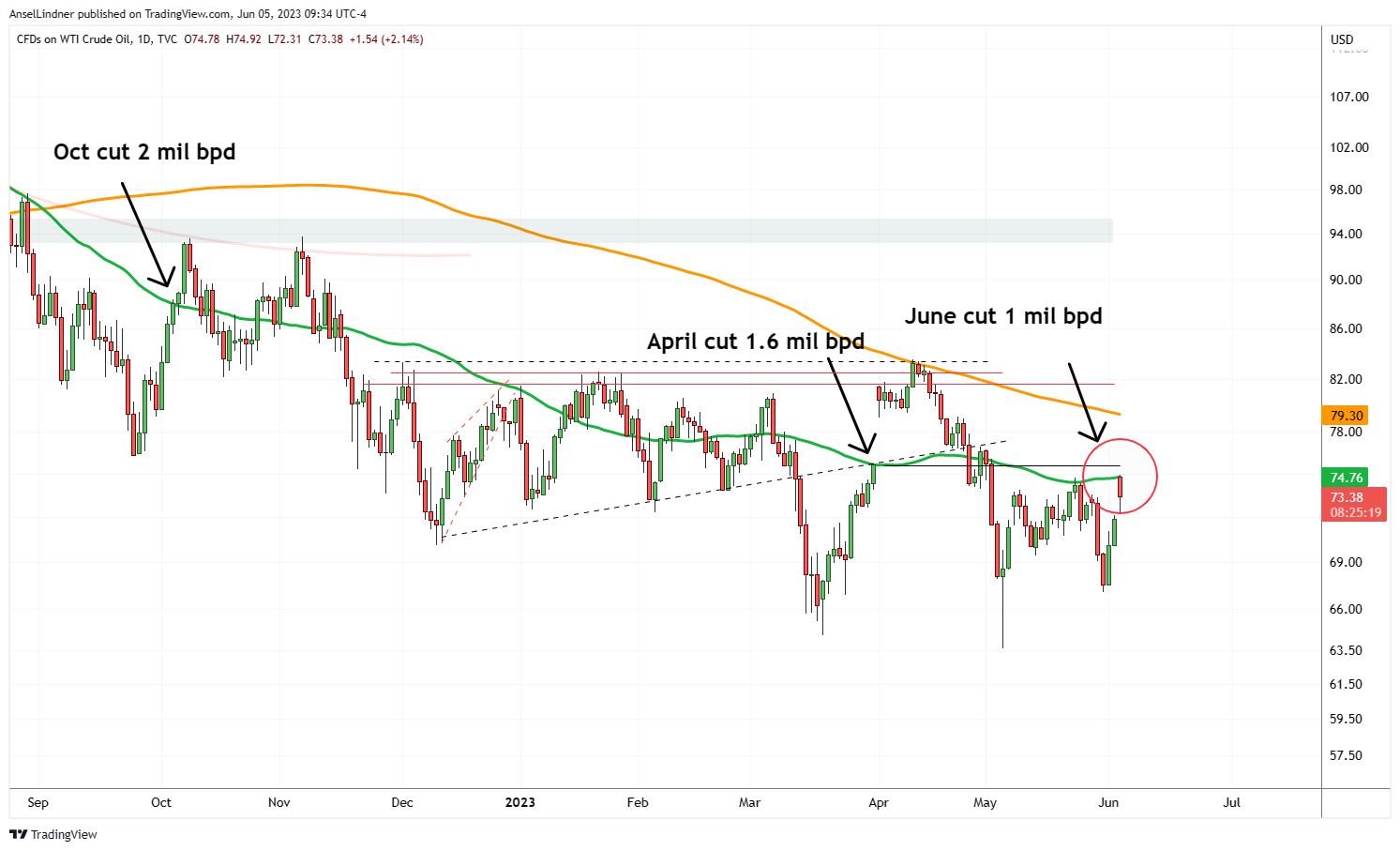 US jobs surveys came in today. The Establishment Survey, with measures payrolls, showed major gains in the number of jobs. However, the Household Survey (which is what the unemployment rate is calculated from) showed an equally large loss of number of employees. This is exactly what we have been talking about for months, that people are getting second and third jobs to make ends meet.
Several algorithm problems have also been noted, like the automatic adjustments in the Establishment survey adding around 200,000 jobs just because. The numbers will get sorted out, for now, we should use them to inform our own theories. The jobs market is tight for certain jobs, but very weak in highly productive type jobs. That is sustainable for a period of time, but eventually will fail.
💡
Help us grow! Please share!!
Price Analysis
Join the Professional tier for in-depth price reports and actionable forecasts!
---
The bitcoin daily chart is showing some weakness here, but nothing significant to report. It was rejected by the 50-day MA and is once again, kind of hanging out in no-man's land. If it breaks down below the 128-day (purple line) price has a date with $25k.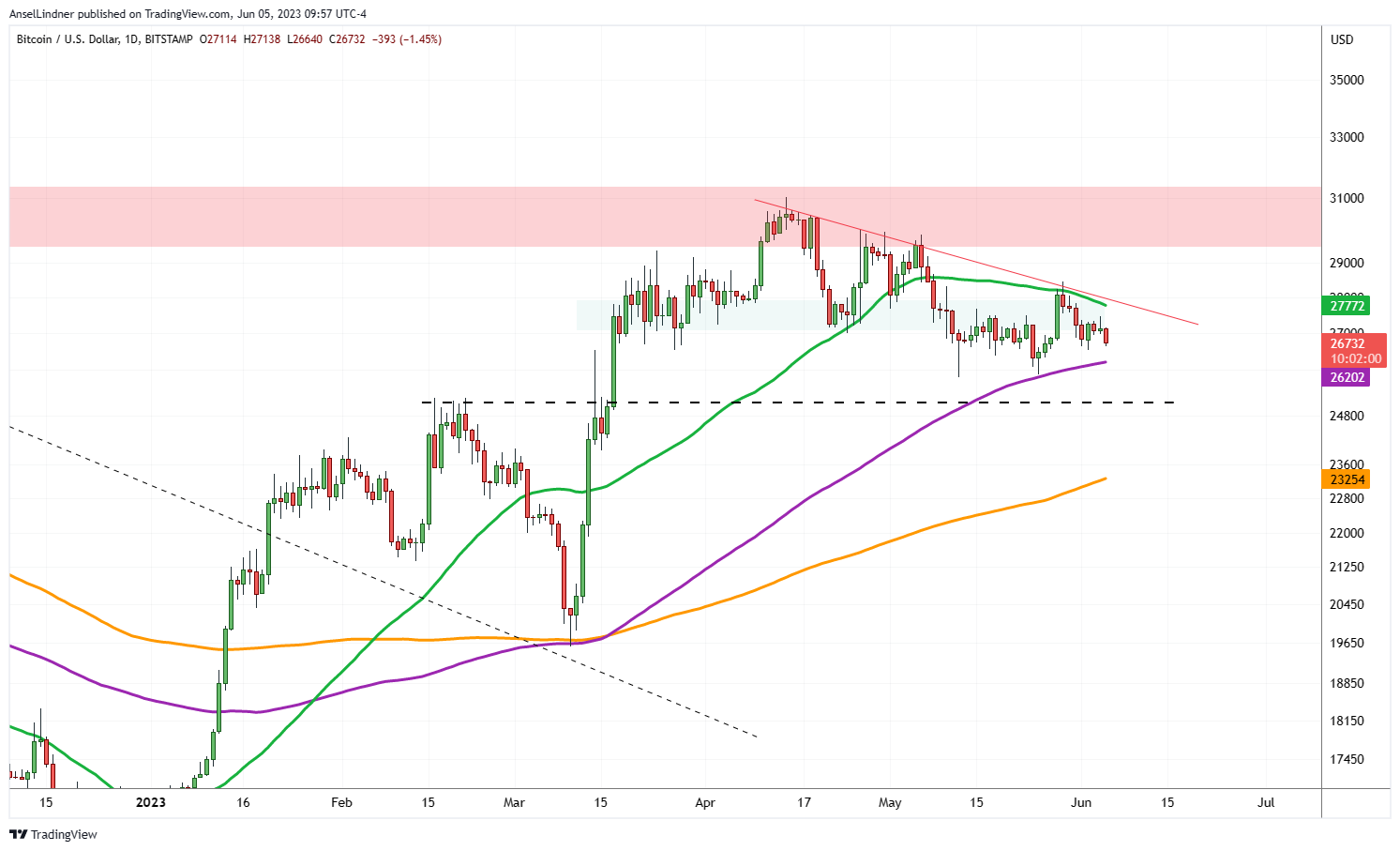 I still do not know where the selling volume will come from to provide fuel for a sustainable sell off. All dips should be looked as a buy-the-dip opportunity.
I've been looking at the below period from 2020 for a comparison. There are a couple parallels: 1) price was coming off a big rally that had stalled, 2) price was testing the 128-day and under a downward sloping 50-day. A big difference was this occurred after the halving instead of before.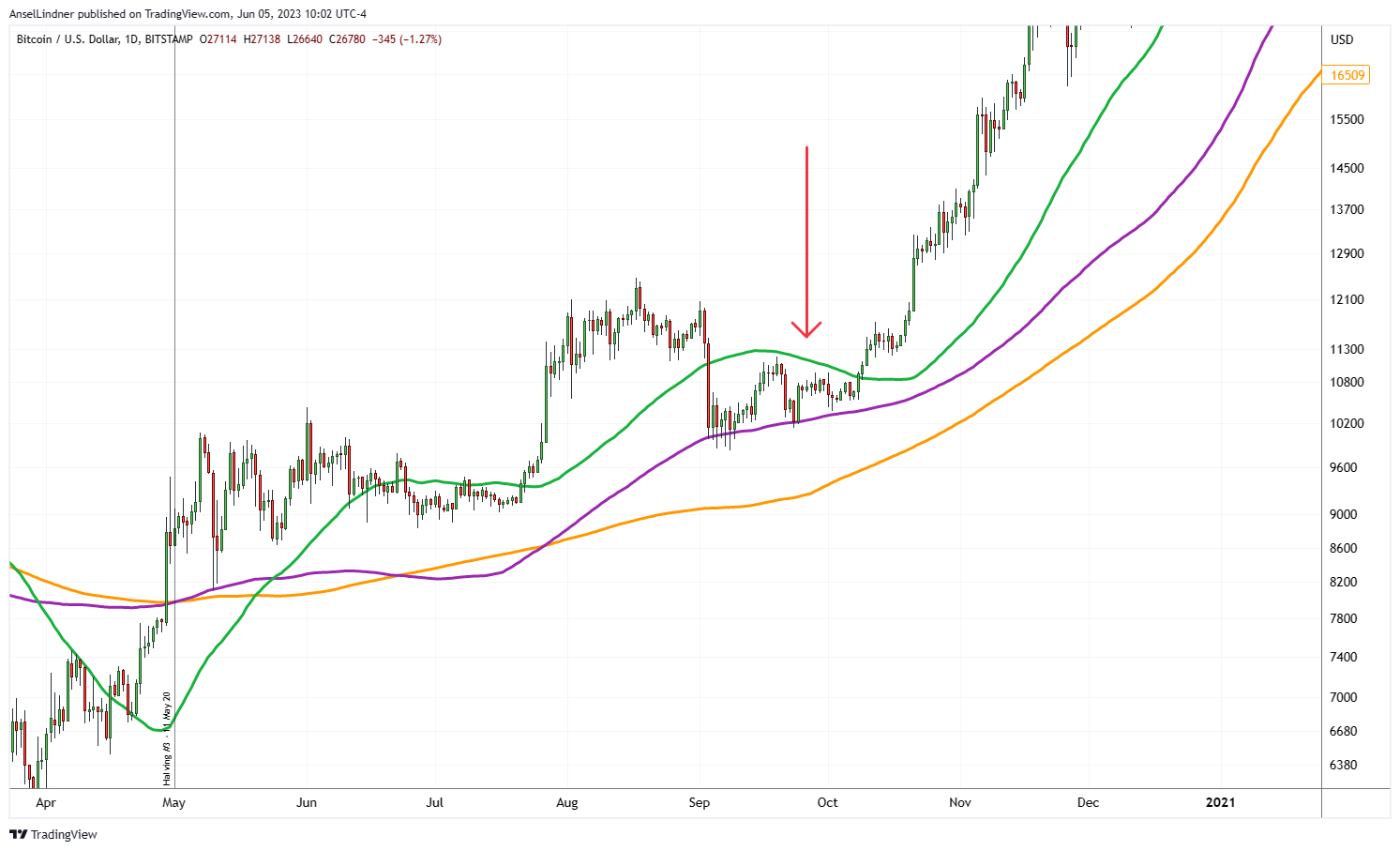 There is a time in late 2016 that is a little similar, but not as clean a match.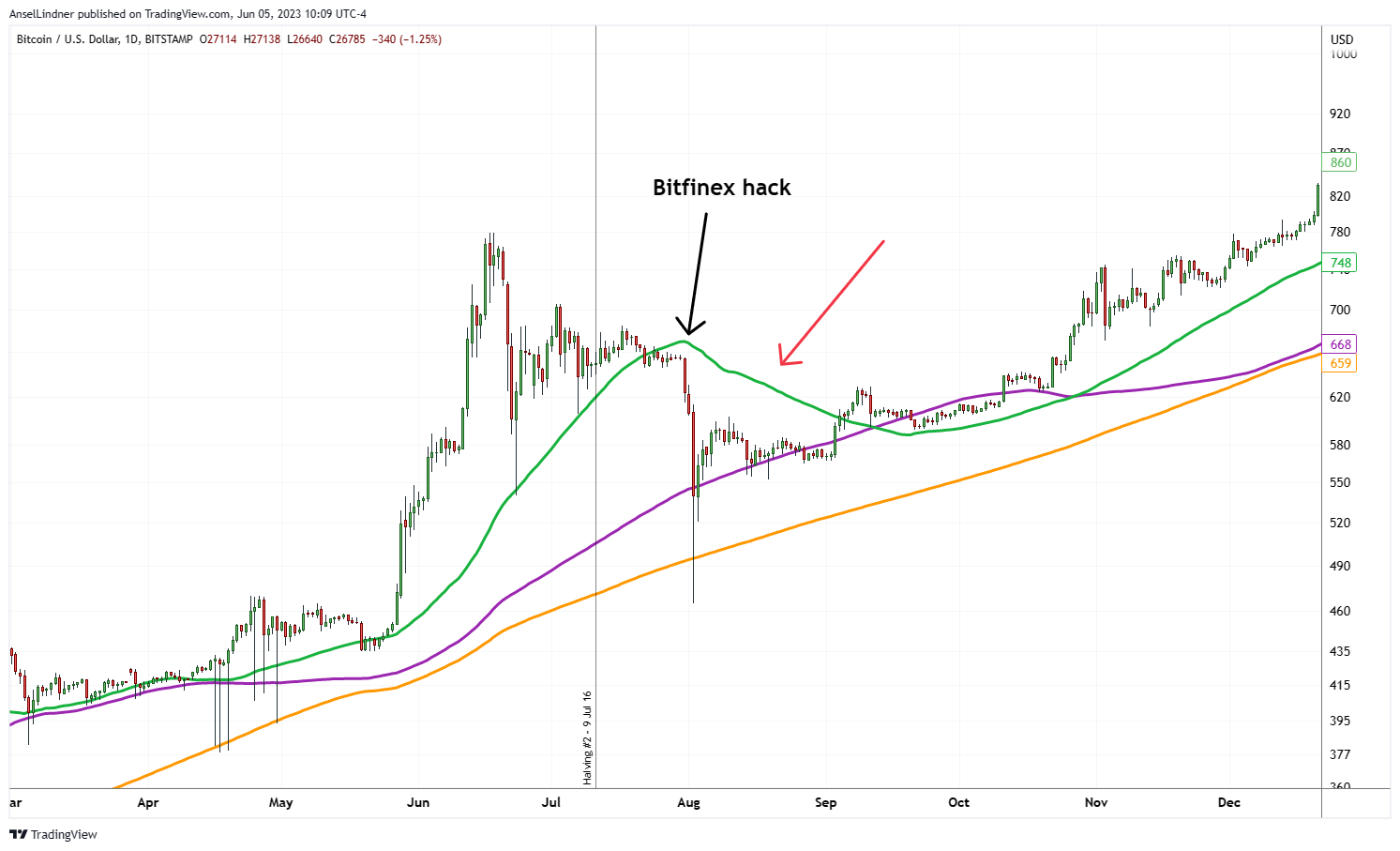 Bottom line is that after both these previous instances of being squeezed between the 50 and 128-day, price rallied very hard. I am expecting something similar this time.
Stocks
Like it or not (I reluctantly have accepted it) bitcoin is correlated to the stock market. This is what we've seen recently there.
Stocks have rallied hard over the last couple of weeks, leaving bitcoin behind a little. It remains to be see if stocks are catching up to bitcoin, and bitcoin remains the leading indicator in this relationship, or if stocks are getting a mind of their own, and bitcoin will follow.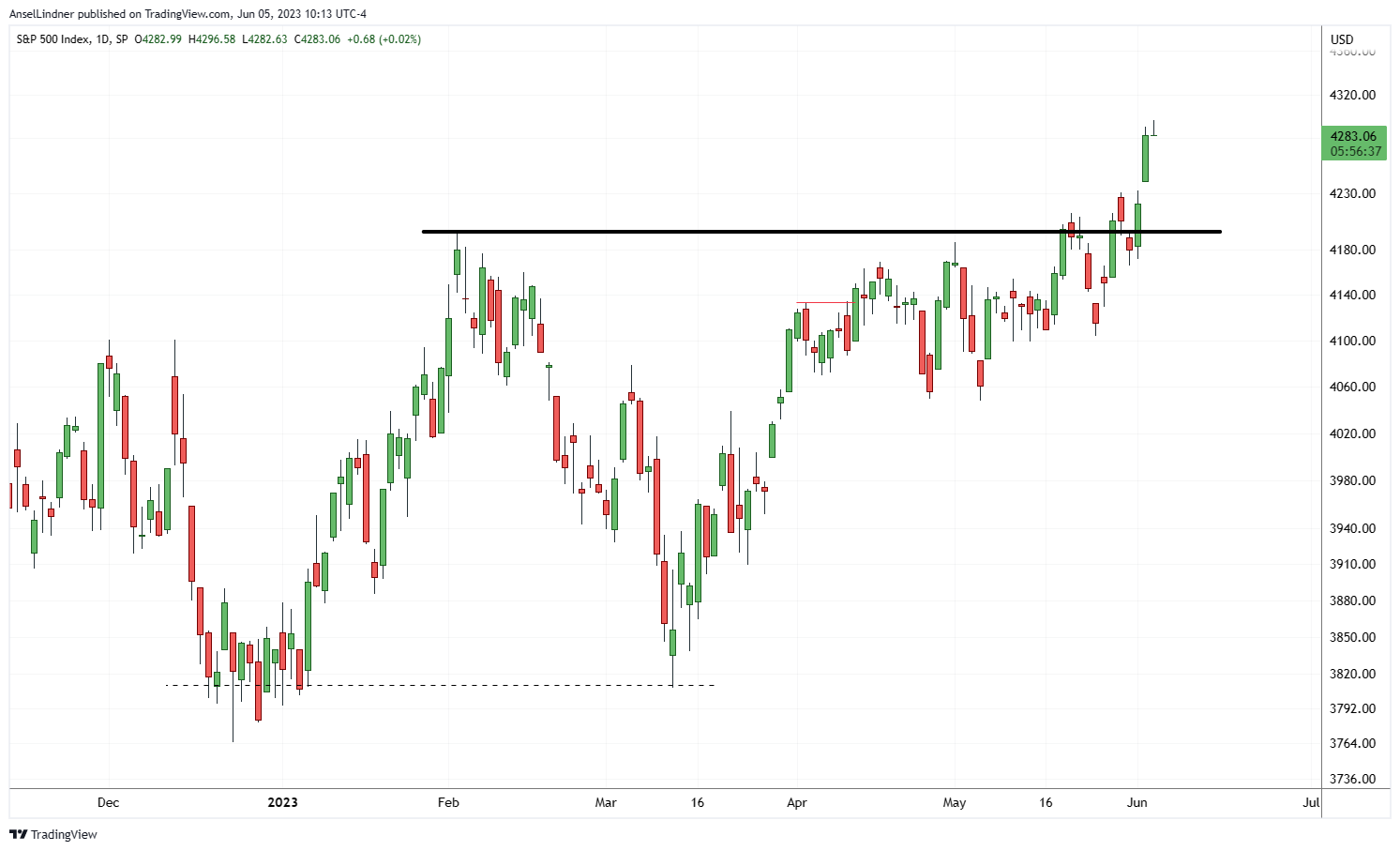 Much more on the upcoming issue of Market Pro!
---
---
Mining
Headlines
...the aim is to position the country as a major global player in the Bitcoin mining industry while promoting energy competitiveness, diversification and geographic expansion for the Bitcoin network. Adopting a debt-free approach, El Salvador plans to construct a 241 megawatt (MW) renewable power generation park in the Metapán region, combining solar and wind projects.
"The total commitment for the project is $1 billion, beginning with a first investment of $250 million, bootstrapped by key Bitcoin industry leaders, with collaboration from top developers and manufacturers of renewable energy technology, as well as Bitcoin mining experts on a global scale."
In the past few weeks, two bills — SB 1929 and HB 591 — that show support for miners have made it through the legislative stage and are awaiting Gov. Greg Abbott's signature. If signed, they take effect on Sept. 1.

The bill SB 1929 requires miners whose energy capacity is larger than 75 megawatts (MW) to register with the Public Utilities Commission (PUC) of Texas as large loads operators, which then shares their data with the Electricity Reliability Council of Texas (ERCOT), the grid operator.

Meanwhile, HB 591 was sent to the governor on April 18, and will introduce tax exemptions from companies that put to use otherwise wasted gas, including data centers.

The third bill, SB 1751 — dubbed by some the "anti bitcoin mining bill" and which would have capped the industry's participation in cost-saving demand-response programs — was stopped at the committee stage.
Difficulty and Hash Rate
Bitcoin difficulty jumped 3.4% last week to a new ATH difficulty. Not much to say about the hash rate or difficulty this week. It is still extremely stable, the industry has seen a couple "wins" over the last two weeks, and everything looks generally positive.
Once price continues its rally, we should see a fairly rapid rise in hash rate and difficulty IMO.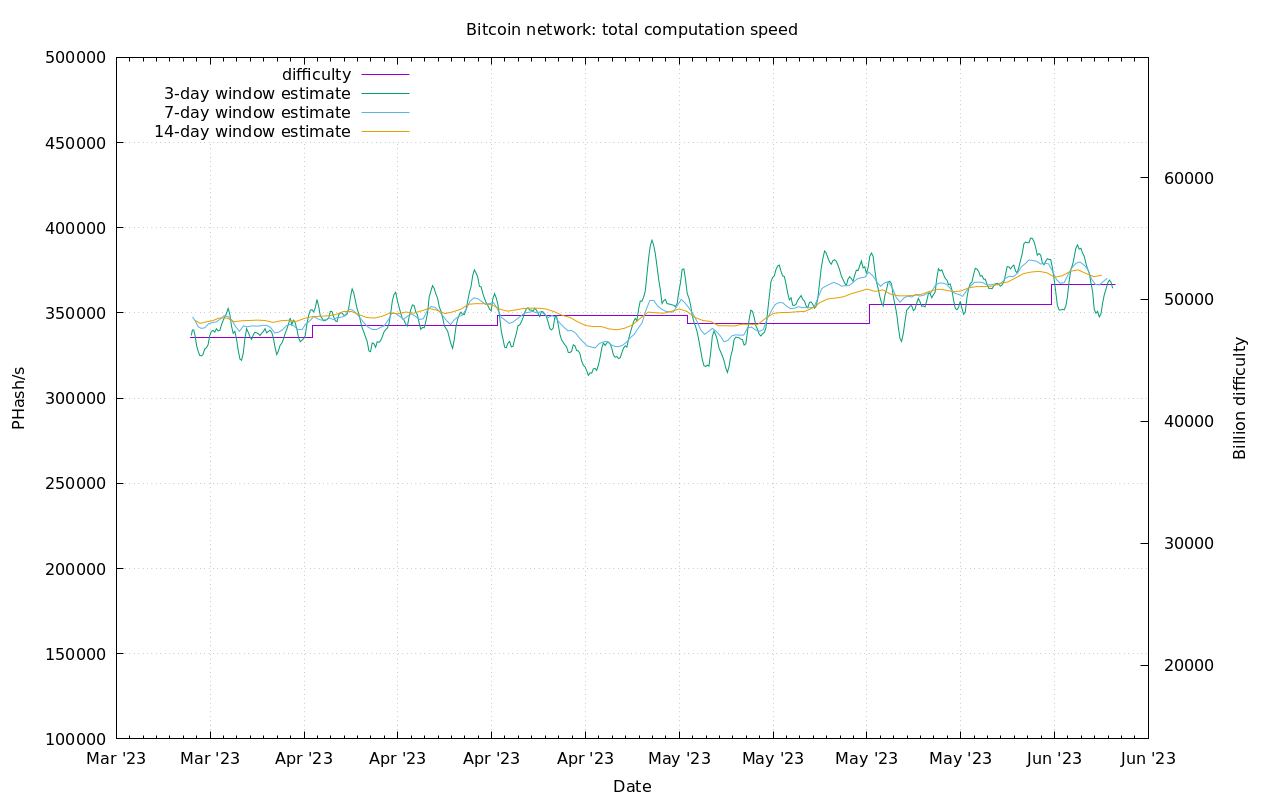 Mempool
The mempool has started dropping dramatically. The network is chewing through the back log, shrinking from 220 mb last week, down to 180 mb this week (-18%).

Lightning Network
I'm not a fan of Google at all. A recent leak claims they were tracking and recording medical information from hospital websites and selling it, BUT I think Voltage is a good company from what I know, so what's up with this development?
Voltage stated in the announcement that their solution helps enterprises overcome three key challenges.

By utilizing Google Cloud's vast network infrastructure, Voltage said it can address user needs more efficiently. The announcement described the partnership's several benefits, including the ability to serve a global audience across various regions, initial operations in Iowa, the Netherlands and Singapore as well as deployments on a leading cloud platform with superior availability and networking.
This is basically a hosting agreement with the HUGE name of Google to make headlines. Bullish.
With traders and investors opting for cheaper and faster transactions, the largest exchange by trading volume is looking to integrate the Lightning Network for its Binance Pay and related wallet services. According to CZ, every exchange should adopt the L2 payment protocol as a helpful innovation for the future.

According to Changpeng Zhao, the principle limitation of the lightning network is the inability to pre-generate addresses, which is why the Binance team is working on a way around this challenge. The protocol will however be enabled for small transactions at first and while CZ did not provide a specific date for the roll out, he said efforts were already underway as part of the platform's commitment deliver benefits like saved costs with faster transactions to users.
💡
Get our book the
The Bitcoin Dictionary
available
on Amazon!
That's it for this week. See you again next Monday!!!
DONATE directly on Strike or Cash App to support my work! You make this content possible! Thank you.
A
---
June 6, 2023  |  Issue #244  |  Block 791,971  |  Disclaimer
* Price change since last week's report
** According to mempool.space