Reports
Bitcoin Fundamentals Report #229
Bitcoin update with news on SEC enforcement, Binance stablecoin, CPI and inflation forecast, Nord Stream, price analysis, mining sector and Lightning news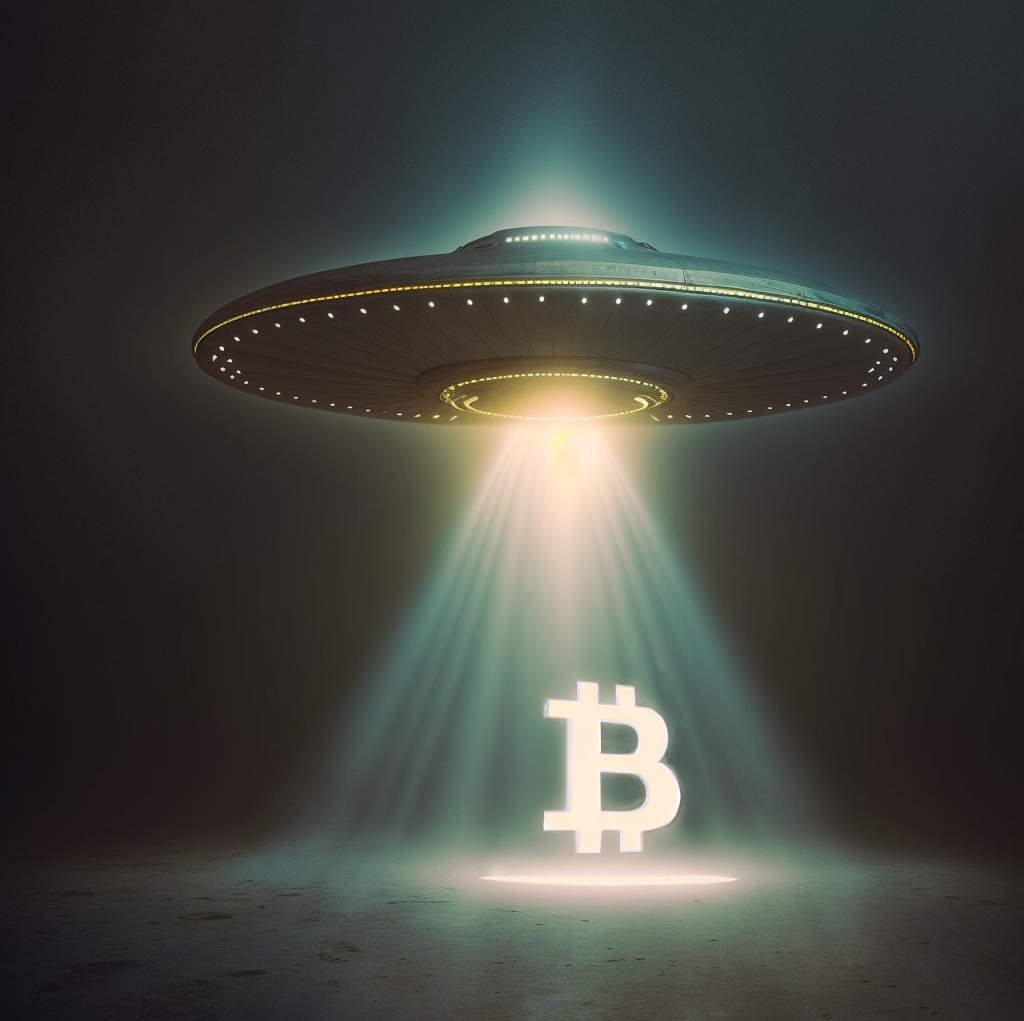 Snapshot of Bitcoin
Click headings to jump to section
General Bitcoin Headlines
Weekly trend
Correction
Media sentiment
Very Negative
Network traffic
Elevated
Mining industry
Recovery continues
Price Section
Market Pro tier
Weekly price*
$21,671

(-$1,315, -5.7%)

Market cap
$0.418 trillion
Satoshis/$1 USD
4,616
1 finney (1/10,000 btc)
$2.17
Mining Sector
Previous difficulty adjustment
-0.4944%
Next estimated adjustment
+2% in ~12 days
Mempool
75 MB
Fees for next block (sats/byte)
$0.76 (25 s/vb)
Median fee
$0.64
Lightning Network**
Capacity
5,389.93 btc (+0.2%)
Channels
74,108 (-0.8%)
---
In Case You Missed It...
Community streams
Fed Watch
⬇️ Check out the video below ⬇️
Listen to podcast here
💡
Share the Bitcoin Fundamentals Report!
Headlines
Bitcoin
The SEC pounces on Kraken and Staking services
In the above video,  SEC Chairman Gary Gensler says the words, "not your keys, not your coins" in regards to their enforcement action on Kraken this week.
The SEC said that Kraken failed to inform "investors" of what they were doing with their tokens in order to offer yield, in clear contradiction of the law.
The bitcoin twitter exploded in response for several reasons, 1) a lot of big US-based exchanges do that same thing, 2) that is about all the altcoins have to offer these days is staking yield, 3) staked Ethereum cannot yet be moved by the protocol, and 4) the scammer side of this industry is scared the SEC is coming.
Well, we knew the SEC was coming and warned all along that these activities were illegal. I don't like this enforcement action, but it was predictable.
The other part of this story is the fallout directly for Ethereum. They are having to include in their next fork, the ability to move these specific staked coins. It highlights the CENTRALIZATION of ethereum, which could then be the target for enforcement action.
Kraken settled with the SEC.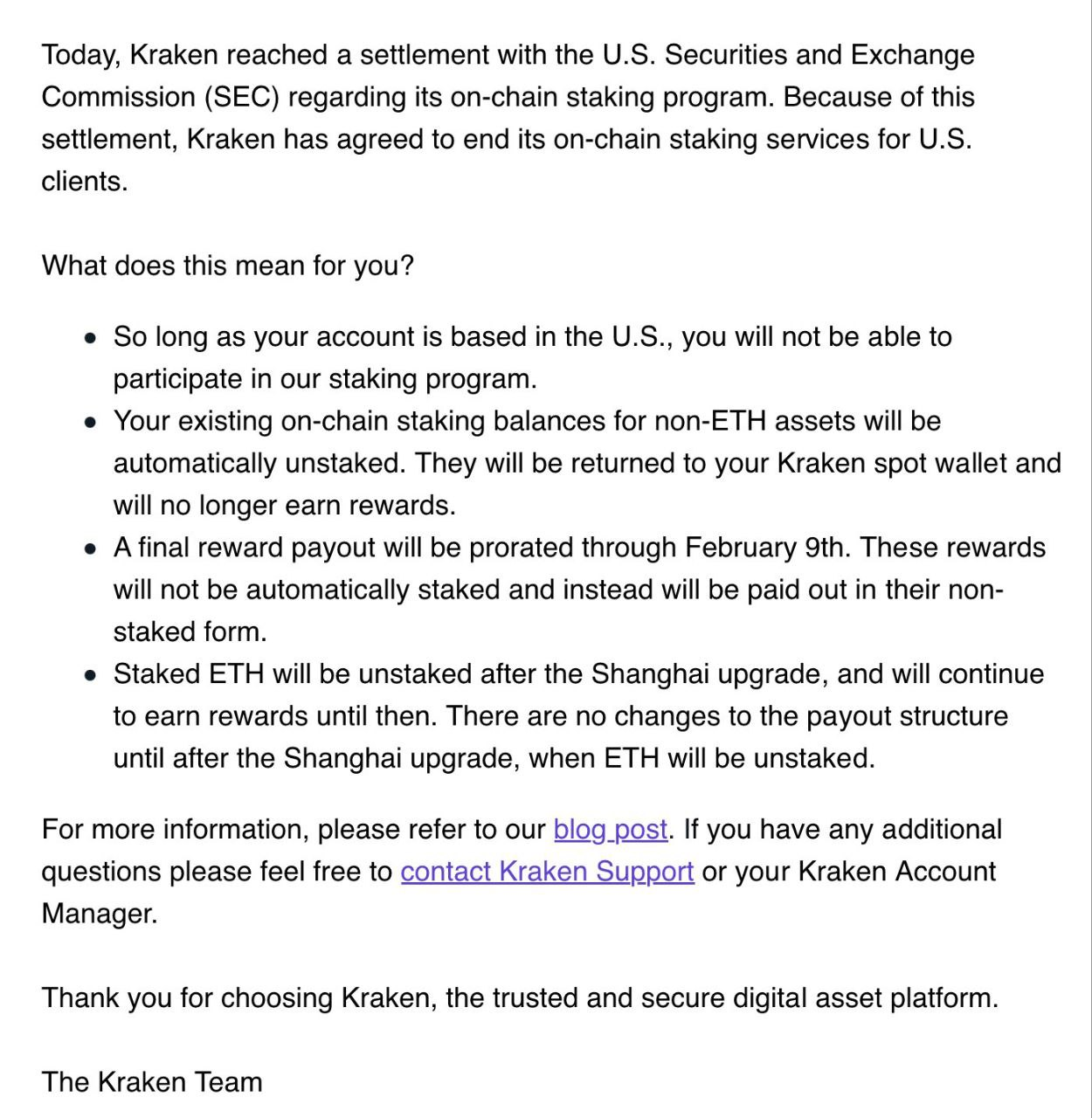 Bottom line: stay out of altcoins. Stack sats.
Regulators go after Binance Stablecoin BUSD
I was unaware that Binance coin was issued by the New York-based company Paxos, a fact that has it in hot water today with US regulators.
New York's chief financial regulator has ordered Paxos, the company behind the stablecoin of major crypto exchange Binance, to stop issuing the token, Paxos and the regulator said in separate statements on Monday.

Paxos said in a statement that it would stop issuing new BUSD as of Feb. 21 and would continue to support and redeem pre-existing BUSD until "at least February 2024."

The NYDFS said it was "monitoring Paxos closely to verify that the company can facilitate redemptions in an orderly fashion subject to enhanced, risk-based, compliance protocols."
The fallout of this development is still unknown. Of course, the CEO of Binance CZ said this will be bad for the "crypto industry". Whatever that means.
My reaction is one of indifference. The more enforcement on these casino exchanges, the harder it will be to buy bitcoin. This is effectively a decrease in supply of bitcoin relative to demand. It also makes the ecosystem of ponzi schemes and scams dry up. A win/win for most people.
Macro
US CPI for January due on the 14th this week
Here is a quick article to get you up to speed on some of the recent changes to the CPI calculations and forecasts for January.
Forecasts for January CPI are all over the place. The Cleveland Fed Inflation Nowcast predicts 0.65% month-over-month, a huge number. Other macro commentators are nearly as high. Other industry experts like banks are around 0.5% MoM. Extrapolating from PPI (producer price index) where the latest month saw a minor increase, we could be around 0.4%.
I'm predicting CPI to surprise to the downside, falling somewhere in the range between 0.2 - 0.4%, for headline MoM. Ex-shelter, which was negative for 4 of the last 6 months, will again be negative.
This is an important month for CPI as the Fed could be done with rate hikes, and many analysts are calling for a "reacceleration" in prices.
I just ask a simple question, "where is this money coming from to sustain higher prices?" The short answer is nowhere.
I covered the SLOOS data, the Fed's report on lending activity, showing credit creation is slowing rapidly. This is real money printing, and it's reversing. So, the money needed to support higher prices is not coming.
Absolute BOMBSHELL! This article lays out the planning and execution of blowing up the Nor Stream pipelines by US forces. NATO is as good as dead after this conflict in Ukraine.
Biden's decision to sabotage the pipelines came after more than nine months of highly secret back and forth debate inside Washington's national security community about how to best achieve that goal. For much of that time, the issue was not whether to do the mission, but how to get it done with no overt clue as to who was responsible.

"This is not kiddie stuff," the source said. If the attack were traceable to the United States, "It's an act of war."
Chinese "Spy Balloon" Story Morphs into Lasers and Shoot downs
I'm not going to rehash all the news over the last couple of weeks regarding this very weird balloon story. Developments this week are that an F22, the most expensive and advanced aircraft ever produced, was sent to shoot down a balloon for no apparent reason other than political theater.
My two main takeaways for readers regarding this series of stories, 1) it's not aliens, 2) the mistrust and speed of deglobalization continues to accelerate. The reaction by the US administration is frantic and not well planned out. They are likely not letting a crisis go to waste, and think they can use a non-story politically.
💡
Help us grow! Please share!!
💡
Ways to Support Our Content!
Price Analysis
I have started a new membership tier and newsletter. Instead of a long price section on this free weekly post, I'm creating a new and expanded offering for people that want to stay ahead of the price. Check out Premium Market Pro!
Go to bitcoinandmarkets.com/pro50 to get 50% off your first month!
Daily chart
I'm only using one chart on the free newsletter, so I tried to pack a lot of info on here.
As you can see, the peak in RSI on Jan 14th, closed at $20,960. That is the important level at this time. Both the price and the 50-day moving average are headed into that level.
The green arrow is the ideal path price to take from here. A scare below $21,000 followed by a bounce on the 50-day MA.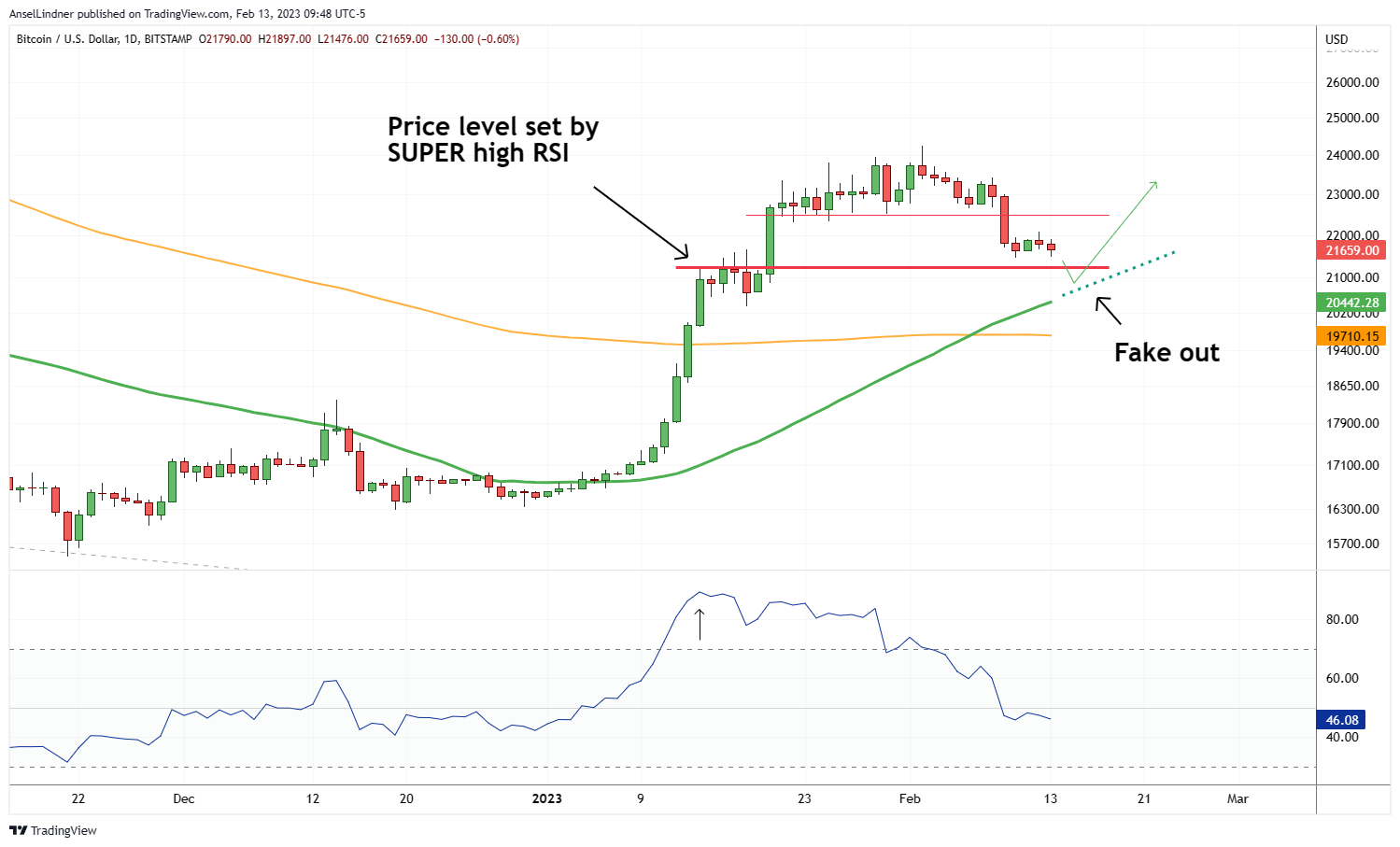 Catherine Wood's ARK Investment Management, LCC (aka ARK Invest) has revealed that the price of Bitcoin ($BTC) could top $1.4 million per coin in the future, based on their bullish case, as the cryptocurrency's "long-term opportunity is strengthening."
---
---
Mining
Headlines
The agreement was made in August 2022 and the miners were moved to Compute North's Wolf Hollow hosting facility in Texas. However, after the bankruptcy filing [of Compute North], BitNile determined the facility was no longer economically viable and began moving the equipment to its Michigan data center, which is expected to be completed by the end of February 2023.
A new law signed by Kazakh President Kassym-Jomart Tokayev on Feb. 6 reinstated the nation's stand against the unlawful mining operations and issuance of crypto assets. Out of the two distinct pieces of legislation, the first requires the secured digital assets issuers to have the government's permission.

The second legislation targets unsecured digital assets, typically earned through crypto mining operations. To reduce the possibility of tax evasion, crypto miners in Kazakhstan will be forced to sell at least 75% of their revenue via registered crypto exchanges. This rule, which aims to collect "information on the income of digital miners and digital mining pools for tax purposes," will be effective from Jan. 1, 2024, to Jan. 1, 2025.
The Russian Federation is looking to launch a crypto-mining facility worth over $12.3 million (900 million rubles) in the coming months. According to a report by local Russian media, RBC, this massive data processing center will be located in Buryatia, a Russian republic in eastern Siberia. Upon completion, the data center is expected to house 30,000 mining devices, with a projected total power consumption of 100 megawatts. [...]

The operational costs of the Buryatia-based mining farm are set to be heavily subsidized via various government support mechanisms employed by KRDV. This subsidy will be in different forms, including exemptions from land and property tax, reduced income rate tax, etc.
Difficulty and Hash Rate
asdf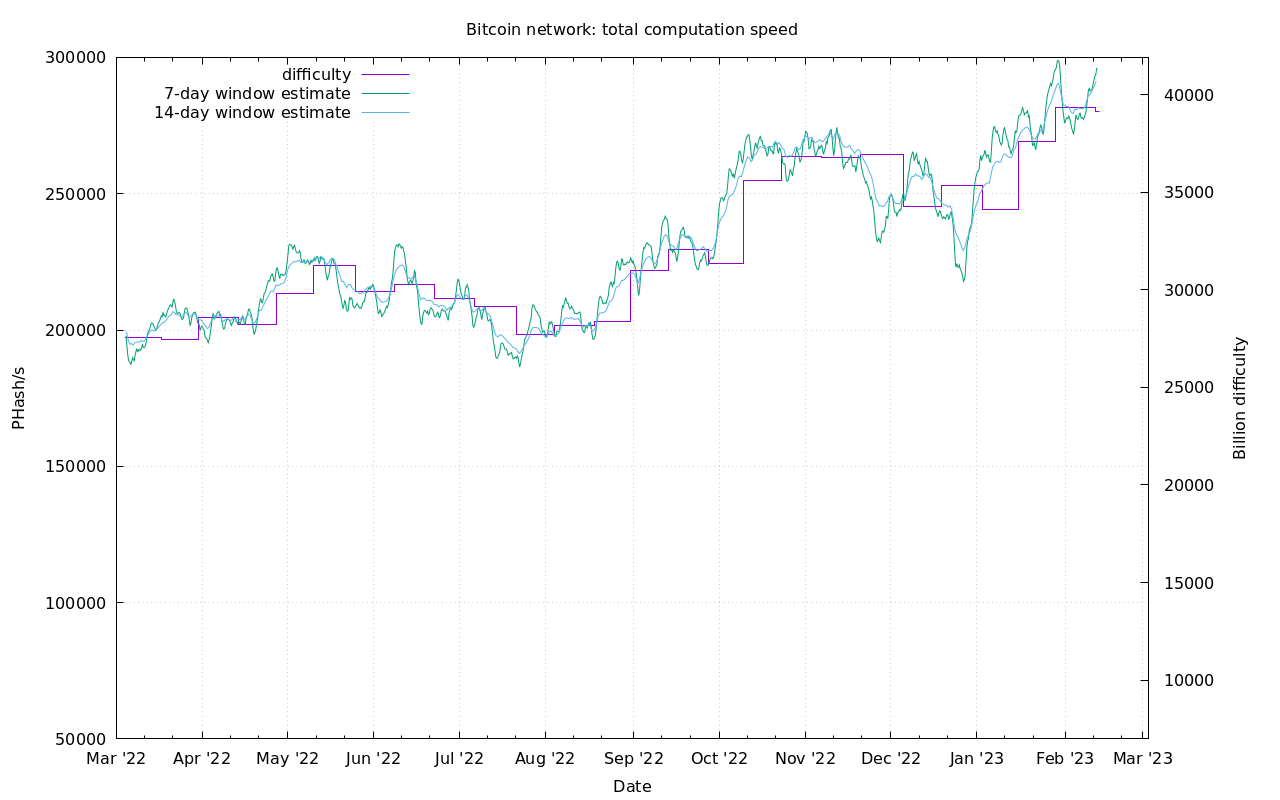 Mempool
Ordinals continue to fill up the mempool. So far, it has not affected fees all that much. Fees are up to $0.65, but during the spam attack in 2017 when fees reached ~$20, we have a long way to go.
Overall, fees are the security budget for Bitcoin, so this is not a horrible development for miners. In fact, the addition of inscriptions (NFTs on Bitcoin) and higher fees will only draw more interest for bitcoin mining.

---
Lightning Network
Bitcoin's Lightning Network developments are getting mainstream coverage
I covered the story about Strike's pilot with Clover a couple weeks ago. Now, this story is getting picked up on mainstream sites like The Motley Fool.
Of course, the comparisons are missed on the mainstream normies.
If the trial by Clover is deemed successful, it could lead to direct integration with all Clover merchants and put Bitcoin head-to-head with the likes of Visa and Mastercard. - emphasis theirs
Bitcoin is not competing with a "means of payment", it is competing as a "medium of exchange". The proper comparison would be bitcoin vs the dollar. Lightning Labs or Strike would be competing with Visa and Mastercard.
---
💡
Get our book the
The Bitcoin Dictionary
available
on Amazon!
That's it for this week. See you again next Monday!!!
A
---
February 13, 2023  |  Issue #229  |  Block 776,375  |  Disclaimer
* Price change since last week's report
** According to mempool.space