Reports
Bitcoin Fundamentals Report #222
Bitcoin miners perform a miracle on Christmas, Bitcoin and international trade, economic stats, China, EU breakup, Bitcoin price analysis and mining update.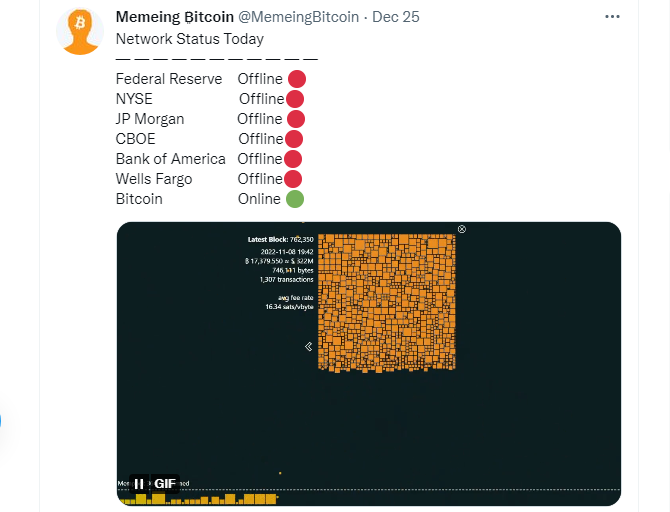 Jump to: Bitcoin headlines / Price analysis + Price Conclusion / Mining sector / Lightning Network
---
In Case You Missed It...
Daily Live streams
Article
Fed Watch
⬇️ Check out the video below ⬇️
Listen to podcast here
💡
Share the Bitcoin Fundamentals Report!
Headlines
| | |
| --- | --- |
| Weekly trend | Extremely stable |
| Media sentiment | Very Negative |
| Network traffic | Slightly elevated |
| Mining industry | Stable but tough |
Bitcoin's news cycle slowed down dramatically this week, along with its price volatility. Weather stole the headlines going into Christmas, and China reopening and Covid explosion in the last couple of days.
I'm sure you are aware of the amazing cold temperatures, that hit the US in the last week. Well, it's heading to Europe next.
Bitcoin miners performed a miracle this Christmas!
The bitcoin mining hashrate, a measure of computing power on the blockchain, dropped about 100 exahash per second (EH/s), or 40%, to 156 EH/s, between Dec. 21 and Dec. 24, data from BTC.com shows. It returned to about 250 EH/s as of Sunday.

The practice, known as curtailment, is touted as a way for miners to help electricity grids. The miners' steady demand ensures power producers are bringing in revenue to offset costs, but they can power off when demand from other sources is high, such as during winter storms.

This is huge news, because this is finally the perfect next-step use case for bitcoin. If you've been following my content for a while, I talk regularly about bitcoin facilitating international/interregional trade as international trust and globalization breaks down.
"In January, we want to legalize cryptocurrencies to ensure foreign trade activities," Aksakov [Russia's Congressional finance committee chairman] said, per a translated version of the report.

The chairman highlighted that although Russia is taking steps to allow bitcoin and cryptocurrency payments for imports, there are no plans to encourage similar usage of the burgeoning assets within the boundaries of the nation's territory.
Macro headlines
A fantastic video here of a shipping professional discussing the collapse in shipping volumes into the US, and especially the West coast.
He says, "Covid caused a disruption at sea akin to a world war." I said nearly the same thing on a stream this week before this video dropped.
This is why "inflation" has always been transitory. Gasp! Yeah, that's right.
The EU will not survive in its current state for long. The political shift toward protectionism and nationalism is far too strong to stop it, and the global Marxists in Brussels and Neo-cons in Washington, have played most of their hand already in the Ukraine conflict.
"We do not believe in a superstate of 27 EU member states. We want a return of a union of homelands," underlined the Polish prime minister.

Morawiecki pointed out that Europe has to choose between an authentic solidarity of equal states, or a model of a single superstate in which "decisions will be made in a couple of the largest capitals, disregarding other countries."
China is in chaos at the moment. Most pundits are CCP sycophants and can't wait to get that sweet sweet CCP kick-back money for promoting China as brilliant central planning commies. Their U-turn on Covid, which was forced by civil unrest, is now being hailed as brilliant strategy.
You can't make this up. Hardcore Marxist Xi Jinping is some sort of hero to Western academics. I guess that shouldn't be much of a surprise, given they are Marxists, too, and that the hailed the Soviets as the future right up until the end.
💡
Help us grow! Please share!!
Price Analysis
Weekly price*
$16,674

(-$159, -1.0%)

Market cap
$0.321 trillion
Satoshis/$1 USD
5,991
1 finney (1/10,000 btc)
$1.67
The bitcoin price is so stable, I dug deep for several special charts this week, then make my regular price conclusion.
4-Hour chart
Miraculous stability during the Christmas bitcoin mining miracle (story linked above).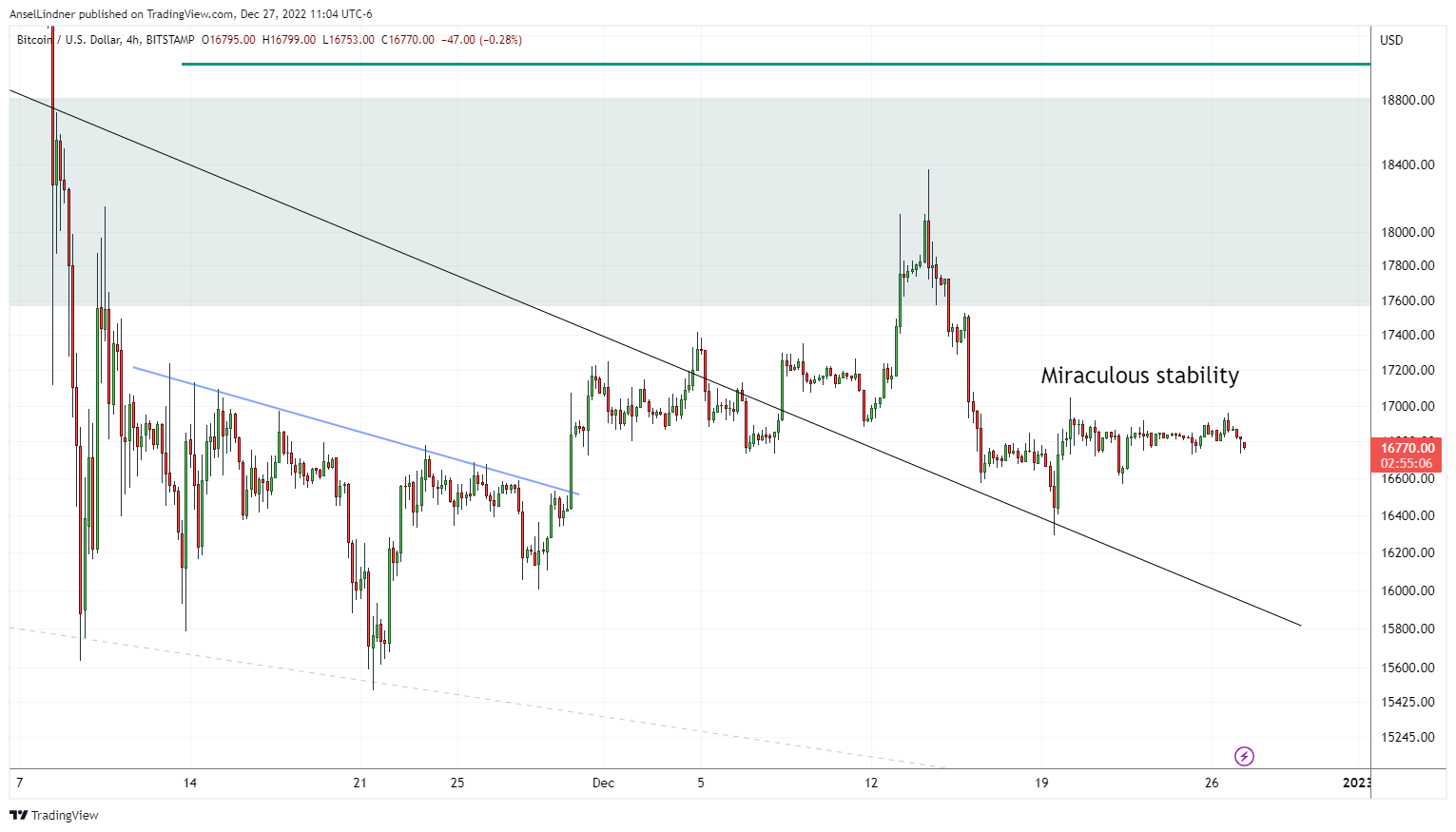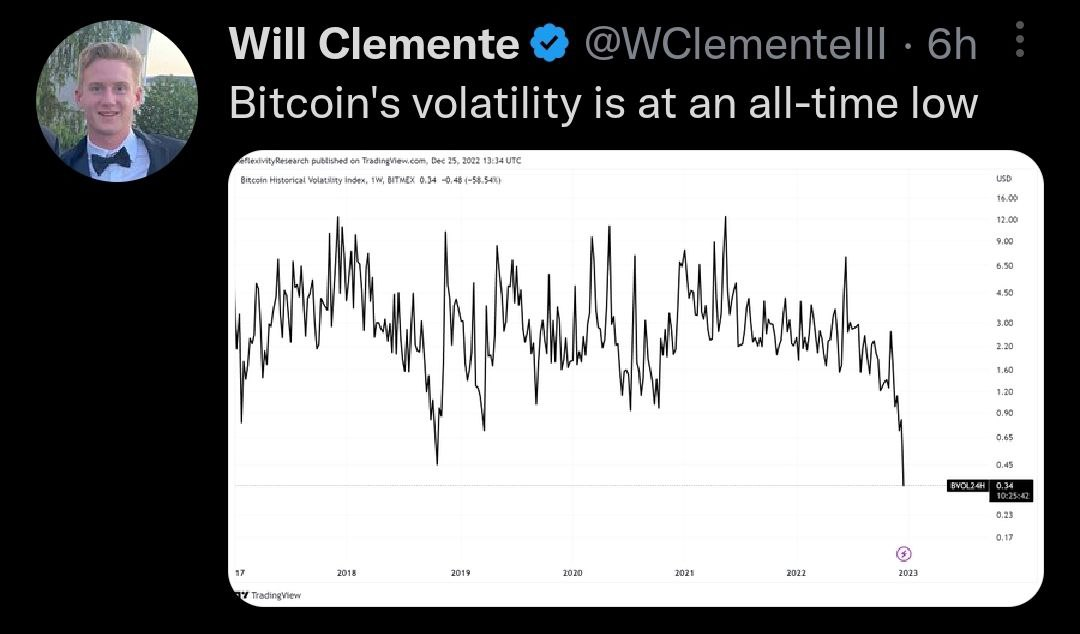 Daily chart
Not much to see on the daily chart either, except the incredible stability in price and slight upward bend to the candles.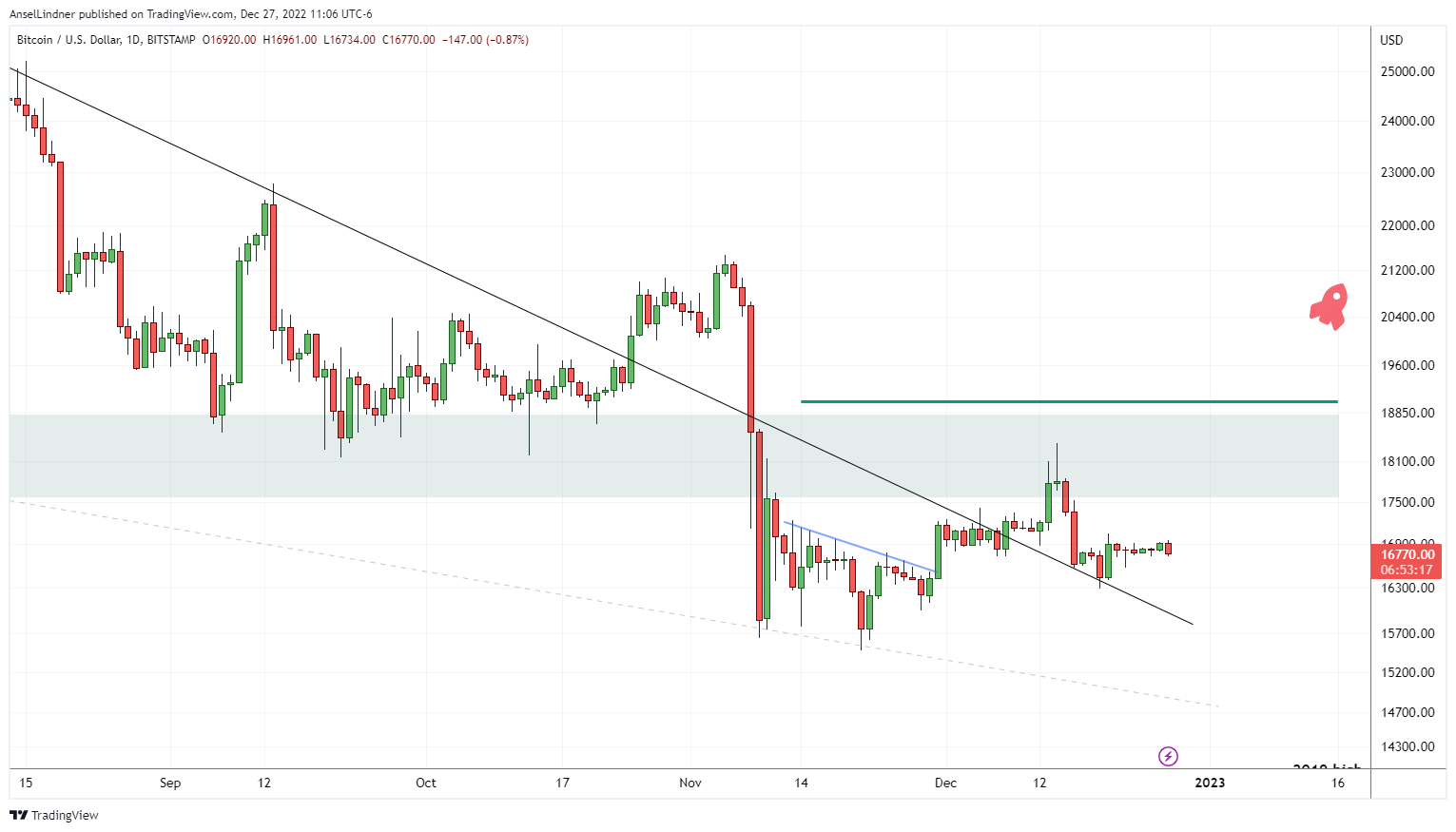 Adding moving averages to the daily, we start to see some important levels. If bitcoin can break the 50-day MA it will be in a better technical position to rally back into the resistance zone. I also, extended the 200-day MA to show a place where it may converge with the resistance at $19k, that would make sense for bitcoin to be drawn to that level at that time and perhaps break through.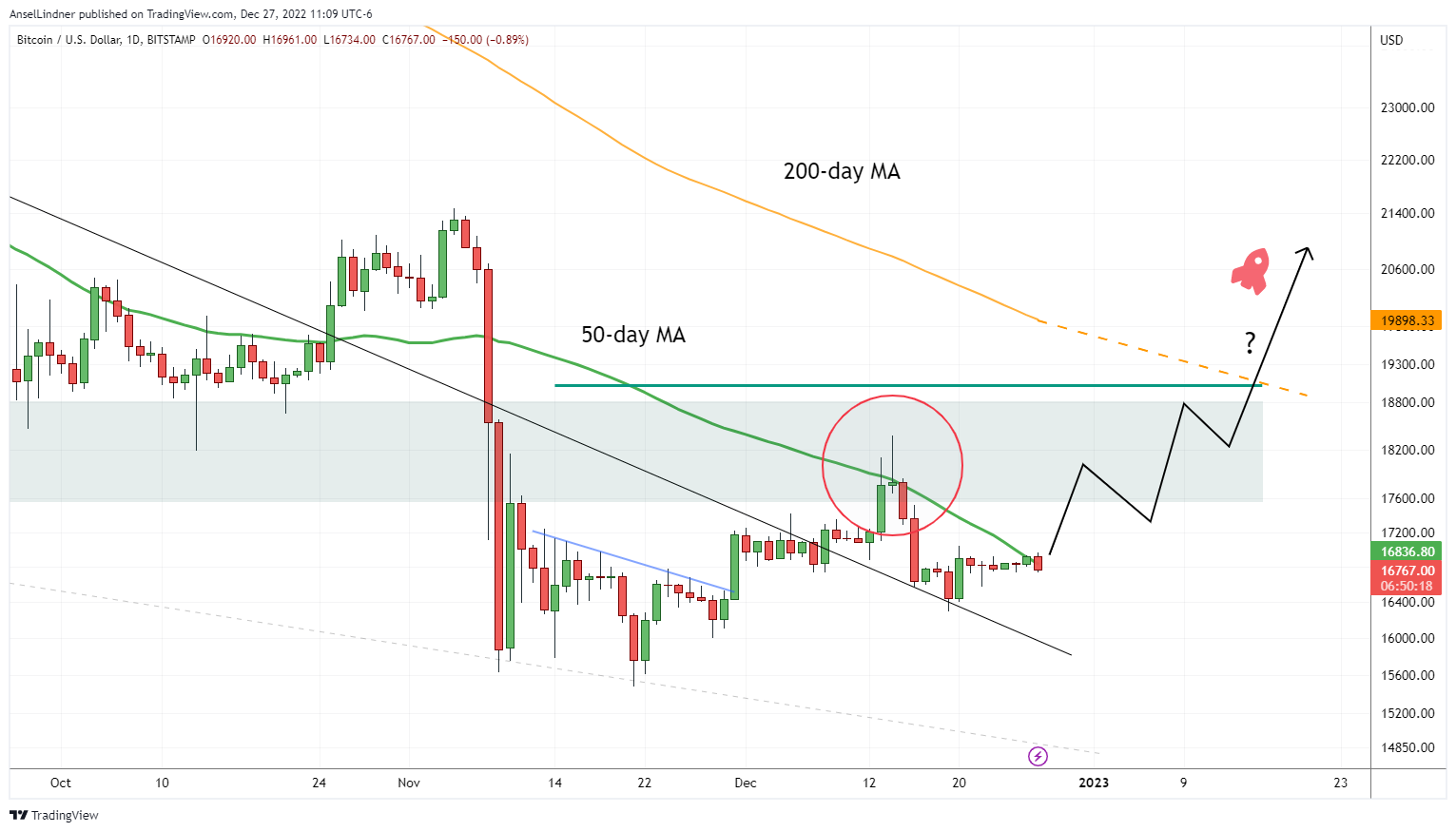 Pivots
The last couple of issues I've examined the daily pivots. If the stability continues for the rest of week, we will see a new pivot of around $17,350.  This means that price will likely hit that level in that next period. Since it is above the price, that is another data point showing higher prices not lower.
Weekly Charts
The weekly chart reveals just how stable bitcoin has been if you take away the massive CRYPTO crises this year. And remember, bitcoin is not crypto and crypto is not bitcoin. These crises have also had weakening effects on bitcoin, with the FTX fiasco being the worst, but having the least effect.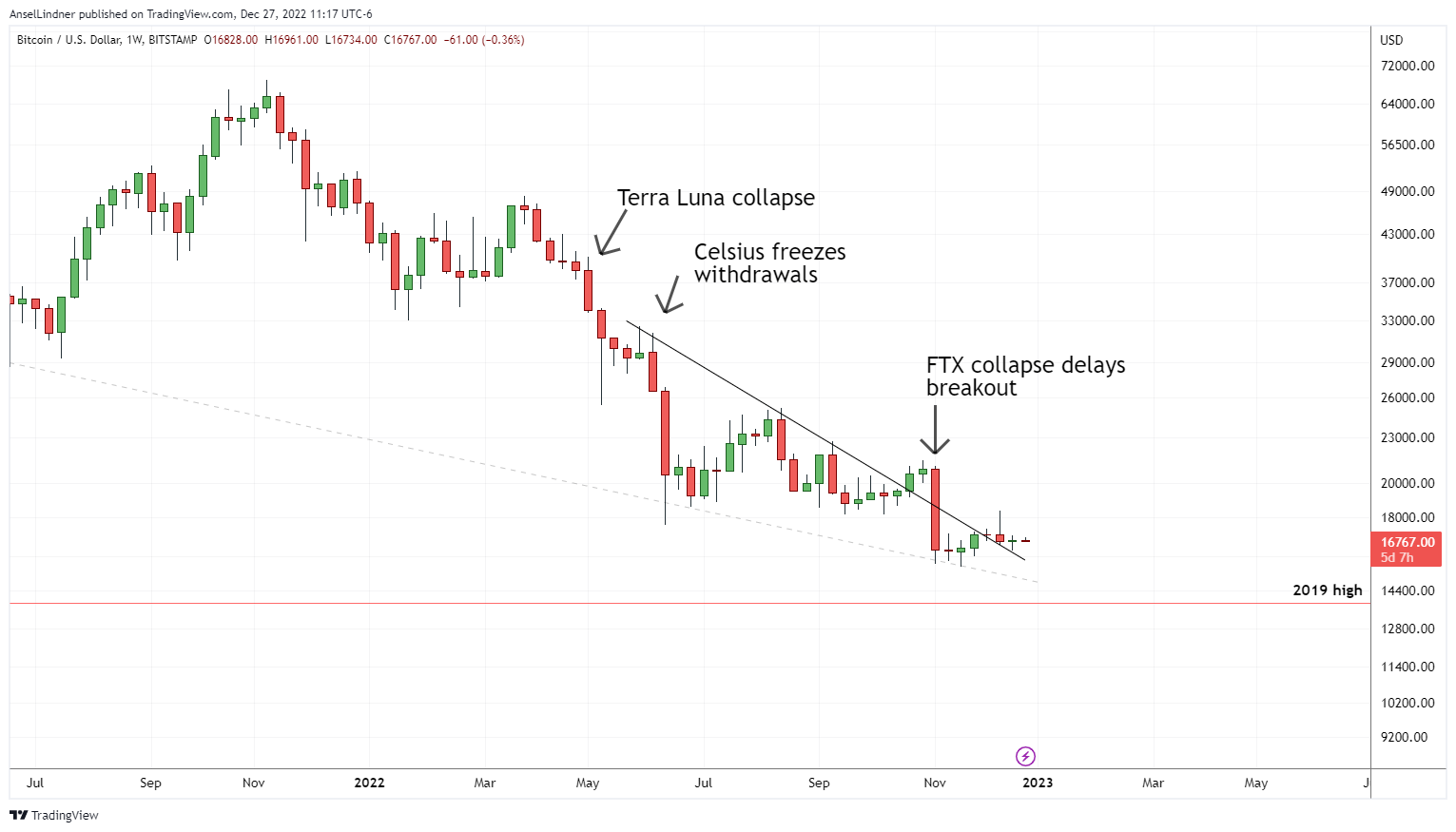 Miscellaneous charts
Many indicators are showing Bitcoin in major oversold conditions, something has to change soon. Here is a sampling of those I've seen this week.
Puell Multiple became popular several years ago for showing tops and bottoms, overbought and oversold conditions using a formula that focuses on the dollar value of daily coin issuance.
This is the famous Realized Price of bitcoin. It is a simple cost basis for all coins according to when they last moved. As you can see we are below this indicator like we are at all previous cycle lows.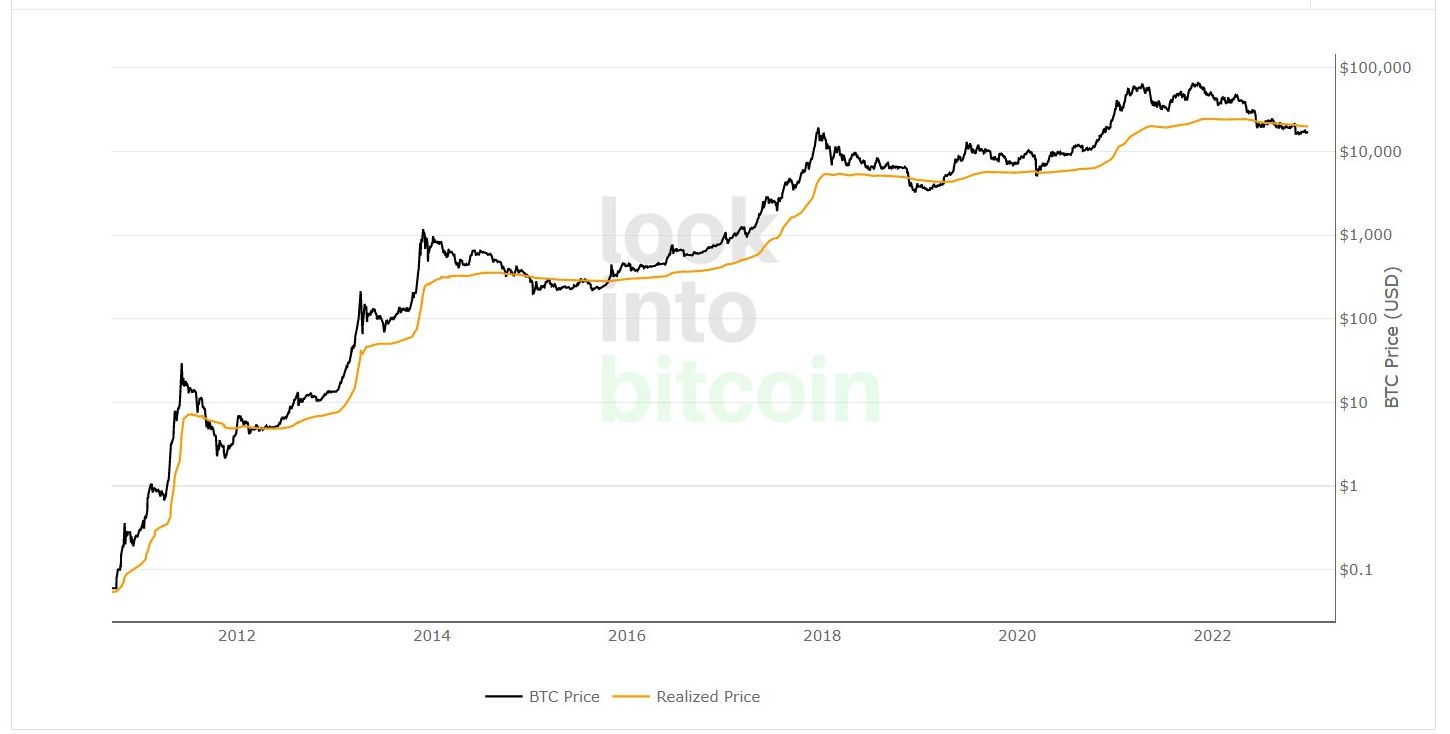 Net Unrealized Profit/Loss (NUPL) is a derivative of realized price divided by current market price. As you can see, it is well into the historic capitulation zone.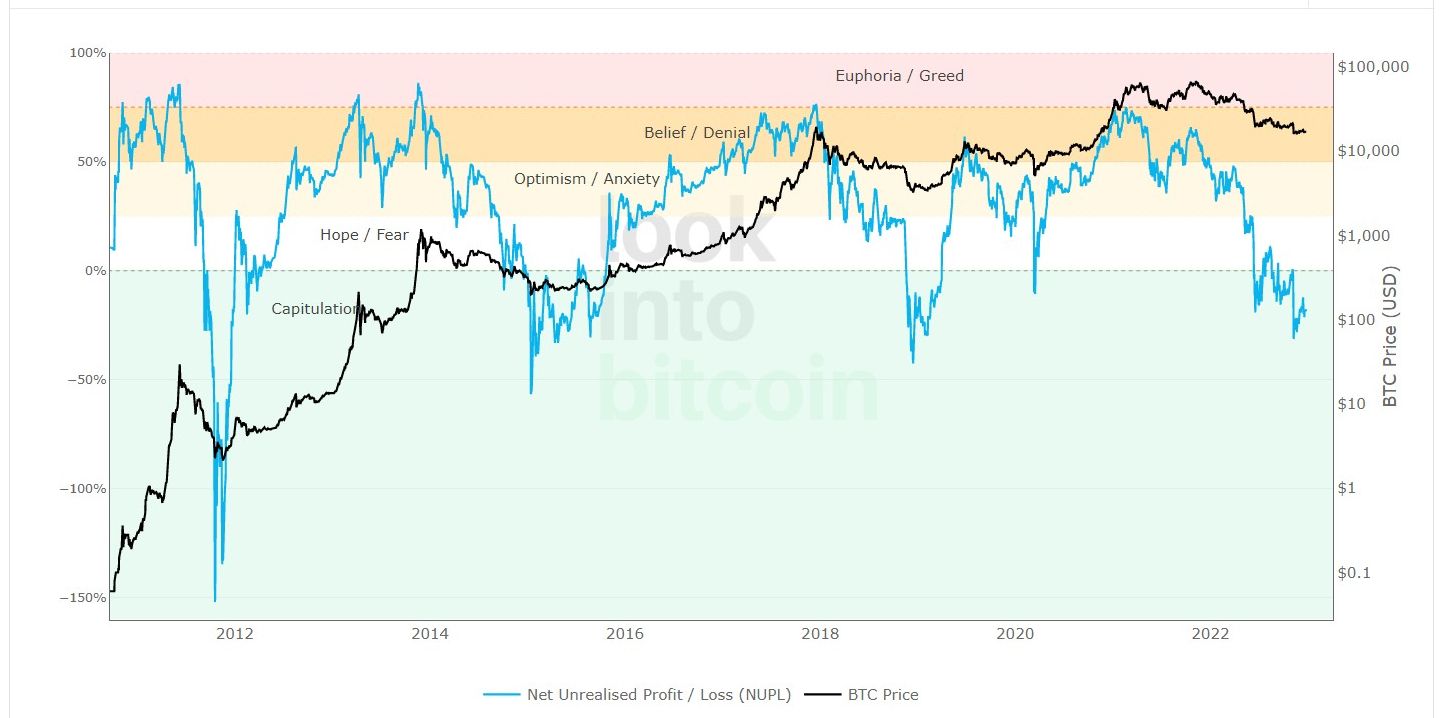 Random indicator that maps the cycle bottoms well. IDK the formula but using as an example of the charts circulating out there.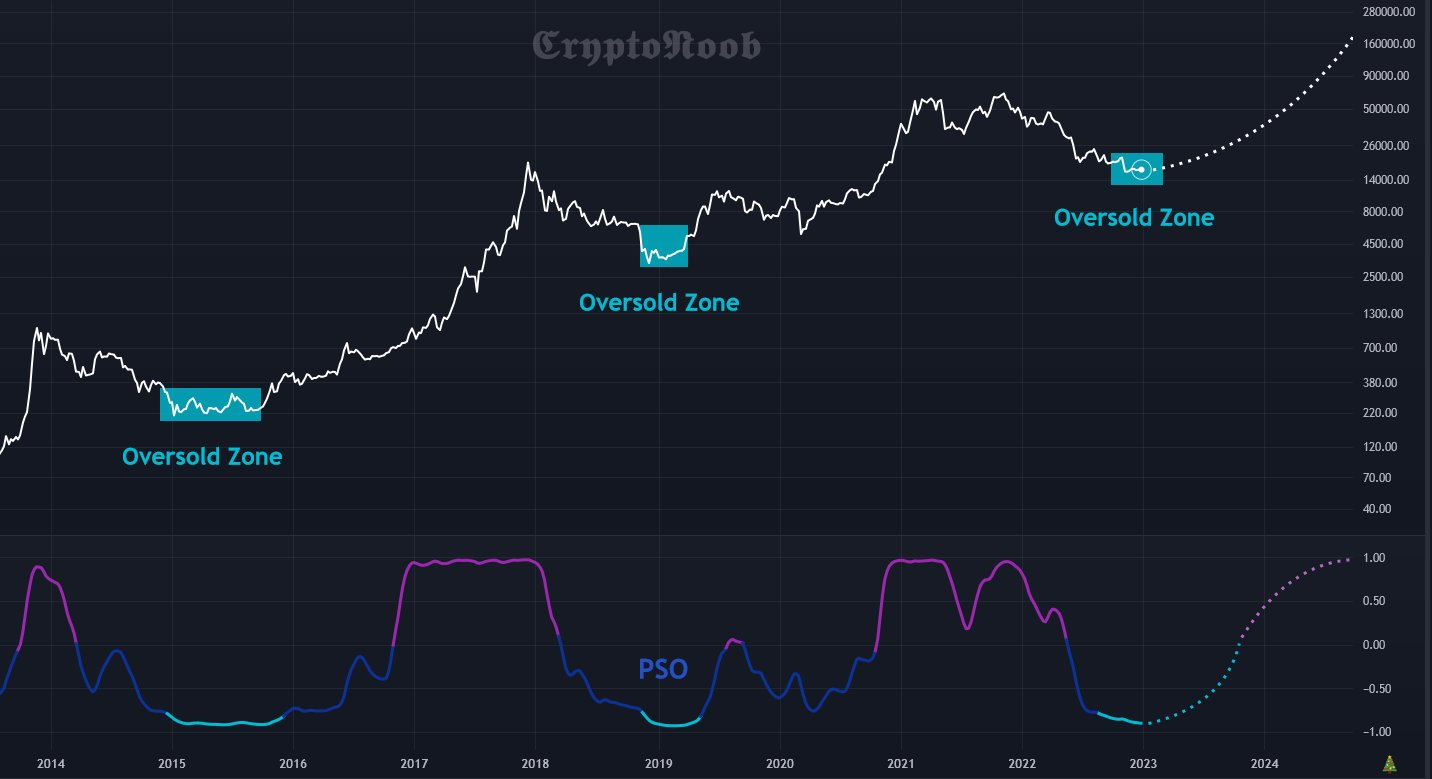 Bitcoin leaving exchanges slow dramatically. Bitcoin flew out of exchanges in the wake of the FTX debacle. Now, withdrawals hit a 7-month low. Panic has ended for the most part.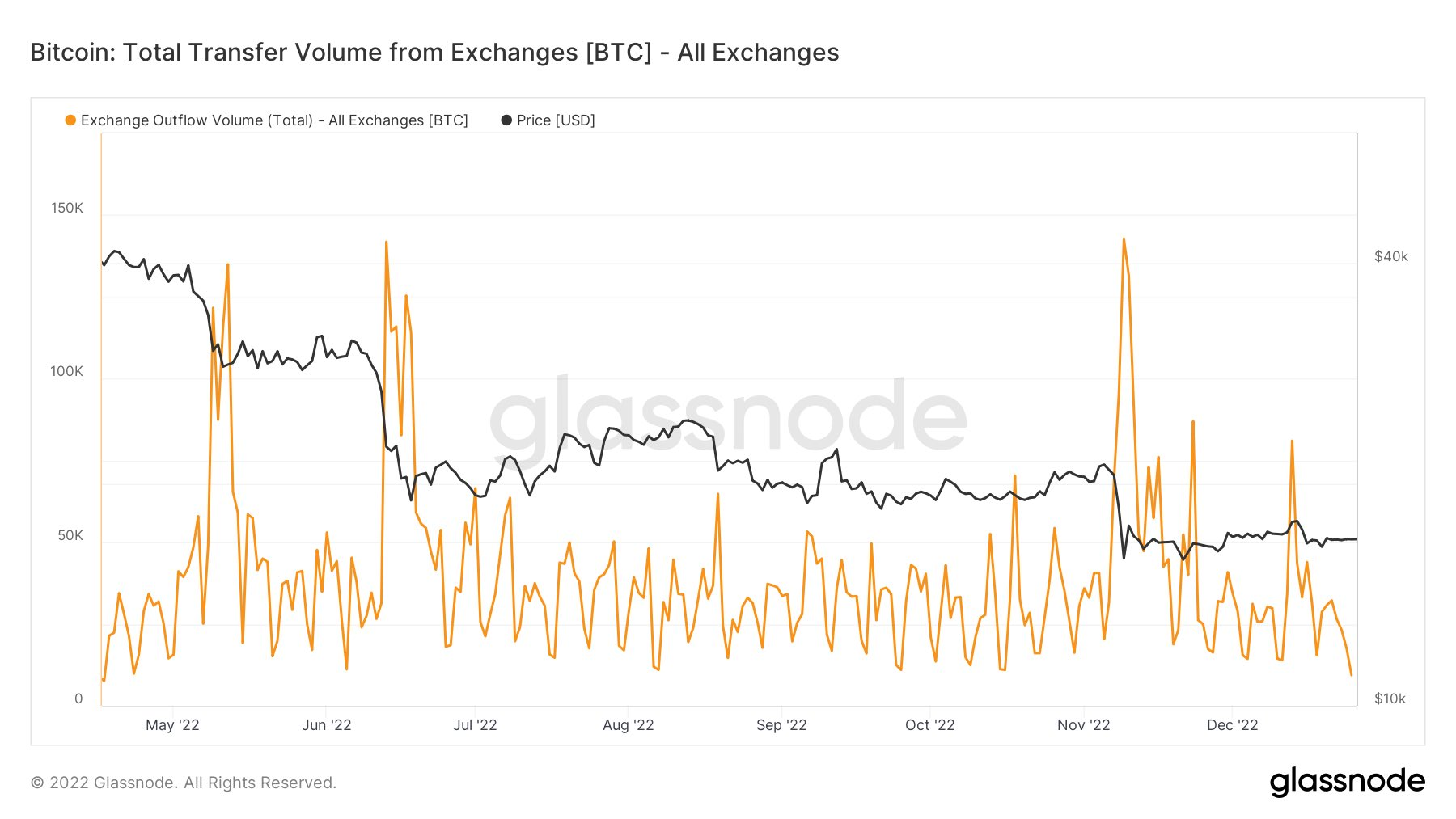 Price Conclusion
Summarizing...
I took out the Headwinds and Tailwinds section this week, because the of the time of year. Most other markets are generally the same as bitcoin to be honest.
This week has been slow for news and price. The stability in price has plainly evident on all timeframes at this time.
On the daily chart, breaking the 50-day moving average would be a technical win, and might have unusually high importance, because the price is so stable and nothing much is happening technically on the chart.
At almost every macro bitcoin chart you look at conditions are extremely oversold.
Another risk I haven't seen discussed much is the end-of-year tax effect on bitcoin. Some people might want to sell a little bitcoin to capture the loss in 2022, before rebuying in the new year. This could tip the balance on the price marginally lower this week.
Overall, with the still elevated risk of another major company like Binance or Grayscale collapsing, I'm expecting the bitcoin price to move slowly and cautiously higher, with some momentum beginning in the new year.
---
---
Mining
| | |
| --- | --- |
| Previous difficulty adjustment | +3.2698% |
| Next estimated adjustment | -10% in ~7 days |
| Mempool | 9 MB |
| Fees for next block (sats/byte) | $0.65 (28 s/vb) |
| Median fee (finneys) | $0.58 (0.347) |
Mining News
In the last issue of this newsletter, I wrote about Core Scientific, a major bitcoin miner, getting a bailout loan of $40 million, with an optional $30 million available on conditions. However, a few days later, they still filed for bankruptcy.
The mining industry is in seeming chaos right now, but beneath the surface it is showing itself as very robust. First, the bitcoin mining Christmas miracle I wrote about above, possibly saved many lives during this cold blast of weather, through their unique ability to shutdown in emergencies to save power grids from major outages.
Secondly, bankruptcy for bitcoin miners is not the tragic thing it is made out to be. Those machines will remain on and mining even through the proceedings. And if they must sell off assets, including their equipment, it will still unlikely shut off for any big length of time. Instead, new owners with clean balance sheets will take control of the already running machines.
Difficulty and Hash Rate
This chart looks bad, but it is a 3-day estimate and slow to adjust to the one-day Christmas event. Hash rate is currently back up to over 250 exahashes/sec, so just under the purple difficulty line on the chart below.
We will see a large difficulty adjustment to the downside coming up in a week or so, but this too is a good thing. The more healthy miners who survived this tense period will get rewarded with lower difficulty.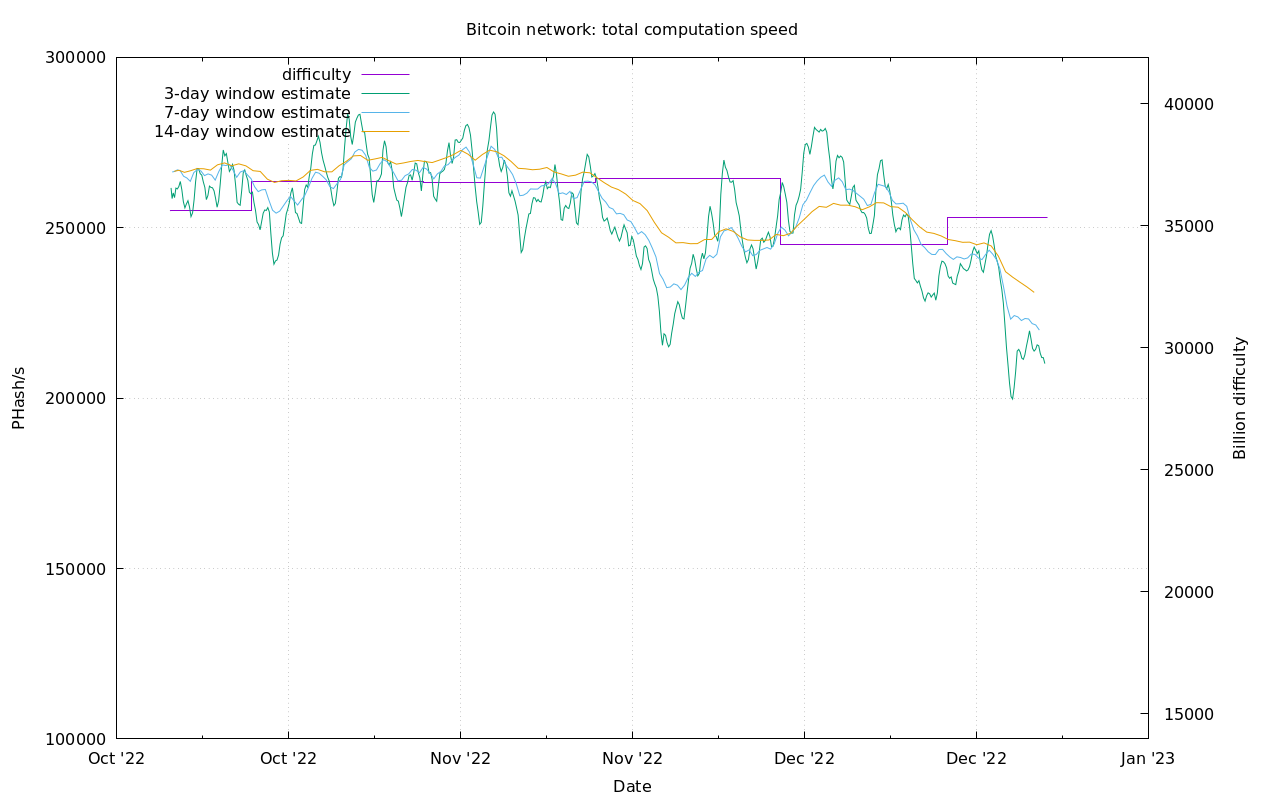 ---
Lightning Network
Bitcoin gets favorable coverage from Forbes because the lightning network.
It's Lightning Network at scale that allows for bitcoin to fulfill its promise as a medium of exchange. Recent developments on this infrastructure allows for private, near-instant payments between different people around the world.

You can set up your own shop and payment processing stack no matter where you are in the world and receive payments from Lightning wallets at a click of the button.
---
💡
Get our book the
The Bitcoin Dictionary
available
on Amazon!
That's it for this week. See you again next Monday!!!
A
---
December 27, 2022  |  Issue #222  |  Block 769,144  |  Disclaimer
* Price change since last week's report