Reports
#Bitcoin Fundamentals Report #186
This week, a debrief of the Bitcoin 2022 conference in Miami, price analysis, and mining news.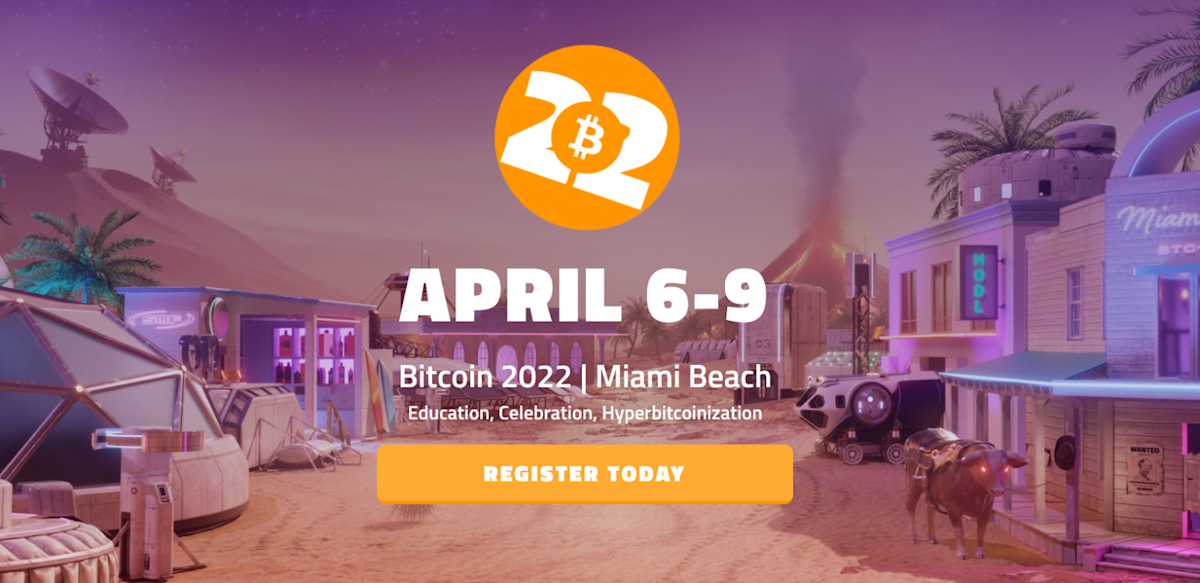 This week...  debrief of the Bitcoin 2022 conference in Miami, price analysis, and mining news.
In Case You Missed It...
Sharing is caring!
Partnering with BitcoinDay.io
Bitcoin Day is a chance for the local community, business professionals, newbies, and cryptocurrency leaders to gather under one roof to inspire, socialize, and learn from each other. Check the schedule for a city near you!

---
Market Commentary
| | |
| --- | --- |
| Weekly trend | Testing support |
| Media sentiment | Neutral |
| Network traffic | Low |
| Mining industry | Stable and strong |
| Market cycle timing | Early stage of new bull cycle |
Hello Bitcoiners!
This issue is delayed by a few days because I was in Miami at the Bitcoin 2022 conference. I tweeted about the delay on Friday, so if you aren't following me there, please do.
I'm still going to follow my basic outline of the Fundamentals Report, because the structure allows me to cover the most important parts of the industry and to keep my thoughts organized about the conference. So, let's jump into the overall Market Commentary, with my general takeaways from the conference.
Venue and City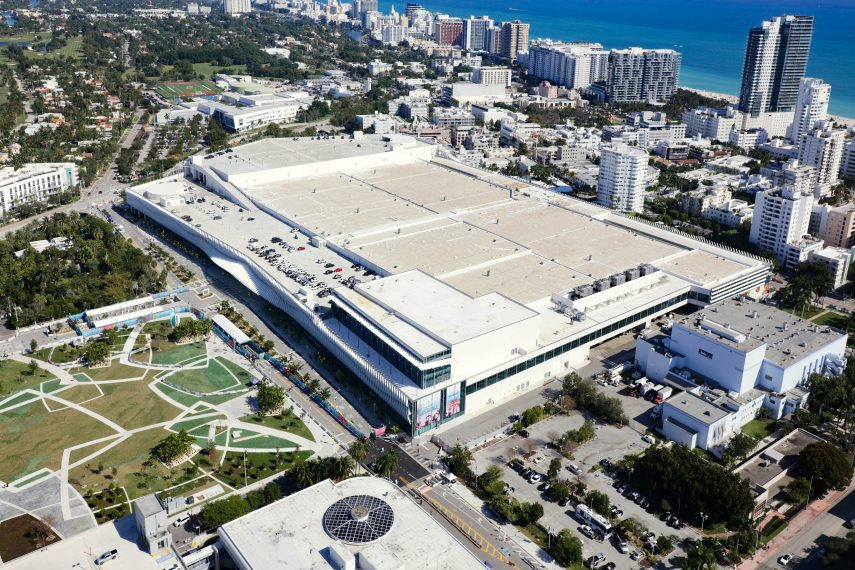 The location and venue for this year's conference was much better than last year. I live in Florida, and drove to the conference both years. Of course, when you go to Miami, you want to stay on the beach. The Bitcoin Magazine team delivered this year with the cavernous Miami Beach Convention Center centrally located in Miami Beach. It is only a few blocks off the water and very close to all that South Beach has to offer. It was easy access to walk to from anywhere south of about the 5400 block and down, so it gives you a lot of options for hotels.
Last year's venue was in Wynwood, kind of known as the art district in Miami. It was a rougher neighborhood than expected and parking was absolutely horrible. If you were staying in an AirBNB or hotel on the beach, you had to get back over the bridge and back in traffic and find a place to park if you had a car. Uber is about $25 one-way for that trip alone.
Last year, there were few to no places to eat in walking distance of the conference, but this year, South Beach? Come on, there's at least two or three great places to eat every block. The team also hired a few food trucks that parked right at the venue all day, which was a homerun for many conference goers that didn't want to leave for lunch.
South Beach can be expensive to eat and stay, but we found a cheap deal with a well known hotel chain that was 1.5 miles north. There were two coffee places in between our hotel and the venue, so it was perfect in the morning to walk and take in some of the city.
Miami Beach boasts a brand new 7-mile boardwalk that is scheduled to be completed this spring. From our experience, south of 41st Street it is totally finished and beautiful. You can easily skateboard along it, if that's your thing, to and from the conference. Several hotels have built restaurants and bars that back up onto the boardwalk and can be accessed from that side. It was a great way to walk back to the hotel from the conference each day.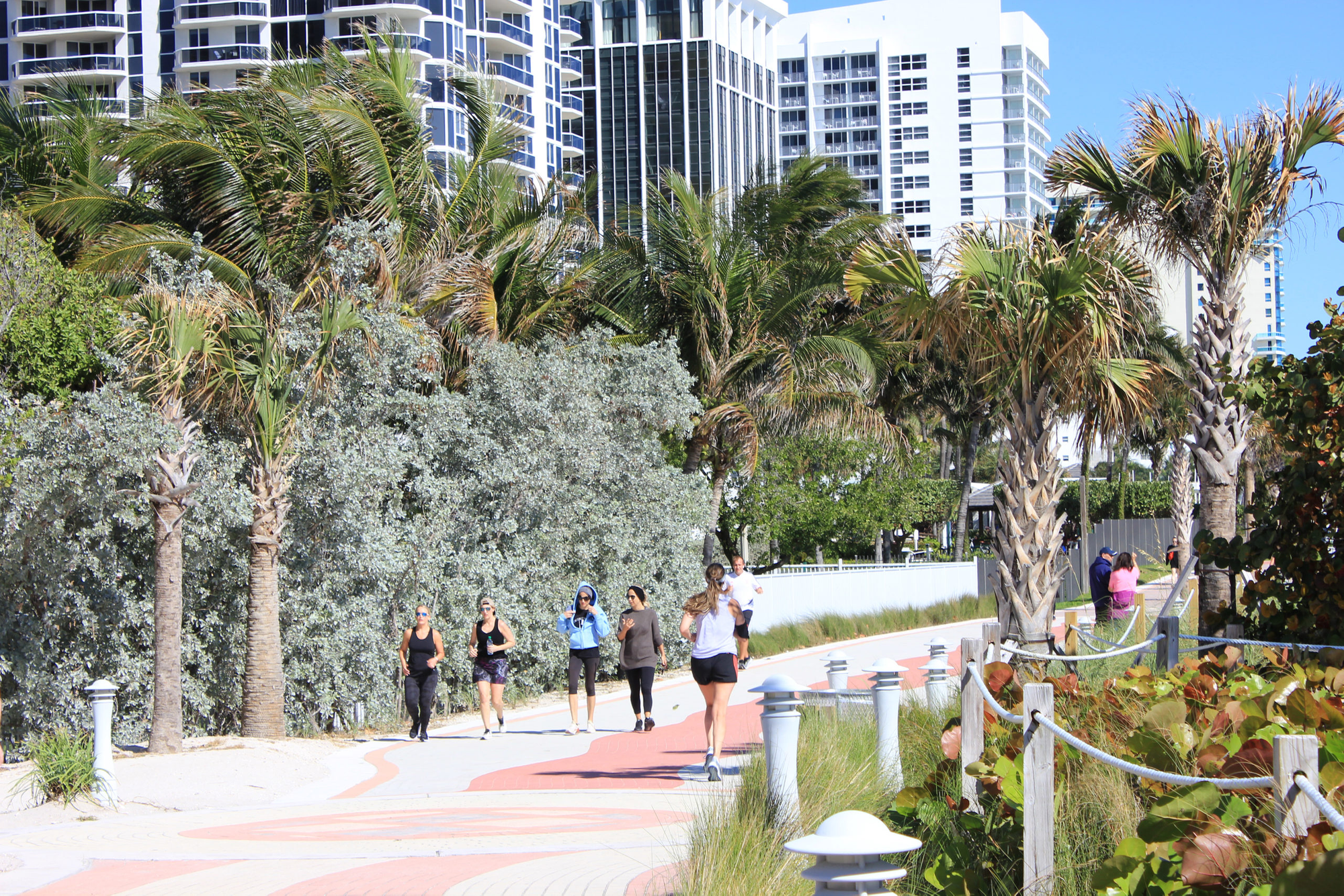 The venue was huge. There was a very big central lobby, massive Expo area where they had a volcano and live stream stage set up, and the biggest main auditorium area I've ever seen (I'm not a concert goer, but it looked like you could fit a concert of over 25,000 people in there). On the wings of the large conference center, they had 4 smaller stages. They were slightly far apart, taking about 10 mins to walk between them, which is a lot of time if you're trying to hustle between speakers in on different wings.
Expo
The Expo area was very spacious. It looked a little oversized actually, but there's room to grow next year by a third or more. They used the space wisely though. The spacious entrance area had a central bar with a 20 foot volcano that spewed steam. The volcano served as a bar center piece as well as a backdrop for the live stream stage. I didn't know they were doing that, and really struck me as professional. It was funny seeing Q up there with his wild hair pulled back and in a suit coat.
One of my favorite things from last year was the art exhibition, and this year it was slightly bigger. I know the objections about a small segment of the art being NFT stuff, which I agree with. The bitcoin focused art was very cool and engaging, but when you made your way over to the NFT section, it looked cheap and silly (like NFTs are).
Anyway, the art is one of the things about the conference I love, because it shows that this is a holistic movement. Bitcoin touches lives and invokes an emotional reaction, and it's amazing when good artists can capture some of that feeling. It also shows outsiders that this is a whole movement, not a get rich quick scheme.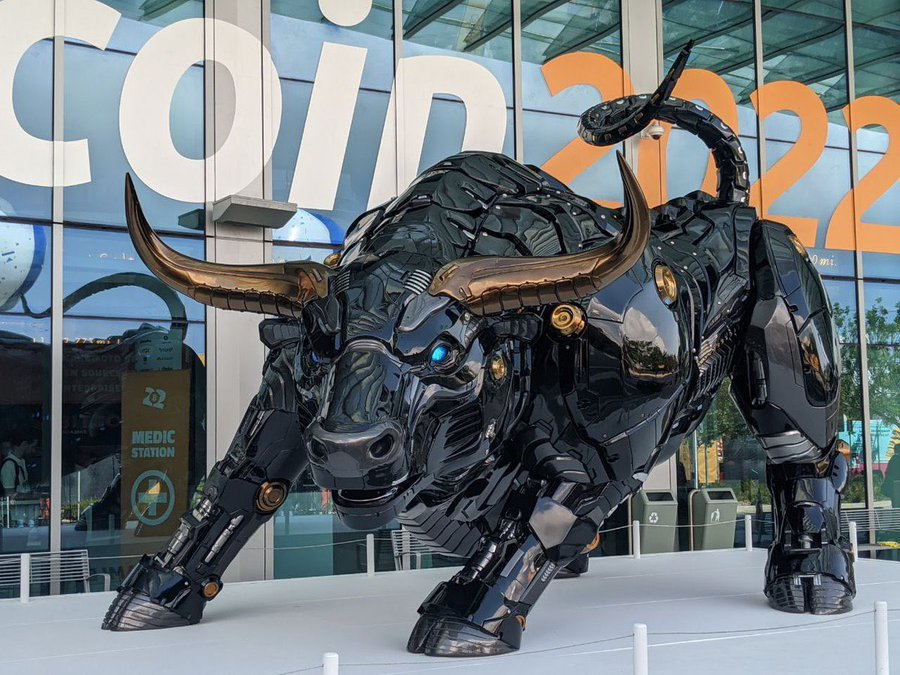 The bull was something else. It made a HUGE impact. I wish it had red laser eyes instead of blue. Someone also pointed out on twitter how it doesn't have balls. Pretty big oversight if you ask me. I have a bull on my desk that was my grandfather's, and it proudly sports a strong set. The bitcoin bull will live on one of the campuses here in Miami. Hopefully they bring it out every year (with added masculine power next time).
Crowd
The crowd this year was strongly bitcoin focused. There were a few people with exchange shirts on, and maybe a few altcoin related shirts. But I saw no ethereum or doge shirts personally. That's a change from last year, where I saw many altcoin shirts and a large presence of shitcoin exchanges.
The main demographic was casually dressed younger men, but more wives and women in general than last year. The ratio was up from about 90/10 male, to 75/25 male this year. No scantily clad marketing girls this year. That wasn't a big deal last year or anything, but I saw a couple. Of course, beautiful women were there, but no girls handing out flyers in tight-hooters type outfits, so to speak.
Some business suits were at the conference as well. More than last year. I expect that, as a segment of bitcoin conference goers, to increase quickly in the next couple of years. The anarchist/libertarian segment was still very present, but less so this year. Overall, a diverse and good crowd.
What I'd like to See More Of
There was one talk about bitcoin as collateral in mortgages and one sidechain panel that I noticed. That's not enough IMO. Those topics are extremely important for the near future of bitcoin. Bitcoin as collateral, or in other words, bitcoin plugging directly into the current financial system is massively important. We hear talk about holding bitcoin on companies' balance sheets, but little about using bitcoin as collateral.
As for the sidechain discussion, it was very entertaining because Burak Keceli, a dev working on Liquid, called a fellow panelist from the Thorchain scam a shitcoiner to his face. Anyway, that was fun, but the discussion was very surface level like defining a sidechain, and not about more in depth ideas. I'd love to hear about nation-states using a bitcoin sidechain instead of a CBDC. Maybe I'll write about that for Bitcoin Magazine and do a talk next year.
SHARE with those who need reliable bitcoin news !!
Quick Price Analysis
Weekly price*
$42,290

(-$4,032, -8.7%)

Market cap
$0.770 trillion
Satoshis/$1 USD
2,463
1 finney (1/10,000 btc)
$4.23
Bitcoin Daily Chart
All this hype around the conference, one would expect it to be good for the price, right? Well, last year saw the same dip during, and for a couple weeks after, the conference. It is almost as if people are holding their breathe and taking some time to absorb the last week.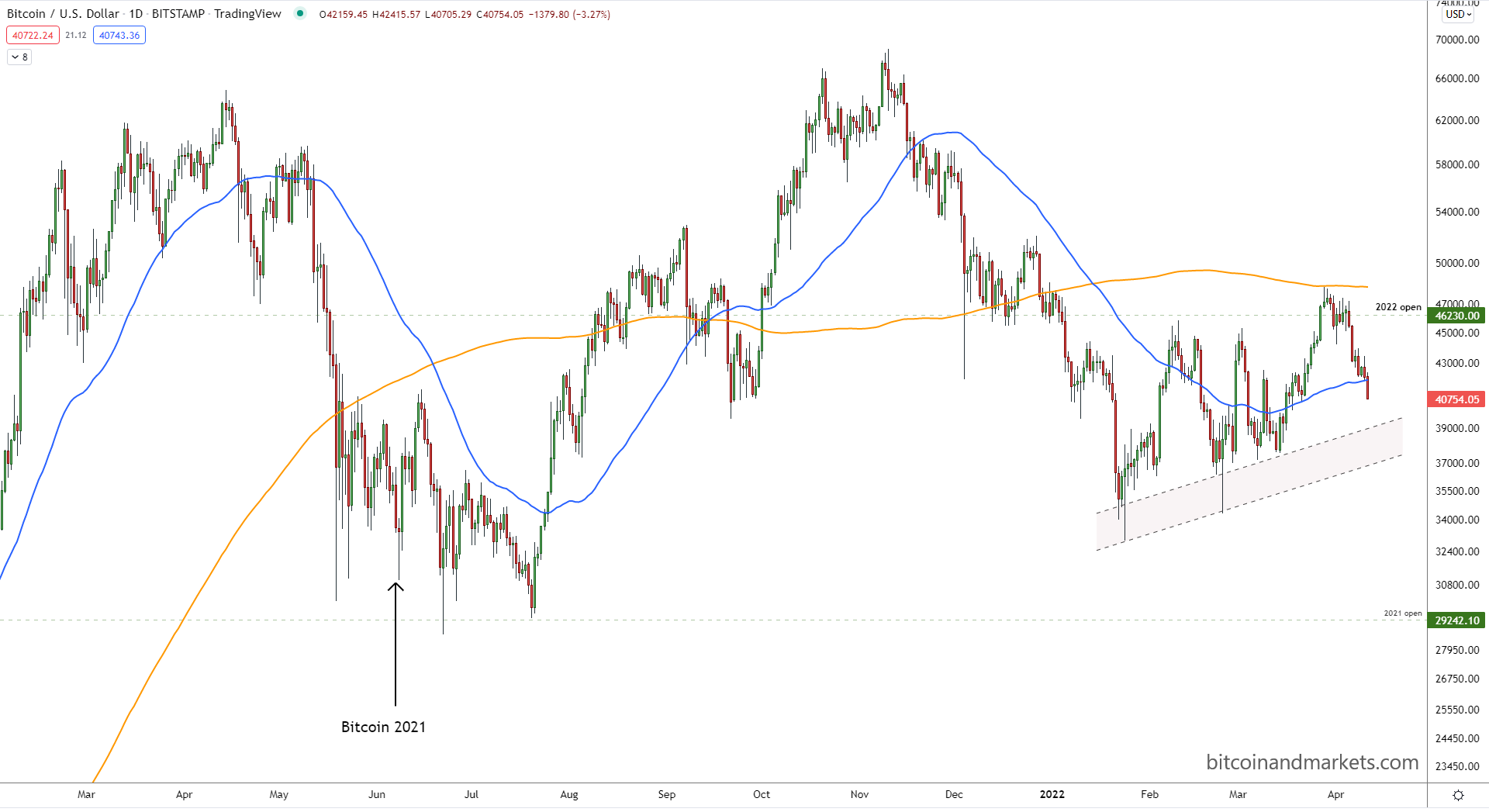 Price was soundly rejected by the 200-day moving average (orange) and paused ever so slightly on the 50-day moving average before diving again. As I write, price is dropping and approaching the area I've highlighted as a channel of support on the above chart.
Volume by Price
Let's take a quick look at the volume by price indicator. The price was rejected by an area of higher volume, and is making its way into the largest volume support zone.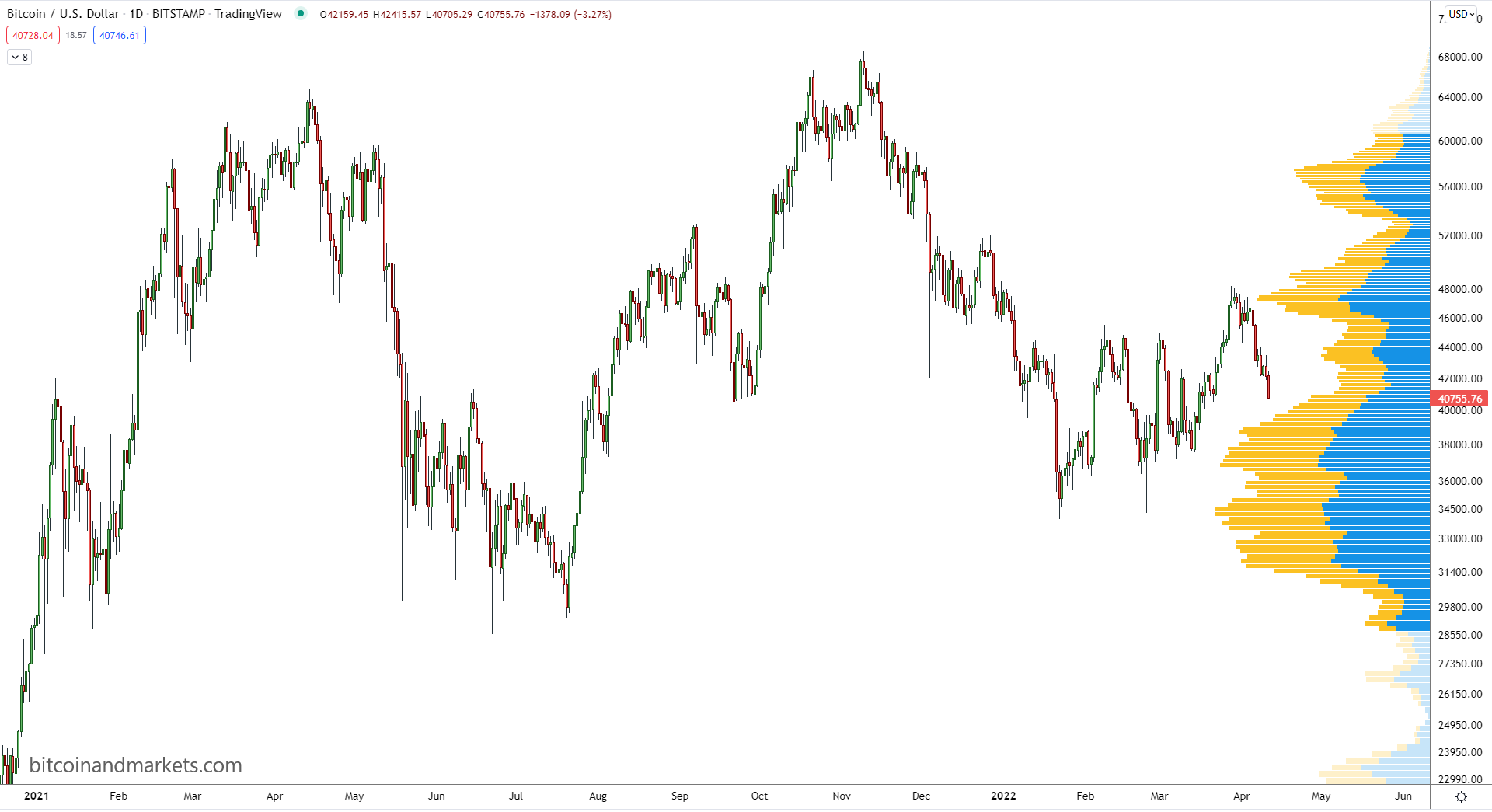 Possible 80-week Cycle
I've mentioned this cycle a many times, and it is still generally accurate. The 4-year cycle that was a result of the halving does seem to be over, and I think it will be replaced for the next several years by a 1.5 to 2-year cycle.
It kind of makes sense too, when you consider that the halving is every 210,000 blocks, which has been averaging ~200 weeks. Half of that is roughly 100 weeks. I'm using an 80-week measuring stick on the below chart, but it could be extended slightly. The main idea is still the same.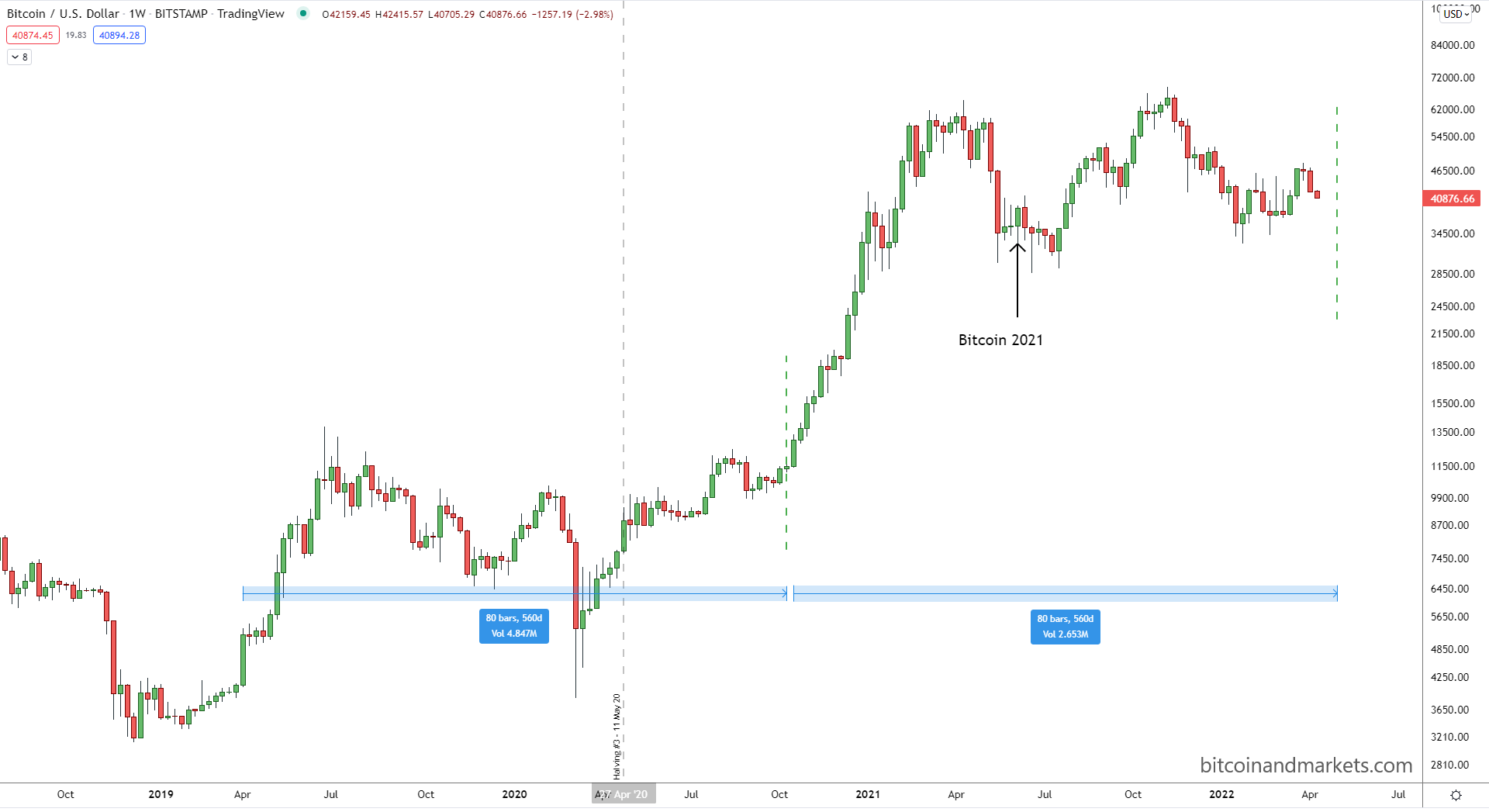 Price Conclusion
Overall, I think we are still near the beginning of the next major rally in bitcoin. The lows are in and we are struggling to break upward. The volume by price is very significant IMO and aligns with pattern support. This most recent sell-off is temporary and a buy-the dip opportunity.
Therefore, I'm expecting a sideways week that could even end up green on the weekly candle. However, like the weeks of 24 Jan and 21 Feb, we could see a wick to the downside (I can see a wick down to $38k being possible) to flush out weak hands and trap some bears.
👉 Become a member! 👈
Get more price analysis
Mining and Development
| | |
| --- | --- |
| Previous difficulty adjustment | +4.13% |
| Next estimated adjustment | -1% in ~12 days |
| Mempool | 3 MB |
| Fees for next block (sats/byte) | $0.17 (3 s/b) |
| Median fee (finneys) | $0.17 (0.040) |
Bitcoin 2022 on Mining
Much of the Bitcoin 2022 conference was about mining. IMO, the order of importance of topics was 1) general bullish talking points, 2) bitcoin mining is broadly beneficial and not just good for bitcoin, and 3) lightning network.
I made it to a couple bitcoin mining panels and learned some good stuff. As I've said before, I've not dedicated a lot of time to understanding the specific energy arguments as they've evolved, so these panels were informative for me.
Mining was well covered by the experts at the conference. It is very important to give the basic arguments the big stage, because we need them out there as broadly as possible. I also learned some interesting elements like what is the day-to-day of a mining company, and how do the different mining companies differ from each other. Some companies are focused on the regulations and working with the power companies, some are focused on peak operational efficiency, and some are innovating energy sources and technology.
Overall, bitcoin mining is very broad in scope and involves understanding every major topic bitcoin is facing in general on all fronts.
Mining News
One speaker I had to catch on bitcoin mining was Adam Back, CEO of Blocksteam. He announced the addition of Tesla to the bitcoin solar mining project in Texas they have with Block. This is a huge deal. Tesla is a $1 trillion company, Block is a finance app giant, and Blockstream is an innovator in bitcoin. There's no other three companies that would be better headlines for bitcoin mining IMO.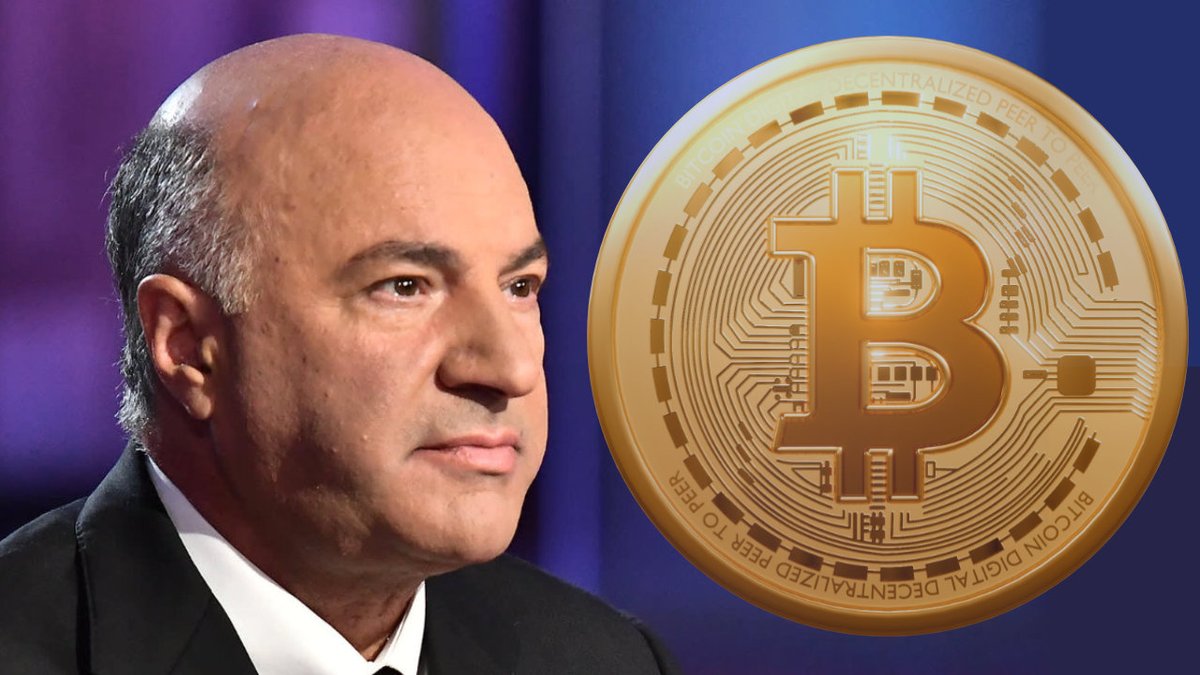 Kevin O'Leary has really changed his tune. Last year he's quoted saying:
"Bitcoin is a colossal nothingburger, because not every institution is prepared to ball with it."
BUT at the conference this year, he spoke and sounded like a true bitcoiner:
"Bitcoin mining is going to save the world."
He's likely just talking his book. O'Leary also announced that 20% of his wealth is in "cryptocurrency". I doubt he has actually seen the light on bitcoin. Regardless, it is a big name contradicting the FUD of progressive globalists who continue to attack bitcoin mining.
Difficulty and Hash Rate
Not much to report for difficulty and hash rate this week. Hash rate remains at ATHs and stable. The difficulty adjustment is estimated to be -1.2% in 2 days. Healthy and steady as she goes.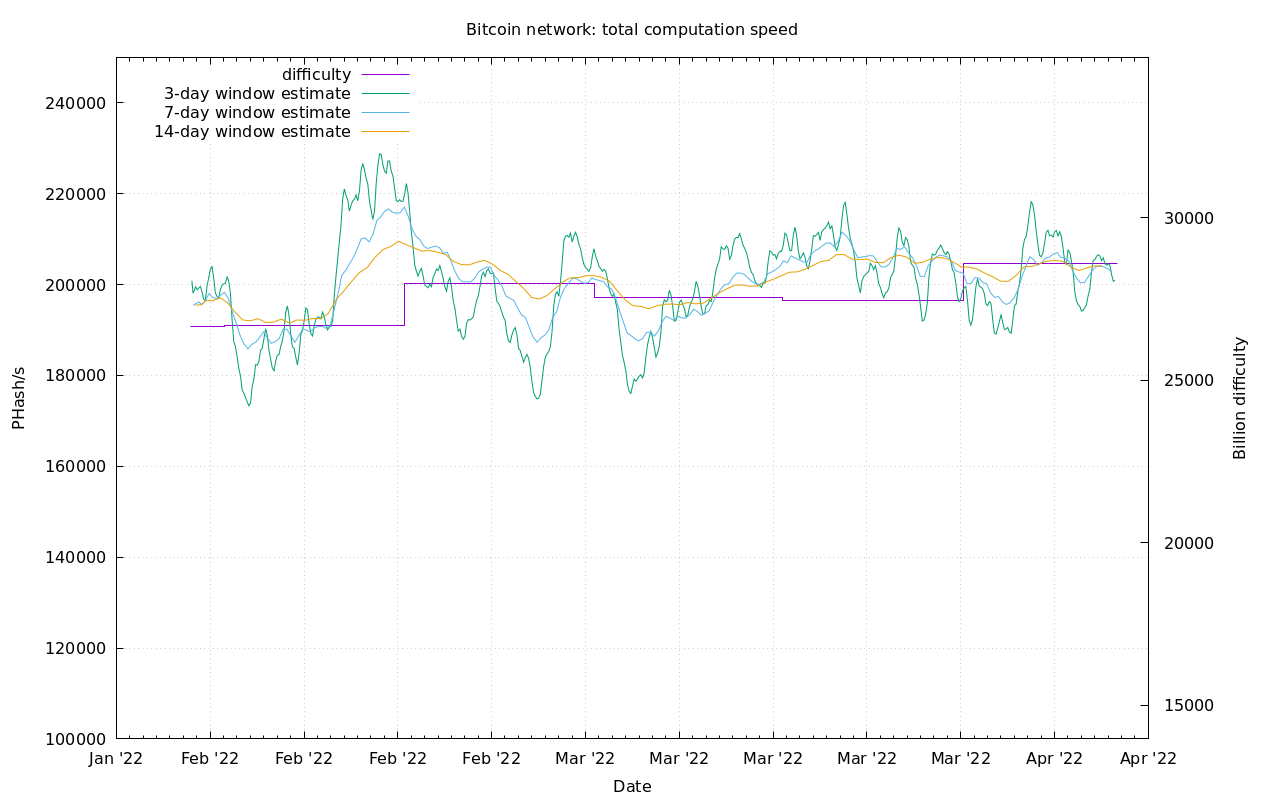 ---
That's it for this issue. See you Friday!!!
A
---
Get our book the Bitcoin Dictionary now on Amazon!
Were you forwarded this newsletter? You can subscribe here.
Podcast links and socials on our Info Page.
If you liked this newsletter please SHARE with others who might like it!
April 11, 2022  |  Issue #186  |  Block 731,442  |  Disclaimer
Meme via: NA
* Price change take from Friday's close