Reports
Bitcoin Fundamentals Report #157
Summary of all the important sectors in the bitcoin industry. Today's commentary is on El Salvador and Twitter's lightning integration. Plus, mining news, NFTs, and fun charts!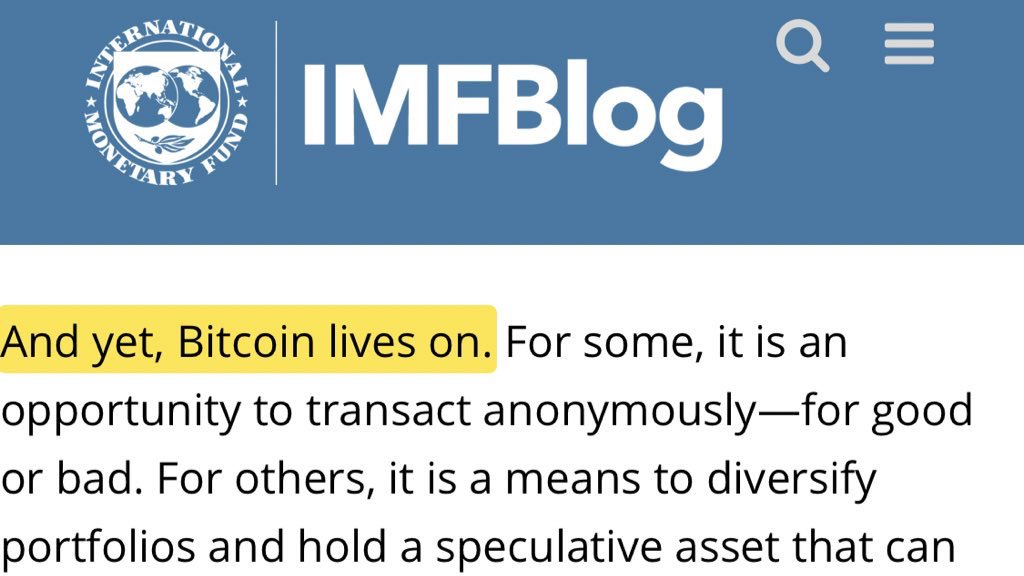 A weekly newsletter summarizing important sectors in bitcoin
by Ansel Lindner and Jeff See
In Case You Missed It...
Please visit and check the other content as well! The latest article is a must read, and it supports our partners.
Get the Bitcoin Dictionary now on Amazon!
Bitcoin in Brief
Weekly price
$50,670

(+$2,240, +4.6%)

Market cap
$950 billion
Satoshis/$1 USD
1,974
1 finney (1/10,000 btc)
$5.67
Median fee confirmed (finneys)
$0.98 (0.17)
Market cycle timing
Second half of bull market
Weekly trend
Break out
Media sentiment
Neutral
Network traffic
Low
Mining
Expanding
Market Commentary
Launch of bitcoin in El Salvador
El Salvador is back in the bitcoin news cycle. If you remember, Ansel wrote a geopolitical analysis of El Salvador with bitcoin in mind, last month for Bitcoin Magazine. At the time, some readers did not like the idea that El Salvador was constrained by its geopolitical reality, that bitcoin would help, but brain-drain and need for political strongmen would inevitably restrain El Salvador's long-term growth potential.
Bitcoin will be a success in El Salvador, boosting remittances, industry and gains from remuneration. Per capita GDP is likely to double over the next decade as remittances, the energy sector and tourism all grow. [...]

However, this transition will not turn El Salvador into a stable powerhouse country with extremely high living standards. Poverty will be further mitigated, but the best businesspeople, scientists, engineers, talent, etc. will constantly be drawn away by the naturally bigger markets of the U.S. or Mexico. Political power is highly centralized in the person of Bukele today, but that means it can only go in one direction, back toward its natural roots of a more decentralized region [requiring more authoritarian methods]. [...]

Therefore, after a period of prosperity in the next few decades, violence and war will eventually return between the varied internal cultures and interests of different geographic regions, as well as the interests of neighbors.
In the last few days, as the bitcoin launch grows near, some negative stories are coming out of El Salvador around bitcoin. Mainstream media is running with narratives from bitcoin's opponents. We've become accustomed to this by now and it doesn't affect bitcoin in any way. It is very hard to know exactly what is actual opposition vs what is paid opposition from outside forces. (e.g. those signs held by protestors below are very well-designed and produced, not handmade by concerned citizens.)
We do know protests have happened on the streets (image below) and an anti-bitcoin activist has been arrested on flimsy justification. This does not mean bitcoin is unpopular or won't happen in ES. We think it does, however, speak to the struggles in this country and region as a whole. The struggles are beyond any immediate bitcoin impact. They will struggle more an other regions with political strongmen and corruption.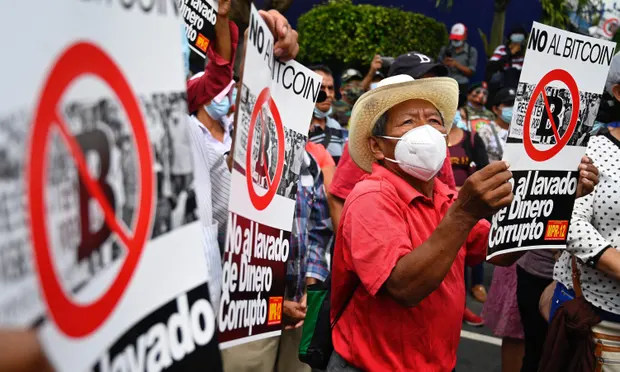 The other news associated with launch day is the $150 million government fund held in bitcoin (supposedly @ the bitcoin price at purchase in 2021). This means the El Salvador government now holds $150 million in bitcoin, and will participate in open market operations to maintain balance in their government provided wallet.
The whole situation is very interesting and we will be watching it closely for our readers.
Twitter Lightning
It appears Twitter is finally working on a bitcoin tipping option for their platform. Bitcoin Magazine has a good write up about it. This week a project lead for the company tweeted this: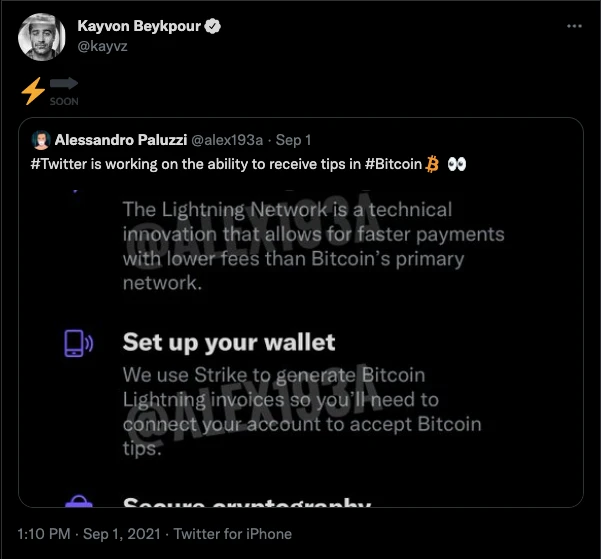 Lightning integration is long overdue for Twitter. Over the years there have been many companies providing this very service, some centralized, and some working on decentralized solutions. It is possible today, to use the browser extension Tippin.me using the lightning network, however, built-in functionality from Twitter itself would be a gamechanger. Stay tuned.
SHARE our content with friends and family!
Quick Price Analysis
Weekly BMI |  2 : Bullish
Last week:
It does seem that price is going to struggle a bit longer with this level.

We've changed our BMI assessment to Neutral, because it is equally as likely to see another dip before further upside. We see no threat of a trend reversal or anything of that nature, it is simply how long will it take bulls to break back up to highs.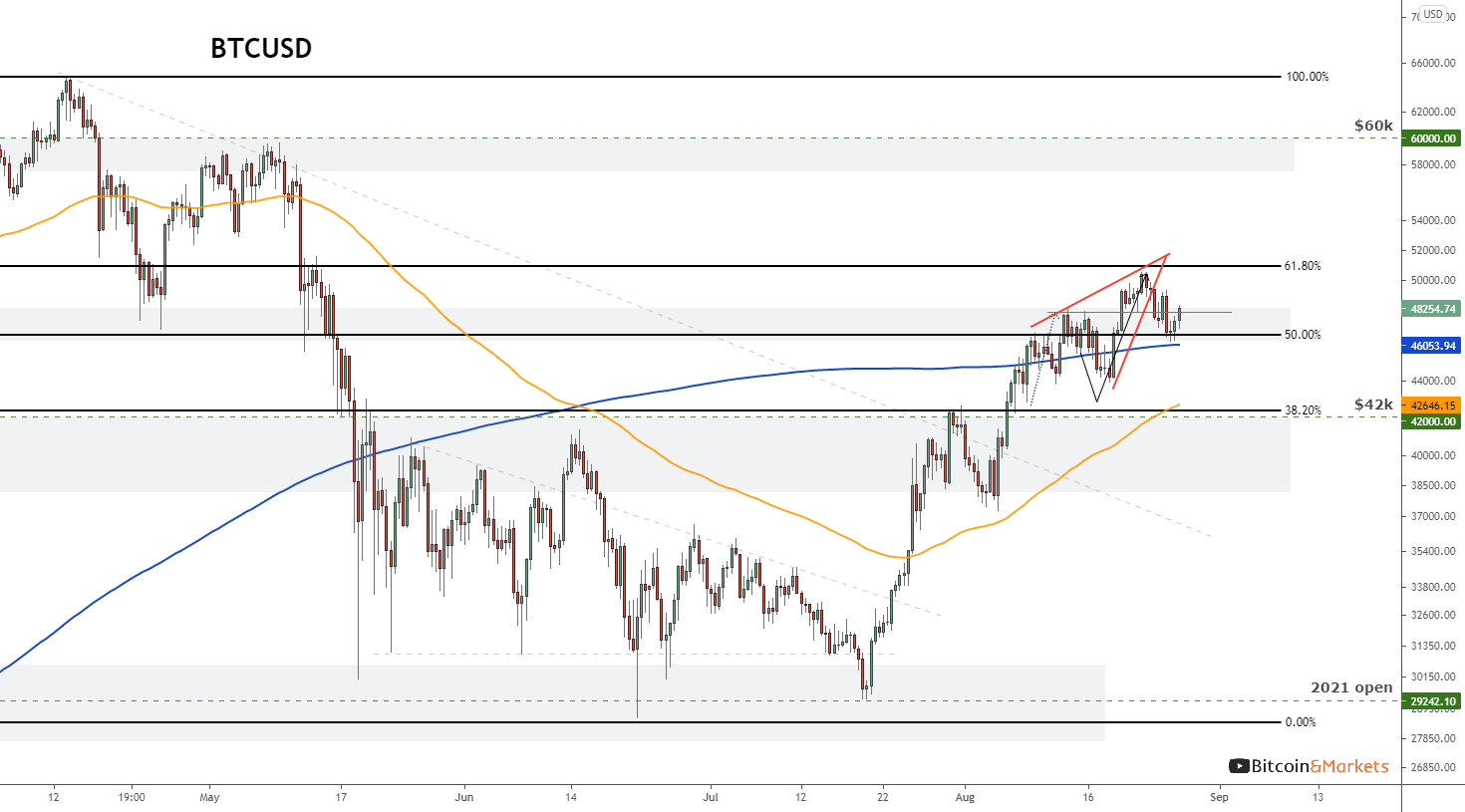 We did see sideways for almost the entire week, until today. Price is currently trying to break out. It has set a new swing high, broken the 61.8% Fib retracement level from the All-time-high, and is passing $51,000. This is very bullish. There is no significant level between here and $60k. Price could race right up to that point.
While $60k does have some resistance and psychological value, we expect the price will barely notice it. The arrow is a very optimistic prediction for sure. We are watching the "golden cross" closely (when the 50 MA crosses above the 200 MA), because they tend be a local high. When it happens, we might see a retest our present levels or at least a consolidation for a week or so.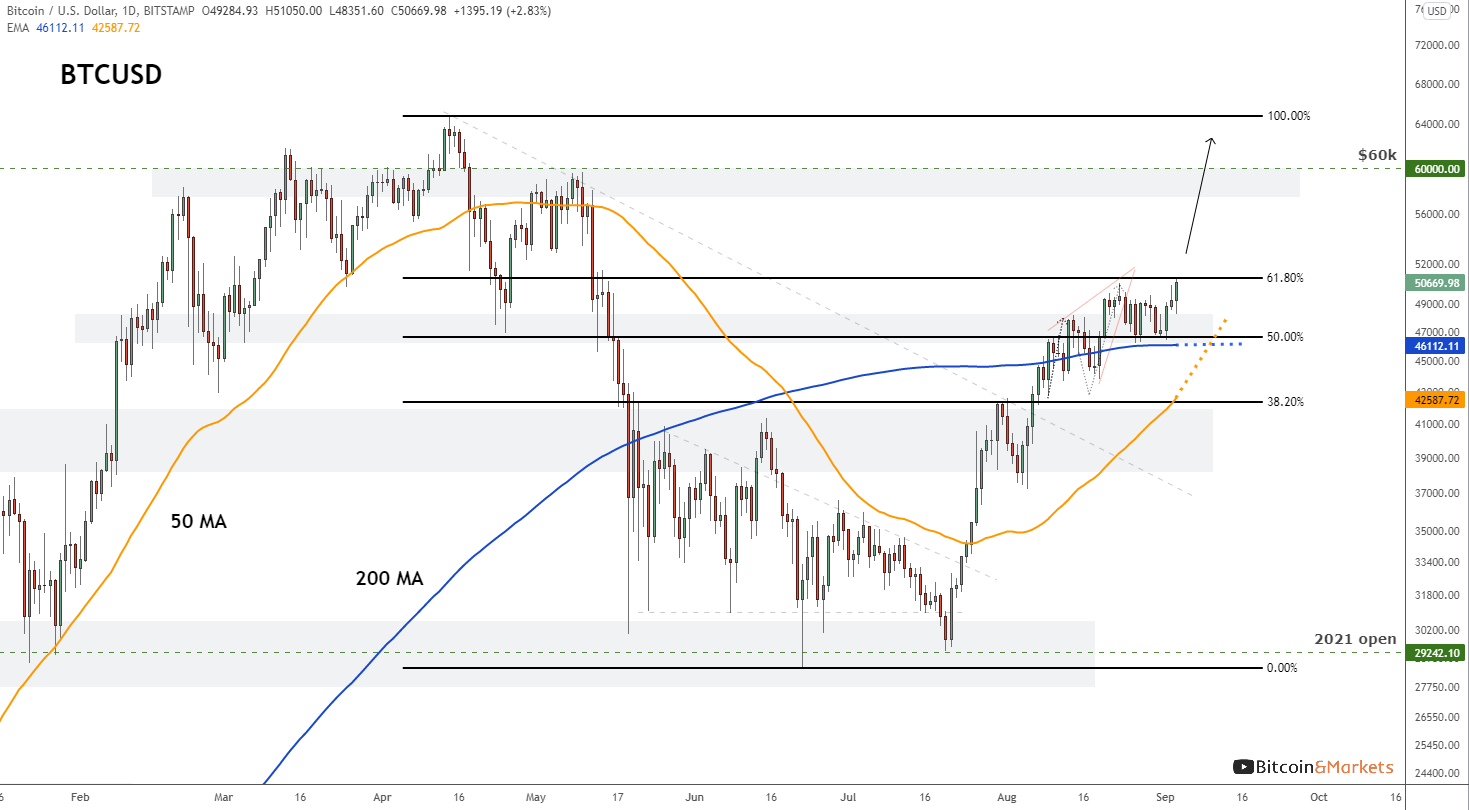 Become a paid member to access our much more in depth technical analysis and member newsletter.
---
Mining and Development
| | |
| --- | --- |
| Previous difficulty adjustment | 13.23% |
| Next estimated adjustment | +1.5% in ~4 days |
| Mempool | 3 MB |
| Fees | 2 sat/byte |
The mining sector is pretty boring right now, which is a good thing. The last 6 months have been uncomfortably exciting for miners. As we stand, computer power is coming back on line, exactly as predicted here on the Bitcoin Fundamentals Report. A return to normal means slow and steady hash rate increases. The estimate for the next difficulty adjustment bares that out, trending toward a 1-2% increase.
Transaction volume and fees on the network continue to be below average. Once price action gets more exciting we expect those both to rise quickly.
Below is an update to the Hash Ribbon chart we showed a few months ago when price was $33,055. We called out the (well-known) capitulation events tend to coincide with market bottoms. As you can see, the recent Chinese-led capitulation event is not completely unusual. The hash rate bottomed and is now recovering nicely. This indicator flashed a buy sign perfectly as the price began the recent leg up.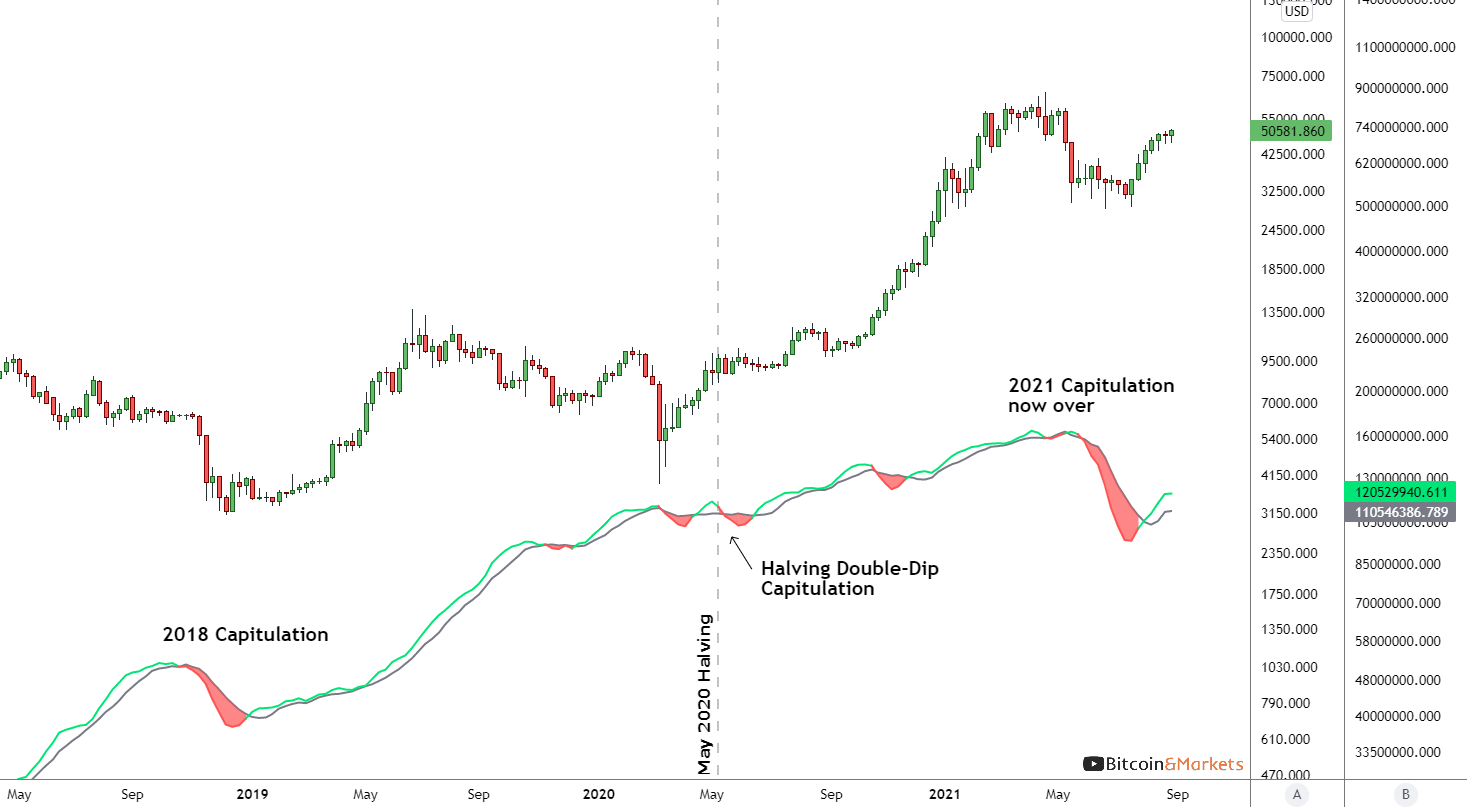 ---
CBDC / Stablecoin / Altcoin
The NFT madness has achieved insane levels. It continues to wreak havoc on the Ethereum network, clogging it up so no other use cases can grow. I saw reports of fees close to $200 and another close to $1000. For a single transaction, that is insane.
Quick note on Ethereum fees: they don't work like bitcoin fees. Bitcoin fees pay the miner to order your transaction into a block or "confirm" your transaction into the block chain. This involves simply double checking it is a valid transaction. Ethereum's transaction however must be run on every node, so they are called gas, or a value equivalent to how many computer cycles on each node your transaction uses. This is very difficult to estimate beforehand. A person paying $200 for gas might find out the transaction wasn't valid, but the $200 is gas is not refundable. What you're left with is a transaction that didn't go through but the fee you paid is gone.
We would not be surprised if the NFT market is close to topping out. They are basically worthless digital signatures sold as unique or rare. The mania is real, check out the below table someone put on twitter. It screams casino.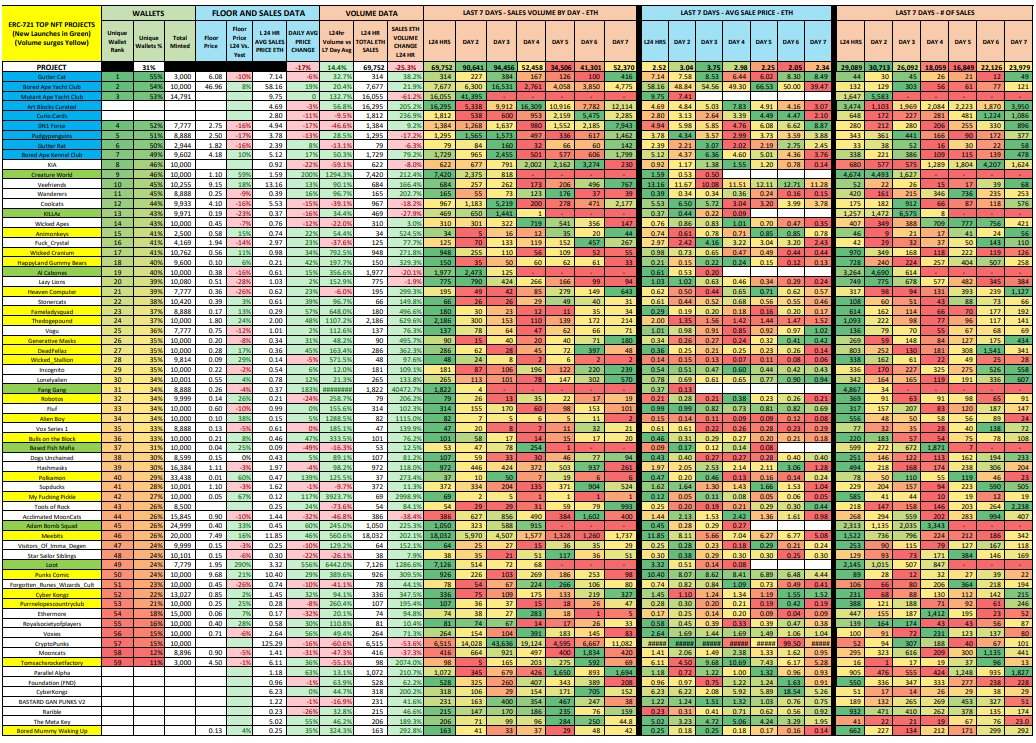 We don't know when exactly, but in the future the NFT market (that sounds so silly) will be less than 1/10th the current size.
Rare pepes are back
Rare pepes were the first ever NFT craze. Before the current mania selling images of cartoon rocks for millions of dollars, and a white background sold as an invisible rock for hundreds of thousands of dollars, there was CryptoKitties (now basically dead), and before that it was Rare pepes.
Rare pepes were Counterparty tokens, which is a layer two built on bitcoin which simulates Ethereum capabilities. Rare pepes had a rabid and loyal fanbase, and experimented with forming different digital communities around pepes, like farms or villages; very similar to some of the rhetoric today with virtual museums.
Anyway, a top signal for the NFT market might have come this week as the Rare pepe crowd. Old school bitcoiners with Rare pepes are wrapping them onto ethereum and selling them, with on going for $500,000. LOL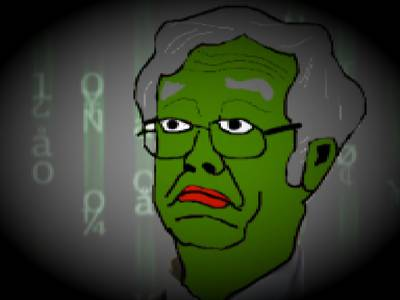 ---
Miscellaneous
Here is a cool chart from @PricedinBTC on twitter showing relative sizes of bitcoin and different assets. Things will less clear cut when the top 100 global stocks start adding bitcoin to their balance sheet and become a huge part of their stock value. Stay humble friends!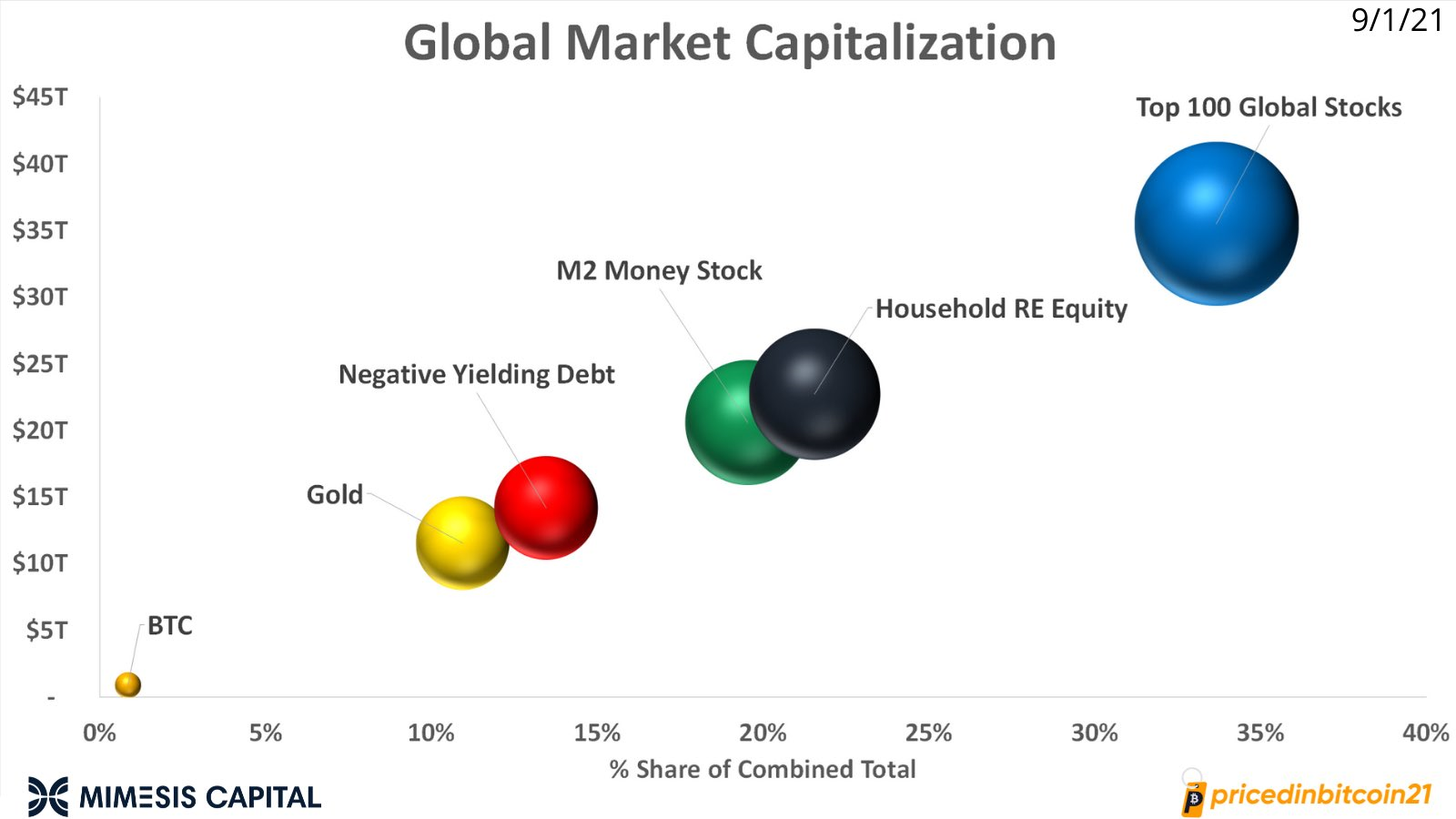 Here is the updated monthly S2F chart that PlanB publishes and it's looking juicy again! Many in the bitcoin space took the recent dip as an opportunity to bash the S2F model. We wonder what will happen as it regains the white line?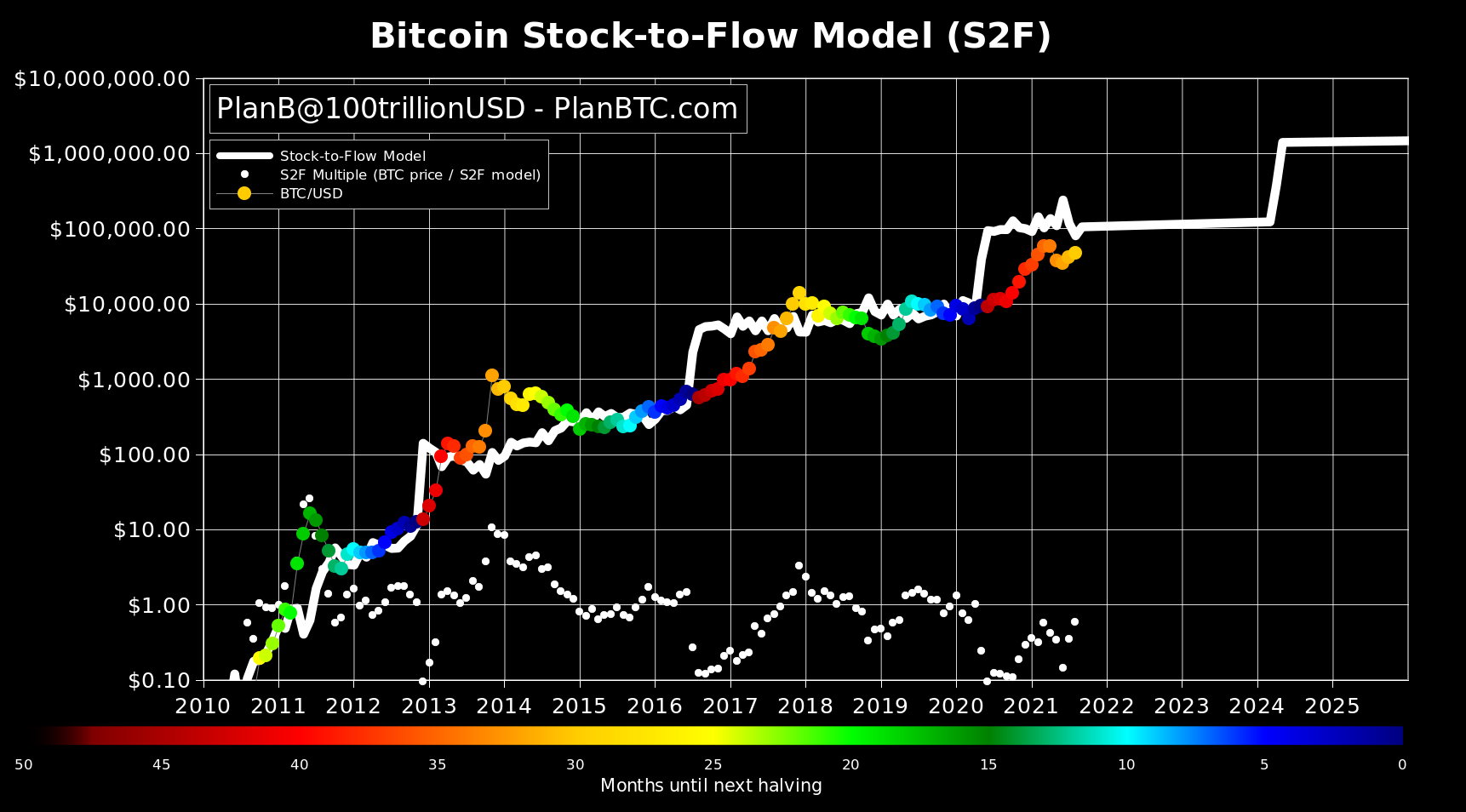 Get our book the Bitcoin Dictionary now on Amazon!
Were you forwarded this newsletter? You can subscribe here.
Podcast links and socials on our Info Page.
If you liked this newsletter please SHARE with others who might like it!
September 3, 2021  |  Issue #157  |  Block 698,880  |  Disclaimer
Meme by: @DocumentingBTC (and the IMF)