Reports
Fundamentals Report #145
This week we discussion the Bitcoin 2021 conference first-hand impressions, the El Salvador bombshell, taproot, and price. Read, Sub, Share!!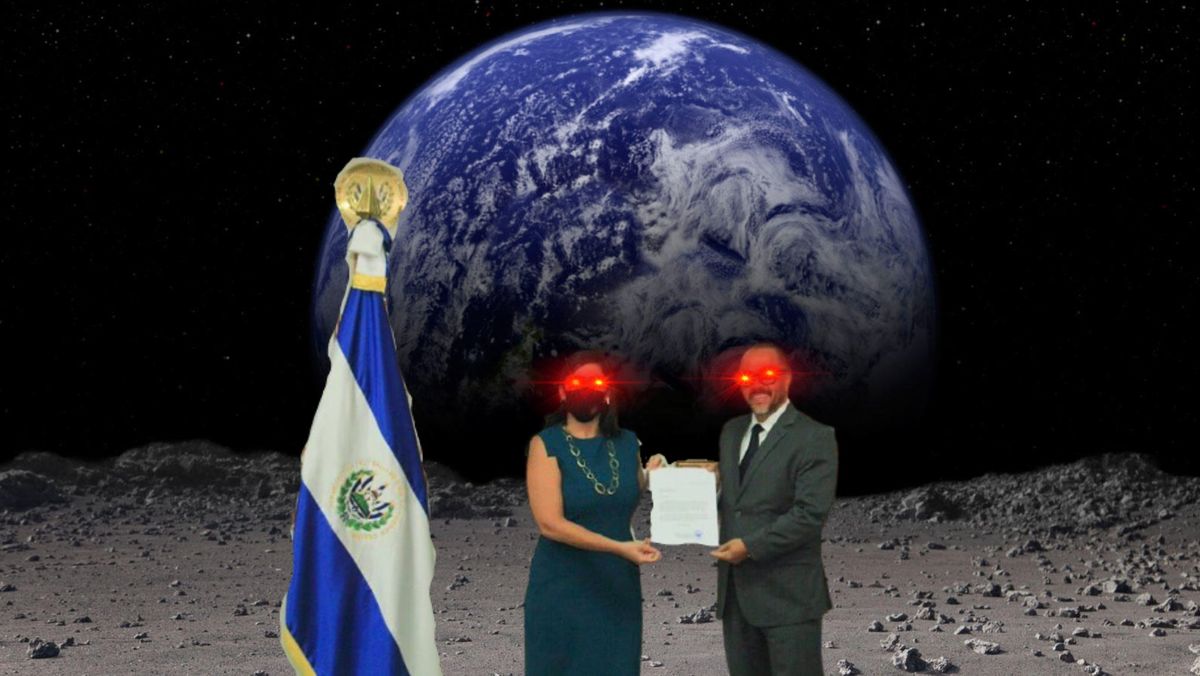 A weekly newsletter summarizing important sectors in bitcoin
by Ansel Lindner and Jeff See
In Case You Missed It...
This week's Bitcoin & Markets content
Get the Bitcoin Dictionary now on Amazon!
Bitcoin in Brief
Weekly price
$36,727

(-$451, -1.2%)

Market cap
$689 billion
Satoshis/$1 USD
2,722
1 finney (1/10,000 btc)
$3.67
Median fee confirmed (finneys)
$2.43 (0.66)
Market cycle timing
Beginning second half of bull market
Weekly trend
Strong consolidation
Media sentiment
Positive
Network traffic
Low
Mining
Slowing but steady
Market Commentary
Bitcoin 2021 Conference
We wrote a post on BTCM.co summarizing our impressions from attending Bitcoin 2021 in Miami last weekend. It includes thoughts on the speakers, venue, people in attendance, transportation and lodging, and overall impressions. Check it out here Impressions of Bitcoin 2021.
El Salvador
The earth-shattering news this week, coming out of the last day of the Bitcoin 2021 conference is that El Salvador has adopted bitcoin as legal tender. This is perhaps the biggest news in bitcoin history. Its importance cannot be overstated.
During one of the last presentations of the weekend, Jack Mallers of Strike wallet took the stage. During his talk he said the new El Salvador President was introducing a bill to the Congress to adopt bitcoin as legal tender. This announcement sent shockwaves through bitcoin and banking worlds.
Nayib Bukele, President of El Salvador, is a unique politician. He is the first outsider who was not a member of the two ruling political parties in El Salvador to be elected President since the 1980s. He is a populist and reformer, young at only 39 years old, and ready to make waves. He enjoys a 90%+ official approval rating. None of this is to heap praise on Bukele, all politicians are corrupt, but to point out that he is a fast mover and successful at making radical change. We'll have to see how well El Salvador does over the next few years.
On June 8, 2021, after announcing the bill in front of Congress, Nayib joined bitcoiner Nic Carter's Twitter spaces chat (YouTube recording). The vote in El Salvador was going on at that very moment, and the brother of the President jumped in the chat. Then Twitter CEO Jack Dorsey joined. More bitcoiners streamed in, 22,000 in total. Finally, Nayib Bukele entered the chat and fielded questions. Pomp asked about bitcoin mining in El Salvador and the President openly discussed the possibility of volcanic geothermal to power a mining facility.
In a world's-first, the bill passed Congress while the President was chatting with bitcoiners live. Bitcoin became legal tender in El Salvador and the epic chat ended. The next day, the President tweeted he had instructed the State-owned power company to put together a bid for bitcoin mining powered by their volcanos.
That 48 hour period was a whirlwind. It showed the power of bitcoin to change people's minds, and hopefully over the next few years to change the time preferences and outcomes in El Salvador.
This was such a momentous occasion that the FUD began immediately. A fake news story dropped about the FBI hacking bitcoin (they just seized the bitcoin from a third-party exchange), Trump called bitcoin a "scam", the BBC interviewed Rohan Grey leading promoter of Modern Monetary Theory (MMT, total garbage, rejected socialist money ideology) that this was a PR stunt and dangerous because bitcoin is untested, volatile and not money, US Congress people called for a multilateral ban on bitcoin in a Senate subcommittee (laughably weak), and lastly, the IMF made comments during a press conference today specifically about El Salvador and bitcoin (the IMF is a dinosaur of the Cold War).
The IMF situation is very interesting. The main statement was bland:
"On the question about bitcoin, what I would say is that adoption of bitcoin as legal tender raises a number of macroeconomic, financial and legal issues that require very careful analysis."
However, this was made immediately after commenting on IMF loans to El Salvador last year and new loans under negotiation now. It seemed as though adopting bitcoin might be held against El Salvador by the IMF for future loans. If this happens, it would be the first major step by the Western establishment to discriminate directly against bitcoin. The IMF has a lot to lose if they get push back. It's the IMF that is on shaky ground, not El Salvador in our opinion.
Despite the full-court press against El Salvador, they remain steadfast. It will take some time for this news to get priced in. It was such a surprise announcement at Bitcoin 2021, then the vote in Congress, the market hasn't had a chance to really absorb it. Let's see if other countries jump on board in the coming months. This could be the start of a tsunami.
SHARE our content with friends and family!
Quick Price Analysis
Weekly BMI |  1 : Slightly bullish
Become a paid member to access our much more in depth technical analysis and member newsletter.
After last weekend, price continued downward for a couple of days until the El Salvador bill was signed into law. At that point, price quickly rallied 20% off the lows. Since then, it has been sideways as the full-court press of FUD is getting headlines. We consider the bottom in sentiment is in for this dip, and minus another desperate push by bears to crack the low, price should start heading up from here.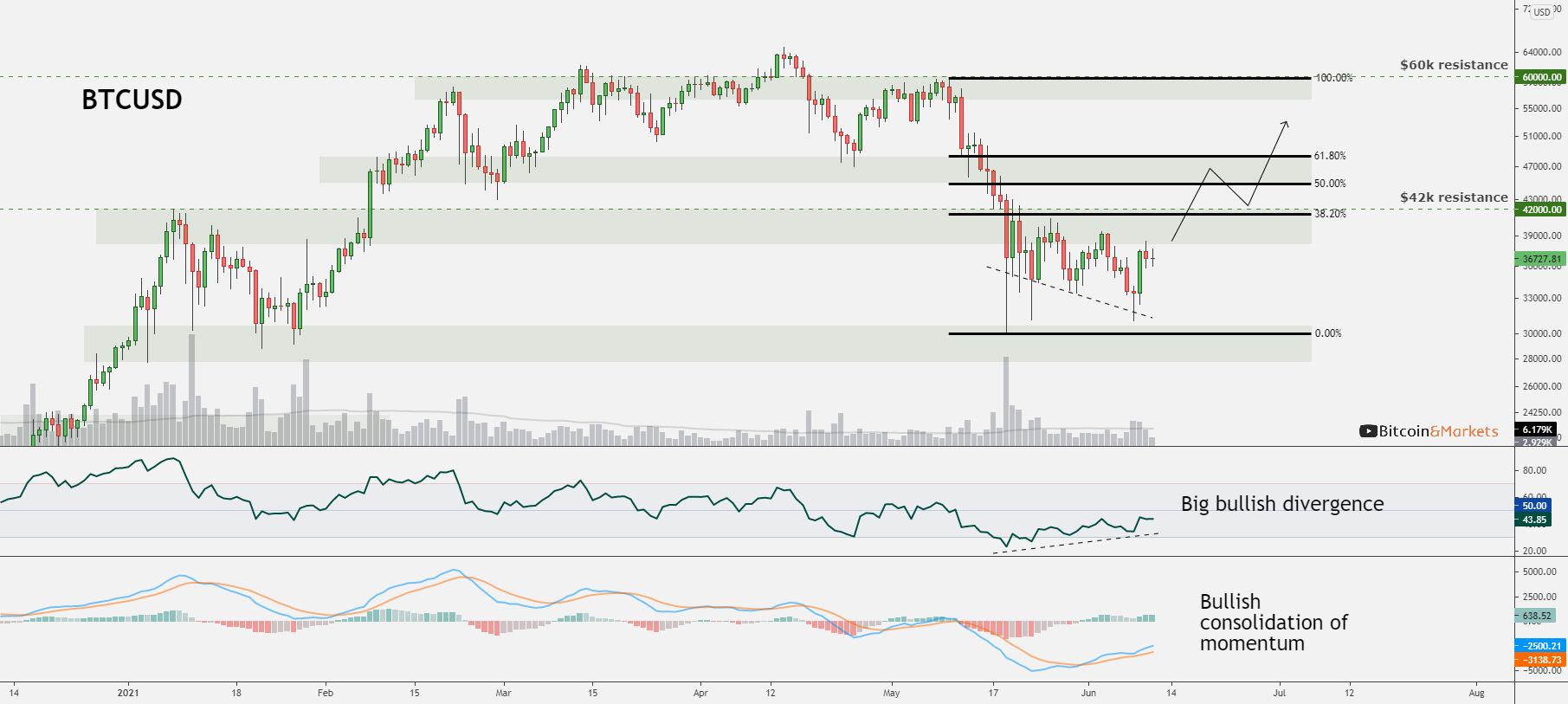 ---
Development
Taproot Signaling
Taproot is a couple days away from the miners signaling they are ready for the upgrade! This is a huge event that is completely under the MSM, nocoiners, and even bitcoiner noob's radar. Once the miners complete a successful signaling period there is an approximate 6 month wait until the upgrade occurs. Since Bitcoin is Free Open Source Software (FOSS) there are no central planners or a standard process for upgrades; meaning anything can happen between now and then, so we will still hold our breath until it happens.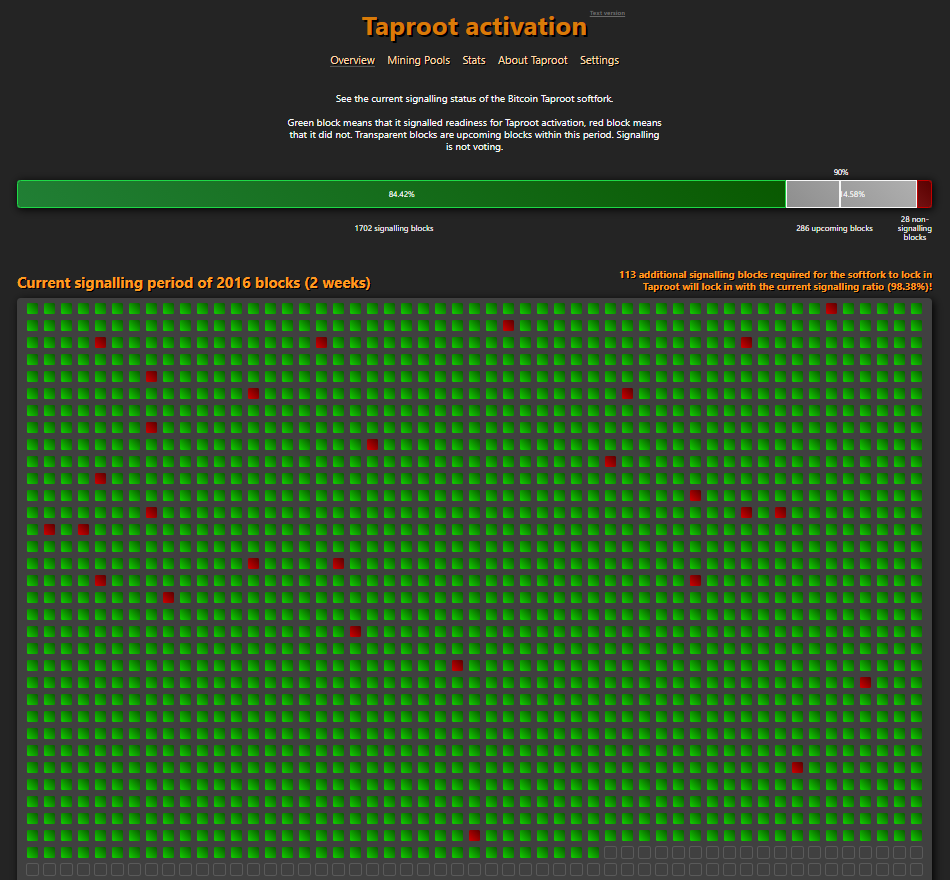 Mining
The mempool only stayed cleared until the bitcoiners returned home from the conference and likely started doing UTXO management while fees were unfairly cheap. The mempool is back to approximately 20 blocks of unconfirmed transactions, with fees in the 30 sats/byte range for transactions to be included in the next block. The difficulty is trending to adjust down 4% in about 2 days.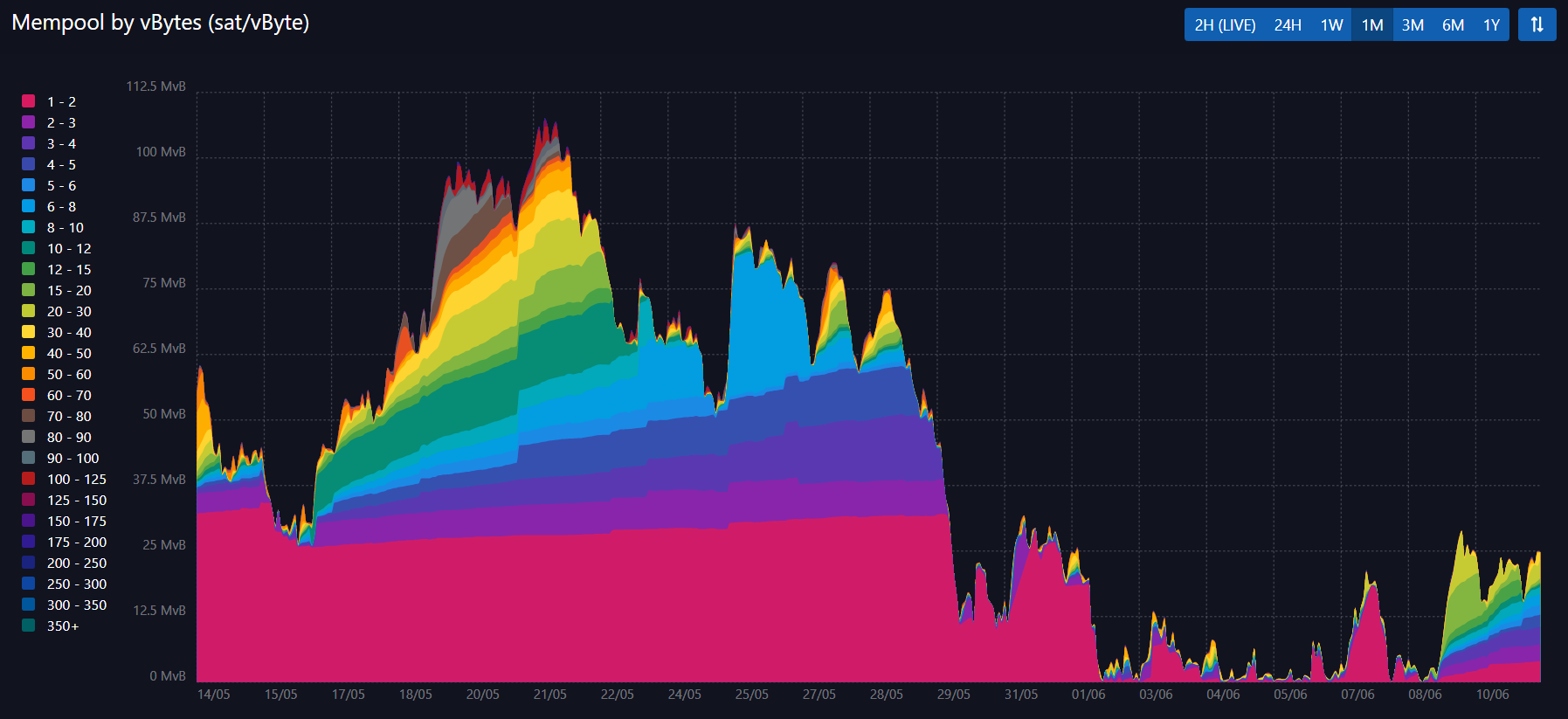 ---
CBDC / Stablecoins / Altcoins
Nothing big to note on the altcoin front this week, except several altcoiners are out doing damage control. Bitcoin is continuing its mission, gaining adoption and awareness, while producing blocks as intended. It's doing its full job from the beginning. People build other solutions on top of bitcoin like lightning network, exchanges, and wallets to facilitate features of bitcoin, but Bitcoin itself is complete and in production.
Altcoins however, are never complete. They are always an upgrade or two away from full capability. Stringing along investors who pump their bags of eventual use cases that never seem to come to fruition or even get closer.
Now, Ethereum folks are trying to make the El Salvador adoption of bitcoin into and adoption of "crypto". No joke. They are lumping their coins into this purely bitcoin play, because that is their only real value proposition, hitching their broken wagons to bitcoin and public confusion about crypto vs bitcoin. Scammers, all of them.
---
Miscellaneous
We were curious about how much El Salvadorians were interested in bitcoin prior the President's announcement of it becoming legal tender. Here is an El Salvador specific Google Trends chart, going back to the previous ATHs. As you can see, the two previous peaks of interest during bullish times do not even register when compared to the search volume over the last week. We also included the 7-day trend with "Strike" included, which is the name of the wallet trending in their app store.
Were the majority of the people blind-sided by this announcement? Will the people embrace a new option for money in their country? The world is watching and a lot of bitcoiners are cheering for a Singapore 2.0 type scenario, where a small country repositions itself and innovates in finance.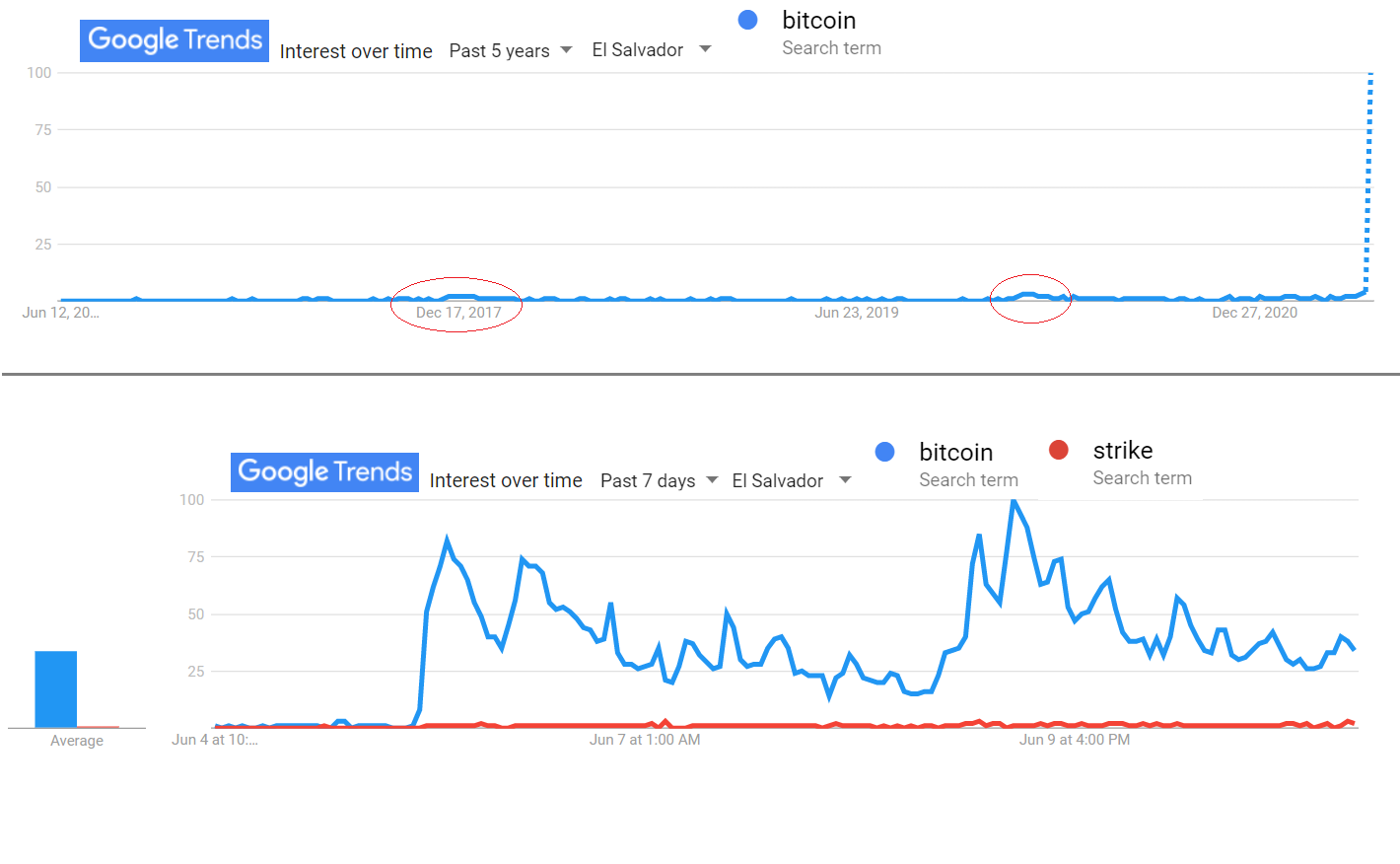 ---
Get our book the Bitcoin Dictionary now on Amazon!
Were you forwarded this newsletter? You can subscribe here.
Podcast links and socials on our Info Page.
If you liked this newsletter please SHARE with others who might like it!
June 11, 2021  |  Issue #145  |  Block 687,183  |  Disclaimer
Meme by @BitcoinMemeHub