Reports
Fundamentals Report #140
A newsletter summarizing all important sectors in bitcoin. This week: green shoots and growing demand, price analysis, mempool and mining, taproot, and drawdowns by cycle.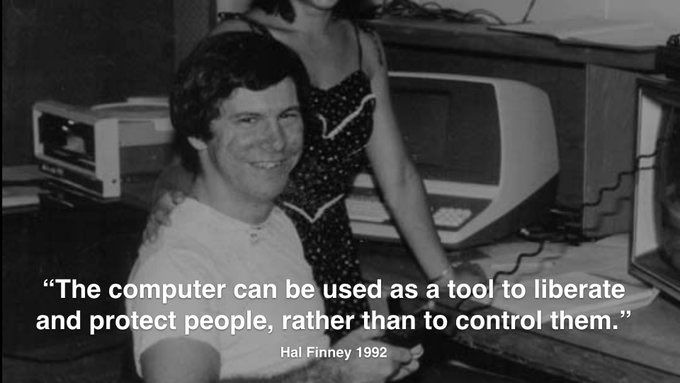 A weekly newsletter summarizing important sectors in bitcoin
by Ansel Lindner and Jeff See
In Case You Missed It...
This week's Bitcoin & Markets content
Get the Bitcoin Dictionary now on Amazon!
Bitcoin in Brief
Weekly price
$57,398

(+$765 +1.35%)

Market cap
$1.071 tillion
Satoshis/$1 USD
1,745
1 finney (1/10,000 btc)
$5.73
Median fee confirmed (finneys)
$9.47 (1.65)
Market cycle timing
Halfway through bull market
Weekly trend
Breakout of consolidation
Media sentiment
Positive
Network traffic
Below average
Mining
Strong and expanding
Market Commentary
For the past couple of years we have been saying bitcoin will represent that elusive growth not found elsewhere in the market, while also providing a counterparty-free asset to invest in. We are seeing this play out week after week. Companies adding bitcoin services is bringing huge profits, and more and more firms are adding bitcoin directly to their balance sheets as cash holdings in a big vote of confidence.
Square gets it. They provide a simple way to buy and sell bitcoin in the Cash App. Their competitors see this and want a piece. We believe Cash App's success was the main impetus behind PayPal/Venmo's move to match bitcoin services.
For those who want to dip their toes into bitcoin and buy a small amount, Cash App (referral link) is a good place to try it out. Hopefully it will get you interested to keep learning about bitcoin!
NYDIG is a relative new bitcoin company targeting institutional integration and services around bitcoin. They are teaming up with Fidelity National Information (FIS) to enable every US bank account holder to buy bitcoin through their bank.
NYDIG is the company that famously said several months ago that governments were approaching them from around the world and were interested in buying bitcoin.
Last week, we told you about Nexon, the South Korean video game giant that added $100M in bitcoin to their balance sheet in place of government currency. This week, a very important Latin American ecommerce company, Mercado Libre, adds a smaller but significant amount, $7.8M of bitcoin to their balance sheet.
This makes 36 publicly traded companies who have added bitcoin to their balance sheets in place of government currency. This trend is starting to pick up pace.
Why is it a big deal companies are adding bitcoin to balance sheets? For starters, it means fewer coins on the market to meet business/economic demand. Supply is decreased, while demand is at least steady or likely increasing due to growing confidence. Second reason is because bitcoin subtly changes the way people see things. If this new way of thinking about money spreads, these sound/hard money concepts become like a snowball rolling down a hill, and they can change the world for the better.
Perhaps these companies start doing some business in bitcoin; perhaps they accept bitcoin from clients; perhaps they pad their profits with bitcoin gains and can open new lines of production or business (growth in shrinking world economy); perhaps they start doing economic calculations in bitcoin and see the need to buy more; their employees might buy bitcoin since their employer gave it a huge vote of confidence; and finally, perhaps their competitors follow their lead.
We expect hundreds of large companies to follow suit over the next few years. This will be hundreds of billions of dollars flooding into bitcoin, chasing an ever more scarce good.
SHARE our content with friends and family!
Quick Price Analysis
Weekly BMI |  2 : Bullish
Become a paid member to access our much more in depth technical analysis and member newsletter.
The bitcoin price is holding tough above the 50 exponential moving average, and pinched under the massively important $58-60k level. The market has become accustomed to the price being above $50,000 now, so any dips feel like a discount. On the other hand, price increases above $60k will feel natural instead of overextended like they did back in March.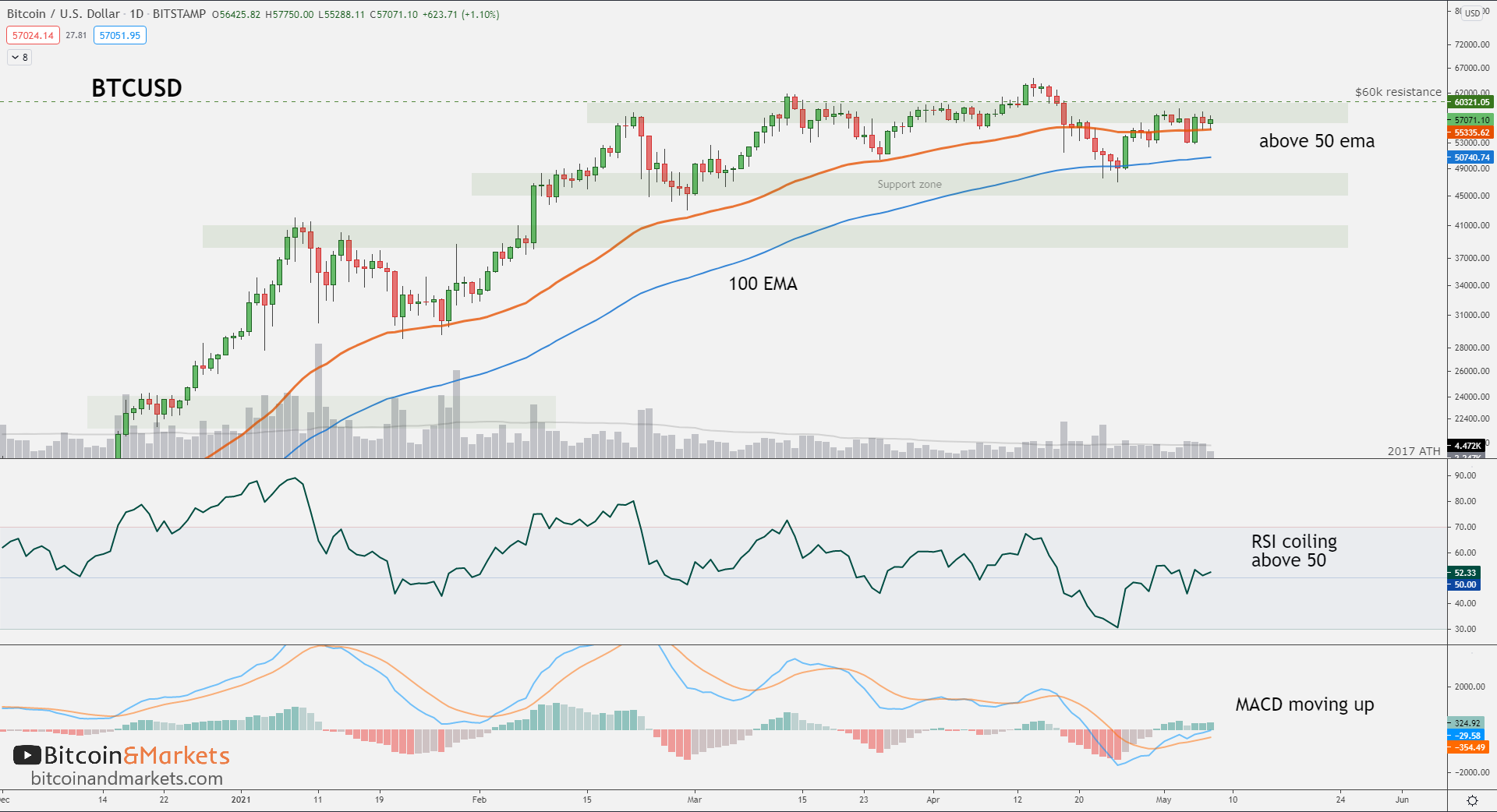 Zooming in on the last two weeks we can see the price is settling in above the 50% retracement level of the recent drop.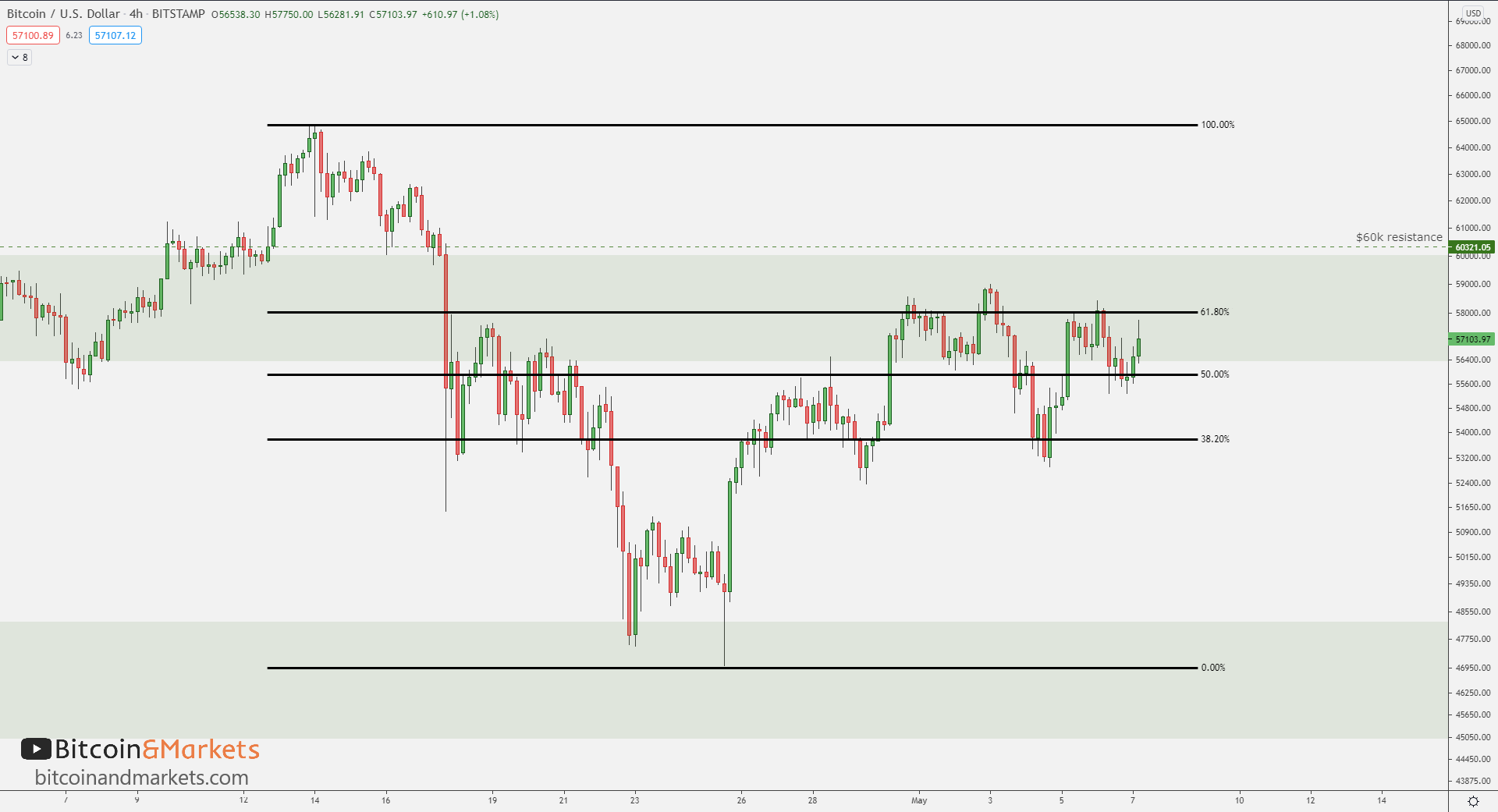 We remain very bullish here. While the possibility of another dip exists, it is far more likely to go higher. The total amount of volume put in around the current price over the last couple of months, will make for a dramatic breakout.
For more price analysis, become a paid member to receive the Bitcoin Pulse.
---
Mining
Mempool.space has a beautiful visual of the mempool. On this 6 month chart we see fees and network traffic back down to levels not seen since 2020. This is yet another bullish sign, because there is now room for growth as the price once again rallies.
Currently, the average fee is around 37 sats/byte or ~$9. Weekends are traditionally slower times on the network, so fees could be as low as $2-3 in the next couple of days. A great time to mix your coins with Wasabi, which we recommend for privacy of your bitcoins.

The mempool clearing is also being affected by the increase in hash rate, which has completely recovered from the power outage in China last month.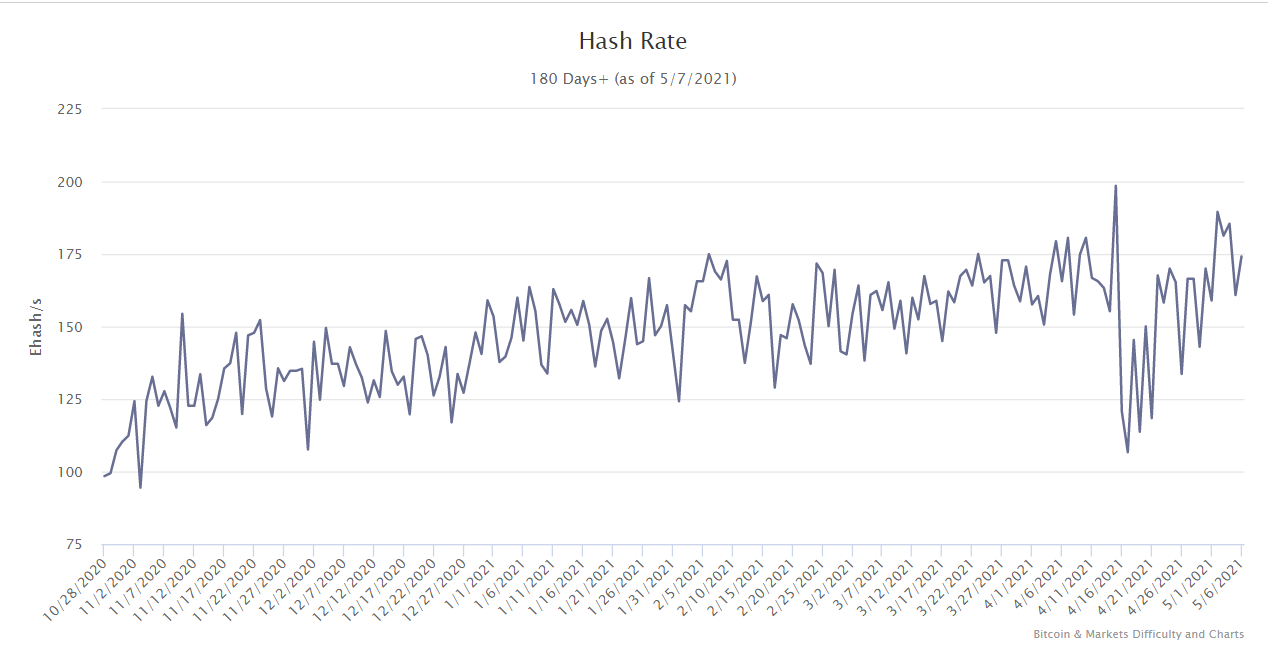 This increase in mining hash power is speeding up blocks dramatically. As of now, the network is on pace to finish this difficulty period 15-20% ahead of schedule, meaning difficulty will adjust back upward after the 12% decrease on May 1st.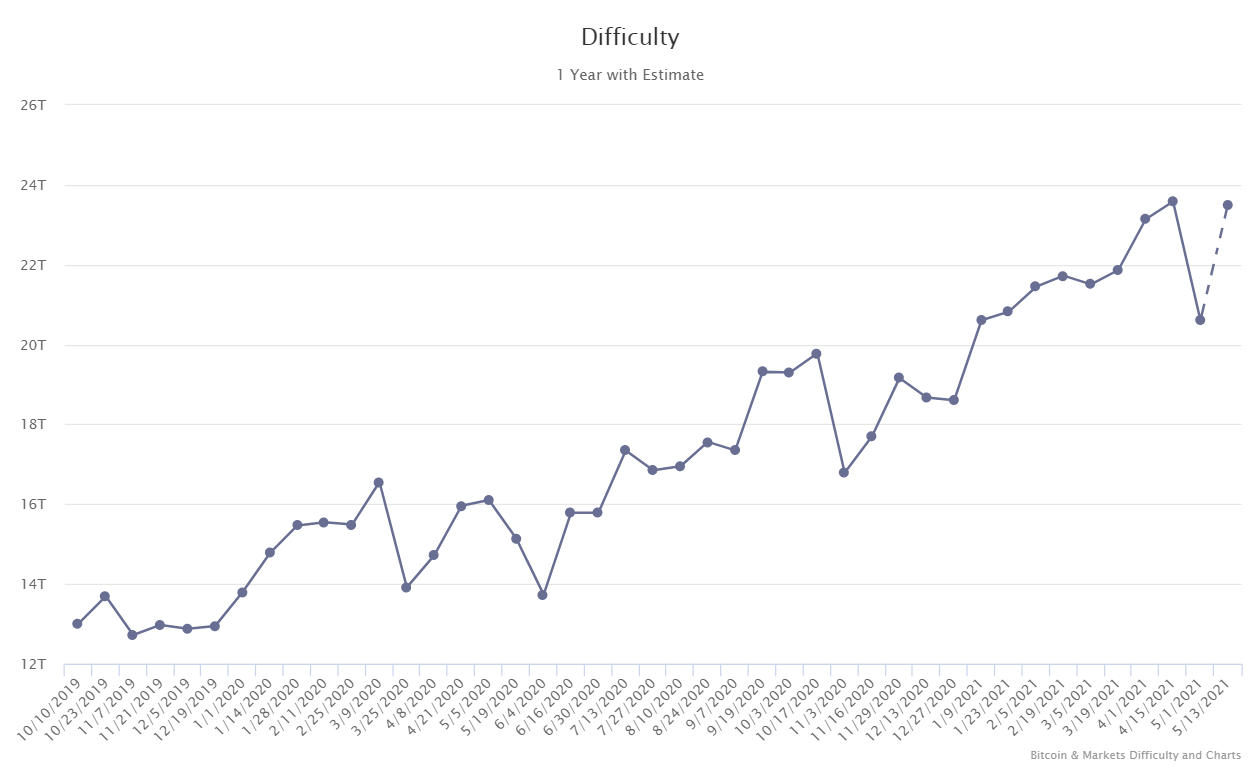 ---
Development
Taproot
The first taproot signaling period has started. Each period is 2016 blocks, or one difficulty period. The threshold is 90%. It is on pace to fall short, but be >50% this period. A fairly good result considering everything involved. We don't think it will be activated this period or next, so it is at least a month off in the future. We'll keep you updated.
In the image below, the field of squares represent all 2016 blocks in this difficulty period. Each block is either signaling ready for taproot (green) or not signaling (red).
As you can see the first blocks at the top of the field are almost completely red, as if miners didn't know they should start signaling. Toward the bottom of the colored blocks, it is much more green.
---
Miscellaneous
This is a heavy chart but we love it. It shows the drawdowns (pull backs) during each cycle in bitcoin. Take a look, and notice the similarities between the second and third cycles so far. We'll meet you down below the chart.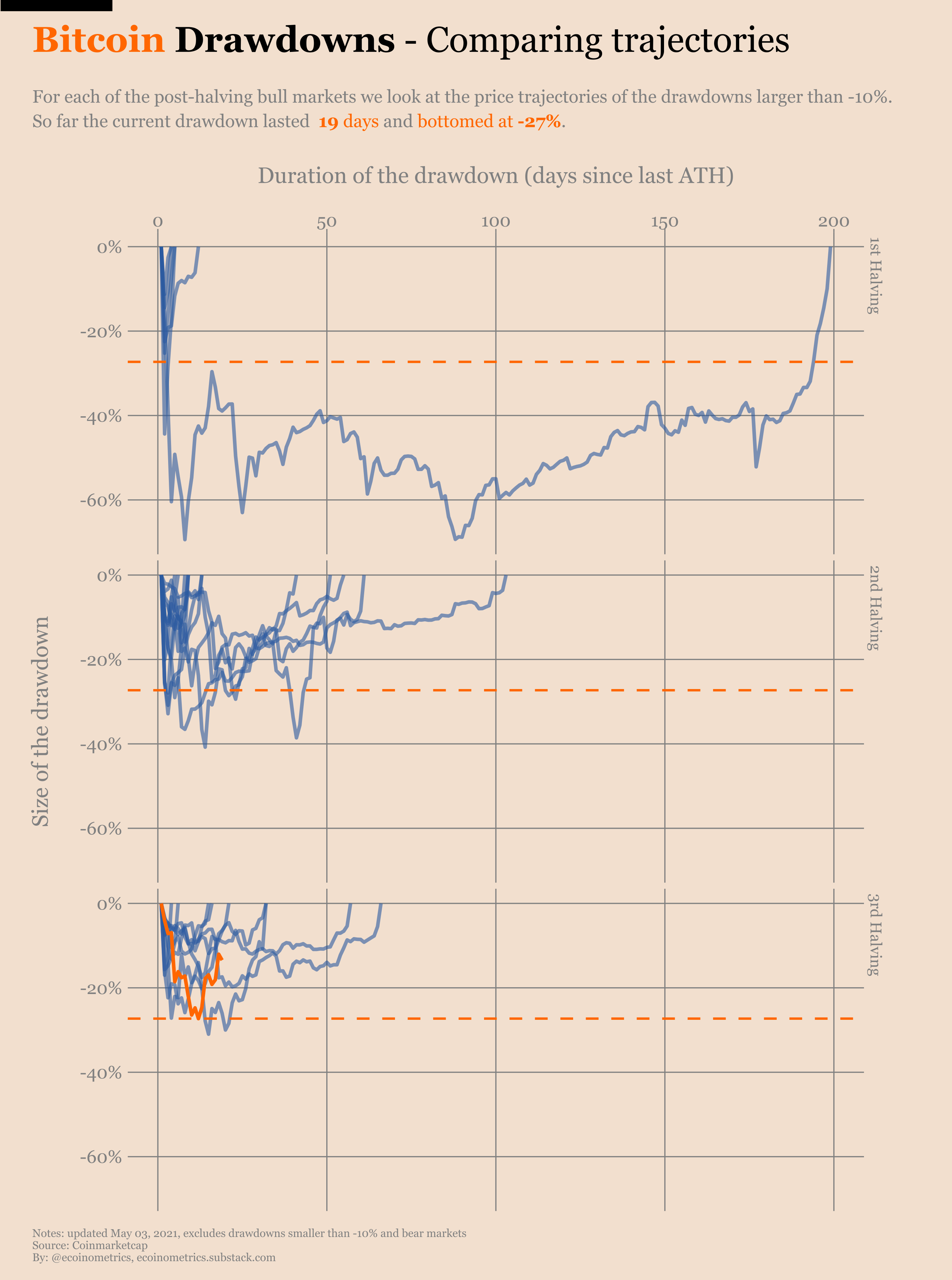 Beautiful thing isn't it. We recommend subscribing to ecoinometrics free email. If you get a chance tell them Bitcoin & Markets sent you. Anyway, notice the depth and length of the pull backs are getting slightly smaller. It's too bad they don't label the order of the pull backs because as the cycle goes longer, the pull back get shorter.
We can expect all future dips in this cycle to be less than 50 days, and anything more than a 25% dip as a huge asymmetric long opportunity. (Past performance does not guarantee future results, see disclaimer below)
---
Get our book the Bitcoin Dictionary now on Amazon!
Were you forwarded this newsletter? You can subscribe here.
Podcast links and socials on our Info Page.
If you liked this newsletter please SHARE with others who might like it!
May 7, 2021  |  Issue #140  |  Block 682,410  |  Disclaimer
Meme by @BitcoinMemeHub