Reports
Fundamentals Report #139
Included in this week's post is headline commentary, quick price analysis, mining, Taproot and Blockstream satellite, and stablecoin supply.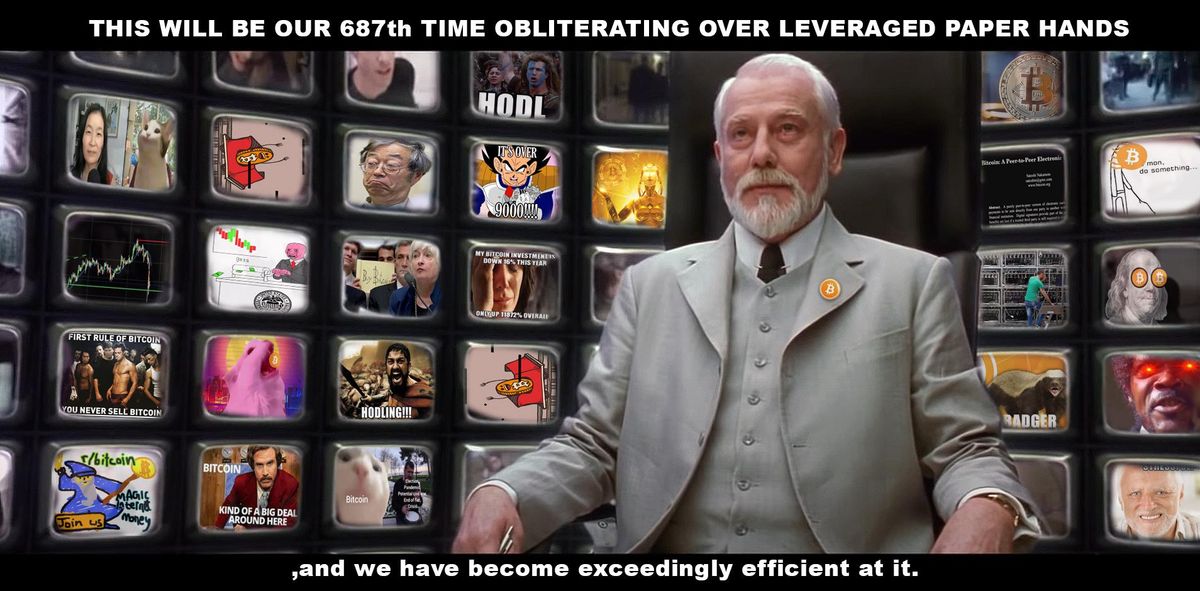 A weekly newsletter summarizing important sectors in bitcoin
by Ansel Lindner and Jeff See
In Case You Missed It...
This week's Bitcoin & Markets content
Get our book the Bitcoin Dictionary now on Amazon!
Bitcoin in Brief
Weekly price
$56,800

(+$7,678 +15.6%)

Market cap
$1.061 tillion
Satoshis/$1 USD
1,762
1 finney (1/10,000 btc)
$5.67
Median fee confirmed (finneys)
$14.30 (2.5)
Market cycle timing
Halfway through bull market
Weekly trend
Rally out of dip
Media sentiment
Positive
Network traffic
Moderate traffic
Mining
Stable
Market Commentary
The price was the big story this week, the rest of the news cycle was relatively slow. The market is quite calm despite the sell-off. In this section today, we will highlight a few news items and add a little commentary to each.
Tesla Sells 10% of its bitcoin to test liquidity of the market
This test of liquidity by Tesla is very understandable. A large company doesn't want to hold an illiquid asset on its balance sheet in place of cash, that would defeat the purpose. Testing the liquidity by selling $150mn in short order is exactly what we should expect from Elon. He flies by the seat of his pants many times. It turned out well, so in the end this is bullish for bitcoin.
Nexon Games adds bitcoin to its balance sheet
Nexon is the largest video game company in South Korea and third largest in Asia outside Japan. They have added $100mn in bitcoin to their balance sheet in place of 2% of the cash balance. Their reasoning in the press release was as follows:
"Our purchase of bitcoin reflects a disciplined strategy for protecting shareholder value and for maintaining the purchasing power of our cash assets. In the current economic environment, we believe bitcoin offers long-term stability and liquidity while maintaining the value of our cash for future investments."
- Owen Mahoney, Nexon's CEO
The IRS is having a hard time with hardware wallets
The IRS posted a document on their website looking for help hacking into bitcoin hardware wallets. A Vice post about it says:
The security of hardware wallets presents a problem for investigators. The document states that agencies may be in possession of a hardware wallet as part of a case, but may not be able to access it if the suspect does not comply. This means that authorities cannot effectively "investigate the movement of currencies" and it may "prevent the forfeiture and recovery" of the funds.
For years, we have said bitcoin will help fight government overreach by making enforcement extremely expensive or pointless, this is what we meant. Typically, when the IRS goes after someone's money, they effortlessly seize it through forfeiture. With bitcoin, they incur all the costs but get no payoff. Ultimately, bitcoin gives asymmetric power to the people.
New Bitcoin ETF debuted in Brazil
Hashdex, in partnership with Nasdaq, will start trading Brazil's first ETF cryptoactive in Brazil today, April 26th at B3, the São Paulo stock exchange. Hashdex Nasdaq Crypto Index Fund has the Nasdaq Crypto Index (NCI) as reference and will be traded under the ticker HASH11.
Bitcoin ETFs are popping up all over the world and are proving immediately popular. This week was Brazil's turn. The Hashdex ETF launched with 2.4x the minimum pre-offer booking interest.
Like our content? SHARE with friends and family!
Quick Price Analysis
Weekly BMI |  2 : Bullish
Become a paid member to access our much more in depth technical analysis and member newsletter.
This week's Bitcoin Pulse was very long. It went through a dozen charts or so about this repeating pattern we've seen on the end-of-month bounces, and once again, this pattern is playing out right now. And they are very exact, down the percentage price movements.
The dip this week had a dramatic effect on indicators, resetting most of them to neutral from over-extended positions. That is very positive for the coming rally, as if bitcoin was taking a breather before the next leg. It gives everything more room on the upside.
At the time of writing, price is trying to make a fresh breakout of the daily 50 EMA. We've written about this level specifically in several issues, it is considered the 50 yard line for the bulls vs bears. If it can close the daily above that level, it should be time for the bulls to take the ball back.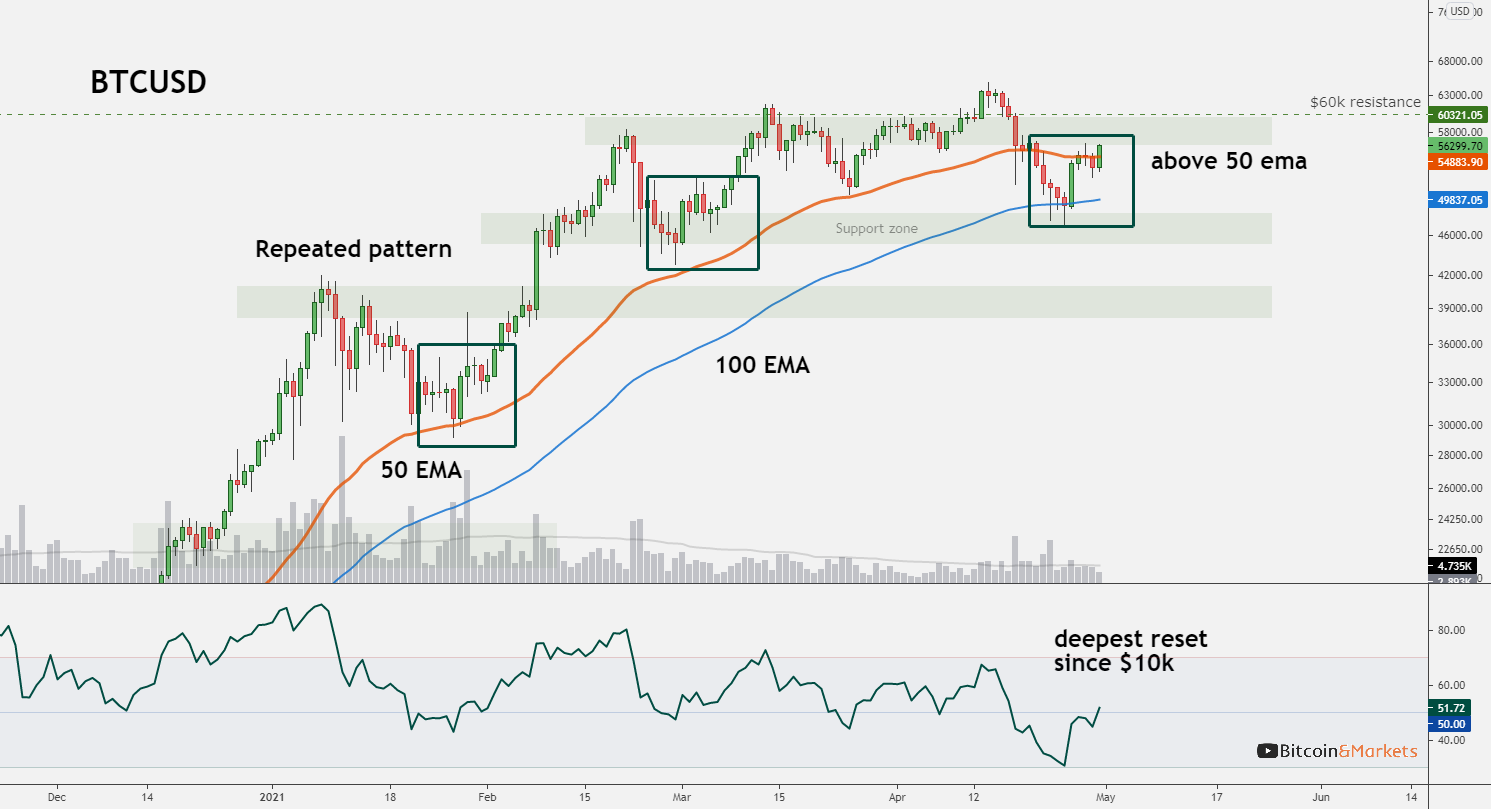 On shorter timeframes we can see a fairly good inverse head and shoulders with an implied target of near the ATH.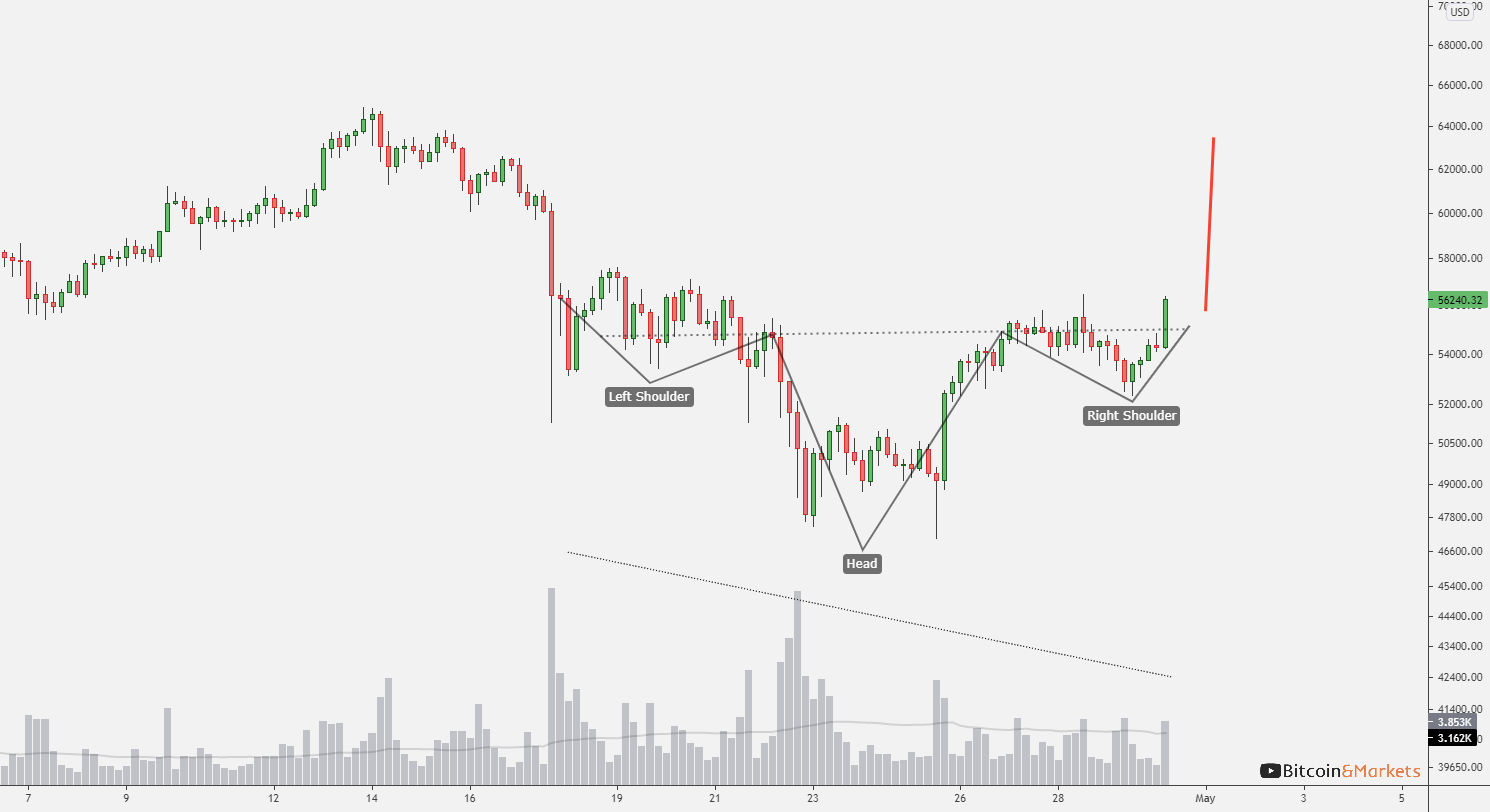 ---
Mining
Surprisingly, the mempool has held up fantastically despite high traffic events recently, the bull market in general, a mining hardware shortage, compounded by a massive power outage in China knocking 25% of the hashrate offline a couple weeks ago. The mempool is the transactions that have been sent but are waiting to be ordered into the block chain.
Since the Chinese power outage, a significant portion of that hashrate has come back online, but the mining difficulty will still adjust down over 12% tomorrow because it is based on average block times over a 2016 block period. This drop in difficulty occurs periodically, the last time being November 2020 (which was followed by the epic rally from $20k to $40k). A drop in difficulty should boost miner profitability even more and speed up blocks slightly, giving yet more relief to the mempool.
Transactions with a fee of ~6 sats/byte or less ($1.25) will confirm over the weekend, so, it will be a good time to do some UTXO managing, or in other words managing your different balances in your wallets.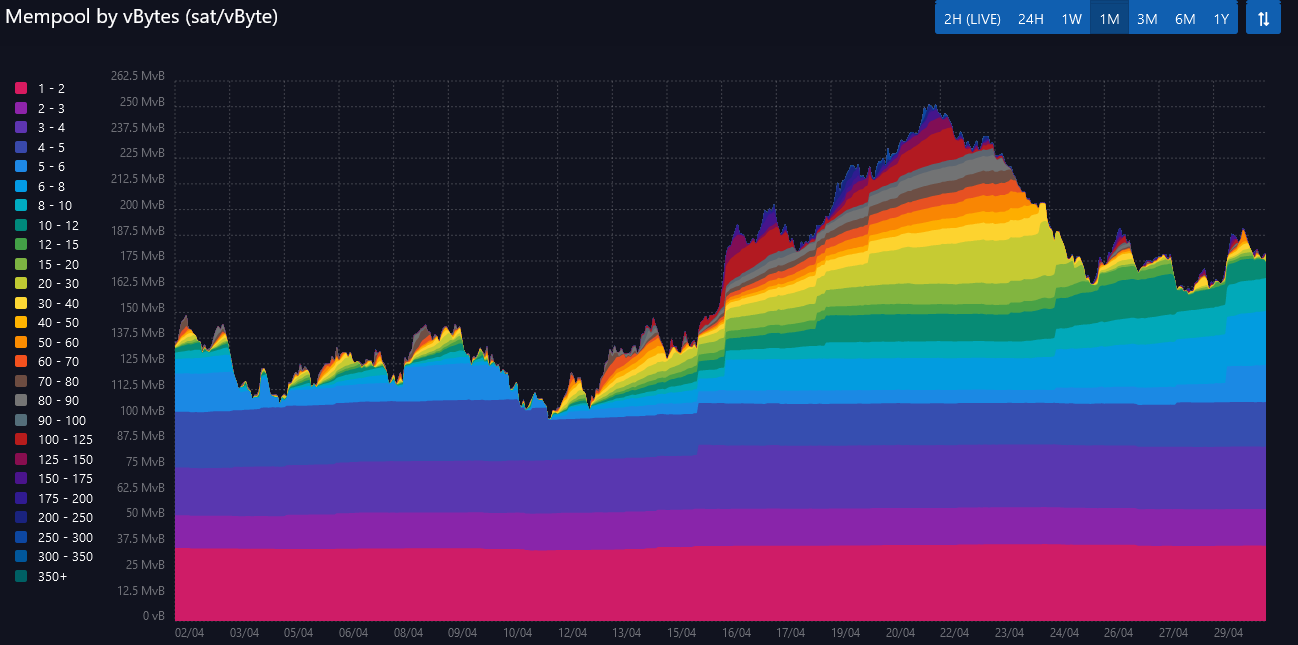 ---
Development
Taproot
Taproot is the name of latest and greatest of bitcoin development. It is a collection of many small but powerful upgrades to the bitcoin software. It was already included in the latest major code release Core 0.21.0 which is out in the wild already. The issue still at hand is just how to "activate" all the new features.
This is a very nuanced and deep conversation happening at the very core of the community. Bottom line is there is some disagreement on how to activate this upgrade. Like 2017, this very similar debate has resulted in a similar result, new client software has been proposed.
We fully expect Taproot to get activated over the next year or two, in the meantime, these internal debates are very good for bitcoin, because they keep any faction from building support to control bitcoin development.
Blockstream Satellite Base Station
One of the constant criticism of bitcoin is its reliance on the internet. Well, there are people out there working on this small vulnerability. One of the most well known companies in the space previously provided a satellite link to which you could connect your node to receive bitcoin data. Now they are introducing a streamlined Base Station as a plug-and-play type solution for connecting to the satellite. Very cool.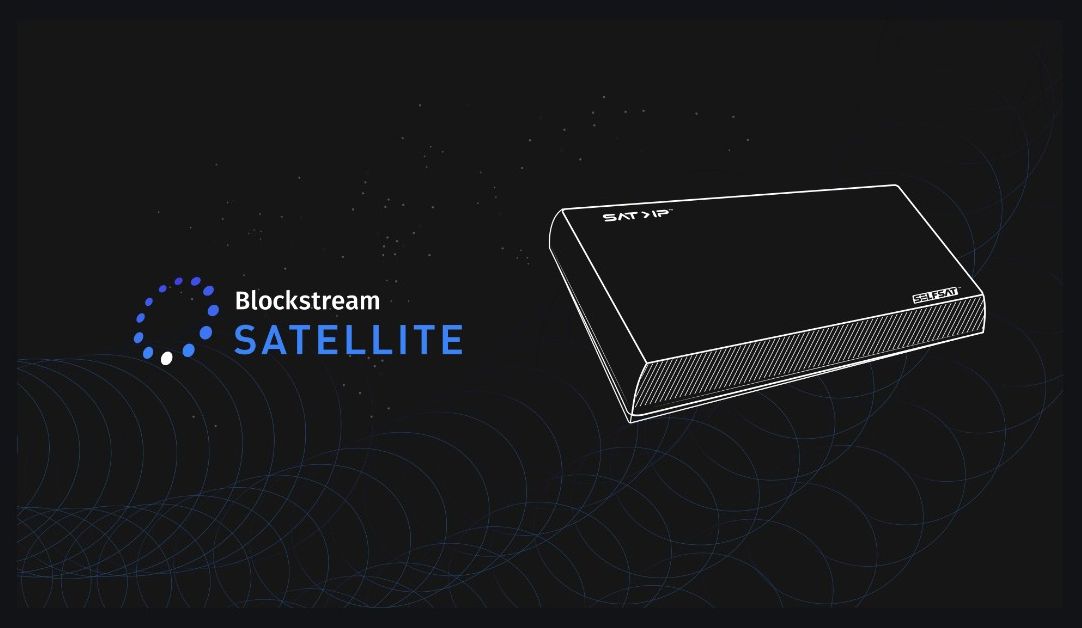 ---
Stablecoins / CBDC / Altcoins
This stablecoin chart by Coinmetrics should be put on a log scale! Anyway, it shows the dramatic rise in the popularity of digital dollars. This chart should always come to mind when you here what Chairman Powell at the Fed says about a digital dollar, they're in no hurry to produce one themselves because digital dollars are already provided by the free market. There are no similar charts for digital Euros or digital Yuan. There's very little market demand for those.
Another thing that happened this week for stablecoins was the Tron-based Tether surpassed the Ethereum-based Tether for the first time. The chart is a little confusing, the large green and blue slices are both Tether, just on different networks. The significance of this flip from Eth to Tron might be significant. One of the major uses of Ethereum is as a Tether rail.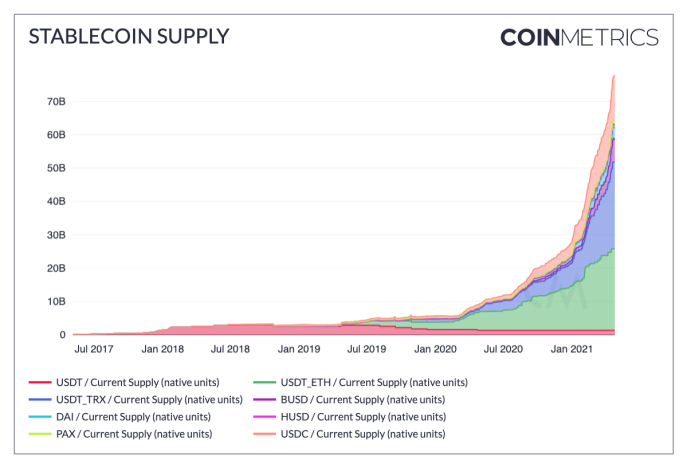 ---
Miscellaneous
The below chart was shared by Willy Woo live on Tone Vay's show the other day and comes from the paid tier from glassnode, an on-chain data provider and analysis company.
Glassnode has done a lot of analysis of user behavior based on on-chain data. They have categorized labeled coins (UTXO's) into either Liquid Supply or Illiquid Supply, based on some assumptions involving addresses and the time the coins last moved.
In the chart, you can see coins have been moving into the Illiquid Supply (Long Term Hodlers) over the last year, which is also reflected in the coins moving off exchanges charts being passed around. Willy hypothesizes the three peaks circled are three different types of buyers.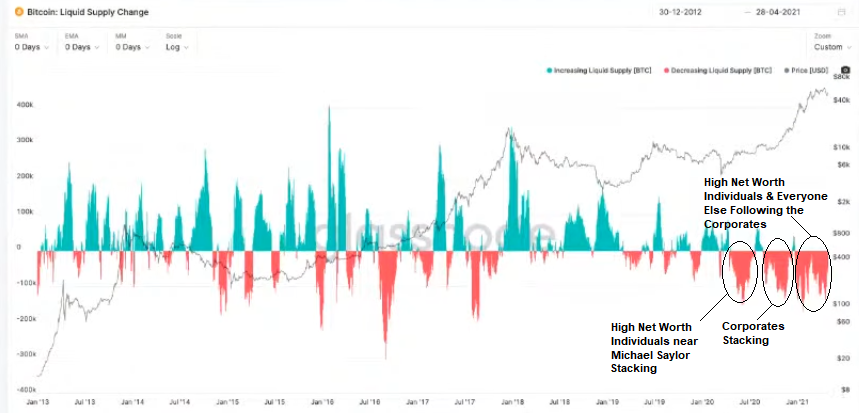 ---
Get our book the Bitcoin Dictionary now on Amazon!
Were you forwarded this newsletter? You can subscribe here.
Podcast links and socials on our Info Page.
If you liked this newsletter please SHARE with others who might like it!
April 30, 2021  |  Issue #139  |  Block 681,258  |  Disclaimer
Meme by u/Kuez101