Reports
Fundamentals Report #135
Very busy news week in bitcoin. We hit all the important headlines with commentary, then analyze price, mining and some altcoin news.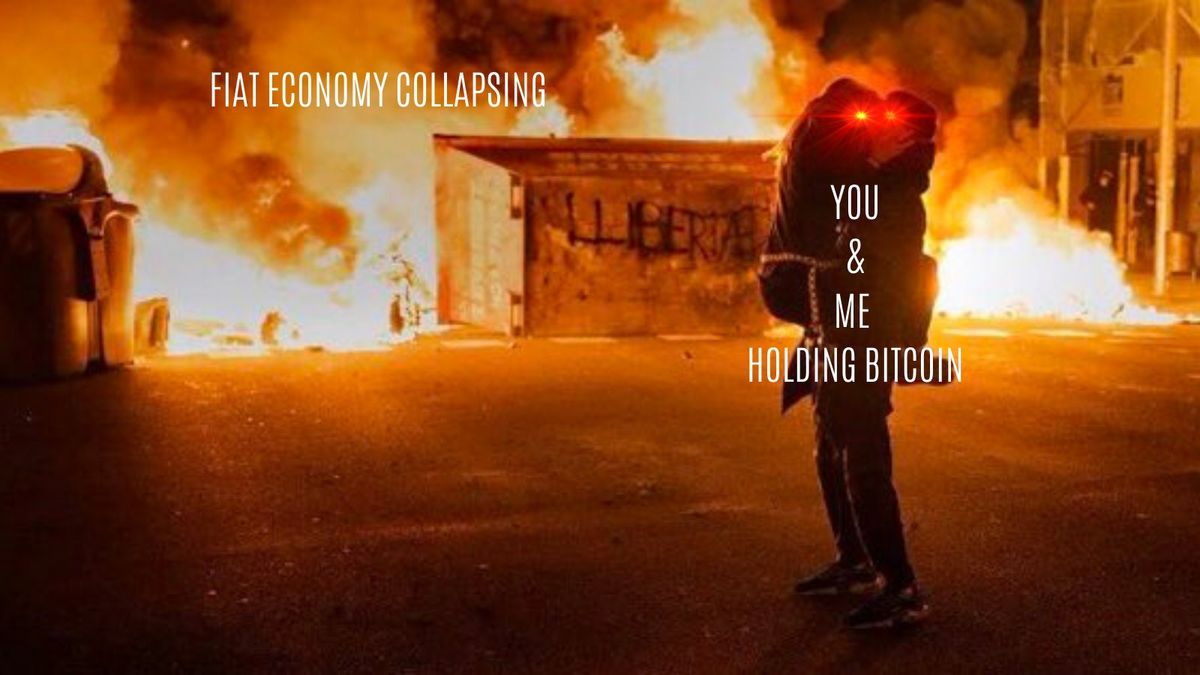 A weekly newsletter summarizing important sectors in bitcoin
by Ansel Lindner and Jeff See
In Case You Missed It...
This week's Bitcoin & Markets content
Get our book the Bitcoin Dictionary now on Amazon!
Bitcoin in Brief
Weekly price
$59,346

(+$5,681, +10.6%)

Market cap
$1.114 trillion
Satoshis/$1 USD
1,685
1 finney (1/10,000 btc)
$5.93
Median fee confirmed (finneys)
$6.18 (1.2)
Market cycle timing
Beginning 2nd half of bull market
Weekly trend
Ready to breakout
Media sentiment
VERY positive
Network traffic
Moderate
Mining
Healthy and expanding
Market Commentary
The headlines are coming hard and heavy now for bitcoin. Here is a summary and small commentary on the biggest ones this week.
The Coinbase IPO was no secret. We've known it was coming for several months. The date of April 14 could be significant for this cycle. Investing in Coinbase isn't the same as investing directly in bitcoin, the company actually has a track record of wasting valuable effort promoting their CEO's and investors altcoin scam bags, but they are among the largest bitcoin companies in the world. It could launch at a $100 billion valuation.
Morgan Stanley has filed with the SEC for several of their managed institutional funds to gain exposure to bitcoin through CME futures or Grayscale Bitcoin Trust. A Too Big To Fail bank going bonkers for bitcoin.
Goldman Sachs is a controversial bank. Most Fed Governors and Treasury Secretaries for the US, and many foreign central bank managers, have experience at Goldman. It's kind of crazy. But in recent weeks, Goldman has made major moves in bitcoin. This time it's offering bitcoin to the ultra rich wealth management clients.
With all the high-powered players getting in, the idea of a government ban is getting ridiculous.
BTCPay is part of the broad open source ecosystem around bitcoin. Open source simply means that the code of these apps are completely open to the public for anyone to copy, use, contribute to. It is a revolution in software that dates back decades, of which bitcoin is the pointy end of the spear.
To a true bitcoin, this event should give you goosebumps more than Tesla buying bitcoin.
The Blockstream Mining Note (BMN) represents 2,000 TH/sec of hashrate from one of Blockstream's mining facilities. 62.5 BMN will go on sale April 7, and are redeemable after three years for the bitcoin equivalent to the total hashrate the note represents.
This is a major step in commoditizing bitcoin mining. This and similar efforts are truly going to push bitcoin mining into being one of the largest industries in the world.
The first measure is a tax break for bitcoin miners and the second centers around clean energy incentives.
Bitcoin can now be spent at PayPal's 29 million global retailers. We don't recommend spending your bitcoin unless you absolutely have to.
According to the CEO, his firm has been having discussions with sovereign wealth funds on possible Bitcoin investments. [Raoul] Pal corroborated Gutmann's assertions, stating that Temasek, a Singaporean sovereign wealth fund had invested in Bitcoin.
We could go on, but you get the idea, LOTS happening at lightning speed.
Like our content? SHARE with friends and family!
Quick Price Analysis
Weekly BMI |  2 : Bullish
Become a paid member to access our much more in depth technical analysis and member newsletter.
It's all about price. In bitcoin, price is all that matters for adoption. As price goes up, it affects the human mind in seemingly magical ways. People cannot maintain their stubborn disbelief in the face of something that continues to go up, and as they look into bitcoin, they learn about money and, importantly, about themselves.
This is summed up in the bitcoin community by the meme Number Go Up technology (NgU tech). There is precedence for this in economics, too, with Giffen or Veblen goods. You can think of them like luxury items whose demand goes up as price goes up. In technical jargon, the demand curve is backward sloping. However, in economics these goods eventually get too expensive and their demand falls. That won't happen to bitcoin because it is highly divisible to 8 decimal places. "Bitcoin is designed to pump forever."
So where are we on price? It recently touched the 50 daily EMA and bounced nicely, and now is trying to break the previous All Time High (ATH). We think the breakout is likely to occur this week and bitcoin will be off to the races again. Expect volatility.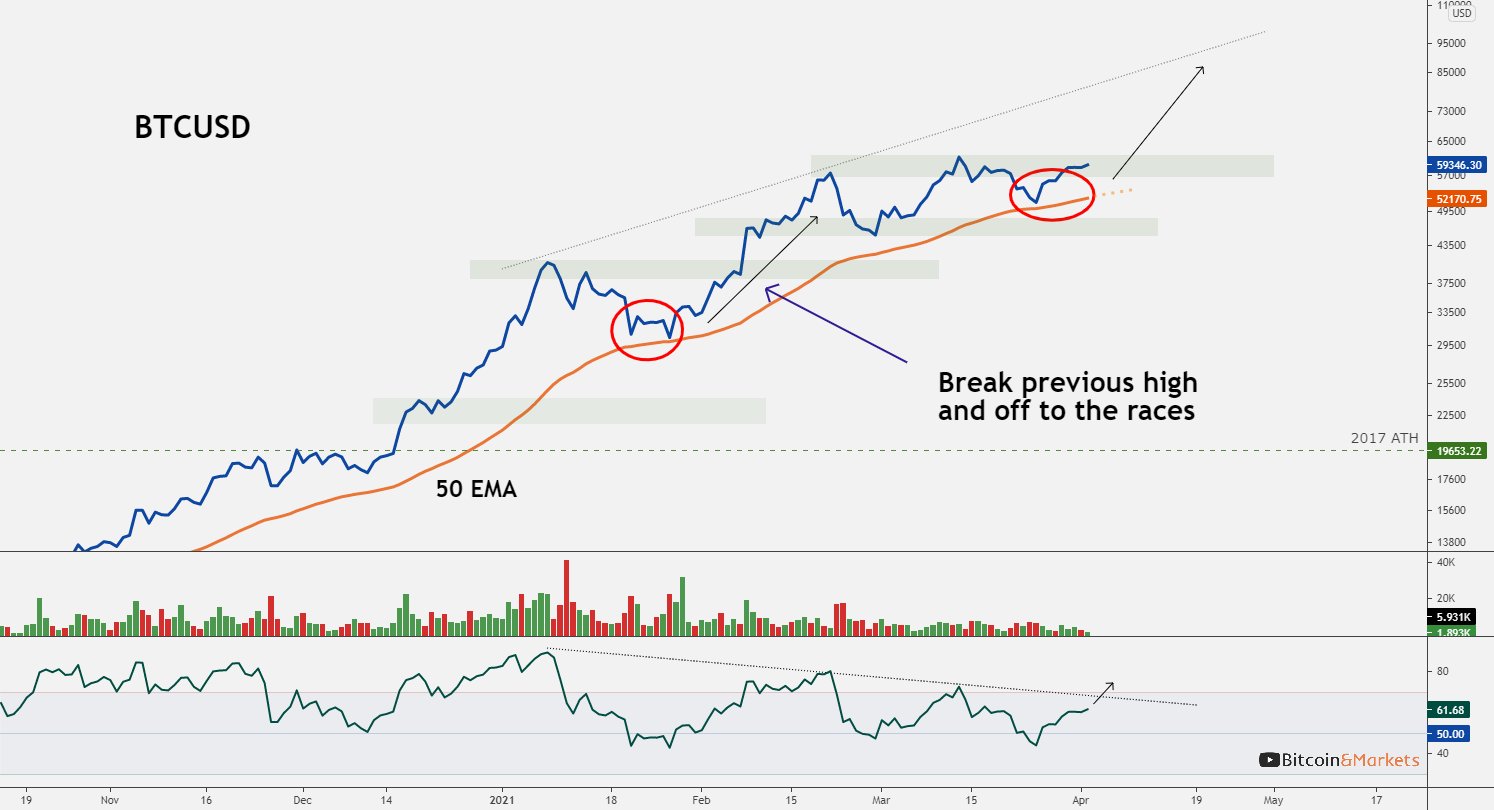 Below is a visual from Coinmetrics that beautifully illustrates where we are in relation to the two previous cycles in bitcoin. It is not different this time! Price is tracking the average of the those previous cycles almost perfectly.
If you notice the blue overlap area gets slightly thinner here in the middle of the cycle, and then widens out again. This means we could experience lots of volatility in the weeks to come; probably upward volatility, but be prepared either way. $100k in April is likely, followed by a 30-40% correction. $200k by July is possible.
Another thing to consider is the time of year. The previous cycle highs occurred in November and December. This seems to be part of the natural bitcoin calendar year that revolves around the human business cycle and holiday seasons. The halving however is on a slightly faster than four year cycle (210,000 blocks to be precise). This means the cycle begins earleir in the year each time, so the rally appears more stretched out, to end around the end of the year.
If we followed the average of the previous cycles, price would top somewhere between July and August as the chart implies, but it is likely to stretch out to the end of the year instead. That gives price more time to meander.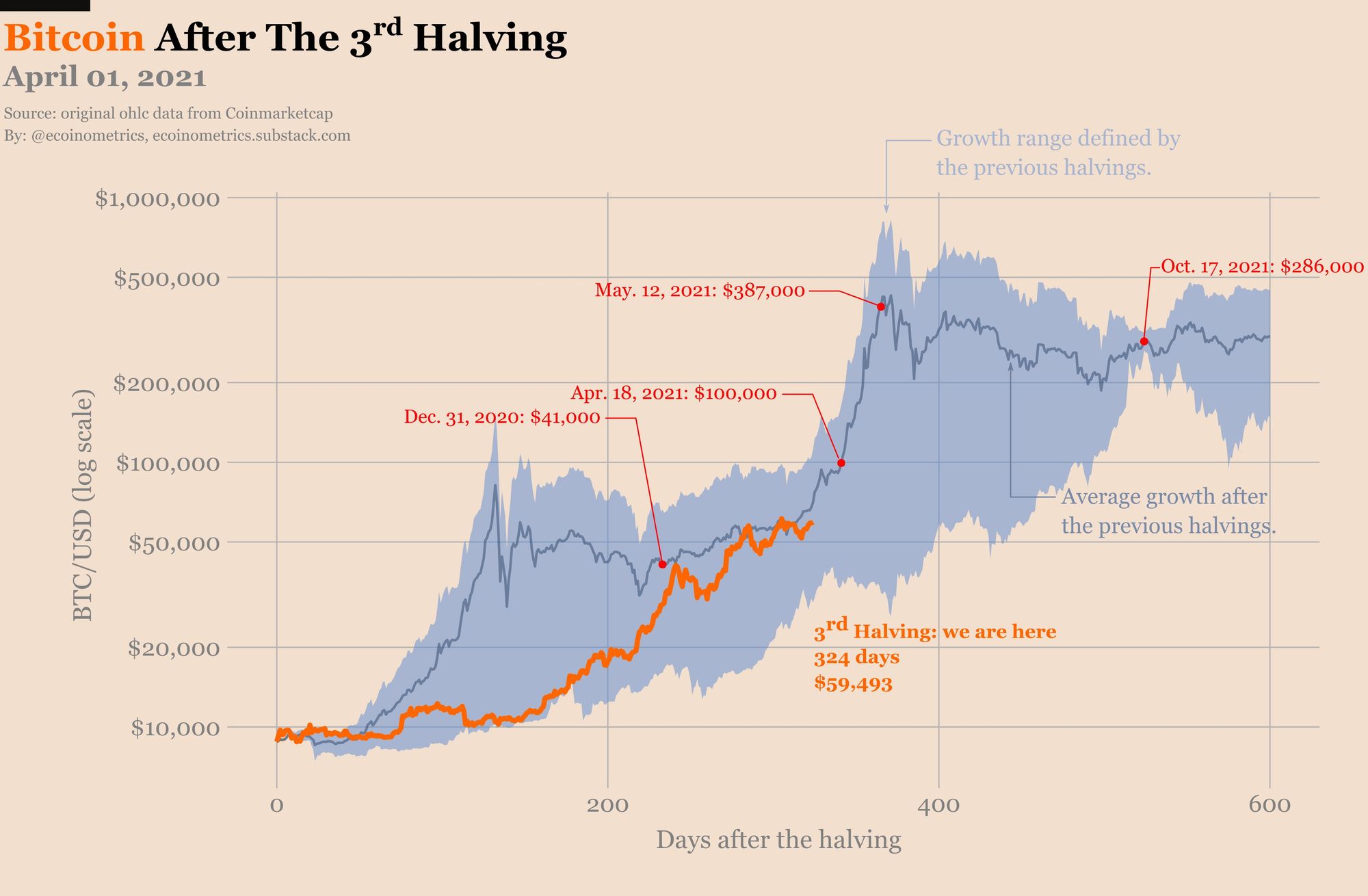 ---
Mining
Both the hashrate and difficulty hit All Time Highs this week as the difficulty adjusted up 5.8% yesterday. The mempool is still holding over 130 MB of transactions, but the fees are very efficient staying less than 10 sats/byte (median of $9/transaction) confirmed in the last 24 hours. Overall, traffic is robust but the network is handling it perfectly.
It will be interesting to watch if the recent increase in hashrate is a sign the microchip shortage is ending or if it was old offline hardware being sold and relocated to a cheap energy source.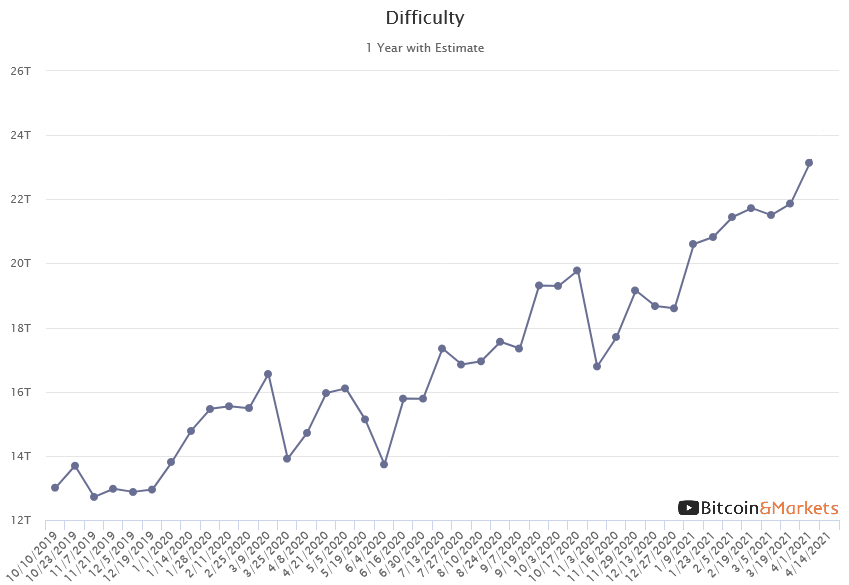 ---
Stablecoins / CBDC / Altcoins
It's been relatively quiet on the stablecoin front compared to the bitcoin news cycle, but there are some interesting developments. Visa has started accepting the US dollar stablecoin provided by Circle, USDC, for payment settlements. We have to wait and see how the central banks respond to this news, but it fits our prediction of the market providing a digital dollar so the Fed doesn't have to.
Also on the Central Bank Digital Currency front, the Eastern Caribbean Central Bank (ECCB) has rolled out their own CBDC called DCash. This is the first complete roll-out of a CBDC by any central bank, even ahead of China. The ECCB "is the central bank for the Eastern Caribbean dollar and is the monetary authority for the members of the Organisation of Eastern Caribbean States (OECS), with the exception of the British Virgin Islands and Martinique."
DCash is a securely minted digital version of the Eastern Caribbean dollar issued by the ECCB. It offers a safer, faster, cheaper way to pay for goods and services and send EC funds to other DCash users all using a smart device. From 31 March, consumers and merchants can sign up to use DCash through participating financial institutions or by downloading the DCash App from the Google Play or Apple Store.
It is not live in all ECCB countries, currently limited to Antigua and Barbuda, Grenada, Saint Christopher (St Kitts) and Nevis and Saint Lucia. We anxiously await uptake numbers and any fallout on local banks.
---
Miscellaneous
There is an insider divide around Stock to Flow. It's one of those things that even hardcore bitcoiners can get triggered about. Some call it voodoo woowoo stuff, while other think it provides insights on monetary properties.
Anyway, here is an update from originator PlanB. If the dots once again start to gap up, we might see a scenario where you go to sleep at $100k and wake up an hour later with a price at $113k.
No matter which side of the insider debate you fall on, this is a powerful meme with a bit of self-fulfilling prophesy power. The more the meme spreads, the more people include it in their economic calculations, the more reliable it becomes. And it's already very reliable.
With an overshoot of the model like previous bull markets, price could easily hit $500k this year.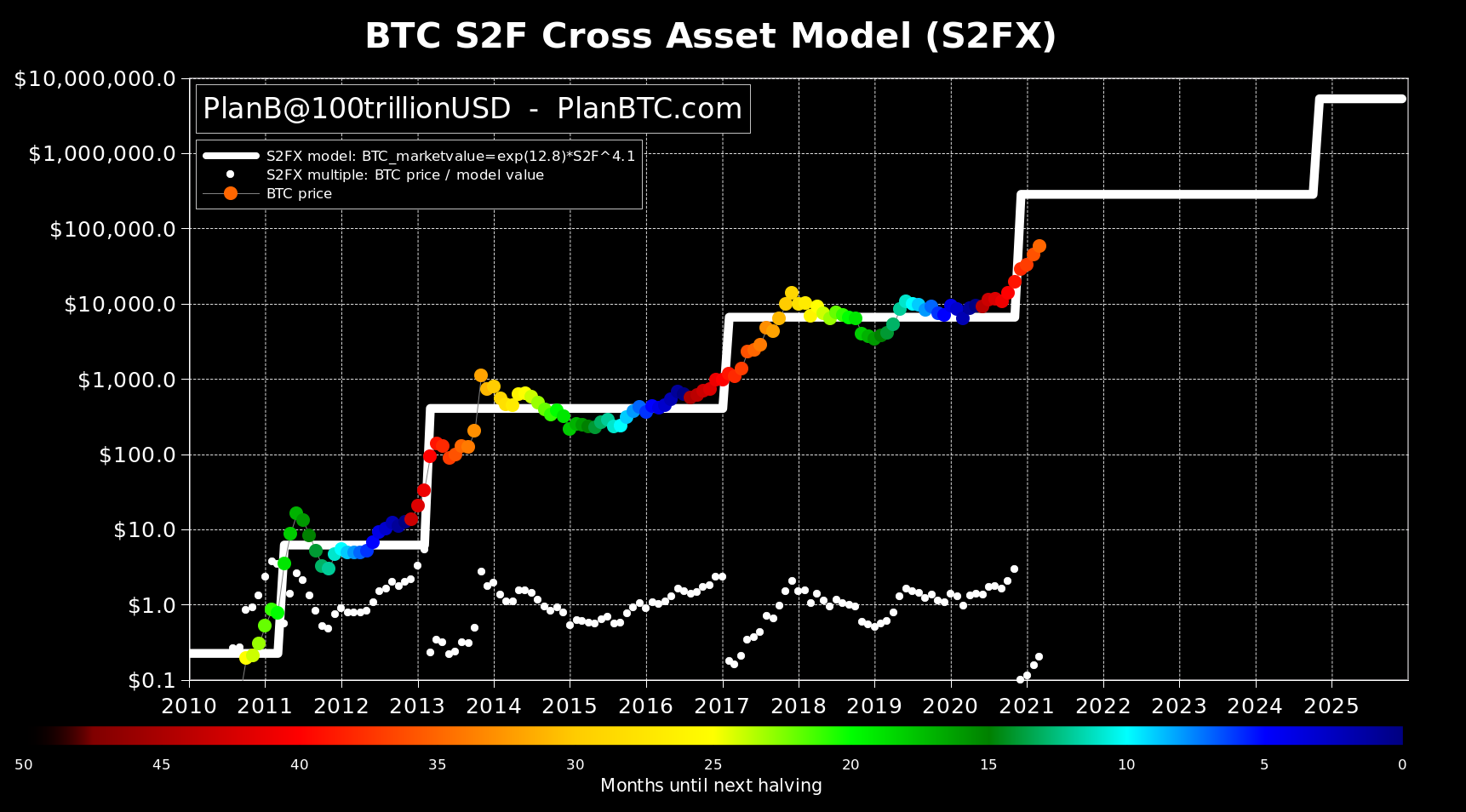 ---
Get our book the Bitcoin Dictionary now on Amazon!
Were you forwarded this newsletter? You can subscribe here.
Podcast links and socials on our Info Page.
If you liked this newsletter please SHARE with others who might like it!
April 2, 2021  |  Issue #135  |  Block 677,473  |  Disclaimer
Meme by @criptobastardo