Reports
Fundamentals Report #128
In this post: Bitcoin welcomed in Miami, update on bitcoin mining industry, and price prediction.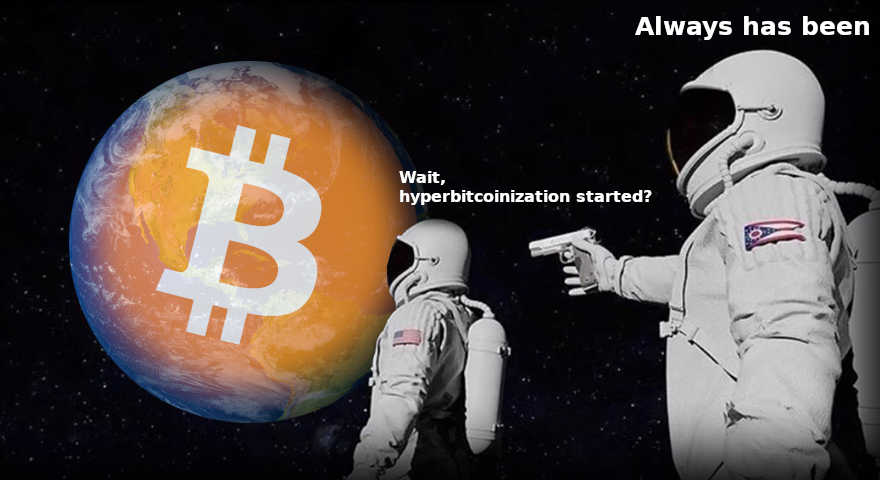 Issue #128  |  Block 670,293  |  Disclaimer

Written by Ansel Lindner and Jeff See
---
This week's Bitcoin & Markets content
Go to our Info Page to join our community, find where to listen, and follow us.
The BITCOIN DICTIONARY is LIVE on Amazon!
Bitcoin in Brief
Weekly price change
$47,658

(+$8844, +22.8%)

Satoshis/$1 USD
2,099
1 finney (1/10,000 btc)
$4.76
Stock to Flow (new supply to existing) 463/d
1.51
Mayer Multiple (ratio to 200 d MA)
2.48
Est. Difficulty Adjustment
+2.5% in 7 days
Previous Adjustment
+2.93%
Market Commentary
In mid-2019, I moved to Florida from the Midwest in what now appears to be a very happy accident. There were several reasons back then to make the move, like a better outdoor lifestyle, better winters (I'm convinced the next 50 years will see increasingly cold winters in the plains States where we are coming from), Florida has a very friendly tax situation, the cost of living is almost identical to where we were living in the Midwest, and the kids would have more opportunities in a relatively booming economy.
That was all before the virus. During 2020, Florida proved far less authoritarian than almost any other State, despite being the retiree capital of the country and has achieved far better results places with the worse lockdowns. Great lifestyle at an affordable price, and relatively the most freedom. It is not a coincidence States exploding in population are also those States with more freedoms and a booming bitcoin industry. This brings me to the recent news out of Florida in regards to bitcoin.
The Mayor of Miami, Francis Suarez, is aggressively trying to turn Miami around. It has a homeless problem and isn't perfect by any means, but the largest city in Florida is very friendly to bitcoin. The mayor recently posted the bitcoin whitepaper on the city's website during the Craig "Fake Satoshi" Wright scandal a few weeks ago, showing he knows a thing or two about the space. Today, he made the announcement that the city will pay employees in bitcoin if requested, and will accept bitcoin for tax obligations.
This is huge. I expect other cities in Florida and Texas to follow suit. Not only will people in these States have more freedom, but they will be stacking more bitcoin on average. I'm extremely bullish on Miami, Florida in general, and Texas in the coming decade.
If we get interested feedback on this commentary, we might start writing more about regulatory arbitrage between the states. Comment below, on Twitter, or on our Discord.
---
Quick Price Analysis
Weekly BMI |  1 : Slightly bullish
A little different chart this week. We are trying to simplify the chart for readers of the free newsletter. The Bitcoin Pulse letter which focuses on price will still have the more expert charts.
The Tesla announcement really floored the price. Its significance is more than the $1.5 billion they spent on bitcoin, the fact that Tesla is a very well known and respected company is the bigger part of the story. This year will truly be the year where companies diversify their balance sheets into bitcoin.
As for the price, it stayed above the 50 period EMA on the daily, showing tons of strength and shot to new highs. $50,000 is psychological resistance, so will likely be a hard level to break. Not that it won't be broken, it probably will be within the next week or two.
I noted the large bearish divergence on the daily chart below, and this divergence also exists on the weekly chart. It is troubling, and will eventually have to clear itself by going up enough to hit a 90 on the daily RSI. The weekly will be much harder to reset. The previous reading of 94.7 from 5 weeks ago is extremely high. It will take a quick run to $100k to reset that, but we don't see that coming until months down the road.
In our opinion, the divergences are not enough to stop the bullish momentum at this time.
Become a paid member to access our full technical analysis and member newsletter.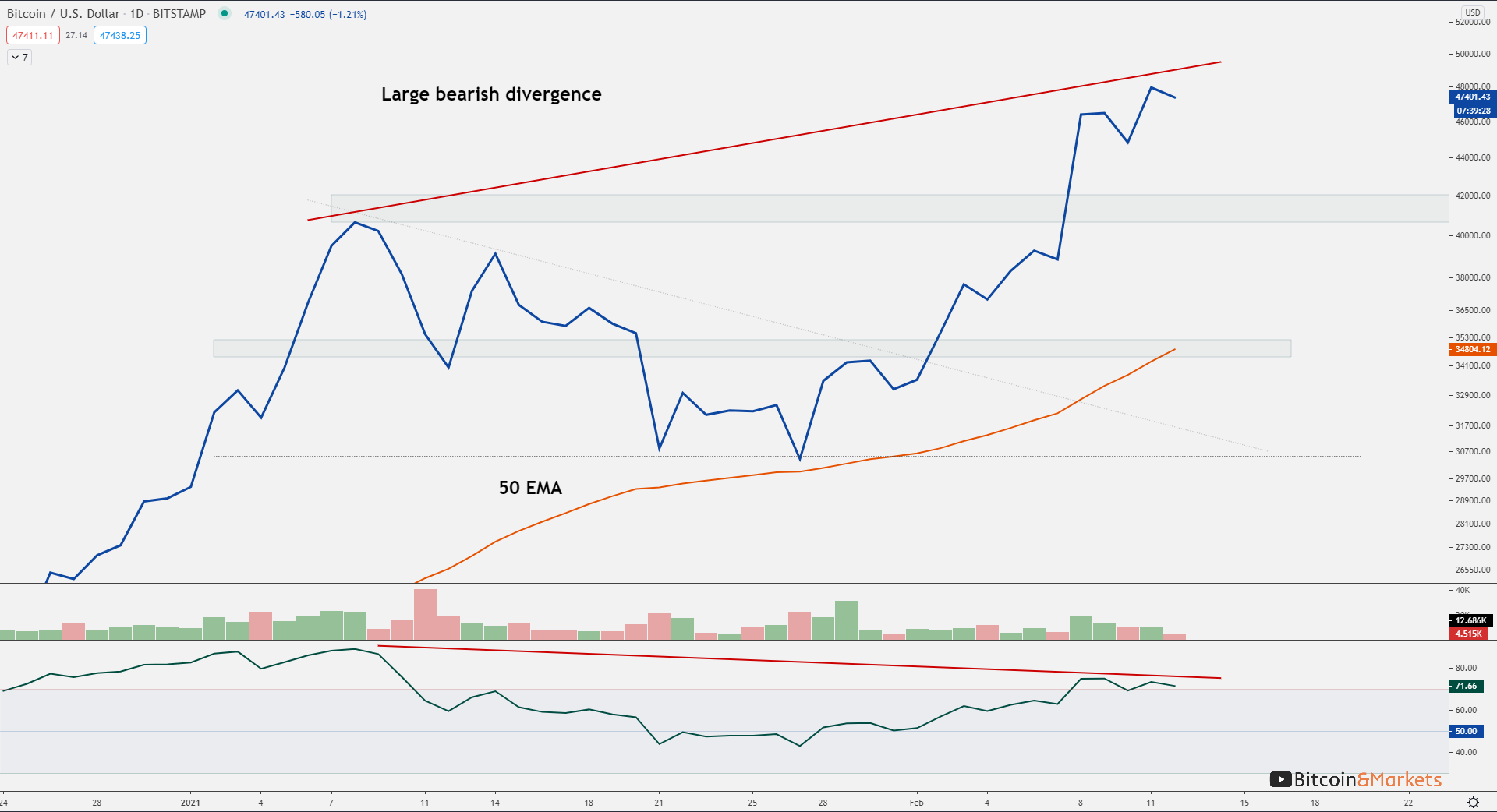 ---
Bitcoin Mining
There are two major stories in the mining sector over the last few months. First, the global shortage of mining chips continues. Second, the geographic diversification of mining.
In this article from a couple weeks ago, it talks about the problems of meeting demand from North America and places outside China.
"There are not enough chips to support the production of mining rigs," said Alex Ao, vice president of Innosilicon.

Taiwan Semiconductor Manufacturing Co and Samsung Electronics Co, the main producers of specially designed chips used in mining rigs, would also prioritise supplies to sectors such as consumer electronics, where chip demand is seen as more stable, Ao said.

"Purchase volumes from North America have been huge, squeezing supply in China," he said.
Mining in Russia is also exploding. We reported in the past on the hydropower plants in Siberia that are adding bitcoin mining facilities. In December 2020, one of those facilities got a delivery of 20,000 mining rigs, totaling roughly 70MW of mining power.
Publicly traded bitcoin mining company Argo, is planning "to acquire 320 acres of land to build a 200-megawatt data center over the next 12 months."
In choosing the Texas location, Argo has been able to secure access to some of the "cheapest renewable energy worldwide," Wall said.
So bitcoin mining is extremely healthy and growing. Over the next year, having a domestic bitcoin mining capability will be seen as a national security issue. A country won't want to be dependent on another country to confirm its bitcoin transactions. Relatively free countries with a strong "rule of law tradition" will be preferred. Therefore, relations with those countries will be even more important. Hint: China isn't one of them.
Despite the growth and incentives for efficiency, the energy FUD is ever-present. From the BBC, they ignorantly point out Bitcoin uses more energy than the country of Argentina. That's a huge win! But of course they don't see it that way. The BBC is using this beneficial fact to attack Tesla: "critics say electric-car firm Tesla's decision to invest heavily in Bitcoin undermines its environmental image."
Give me a break. Bitcoin competes for that energy. It only means other uses are less efficient and profitable. Bitcoin also gives an outlet for "excess" energy. There are peak times for the grid, and in off peak times more energy is produced (wasted) than needed, because they must have enough capacity for those peak times. Therefore, bitcoin rarely receives virgin energy. It's also been shown in reports over the years that bitcoin uses a high percentage of renewable energy, adding more incentive to expand those technologies.
One day, a significant percentage of all power in the world will go toward bitcoin mining. Probably between 10-25%.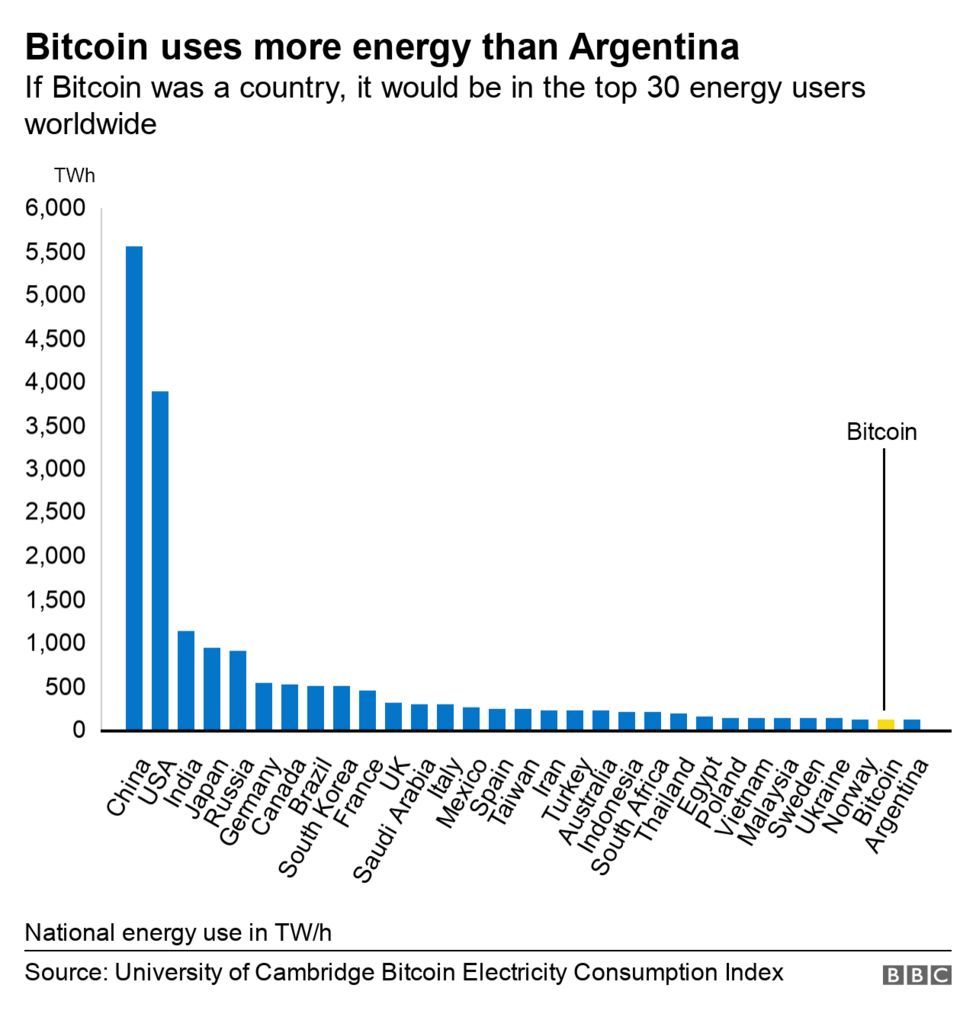 ---
The central bank must be trusted not to debase the currency, but the history of fiat currencies is full of breaches of that trust.
- Satoshi Nakamoto
---
Demystify Bitcoin Jargon with the Bitcoin Dictionary
Years of knowledge about bitcoin, blockchain, and cryptocurrency in 80 easy-to-read pages. Exposure to a diverse set of disciplines needed to understand Bitcoin. Economics, cryptography, mathematics, computer science, political science, and game theory.