Reports
Fundamentals Report #127
Comments on Saylor's corporate bitcoin conference, price, mining, ethereum pump, and Bitcoin Prophet Hall of Fame.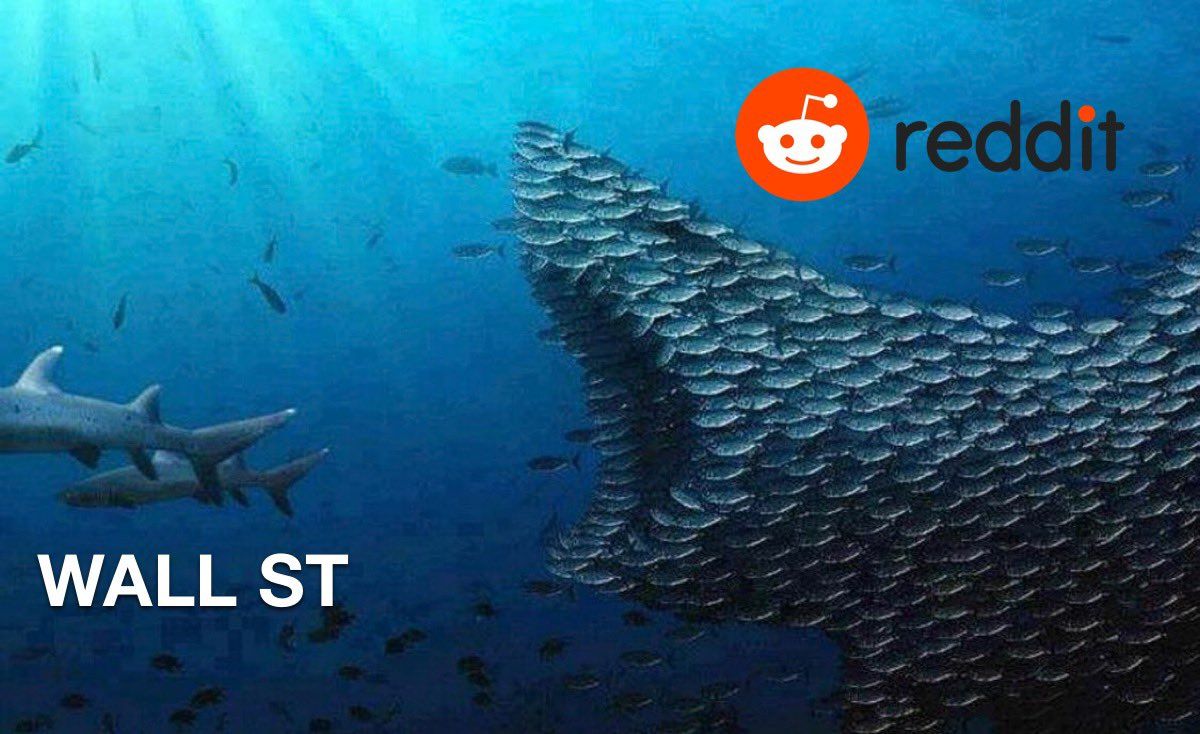 February 5, 2021  |  Issue #127  |  Block 669,257  |  Disclaimer

Written by Ansel Lindner and Jeff See
Bitcoin in Brief
Weekly price
$37,771

(+$3171, +9.16%)

Satoshis/$1 USD
2,648
1 finney (1/10,000 btc)
$3.78
Stock to Flow (new supply to existing) 463/d
1.23
Mayer Multiple (ratio to 200 d MA)
2.11
Est. Difficulty Adjustment
+2.62% in 0 days
Previous Adjustment
+1.05%
---
This week's Bitcoin & Markets content
Find where to join our community, listen, and follow us on our Info Page.
The Bitcoin Dictionary is LIVE on Amazon!
Market Commentary
Michael Saylor put on a virtual conference this week for his corporate peers. The goal was to teach business owners and C-suite executives about the benefit of owning bitcoin as part of the cash allocation on their balance sheets. It was reported that over 1000 organizations participated.
Michael Saylor's firm MicroStrategy, the largest "business intelligence" firm in the world (essentially selling extremely complex real-time dashboards to other companies) famously bought over $500 million worth of bitcoin to replace USD on their balance sheet, and another $700 million as an unsecured bond offering, both in 2020.
I have my issues with Saylor. For one, I don't like the fact that he came out of nowhere 6-9 months ago and now the bitcoin space is canonizing him. We don't know him yet, but we do know that he is a Statist and anti-privacy (you are either for or against privacy). It would not be a stretch to see him come out in the next year supporting some harsh regulation by governments. That then will put bitcoiners in an awkward position. 'We spent the last year salivating while he pumped bitcoin, now he is attacking us?'
This conference, too, smacks of pumping his bags, which by itself isn't a bad thing. Of course, bitcoiners will say he's providing education and, yes, it's both. Education is a good thing. When you first learn about bitcoin you can't help but talk about it to everyone who will listen. We've all been there. His efforts are a good thing right now, but we must be careful not to give a single individual a dangerous level of influence in bitcoin. Especially, one who bad mouthed bitcoin for years until he saw the light, and one with a history of financial crime.
Eventually, everything is good for bitcoin. Even bad events result in a more robust bitcoin in the future, and a more robust bitcoin ecosystem/community. It's just something to be aware of going forward.
Concentration of Wealth in Bitcoin
Switching gears, we didn't know where to put this but it is an amazing report with awesome info. Glassnode responded to a recent Bloomberg article claiming, "2% of accounts control 95% of all Bitcoin".
It's a tired accusation we've heard for year. The bottom line is much of the early bitcoin is lost, another huge section is held by exchanges who hold for others, and there is a growing element of mid-sized owners. We also must say that people usually own more than one wallet or address, to the algorithm used to estimate these things can be off by a lot anyway.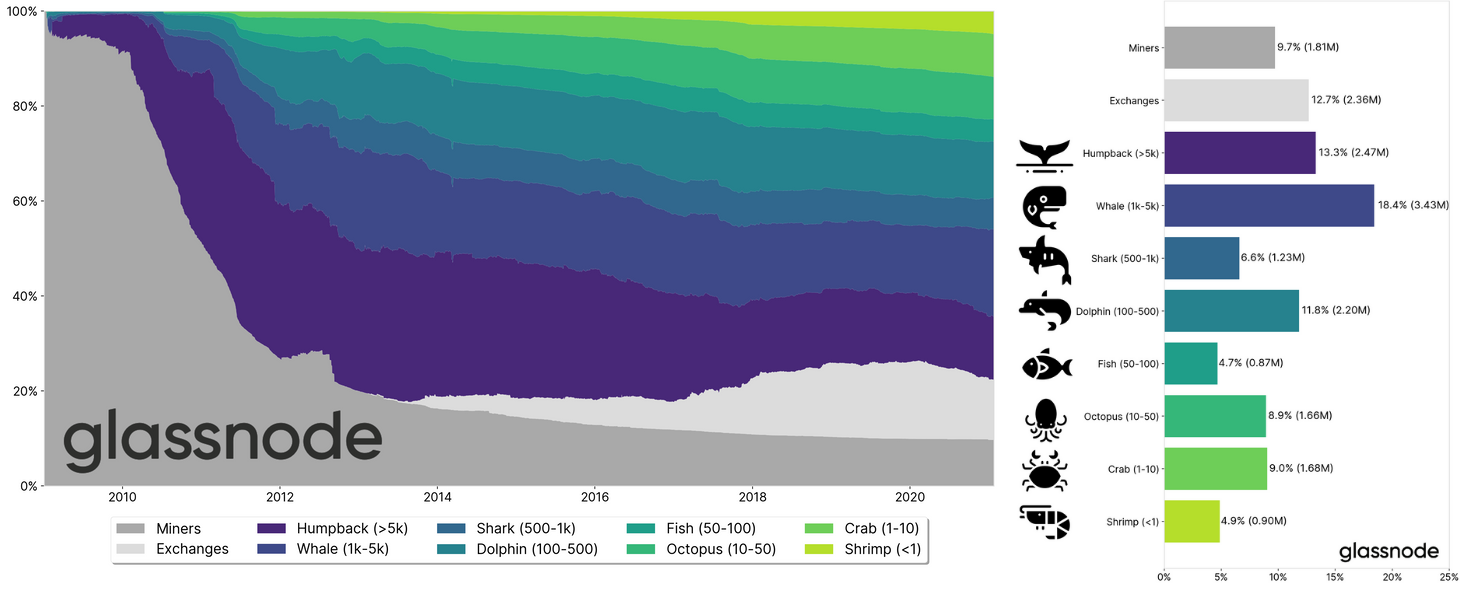 ---
Quick Price Analysis
Weekly BMI |  -1 : Slightly bearish
Current price action is very reminiscent of the top in 2019. Including quick retest of the high, followed by a double bottom, followed by a convincing continuation leg. Of course, in 2019 the price ended up breaking down (which we were predicting at the time).
2021 is different in several aspects, but the speed of size of the initial pump, must result in an appropriate amount of consolidation.
This is a very important juncture for the price. If it continues up to test the ATH at $42,000 it will signal further upside. If price heads back down to test support first, we could see a bull trap scenario. Bulls are stuck in underwater, and the price won't rebound.
Lots of smaller fundamental factors also will come into play, like the stimulus checks in the US, some of which are spent directly on bitcoin, and the declining health of the global economy. We are headed for a double dip from the 2o2o economic panic. When and where that happens isn't clear.
Get more technical and fundamental analysis for the bitcoin price on our member newsletter the Bitcoin Pulse.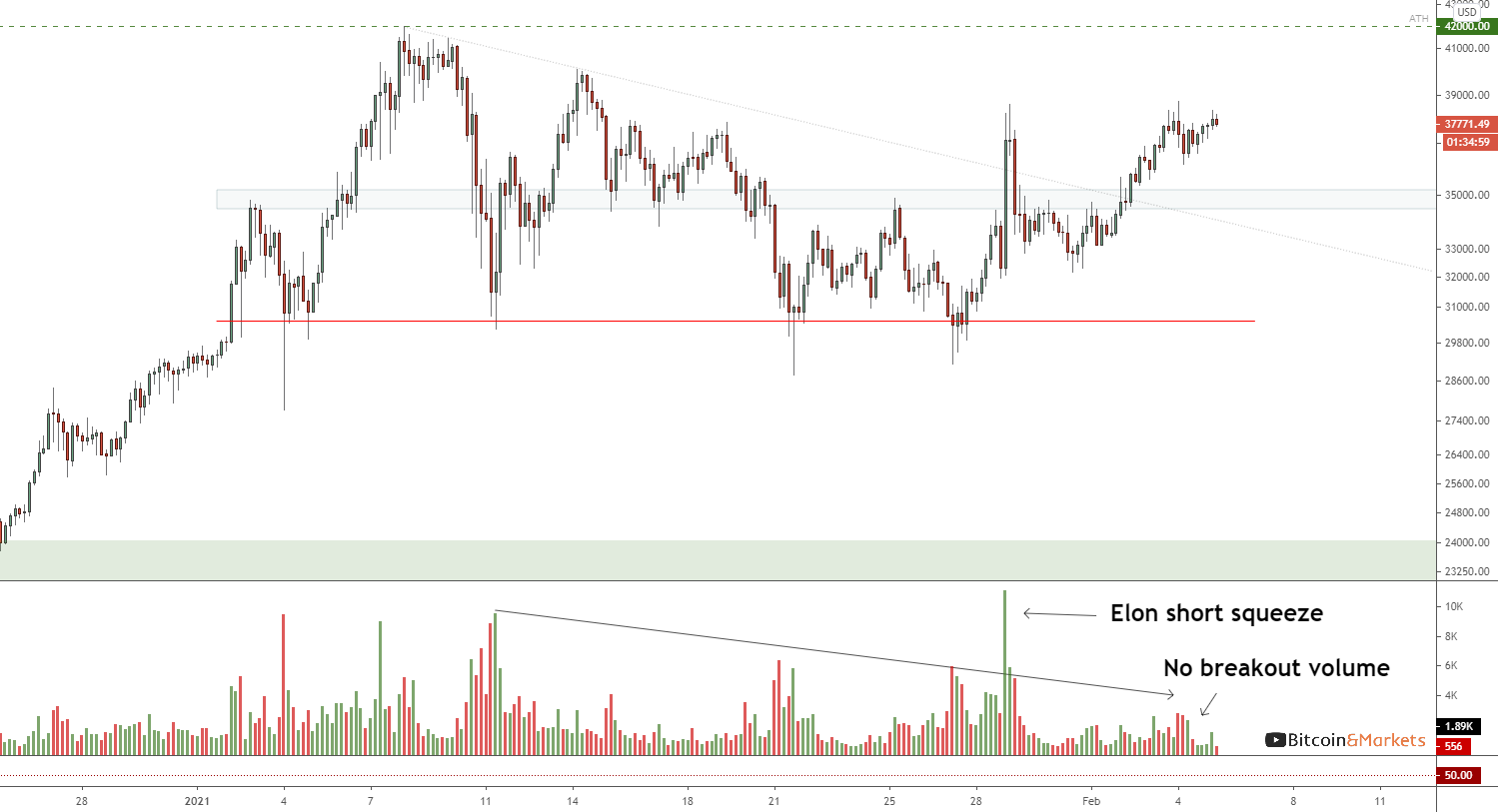 ---
Mining
The Bitcoin network continues to tick along perfectly as designed. Blocks are produced every ~10 minutes like clockwork, but the mempool continues to grow. It has reached 138 MB worth of transactions. The good news is it appears the fee market is not out of control. A fee of 100 sats/byte will get your transaction in the next block; however, if you are able to wait an extra block or two, you can pay less than 20 sats/byte. The difficulty adjustment is expected later today and be an increase of 2.6%, meaning it will be that much more difficult to find a block.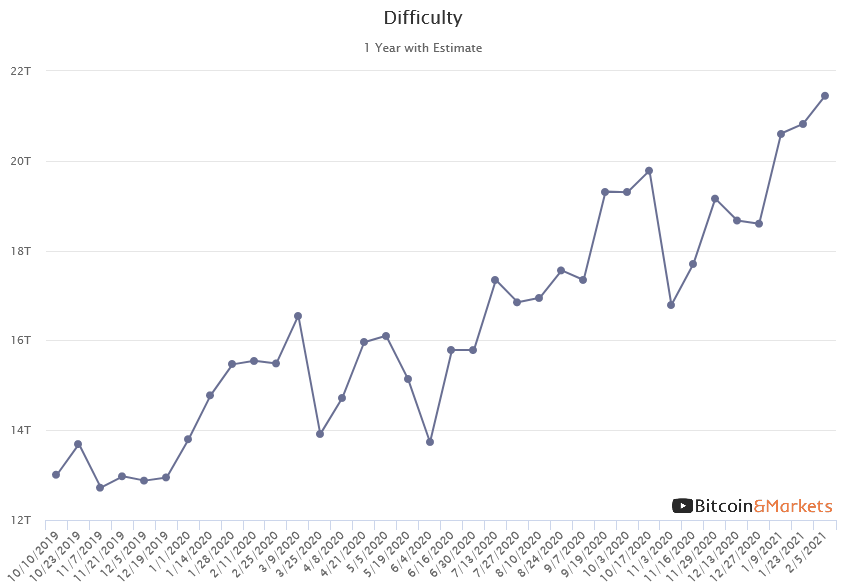 Hash rate (the computer power on the bitcoin network) is steadily increasing as the slight increase in difficulty also shows. There are rumors of up to a two year wait to get cutting edge mining equipment, and 6 months for legacy equipment. This is a huge opportunity for new manufacturors to come into the market. Hopefully, this leads to more chip fabrication sites worldwide (factories that produce highly sensitive chips). There's currently only a few in the world.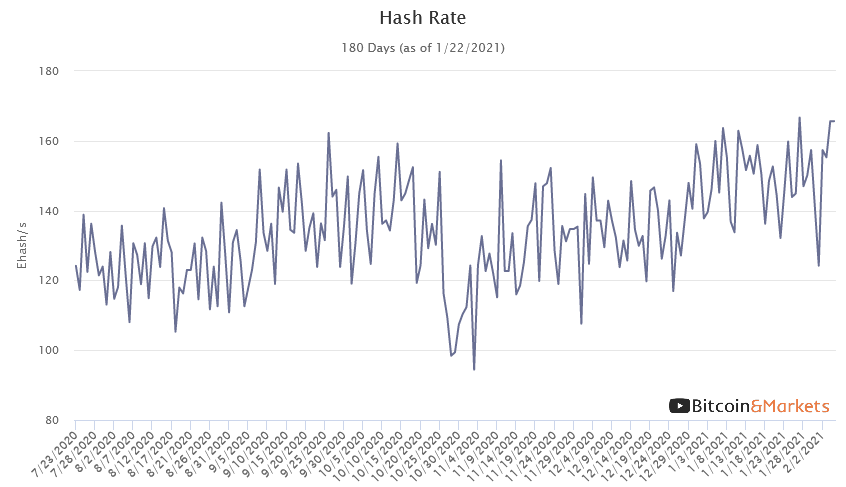 ---
Stablecoins / CBDC / Altcoins
Tether Dominance: 6.05% (-1.0%)
A very large factor in recent price action is Ether. It pains us to say, yes, Ether is pumping. It has turned into a something like owning a share in a large casino chain. Maybe like Hard Rock Casino. Ethereum is home to an ecosystem of tokens and Ponzi schemes, all of which do not provide utility as claimed.
The altcoin space probably will not go away completely ever again, but they will not be seen as legitimate competitors to bitcoin ever again either. Pink sheet stocks and casinos are here to stay, altcoins are a way to gamble on market psychology.
Anyway, Ethereum has been pumping, now above its previous ATH by 20%. Fees on Ethereum just surpassed the maximum fees paid on bitcoin. This is truly amazing because that means there is demand on chain. It is also truly amazing because ethereum folks don't agree with high fees. Even Vitalik said high fees would symbolize ethereum has become a failed project; "$50 fees should IMO count as a de-facto liveness failure". It is currently more expensive to transact wrapped bitcoin (bitcoin cryptographically locked in Ethereum) than to transact on bitcoin's main network, the exact opposite of what it was originally marketed.
We will write more of our thoughts on the developing situation in ethereum on our Bitcoin Pulse newsletter, because it's too long to get into here. Suffice it to say, staked ether decreases liquidity and concentrates unstaked ether into weaker hands. More to come on that analysis.
As for Defi, the exploits continue:
---
Miscellaneous
A new monthly dot has been added to PlanB's Stock to Flow model, and this time it is orange. Not much to say here!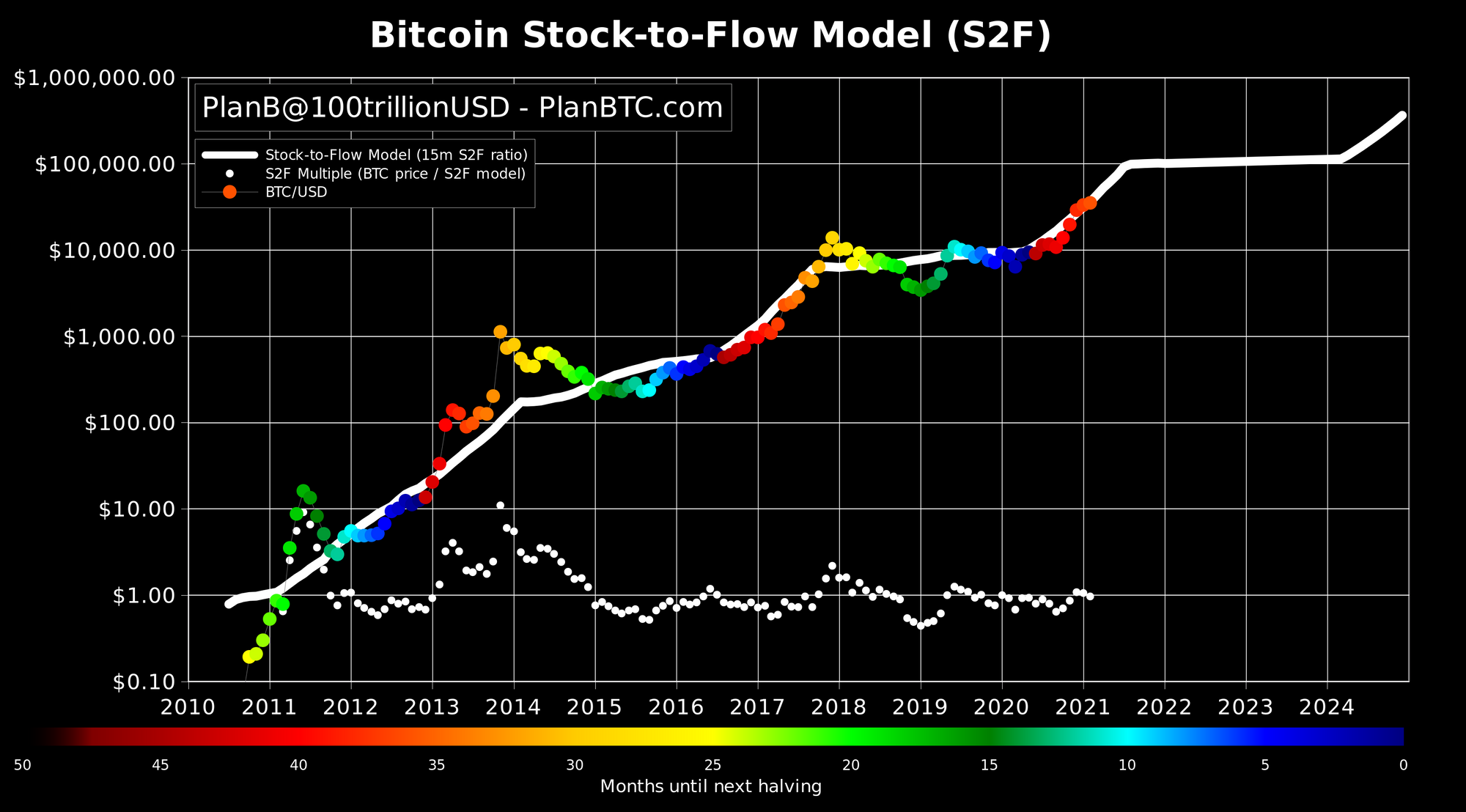 Congrats to Jimbit!
January's Bitcoin Prophet is Jimbit! Every month our discord server has a small monthly price prediction contest to track our member's sentiment and have a fun competitive sweat come month end. Can you make it into the Hall of Fame?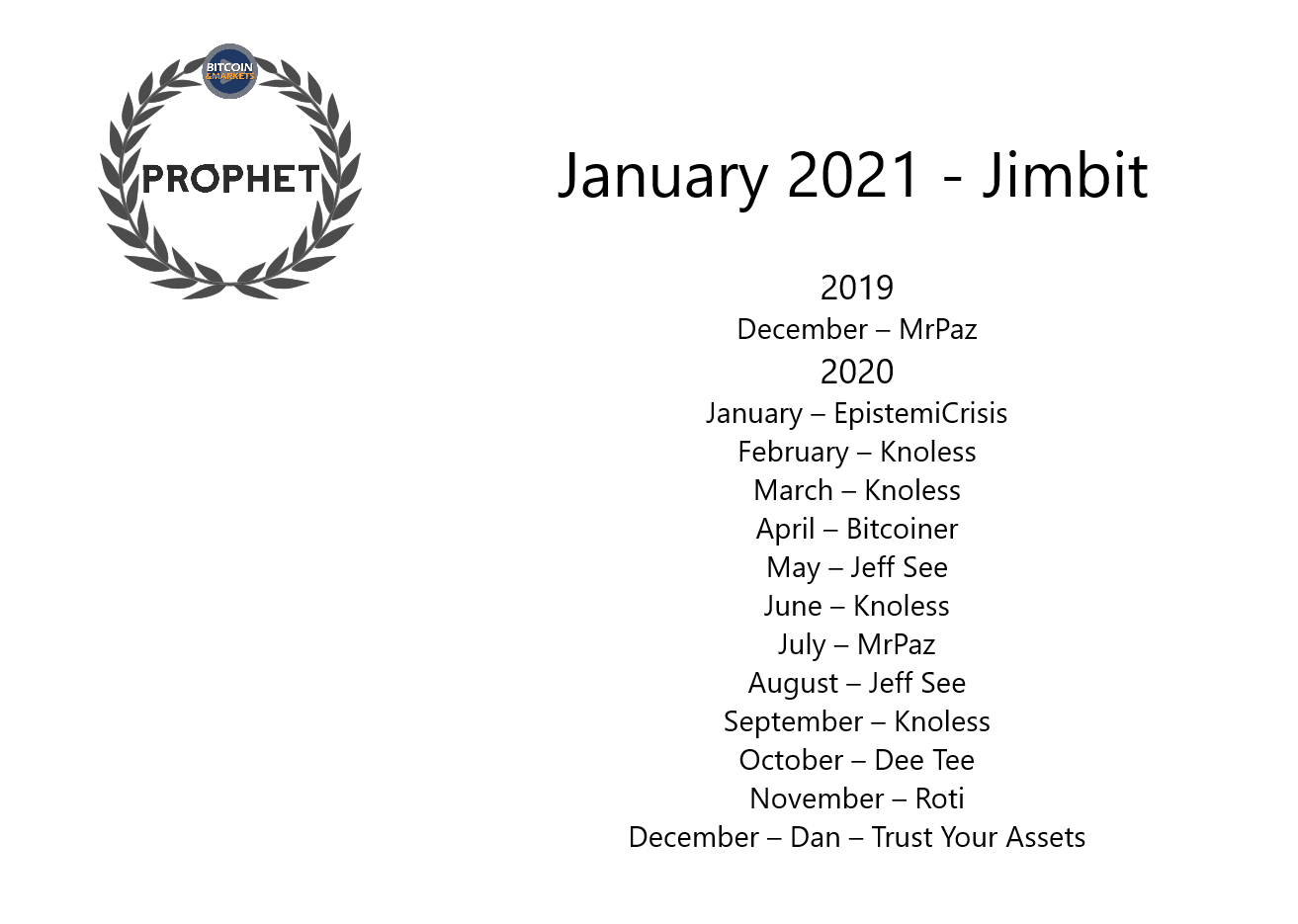 Want to push back or expand on anything from the Bitcoin & Market's crew? We invite you to join our Discord: https://discord.gg/mWQatttM8y. We hope to see some new faces!
Demystify Bitcoin Jargon with the Bitcoin Dictionary
Years of knowledge about bitcoin, blockchain, and cryptocurrency in 80 easy-to-read pages. Exposure to a diverse set of disciplines needed to understand Bitcoin. Economics, cryptography, mathematics, computer science, political science, and game theory.