Reports
Fundamentals Report #123
January 8, 2021 | Issue #123 | Block 665,151 - Congrats guys, we knew these days were coming. Bitcoin is getting a bid as superior money and price has gone vertical. It feels good.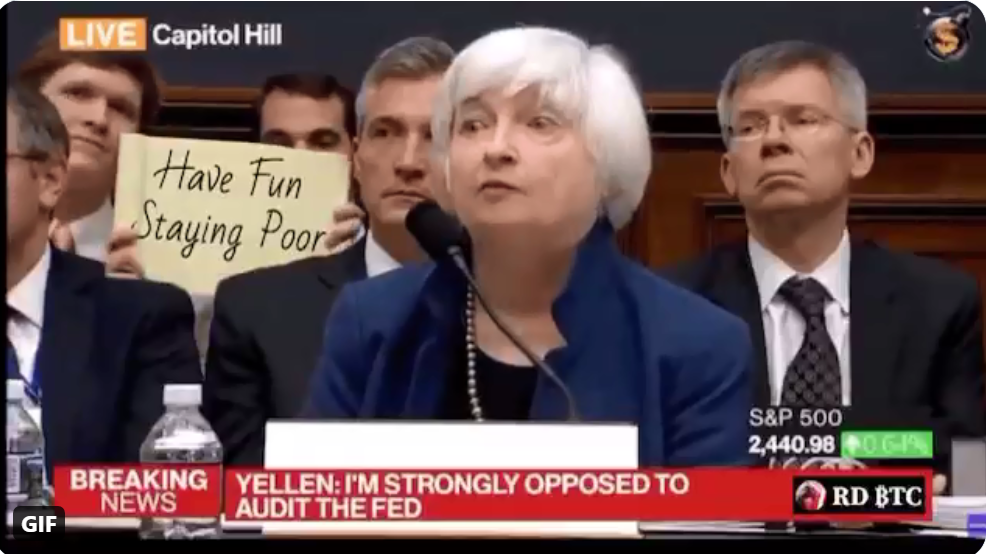 January 8, 2021  |  Issue #123  |  Block 665,151  |  Disclaimer

Written by Ansel Lindner and Jeff See
Bitcoin in Brief
Weekly price
$41,001

(+$11854, +40.7%)

Satoshis/$1 USD
2,439
1 finney (1/10,000 btc)
$4.01
Stock to Flow (new supply to existing) 463/d
1.55
Mayer Multiple (ratio to 200 d MA)
2.89
Est. Difficulty Adjustment
+11.5% in 1 days
Previous Adjustment
-2.54%
---
This week's Bitcoin & Markets content
(Member) Bitcoin Pulse #96 (coming out tonight!)
Go to our Info Page to join our community, find where to listen, and follow us.
The Bitcoin Dictionary is LIVE on Amazon!
Market Commentary
Congrats guys, we knew these days were coming. Bitcoin is getting a bid as superior money and price has gone vertical. It feels good.
There is concensus, bitcoin is going to the moon immediately! That was sarcasm btw, but the FOMO level is palpable. The concept of downside risk has disappeared from people's minds at this point. As a contrarian, downside risk has increased significantly over the last couple of weeks.
We are mega bulls though, here at Bitcoin & Markets. We've lived through 2 previous cycles and fully expect this cycle to be as unbelievable as those. Our eventual bull market target is $200,000. But, nothing goes up in a straight line without major shake outs. It is not different this time. The market won't let noobs buy bitcoin at $40k and let them ride it, in a rush of euphoria, to $200,000. There will be massive pull backs that will stress your conviction. Set a life goal for your bitcoin holding, 5-10 years out, and hold.
In the upcoming issue of the Bitcoin Pulse (tonight or tomorrow), we will take a look at charts of the previous cycles, and a couple Macro charts, to see what to expect going forward. Subscribe to the paid tier to get access to that.
---
Quick Price Analysis
Weekly BMI |  0 : Neutral
It's hard to be bearish at this juncture. The bull trend is extremely strong and it's impossible to know exactly where the top will be. Could be $42k, or $50k, or $80k. We could hit $50k today in fact. But it's our job here to give full and honest information from a long term bitcoin/economist perspective. So, we aren't going to pump and say, "new paradigm bros!" There will be a temporary top soon. The higher the price goes right now, the bigger and longer the pull back and subsequent consolidation will be.
We have been conservative in the past during very big moves to the upside, but have been directionally wrong on our calls only 10-20% of the time. Many indicators are pegged to the red, meaning very overheated. Since price is vertical, it's hard to know exactly when it will happen, but a top is coming soon. Hopefully, it's not the end of the cycle already.
A 50% pull back over 3-6 months is now possible since this move is so overextended. It might not be likely, but risk is much higher than people appreciate right now.
Become a paid member to access our full technical analysis and member newsletter.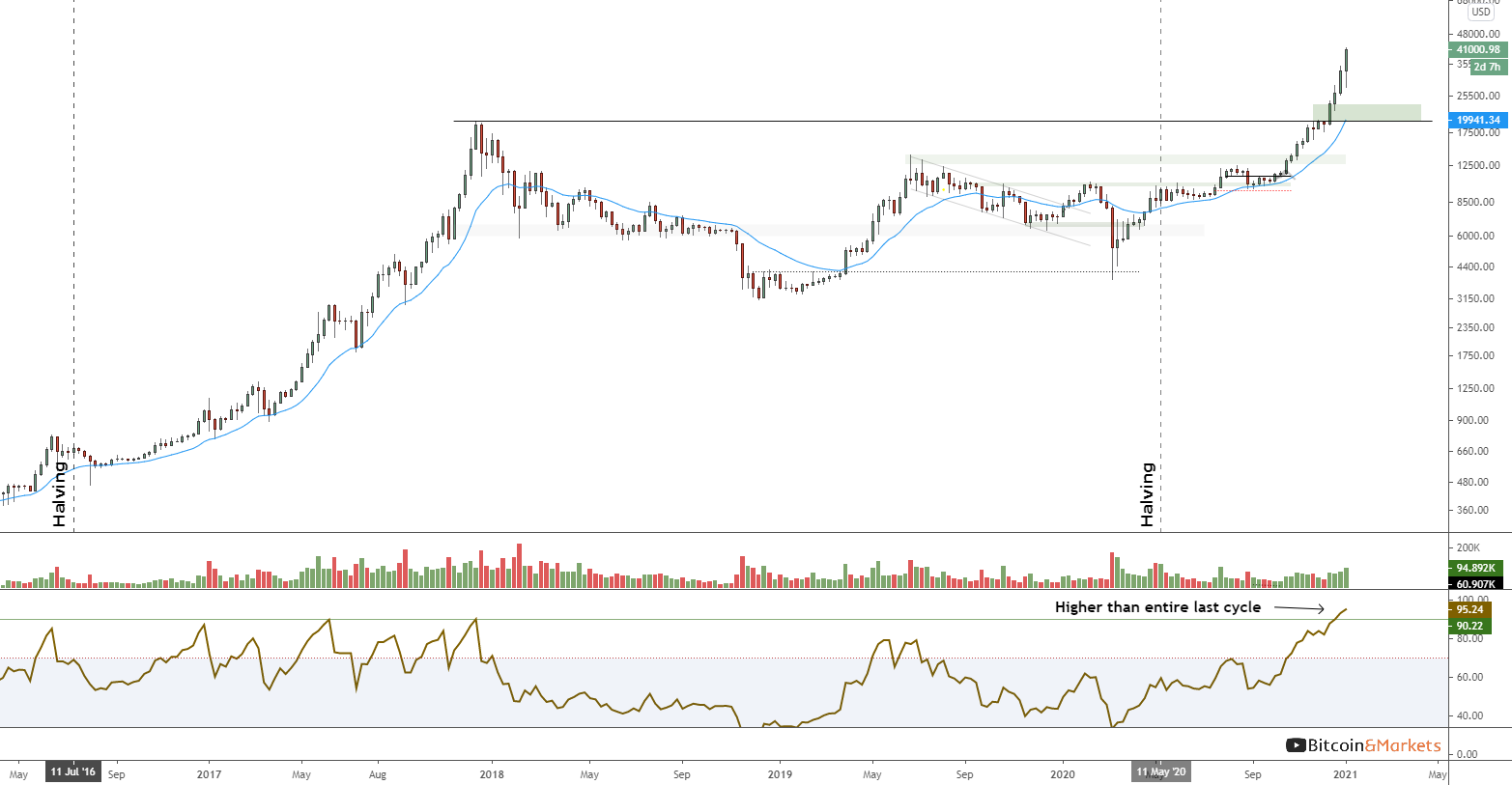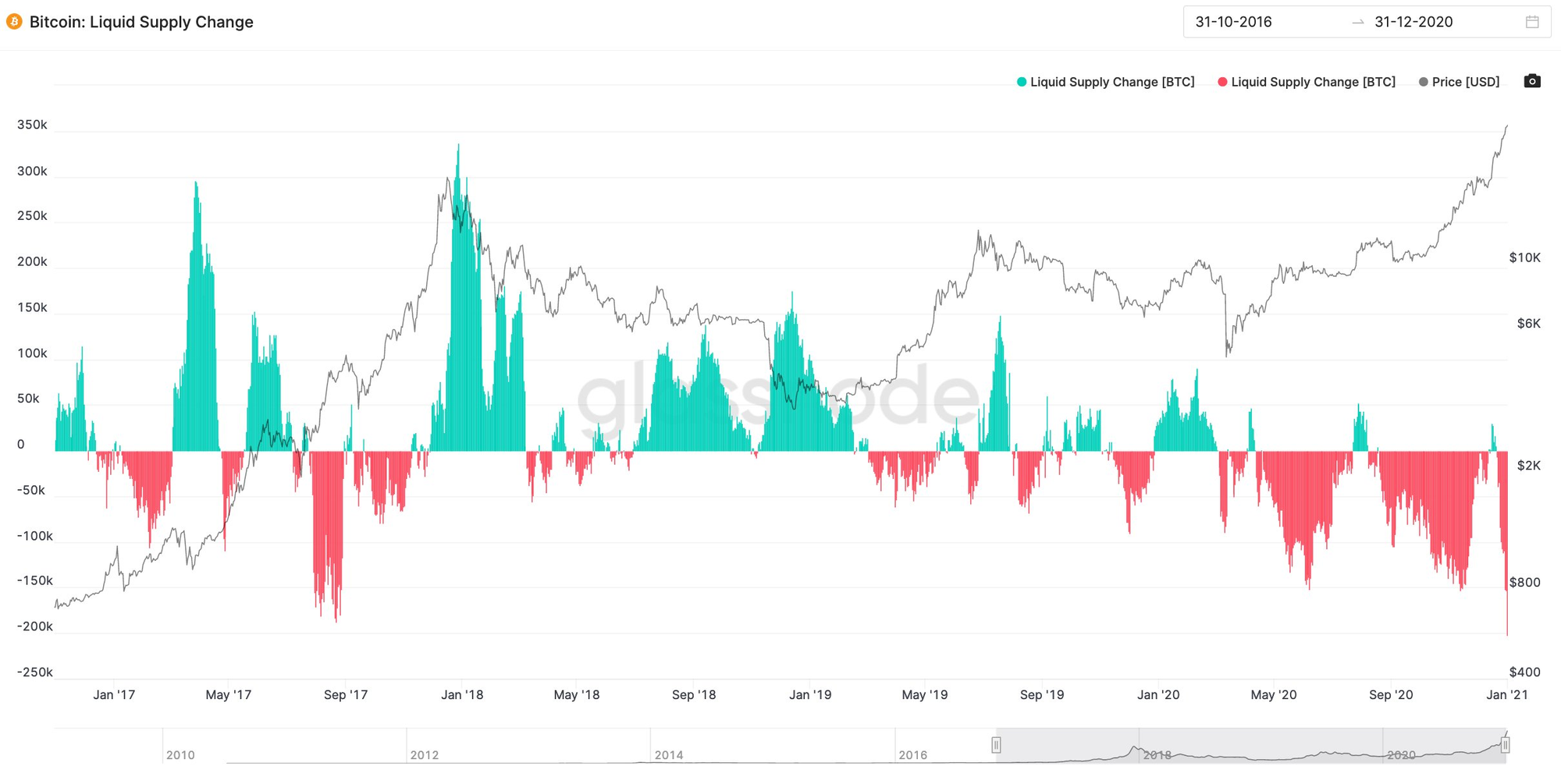 We have seen a lot about the the balance of bitcoin on exchanges recently. It's been going down. It began 2020 at roughly 3 million and is currently 2.35 million. People are using this as evidence that people are holding more bitcoin and that means price will continue on its current trajectory. Now we see complicated charts like the one above, trying to show some causation with the price.
The chart does match at the cycle high in Jan 2018. Lots of bitcoin went onto exchanges, likely to take some profit. but there's lots of mismatching, too. April 2017 was almost as high as Jan 2018, but that was at the beginning of the rally. Then, again, at the cycle bottom in Jan 2019, lots of bitcoin going to exchanges, and price bottomed.
Then there's the question about the purchasing power of the "liquid supply" of bitcoins. We ran the numbers for the last 12 months. Despite the volatility of the absolute number of bitcoins on exchanges, the USD value or purchasing power of the bitcoin on exchanges was surprisingly steady. It ranged from $20 bn to $30bn all year, then in December jumped to $45 bn and currently is $95 bn. This means that the "liquid supply" of bitcoins on exchanges tripled.
---
Mining
The hashrate has surged to near all time highs and, as designed, difficulty will adjust up early Saturday morning by an estimated 11%.
The mempool has been relatively small compared to previous price run ups, but did increase in the last 24 hours to approximately 90 MB. Fees to be included in the next block have increased in the last week from an average of 2 to 100 sats/byte. Per transaction the median fee has increased from $3 to $6 in the same period.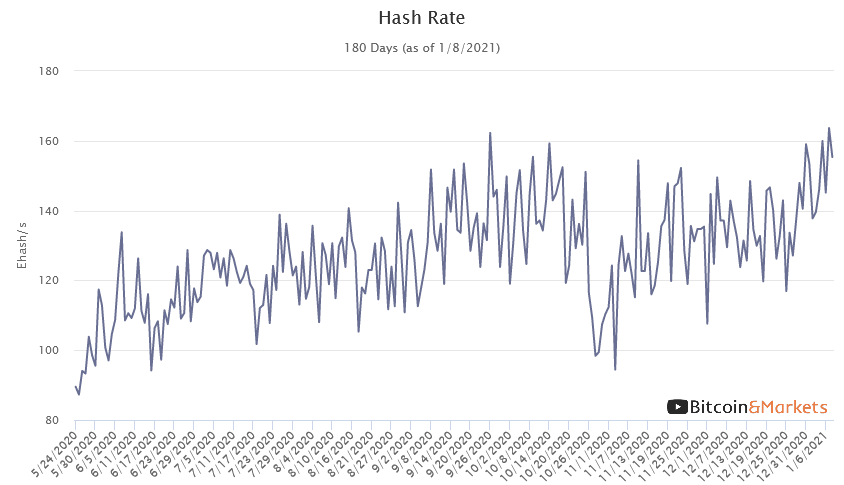 ---
Miscellaneous
Google trends is showing a parabolic rise in people searching bitcoin like it did during the blow-off top last cycle in 2017.  In the "interest by region" section, we are showing the data for the past 7 days. Switzerland has moved up in the short term rankings which is interesting because they are known for their gold industry and are becoming increasingly friendly to bitcoin, too.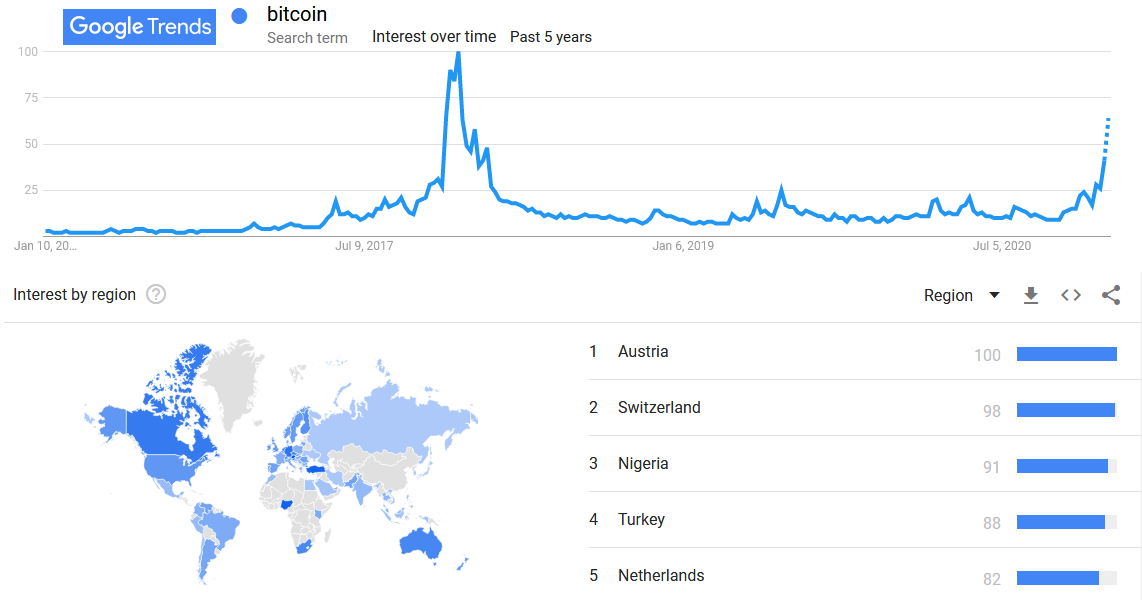 Not only are we seeing increased interest in the search engine trends and increased action on social media platforms like twitter, active addresses on the network are also spiking close to ATHs.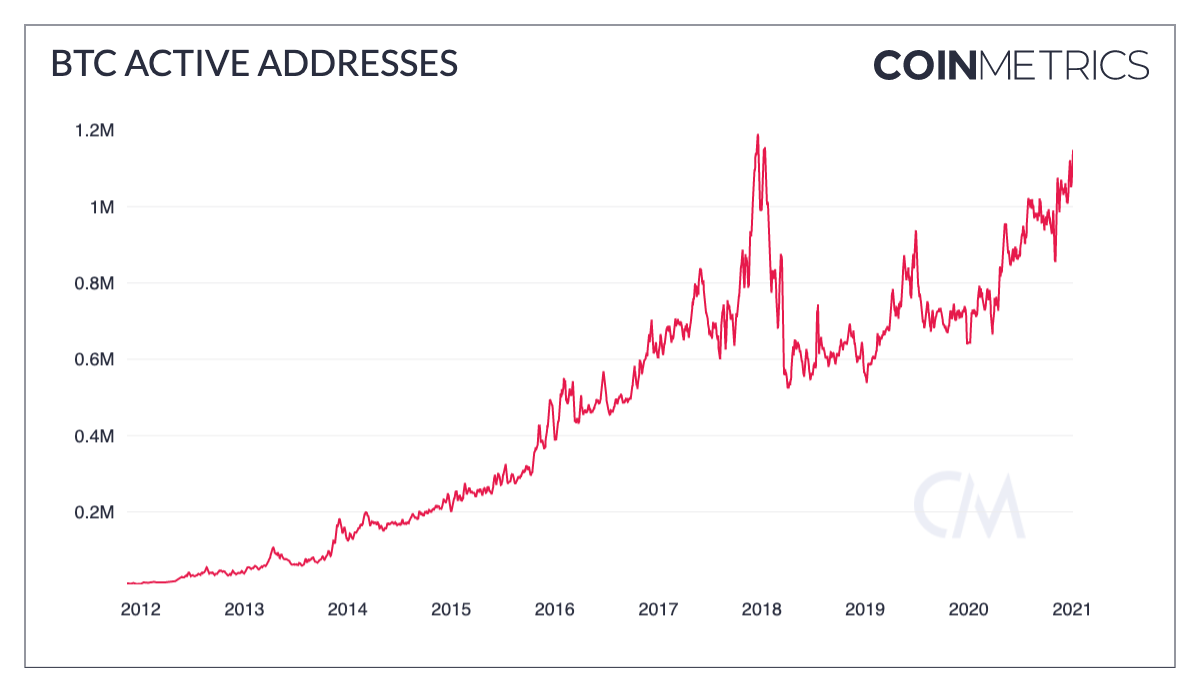 ---
Demystify Bitcoin Jargon with the Bitcoin Dictionary
Years of knowledge about bitcoin, blockchain, and cryptocurrency in 80 easy-to-read pages. Exposure to a diverse set of disciplines needed to understand Bitcoin. Economics, cryptography, mathematics, computer science, political science, and game theory.