Reports
Fundamentals Report #115
November 13, 2020 | Issue #115 | Block 656,791 Can you feel the energy in the market? Bitcoin is getting warmed up.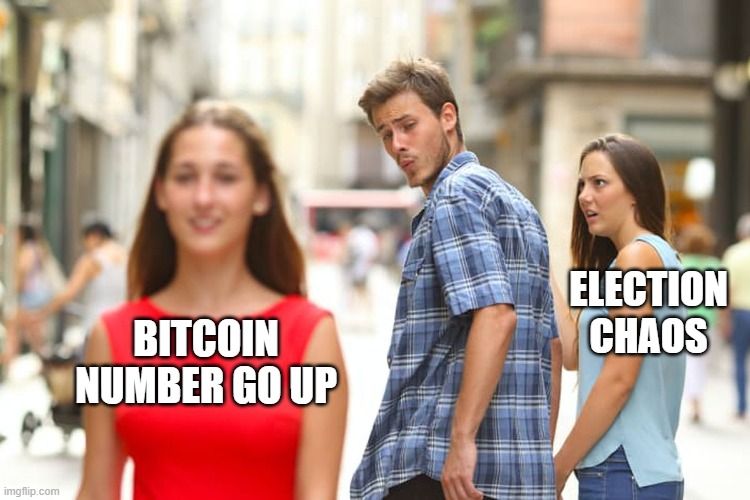 November 13, 2020  |  Issue #115  |  Block 656,791  |  Disclaimer
We've changed our email service provider. Please mark this email as Not Junk and/or add this email to your address book.

The Bitcoin Dictionary is LIVE on Amazon!
Bitcoin in Brief
Weekly price:  $16315  (+ $828, + 5.3%)
Mayer Multiple: 1.52
Est. Difficulty Adjustment: +5% in 2d
Prev Adj: -16%
Sats/$1 USD: 6139
1 finney: $1.63
---
Market Commentary
Can you feel the energy in the market? Bitcoin is getting warmed up. Even many pundits from outside bitcoin are starting to call for $20,000 bitcoin.
Bitcoin is an uncorrelated asset. Many people try to put bitcoin into a bucket next to gold or tech stocks, but bitcoin is in a world of its own. It will surprise the world over the next year.
In general, the bitcoin space had an interesting week. Ethereum disappointed again with an unintended hard fork, showing structural problems in their culture. Their developers made a massive gaffe, but instead of apologizing or taking responsibility, they lashed out at "armchair developers." The Ethereum narrative is falling faster than the ETH/BTC chart.
In bitcoin proper, the news cycle could not be more positive. PayPal has entered the spot buying game, mining is back at full speed and operations are opening in many jurisdictions around the world, Cash App is posting record revenue, legendary investor Steve Druckenmiller is coming out in support of bitcoin, and the Fed is still downplaying a future digital dollar, severely limiting any chance of a global accord to fix the financial system.
Bitcoin is an island of growth and potential. Hype and support is building rapidly, while altcoin competitors and the old system are stagnating.
---
Quick Price Analysis
Weekly BMI |  -1 : Slightly bearish
Price has now rallied 45% in 28 days. Bullish sentiment is spiking. Nothing would surprise us at this moment given the amount of capital looking to flood into bitcoin from billionaires around the world. But immediate moon predictions are likely very exaggerated and if you are trading bitcoin, up your caution level at this point. Price will test support again eventually.
Last week, we went out on a limb and ended up prematurely calling the consolidation move that is still coming. This week, we are still expecting this extended rally to take a break and find support.
Traditional markets are looking precarious with several economic metrics signaling a second contraction in this depression is already underway. Markets in Europe maybe the weakest of all. Remember, bitcoin is uncorrelated, especially when it's in a bull market.
Become a member to access our full technical analysis and member newsletter.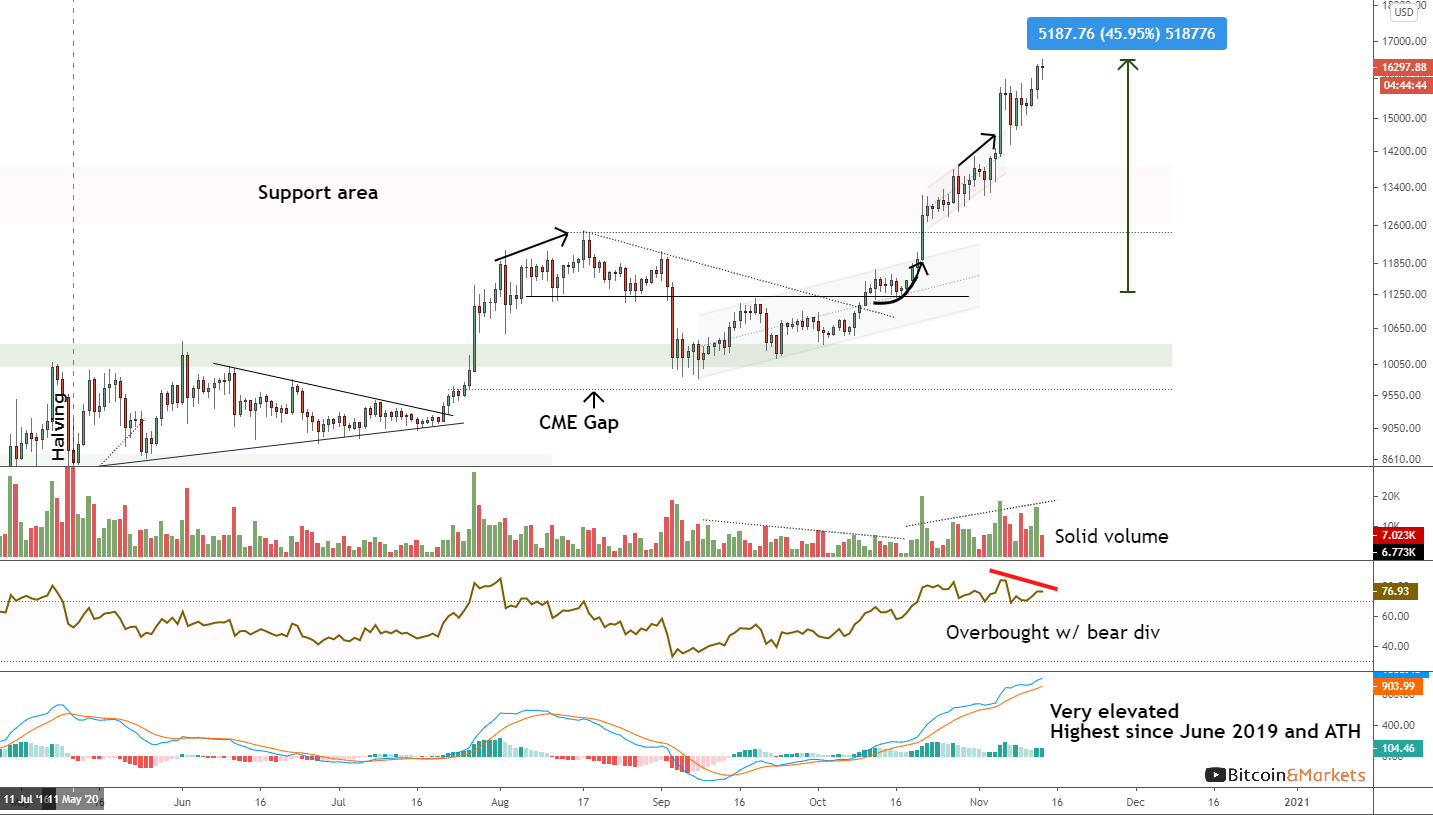 ---
Mining
The mempool has cleared! After 3 weeks of full blocks and the mempool holding an additional 40-50 blocks worth of transactions, users now get a break as fees fall. The process was sped up by the hashrate coming back online, after the dramatic drop several weeks ago caused by miners moving their hardware at the end of the rainy season in China.
The next difficulty adjustment is estimated at +5% in 3 days. This weekend will be a good time to do UTXO management or transact for "unfairly cheap" prices of 1 sat/byte.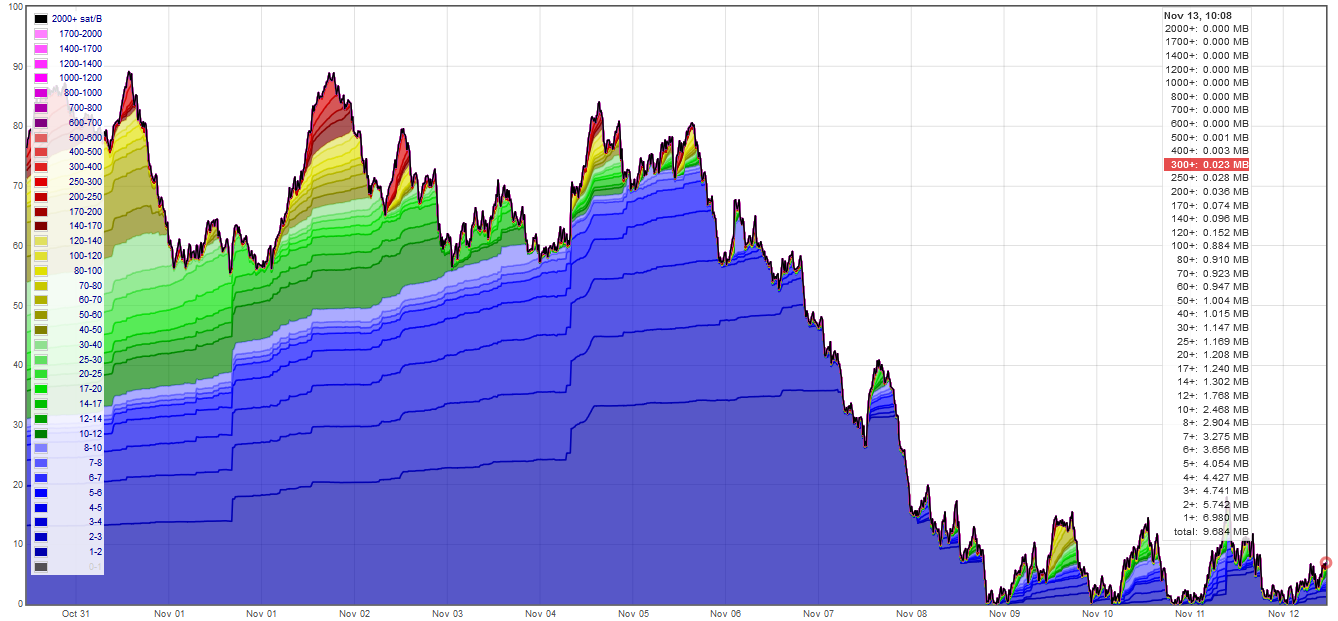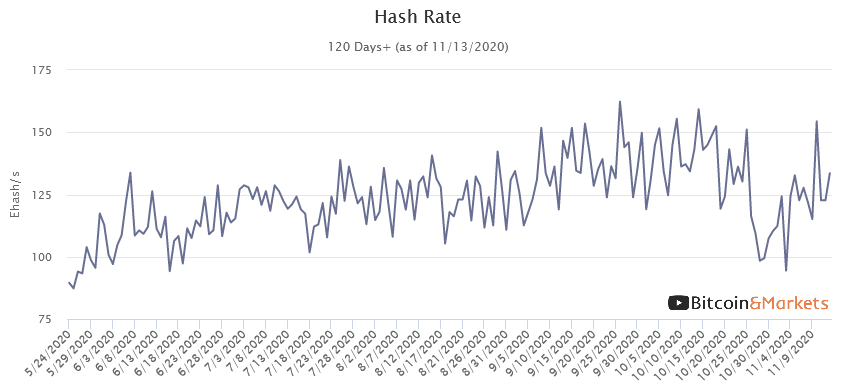 ---
Stablecoins / CBDC / Altcoins
Tether Dominance: 11.0% (-0.1%)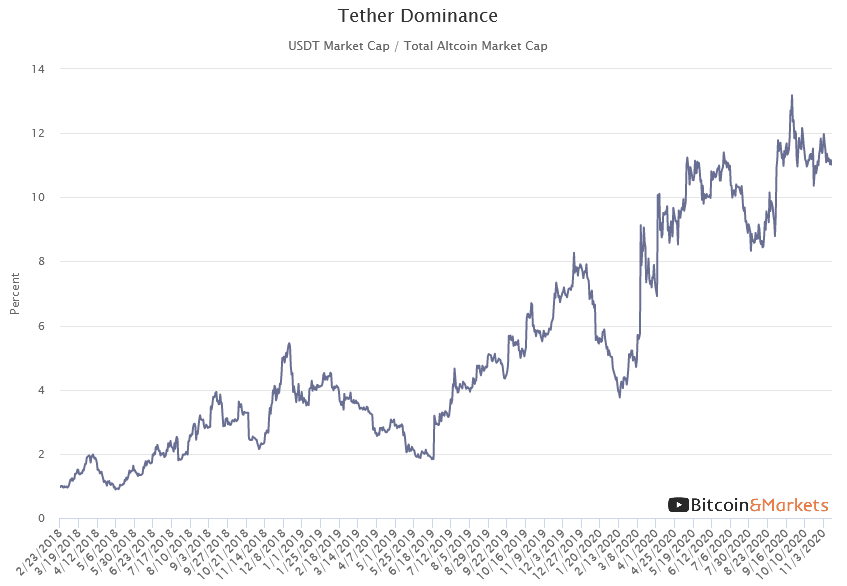 Ethereum's 'Unannounced Hard Fork' Was Trying to Prevent the Very Disruption It Caused
Infura went down around 8:00 UTC Wednesday, and with it, some of Ethereum's most popular applications like Metamask, MakerDAO, Uniswap, Compound and MyCrypto, among others. Shortly after, Binance halted Ethereum trading after noticing conflicting transactions on its Ethereum node. As other exchanges suspended trading as well, the real issue became clear: A bug in the Go Ethereum (Geth) client, whose code underpins 80% of Ethereum's applications, had split the Ethereum blockchain in two.
---
Miscellaneous
We showcase lots of fundamentals charts on this letter every week. Here is one of basic network fundamentals; payments and block size.
The block size increase from about 1 mb in 2017 to the 1.2 mb in 2020 is due to the implementation of Segregated Witness (SegWit), which allowed for a small size increase. We can see the result of more transactions being processed each day from an average of 450,000 in 2017 to now over 620,000, a 40% increase. Unlike the failed forks of bitcoin, the growing demand for the Bitcoin network is a very bullish sign.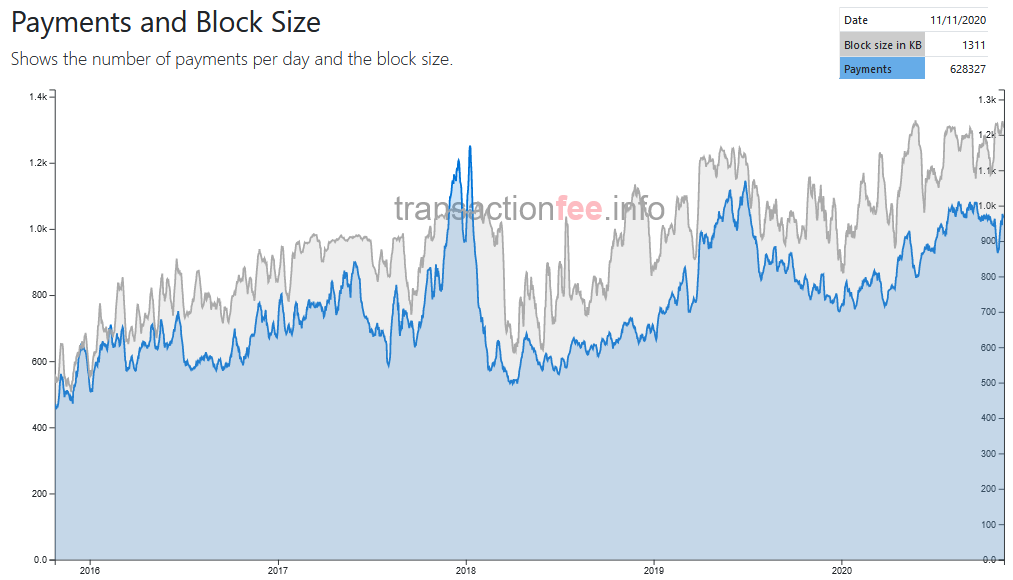 Demystify Bitcoin Jargon with the Bitcoin Dictionary
Years of knowledge about bitcoin, blockchain, and cryptocurrency in 80 easy-to-read pages. Exposure to a diverse set of disciplines needed to understand Bitcoin. Economics, cryptography, mathematics, computer science, political science, and game theory.
Go to our Info Page to join our community, find where to listen, and follow us.
Written by Ansel Lindner and Jeff See