November 6, 2020  |  Issue #114  |  Block 655,715  |  Disclaimer

The Bitcoin Dictionary is LIVE on Amazon!
Bitcoin in Brief
Weekly price:  $15473  (+$2027, +15.08%)
Mayer Multiple: 1.65
Est. Difficulty Adjustment: +3% in 10d
Prev Adj: -16.05%
Sats/$1 USD: 6463
1 finney: $1.55
---
Market Commentary
There's been quite a bit of volatility this week. Everything was volatile to the upside, bitcoin, stocks, gold and silver. The only thing that slid this week was the dollar.
Weeks ago we called that there would be a rally after the election. Uncertainty built into the day of, and when revolution didn't break out, there was a huge relief that shot markets up. We underestimated the ability for what seems to be fraud in the system, so wrongly called for a landslide (it might have been without the alleged fraud). Hard to underestimate government fraud, we know. Voters should be embarrassed.
Looking at this election, in the "beacon of freedom in the world," and it's this corrupt, there's no use getting invested in this system. It will fall apart. Buy bitcoin and build your Web of Trust (WoT).
***
---
Top Headlines has moved to a member post to come out during the week. Become a paid member today to receive that along with the Bitcoin Pulse price letter every week.
---
***
Quick Price Analysis
Weekly BMI |  -2 : Bearish
The rally is overextended. It's run over 40% in 3 weeks. While that's not unheard of in bitcoin, when it happens in the first half of a bull cycle it's usually met with a cooling off period.
The incredible daily candle on 5 Nov was likely due to a short squeeze, or scared shorts closing. That was not evident on Bitfinex shorts (ancient industry standard), however, it was on BitMex and likely on newer sources of liquidity.
There is a possibility that price reaches for the ATH in an epic wick, but by this time next week we expect the price to be lower than today. Reminder: Don't short bitcoin.
Become a paid member to access our full technical analysis and member price letter.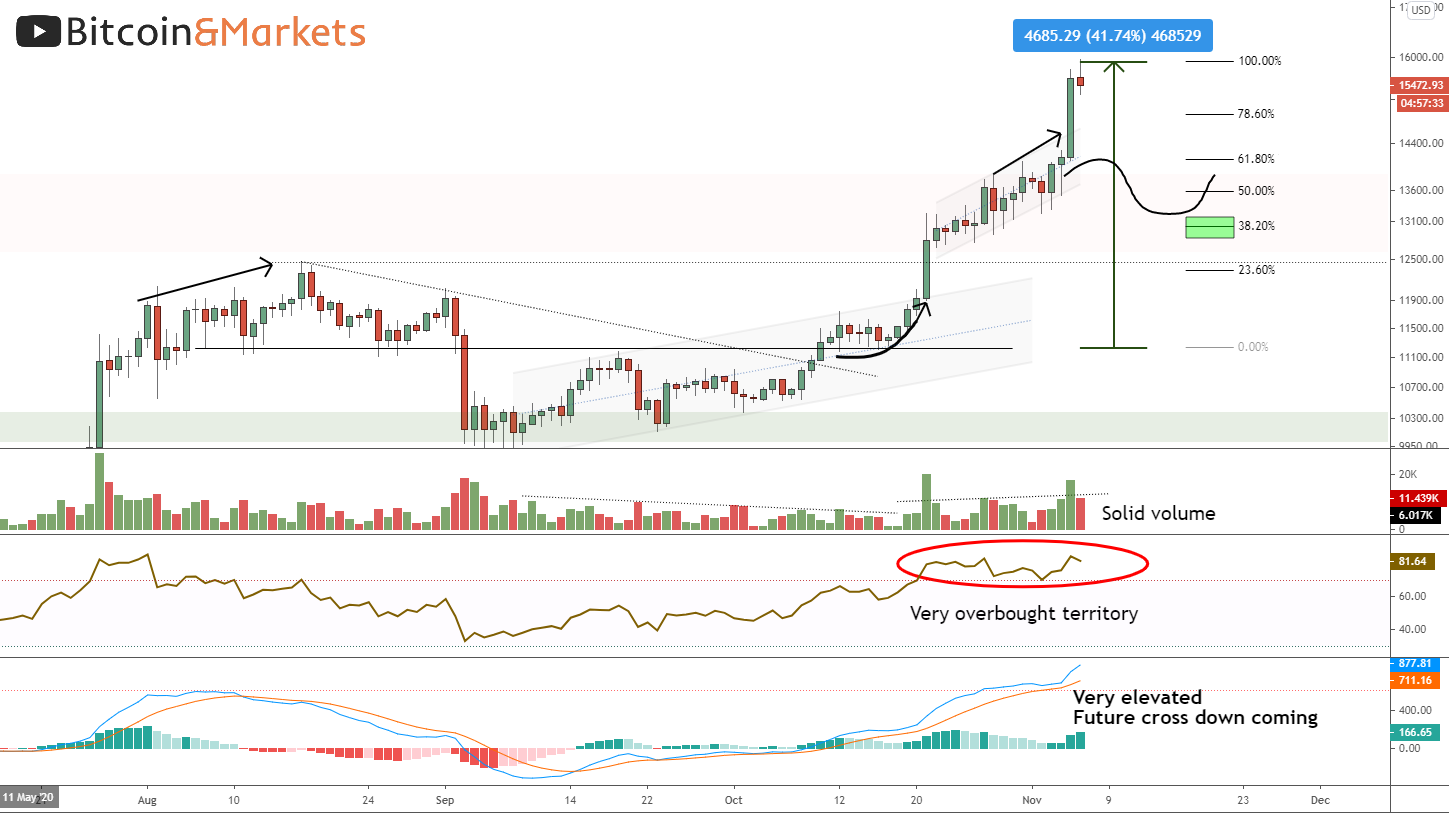 ---
Mining
On Tuesday, November 3rd, the difficulty adjusted down 16%, the second largest negative number ever. This adjustment worked beautifully as designed. It alleviated some of the fee pressure but the mempool is still holding almost 90 MB of transactions. It's likely transactions with 5 sats/byte or more will be processed during the weekend. It's also possible some of the 1 and 2 sats/b transactions will clear.

We have been keeping an eye on miner's spending habits because it's trackable data relevant to the selling pressure of bitcoin. However, we've been somewhat critical of the data for the same reason mentioned by Coinmetrics in this excellent State of the Network article.
Mining pools are the usual way to participate in mining, and paying attention only to "first spends" will misinterpret mining pool allocations as first spends. We pointed this out months ago. First spends identify only the largest changes in miner behavior, which has some value, but not as much as many think. The next hop or two would likely offer significantly more valuable information and we are glad to see the data aggregators starting to explore this further.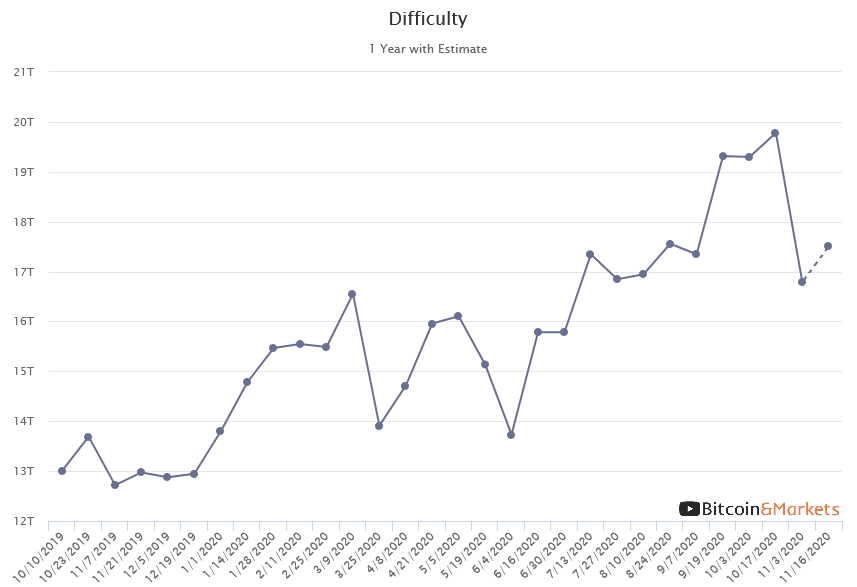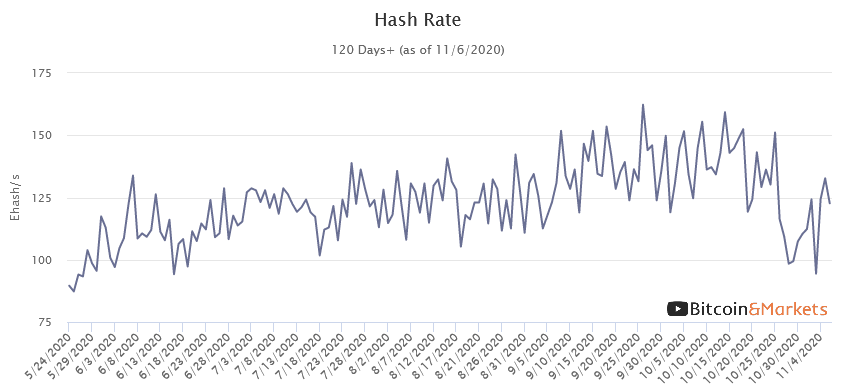 ---
Stablecoins / CBDC / Altcoins
Tether Dominance: 11.1% (-0.7%)
Remember, as Tether (USDT) dominance goes down, altcoins become less liquid, as it goes up, they become more liquid. If USDT dominance drops toward 10% expect altcoins to once again face illiquid conditions.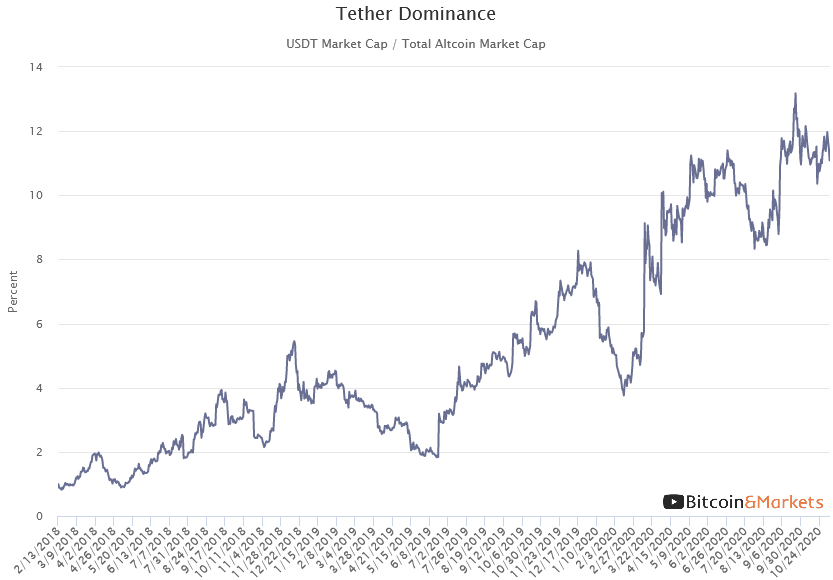 Eth 2.0 Update
A few Ethereans are holding out hope for Eth2.0. Marty Bent has a great thread running back a few years with all its delays. 2020, in particular, has been a very bad year for delays. First, "phase 0" was supposed to be launched in January, then June, then July, then November, now December.
Apparently, they have coded in a launch date (for phase 0) of Dec 1. This could go very badly. Remember, this is only Step 1! This is not Eth2.0! It's an formality, the first milestone along the way to Eth2.0. It's not even going to be usable.
---
Miscellaneous
To trigger some anti-stock-to-flow folks... Instead of Plan B's monthly chart with a new red dot, below is one from digitalik.net, which is updated with the current price action going up past $15k. We get a chuckle out of the people that are triggered by the model.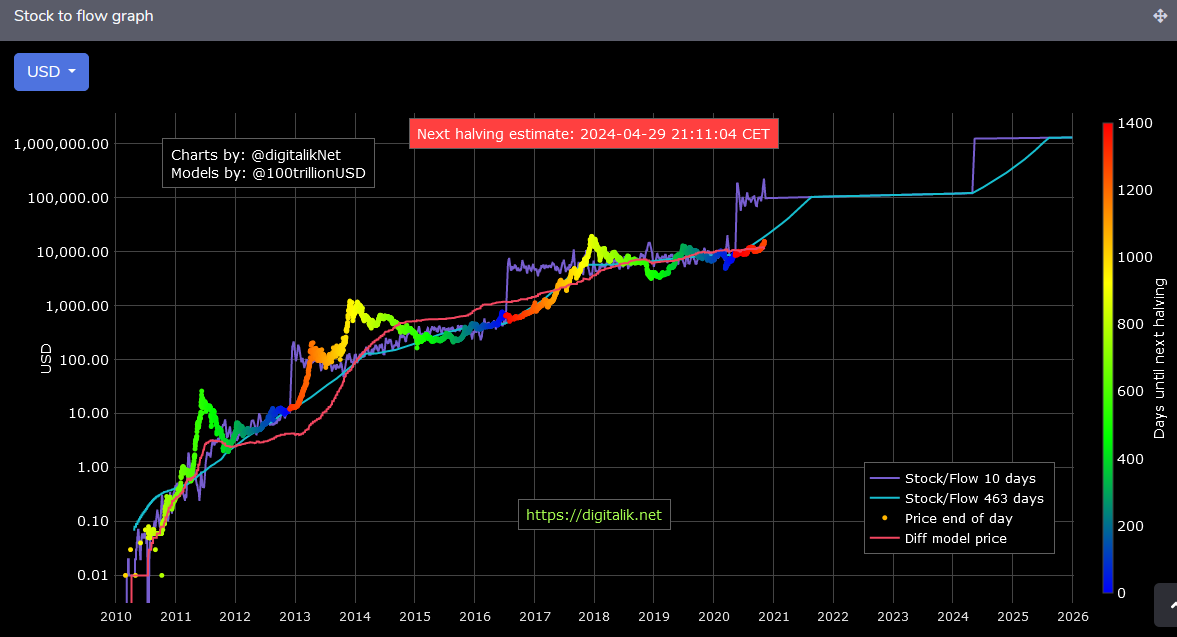 ---
Bonus Bitcoin Charts!
The first bonus chart this week is courtesy of Unchained Capital along with Glassnode Studio presenting an updated version of the hodlwave. They point out the amount of bitcoin, held for at least 1 year, hit an ATH of 11.74 million, or 63.35% of the supply on September 27th.
The second chart pictured below comes from @TheMoonCarl with some TA on the amount of bitcoins held in exchange wallets, which has pulled back. Now those are some key ingredients for a recipe of NgU (number go up)! We'll just add that the number of BTC on exchanges is different than the purchasing power of those BTC. So, the value of BTC on those exchanges can still be going up, as the number of BTC goes down.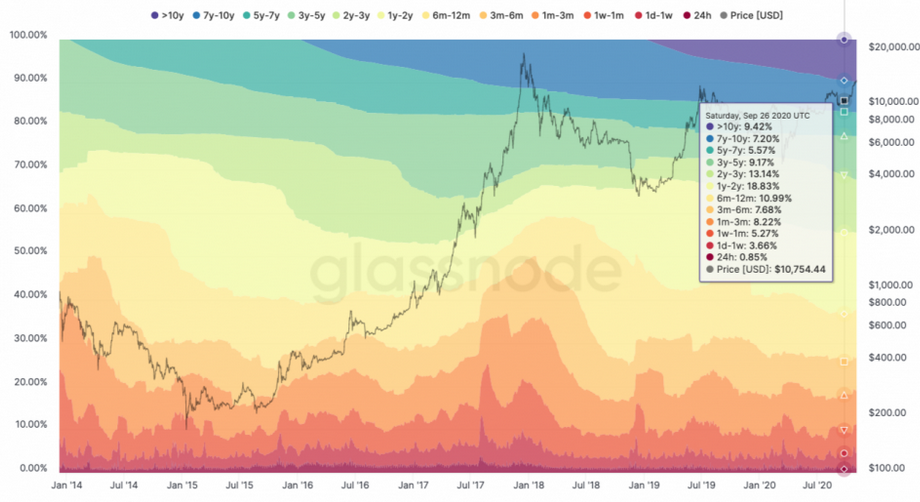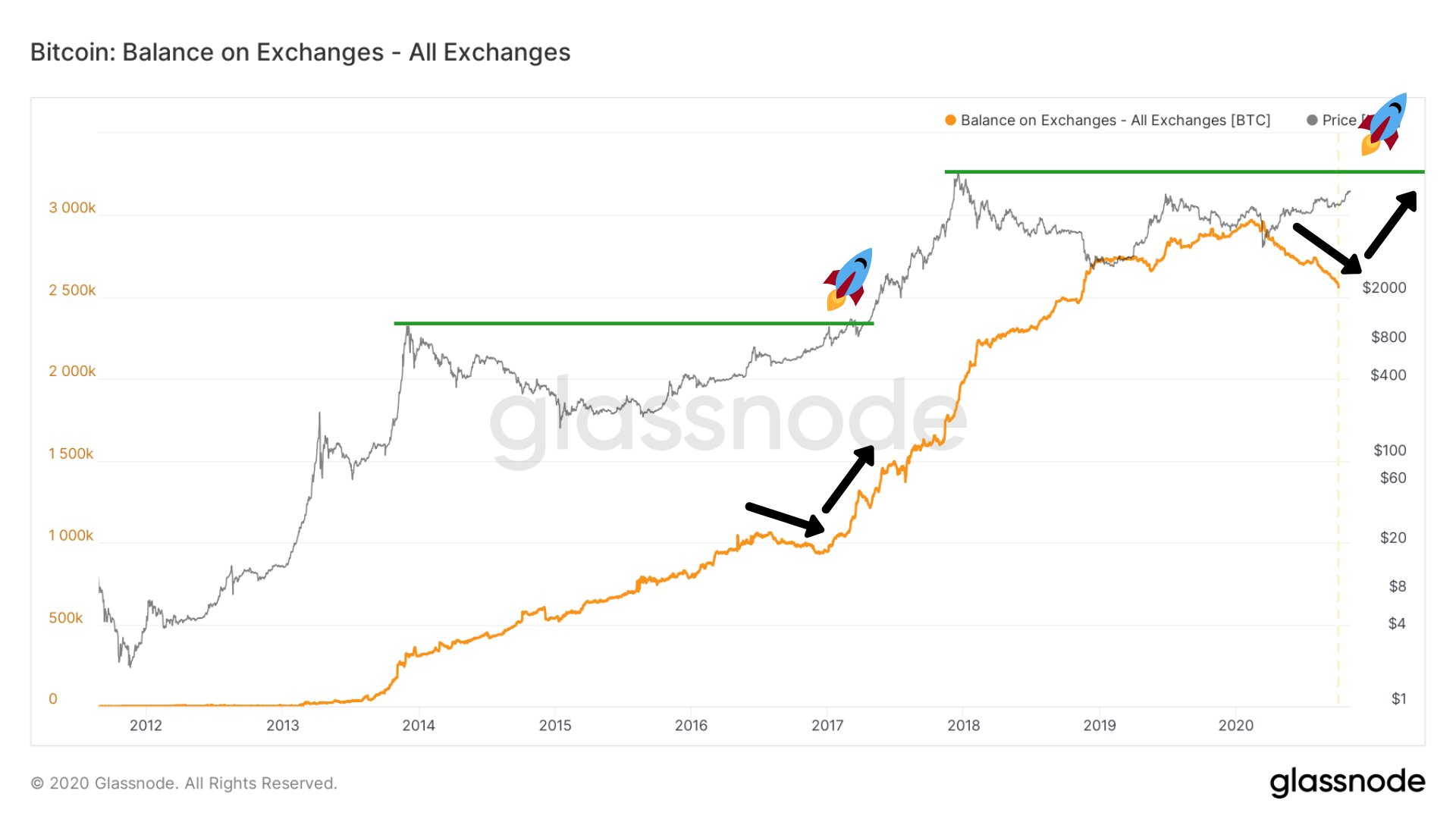 Demystify Bitcoin Jargon
with the Bitcoin Dictionary
Years of knowledge about bitcoin, blockchain, and cryptocurrency in 80 easy-to-read pages. Exposure to a diverse set of disciplines needed to understand Bitcoin. Economics, cryptography, mathematics, computer science, political science, and game theory.
Go to our Info Page to join our community, find where to listen, and follow us.
Written by Ansel Lindner and Jeff See