October 23, 2020  |  Issue #112  |  Block 653,981  |  Disclaimer

The Bitcoin Dictionary is LIVE on Amazon!
Bitcoin in Brief
Weekly price:  $12794  (+$1455, +12.9%)
Mayer Multiple: 1.41
Est. Difficulty Adjustment: -8% in 9d
Prev Adj: +3.69%
Sats/$1 USD: 7816
1 finney: $1.28
---
Market Commentary
The dollar, gold, stocks, bonds, (polls ;) are all stable while bitcoin rallies 10%. Get used to it.
The entire world, except bitcoin, is stagnating. We are all turning Japanese now. Here on the Fundamentals Report, we have a unique view of the future with regards to growth, inflation, and bitcoin.
Yes, bitcoin will benefit if there is high inflation, but that's an unlikely scenario going forward, for reasons discussed at length on the Bitcoin & Markets podcast, including the most recent episode on M2 and Velocity. As the world ages and the burden of debt piles up, the old system will stagnate. Bitcoin is the shining city on the hill, the ark, the redemption of mankind. The government can't save you or do much at this point to affect the trajectory of the old system.
As we are seeing from private business, people and governments will need to do some soul searching. We must change the monetary system, that much is beyond debate. But to what? Will governments tighten the wrenches and pursue real money printing (modern monetary theory), a choice that is fraught with vulnerabilities, prisoner dilemmas, and near certain decline? Or will the people and governments choose bitcoin that is simple, certain, and brimming with potential growth?
We think the choice is easy.
---
Other Top Stories around Bitcoin
PayPal to open up network to cryptocurrencies
PayPal has a mixed history with bitcoin. When we first saw this most recent story, the reaction was, "we'll have to wait and see." When a service like this opens up to "cryptocurrencies" instead of just bitcoin, you have to question the seriousness of the company and the extent to which they know the services demanded.
It won't be full bitcoin solution. It appears you will only be able to buy and sell bitcoin, with no transfers on or off PayPal or to other PayPal customers. That fits bitcoin's hodl use case, but not so much other coins, especially ether which is supposed to be going Proof of Stake soon, meaning folks are supposed to lock their coins with the network itself, not a third party. While Coinbase may be able to stake ether for their customers, it isn't in PayPal's wheelhouse to do that.
It's great news for the fact that PayPal's 300 million customers will be able to stack sats relatively easily, but it will also become another large custodian that doesn't necessarily share bitcoin's core values, like Square does to a large degree.
Three lessons from Project Sand Dollar
The Bahamas has launched their own central bank digital currency (CBDC) called the Sand Dollar (great name btw). The details are slim and we are still trying to get more information on the technicals of the system. What we know now is the Sand Dollar is a database with PoS terminals around the country. People will have an account directly with the central bank through an app, and be able to use at a growing number of places. What advantages it has over existing technology is uncertain, and how the coins are minted, distributed, and monitored is not clear.
FinCEN & USDOJ just charged the founder/operator of mixers with BSA violations
The limp-wristed FinCEN chief has charged a couple mixers with money laundering conspiracy, and operating an unlicensed money transmitter. This is going to backfire on them. What do they think is going to be the result of taking down a couple marginal players? The decentralized/distributed brand of mixing is going to become even stronger. They can't fight bitcoin successfully.
---
Quick Price Analysis
Weekly BMI |  0 : Neutral
This week price surged on the PayPal news. Volume spiked in confirmation of the breakout, but the fashion in which volume spiked, all at once, marks more of a short-lived burst instead of the beginning of a sustained move. For example, we can look back to July 27th's large volume spike, it confirmed the direction, but was effectively a one-day rally followed by two months of consolidation.
The July 2019 highs at $13.8k are in sight. When that breaks, we expect a quick rally toward the All-time-high (ATH), but that might not come until after another period of consolidation while pressing on the resistance.
More price and technical analysis for paid members.
---
Mining
The difficulty adjusted +3.62% on October 17th and hashrate has since dropped. The next adjustment is currently estimated to be -8% in 9 days. Despite the hashrate drop, the mempool still cleared overnight throughout this week and people were able to transact for a couple sats/byte. However, since the bullish action the last few days, the mempool is now holding ~50mb of transactions (or about 40 blocks or 7 hours worth of transactions). If you need a transaction in the next block it will cost you 130 sats/byte, at the time of writing.

According to ByteTree, "miners' first spends" shot up this last week, to 50% greater than new coins being generated. Typically, miners' first spends are approximately the same as the new coins being generated. When we started tracking this last year, we noticed increased selling from miners correlated with price drops. This time, the market absorbed the extra coins being spent which is another bullish signal.
It could be that miners were waiting for a price spike to sell some coins, and the current environment of balance sheet accumulation and price break out, created an opportunity to sell their coins without harming the price.

---
Stablecoins / CBDC / Altcoins
Tether Dominance: 11.0% (-0.3%)
Beautiful chart from Coinmetrics of the stablecoin addresses. Notice almost all of the increase comes from Tether, either on Ethereum or Tron. Tether still reigns supreme for stablecoins, despite supply increases for others like USDC.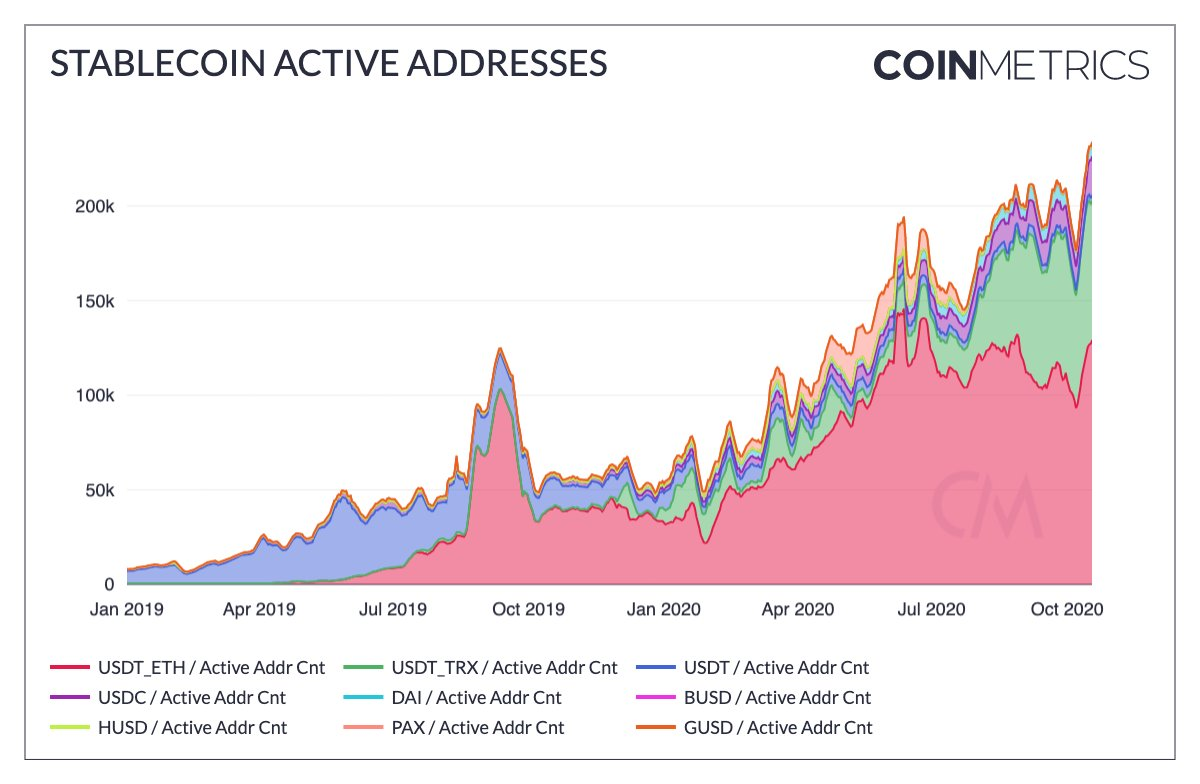 ---
Miscellaneous
The bitcoin price is closing in on the longest period of time (1170 days) before reaching a new ATH for USD but if we look to other currencies, such as the Brazilian Real and Argentine Peso, price already broke ATHs. Very cool data table!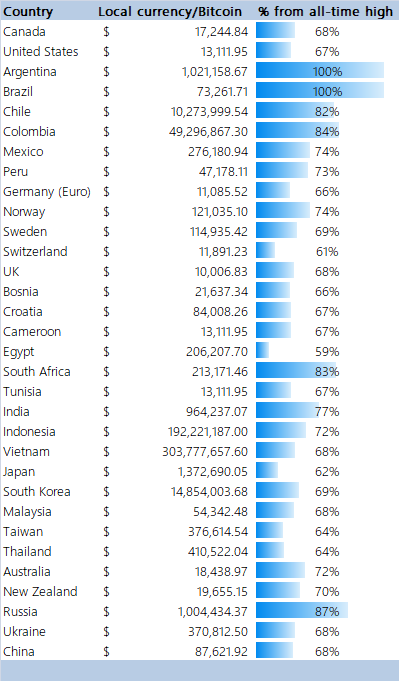 Demystify Bitcoin Jargon with the Bitcoin Dictionary
Years of knowledge about bitcoin, blockchain, and cryptocurrency in 80 easy-to-read pages. Exposure to a diverse set of disciplines needed to understand Bitcoin. Economics, cryptography, mathematics, computer science, political science, and game theory.
Go to our Info Page to join our community, find where to listen, and follow us.
Written by Ansel Lindner and Jeff See