October 16, 2020  |  Issue #111  |  Block 653,030  |  Disclaimer

The Bitcoin Dictionary is LIVE on Amazon!
Bitcoin in Brief
Weekly price:  $11339  (+$289, +2.62%)
Mayer Multiple: 1.26
Est. Difficulty Adjustment: +3.0% in 2d
Prev Adj: -0.08%
Sats/$1 USD: 8819
1 finney: $1.13
---
Market Commentary
Bitcoin is getting very interesting and things are moving fast. It's hard to keep up with all the breaking news everyday, and impossible to digest the political news affecting bitcoin along with the technical developments or top privacy practices. That's what this newsletter does for the reader (and us), it gives us the opportunity to recap the most important stories in bitcoin for the week that truly matter, to keep us on top of things.
There are three broad narratives for this week: 1) price going up, 2) companies and individuals beginning to understand bitcoin's role in a portfolio, and 3) increased government action.
---
Other Top Stories around Bitcoin
Fidelity makes it clear: Bitcoin volatility is worth the risk for institutions
Fidelity walks through why and how to allocate 1-5% of your portfolio to bitcoin. It's a beautiful thing.
OKEx Founder Under Police Custody, All Withdrawals Suspended Indefinitely
This story falls under more government action, and unlike BitMEX, OKEx was unable to continue withdrawals due to the Founder apparently being the one who possesses the private key to their hot wallet. It will be interesting to watch how long the founder is in custody, if there are charges, and if it will be more than a several days. Does OKEx have a redundancy plan in place? If so, how long does it take for them to initiate?
20 Arrests in QQAAZZ Multi-Million Money Laundering Case
Crackdowns are happening around the globe in a somewhat hilariously small bust they will try to spin to bitcoin being used by criminals. "Multi-million" Euros is nothing for these types of crimes. Remember the FinCEN leaks? Trillions of dollars are laundered by the big banks every single year!!
This effort may be in relation to the ECB and the EU vigorously pursuing a Central Bank Digital Currency (CBDC). They want a clear narrative to shove down people's throat as to why their Corrupt Digital Currency is better than Bitcoin.
---
Quick Price Analysis
Weekly BMI |  +1 : Slightly bullish
We left the arrow on the chart from last week. The biggest surprise this week from a technical price perspective has been the lack of volume. The price broke out of the symmetrical triangle pattern it was forming but needs a spike in volume to confirm the price movement is for real and not just a fake out.
While the fundamentals and price is strong, there are hints that it's not has stable as we'd like to believe. If big players are in this market adding bitcoin to their balance sheets as we speak, we should see that as a dampening of downward shocks to the price. But if a sell-off, possibly triggered by the traditional markets, becomes strong enough, price might retest $10,000 once again.
Become a paid member to access our full technical analysis and member newsletter.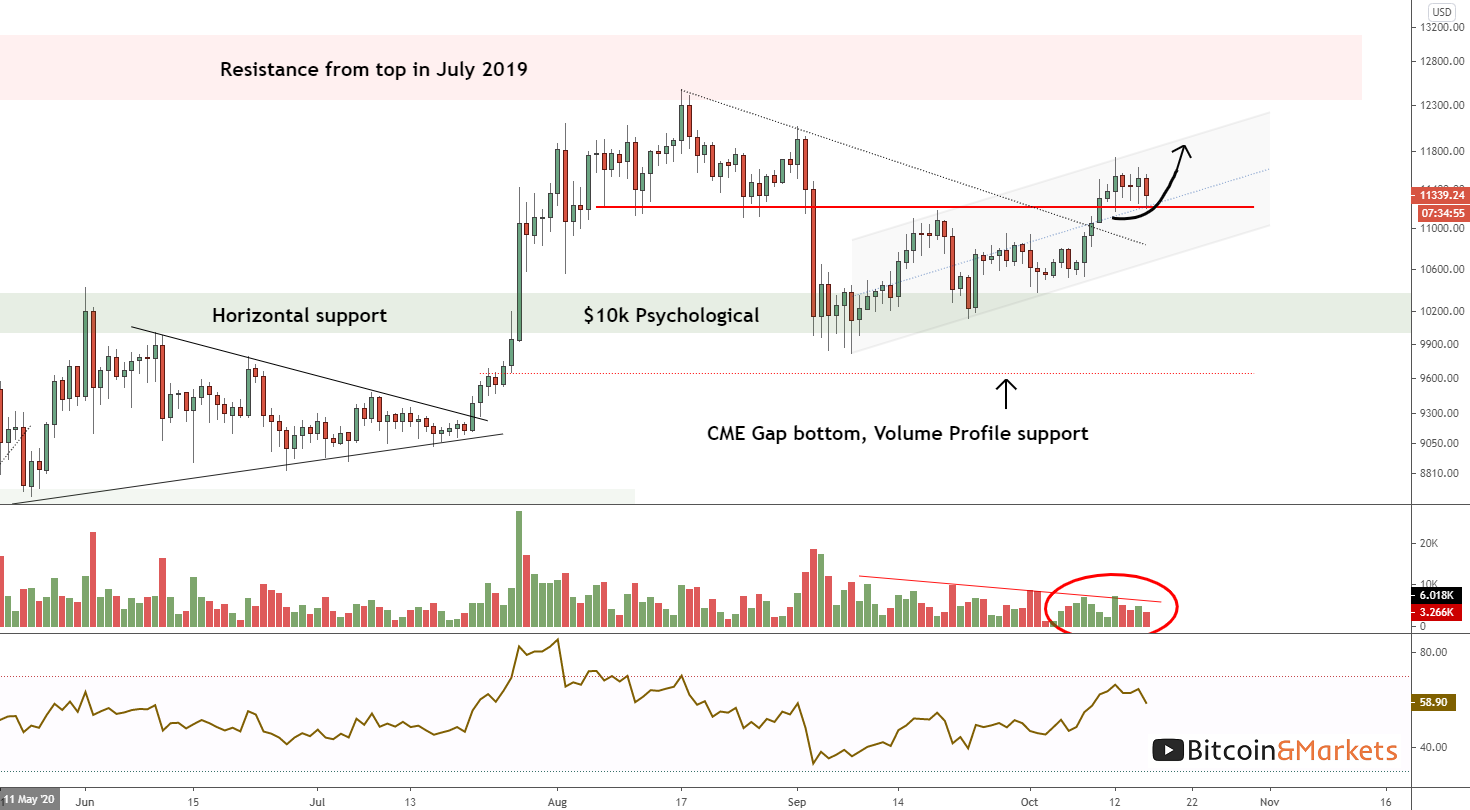 ---
Development
Almost flying under the radar this week was the merging of Taproot and Schnorr into Bitcoin Core. In plain English, a very exciting upgrade to bitcoin that improves programmability and privacy was added to the code of the next release. Here's a great write-up by Bitcoin Magazine!
This soft fork (large compatible upgrade which concerns rules in the code) is scheduled to be released in December of this year, but exactly how or how quickly it can be activated (ready for use by most of the network) remains unclear.
---
Mining
The mempool has been relatively quiet and is sitting around 13 mb of transactions. As always, you should be able to transact for a few sats/byte over the weekend (a fraction of the going transaction fee rates). Mining hashrate is trending up and in a couple days we can expect to see a +3% adjustment in difficulty. The network has been filling blocks more than it has ever before and the daily transaction count has been hovering around ATHs since July; which we see as bullish.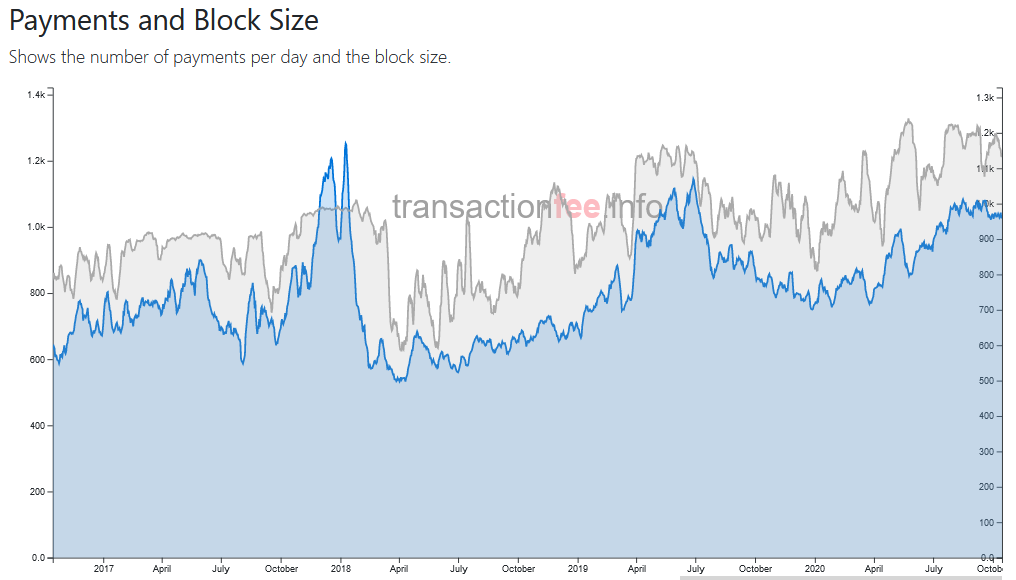 Arcane Research published the chart below showing the % of transactions fees that make up the mining subsidy. Since the halving, fees have made up 9.5% of miner's subsidy, however, miner profitability still remains near the all time low, which is expected until the bitcoin price reaches new highs.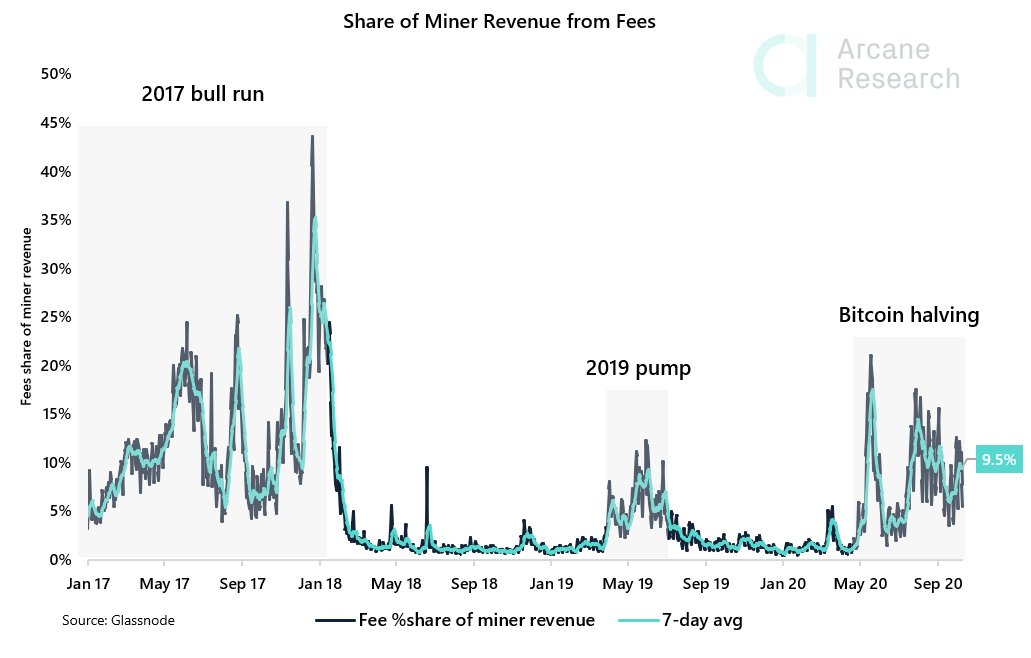 ---
Stablecoins / CBDC / Altcoins
One of the overarching themes of the next few years in bitcoin is going to be the emergence of Central Bank Digital Currencies (CBDCs) and the bullishness by those who support State control of money. The two most forward leaning developed countries on this trend are China and Europe.
Chinese testing is into a phase-2-like stage, rolling out 10 million digital yuan to select Shenzhen residents this week. Europe is busy cracking down on real cryptocurrencies and publishing their research on a digital Euro.
The thing to remember about CBDCs is they aren't anything new or special from a money standpoint. What they can accomplish is limited to overhauling the banking system, cutting commercial banks out of the loop in money origination, deposits, and financing. What a CBDC can offer in efficiency, is more than offset by the loss of freedom people have over the use of the fiat money. In other words, CBDCs aren't a breakthrough in money, they are slick marketing for a dictatorial takeover of the financial system.
Tether Dominance: 11.3% (-0.1%)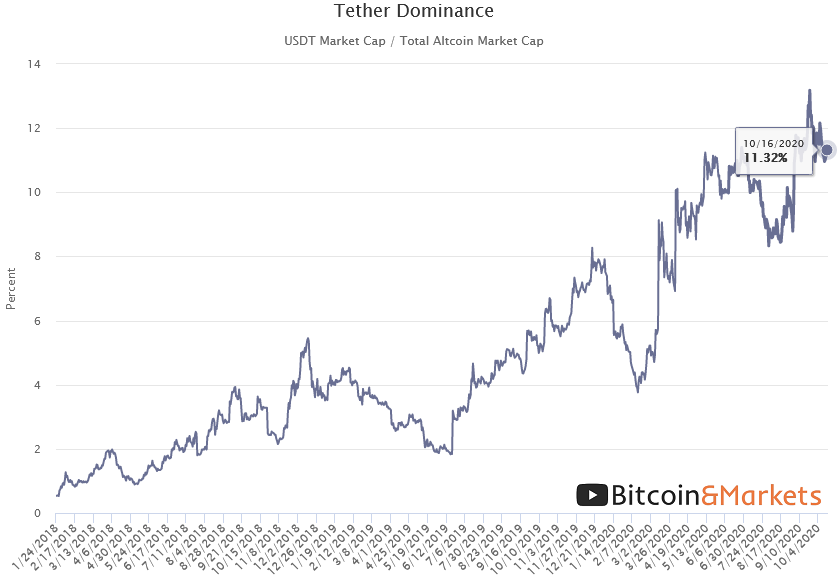 ---
Demystify Bitcoin Jargon with the Bitcoin Dictionary
Years of knowledge about bitcoin, blockchain, and cryptocurrency in 80 easy-to-read pages. Exposure to a diverse set of disciplines needed to understand Bitcoin. Economics, cryptography, mathematics, computer science, political science, and game theory.
Go to our Info Page to join our community, find where to listen, and follow us.
Written by Ansel Lindner and Jeff See