October 9, 2020  |  Issue #110  |  Block 651,985  |  Disclaimer

The Bitcoin Dictionary is LIVE on Amazon!
Bitcoin in Brief
Weekly price:  $11050  (+$496, +4.70%)
Mayer Multiple: 1.23
Est. Difficulty Adjustment: +0.5% in 8d
Prev Adj: -0.08%
Sats/$1 USD: 9050
1 finney: $1.11
---
Market Commentary
The biggest news of the week is the move by Square of putting 1% of their cash balance into bitcoin. Jack Dorsey was personally challenged by Michael Saylor of Micro Strategy to get off zero, and Dorsey delivered.
Many libertarians dislike Dorsey because they blame him personally for Twitter's censorship, but he doesn't have as much control over Twitter's policies as commonly thought. He's beholden to his shareholders, regulators, corrupt officials, and a board. Here is what we know about him personally.
Jack is a fan of the cypherpunks, hackers, and was very early to bitcoin for the right reasons. He's been a great supporter bitcoin's ideals at almost every turn, but never tried to influence its development (even though he could have). Dorsey is into intermittent fasting and meditation, taking vacations to India on spiritual missions. All this considered, supporting Jack is not supporting censorship.
What's next for this new trend of corporates buying bitcoin? It will continue of course. We expect Square to put more than the 1% they already have, maybe as much as 10% by the end of 2021. We will see other tech companies, those with lines of business that are a good match for bitcoin, start getting serious. Even companies that don't want to be disrupted by bitcoin might get off zero. The Square example of 1% could become a template for newcomers.
---
Other Top Stories around Bitcoin
Arthur Hayes, CEO, and Samuel Reed, CTO, of BitMEX step down
However, the derivatives trading exchange continues to operate as normal by the senior technical team. Trading, deposits, and withdraws are still occurring. It was reported by glassnode that the bitcoin balance held by the exchange's known addresses has dropped from 300k bitcoin down to around 120k, as of October 4th.
Keith McCullough from Hedgeye tweets "I've sold all of my Bitcoin"
Another high profile person publicly capitulating. Keith McCullough runs a successful investment advice community, but he has been very wrong on major calls over the last 6-12 months. He was repeatedly bullish on oil at $60 (when we were bearish), overly bullish on commodities at the recent bear market bounce high, and now sold all his bitcoin.
Report of the Attorney General's Cyber Digital Task Force
This 51-page report published yesterday looks like a juicy read. In the introduction, they describe cryptocurrencies being used in the child exploitation rings recently broken up and by terrorist organizations such as al-Qaeda and ISIS. No comparison cited to the recent FinCEN leaks that exposed trillions of $ in money laundering through the big banks.
BitcoinTreasuries.org
Great new site showing "Bitcoin Treasuries in Publicly Traded Companies"
---
Quick Price Analysis
Weekly BMI |  0 : Neutral
Bitcoin appears to be breaking out of its symmetric triangle pattern it was consolidating in for the last couple of weeks. As soon as Jack announced Square's purchase of bitcoin, price shot up over 4%. However, volume has not yet come in to confirm. It is possible that its a fake out, and we enter another ascending triangle to continue the consolidation for another couple of weeks. Very interesting development.
We do expect a big bullish move between now and the end of the year, but with all the uncertainty around the election, along with some traditional market fundamentals, keeps us from turning very bullish.
Become a paid member to access our full technical analysis and member newsletter.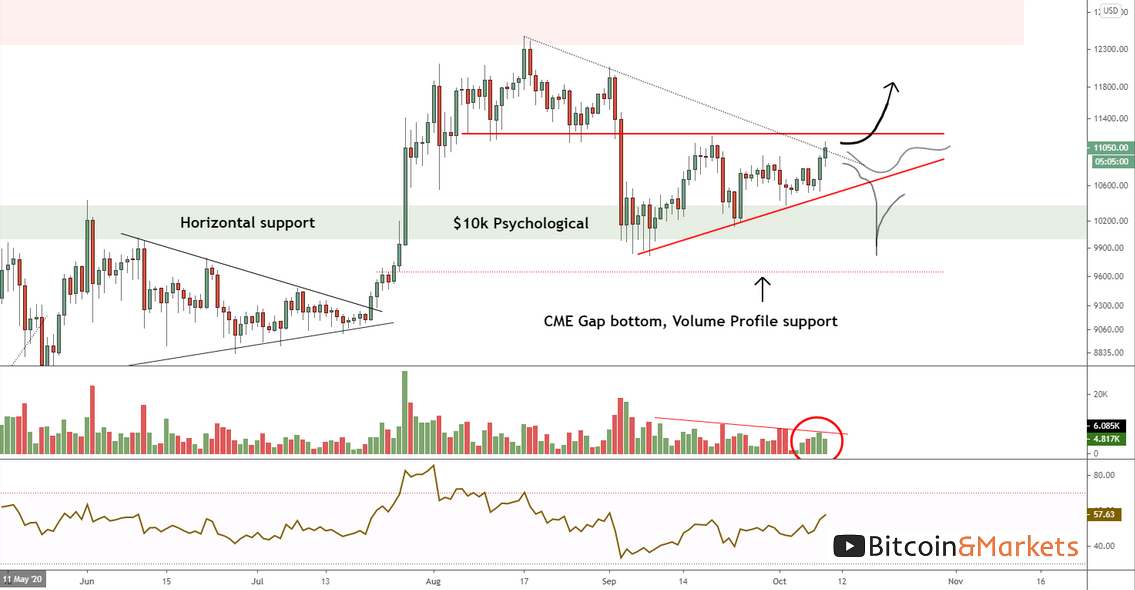 ---
Mining
The difficulty adjusted down 0.086% last Saturday, October 3rd and is currently trending to adjust up half a % in 8 days. Yesterday, glassnode reported the hash rate hit an ATH on the hourly chart hitting 170 exahash, but hourly accuracy of the hash rate is dubious.
The mempool is about half of what it was last Friday, sitting at 25mb of transactions and requiring 100-120 sats/b to get picked up in the next block. If you can wait for the transaction to be picked up over the weekend you can probably pay 1-5 sats/b.
---
Stablecoins / CBDC / Altcoins
Tether Dominance: 11.4% (-0.4%)
The Bank for International Settlements released some content on central bank digital currencies.
The Bank of Canada, European Central Bank, Bank of Japan, Sveriges Riksbank, Swiss National Bank, Bank of England, Board of Governors of the Federal Reserve and Bank for International Settlements have collaborated on a report setting out common foundational principles and core features of a CBDC.
This is a growing topic that will gain a sense of urgency over the next year, as bitcoin spreads and the dilapidated state of the current system becomes more apparent.
Notably in this early report, they recognize the threat a CBDC poses to commercial banks. A CBDC would directly compete with banks. Central banks will soon realize they've spent the last 12 years trying to prop up banks' balance sheets, to build confidence in them, and a CBDC will pull the rug out from under them. That's going to cause CBs to rethink again. They will find themselves between the rock and the hard place and it will soon induce them to panic.
Defi
Defi is getting absolutely rekt!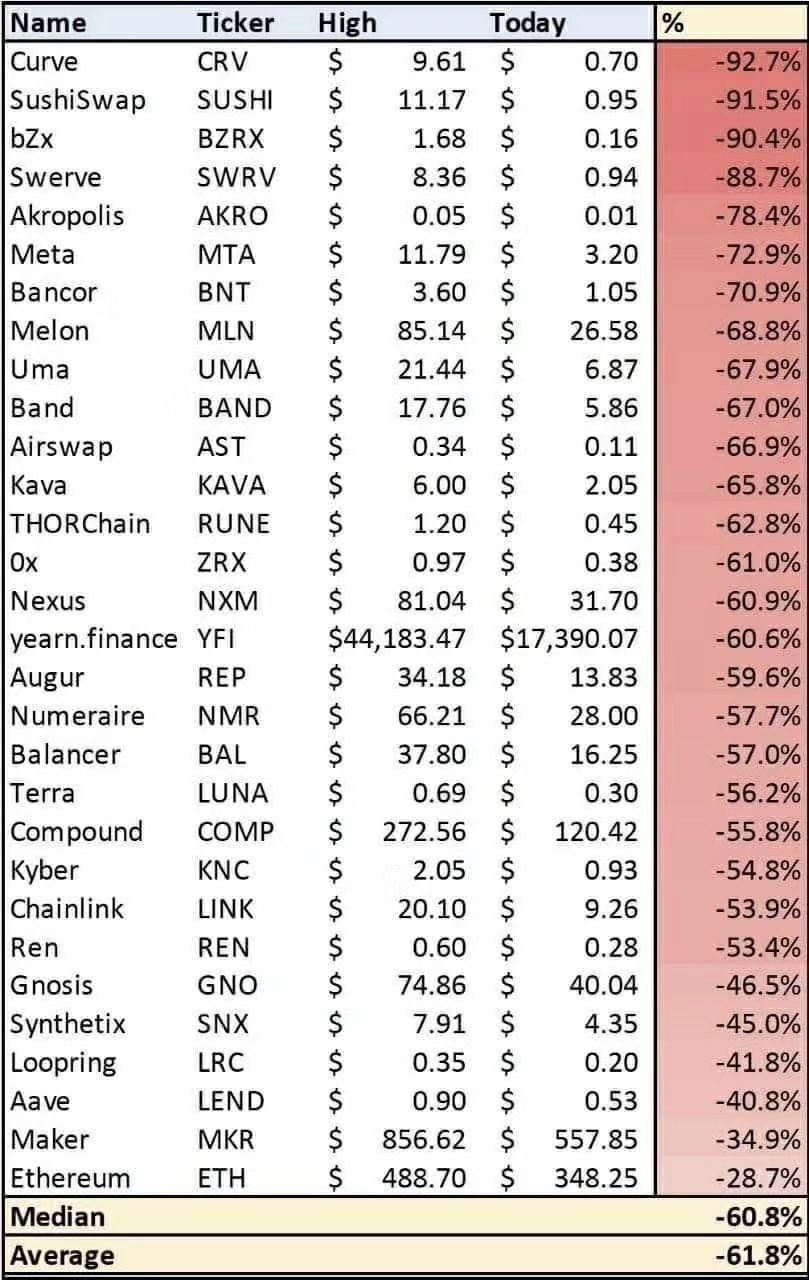 ---
Miscellaneous
Bitcoins on global spot exchanges.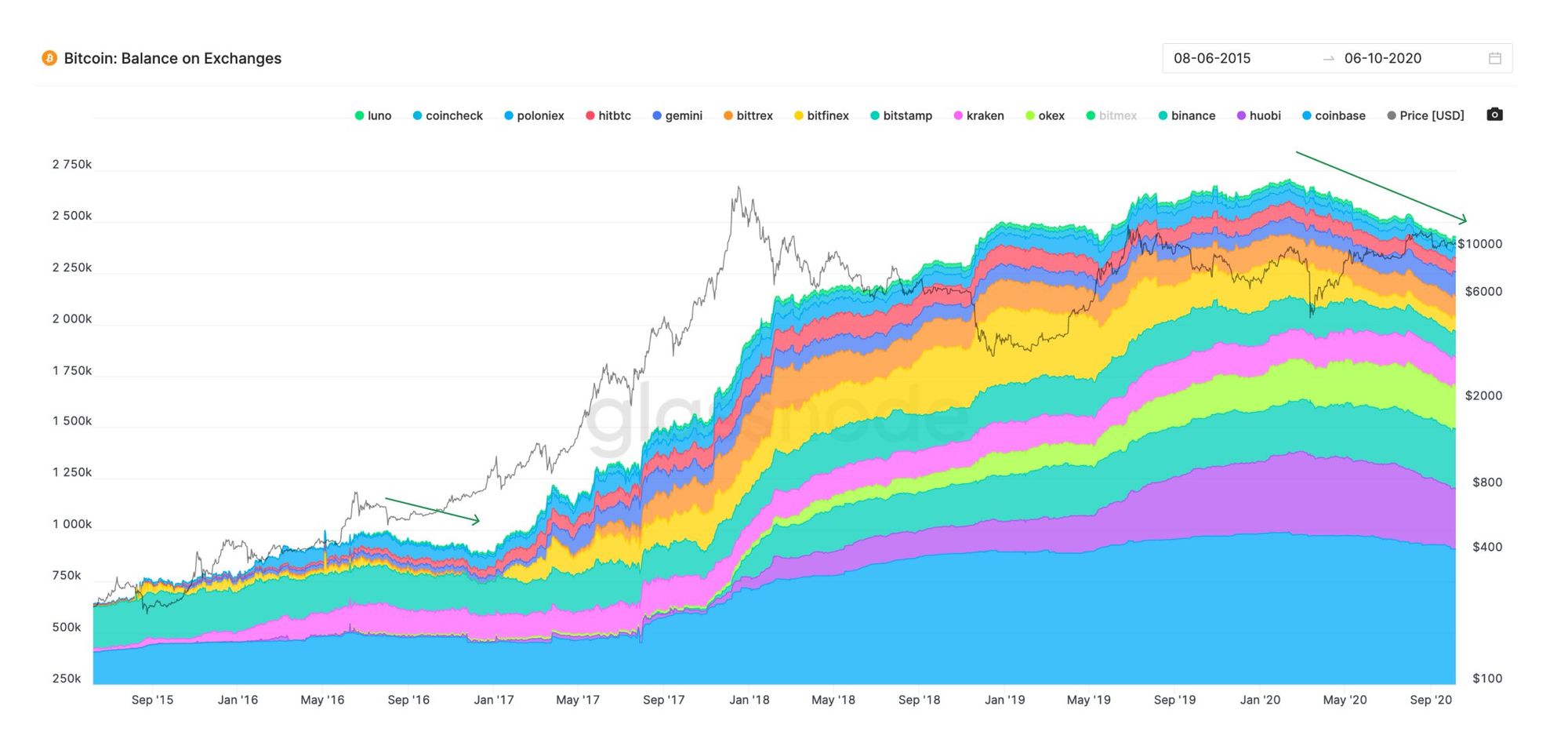 Demystify Bitcoin Jargon with the Bitcoin Dictionary
Years of knowledge about bitcoin, blockchain, and cryptocurrency in 80 easy-to-read pages. Exposure to a diverse set of disciplines needed to understand Bitcoin. Economics, cryptography, mathematics, computer science, political science, and game theory.
Go to our Info Page to join our community, find where to listen, and follow us.
Written by Ansel Lindner and Jeff See