October 2, 2020  |  Issue #109  |  Block 650,958  |  Disclaimer

The Bitcoin Dictionary is LIVE on Amazon!
Bitcoin in Brief
Weekly price:  $10554  (-$99, -0.93%)
Mayer Multiple: 1.18
Est. Difficulty Adjustment: -1% in 1.5d
Prev Adj: +11.4%
Sats/$1 USD: 9475
1 finney: $1.06
Congrats to Knoless for winning our Monthly Price Prophet game on Discord. He was the first 3-time, and now 4-time winner!
---
Market Commentary
Last week we said, "Bitcoin is taking a breath, so should you." That was a good idea because this week's bitcoin news cycle is off the charts.
Below we get into a lot of it, but let's start with a couple general thoughts. The fundamental driver of price is going to be scarcity. Uncertainty from politics and the traditional markets is going to allow serious people to view bitcoin as no more risky than other places to stash your wealth. That is the metric to pay attention to, in the grand scheme of things, how risky is $1 billion in bitcoin compared to a $1 billion in another asset class?
Also, the hype around Defi and altcoins is waning. This will create an environment of excitement around bitcoin's narrative. So, watch for defi to lose credibility and bitcoin to grow in credibility. Let's get into the headlines.
---
Top Bitcoin News Items
BitMEX Owners Charged With Illegally Operating a Crypto Derivatives Trading Platform
The biggest news story out of bitcoin this year. Bitmex used to be be largest exchange in bitcoin, and remains a heavyweight. Their perpetual futures product pioneered a whole new type of trading product, and is the most liquid bitcoin trading product to date.
The CFTC really wants to get their hands on Bitmex's bitcoins, freezing and seizing assets being their MO. This will be a huge test for bitcoin's censorship resistance.
At the time of writing, Bitmex has processed two out of cycle withdraws (hey usually batch withdraws to once a day) to allay fears of frozen or seized bitcoin keys. Their set up is 3/4 multisig which has the capability of remaining secure to authorities.
This could also be seen as bad news for Defi.
Trump Tests Positive for the Coronavirus
It is unlikely for this to force fundamental changes to his re-election campaign, but is the first time, we've had to consider a Trump loss and how it might effect the country. If this turns bad, and Trump is forced to drop out, we could see talks of secession start up. The effect on the stock market and the dollar would be dramatic.
Finally One Tech Company Tells Social Justice Warriors To Take A Hike
Coinbase has many ethical issues, but this isn't one of them. We applaud them for their common sense stance with this action, but still condemn them because of separate current abuses of privacy and freedom.
Cryptocurrency Exchange KuCoin Hacked, $150 Million Moved
KuCoin's hot wallet was hacked losing Bitcoin and various ERC-20 tokens. As a result, many of the "DeFi" projects using the ERC-20 tokens took action such as blacklisting the hacked tokens or in one case, burning all of the project's tokens and then re-issuing them. This hack exposes major centralization in defi and raises worries when combined with the Bitmex story.
The company said any customer losses were going to be covered by their insurance fund, which is a big sign of the maturation of the space. Even mid-tier exchanges have insurance policies to cover themselves in case of a hack. Much different than a few years ago.
IRS Dishes Out $1.25 Million for Data Firms to Crack Monero
It only took one month for the IRS to award the contracts from the time it was announced, which went to Chainanalysis and Integra FEC. The contract is for a working tracing tool within eight months.
Launch rehearsal for Ethereum 2.0 '90% successful' despite participation issues
Developers completed another trial run for the upcoming launch of pre-ETH2.0 phase 0. They want to test the switch over, the actual launch procedures, which is a good thing, but not when it's only 90% successful. Imagine if a Tesla rocket launch was only 90% successful.
---
Quick Price Analysis
Weekly BMI |  -1 : Slightly bearish
The chart structure for bitcoin does not inspire optimism right now. The $10,000 level is trying to hold on its third attempt. As the news stacks up, we will likely see a sell off followed by an unexpected bounce.
So, we will most likely see price below $10,000 this coming week, but not for long. The chart is aligning for a big second-half of October and November rally. Our end of year prediction will be in the next issue of the Bitcoin Pulse technical letter.
Become a paid member to access our full technical analysis and in the member newsletter.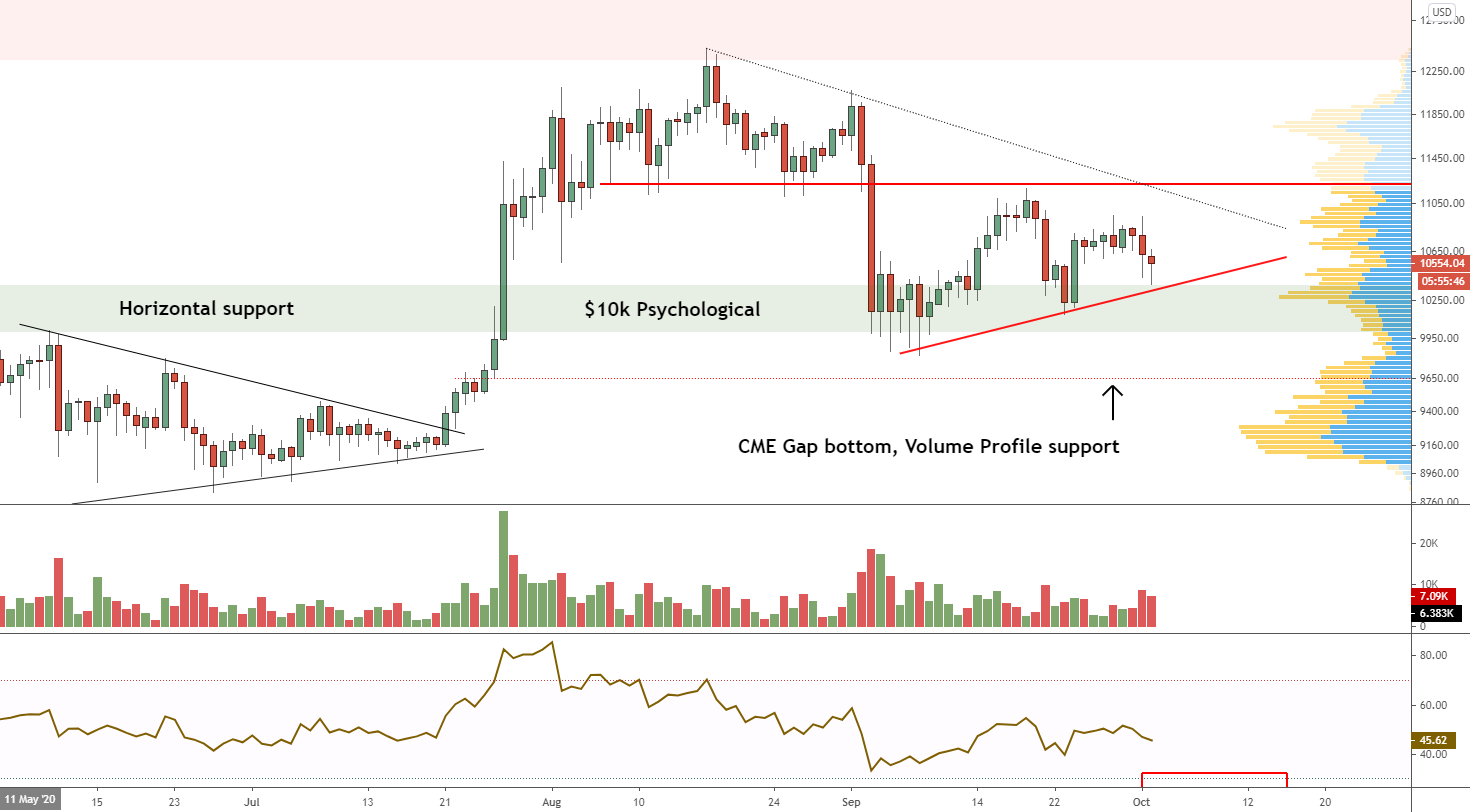 ---
Mining
The mempool is peaking again on Friday with about 50mb of transactions. If you need a transaction in the next block or two you will need about 100 sats/b and if you can wait to have it picked up over the weekend you can probably get it in for 5 to 10 sats/b. Hashrate has been flat so the difficutly adjustment over the weekend is estimated to be -1%.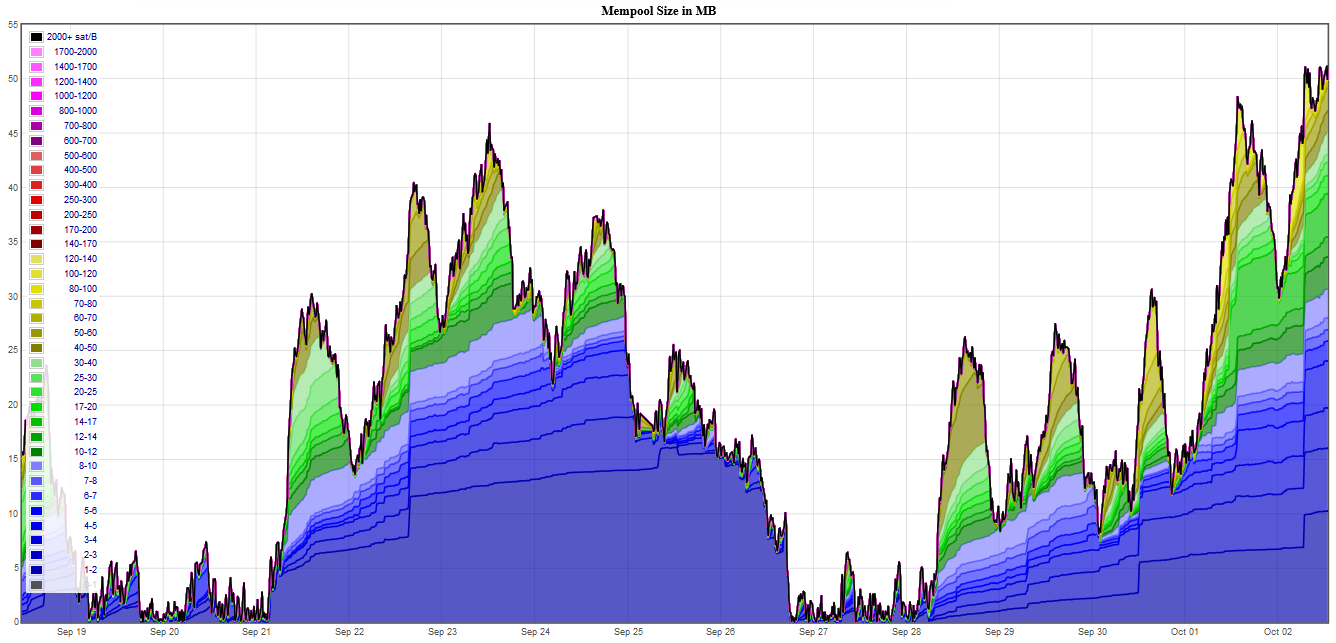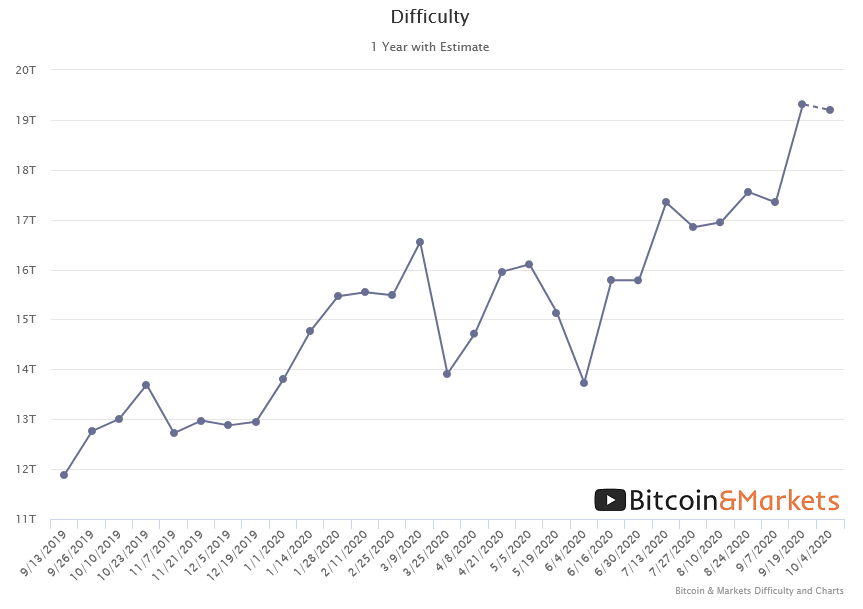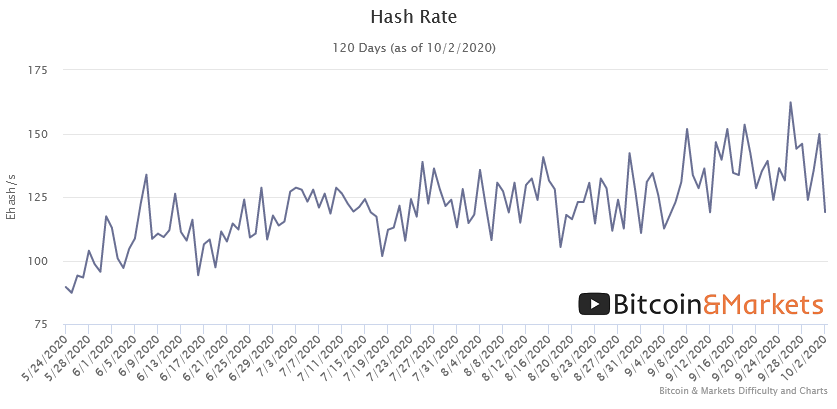 ---
Stablecoins / CBDC / Altcoins
Tether Dominance: 11.85% (-0.5%)
A huge story that is flying under the radar right now is the European stock trading on bitfinex, settled in Tether. Don't sleep on this. It could turnout that several bitcoin exchanges, like Bitfinex and Binance could turn into the next NASDAQ. I'm not sure what that looks like exactly, but maybe like free economic zones for stock trading. They will settle in Tether originally, but switch to bitcoin once governments begin to crack down.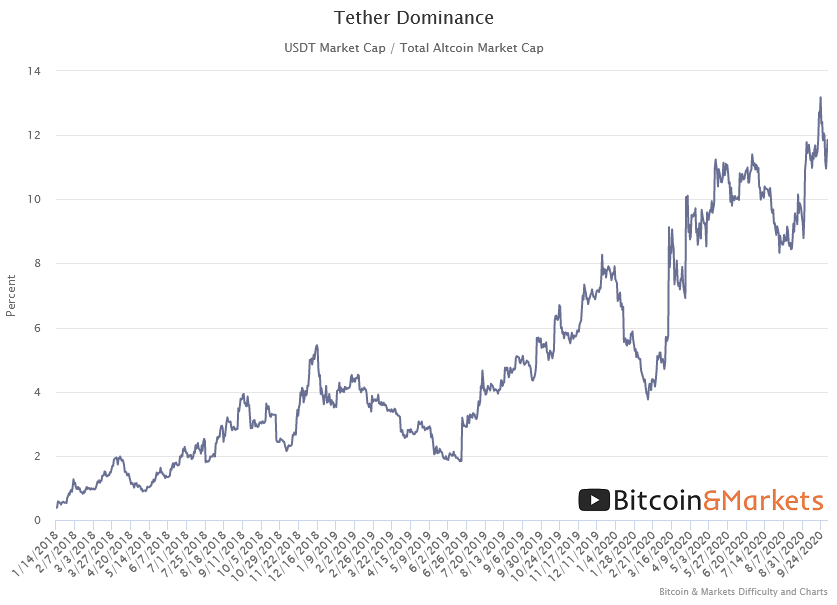 ---
Miscellaneous
Lots of people getting triggered by the S2F model this week. We aren't sure why but it seems to be a reaction to knowing the future. These people must not believe printing money leads to an increase in prices then either. LOL Here is an update to Plan B's Stock to Flow model with a new dot.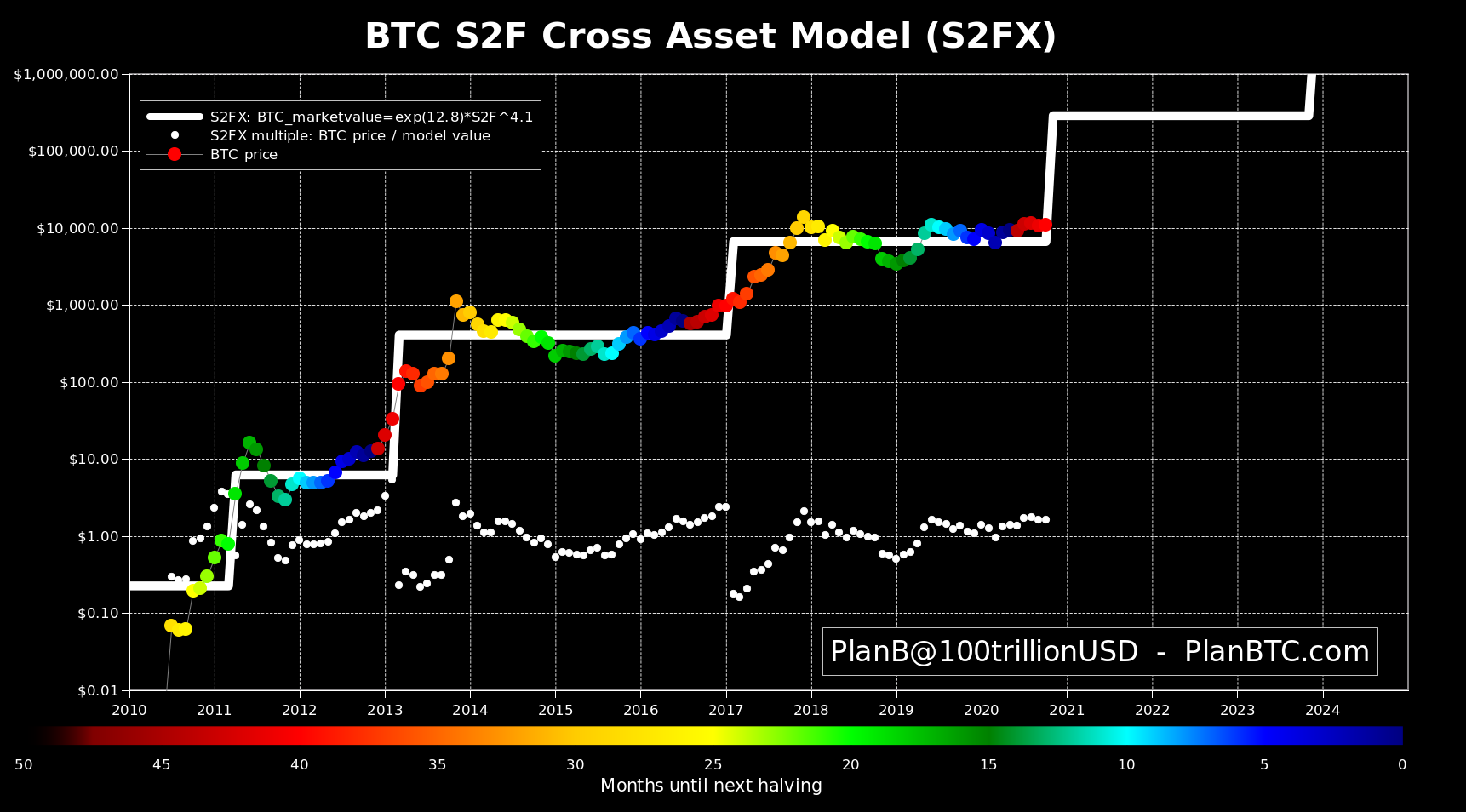 GET THE BITCOIN DICTIONARY
Demystify Bitcoin Jargon
Years of knowledge about bitcoin, blockchain, and cryptocurrency in 80 easy-to-read pages. Exposure to a diverse set of disciplines needed to understand Bitcoin. Economics, cryptography, mathematics, computer science, political science, and game theory.
LIVE on Amazon!
Go to our Info Page to join our community, find where to listen, and follow us.
Written by Ansel Lindner and Jeff See