Reports
Fundamentals Report #108
September 25, 2020 | Issue #108 | Block 649,949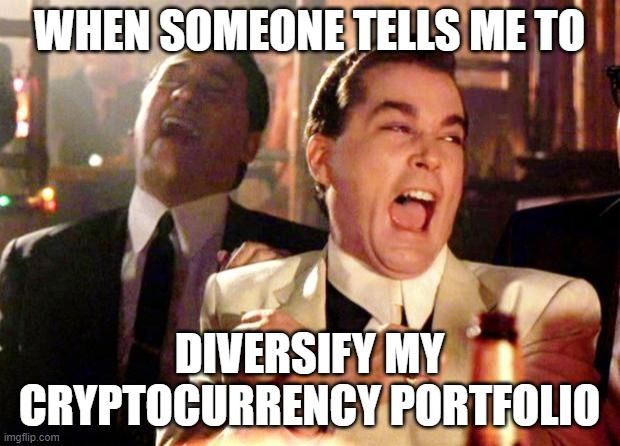 September 25, 2020  |  Issue #108  |  Block 649,949  |  Disclaimer

The Bitcoin Dictionary is LIVE on Amazon!
Bitcoin in Brief
Weekly price:  $10315  (-$113, -1.08%)
Mayer Multiple: 1.15
Est. Difficulty Adjustment: +7% in 9d
Prev Adj: -1.2%
Sats/$1 USD: 9694
1 finney: $1.03
---
Market Commentary
Bitcoin Takes a Breath, So Should You
A lack of really big news in bitcoin this week, give everyone a chance to absorb lessons learned from the last few. There are lots of little stories (some below), each revealing new information to the market helping bitcoin build a very strong base at $10,000 from which to launch on the next leg up.
Everyone seems to be looking toward to the end of the year and the US election with dread. There's lots of worry about a civil war over the election results and a fundamental change to the fabric of our society. We'll caution you, outcomes of that magnitude are extremely rare. If that were the case, we'd be able to see it in the charts. Like it or not, the collective foresight of the market can see these things coming.
If impending doom was just around the corner, two major market indications would be telling a difference story. People would be losing confidence in the dollar if a political split were imminent, they are not. The dollar index is currently on the rise again, above March lows, and the trade weighted dollar is still above where it opened the year. Inflation expectations (5y5y forward) are off the Aug 31st peak of 1.9% (!!?), down to 1.7%. We'd also expect to see bond rates rising as demand for dollar debt goes down. Currently, the US 10 Yr bond yield is only 65 bps (0.65%) and looking droopy. There's no signs of an existential US crisis.
These indications lead us to believe that the November threat to our very society are overblown. Probably a result of hyper-connectivity and dopamine manipulation.
---
Other Top Stories around Bitcoin
FinCEN Leak Exposes $2tn of Money Laundering Activity
FinCEN is a worthless organization. Despite all their interference and attacks on the little guy, a recent leak of over 2,000 SARs (Suspicious Activity Reports) filed with the agency from 2000-2017 show over $2 trillion in likely money laundering. And this is only a small part of the total. It's estimated that "illegal" movement of funds each year is equal to about 5% of GDP or $7 trillion. But they talk hard about cracking down on bitcoin mixing. LOL
3rd Global Cryptoasset Benchmarking Study From University of Cambridge
Key findings:
39% of mining comes from renewables
KYC-free service providers fell from 48% to 13%, from 2018 to 2020
30% of North American and European service clients are institutional
An estimated 101 million individuals own bitcoin or altcoins
Distribution method of Uniswap token (UNI) gives the team and investors essentially admin rights
Surprise! <shocked face>
The Office of the Comptroller of the Currency (OCC) clarified their stance on Stablecoin reserves
The OCC said National banks and Federal savings associations can hold stablecoin reserves. This was already happening in practice in some cases, but this clarifies the rule. Accounts can be funded either by the issuer or by coin holders.
---
Quick Price Analysis
Weekly BMI |  -1 : Slightly bearish

We remain slightly bearish this week. The dollar is rising, gold is down, stocks are down, uncertainty around the election is rising, and the CME gap down to $9660 is looming for bitcoin. All of these things together portend a slow sell off over the next month. We do expect bitcoin to be the first asset to turn bullish in Oct out of the major asset classes.
Want more price analysis? Become a paid member to access the Bitcoin Pulse our technical analysis letter.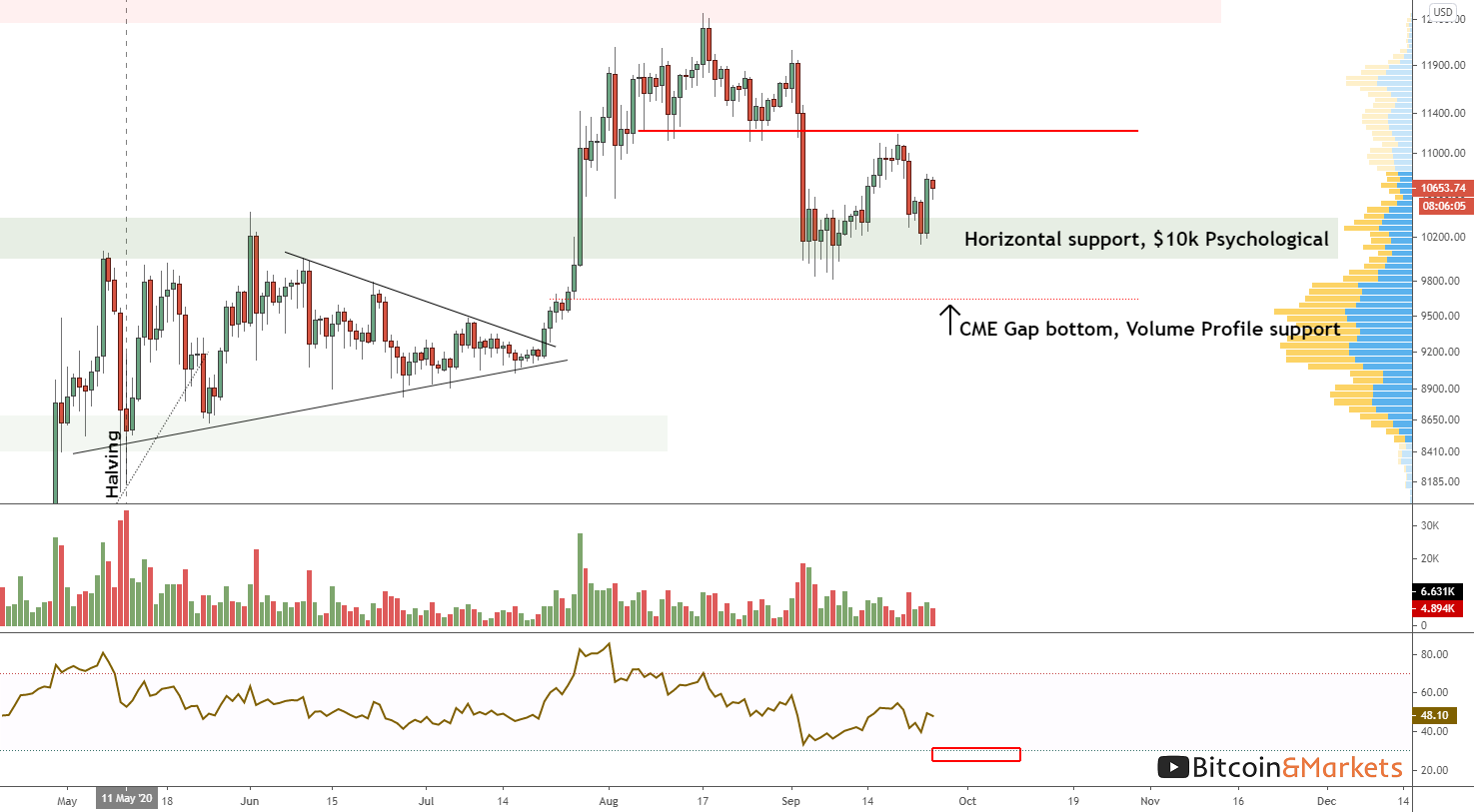 ---
Mining / Lightning
Mining
Mining difficulty adjusted up 11.35% last Saturday and the next adjustment in estimated to occur in 8 days and is trending even or flat.
Lightning
It's been a while since we've talked about the second layer Lightning network, so we'd like to highlight some development around a known denial of service attack called out this week by Joost Jager. Joost created a github page to detail the attack and a possible solution that will limit the number of htlcs (hash time lock contracts) between peers. With the solution in place, which resembles a firewall or circuit breaker, much more effort would be required by the attacker, who gains nothing other than locking up another node's funds for a period of time.
---
Stablecoins / CBDC / Altcoins
Tether Dominance: 12.4% (+1.0%)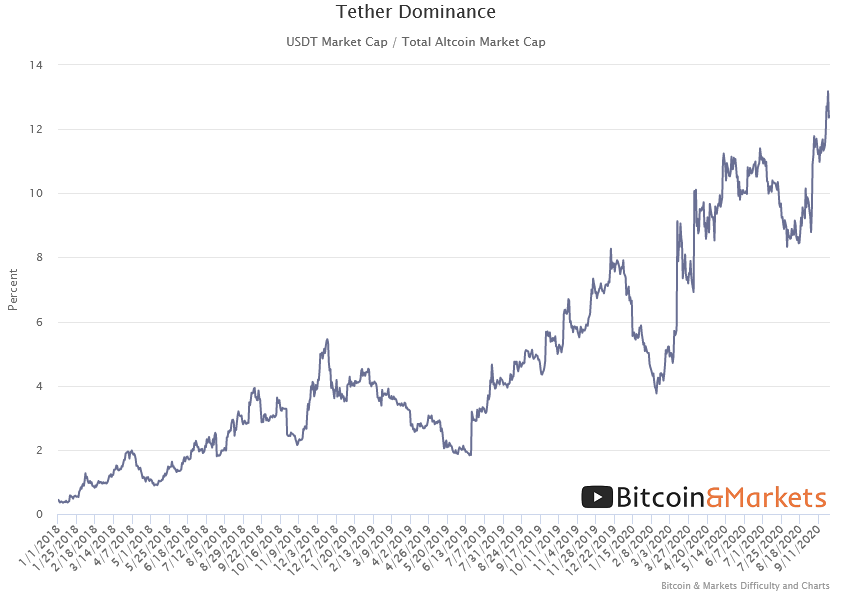 Ethereum
Hardcore Ethereum folks are turning against Eth2.0 Proof-of-Stake. In this thread Chase Wright lays out some devastating revelations.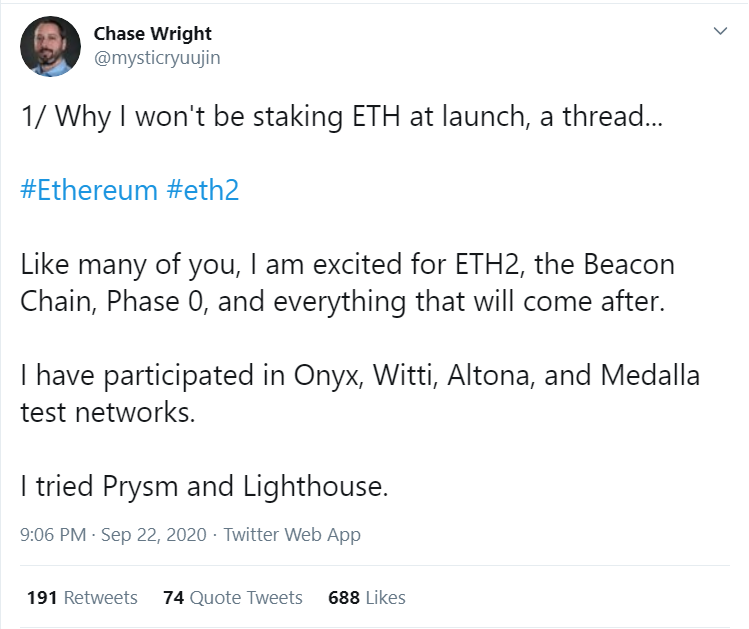 ---
Miscellaneous
A very interesting chart from Charles Edwards pointing out the bull price action has come following the halving + US presidential election, which is scheduled to occur in about 6 weeks.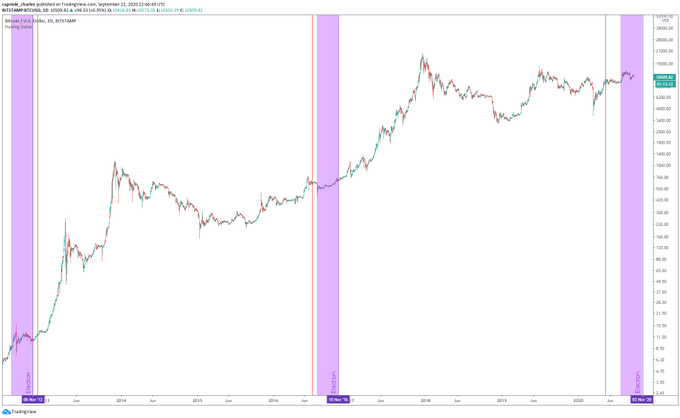 ---
Demystify Bitcoin Jargon
Years of knowledge about bitcoin, blockchain, and cryptocurrency in 80 easy-to-read pages. Exposure to a diverse set of disciplines needed to understand Bitcoin. Economics, cryptography, mathematics, computer science, political science, and game theory.
LIVE on Amazon!
---
Go to our Info Page to join our community, find where to listen, and follow us.
Written by Ansel Lindner and Jeff See