September 4, 2020  |  Issue #105  |  Block 646,734  |  Disclaimer
The Bitcoin Dictionary paperback is LIVE on Amazon!
Bitcoin Vital Stats
Weekly price:  $10428  (-$1102, -9.56%)
Mayer Multiple: 1.17
Est. Difficulty Adjustment: -1.5% in 2d
Prev Adj: +3.65
Sats/$1 USD: 9589
1 finney: $1.04
---
Market Commentary
Bitcoin is dipping, right on queue with the traditional stock market. We've been waiting for a spike in the dollar and a sell-off in stocks to trigger the next leg of this Global Financial Crisis 2 (GFC2) - it may be starting now - but that does not mean bitcoin will follow. Everyone seems to think a crash in stocks will translate into a crash in bitcoin, just like March. Don't be surprised if bitcoin holds strong here.

DEFI Lunacy
In a display of absolute degeneracy, "yield farming protocols" have now imploded after a very brief boom. Yield farming is mis-named, it should be "harvesting" money from noobs. This is what passes for development in the shady altcoin-side of this market.
DeFi meme coin Hotdog dumps 99.9% in hours after launch

$27M of Sushi funds could disappear at the drop of a chef's hat

It all started with the spike and collapse of Yam
YAM Token Holders 'Burnt the Hardest' After Price Plunges to Zero
Unchecked claims and narrative building leads to things like this, scams running amok on your network. Bitcoiners were castigated for questioning the Defi narrative, but now it has started to implode in a euphoric climax of shitcoinery.

These value harvesting operations of pure fraud and if you profiting from them, you are profiting from fraud (even more so than regular altcoins). Fraud is the best thing ethereum and altcoins can offer!? It is technically, economically, and ethically bankrupt.
---
OTHER TOP STORIES
Police Raided Korean Crypto Exchange Bithumb, Says Report
This raid reportedly stems from a 2018 pre-sale of a Bithumb token that never launched. Bithumb is the largest exchange in S Korea and the 5th largest in the world.
Gregory Maxwell's take on the INX scam
A group of former well-respected bitcoiners have put their names on a scam called "INX" for a reported $250k fee. They have burned any good name they had in the space, but can earn it back with a very successful eventual product.
---
We need your support
Support this Report!
---
PRICE
Weekly BMI |  1 : Slightly bullish

Bitcoin has met several downside targets based on candle patterns and indicators discussed in our member letter the Bitcoin Pulse. There will be continued sell pressure on bitcoin as altcoins keep sliding right along with stocks. But don't forget, bitcoin is in a bull market with supply shortage fundamentals and growing safe haven status, it will tend to surprise to the upside until the next blow off top.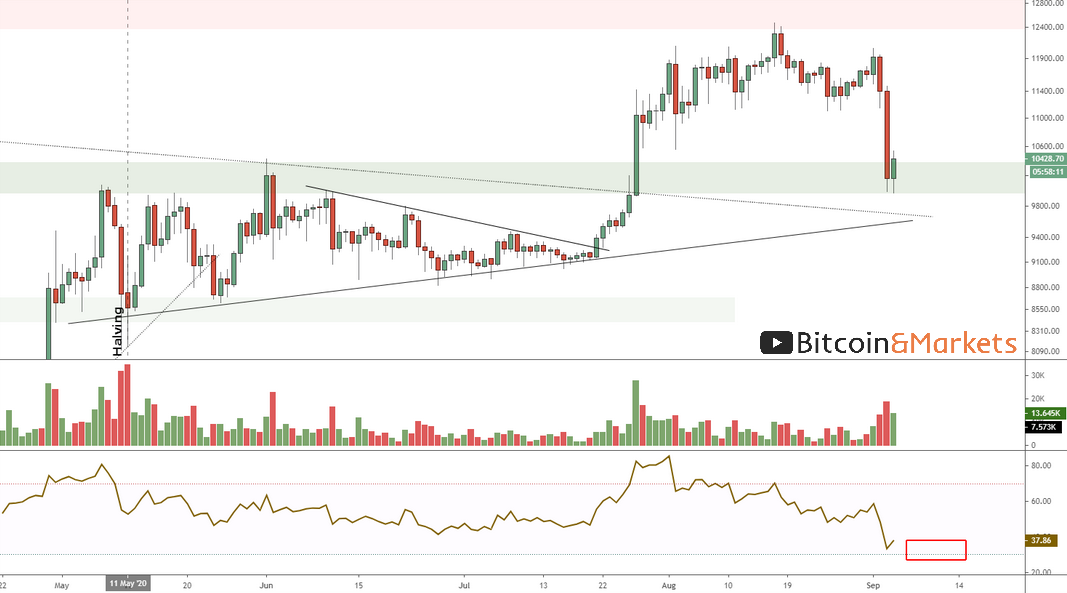 ---
MINING / TRENDS
Once again, the mempool is popping on Friday, this time sitting just over 50MB. That many waiting transaction take approximately 50 blocks to clear, and usually happens over the weekend. If wait for the weekend, you can get your transaction processed for a few sats/b.

The difficulty is estimated to adjust down by 1-2% in two days. We still haven't heard much about the China floods impacting miners. The 5 mining pools we have been tracking still sit at 58.4% of the hashrate.

Lastly, the number of payments being processed has been hovering near the peaks from 2017 and 2019 and the blocksize has been at ATHs. Lots of action!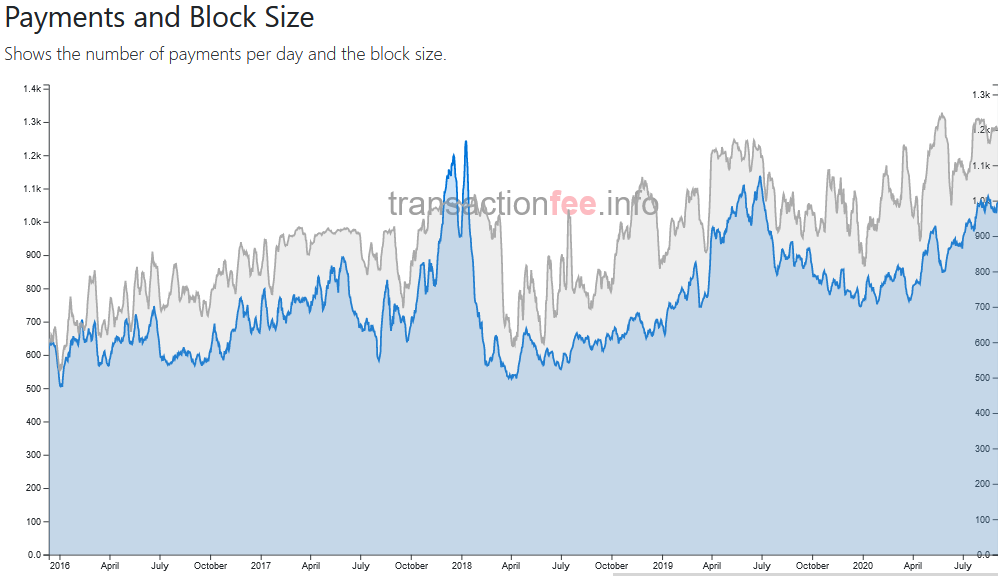 ---
STABLECOINS / CBDC / ALTCOINS
Tether Dominance : 11.1% (+1.3%)

Huge turn around for Tether. Remember, Tether dominance is (Tether market cap / total altcoin market cap). We said in issue #102 on Aug 14th,
The declining Tether dominance is concerning for liquidity reasons. This is a new indicator, but with the rise of stablecoins and the recent surge in altcoin trade volumes, the supply of tether should increase in tandem since many trading pairs are ALT to USDT. A stable rise in altcoin valuations should be accompanied by a proportionate rise in USDT supply. The fact that this is not happening means that the market is lopsided and decreasing in liquidity on the sell-side. Sell offs in USDT pairs will be dangerously illiquid.
We could not have been more accurate as the Tether dominance soars back to 11.1%.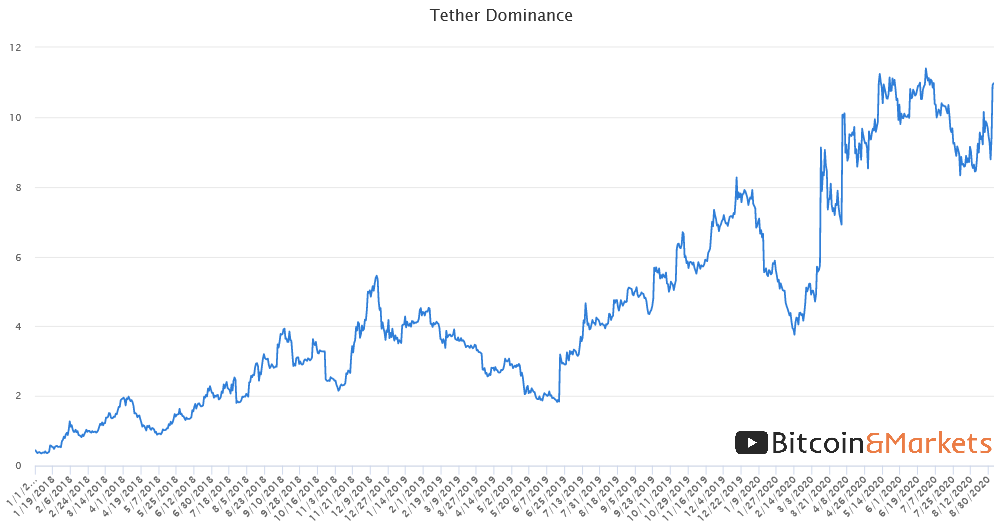 Binance Liquid Swap: Instant Liquidity, Low Fees
Binance is launching a Uniswap competitor. As we've said for a long long, long time, a decentralized service like Uniswap is very costly and a centralized service would be cheaper, faster, and more reliable. The reason Uniswap has been somewhat successful up until now is that it has been subsidized by Ether, making Uniswap fees are artificially low. It is a free-rider.
Ethereum
Ether has dropped almost 25% in two days. If the defi route continues, another black swan type event could be a high profile hack too, then we could see Ether drop a total of 50%, back to its July breakout level. If that happens, it will put a lot of pressure on the bitcoin price. It could also see people flee to the safety of bitcoin and serve to consolidate bitcoin's narrative.

Update: by publishing time, Ether hit a new low, total drop since recent high is over 26%.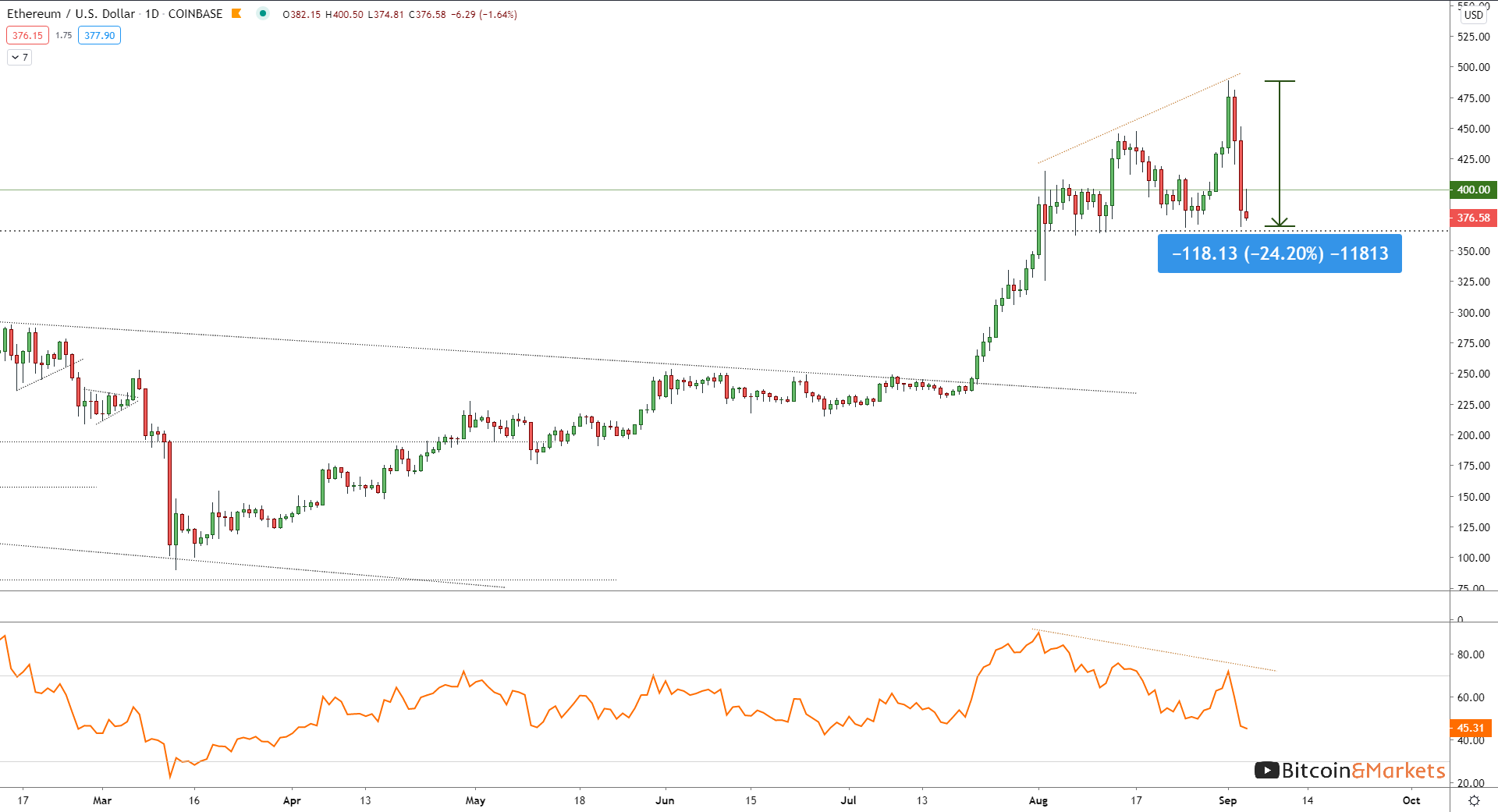 ---
MISCELLANEOUS
Here the updated Stock to Flow chart from PlanB with three new data points since the halving + current price.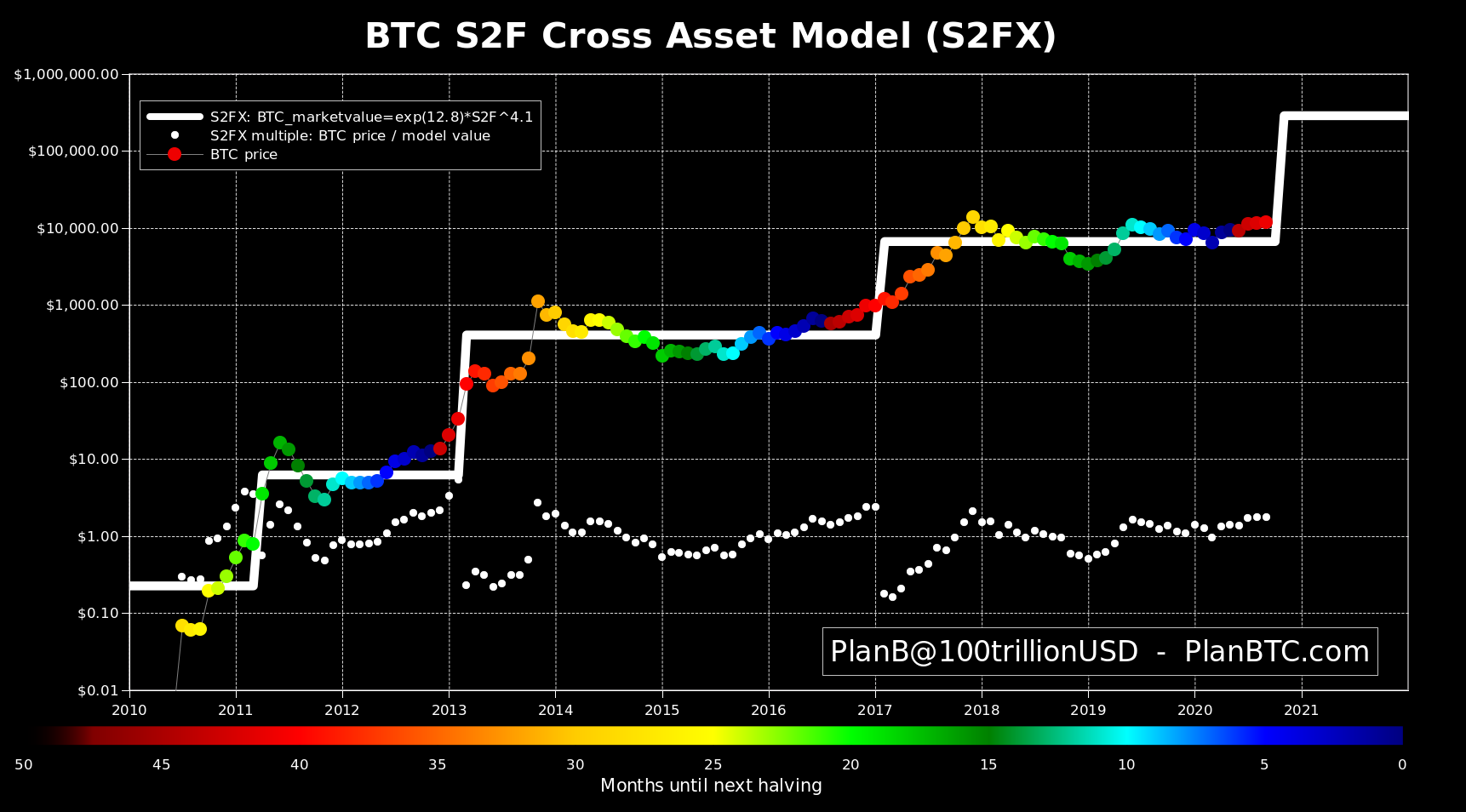 ---
The Bitcoin Dictionary paperback is LIVE on Amazon!
---

Send feedback and/or take our quick survey!
Go to our Info Page to join our community, find where to listen, and follow us.
Written by Ansel Lindner and Jeff See