August 14, 2020  |  Issue #102  |  Block 643,713  |  Disclaimer

The Bitcoin Dictionary paperback is
LIVE on Amazon!
Vital Bitcoin Stats
Weekly price:  $11803  (+$296, 2.57%)
Mayer Multiple: 1.33
Est. Difficulty Adjustment: +6.0% in 9d
Prev Adj: +0.595%
Sats/$1 USD: 8472
1 finney: $1.19
---
Market Commentary
Bitcoiners are the protectors of this space. We are the immune system that vets incoming memes and projects, since many of us have been here a long time we've seen it all, we know this technology inside and out, and are sensitive to con men, usually immediately recognizing harmful toxins in the space. We will call them out, try to shed light on the scam and meme on them, but can't do much else. Many scams will run their course, leaving investors rekt. But through that process, of bitcoiners warnings and the eventual wrecking of investors, hopefully a few "crypto noobs" are red pilled for the future.

Supply Gate
This week saw the birth of #SupplyGate. Pierre Rochard and other bitcoiners just stumbled across an unbelievable shortcoming in Ethereum and it immediately took off. They asked the simple question, "what is the supply of ethereum?" There is no built in function in ETH's code to count supply, so people quickly answered "just go to etherscan,org." Bitcoiners went there and found one count, but then went to another websites and found other counts. Bottom line: people cannot independently verify supply by running a node because there's no function to call, and the reference websites for this thing were all showing different numbers, some off by up to 300,000 or even 1,000,000 ETH.

Jaw drop. No one knows an accurate supply of ethereum.

Pierre was quick to ask for a script from anyone that would allow people to independently verify the supply, and after several days there is still no script. Several things follow from not knowing the supply of Ethereum.
An inflation rate is impossible to accurately calculate. The best an inflation measure can be is an estimate.
An inflation bug can occur (or has occurred) and there is no way to audit supply. In fact, the design is such that it wouldn't even be considered a bug if someone could figure out how to print extra ETH and still have it pass consensus checks (which don't include auditing supply!)
With no accurate inflation rate, the over-hyped inflation strategy of "minimum viable issuance" gets called into question. What metric are they using to calculate it? Is inflation 3% or 3.5% or 5%? We don't know.
Your investment in ETH is dependent solely on the small group of devs and statistics providers that watch the network.
Taken to a logical conclusion, without a stock-to-flow ratio, there is no scarcity. Ouch.ETH people are quick to lash out at the bitcoiners who stumbled across this fact. Even Andreas, who has become financially dependent on the "crypto" space, took to twitter, penning a 20 tweet long thread about how Ethereum is different, it's "nuanced" how to count burned ETH and uncle rewards, all of it not explaining the wide discrepancies and lack of any ability to independently verify supply!

Ethereum promoters often use the term BTC Maxis for Maximalists, because bitcoiners successfully re-appropriated "maximalist" to mean something positive. No one would want to re-appropriate such a derogatory term as Maxi. In other words, Eth folks got nastier and more toxic in order to shame and cancel bitcoiners asking questions. In reality, ETH promoters are more accurately called ETH Maxis because they lash out and act emotionally, which is associated with use of maxi pads.
Other Top Stories in Bitcoin
MicroStrategy buys 0.1% of Bitcoin Supply
MicroStrategy (MSTR), the largest business intelligence firm in the world, providing enterprise analytics software, visualizations, reporting capabilities, APIs and gateways to the world's biggest clients, announced they moved $250m of their cash reserves into Bitcoin as a capital allocation strategy. This is HUGE news. When more companies follow with just a small % of cash, it will have a big impact on price. International companies such as Apple are sitting on huge cash reserves that they could easily decide to allocate some of to bitcoin following this MicroStrategy development. Fed Governor Lael Brainard gives speech, "An Update on Digital Currencies"
The introduction of Bitcoin and the subsequent emergence of stablecoins with potentially global reach, such as Facebook's Libra, have raised fundamental questions about legal and regulatory safeguards, financial stability, and the role of currency in society.

As part of this research, central banks are exploring the potential of innovative technologies to offer a digital equivalent of cash.

Separately, a significant policy process would be required to consider the issuance of a CBDC, along with extensive deliberations and engagement with other parts of the federal government and a broad set of other stakeholders. There are also important legal considerations. It is important to understand how the existing provisions of the Federal Reserve Act with regard to currency issuance apply to a CBDC and whether a CBDC would have legal tender status, depending on the design. The Federal Reserve has not made a decision whether to undertake such a significant policy process, as we are taking the time and effort to understand the significant implications of digital currencies and CBDCs around the globe.
(emphasis added)Dave Portnoy meets with the Winklevoss twins
Dave, who has a big internet following and created the Barstool Sports website invited the Winklevoss twins over to explain bitcoin and help him buy $250k USD worth. Dave seemed more interested in shitcoins and creating his own scam coin with the twins. When he asked if he should put it all in bitcoin or maybe some in a shitcoin, the twins suggested some in a shitcoin and ultimately Dave threw 80% at bitcoin rather than it all.
---
Price
Weekly BMI |  1 : Slightly bullish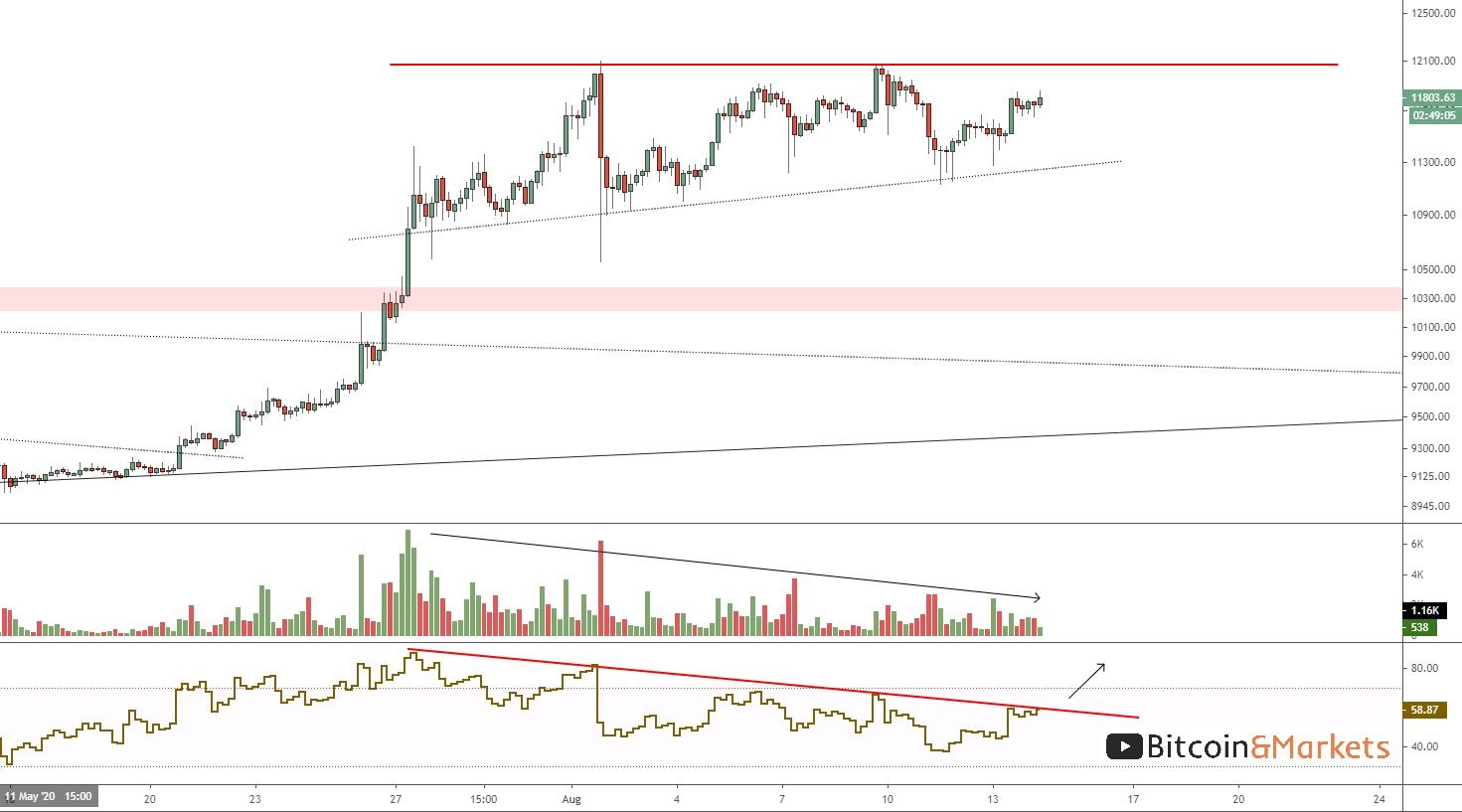 ---
Mining
The mempool was finally cleared starting on Sunday, August 9th and fees are now back down around 20 sats/b or less to get in the next block. Users will likely be able to have their transaction processed over the weekend during the slow times for a couple sats/b or <$1.

On Monday the difficulty adjusted +0.595% more difficult. The average hash rate is increasing this week, leading the next retarget to be estimated at +6% in 9 days.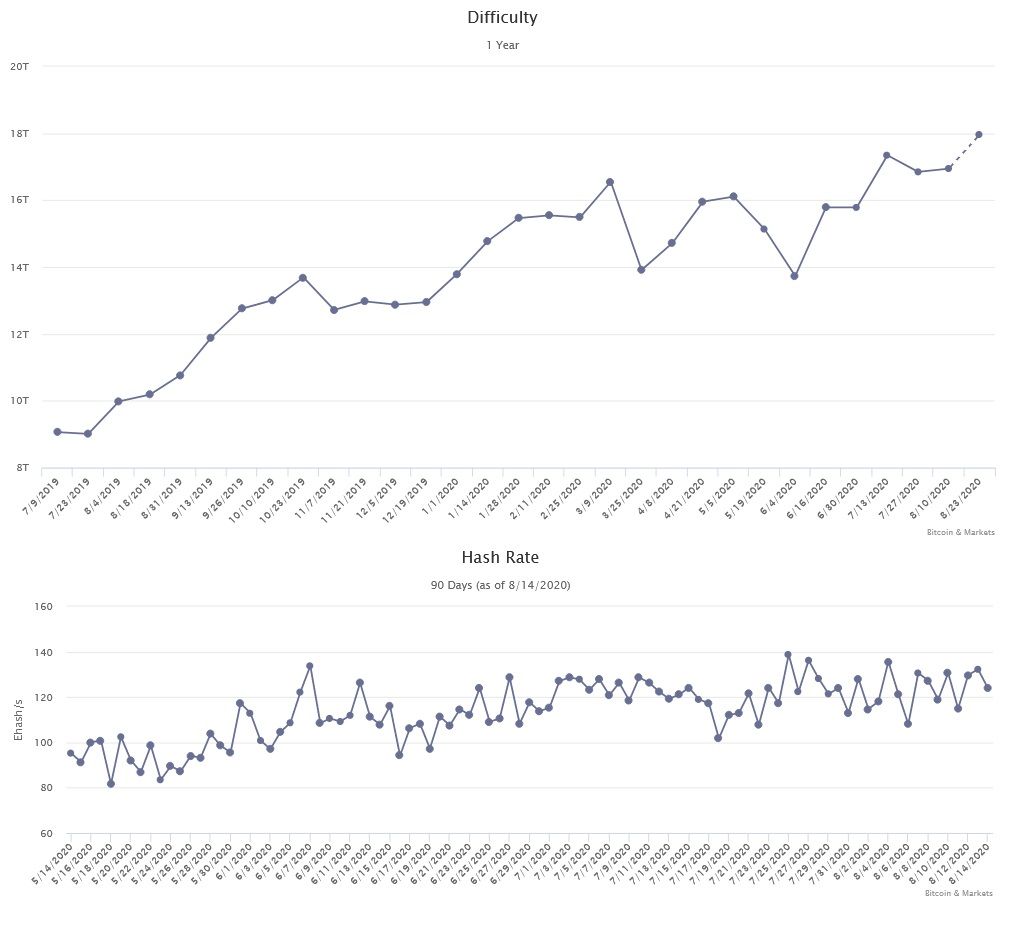 ---
Stablecoins / CBDC / Altcoins
Tether Dominance : 7.2% (-0.5%)

The declining Tether dominance is concerning for liquidity reason. This is a new indicator, but with the rise of stablecoins and the recent surge in altcoin trade volumes, the supply of tether should increase in tandem since many trading pairs are ALT to USDT. A stable rise in altcoin valuations should be accompanied by a proportionate rise in USDT supply. The fact that this is not happening means that the market is lopsided and decreasing in liquidity on the sell-side. Sell offs in USDT pairs will dangerously illiquid.

This is a quick and dirty chart of the Tether dominance history (we'll be cleaning it up in later issues). The trend is plain as day. From the middle of 2019 Tether has continued to capture more of the total altcoin market cap. The recent surge in altcoins in July-August has create a situation similar to earlier this year in Jan-Feb. If Tether's and stablecoins' story is to continue, which we think it will, the Tether dominance will need to correct back up to 10% soon.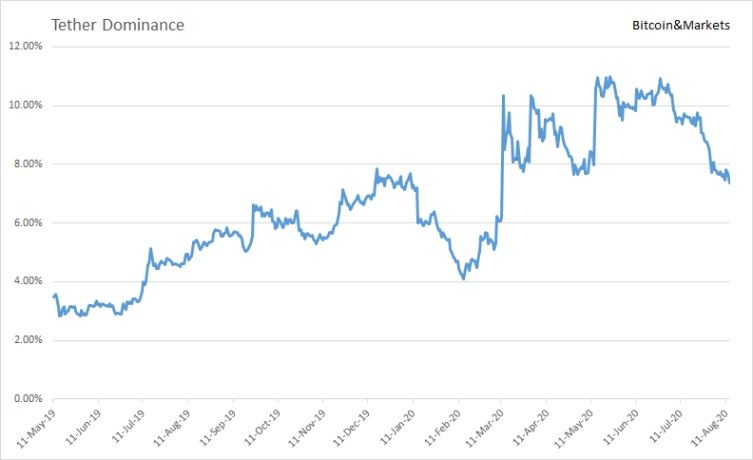 ---
Miscellaneous
Plan B (@100trillionUSD) is still on a boat somewhere so he hasn't published his S2F monthly chart with the new August dot. Here is an equally awesome chart from DigitalikNet showing a zoomed in look at the halving with daily dots. Come on baby and hodl true for another cycle or two!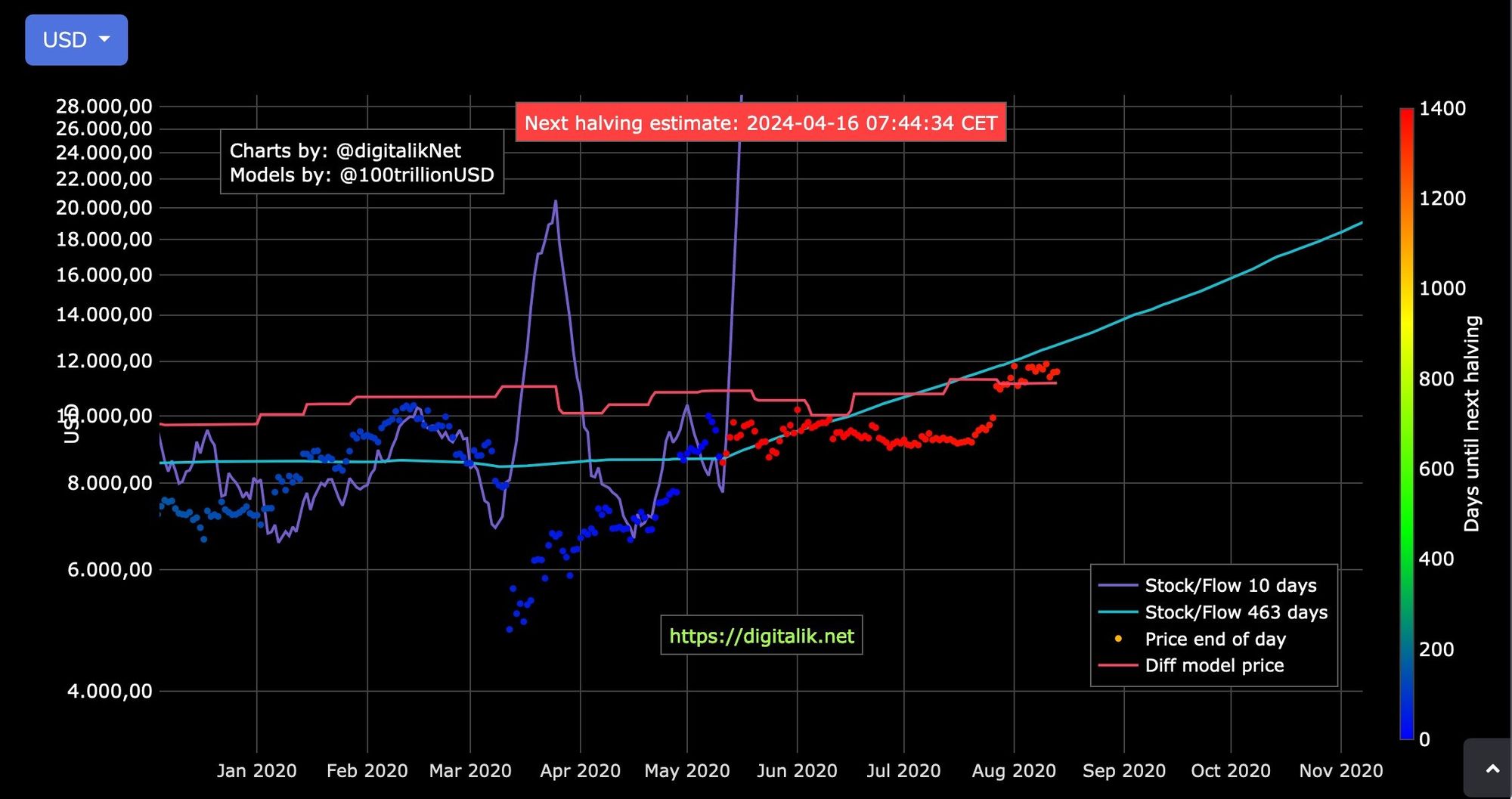 ---
Demystify Bitcoin Jargon. Years of knowledge about bitcoin, blockchain, and cryptocurrency in 80 easy-to-read pages.
Over 180 Bitcoin related terms, concepts, and idioms.
This work exposes the reader to a diverse set of disciplines needed to understand Bitcoin. Economics, cryptography, mathematics, computer science, political science, and game theory.
---
Send feedback and/or take our quick survey!
Go to our Info Page to join our community, find where to listen, and follow us.
Written by Ansel Lindner and Jeff See